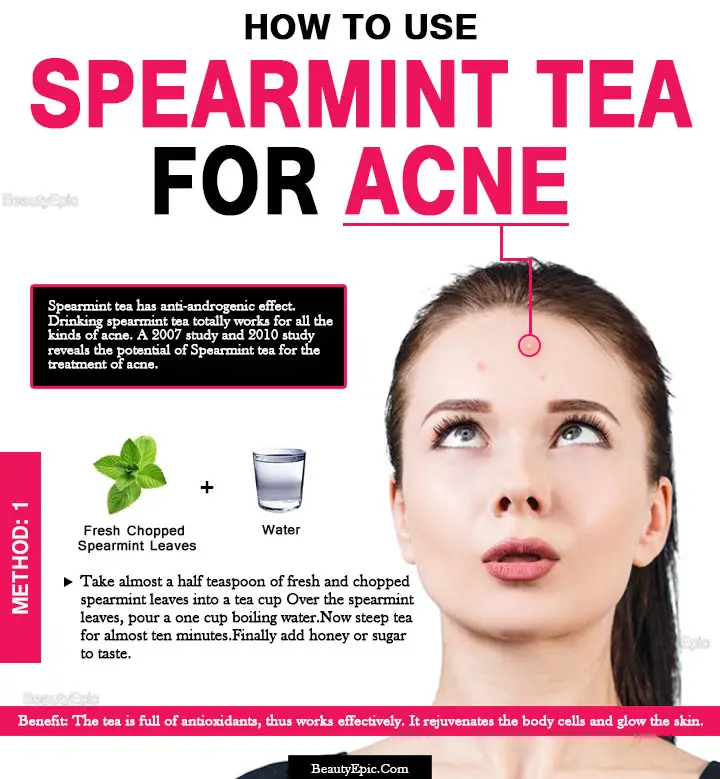 Spearmint tea is a unique and invigorating type of tea which serves a number of health benefits. Also called as "Mentha Spicata", spearmint is a species of mint found in mouthwashes, cosmetics and health food products. Spearmint tea is quite effective in many problems of body and skin including Acne. We all know that acne is an irritating skin condition. Pimples, blackheads and bumps are all types of acne. Drinking spearmint tea is proved to cure acne and related skin problems. Let us read to know how to use spearmint tea for acne prevention.
Does Spearmint Tea Work for Acne?
Spearmint tea is a great source of active and fresh body. It also helps fighting the hormonal acne, apparently the most annoying thing. Spearmint tea has anti-androgenic effect. Drinking spearmint tea totally works for all the kinds of acne. A 2007 study and 2010 study reveals the potential of Spearmint tea for the treatment of acne. Also It is found that Spearmint tea is pretty much helpful in reducing the growth of excessive hairs on body.
How to Use Spearmint Tea for Acne
Preparing spearmint tea is a simple procedure. Most of the food nutritionists and dermatologists recommend to take the spearmint tea for twice or thrice in a day to get better results. The tea is said to be immensely energetic and bringing the taste of a little refreshment.
Ingredients:
Fresh chopped spearmint leaves
Water
Honey (or sugar)
Preparation time: 10-12 minutes.
Procedure:
Take almost a half teaspoon of fresh and chopped spearmint leaves into a tea cup
Over the spearmint leaves, pour a one cup boiling water.
Now steep tea for almost ten minutes.
Finally add honey or sugar to taste.
How it works: The tea is full of antioxidants, thus works effectively. It rejuvenates the body cells and glow the skin.
Repetition time: For several days, it is recommended to take the Spearmint tea two or thrice times until you see results.
Spearmint tea has incredible benefits on health. It has been used in different places for the treatment of acne. It calms the body cells, and rejuvenates the dead skin of face, as well. Spearmint tea is truly a natural and simple method not treating Acne. Earlier there used to be no proper and specific treatment for the same, but Spearmint tea is a fruitful way.
You Might Also Like:
Image:- 1