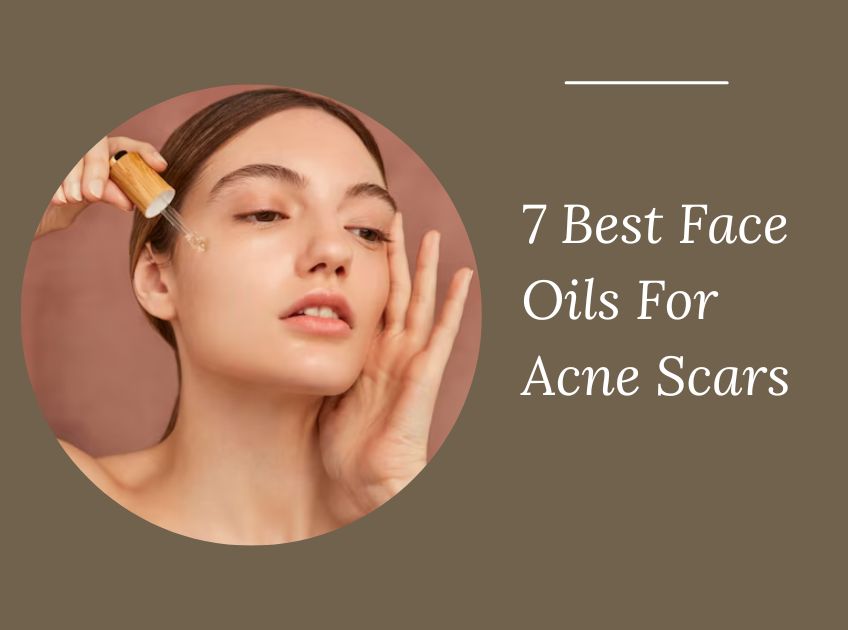 One of the most common misconceptions regarding oil is they are not suitable for acne-prone skin. On the contrary, certain oils are useful for the skin and help address multiple skin issues, including acne and acne scars.
Besides reducing acne scars, certain oils also reduce acne and blemishes and brighten skin tone. Luckily, many companies have formulated facial oils that help manage many skin issues in a jiffy. Massaging these oils properly and at the right time can help prevent and reduce acne and acne scars.
Face Oils
If you are still in a dilemma about using facial oils for acne scars and are not able to decide which oil will suit your skin, check out the list below, where we have mentioned the 7 best face oil for acne scars based on their performance and quality. Keep scrolling!
[ Read: How to Get Rid of Pimple/Acne Scabs Naturally ]
7 Best Face Oils For Acne Scars
1. Best for Problematic Skin: Beauty by Earth Store Organic Face Oil
It balances and restores facial oil, making it glowing and radiant
The hydrating properties of oil help skin look plump, youthful, and balanced
Formulated with skin-nourishing ingredients that soothe, hydrate, and nourish the skin
Also helps calm the skin, reducing redness and breakouts
Improves skin complexion and keeps acne scars at bay
What We Don't Like: It may feel slightly sticky to the skin.
[ Read: 7 Best Moisturizers For Brightening Skin ]
2. USDA Organic Certified: Kate Blanc Cosmetics Rosehip Oil for Face & Skin
It is made with high-quality Rosehip Seed, certified by USDA, and is 100% pure, natural & hexane free
It is cold pressed, which helps retain the exclusive anti-inflammatory properties of it
Reduces stretch marks, acne scars, and fine lines, giving a glowing and radiant complexion with reduced acne scars
It consists of omega-3, omega-6, and fatty acids that deliver anti-aging benefits to the skin
What We Don't Like: The smell is unpleasing and awkward.
3. Heals Scars: Healov Turmeric Oil for Face and Body
The presence of all-natural ingredients like turmeric helps in hastening the healing and making skin free of aging spots, hyperpigmentation, and acne scars
It detoxifies the skin, refines pores, and draws impurities out, providing a complete detoxification
Turmeric helps in skin brightening and lightening, thus improving the complexion
It also helps heal dry skin, damaged skin, aging skin, stressed skin, uneven skin, and acne-prone skin
What We Don't Like: It can cause an allergic reaction; therefore, a patch test is recommended.
[ Read: How to Use Turmeric for Acne Scars ]
4. Spot Treatment: Advanced Clinicals Tea Tree Oil Facial Skin Care Serum
It helps reduce blemishes, marks, and spots and reduces acne scars effectively
Formulated to address multiple skin issues like redness, uneven skin tone, and acne
Provides an instant refreshing feel to the skin due to the presence of sunflower extract that also helps in regulating oil and stimulating cellular turnover
Contains skin-loving ingredients like Coconut oil, witch hazel, and natural tea tree oil that hydrates and heal inflamed and irritated skin.
What We Don't Like: A patch test is recommended for sensitive skin.
[ Read: Tea Tree Oil For Acne Scars ]
5. Sun Protection: CETAPHIL DERMACONTROL Oil Absorbing Moisturizer with SPF 30
It is highly effective for sensitive skin due to the presence of skin-loving ingredients
SPF 30 provides complete protection from harmful UV rays
The special four-in-one formula helps reduce shine, absorb excessive moisture, hydrate, and provide sun protection all at one time
The lightweight and oil-free formula and no added fragrance make it even more beneficial
What We Don't Like: It may feel slightly heavy on the skin.
[ Read: How to Protect Hair from Sun Damage ]
6. Complete Care: Olivia Care Glow Beauty Facial Oil
It consists of a powerful blend of essential oils that addresses multiple issues and reduces acne scars
Contains Vitamin E help repair damaged skin, and prevent aging signs like fine lines and wrinkles
The ingredients are 100% natural and work well in all skin types- acne-prone, sensitive and oily
It delivers the necessary hydration to the skin and leaves it soft and supple
What We Don't Like: The formula may make the skin slightly greasy.
[ Read: The 10 Best Essential Oils For Acne Scars ]
7. Skin Therapy: Palmer's Cocoa Butter Formula Moisturizing Skin Oil for Face
It delivers restorative skin oils that work on multi-purposes, and offer anti-aging skin benefits
Contains the goodness of ten Pure Oils to help moisturize and smooth fine lines and wrinkles
The major ingredients are cocoa butter and retinol and Cetesomate Complex
The presence of the finest natural, raw ingredients works well for soft, hydrated, and beautiful hair and skin
What We Don't Like: It doesn't smell too good.
[ Read: How to Get Rid of Wrinkles Naturally at Home ]
Conclusion
So these are some of the most effective, potent, and the best facial oil for acne scars. Give them a shot and see how they transform your skin, making it glowing and radiant with no signs of acne scars.
You Might Also Like: