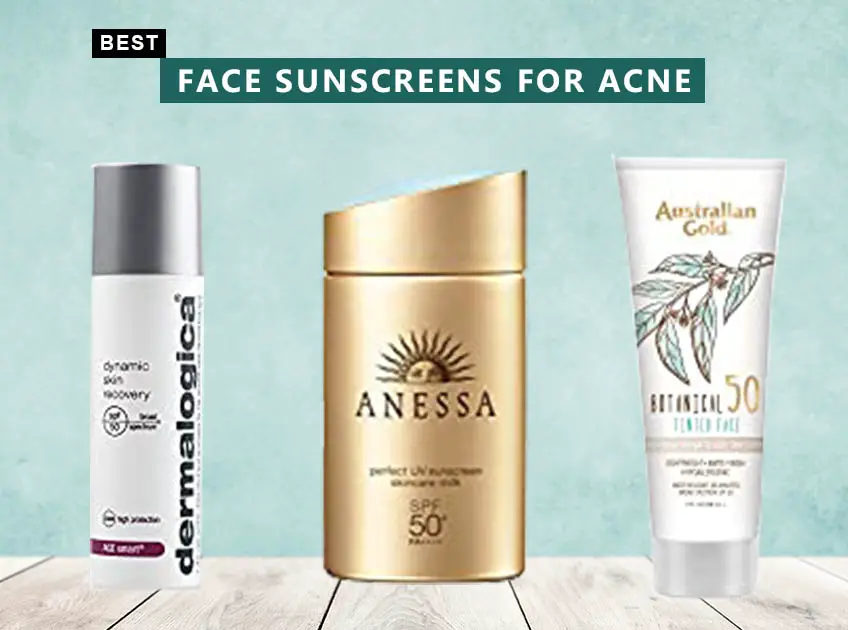 If your skin is acne-prone, you might fear that sunscreen can make your skin even more prone to acne. Also, you might be wondering how to wear a heavy and thick cream every day before going out. But, the thing you will have to remember is that sun protection is important irrespective of whether your skin is acne-prone or not. It can do more for your skin in addition to sun protection.
What To Consider When Shopping For A Face Sunscreen For Acne?
When you plan to buy a face sunscreen for acne, you should consider the following factors to make sure that you will end up buying the best face sunscreen for acne:
If your skin is sensitive, it is better to avoid sunscreens with PABA and oxybenzone
Make sure that the product offers SPF 30 or higher protection
Go for a product that offers broad-spectrum protection
If your skin is very oily, you can choose a face sunscreen for acne that comes in the form of spray, gel or fluid
Make sure to choose a product that is labeled oily free and non-comedogenic.
When you consider these factors, you will end up with the best face sunscreen for acne that will take care of your acne treatment as well besides providing sun protection. With different choices available when you look for the best face sunscreen for acne, we have here shortlisted some of the products:
9 Best Face Sunscreens For Acne
1. La Roche-Posay Anthelios Melt In Milk Body & Face Sunscreen SPF 60
This product from La Roche-Posay is not just a face cream but also a body cream. The product offers broad-spectrum SPF 60 protection from UVA and UVB rays. Fast-absorbing and non-greasy formula keeps the skin smooth and hydrated with a velvety texture. It suits all skin types including sensitive skin as it is free of paraben and oxybenzone.
For acne treatment, the product uses Cell-Ox Shied Technology that helps with its anti-oxidant property. This technology in addition to addressing the signs of aging also prevents sunburn and lightens skin tone. As far as acne is concerned, it addresses oxidative stress that otherwise triggers inflammation and acne.
Many users with acne-prone skin feel that this is the least greasy sunscreen for acne-prone skin ever.
2. ETUDE HOUSE Sunprise Mild Airy Finish Sun Milk SPF50+
This face sunscreen for acne has been made using 20 ingredients by Etude House. For UV protection, the product uses sunflower seed and carex humillis root extract.
For rejuvenating skin, acai berry and malpighia emarginata are part of this product. For soothing skin, the product uses mistetoe leaf, centella asiatic, and portulaca oleracea extract, while for hydrating hyaluronic acid, cactus and aloe vera are part of this product. The product works for acne-prone skin by preventing dehydration and by rejuvenating the skin. For gentle use by individuals with sensitive skin, the product uses 100% mineral ingredients.
Many users with acne-prone skin claimed that this sunscreen provides the right acne-treating besides bringing the best skin rejuvenation.
3. Shiseido Anessa Perfect UV Sunscreen Skincare Milk
This product from Shiseido holds the pride of having the strongest sunscreen. Yes, the UV-protection veil in this product will get stronger when it gets in contact with heat, water or sweat. In addition to functioning as a sunscreen, this product will act as a primer for your makeup as well.
To hydrate your acne-prone skin, the product uses hyaluronic acid and glycerin as ingredients. Also, to improve elasticity, the product uses collagen as one of the key ingredients. With green tea extract as a key ingredient, this product addresses, the redness and irritation caused by acne. In turn, it quickens the process of acne healing.
Many users have stated that as against many sunscreens that cause acne, this face sunscreen for acne treats it. It offers SPF50+ protection.
4. Neutrogena Clear Face Liquid Lotion Sunscreen for Acne
This product from Neutrogena is a face and body sunscreen lotion with broad-spectrum SPF 55 protection. Neutrogena has stabilized this product with Helioplex Technology.
Also, the active ingredient in this product is avobenzone that provides superior UVA and UVB protection. While keeping unnecessary skin problems at bay, this product leaves a matte and weightless finish and allows the skin to breathe.
This sunscreen has been dermatologist-tested for non-comedogenic, oil-free and so it will not clog pores. In turn, this product becomes ideal for individuals with acne.
Many users have stated that this product is ideal for melisma. Also, many have stated that it completely keeps acne under control.
5. EltaMD UV Clear SPF 46 Face Sunscreen
This product from EltaMD is a dermatologist-recommended for acne-prone skin and also for individuals with sensitive skin.
Zinc oxide in this product is known for its anti-inflammatory properties and it can also help with relieving the irritation and redness caused by acne in some individuals with moderate to severe acne. Further, it helps with bringing down the appearance of acne scars. Also, the broad-spectrum coverage that this product offers safeguards the skin against UVA and UVB Rays.
Many users of this product with acne-prone skin have stated that this product does not clog pores and in addition to providing acne treatment, it makes the skin look at its best. Even, those facing other skin issues like discoloration and rosacea will benefit from this product as claimed by many users.
6. Dermalogica Dynamic Skin Recovery SPF50 – Anti-Aging Face Sunscreen Moisturizer
This face sunscreen for acne from Demalogica provides daily SPF protection. To make sure that it addresses acne, this product is loaded with antioxidants. Also, the antioxidants present in this product will help with reducing the visible wrinkles and fine lines. It helps with hydrating and safeguarding the skin against UV lights.
To make it safe for acne-prone and sensitive skin, the product is free of cruelty, paraben, and gluten. Further, for vegan enthusiasts, this product can come in handy for acne treatment and sun protection. It prevents and cures acne by hydrating the skin effectively.
Many users of this product with acne have stated that it is the best for sun protection and acne treatment.
7. Supergoop! City Serum, 2 fl oz – SPF 30 PA+++ Anti-Aging Morning Lotion
This silky-smooth formula from Supergood helps with fighting the signs of photoaging along with providing acne protection. Also, the good thing about this face sunscreen for acne is that it suits year-round usage including the summer and winter season. It addresses acne by hydrating and nourishing the skin. Further, this product has been power-packed with antioxidants to provide the right kind of acne-fighting support.
The hydroviton in this product provides 24-hour hydration to fight water loss and signs of dry skin. The antioxidants present in this product are vitamin B5 and vitamin E. the former functions as a natural conditioner for the skin, while the latter smooths and softens the skin.
Many users with acne have stated that apart from providing acne treatment, this product leaves their skin silky-smooth every time they use it.
[ Read: CeraVe AM Facial Moisturizing Lotion SPF 30 Review ]
8. Australian Gold Botanical Sunscreen Tinted Face BB Cream SPF 50
This face sunscreen for acne encompasses zinc oxide and titanium dioxide as key ingredients that function as a non-chemical sun-protection option. The sunscreen provides a powder-like matte finish that is never greasy as claimed by many users with acne.
To fight acne, this product encompasses a combination of antioxidants as ingredients. They are red algae, eucalyptus, and Kakadu plum. Australian Gold has created this product free of PABA, Phthalate, paraben, oxybenzone, oil, dye, and SLS to make it suitable for sensitive skin.
Many users have stated that this product lasts longer and does not create white casting and does not cause any breakouts on sensitive skin.
9. BLUE LIZARD Australian Sunscreen, Sensitive SPF 30+
To safeguard the delicate coral reefs and also to help individuals with acne-prone and sensitive skin, this product does not contain any octinoxate and oxybenzone. To provide sun protection, this product works by acting like thousands of tiny mirrors that reflect UV rays away from your skin before they get in. The product is free of fragrance and paraben and again this feature makes it ideal for sensitive skin.
This sunscreen has a water resistance of up to 40 minutes. In turn, your skin can stay protected for longer even if it sweats. The product contains dermatologists recommended broad-spectrum UVA/UVB SPF 30+. The mineral-active zinc oxide in this product offers true broad-spectrum protection. Further, this sunscreen uses smart bottle technology which will remind you to stay safe from the sun by turning into blue in harmful UV Light.
Many users of this product with acne have stated that they truly love the Smart Bottle Technology that this product uses that reminds them to keep their acne-prone skin safe from the sun.
Of course, the sun can provide you with vitamin D. But, you should be careful about the excessive UV rays from the sun. These rays can worsen your acne. So, to stay protected, it is better to choose sunscreen based on your skin type. Here are some of our recommendations:
Oily Skin: Clear Face Sunscreen For Acne-Prone Skin from Neutrogena
Dry Skin: City Sunscreen Antioxidant-Rich Lotion from Supergoop
Sensitive Skin: Anthelios Melt-In Sunscreen Milk Sunscreen Lotion SPF 60 from La Roche-Posay
So, take steps towards protecting your skin from the UV rays with one of these products besides getting acne treatment.
You Might Also Like: