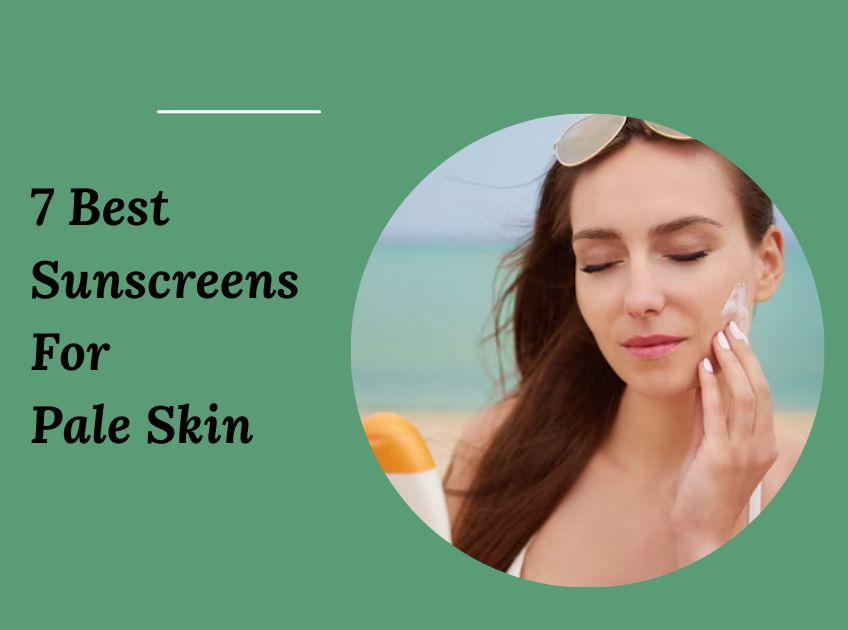 Just like we use various skin care products to keep our skin safe and revitalised, sunscreen is one such product which has to be used by everyone, irrespective of their skin type and skin tone, for eliminating chances of damage by harmful sun rays. Those meant for pale skin come with an SPF of at least 30 and are effective in preventing long-term skin damage. Read on to check some of the best sunscreens we have listed for pale skin.
Tips For Applying Sunscreen
While stepping out in the sun, it is important to reapply sunscreen lotion every 2 hours.
It must not just be applied on the face but in the generally neglected areas such as ears, eyelids, and top of feet.
While summing in sunlight, it needs to be applied soon after coming from water.
7 Best Sunscreens For Pale Skin
1. Organic Harvest Sunscreen For Women & Men SPF 60 with for blocking harmful sun rays and keeping the skin nourished
Why Do We Like It?
It imparts a matte finish to the skin rather than a greasy look, hence suitable for those with oily skin.
Settles on the skin readily.
Protects the skin from harmful UV rays as well as the blue rays emitting from electronic devices.
It can be used indoors as well as outdoors.
With SPF 60 PA+++, it offers a broad spectrum coverage.
Resistant to water and sweat.
Vegan-friendly.
Cruelty-free.
What Do We Dont Like About It?
Causes itching on sensitive skin.
[ Read: Can You Tan With Sunscreen ]
2. Lotus Herbals Safe Sun UV Screen Matte Gel for keeping the skin smooth and moisturised
Why Do We Like It?
It has SPF 50 and protects the skin from 98% harmful rays of the sun.
Non-oily and non-sticky formula.
Doesn't leaves any white cast on the skin.
It has horse chestnut that comes with anti-oxidants that protect the skin from sun damage.
Keeps the skin smooth with vanilla extract.
Skin remains moisturised with comfrey extract.
What Do We Dont Like About It?
Its fragrance could be overwhelming for some people.
3. Beardo Max Sunscreen Spray for Men with healing properties
Why Do We Like It?
It is SPF 50 formula that prevents the harmful sun rays from damaging the skin.
Reduces chances of ageing, by preventing wrinkles, and pigmentation.
Helps in regenerating cell tissues, and healing the sun burns to develop smoother skin.
Nourishes the skin and is ultra-light.
4. Skin Aqua Tone Up UV Essence for hydrated skin that is shielded against harmful sun rays
Why Do We Like It?
SPF 50 prevents harmful sun rays from entering the skin.
Has a hydrating effect on the skin.
Works well on dry and sensitive skin as it doesn't cause any irritation.
Lightweight.
What Do We Dont Like About It?
It is prone to peeling after some time.
[ Read: What UV Index Is Good For Tanning ]
5. Colorescience SPF 50 for keeping the skin hydrated and ensuring its all-around protection
Why Do We Like It?
It is made with EnviroScreen Technology that protects the skin from free radicals and harmful sun rays, IR rays and blue light.
It is free from chemical ingredients such as parabens, phthalate, sulfate, oil, gluten, and artificial fragrances.
It is hypoallergenic and non-comedogenic.
Resistant to sweat and water for up to 40 minutes.
Non-greasy formula that is hydrating for the skin.
What Do We Dont Like About It?
Leaves a white cast on the skin.
6. Force Shield Superlight Sunscreen SPF 30-quick absorbing formula for sun protection
Why Do We Like It?
It protects the skin from harmful sun rays without clogging the pores.
Zinc oxide in it blocks the UV A and UV B rays.
Gets absorbed on the skin quickly and doesn't leave it greasy.
Clinically tested sunscreen which doesn't irritate sensitive skin.
Free from artificial fragrances, and silicone
What Do We Dont Like About It?
Using it on very sensitive skin leads to breakouts.
[ Read: 7 Best Sunscreens For Sensitive Skin ]
7. Australian Gold Spray Gel Sunscreen with a non-greasy and water-resistant formula that keeps the skin hydrated
Why Do We Like It?
It is a sunscreen gel which keeps the skin moisturised and hydrated because it has sunflower Seed Oil, Olive Fruit Oil & Cocoa Seed Butter.
Creates a tinted look instantly with the caramel bronzer resulting in a sun-kissed look.
Kakadu Plum extract, Vitamin C, and Tea Tree Oil helps in fighting free radicals, making the skin look fresh.
Reduces the adverse impact of harmful sun rays on the skin.
Doesn't make the skin greasy.
Comes with a spray pump which is easy to use.
Free from Phthalate, gluten,Oxybenzone, and PABA
Can be water resistant for up to 80 minutes.
Vegan-friendly and cruelty-free.
What Do We Dont Like About It?
Doesn't provide much bronzing.
Conclusion:
Damage by harsh sunlight or sunburn can cause long-term damage to the. So, besides using sunlight, it is better to use hats, goggles, gloves and any other ways that can keep you in the shade whenever possible.
You Might Also Like: