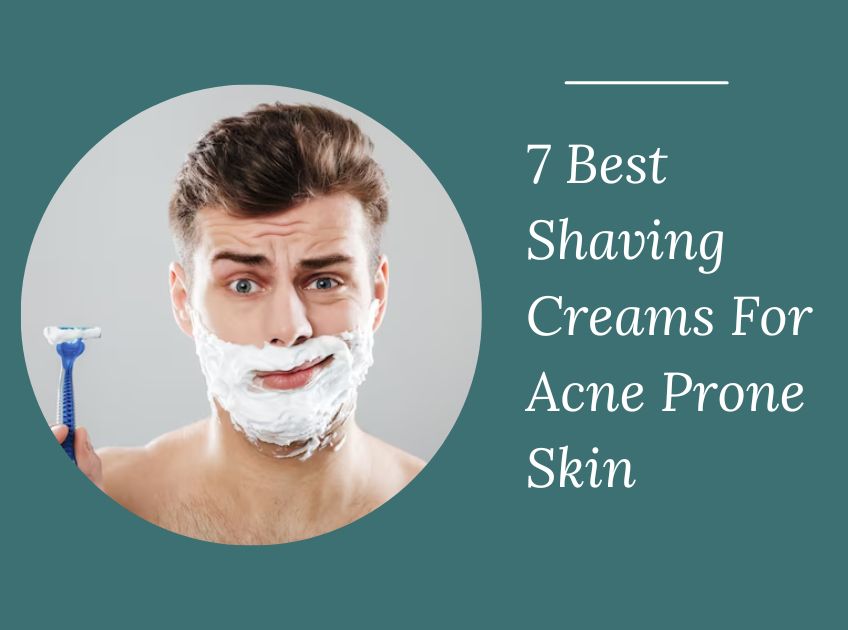 Shaving acne-prone skin is not an enjoyable process. However, shaving creams, gels, and foams make it bearable to a great extent. These products soften the hair and create a slick surface for gliding the razor effortlessly. At the same time, they reduce nicks and snags for an effortless shaving experience.
Here, we have carefully selected some of the best shaving creams for acne-prone skin and curated a list with their major features and a few drawbacks. Infused with skin-hydrating and skin-loving ingredients, these shaving creams keep skin moisturized and nourished.
Shaving Creams
If you cannot find the best shaving cream for your problematic skin, keep scrolling to find the one that suits your skin the most.
7 Best Shaving Creams For Acne Prone Skin
1. Best overall: Aveeno Positively Smooth Moisturizing Shave Gel
Infused with Vitamin E, Soy, and Aloe Vera
It is lightweight and infused with soothing ingredients
It helps condition both the hair and skin
Features emollient-rich and sensitive-skin-friendly formula
Lathers up quickly
Keeps skin supple and smooth after shaving
What We Don't Like: It may not suit sensitive skin.
[ Read: 7 Best Shaving Creams For Black Men ]
2. Best foaming gel: Gillette Ultra Sensitive Shaving Gel For Men
Infused with Vitamin E, Glycerin, and Shea Butter
The natural emollients keep skin soft and moisturized for smooth razor movement.
It is gel texture-wise but foams up quickly.
Features not-too-thick consistency and non-drying formula
It suits almost all skin types
What We Don't Like: It is infused with fragrance, making it unsuitable for sensitive skin.
3. Best shaving cream for dull and dry skin: Bliss Lemon & Sage Body Butter Maximum Moisture Cream
Infused with Shea Butter, Coconut Oil, Soybean Oil, Hyaluronic Acid, and Candelilla Wax
Beneficial for skin more than foams and gels
Make skin slick enough for the razor to glide
Keeps skin deeply nourished pre- and post-shave
Formulated with more natural ingredients
Also infused with vitamin E, it conditions the skin even after you rinse it off
The presence of menthol leaves a tingly finish
What We Don't Like: It doesn't later.
4. Best shaving cream for sensitive skin: Vanicream Shave Cream
Infused with glycerine to keep skin slick and moisturized
Safe for those with sensitive skin
Free of fragrance, preservatives, formaldehyde, and parabens
Suitable for allergy-prone skin too
The presence of gentle and preservative-free formula decreases the chance of irritation
What We Don't Like: Thick consistency
[ Read: 7 Best Shaving Soaps For Sensitive Skin ]
5. Best natural shaving cream: Andalou Naturals Lavender Thyme Botanical Shave Cream
Infused with fruit stem cells, aloe, and argan oil
It is a lightweight lotion suitable for all skin types
Formulated with probiotics, aloe vera, and rosehip and argan oils
It helps soften, hydrate, and smooth skin, allowing the blade to glide easily
What We Don't Like: It May feel slightly heavy.
6. Best shaving cream for facial hair: Proraso Shaving Cream
The major ingredients are Coconut Oil, Lactic Acid, Glycerin, and Menthol
It brings hair to the surface and therefore reduces the chance of getting ingrown
Suitable for all skin types
Works well for both men and women
What We Don't Like: The consistency is thick, and the smell is not very pleasing.
[ Read: Shaving Vs Plucking – Which Is Better For Facial Hair? ]
7. Best shaving cream for the body: EOS Shea Better Shave Cream
The active ingredients are Shea Butter and Aloe
It is a non-foaming cream that can be used on the entire body for shaving
It doesn't foam, but the texture spreads easily
Easy to rinse off or leave on post-shave like a moisturizer
Extremely moisturizing than any other cream for shaving
What We Don't Like: Unpleasing smell.
Conclusion
These are the best shaving cream for acne-prone skin that will help you get a close shave without irritation or inflammation. All these creams are tried and tested on different skin types, including acne-prone skin, and come out to be highly useful.
We have selected them based on their quality and performance on problematic skin. Besides we also considered users' reviews to compile our list. Start using these best shaving creams and see the difference.
You Might Also Like: