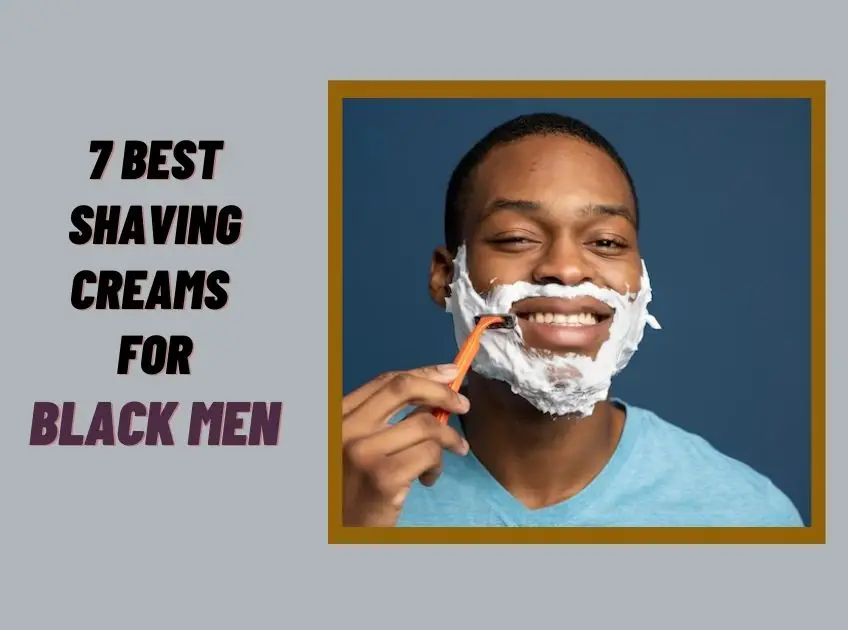 Black men have thick skin, and there is no doubt about that. While some may consider it a blessing, others a curse. Experiencing unsightly ingrown hair that sometimes causes pain while getting shaved is one of the major issues.
Due to dense and curly patterns, black men often get an ingrown hair. Such hair irritates and sometimes may cause inflammation too. All this makes shaving a painful process. Luckily, there are shaving creams for black men that help achieve the closest shave without causing pain and irritation.
Shaving Creams
Here we have carefully selected the best African American shaving products for black men that you will love. These creams offer hydration and protection to black skin, making shaving a pleasing process.
Check them out!
7 Best Shaving Creams For Black Men
1. Dermatologist tested: JACK BLACK – Supreme Cream Triple Cushion Shave Lather
It lifts the hairs away from the skin to help achieve a close and smooth shave
It contains three hydrating layers that moisturize the skin
Creates a protective cushion between the blade and the skin
It helps get close shave in a jiffy
What We Don't Like: It is more expensive than most other shaving creams. Also, you have to purchase a shaving brush separately.
[ Read: 7 Best Shaving Soaps For Sensitive Skin ]
2. Best for Sensitive Skin: Truefitt & Hill Ultimate Comfort Shaving Cream
Infused with lavender that gives this cream a great smell and protection
Lavender also acts as an antiseptic for healing your sensitive skin
Infused with natural glycerin that keeps skin hydrated
Glides easily on the skin for a smooth shaving experience
Thick, creamy, and luxurious cream for shaving
It does not have any additional scent
What We Don't Like: It may give a stingy sensation to certain skin types.
3. Best Overall: Aveeno Positively Smooth Moisturizing Shave Gel
Infused with Vitamin E, Soy, and Aloe Vera
It is lightweight and infused with soothing ingredients
Helps condition both the hair and skin
Features emollient-rich and sensitive-skin-friendly formula
Lathers up quickly
Keeps skin supple and smooth after shaving
What We Don't Like: It may not suit sensitive skin.
[ Read: 7 Best Electric Shavers For Sensitive Skin ]
4. Plant Based: ACRIMAX Shaving Kit
It contains 100% badger hair
It stays gentle on the skin and sturdy enough to create a luxurious lather
It comes with a rust and mold-resistant stand and bowl made from stainless steel and zinc alloy
It doesn't contain any toxins but all-natural ingredients
What We Don't Like: It is not a sensitive skin formulation. Also, the bowl you get is small.
5. Hydrating: Bib & Tucker Luxury Lime & Black Pepper Shaving Cream
Infused with all-natural ingredients
Features a mix of scents of bergamot, key lime, lemon, and mandarin that is unique and stimulating
It helps hydrate, protect, and soothe the skin
Free of parabens and artificial colors
What We Don't Like: A patch test is recommended for sensitive skin.
6. Fragrance-Free: Taylor of Old Bond Street Jermyn Street Luxury Shaving Cream for Sensitive Skin
Leaves skin feeling fresh and clean
Light fragrance, suitable for sensitive skin
Creates a thick foam that doesn't break down while shaving
Ensures less irritation and the occurrence of razor bumps
Quick to apply and easy to use
What We Don't Like: Brush and razor are sold separately.
[ Read: 12 Best Home Remedies To Get Rid Of Razor Bumps Fast ]
7. Premium Formulation: Men Rock Shaving Brush Set With Black Pomegranate Shaving Cream
It contains a light pomegranate scent with black pepper notes
Works well for sensitive skin
Prevents razor bumps and irritation
It comes with a high-grade handmade shaving bush
Gently exfoliates skin to help create a more comfortable shaving experience
It helps lubricate and moisturize the skin
Doesn't dry the skin
What We Don't Like: You need to purchase a straight-edge razor separately, as users say the handmade brush is too stiff
Conclusion
So, these are some of the most effective and the best shaving cream for black men. If you struggle to get a close shave without pain and irritation, and ingrown hair, these shaving creams are the best bet. Start using them and feel the difference.
You Might Also Like: