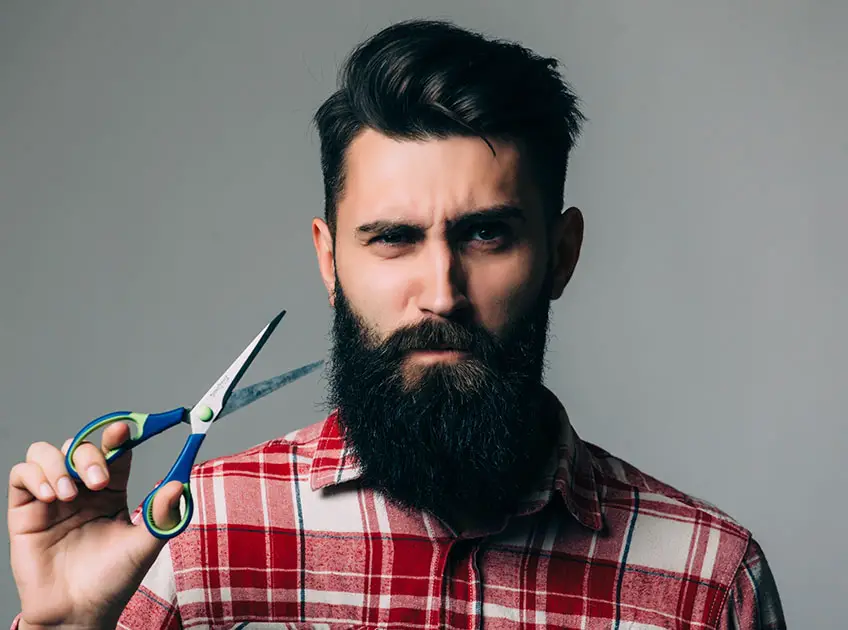 In earlier days, sideburns are considered the symbol of authority for various cultures. Previously men are encouraged this sideburn or shape them into a style that would prove their hairiness. The other names are side whisker or sideboard.
But nowadays women also concentrate on this sideburn to express their face cut and be fashioned. So, sideburn is the most common haircut for both genders according to their face shape and the nature of the hair whether it is long or short. In this article will see the trim sideburn with long hair below.
Have To Concentrate On Face Shape Before Trimming Sideburn
When we are thinking about to do adjust or shaping the sideburn, we should know about your face shape. Because, face shape or face cutting is important for any hairstyle or shaping the beard, mustache, etc., there are many types of face shapes like round, oval, oblong, triangular, diamond, and square shape.
We have to analyze first, and we can do it our own or we can go with a hairstylist or saloon to correct the sideburn which they suggest.
Once we chose an unsuitable sideburn, it makes the total face cut go wrong. So, always being conscious about the structure of the face and hair texture is important.
[ Read: 7 Best Electric Shavers For Sensitive Skin ]
How To Trim Sideburns With Long Hair
Long hair is an exciting experience because you have been living with short hair for some time. By the time, sideburn also tends to grow down, it makes you sometimes awkward because it is not controlled and you want to grow pretty quick.
Or if you want innovation with this hair, you make an idea to trim the sideburn with your growing hair. So, for your unruly sideburn, you are going to trim and create a stylish.
There is nothing wrong with it, as you live in your style. It gives you a new look and makes you comfortable.
[ Read: 10 Best Facial Hair Trimmer For Women ]
Needed Things For Doing Sideburn For Long Hair
Clippers with some guards
Mirror in a bright lighted place
Beard comb or other fine tooth-comb
Razor
Trim The Sideburn For Long Hair
The first step when, you are going to trim the sideburn, comb your hair without tangling.
Next, just gather all the hair and tie it with a hair tie or band on the back of the head.
Part the hair with a fine comb and create a part line with your ear.
Pull down the hair that is present below the ear, which you want to make sideburn.
In the trimmer select the clipper with 3# or 4# guards for the start. Grip the hair above the part behind your ear when doing the thin-out of the sideburn.
Hold the trimmer in the bottom part of the sideburn and do an upward direction and make sure it do not touch the face
Always notice your sections, because you accidentally clip longer layers of hair.
For faded bottom of the sideburn, change the guard to #2 or #3
If you want the sideburn shorter, you can switch to 1; or decrease the size to the previous one.
For a gradual fade, pass the trimmer over the lower half.
You also do gradually fade your sideburn from #2 to #1 or trim them entirely with #1.
Finish it with the shape of your hairline without guard clippers. After you have trimmed the sideburn, finish the edge slightly bend or join with the beard.
Clean up the stray hair which is around your cheek and between your ear and the sideburn.
Sometimes with scissors also we can make sideburns on our own. But be patient and do it slowly when using scissors to adjust the sideburn. Otherwise, it makes you pierce in ears with shears.
[ Read: How To Dermaplane At Home Safely ]
Safeguards Need To Take For Sideburns
1. If you have never tried to fade your hair, use caution like cutting a lineup, or use clippers other than sideburn areas. And also if you never tried clippers in your lifetime, just try the simple sideburn to touch up the head for hairstyle.
2. At first, trim your hair little by little because if you do it in a hurry, it leaves you in a bad situation. Start with a longer guard and then slowly decrease the numbers.
3. Before you start doing sideburn, just overlook any magazines or go through any online suggestions for better sideburn for you.
4. Before shaving, remember to shape your sideburn after you have thinned out.
5. Always remember, for long hair, sideburn is very important and you can trim your sideburn for any occasion or event.
[ Read: 12 Best Home Remedies To Get Rid Of Razor Bumps Fast ]
Types Of Sideburn For Longhair
Long sideburn: A long sideburn make your face look thin. It is perfect for a square and round face.
Short sideburn: It is elegant and very perfect for a clean shaved face. And it is above the earlobe at all times.
Thin: In this article, we consider the sideburn for long hair. So, a thin sideburn is suitable for combed hair in the back.
Tapered: This type of sideburn is wide at the top and narrow at the bottom. And it requires regular trimming to maintain the shape.
Conclusion
Sideburn is always perfect for those who maintain it regularly and also it completely gives you a changeover to your face. While doing sideburn be relaxed and confident about the style that will make you look elegance and stylish.
Image Credit: freepik
You Might Also Like: