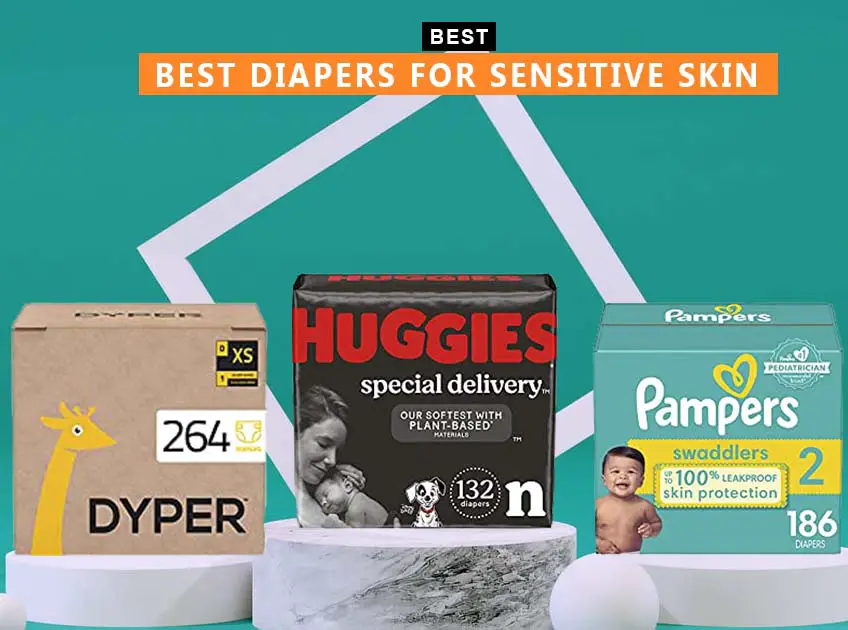 Every parent wants their child to have a safe and comfortable time when they are at home. One way to ensure ease is to choose gentle diapers on sensitive skin. However, finding a soft diaper on exposed skin can be difficult, so read on to learn more about the best diapers for sensitive skin.
Many people are constantly searching for the best diaper for their baby. However, the proper diaper can be difficult to find for those with sensitive skin. Listed in this article are some of the best brands for sensitive skin and helpful tips for finding the perfect diaper for your baby.
Diapers For Sensitive Skin
Many people are today changing their lifestyles to be more eco-friendly and eco-conscious. To reduce your carbon footprint, consider using cloth diapers, natural cleaners, or other environmentally friendly products. The best diapers for sensitive skin are usually cloth diapers. Cloth diapers are typically soft, easy to use, and require no added ingredients to help with skin discomfort. There are plenty of brands that make cloth diapers.
7 Best Diapers for Sensitive Skin
1. Premium diapers for sensitive skin: Pampers Pure Protection
Paediatricians highly recommend it for rash-free skin
Diapers Sizes vary according to the age of the baby
The material is Hypoallergenic that, 's minimal
Disposable Baby Diapers for easy handling
Fragrance-Free diapers
What We Don't Like:
The mild effect of rashes is seen in the prolonged wearing of diapers.
[ Read: Coconut Oil for Diaper Rash: Does It Work & How to Use ]
2. Super soft diapers for sensitive skin: Huggies baby napkins
Dermatologist-tested and clinically proven to be hypoallergenic
The disposable baby diapers are made with plant-based materials for trusted performance
The diapers are super soft and safe for sensitive skin
Diapers do not contain harsh ingredients and are free of fragrances, lotions, parabens, and elemental chlorine bleach.
What We Don't Like:
The quality of the diaper needs to meet the needs of customers.
3. Baby-friendly Diapers For Sensitive Skin: Seventh Generation Diapers
The baby diapers are crafted with a contoured shape and soft, flexible leg cuffs
The back pocket waistband helps to prevent diaper blowouts
They absorb wetness and lock moisture to keep your baby's skin dry and healthy
Its 100% breathable outer cover ensures airflow
The unique feature is a wetness indicator that will notify about the diaper change.
What We Don't Like :
The diaper has side leaks that make the baby discomfort. As a result, wet balls are formed out of wetness.
[ Read: Seventh Generation Baby Diapers Review ]
4. Advanced diapers for sensitive skin: Pampers Swaddlers for babies
It's ultimately made for growing babies.
The new pampers are the softest diapers ever, with outstanding absorbency
New ultra-soft absorbent layers soothes and protect the skin of the baby
Specially designed with exclusive Breathe Free
A leak-proof diaper that absorbs wetness away from the skin so the baby's skin stays drier and healthier
What We Don't Like :
Quality is diminishing with the redesigning of diapers
5. Bamboo baby diapers for sensitive skin: Dyper viscose for babies
Double Leak-protection Barriers the leg cuff help protect where leaks happen.
Pampers Wetness has an Indicator that shows when your baby's wet
Diapers are free from latex and parabens.
Clinically proven hypoallergenic for protection for baby's delicate skin
What We Don't Like :
Absorption of the diaper is poor, with side leaks of the bowel.
6. Gentle Touch Diapers For Sensitive Skin: Mama Bear Baby Napkins
The new prints feature hand-drawn animals that illustrate all the love and sweetness between baby and parent.
It's trusted for the protection of the baby's sensitive skin
Paediatrician Recommended for Comfort leakproof all day long
It has natural cotton rubber that has a high capacity to absorb
What We Don't Like:
The Papery texture of the diaper only holds urine and feces passed out.
7. Sensitive Disposable Diapers For Babies: Pampers Soft Touch Diapers
The wetness Indicator lets you know when your baby might need a change
It has Soft, Stretchy Sides that Help the diaper stay in place, flexing with the baby's every move
Air Dry channels are provided for Breathable dryness to keep your baby comfortable
Absorb Away Liner pulls wetness to lock the leaks
What We Don't Like:
It's expensive and unworthy, and it even overflows with one-time pee.
[ Read: Cloth Diapering: How To Use It And Benefits ]
Conclusion
The best-recommended diapers are made with soft materials on the skin. They also should be breathable and absorbent. If you feel overwhelmed with different types of diapers, you should consider selecting cloth diapers. They are a great way to save money and care for sensitive skin. However, it is essential to do some research before purchasing diapers for your baby.
You Might Also Like: