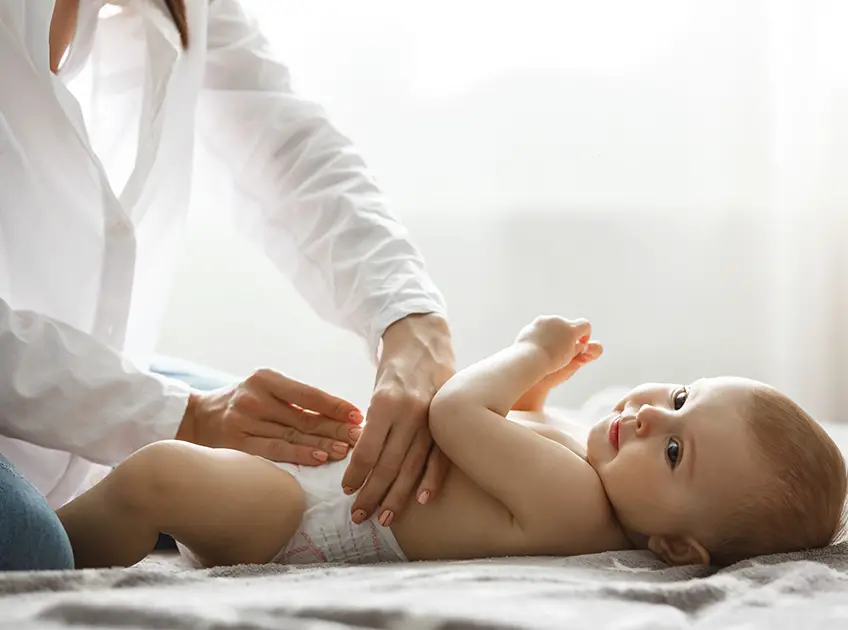 Cloth diapers may bring to mind a long string of clothes hanging to dry. It may even make you think that using cloth diapers adds to the already existing load of laundry. However, cloth diapers are not the same as before. Of course, you would have to wash them still, but they are no longer inconvenient to use. Brands have come up with designs that make using cloth diapers easy.
Some parents prefer using cloth diapers for two main reasons: they are cheaper and environment- friendly. If you are considering cloth diapers for your baby, here is everything you need to know about how to use cloth diapers.
Disposable Diaper Or Cloth Diaper – Which Is Better For Your Baby?
The answer depends on what you prefer for your child. Both options offer a set of advantages. However, cloth diapers offer additional benefits:
They are environment-friendly.
They can be washed and reused.
The fabric is biodegradable.
The natural fabric is devoid of chemicals, making it safe for your child's skin.
They are a lot cheaper than disposable diapers.
Cloth diapers can also result in lower incidences of diaper rash as they are changed much more frequently than synthetic diapers.
Reasons Why Using Cloth Diapers Could Be Beneficial
1. Safe Chemical-Free Use: The natural cotton or wool fabric of cloth diapers is free of chemicals, unlike disposable diapers. Chemicals present in disposable diapers may cause skin irritation and hormonal problems. This makes cloth diapers safer for the baby.
2. Environment-Friendly: Disposable diapers are not biodegradable, whereas cloth diapers made of natural cotton or wool are compostable. Also, cloth diapers can be reused over several months and even years, limiting the amount of garbage produced due to diapers.
3. Affordable: Cloth diapers are relatively cheaper compared to disposable diapers. Also, they can be reused frequently, reducing the need to buy new diapers each time.
Types Of Cloth Diapers
Cloth diapers come in different fits and with various features. The following are some of the common types of cloth diapers.
1. Flat Cloth Diapers: A regular piece of cloth, flats can be folded in any way to ensure the utmost comfort for your child.
2. Prefold Cloth Diapers: Designed with a thick center, prefold cloth diapers are highly absorbent cotton diapers that can be folded easily to fit your child better. Its fit may not be as customizable as flats, but it is surely easy to remove and clean.
3. Fitted Cloth Diapers: With provision for leg gussets, these diapers look like the disposable ones but sans the water-resistant cover. They are highly absorbent and also prevent leaks.
4. Pocket Cloth Diapers: These diapers come with a waterproof outer cover and a cotton insert. Both the cover and the insert can be washed and reused.
5. All-in-One Cloth Diapers: Closest to a disposable diaper in design, these diapers come with highly absorbent soaker pads and a waterproof cover. These diapers do not require additional fasteners or extra adjusting steps for a secure fit.
6. All-in-Two Cloth Diapers: These diapers are similar to the all-in-one diapers except that the soaker pad is detachable from its outer waterproof cover. They are also quick-drying compared to the all-in-one diapers.
7. Hybrid Cloth Diapers: These diapers have an outer waterproof cover that can accommodate both reusable and disposable inserts. The inserts used in these diapers are biodegradable and free of chemicals.
How To Use Cloth Diapers?
Most cloth diapers in the market are designed like disposable diapers, that is, they come in a shape that can easily fit your child's waist. These diapers come with different closures, such as hook-and- loop straps and buttons. These closures serve different purposes:
The buttons or snaps on the top are used to adjust the fitting at the baby's waist.
The closures in the front allow you to stretch or shrink the diaper as per your child's convenience.
How To Remove Or Change Cloth Diapers?
Keep the following points in mind when changing your baby's diapers:
Open all the closures slowly, and check if the diaper is soiled.
If there is any solid waste, spray it off with a diaper sprayer over a toilet bowl.
Place the washed diaper in the bag or pail reserved for used or soiled diapers.
How To Wash Cloth Diapers?
Cloth diapers can be washed like any other piece of cloth with water and detergent. Additionally, you may adopt the following suggestions when washing a diaper.
Opt for detergents that do not contain perfumes or dyes. The chemicals in these can cause rashes and skin irritations on your baby's sensitive skin.
Try the cold cycle first without any detergent, followed by a hot cycle. This can ensure that the diaper is stripped clean of stains or other sticky residues.
Avoid washing more than a dozen diapers in a single wash. Also, wash diapers every day or at least every alternate day to prevent staining and mildew.
When To Change A Cloth Diaper?
Cloth diapers can be highly absorbent and can hold quite a substantial amount of your baby's pee. However, it is best you change the diaper every two hours to keep their skin fresh and healthy. To check if the cloth diaper needs to be changed, check its weight and hardness. If the diaper is made of natural fibers, such as cotton and bamboo, it will feel harder and denser when wet. If it bunches together when pinched, it is ready to be changed. Also, if the diaper has just been wet, it will feel heavier.
How Many Diapers Would Your Baby Need In A Day?
For a newborn, you may require almost a dozen cloth diapers. For Infants, the number may reduce to an average of eight to ten diapers. For toddlers, you may need six to eight cloth diapers per day.
Common Cloth Diaper Mistakes Parents And Caregivers Make
Here are some mistakes you can avoid when using cloth diapers for your baby.
1. Buying in bulk: You see an ad that says the diaper is cheap and safe for the environment, and straight away, you buy huge packs for your baby without even testing it once. If this diaper does not suit your child, it might just go to waste. So, try different brands and types and see which one works best for your baby before buying them in bulk.
2. Not stocking up on spare diapers: Once you choose a type of diaper after experimenting with different types, ensure you have enough of that particular variant. You never know, someday you might need more diapers than usual for your baby. It is better to stock up on cloth diapers you prefer for your baby.
3. No prepping of cloth diapers: Cloth diapers that come with synthetic fabric need to be washed a couple of times before they can become comfortably absorbent. Similarly, cloth diapers made of natural cotton and bamboo need to be washed at least four to five times before they can be used for your baby.
4. Using the wrong detergent for washing: You may buy cloth diapers thinking they are chemical-free, but if you wash them with a detergent that contains harsh chemicals, it will just beat the purpose of a cloth diaper. Wash the cloth diaper with detergents that do not contain fragrance and additives. Also, keep away from fabric softeners and bleach that are harmful to your baby's skin.
5. Not adjusting the leg fitting: When buying a diaper, you need to check its size and age suitability, which are often mentioned on the pack. Buying the wrong size will not only be uncomfortable for your baby, but also cause leakages. Also, ensure the diaper is fitted perfectly with the help of snaps.
6. Not allotting diaper-less time: It is essential for your baby to have some diaper-free time, that is, they should be allowed to play or rest without any diaper on. This will allow their skin to breathe and prevent rashes.
7. Using the wrong diaper cream or lotion: Creams and moisturizers can cause a waxy layer on the surface of the diaper and affect its level of absorption. Also, this greasy texture is difficult to get rid of when washing. Thus, when your baby's skin feels dry, use organic coconut oil; it will restore their skin's moisture.
8. Not cleaning poop quickly: Leaving the baby's poop on the diaper for too long is not hygienic. Use a diaper sprayer to spray off the poop in the toilet before washing it.
Misconceptions And Facts About Cloth Diapers
Read on as we dispel some common misconceptions about cloth diapers and tell you the facts related to them.
Myth 1: Anyone can use cloth diapers
Not really. You will prefer a cloth diaper only if you own a washing machine because if you don't, washing a load of diapers daily can become tiresome. Also, even if you have a shared laundry room in your complex, not everyone will approve of the idea of washing diapers in the machine.
Cloth diapers are more expensive than disposable diapers. However, since they are reusable, you will end up saving more than when using disposable diapers.
Remember that if you leave your child with the childcare provider, they may or may not deal with the cleaning process for your sake.
Myth 2: Cloth diapers require safety pins to stay put on the baby
New and modern cloth diapers available in the market come with hook-and-loop closures or snaps, and none of them require safety pins. These diapers are available in different sizes, so your child gets the most comfortable fit. Cloth diapers also come with a waterproof lining that prevents leakages.
Myth 3: Cleaning baby poop from the diaper is a big hassle
We all deal with poop daily, so cleaning your child's poop should not be a big problem. All you have to do is use a diaper sprayer to spray away the poop and then wash the diaper whenever you get time.
Cloth diaper or disposable diapers, any choice you make, ensure that you keep your child's comfort and safety a priority. Just because something seems like an attractive option to use does not mean it is best for your child. Try different types of diapers first and see what your child feels most comfortable wearing. Then look for the one that fits your budget and is easy for you to use and clean.
Image Credit: freepik
You Might Also Like: