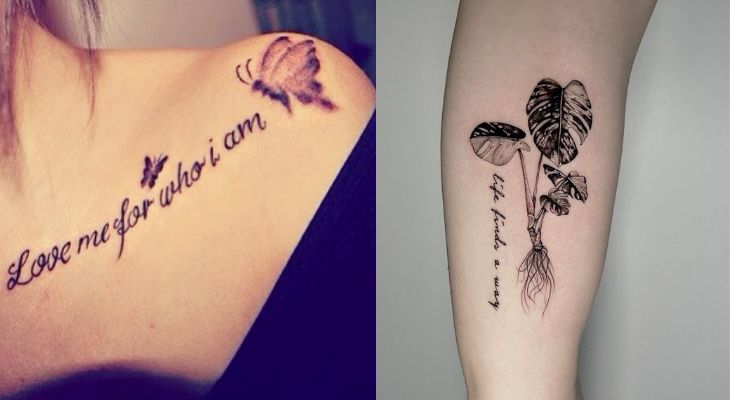 Some people are always interested in getting tattoos on their bodies. If you are the one, why not tattoo inspiring quotes? But before that, make sure you think twice before getting inked with the right quote. There's no need to worry if you're not clear about the quotes. Stay relaxed and read this blog. Here are some great tattoo quotes for you.
20 Inspirational Quote Tattoos
1. Arm Quote Tattoo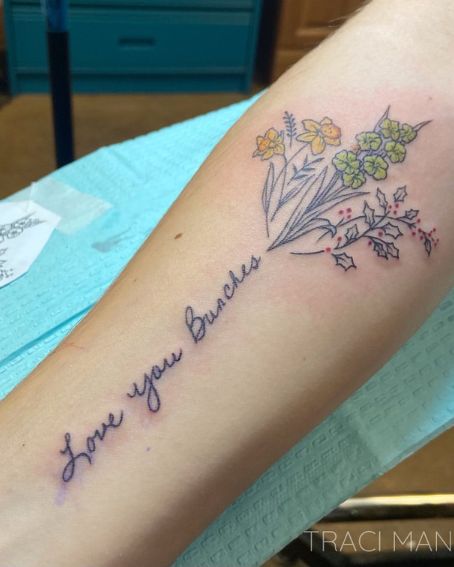 "love you bunches"
It is a splendid tattoo inked with a bunch of colourful flowers. Also, Near the floral tattoo, you can find the "love you bunches" quote. Many people are obsessed with this strange tattoo. Get inked if you like it.
2. Fearless Quote Tattoo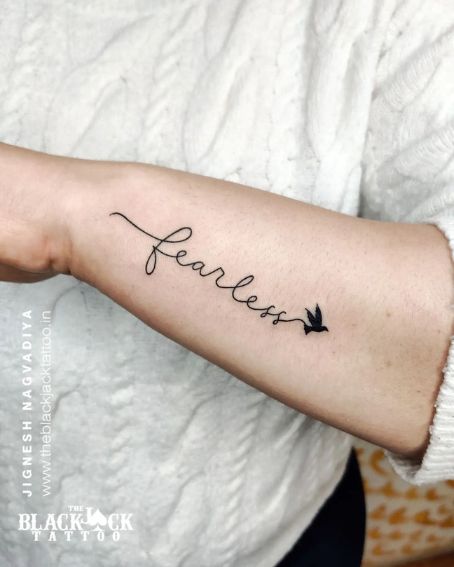 Discover the art of bravery with this Fearless Quote Tattoo. The little bird design at the edge of the quote is exquisite to the art. If you are a fan of Taylor Swift, you should never fail to wear this tattoo.
3. Small Lettering Tattoo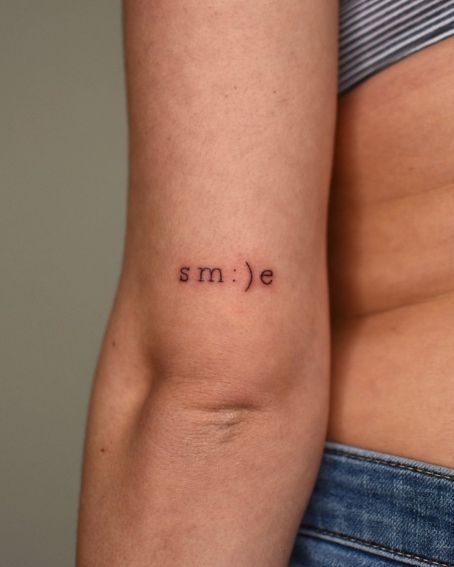 Each lettering tattoo has an important meaning in every individual's life. This "Smile" tattoo is something special for all. When we read it, it lights up everyone with a charming smile. Ink it and put a smile on everyone's face.
4. Sunflower With Quote Tattoo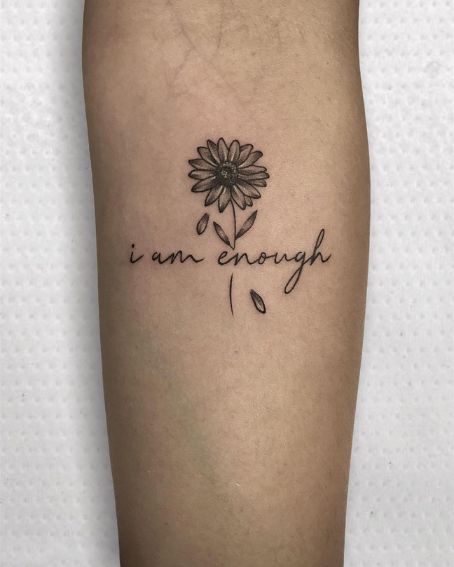 Sunflowers symbolize Good Luck. This admiring flower tattoo is quoted with "I am enough". This shows that nothing is more important for a person than his soul. If you are a person who stays independent in life, get this on your arm.
5. Inspirational Quote Tattoo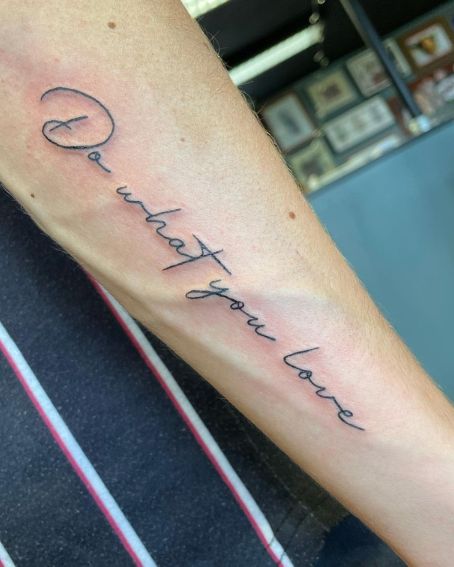 "Do What you Love."
Many people won't do the things they love. Only a very few listen to their inner voice. If you are the one, then this inspiring quote should be your choice to wear.
6. Powerful Quote Tattoo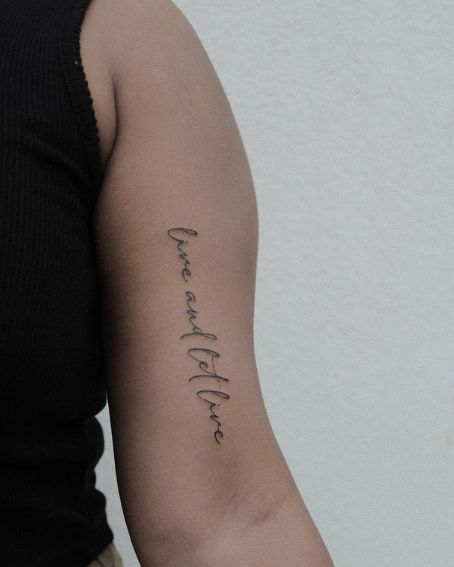 "Live and Let Live"
It is a powerful Dutch quote. This quote says that a person should live life with their choice and let other people do the same. If you are such a person, try this out.
7. "long Live" Quote Tattoo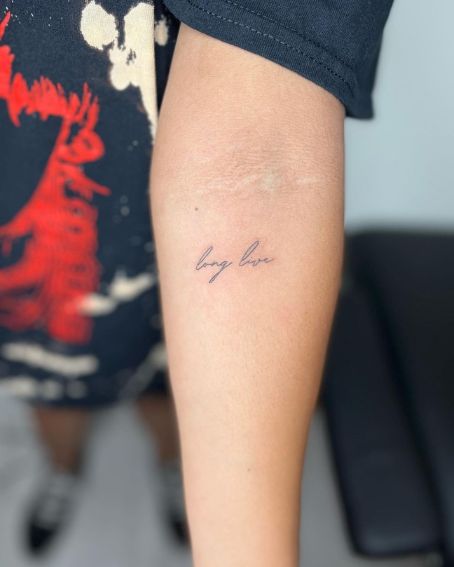 Long Live is said to express the support for one person. It is a hope that your loved one will live for a long time. Just get this great quote in you.
8. Motivational Quote Tattoo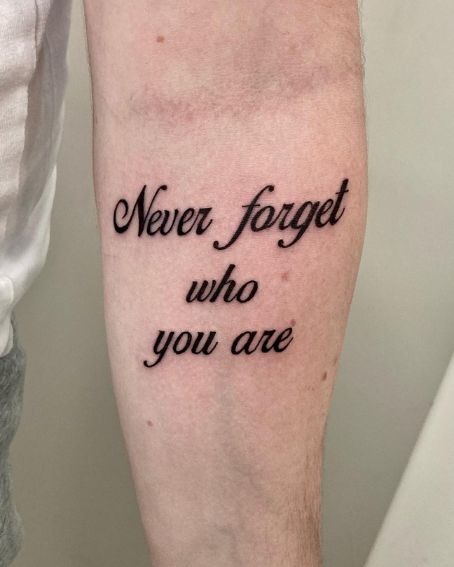 "Never Forget Who You Are"
This motivational quote lets you stay strong in life. Armour yourself with this inspiring quote. This won't let you down by hurting others.
9. Simple Quote Tattoo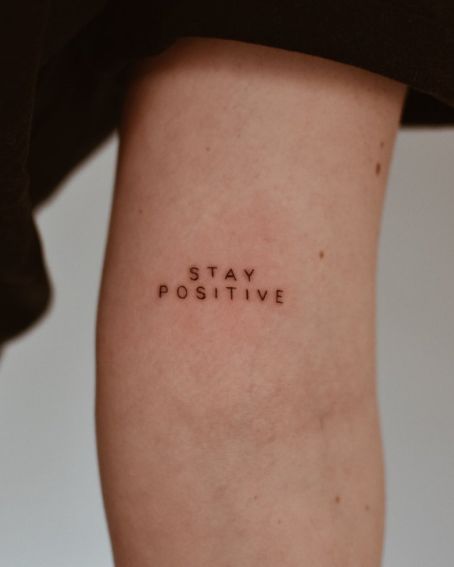 "Stay Positive"
Don't let your fever take over. Most people used to say this motivational quote in their life when they lacked positivity. Wrap your arm with this quote and stay positive in life.
10. Back Quote Tattoo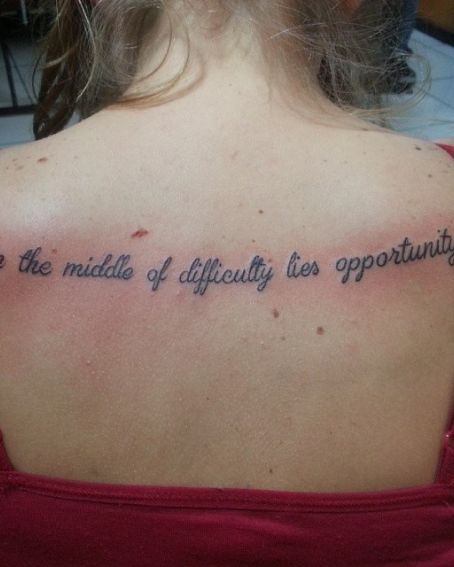 "In the middle of difficulty lies opportunity."
This quote always gives you hope when you are in trouble. Whatever the situation you face in your life, everything has a solution to end it. Ink this precious quote to any part of your body and spread its vibe to others.
11. Quote Tattoo With Monstera Plant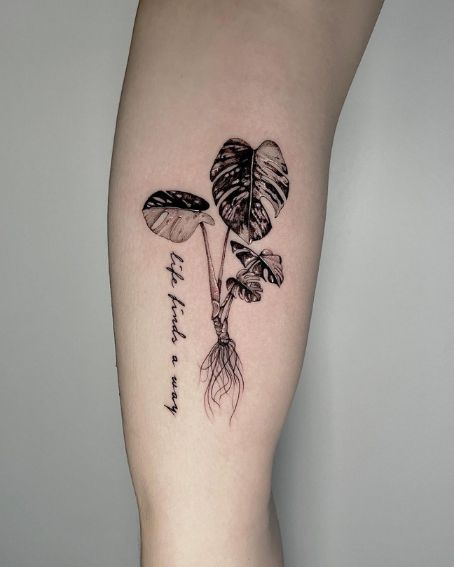 "Life finds a Way"
The Monstera plant symbolizes the long life of the respected people. Along with the plant, it is tattooed with the "Life finds a Way" quote. This explains that nature always finds a way to survive, even in hard times.
12. Collarbone Quote Tattoo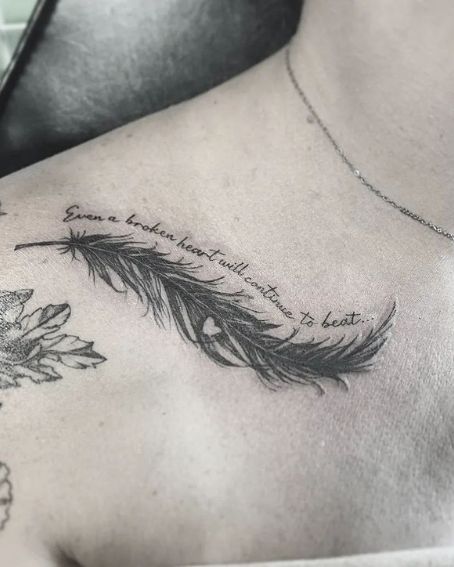 "Even a broken heart will continue to beat".
A person's collarbones are graceful, so it is a perfect sport for a tattoo It signifies intense feelings of pain. This quote tattoo is designed with the quill, which symbolizes Communication. If you are in pain and unable to share with others, wear this tattoo, it speaks for you!
13. Cute Elephant And Quote Tattoo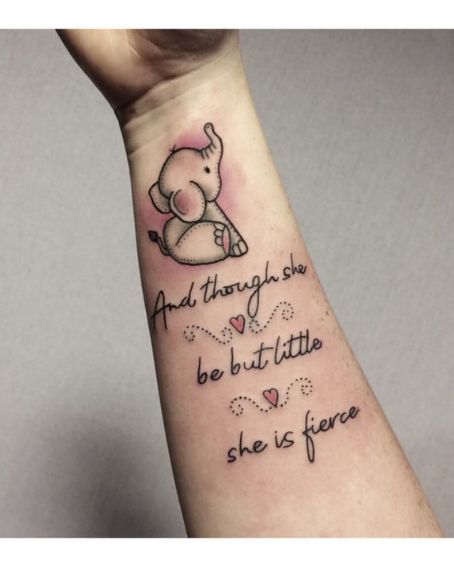 "And though she be little she is fierce".
It is a Shakespeare quote that represents a girl's gentle and kind nature. The cute little elephant tattoo on the wrist symbolizes the strength and loyalty of a person.
14. Watercolor Quote Tattoo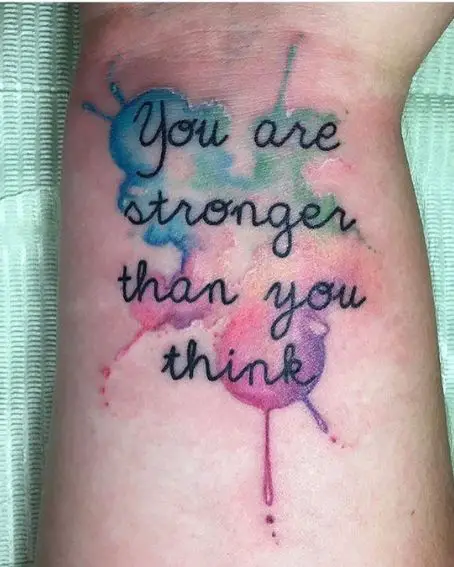 "You are Stronger than you think".
Everybody is strong in their own way. But, no one notices until someone points it out. You can wear this quote on your arm with a watercolour tattoo. It gives different shades of colour to your tattoo.
15. Shoulder Quote Tattoo With Butterfly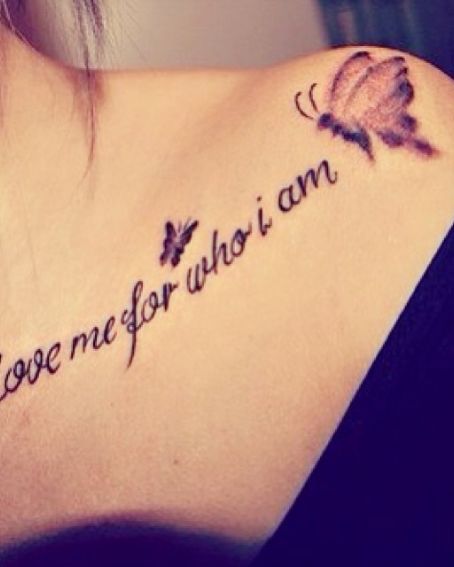 "Love me for who I am".
These inspiring quotes bring hope to believe in every child and to accept who they are. As a bonus, the little butterfly will make you fly through the garden of love. Tattoos can be inked anywhere on the body. But tattooing this quote on the shoulder could give an attractive look to it.
16. Foot Quote Tattoo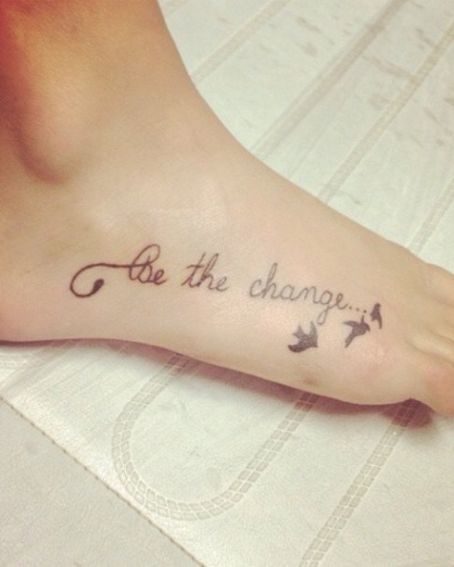 "Be the Change".
This quote represents a new beginning. Try this out if you are looking for the best quote to tattoo your foot!
17. Hummingbird And Tiger Lily Design Quote Tattoo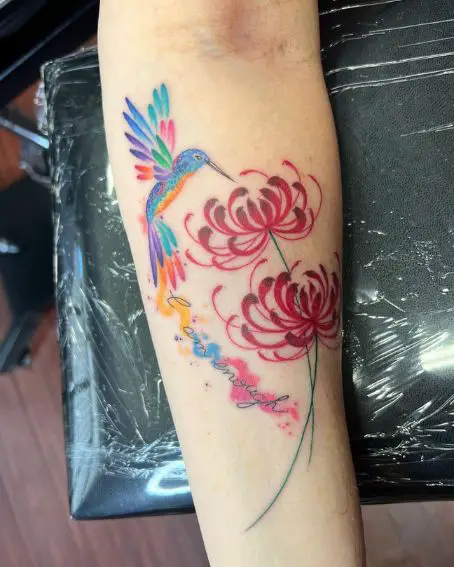 "I am enough"
The hummingbird represents "Kindness and Resilience". The Tiger Lily represents "Love and Purity". This colourful tattoo is quoted with "I am enough". Overall, it signifies that love, purity, strength, and kindness are enough for a person to live a great life.
18. Hidden Heart Tattoo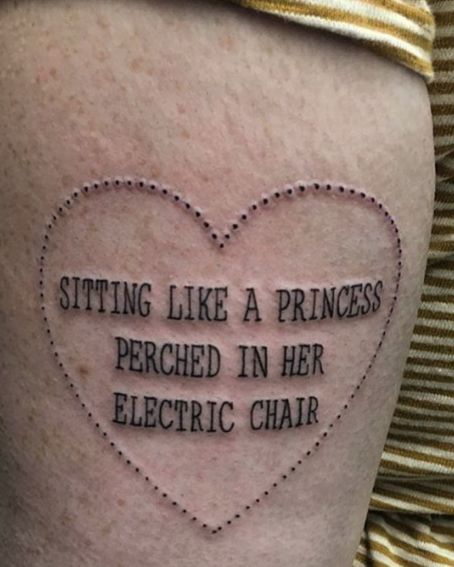 "Sitting like a Princess Perched in Her Electric Chair".
It is a lyric from Someone Saved My Life tonight. If you are a die-hard fan of it, try this hidden heart tattoo.
19. Simple Fish With Quote Tattoo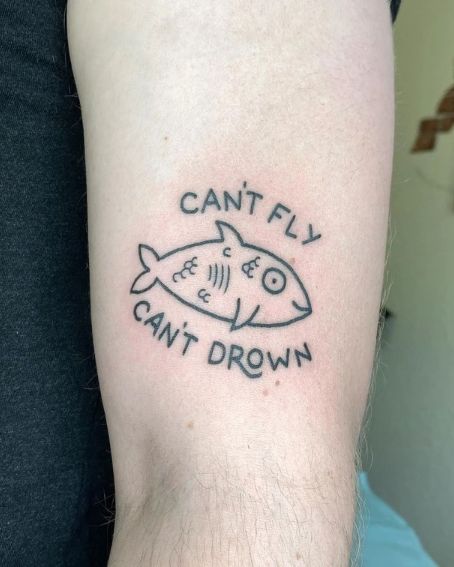 "Can't Fly, Can't Drown"
A Fish tattoo represents "Prosperity, wisdom, & Strength". This tattoo is filled with the quote, representing a fish that will not fly or drown in the water!
20. Ankle Quote Tattoo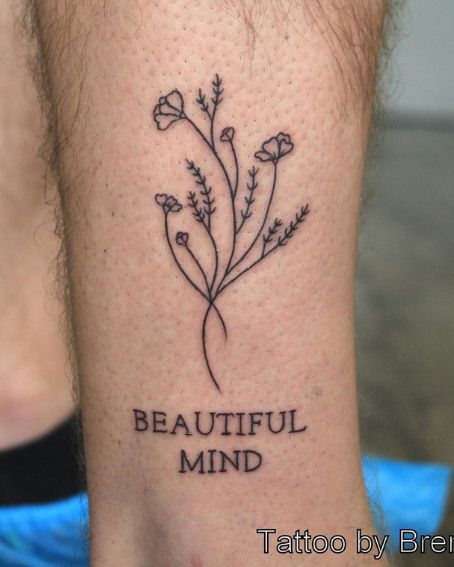 "Beautiful Mind".
This tattoo is inked with beautiful wildflowers. Wildflowers represent Joy. With this lovely quote tattoo, you can inspire others to live a happy life with a beautiful mind!
You Might Also Like: