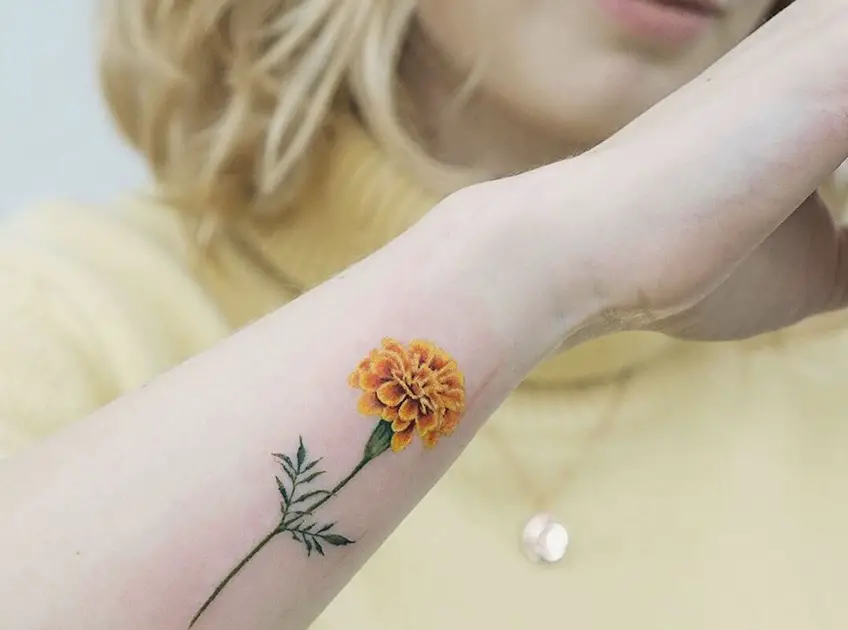 Flower tattoos symbolize love, beauty, and feminism. The multi-layered flower symbolizes the contentment of God in certain ancient cultures. People even get it inked as a sign of love for their beloved one. This can be either black and white or colored, intricate or simple based on personal preference, which can be inked at various places in the body.
1. Rose Tattoo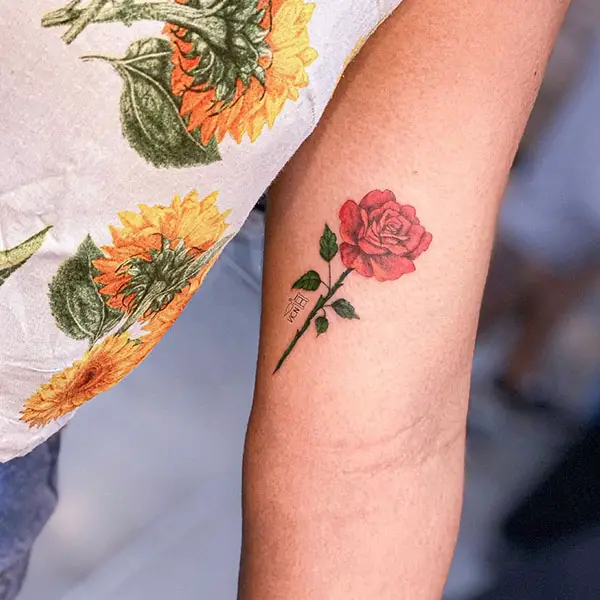 This rose tattoo has a stem with leaves and thorns which symbolize two feelings, i.e happiness and pain. The thorns signify that a person believes in appearances being deceptive and every situation needs to be dealt with carefully.
[ Recommended: Beautiful Dandelion Tattoo Designs ]
2. Simple Marigold Flower Tattoo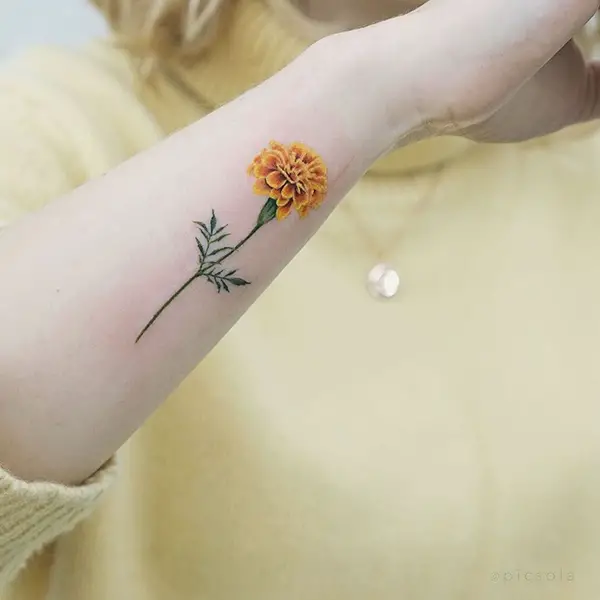 This yellow marigold tattoo signifies your hardworking spirit with a perfect attitude to get anything done. Wealth and aspiration to succeed are symbolized by it. It also shows your kindness and cares for others.
[ Recommended: Sunflower Tattoo Designs ]
3. Lily Flower Tattoo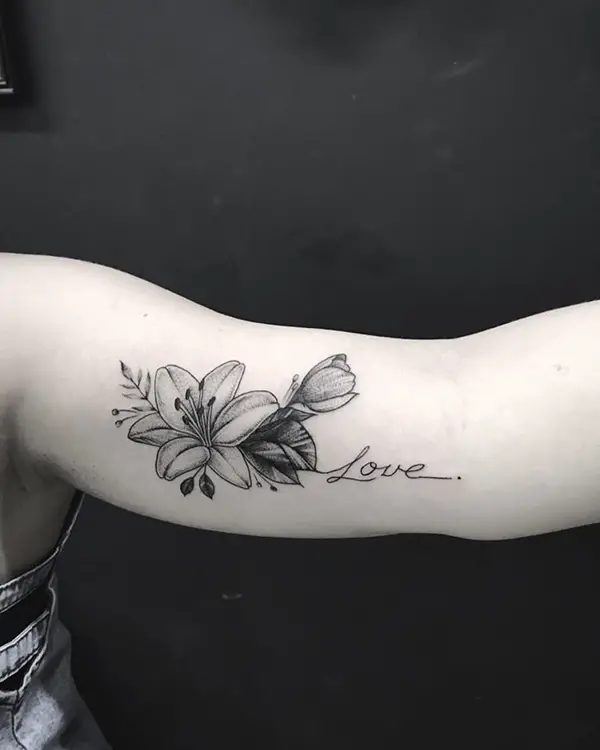 The Lily flower tattoo symbolizes purity, and devotion and is known for representing rebirth and motherhood. Certain countries have symbolized this as love and pure romance for a century.
4. Blue Flower Tattoo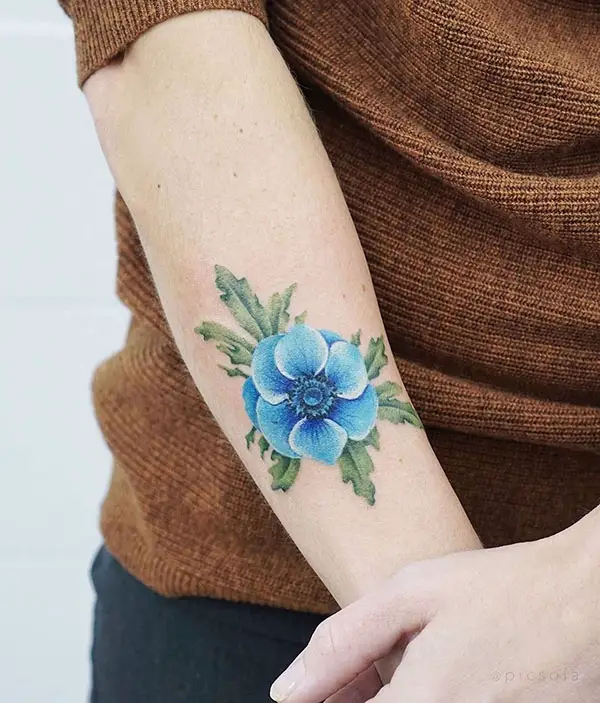 When blue is your favorite color, get this flower inked on your wrist or arms for a fashionable look. The color signifies power and wealth.
5. Pink Rose with Jesus Name Tattoo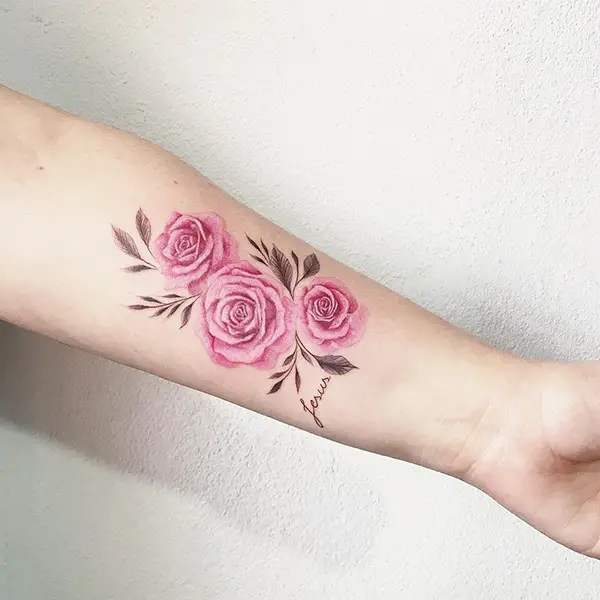 Pink roses symbolize affection, gratefulness, and gratitude. When you have immense faith in God and have a strong experience of him being there with you throughout the journey of your life so far, the best way to show your love for him is to get Jesus inked beside these pretty flowers, so whenever you look at them, you will remember how you have overcome tough situations in life with his love!
6. Blue Flower Tattoo with your Beloved's Name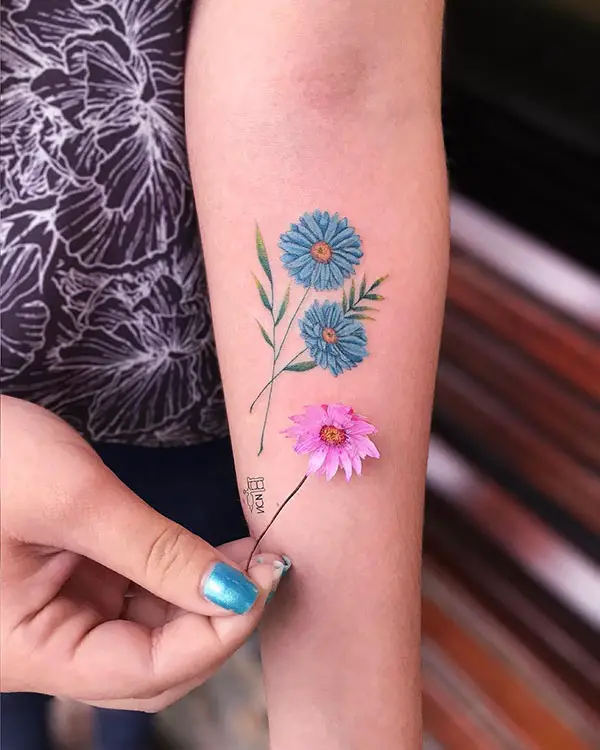 The blue flower with the name of your beloved one beside it symbolizes desire, love, and striving to achieve the infinite and unreachable together. It is a sign of hope and beauty in different things.
7. Minimalistic Flower Tattoo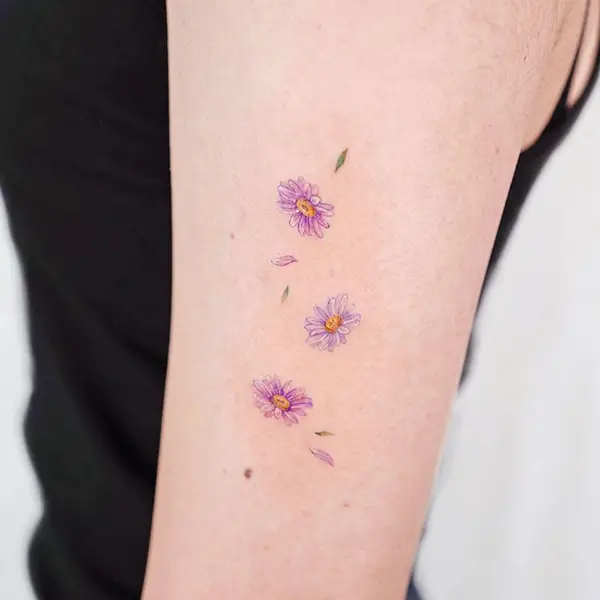 Love flowers but dont want to get a bigger one inked on the arms? These tiny flower heads are best for creating a fashionable and cute look while showing your love for nature.
8. Slender Lavender Florets Tattoo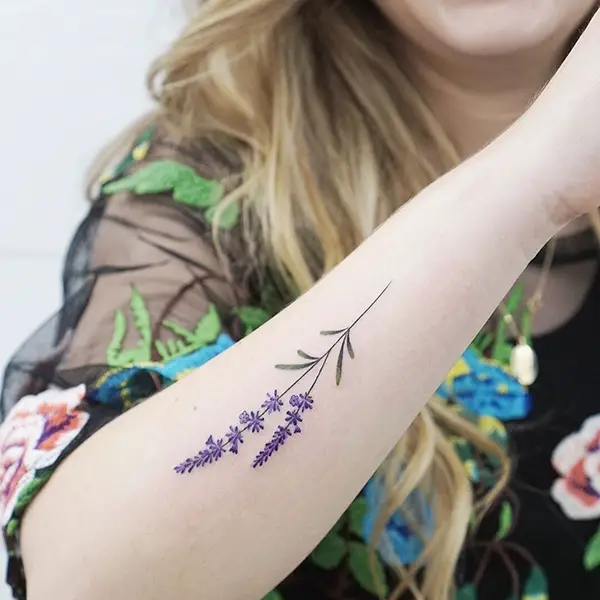 Lavender is a sign of love, purity, and devotion. It is a royal color that exudes luxury, elegance, and refinement, adding a feministic touch.
9. Hydrangea Flower Tattoo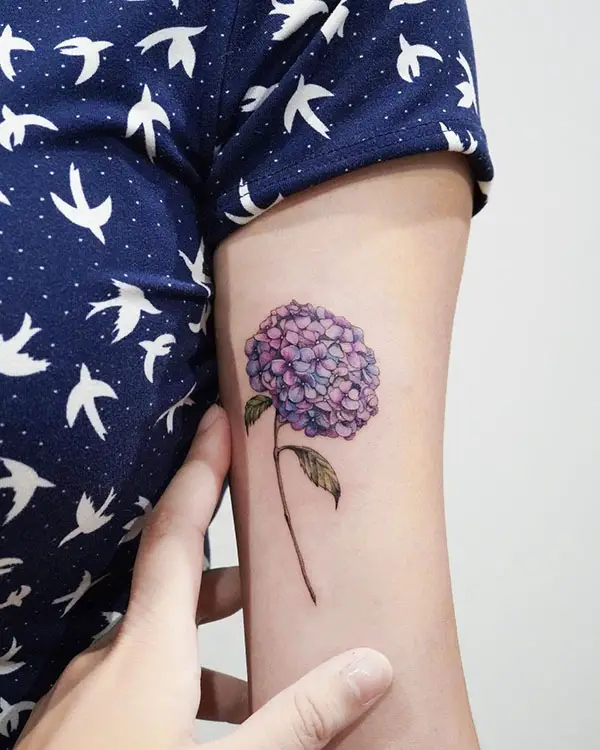 The hydrangea flower is a sign of beauty, grace, and gratitude. It shows your efforts to spread love, harmony, and peace around.
10. Hummingbird with Flowers Tattoo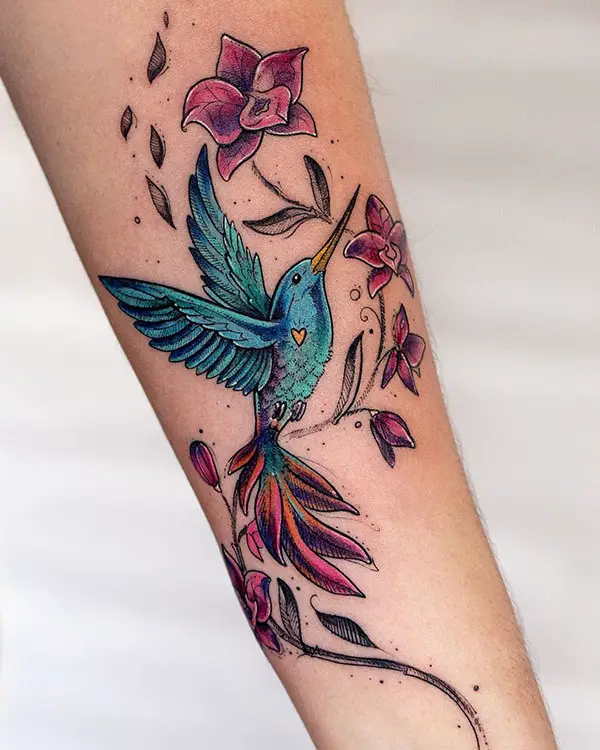 The hummingbird tattoo is a sign of resilience and kindness. The flowers along with the bird hovering over them symbolize joyfulness, cooperation, and overcoming adversaries in life.
11. Orange Flowers with Name Tattoo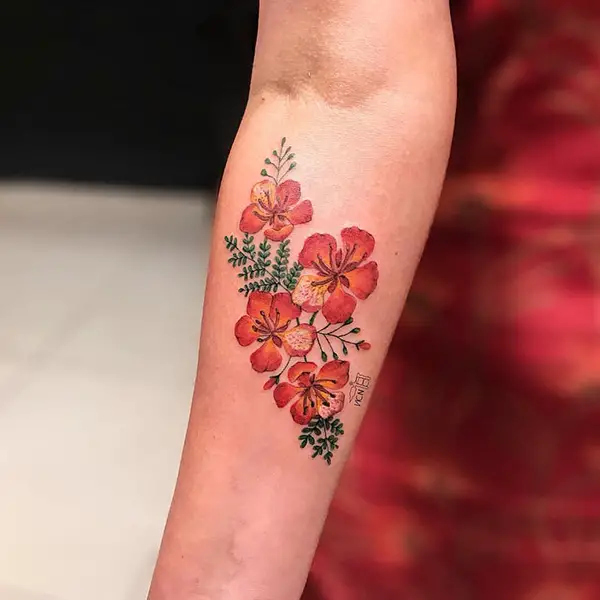 The bright orange color of the flowers symbolizes enthusiasm and excitement. Their bright color along with contrasting green leaves look great on fairer skin tones. Getting the name of your beloved one inked besides these flowers, shows how they have made you more enthusiastic and a better person in life.
12. Yellow Rose Tattoo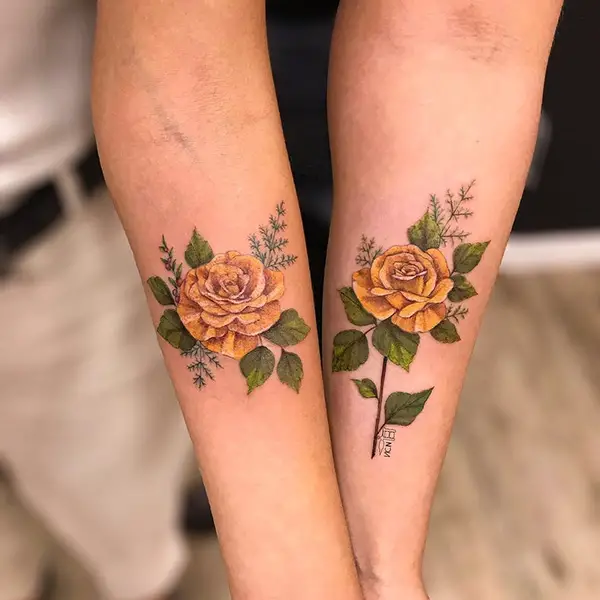 Yellow roses symbolize joy and friendship and hence can be inked on the arms of two friends. On seeing this, you will feel peace in mind and your mood will be uplifted.
13. Minimalistic Flower Tattoo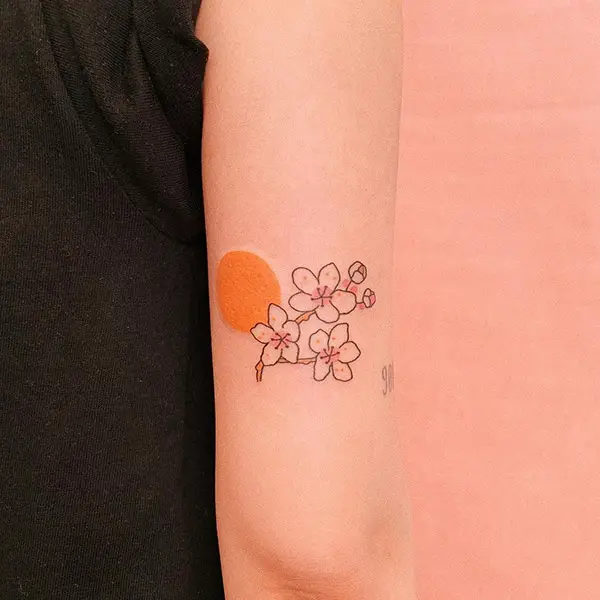 When you dont want too much color in your tattoo, this is the simple flower outline tattoo you can get inked along with the year of birth of your newborn or your beloved one in life. The yellow sun shows a new beginning of your life in the inked year/date.
14. Red Tulip with a Name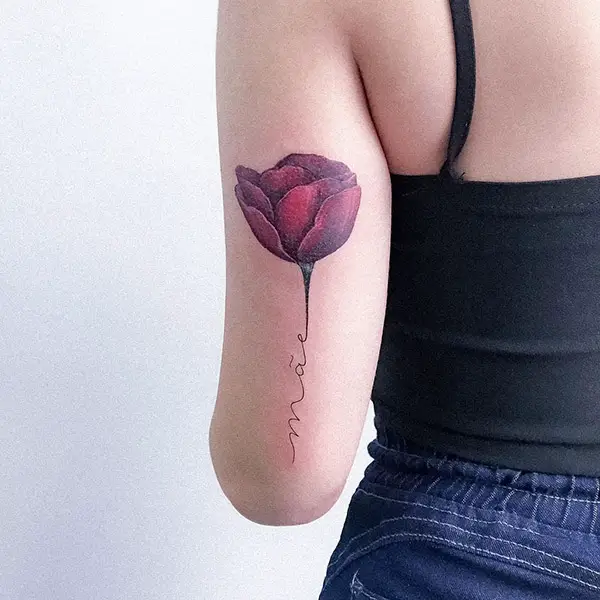 The red Tulip symbolizes love and the name attached to its steam can be of your beloved one, who holds the most important place in your life. This is one of the amazing ways to express your love for someone.
15. White Lilies Tattoo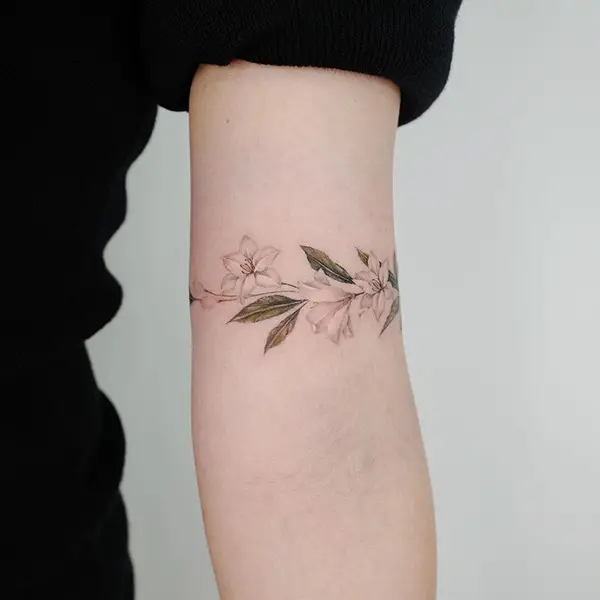 The delicate white lilies tattoo is a sign of purity and devotion. It has a meaning deeply rooted in life, remembrance, and love and signifies the beautiful bond between mother and child.
16. Heart Symbol with Roses on its Outline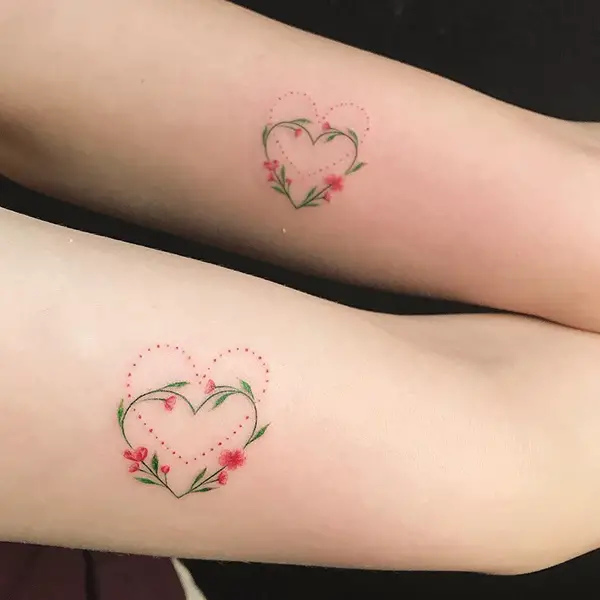 When you dont want a color-filled tattoo, still like to make the tattoo appear attractive, this is the perfect choice for you. There are tiny pink flowers with leaves in the shape of a heart. It symbolizes your love for nature and can even be dedicated to your beloved one.
17. Purple Flower Tattoo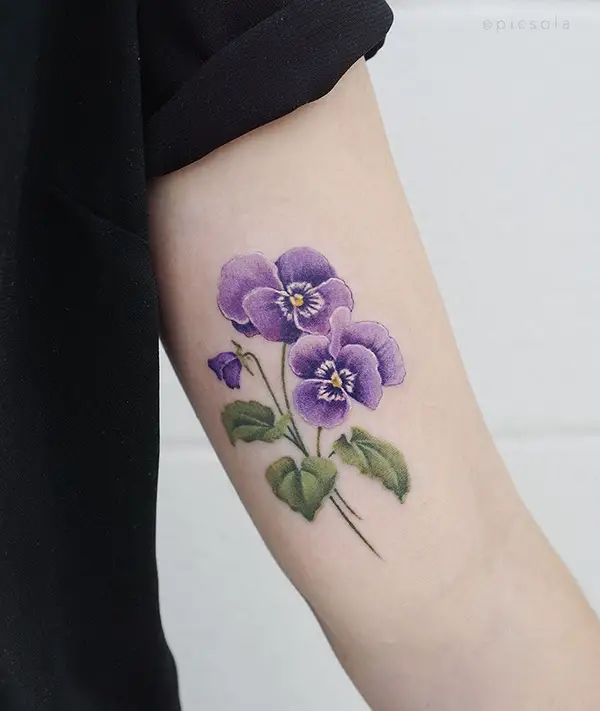 Purple is one of the most vibrant colors and those with fairer skin can get this color flower inked on their arms for a charming look. It signifies values like virtue, affection, love, care, and modesty.
18. Colorful Flowers Tattoo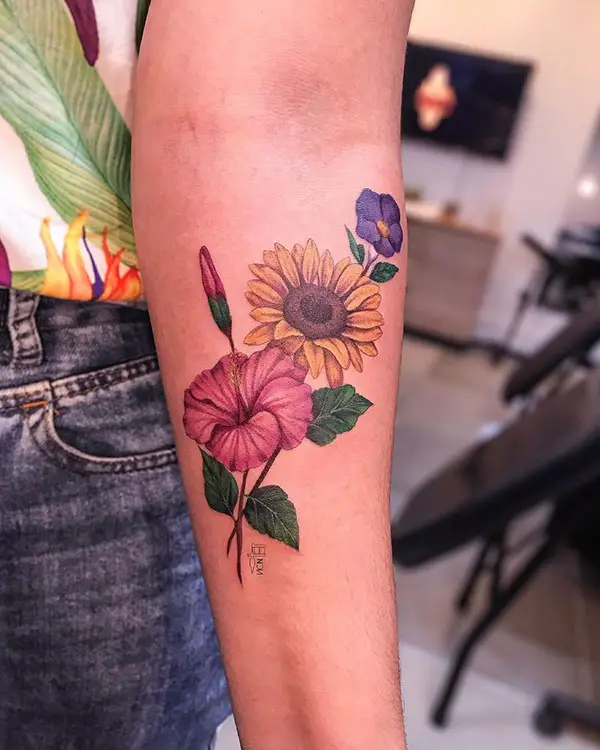 The multi-colored flowers in the tattoo symbolize your love for nature, especially the flowers. When you want an extensive tattoo on the arms that is full of colors, this is a great option.
19. Sunflower with a Quote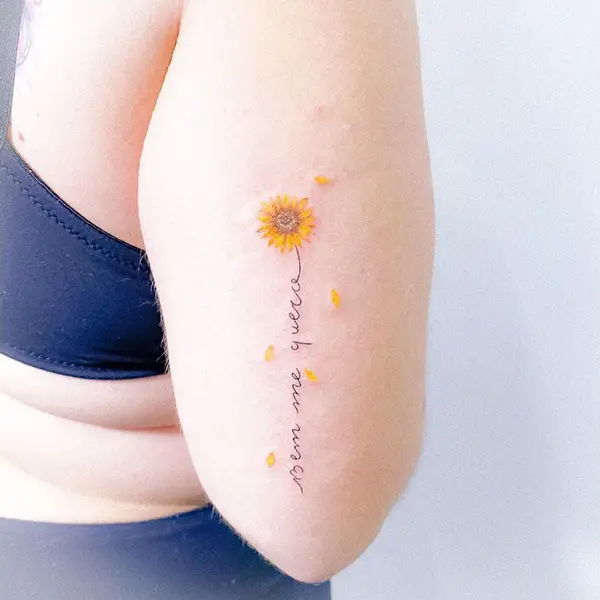 A sunflower is a sign of long and happy life. It acts as a good luck charm and a motivational quote beside it reminds you to stay cheerful.
20. Tulip Tattoo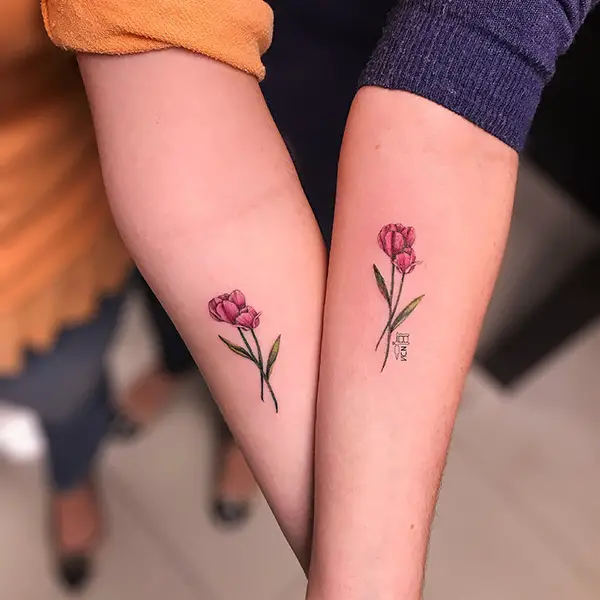 This red Tulip tattoo shows passion and romantic feelings. Partners can get a pair of tulips on their arms to show their love for each other.
21. Beautiful Rose Tattoo with Hope
22. Black Sunflower Tattoo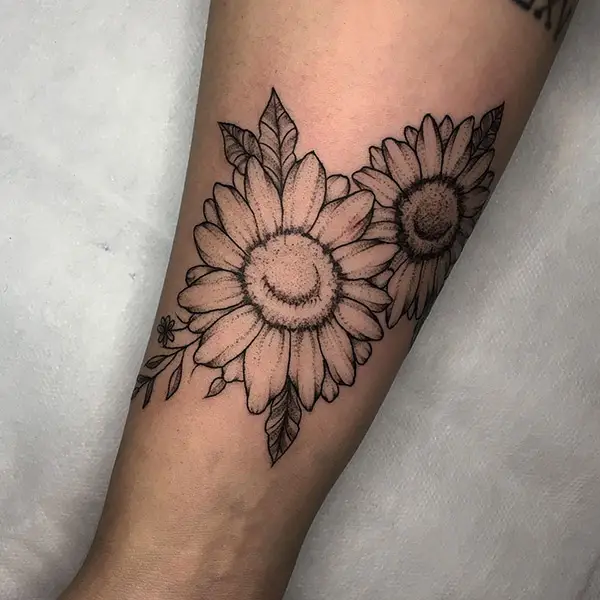 23. Colorful Tulips and Rose Tattoo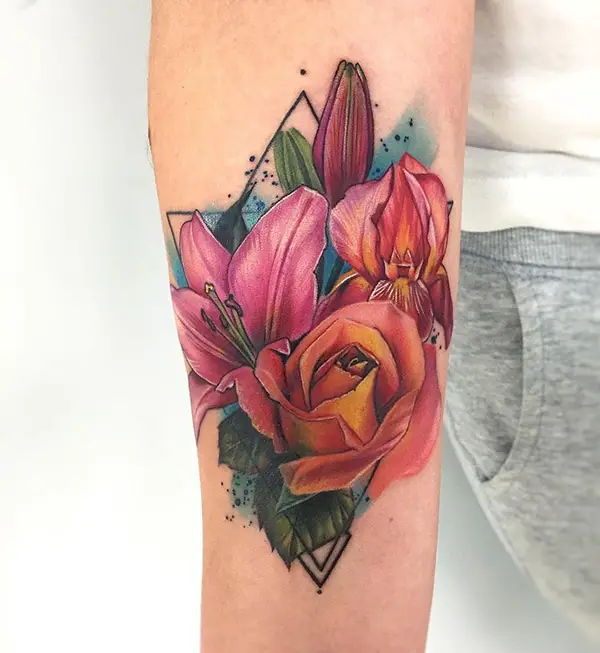 24. Colorful Red Rose Tattoo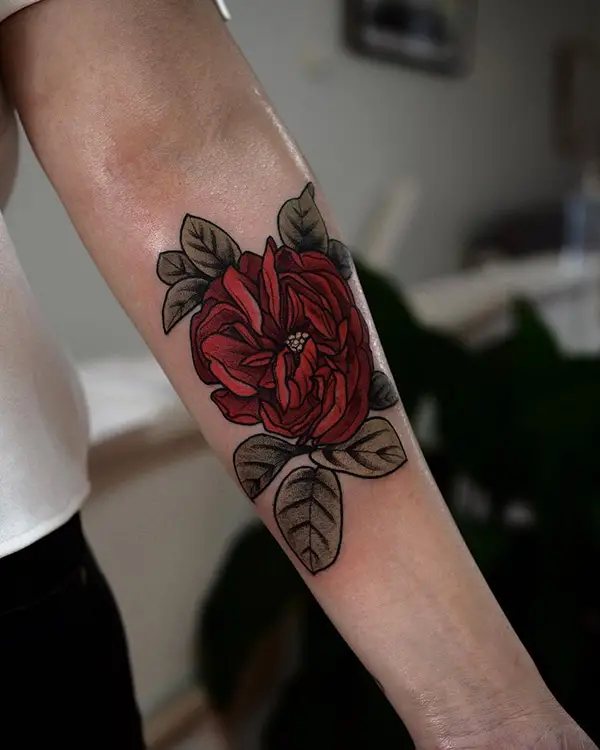 25. Flower Tattoo with Beautiful Shading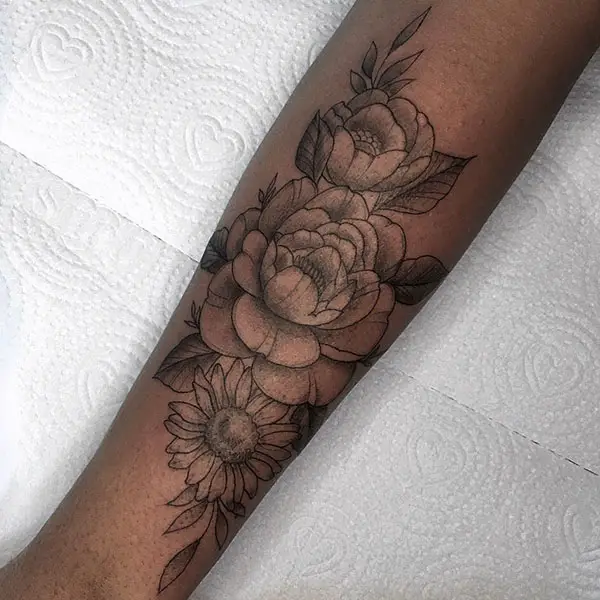 26. Flowers Represent the Feminine Force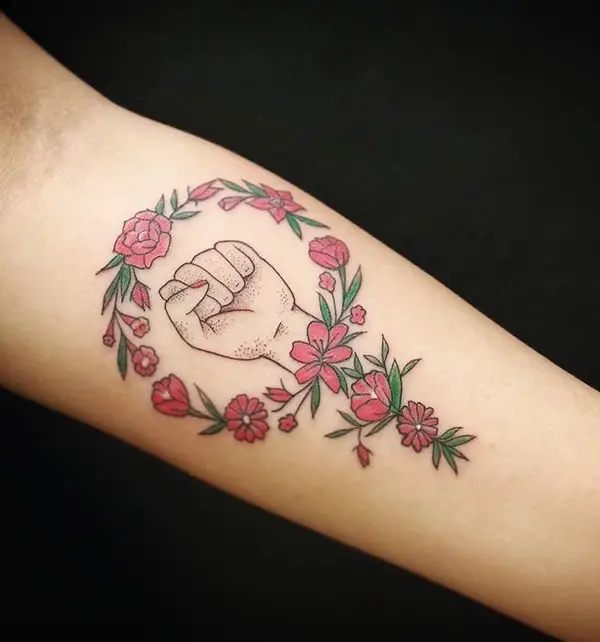 27. Girl with Flowers Tattoo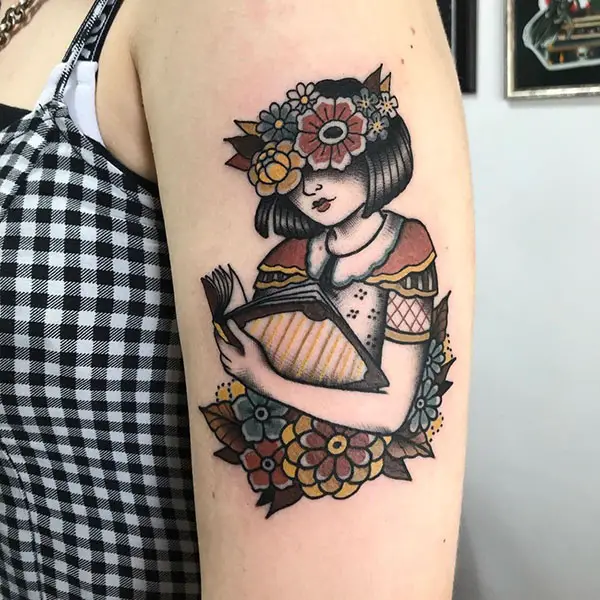 28. Large Purple Flower Tattoo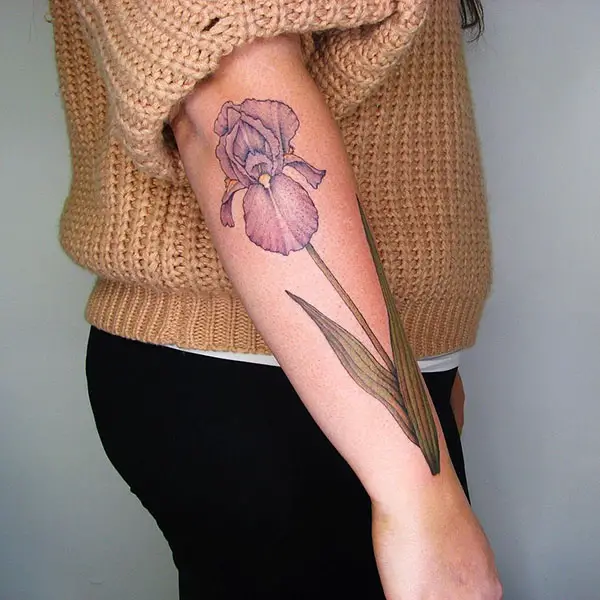 29. Orange Flowers Tattoo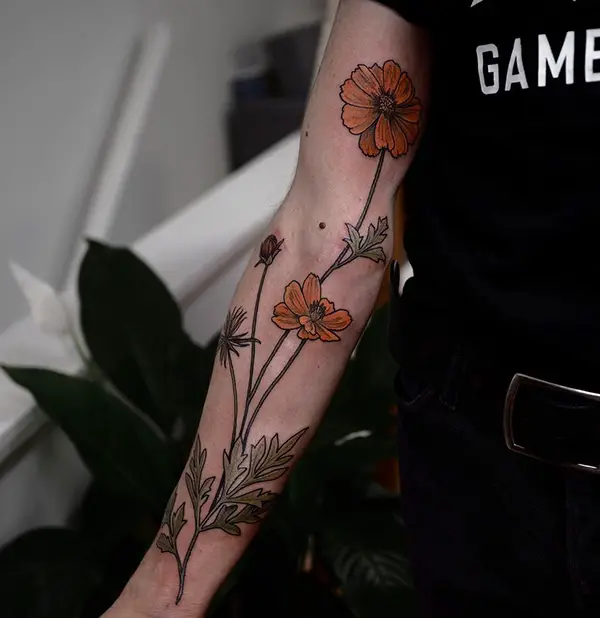 30. Pretty Floral Tattoo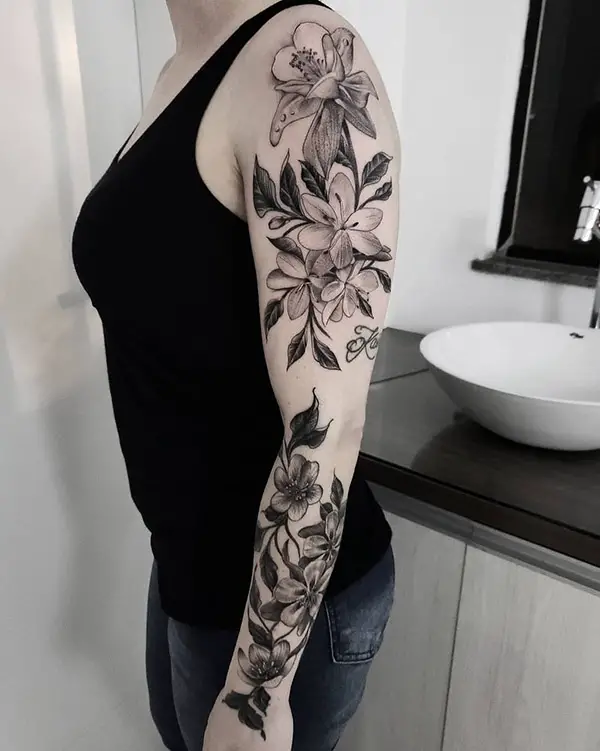 31. Purple Lily Flower Tattoo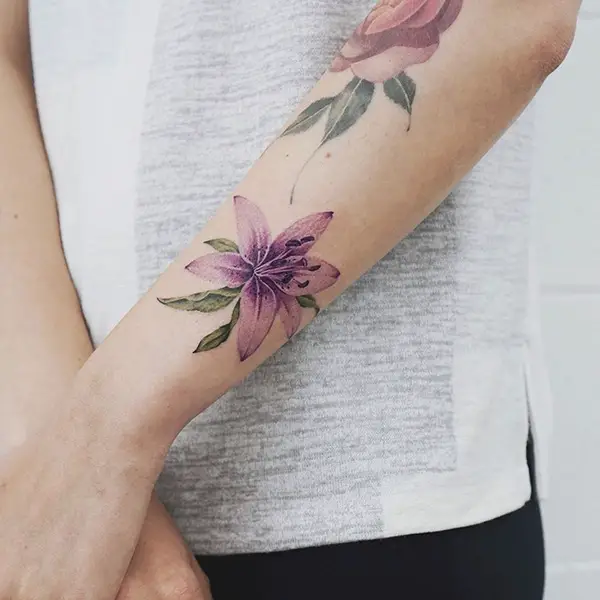 32. Red Rose Tattoo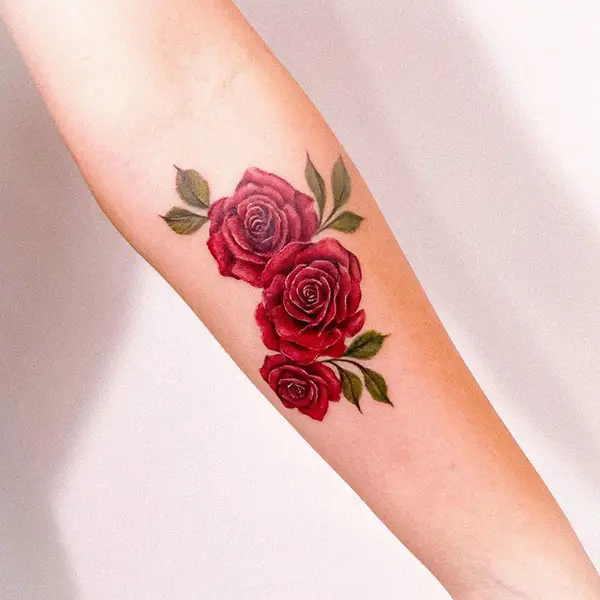 33. Rose Tattoo in a Circle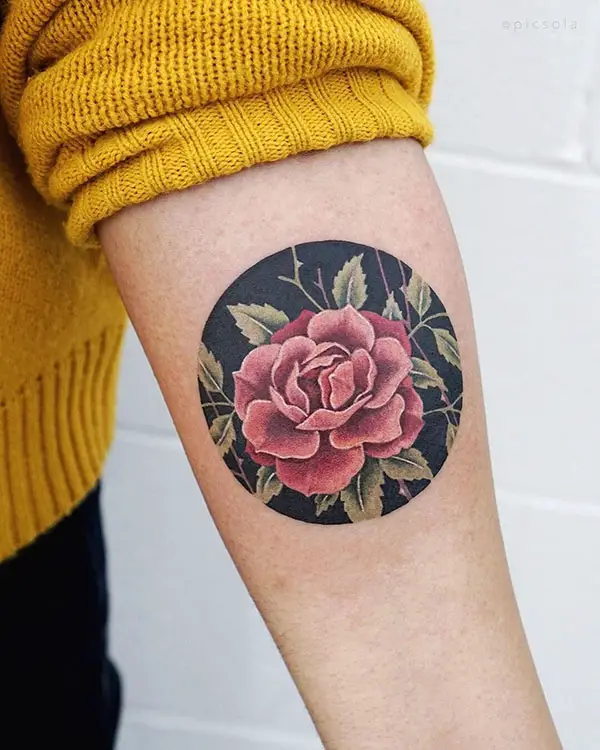 34. Simple Sunflower Tattoo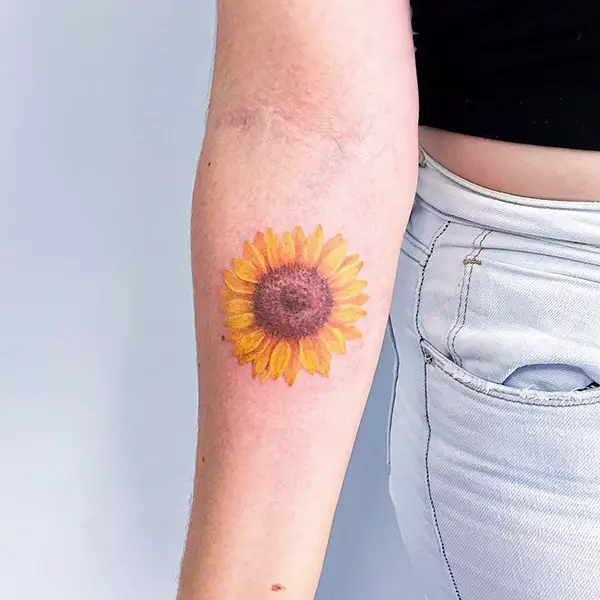 35. Small Sunflower Tattoo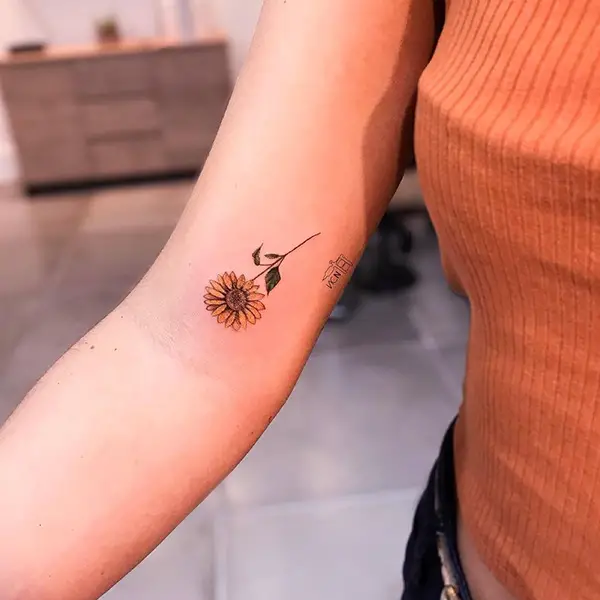 Recommended Topics: