Tattoos art is very versatile, any design, any figure can be inked in the body in form of tattoos. Floral designs have always been an integral part of tattoos, roses, orchids and sunflowers are most common flowers that has been inked. Sunflowers are considered as the symbol of energy and positiveness. Sunflowers portraits a message of hope, faith and optimism.
1. Sunflower with Bees:
It's a beautiful feminine tattoo, this tattoo is vibrant and very alluring. It depicts the beauty of nature of how a life depends on another creation of nature for survival. The tattoo portraits true friendship.
[Related: 25 Awesome Mandala Tattoo Designs]
2. Upper Arm Sunflower Tattoo: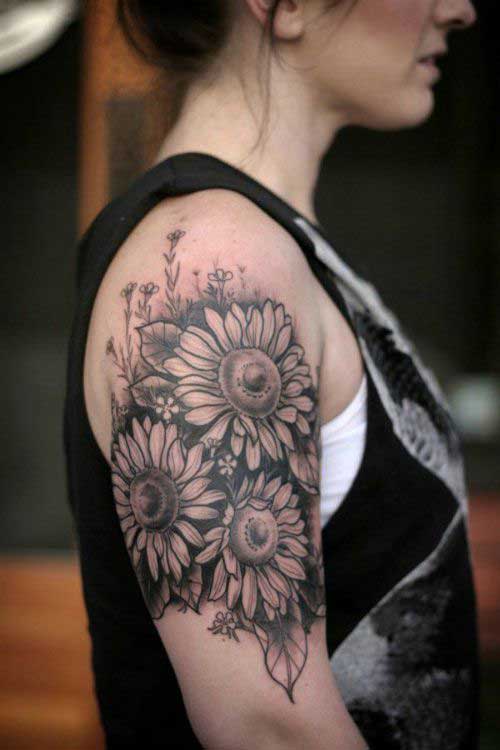 This tattoo is truly majestic, its beauty lies in the bold colour black!. This tattoo is created very well with great intricate design, this tattoo depicts how much you love life. The bold big sunflowers gives a very positive message. It not only catches the eyes but somethings worth creating
3. A Big Sunflower on the Arms:
4. Sunflower Foot Tattoo:
Sunflower tattoos on the foot are the most common pattern, it looks chick and trendy, in this tattoo the bright yellow colour catches the attention of the viewers. Sunflower design on the foot can be feminine and masculine both, it completely depends on the colour, size and pattern that you choose.
5. Sunflower on the Thigh Tattoo: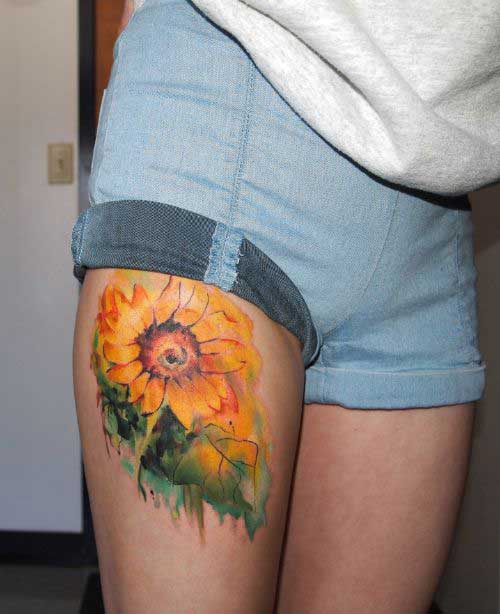 The sunflower on the thigh can look really good, since the tattoo gets a wider area it looks nice and big. The tattoo and its beautiful design mesmerizes the eyes. The bold colours makes you feel lively and full of energy. This tattoo would look great on nicely toned thighs.
6. Sunflower with Quotes: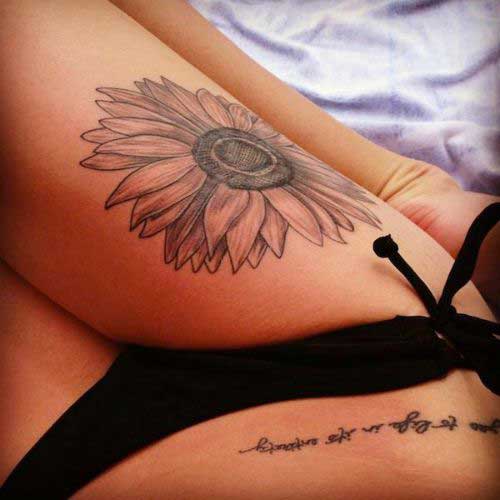 Any motivational quote or one liners would look great with a sunflower. The flower itself is a symbol of strength and positiveness. If it is combined with a good meaningful quote then it would not only grab attention but would also motivate you all the time.
7. Sunflower Tattoo on the Forearm: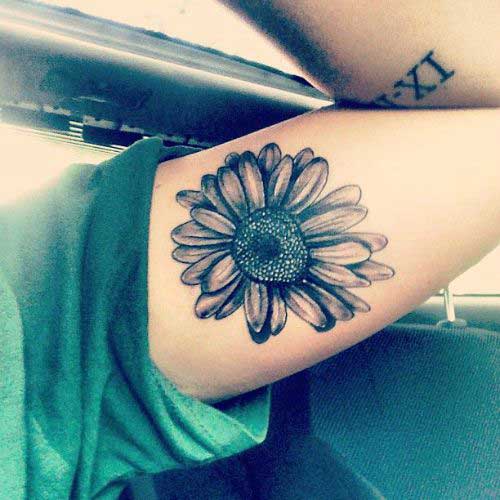 Sunflowers are always connected with joy and happiness. If you are a "happy go lucky" person then a nice sunflower on your forearm would be ideal for you. Since it's a unisex design therefore it can be created on a male or a female. This tattoo here depicts life and liveliness, it is fresh bold and quite energetic. You can definitely go for it.
[Related: 25 Wonderful Dreamcatcher Tattoo Designs]
8. The Petite Sunflower Tattoo: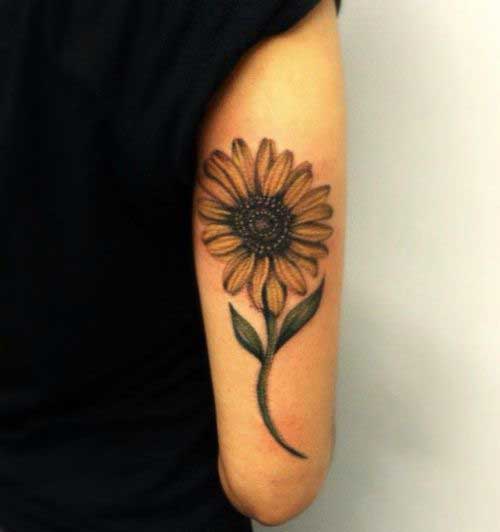 If you are looking for a small petite sunflower tattoo then this is the best option for you. You could get it done anywhere in your body. People who prefer simple small pattern then this can be ideal for them.
9. Shoulder Sunflower Tattoo: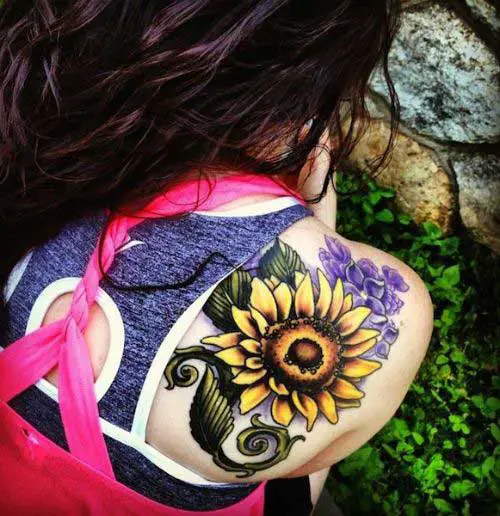 The shoulder area is great for tattoo arts. The sunflower on the shoulder looks great, it can look feminine as well as masculine depending of the design pattern. A tattoo like this may present the fact that you enjoy in beauty that the life offers.
10. Sunflower with Butterflies: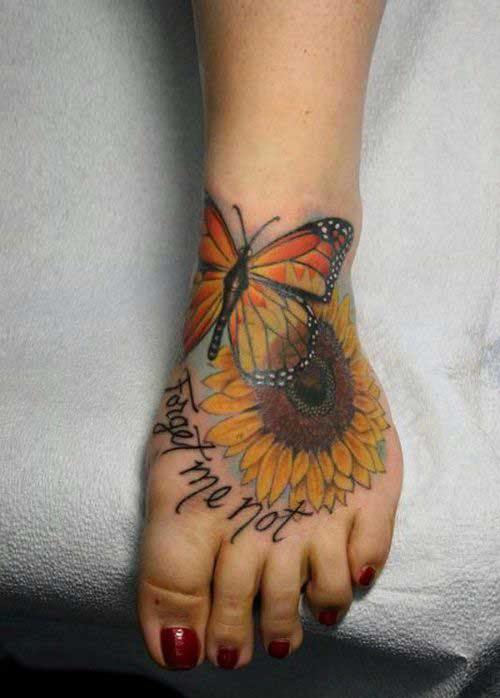 This tattoo is for the nature lovers, it has all the essence of purity and nature. Butterflies and sunflowers are such a delight to watch. Their love for each other is unique in its own ways, if you are a person who is in love then this tattoo is for you, it's colourful, feminine and quite creative.
11. Gorgeose sunflower and leaves on the ribs: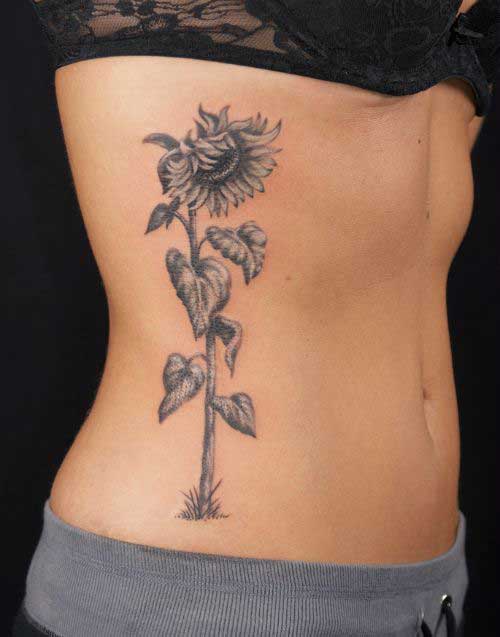 12. A big black and white sunflower on the thigh: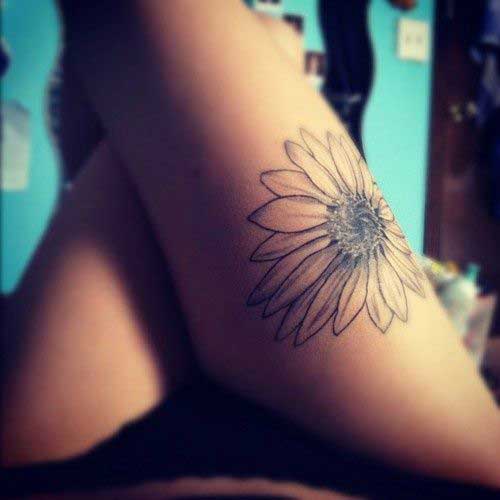 13. A beautiful sunflower on the leg:
[Related: 25 Cool Anchor Tattoo Designs]
14. A colourful sunflower on the hands:
15. A big and gorgeous sunflower on the weighst:
16. A gorgeous half sunflower just below on the breast: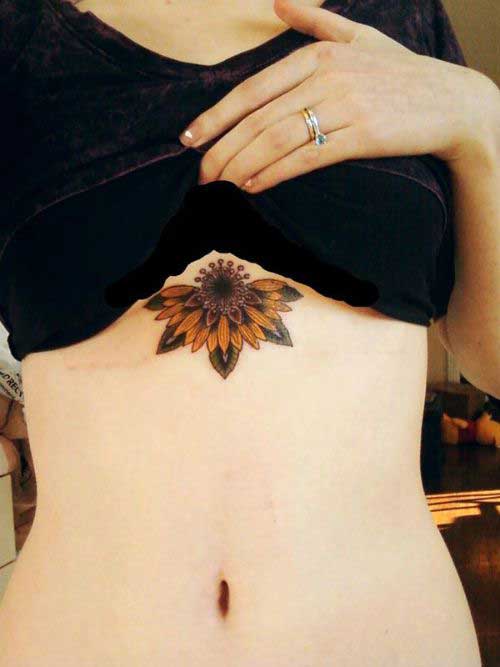 17. Two big sunflower with leaves on the back: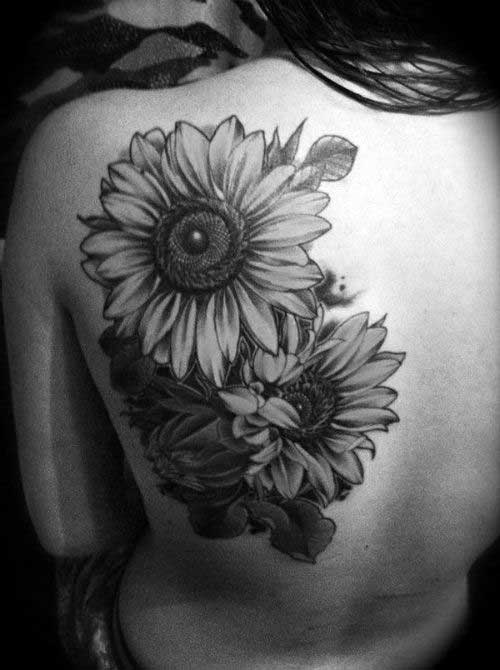 18. Sun Flower Tattoo On Thighs:
19. Sunflower on the Back: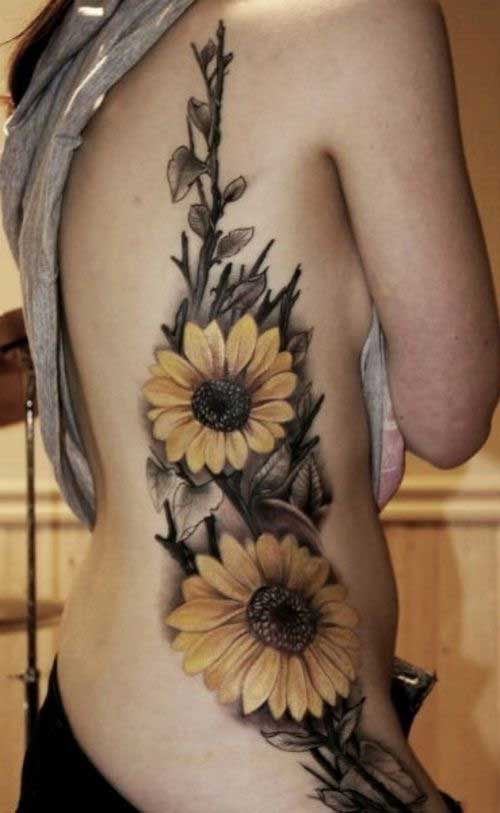 This sunflower tattoo on the back symbolizes opportunity, spiritual attainment and flexibility! Be it coloured or just black it always looks elegant and chic and the meaning of sunflowers does not changes. In Chinese art sunflowers are considered to bring good luck. A beautiful tattoo like this can become your personal lucky charm.
20. Sunflower with Quotes on the Back: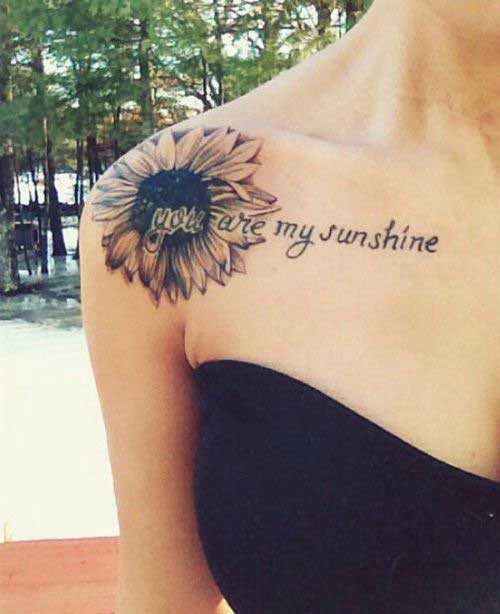 21. Big Sunflower on the Feet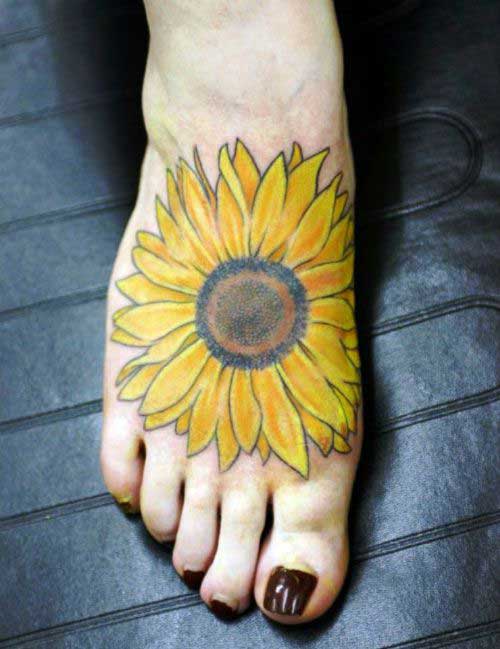 22. Big Sunflower on theThigh:
23. Big Black and White Sunflower on the Back of the Hand: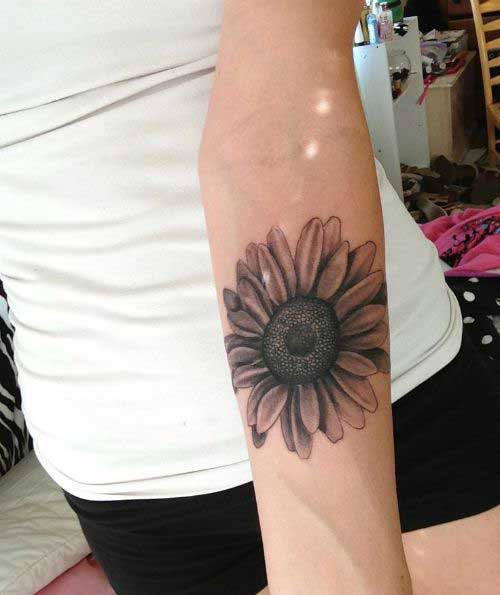 24. Small Sunflower on the hand: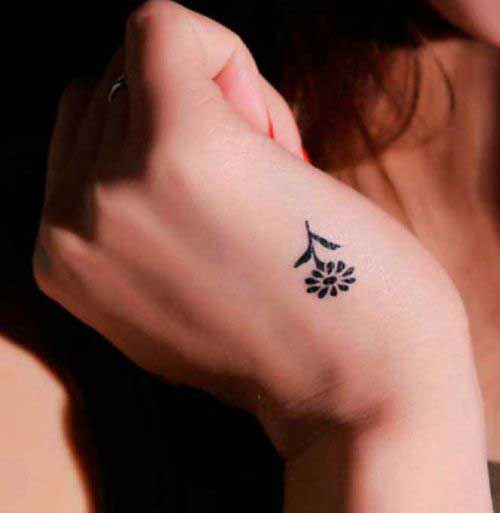 25. A Black and White Gorgeous Sunflower on the Soulder: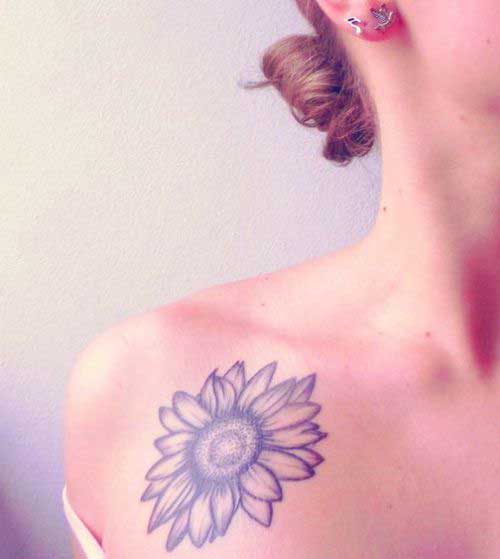 People with a sunflower tattoo is considered as jovial with a positive attitude, someone who sees a bright side of everything. If you an optimistic person who is full of life and energy then this is the tattoo for you. In this article we bring you 10 best sunflower tattoos that would surely win your heart. The above sunflower tattoo designs would surely convince you enough to get one created on yourself. So why wait? Choose the best one today!
Recommended Articles:
Photo Credit – 1,2,3,4,5,6,7,8,9,10,11,12,13,14,15,16,17,18,19,20,21,22,23,24,25