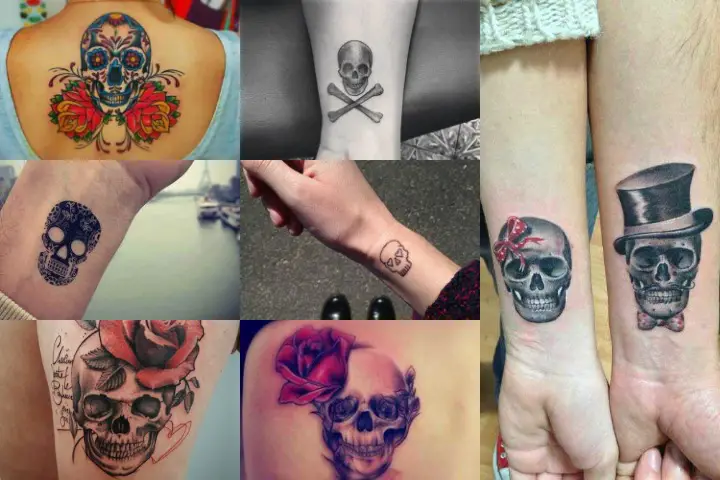 Skulls has always been an interesting subject in tattoo art. People pick this design to symbolize something deeper or on a mere whim.. In this post we bring you 25 different and unique skull tattoo designs for your next tattoo. Take a stroll.
Skull Tattoo Designs for Men and Women
Human skulls gives a very Gothic presentation, combined with roses they signify life, death and rebirth. Skulls have been considered as the vessel of soul or wisdom of ancestors.
1. Skull and Red Rose Tattoo on Shoulder

This tattoo is simple yet intricate, the combination of rose and human skull symbolizes death, life and rebirth. The usage of minimum colors makes it stand out. It is ideal for arm, lower back, neck and arm sleeves.
[ Read: 25 Awesome Mandala Tattoo Designs ]
2. Skull Tattoo Design on Hand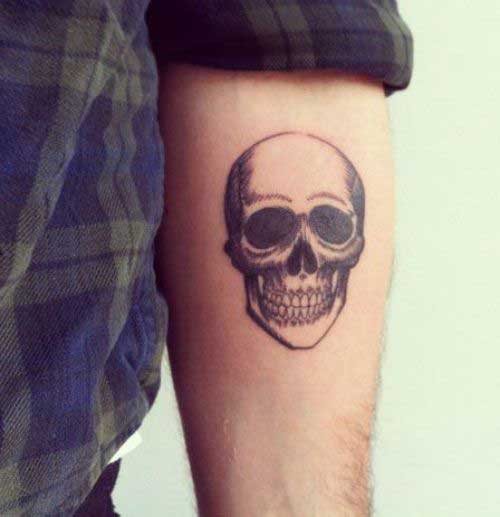 This is quite a common tattoo, almost all men love it, it is simple and looks great. This particular tattoo does not require coloring, the shades of black makes it unique in its own style. It can be created on the wrist, elbow, arm and fore arm.
3. Skull Tattoo on Thigh

This is quite a bold design, it has vibrant colors, lots of floral motifs and a big human skull. The color combination is quite nice enhancing the beauty of the art, this work needs lot of precision with great attention. The designs are very intricate and would surely turn heads. Ideal for thighs, back and upper arm as it needs bigger display area.
4. Funky Skull Tattoo with Flower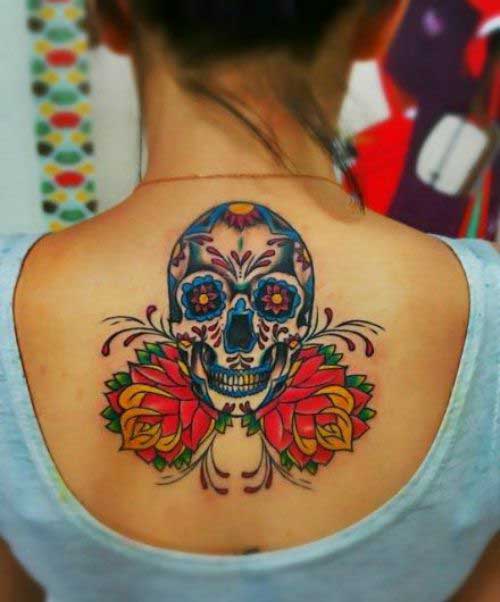 Use your imagination and make this tattoo as funky as possible, with the usage of bold colors it would look even more vibrant and catchy. You can ask for different shades of colors that would enhance your personality.
5. Sugar Skull Tattoo on Wrist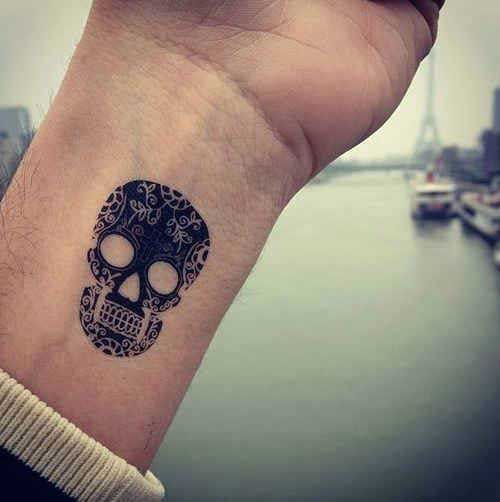 This is a temporary tattoo, you can wear it for any occasion, this tattoo is removable however if you wish you can also get it done permanently. This art form is very common in Mexico.
6. Skull Tattoo on Ear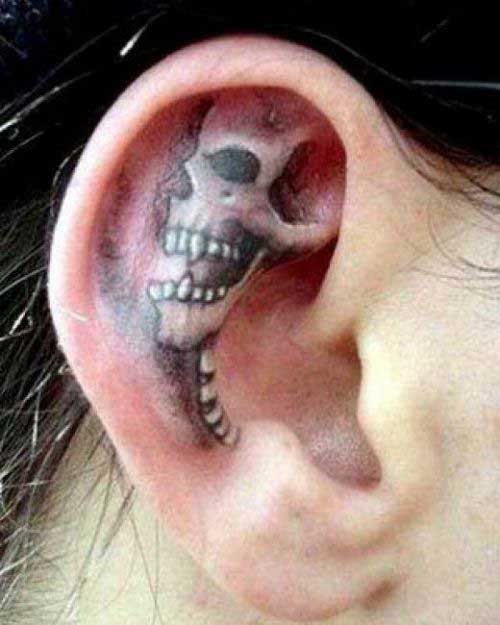 Now this is really tough, a skull tattoo on the ear is not only unique but also requires a lot of patience, getting inked in this delicate part can be painful, however as they say "No Pain No Gain". This tattoo is different and very uncommon. It will surely get you loads of compliments.
[ Read: 25 Wonderful Dream Catcher Tattoo Designs ]
7. Human Skull Tattoo on Foot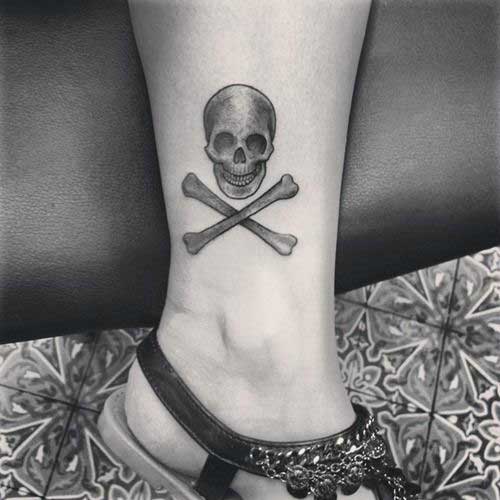 This tattoo brings the dare devilness of your personality. Usually a human skull with bones have always been associated with danger but here it is depicts one's daring nature. This tattoo is quite punky and cool. If you wish you can also get it colored however a bold back would look better.
8. Skull Tattoo on Ribs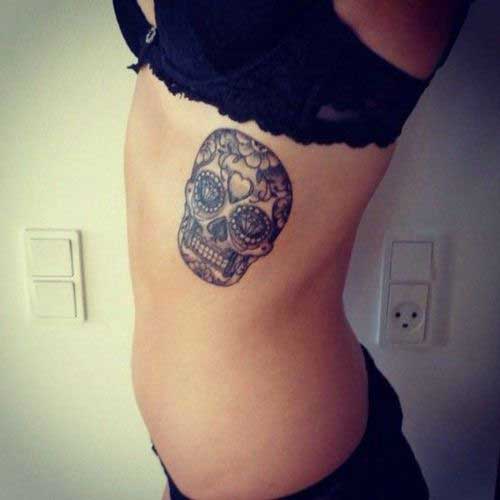 The skull and cross bones have always been associated with pirates and danger however in this tattoo it symbolizes the uncertainty of love. It reminds us of the insignia that would be inscribed on a treasure chest.
9. Diamond Skull Tattoo on Thigh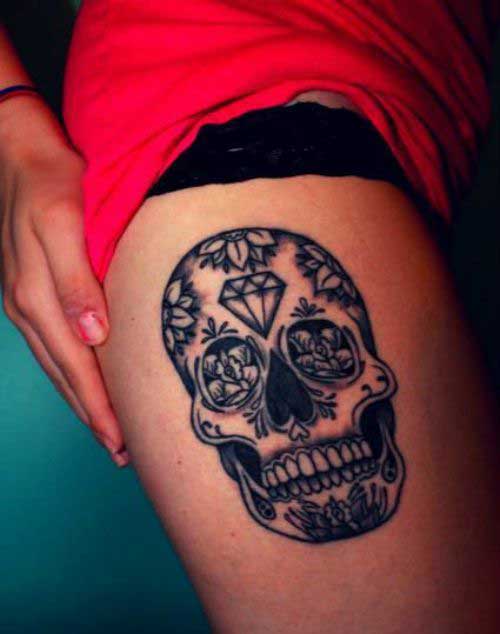 10. Simple Skull Tattoo on Wrist

11. Small Skull Tattoo Back of the Ear

12. Big Flowery Skull Tattoo on Back

13. Couple Skull Tattoo

14. Colorful Skull Tattoo on Forearm

15. Quote Skull Tattoo

This tattoo takes the skull tattoo to another level of inspiration. It is a mix of well-balanced creative design with gorgeous colors. The quote mentioned on these tattoos motivates the person throughout.
[ Read: 25 Amazing Sunflower Tattoo Designs ]
16. Skull Tattoo on Finger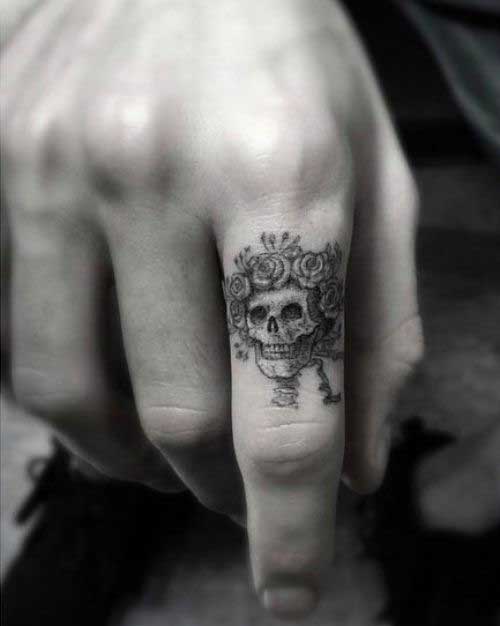 17. Big Skull Tattoo with Red Rose on Forearm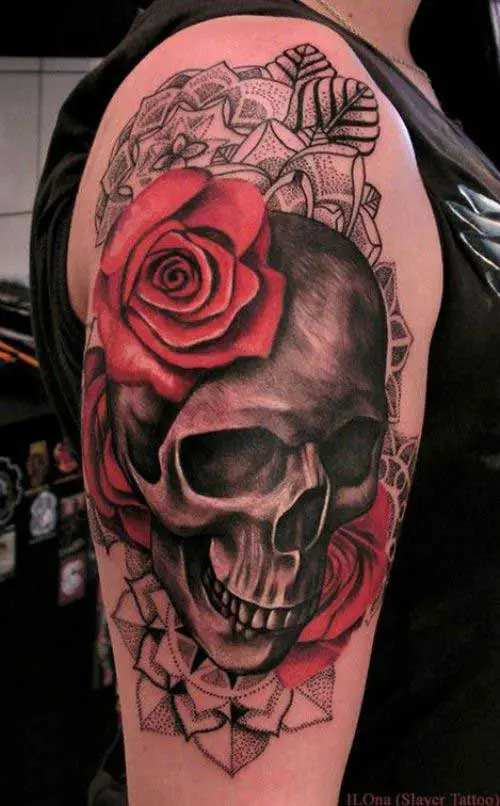 18. Flowery Skull Tattoo Design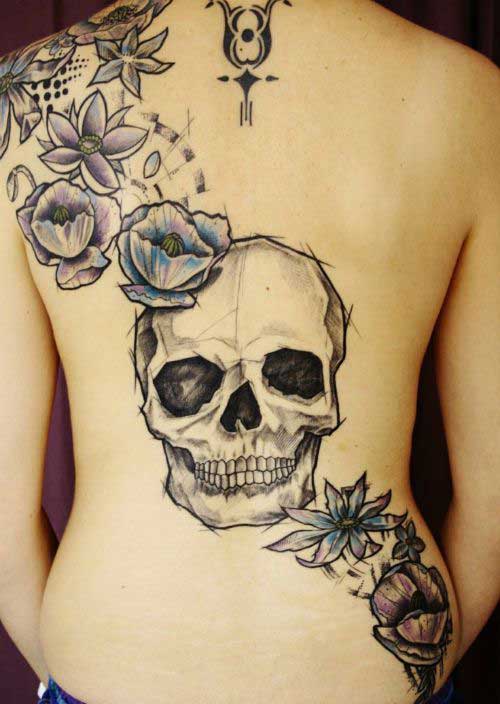 Usually people with skull tattoos are often considered as daring and rule breakers, however this particular flowery skull design is quite contrasting. The usage of bold colors, detail design and soft pattern makes it not only eye catching but also unexpected. It is a fusion of masculine and feminine images.
19. Big Funky Skull Tattoo on Back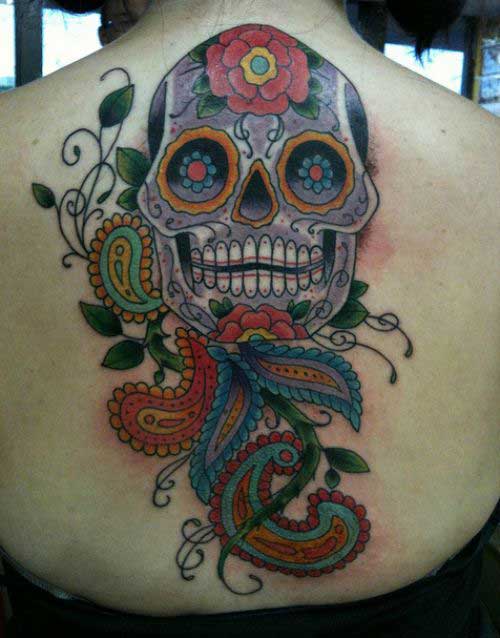 20. Comic Skull Tattoo

21. Skull Tattoo on Feet

22. King Skull Tattoo with Quotes

23. Flowery Skull Tattoos on Back

24. Skull Tattoo on Back of the Ear

25. Colorful Funky Skull Tattoo

Mostly youngsters fancy this design as it looks uber cool and also goes with the whole rebel with a cause theme. In Mexico it is a popular theme and usually made of sugar therefore it's called as the "Sugar Skulls". It is created to celebrate the "Day of the Dead", which is quite similar too All Souls Day or Halloween. These tattoo ideas would certainly uplift your mood and encourage you to get inked!
Photo Credit – 1,2,3,4,5,6,7,8,9,10,11,12,13,14,15,16,17,18,19,20,21,22,23,24,25
You Might Also Like: