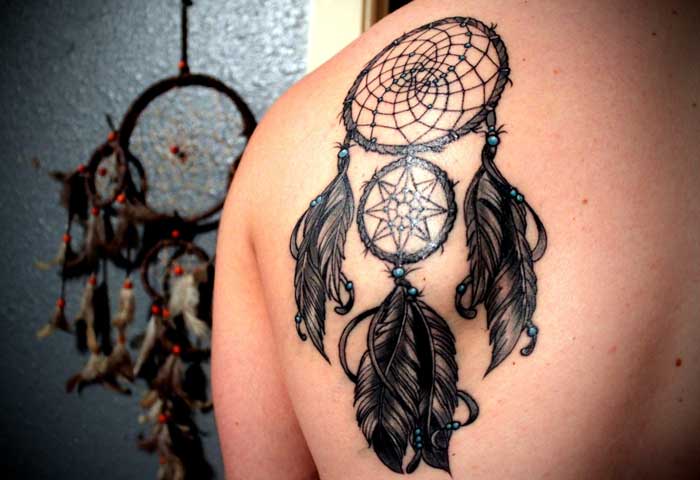 The Dream Catcher tattoo art originated from Native America, it was first created by the Chippewa people. The typical dream catcher design has a handmade web or net with loop decorated with feathers, beads and other objects. This is considered to be sacred and symbolizes the strength of unity of the Native American people.
This article would take you through the different Dream Catcher tattoos that are created keeping the basics intact with few modifications.
[ Read: 25 Awesome Mandala Tattoo Designs]
1. Dream catcher with three feather on the back

2. Dream catcher with multicoloured feather on leg

3. Triple web hoops with blue coloured feathers

This is indeed one of the finest piece of art. The blue feathers were considered sacred by the Native American people and in this tattoo is has multiple feathers, some small some big. This tattoo indicates free spirit.
4. Single Web with Feathers and beads

This Looks very pretty if done at the back of your neck, the design is intricate and fascinating as if it has a story to tell. The big and small feathers balances the piece of art quite well. You can also add a hint of colour to make it more attractive.
5. Multi-coloured dream catcher with feathers and leather strap

This dream catcher looks more like a wind chime, it has decorative beds, colourful feathers and leather strap attached to it. This particular tattoo is quite large in size and needs more area. Ideal for back, thigh or arms.
6. Dream catcher with feather on back

7. Dream catcher Earring Tattoo

This tattoo can work as a great camouflage for your earrings, it would work as a permanent jewellery for your body. You can flaunt this tattoo easily anywhere and everywhere.
8. Dream catcher with bold flowers

The bold rose flower motifs catches the eye, the vibrant colours used here makes it more alluring and attractive. This tattoo would look good on a bigger broader frame.
9. Dream Catcher Tree

Dream catcher trees have a deep meaning to it, it signifies ancient rituals, customs and grounded to the root. The feathers also play an important role, they symbolize breath or air. It has a natural look and has been shaded well in black which makes it even more interesting.
10. Dream catcher with Quote

Add any interesting meaningful quote along with your dream catcher tattoo and make it a different from the regular dream catchers. A good quote would always inspire you to move head in life.
11. Tribal Dream Catcher Design

This is quite unique and needs a lot of attention while creating, the intricate tribal design represent the Chippewa or Ojibwe tribe. With many beads in it signifies good dreams that is trapped during the sleep.
12. Dream catcher with quatoes on leg

13. Dream cather and feather with gorgeous red and black combination

14. Dream catcher with three hoops and blue feather on the ribs

15. Dream catcher Web with Just Feathers

The web or net with just feathers and no beads is one of the simplest dream catcher tattoos. It has just the web or net in the centre and three free flowing feathers attached to it. The feathers look as if they are swaying in the breeze which gives it a more natural touch. This tattoo does not require a large area so it's ideal for neck, wrist, ankle or waist.
16. Dream cathcher with three feather on the shoulder

17. Heart shaped dream catcher with feather on the feet

18. Multicoloured dream catcher and feather on the leg

19. Dream cather with rose and feather on the ribs

20. Rose shaped dream cathcher on the hand

21. one dream catcher and one hoops on three feather on the ribs

22. Triple web hoops with feathers on the hand

23. Dream catcher with just feather on the rib

24. Small dream catcher with three feather

25. Dream catcher on the Foot or Ankle

A dream catcher tattoo can be easily created on the foot or ankle, it looks quite chic and trendy, you can choose from different designs with feathers attached to the web or web with multiple bead and feathers and many more. The web in the centre can be heart shaped or round with detailing on the sides of it.
Usually these dream catcher tattoos are showcased in the same shape but different colours and sizes. With these brilliant Dream Catcher tattoo ideas you can choose the best one for yourself. So play around with different designs and create a masterpiece.
You Might Also Like:
Photo Credit – 1, 2, 3, 4, 5, 6, 7, 8, 9, 10, 11, 12, 13, 14, 15, 16, 17, 18, 19, 20, 21, 22, 23, 24