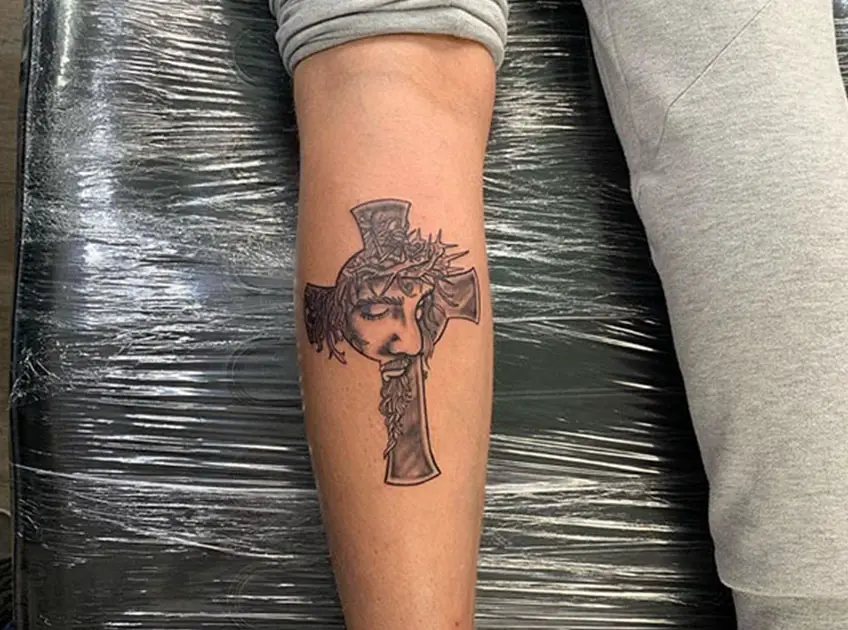 Jesus' tattoos symbolize faith, love and power, signifying one's religious sentiments in life. Some people consider it a sign of hope. Read on to check out some of the amazing tattoo designs.
1. Complete Jesus Tattoo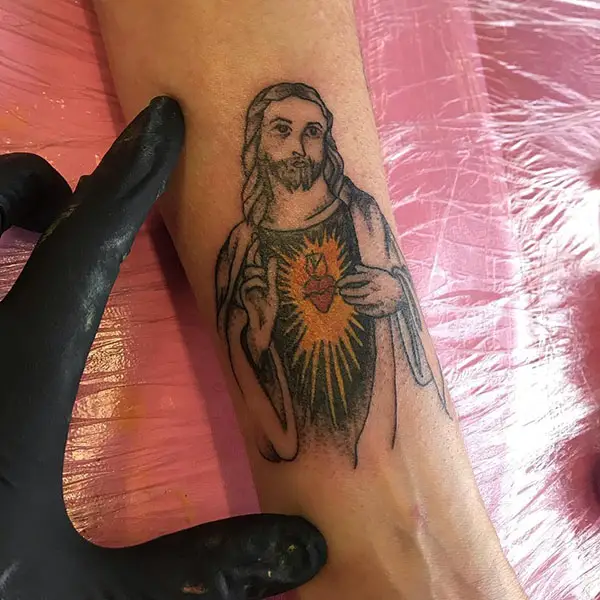 This is a good choice for a tattoo when you want to portray the full length of Jesus Christ. It shows your devotion and faith in your religion and the values that Jesus taught humans.
[ Recommended: Dreamcatcher Tattoo Designs and Meanings ]
2. Colorful Jesus Tattoo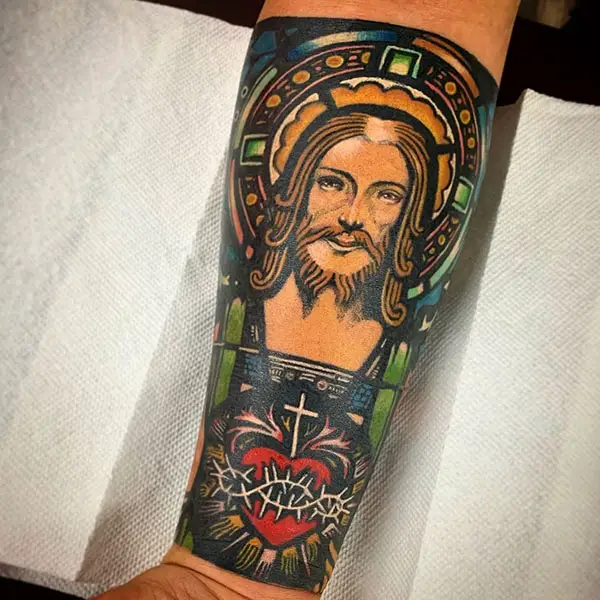 Don't like black and white tattoos? Add a dash of colors to the Jesus Christ tattoo with a heart below it. There is a heart symbol with signs of crucifixion, which is a reminder of how Jesus gave his life for humanity.
[ Recommended: Mandala Tattoo Designs and Meanings ]
3. Heart with a Cross and Jesus Written in It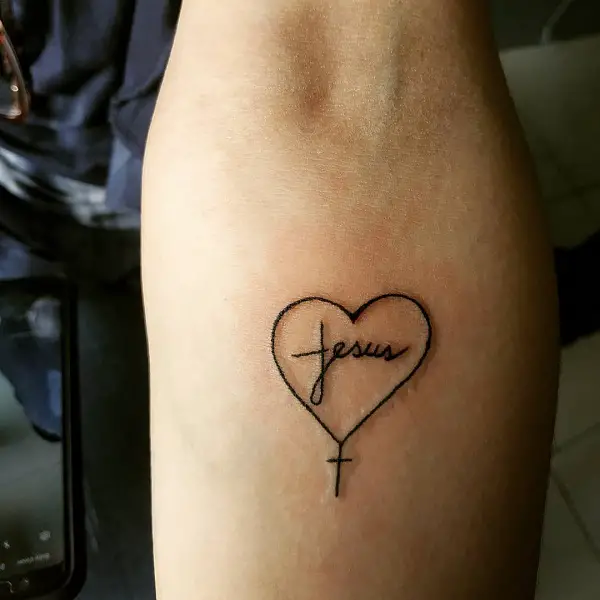 This is an artistic representation of Jesus in a heart symbol in which there is a cross mark on the J, symbolizing a holy cross. There is even a holy cross dangling from the heart. Overall, it represents your faith in the Christianity religion and humanity.
4. Minimal Jesus Tattoo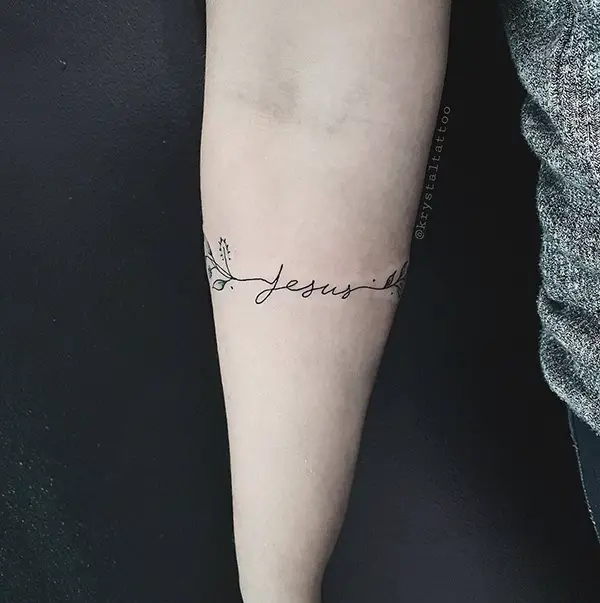 The stylist inscription of Jesus' name with leaves beside it shows your love for nature and for God in the simplest way. This tattoo signifies that you priorities humanity just like Jesus did.
5. Jesus with a Heart Symbol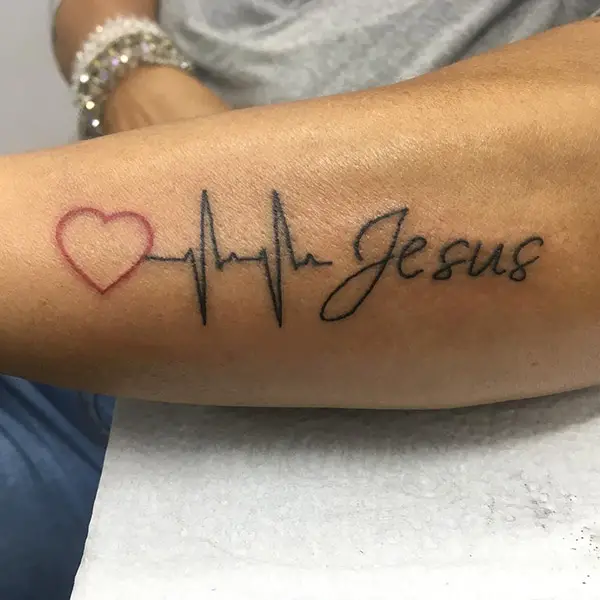 When you love God with all your heart, get this tattoo with the heartbeat marks and a tiny red heart beside it, so it reminds you to constantly remember Him in every phase of life.
6. Jesus Inscribed on The Wrist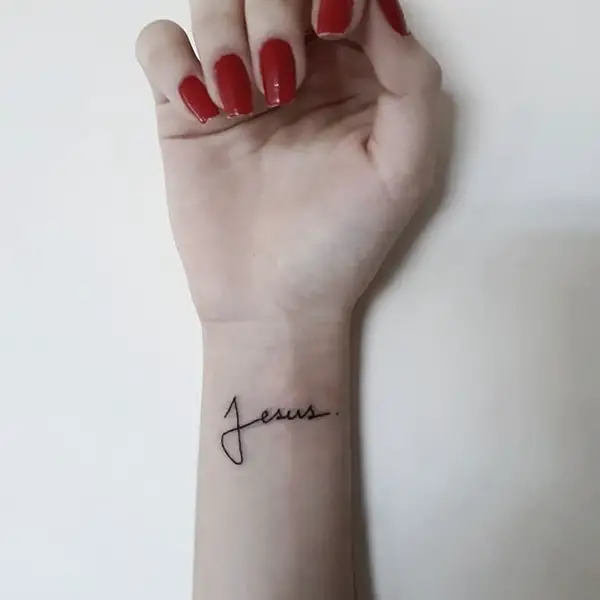 The minimal tattoo you can have to portray your faith in your religion is simply to get Jesus inked on your wrist. Whenever you see the tattoo, you will be reminded to have compassion towards others and value humanity above everything else.
7. Jesus with a Sheep Tattoo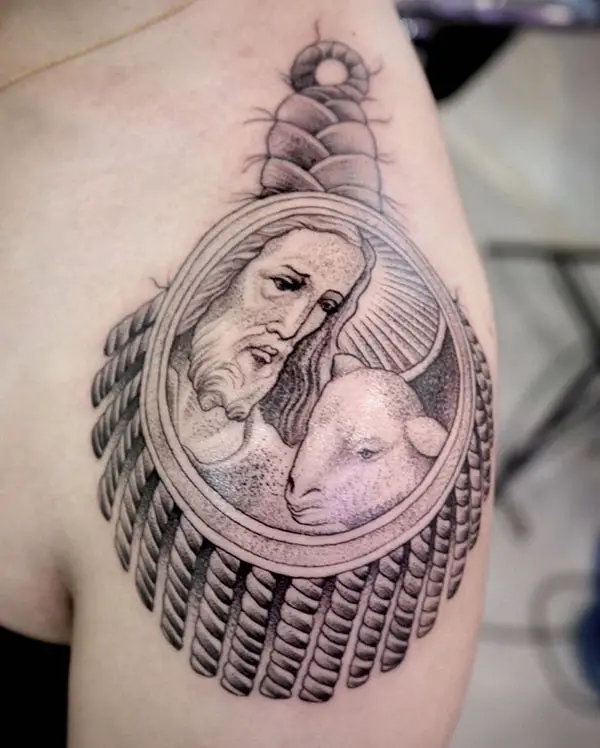 Jesus had sacrificed his life for humanity. He was full of love and compassion towards his fellow beings and animals. This feeling is beautifully picturized within a hollow woven basket to impart a traditional look
8. Crucified Jesus on a Holy Cross Tattoo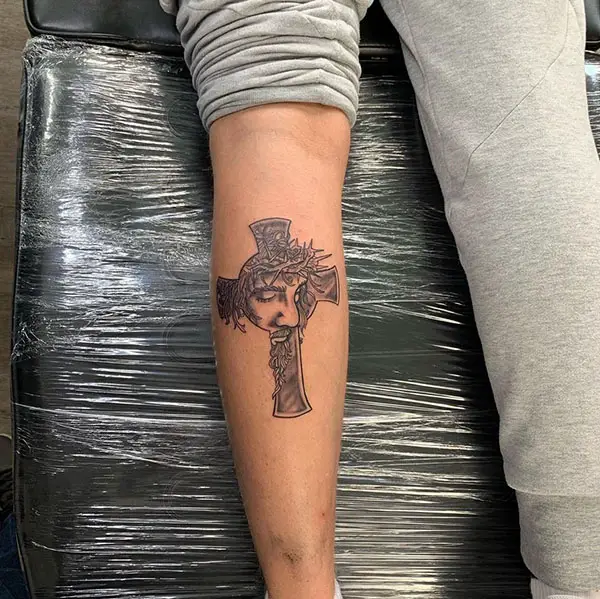 The holy cross represents faith and devotion to your religion. It is where Jesus Christ sacrificed his life for saving humanity. The tattoo reminds you of his unconditional love and sacrifice whenever you see him.
9. Yeshua Inscribed on a Cross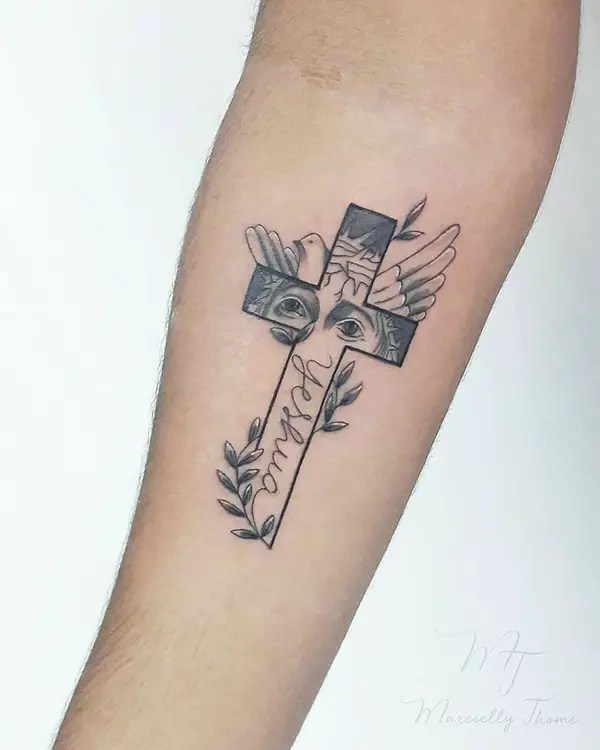 A subtle way of portraying your faith in your religion is this holy cross with Yeshua written on it. It even has the eyes of Jesus and a dove symbolizing peace.
10. Yeshua on Your Palm Side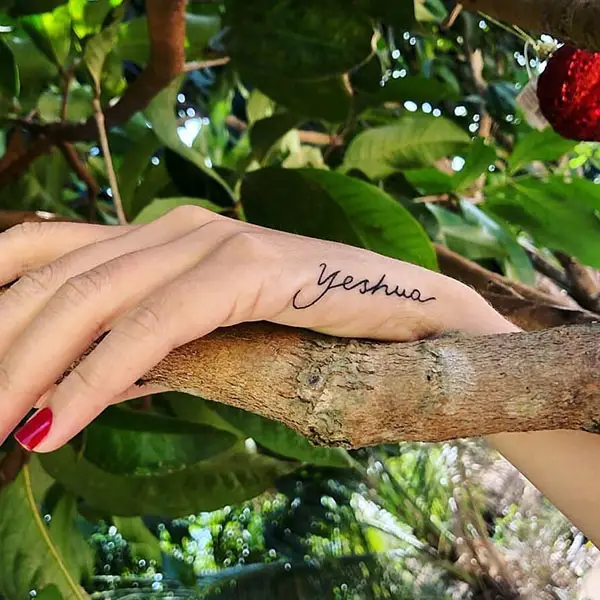 Don't like an intricate tattoo? Just get Yeshua inscribed on the sides of your palm, so whenever you look at it, you remember God and thank him for all the blessings bestowed on you.
11. Mother Mary with Baby Jesus Tattoo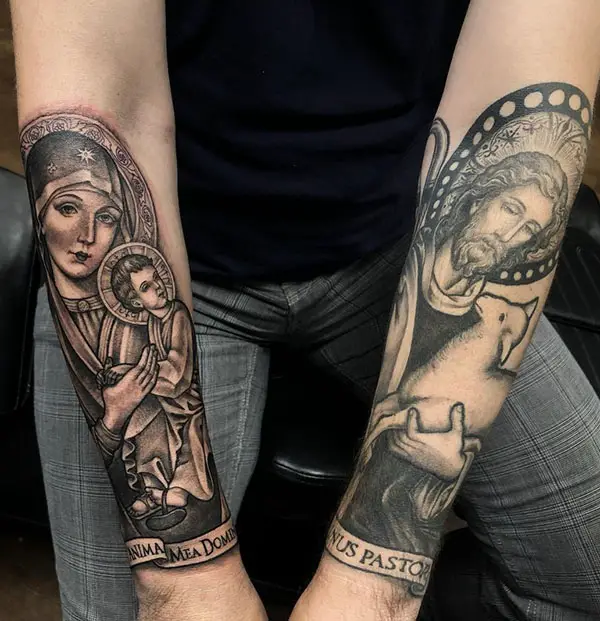 This tattoo beautifully shows baby Jesus in the arms of Mother Mary. You can get a tattoo on the other hand with Jesus holding a sheep, showing his compassionate nature towards every living being.
12. Jesus with His Disciples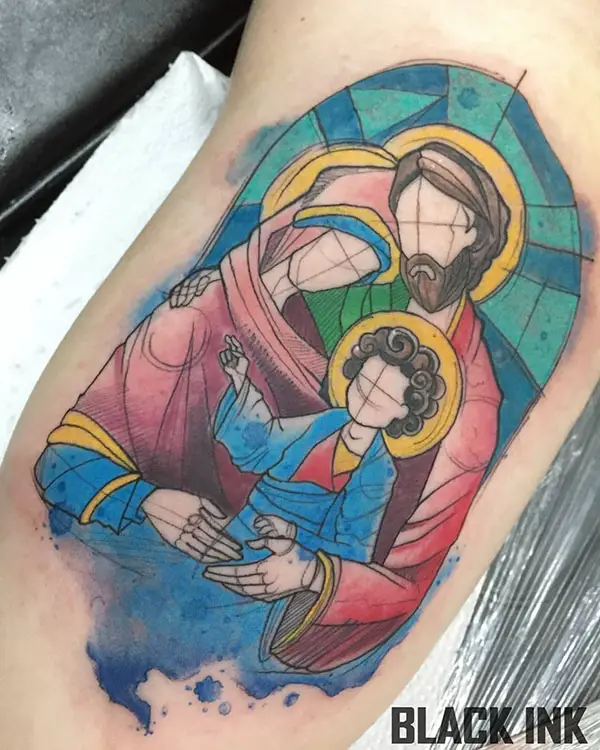 This is a colorful tattoo of Jesus and his disciples. He exemplifies love and compassion towards fellow humans.
13. Jesus is King Inscription Tattoo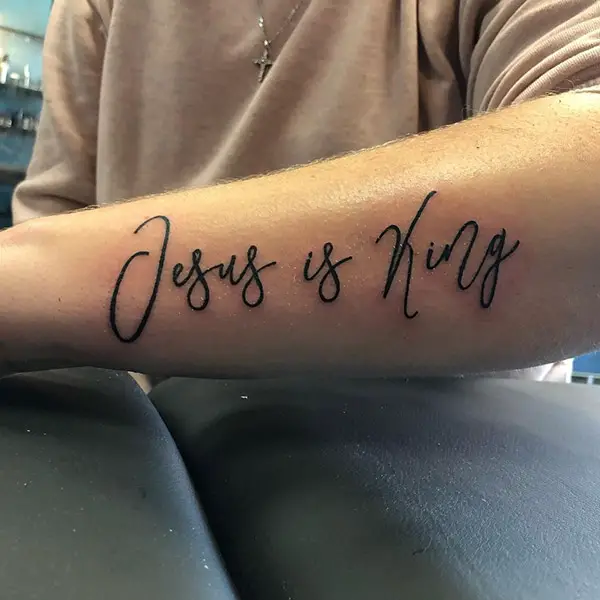 Does the Jesus us King song get you going and rejuvenate your spirit? Get this inked on your arms to show your love for it so whenever you feel low, seeing it will cheer you up.
14. Baby Jesus Tattoo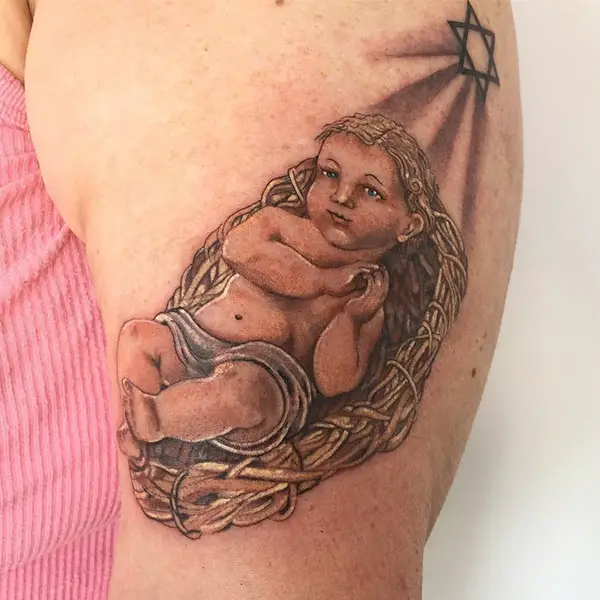 Childhood represents simplicity and innocence and Jesus in the form of a baby on a mesh mat creates a traditional set-up. It reminds you of the holy soil and how he grew up and devoted his life to humanity, so you follow the same.
15. Jesus with His Heart Tattoo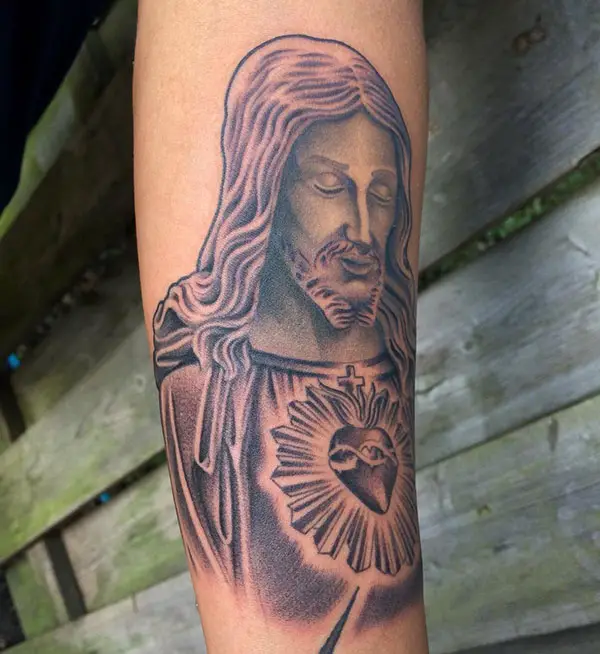 Jesus exemplifies faith, love and power besides representing the belief in the religion. The heart in the tattoo is a sign of hope to overcome the tough phases of life with the blessings of God.
16. Crucified Jesus with INRI Tattoo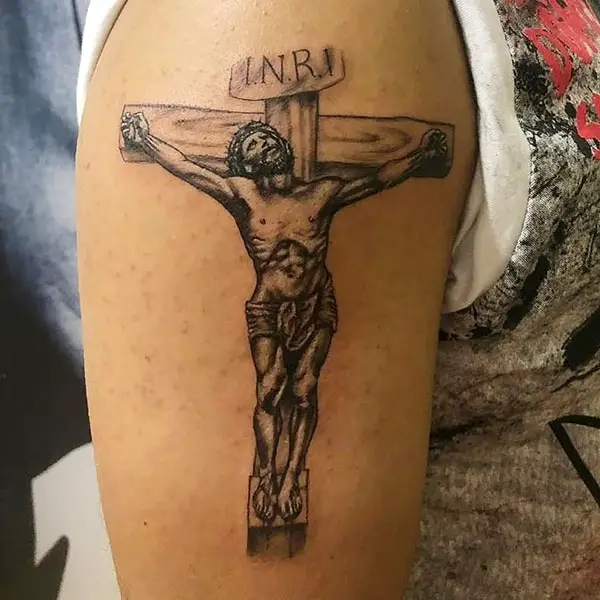 The crucifixion tattoo represents faith, and devotion to the religion and that Jesus died for humanity. INRI is a significant symbol, that implies "Jesus of Nazareth, King of the Jews,"
17. Jesus Tattoo with a Headgear Tattoo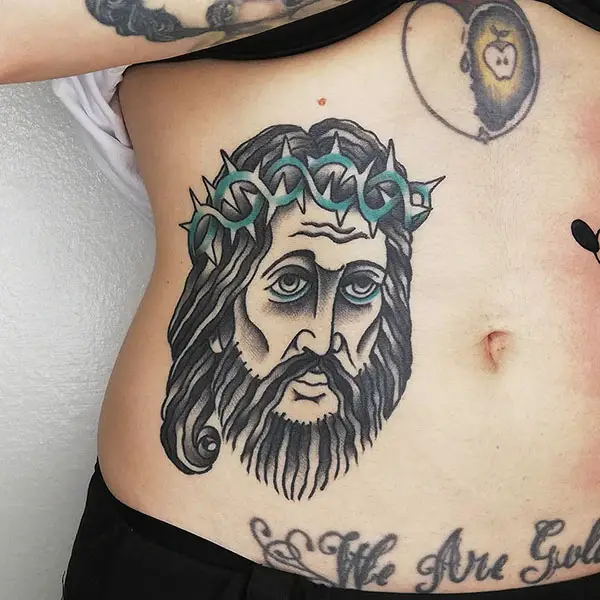 When you don't want a bigger tattoo, just the head of Jesus is sufficient to show your love and faith in Him. The headgear is not just a decorative piece here as it has thorn-like structures, symbolizing his crucifixion for mankind.
18. Jesus with The Holy Bible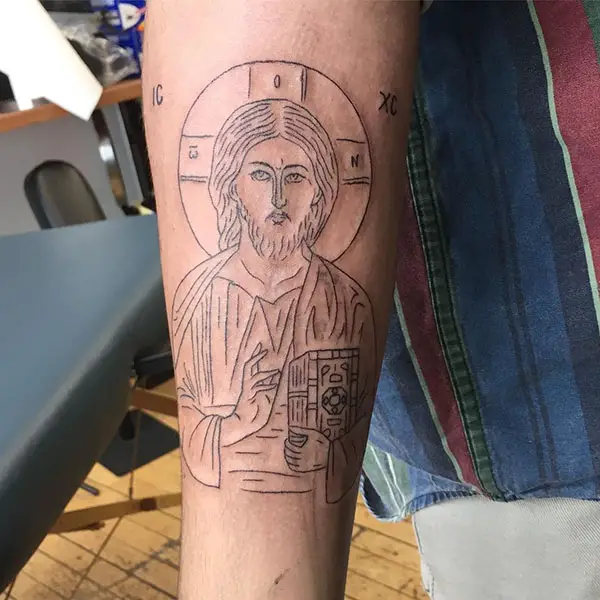 This tattoo doesn't have a lot of shadings but is just inked with lines to show Jesus holding the Holy Bible. It represents your faith in Him and the noble teachings in the religious scriptures.
19. Jesus on The Cross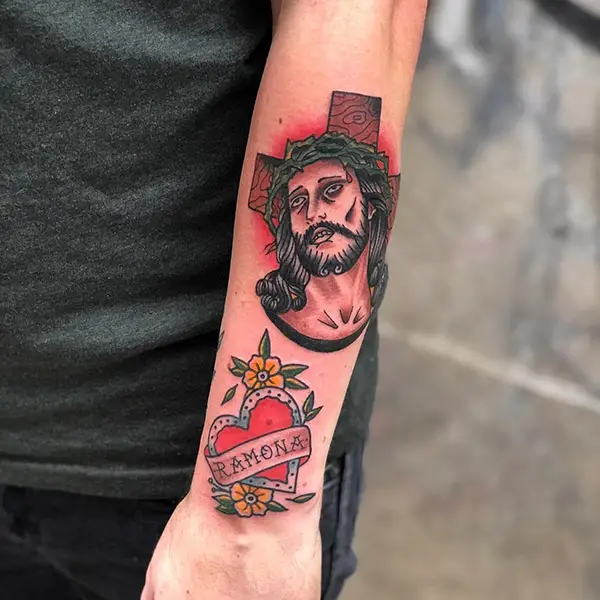 This tattoo is a reminder that Jesus gave his life for the common man. The sacred heart shows devotion to the religion, a symbol of rebirth in troubling times. It reminds you to be compassionate to others.
20. Crucified Jesus Tattoo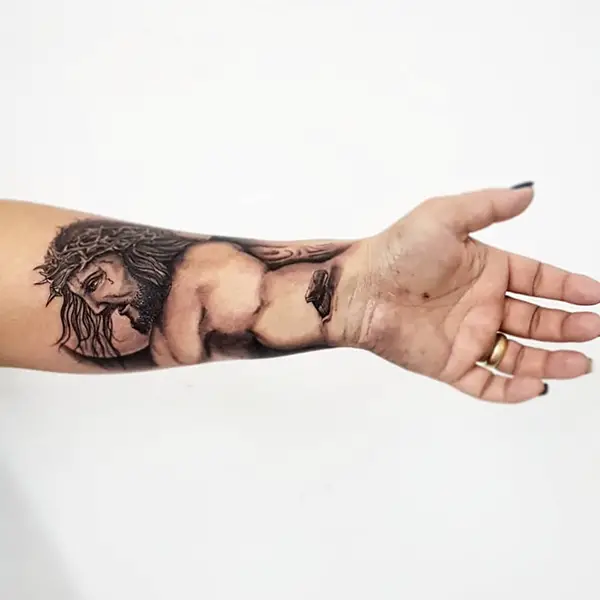 This is a traditional form of art of Crucified Jesus which is done in full arm length. The black tattoo makes it prominent that reminds you to follow His teachings in every phase of life.
21. Jesus Tattoo Design on Wrist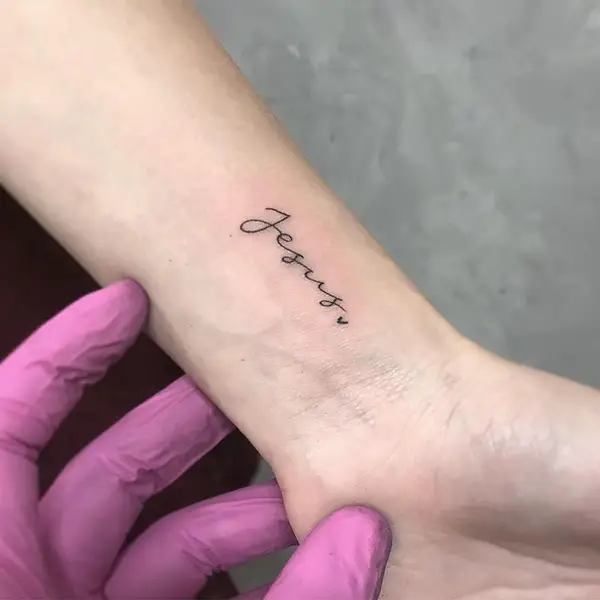 22. Jesus Tattoo Design on Hand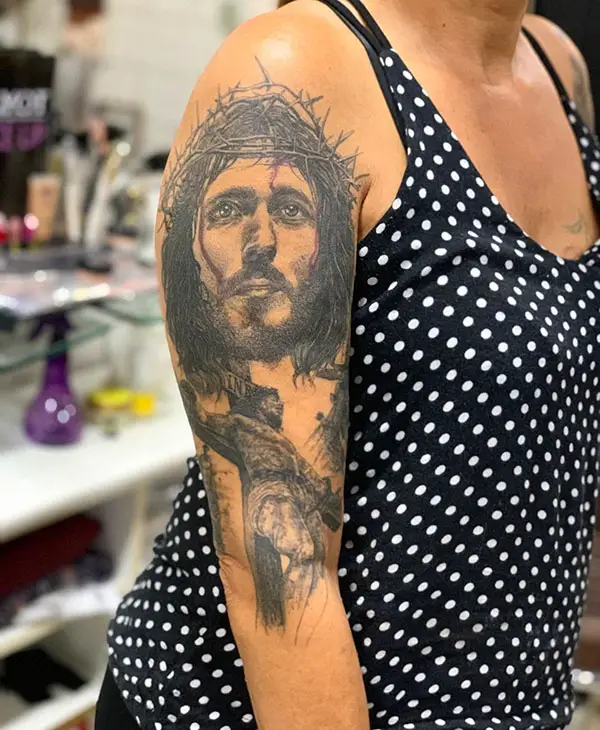 23. Jesus Tattoo Design with Colors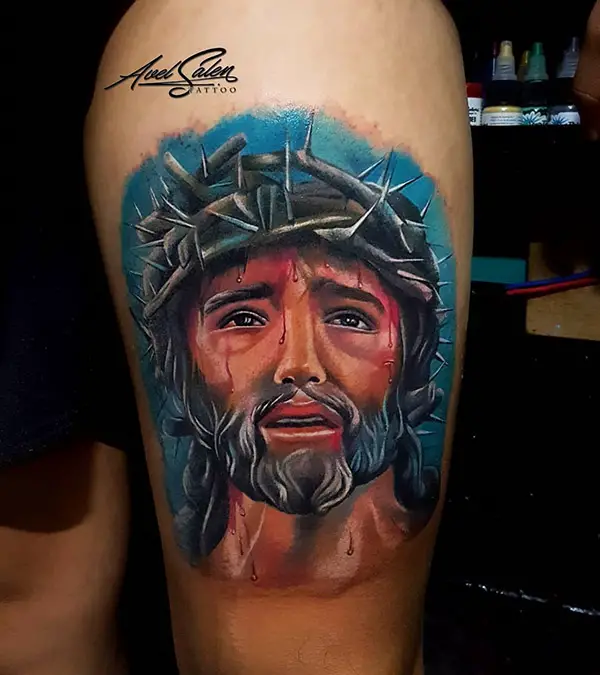 24. Jesus Tattoo Design with Cross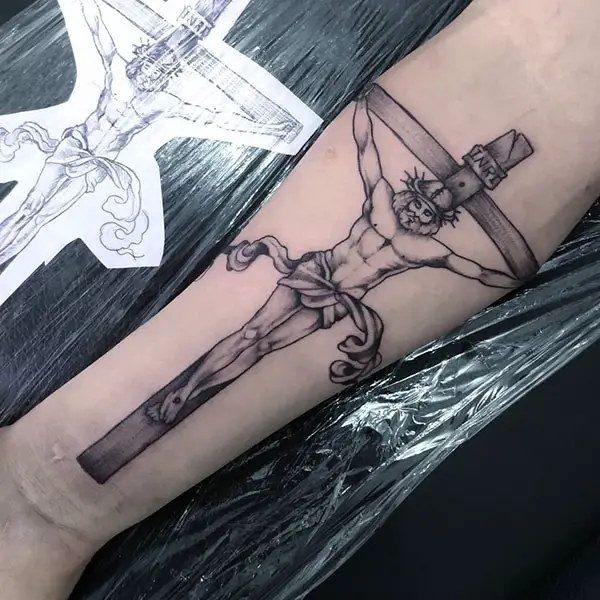 25. Jesus Tattoo Design with Strokes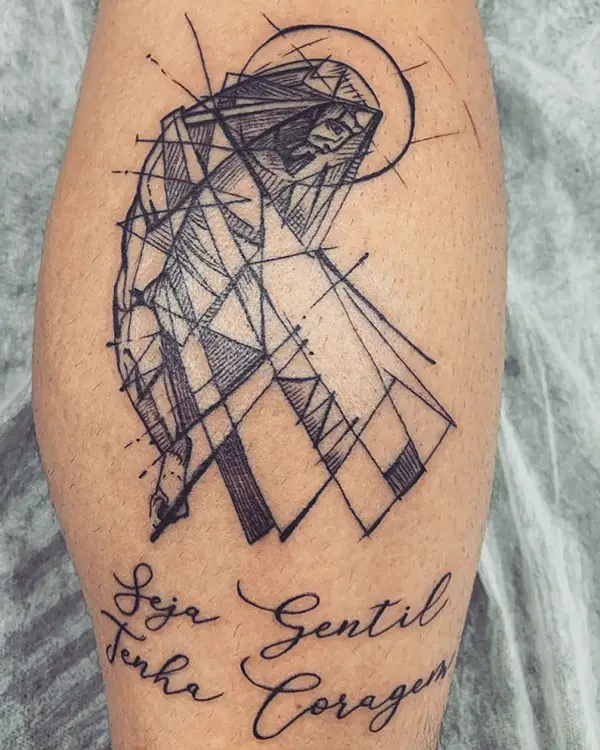 26. Jesus Tattoo Design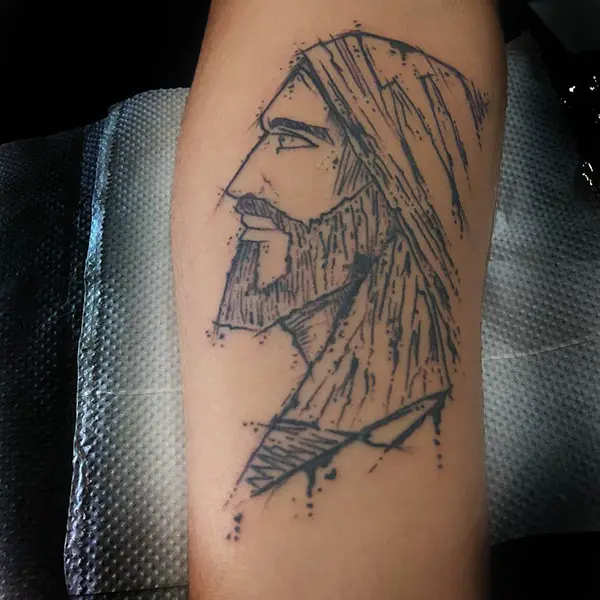 27. Jesus Tattoo
28. Realistic Tattoo Design on Hand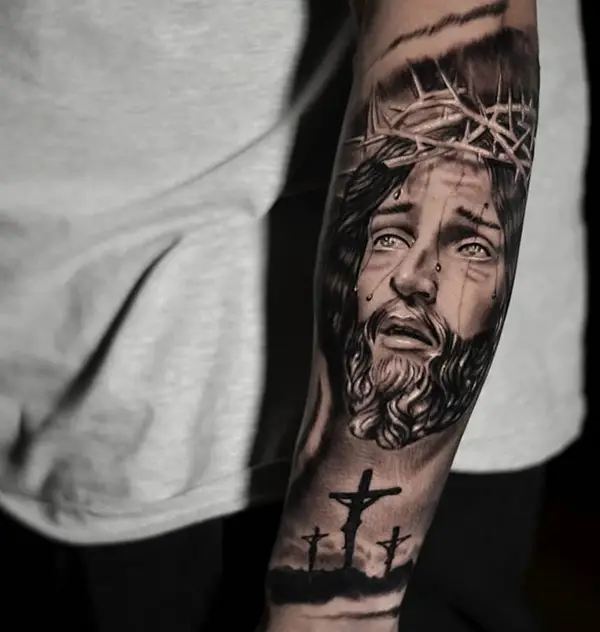 29. Realistic Tattoo Design on Thigh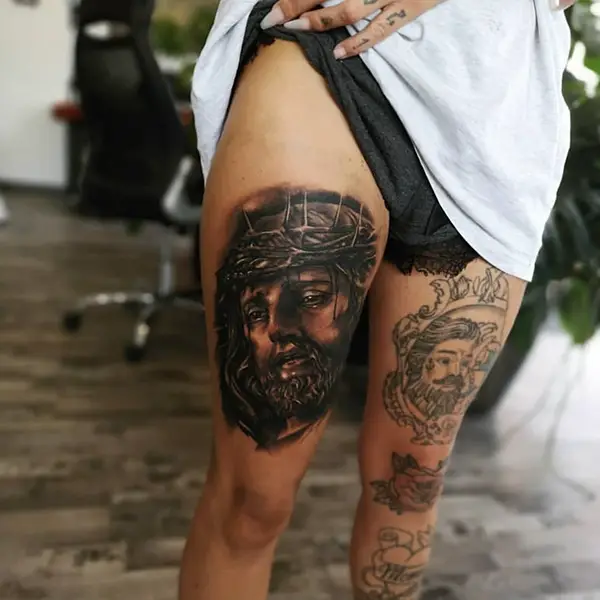 30. Realistic Tattoo Design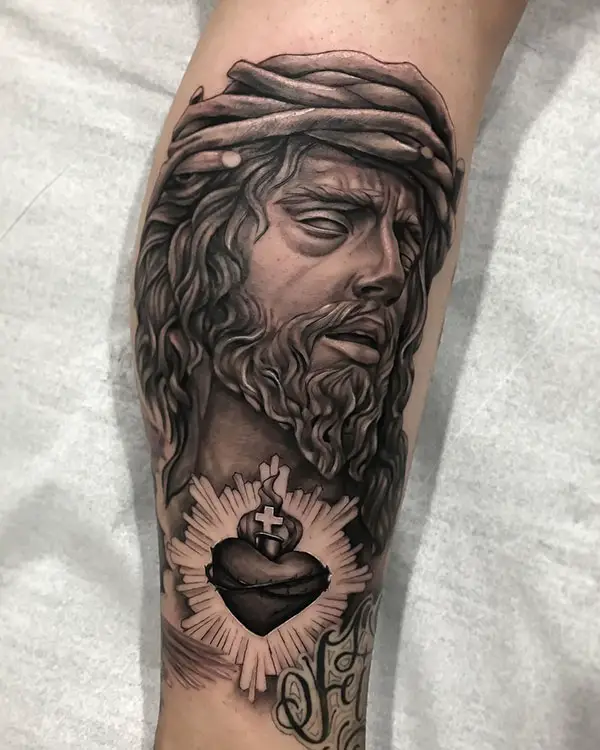 31. Small Jesus Tattoo Design on Wrist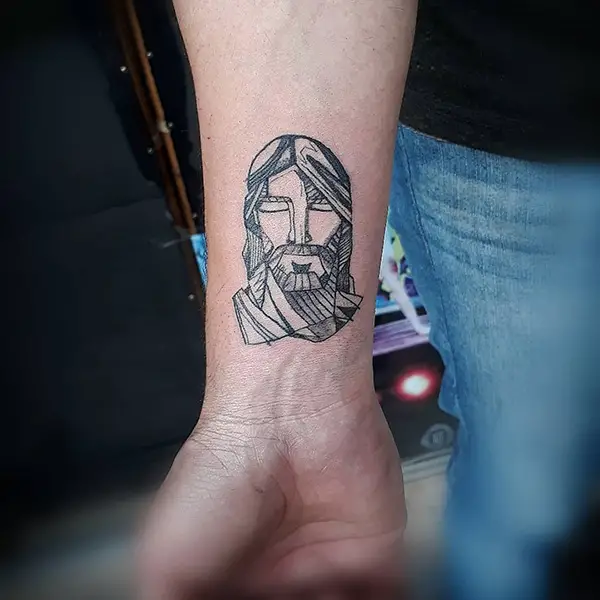 32. Jesus and cross Tattoo Design
Recommended Topics: