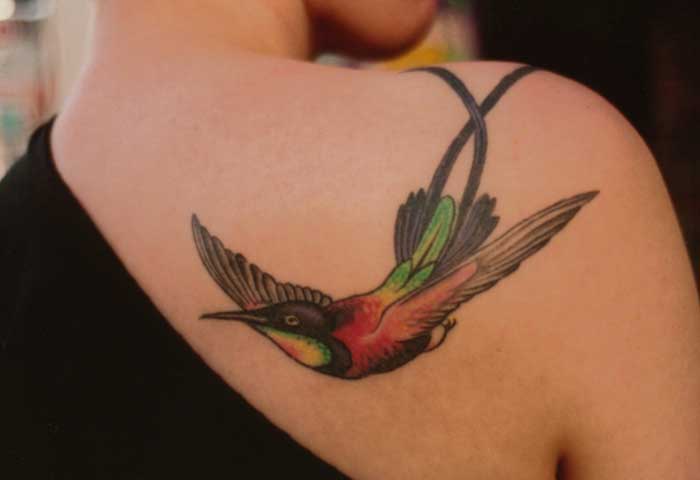 Humming bird tattoos have a huge female fan following, this particular tattoo art design is pretty, delicate and quite feminine. This tattoo usually expresses a person's traits and characteristics. It depicts energy and zeal for life. This tattoo style also symbolizes love and attraction towards the other gender. It signifies the desires of love and life.
So here are few tattoo designs for those who have the zeal to live and love life to the fullest.
25 Creative & Beautiful Hummingbird Tattoo Designs
1. The Burst of Colours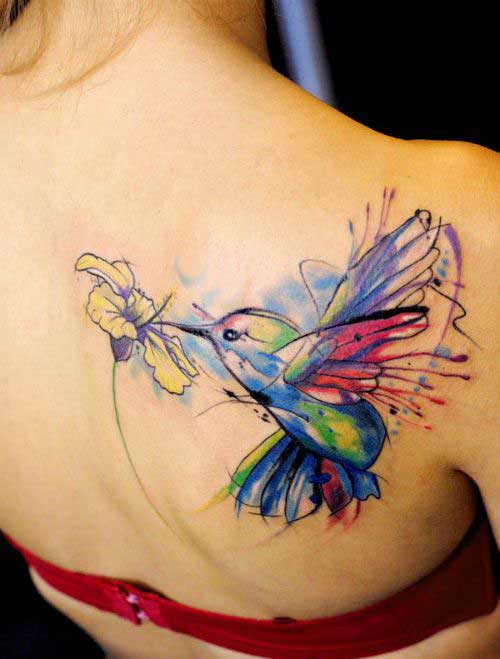 This tattoo is full of life and energy, the colours depict your colourful personality, and the intricate designs not only attract more eyes but also compliments the design and colour combination. It would be ideal for the back of your upper arm. This piece of art would definitely overload you with compliments.
2. Three Free Birds

This tattoo speaks for itself, it signifies freedom, independent soul and free spirit. It enhances your overall persona giving it a new meaning. The three little humming bird flying symbolizes your thoughts. The colour combination of bright colours and black gives it a elegant look. This tattoo can be made in the front of the elbow, neck and wrist.
[ Read: 25 Awesome Mandala Tattoo Designs]
3. The Tribal Art on Arms

This abstract tribal art is one of the ancient Native American designs, the art is quite abstract and has beautiful combination of colours, if you are not looking for colours then you can simply choose it in shades of black.
4. Humming Bird with Quotes

This tattoo brings out the beauty of the little being, the abstract art in it is the show stealer along with motivational quotes. The quote would remind you of your aim in life and would help you move ahead with ease.
5. Humming Bird with Long Feathers

You can choose this particular piece of art if you love to play with colours, these bold colours peps you up instantly and grabs lot of attention, the long feathery tail of this bird makes it even more beautiful. You can get it created in your arm, ankle, back, or elbow.
[ Read: 25 Wonderful Dreamcatcher Tattoo Designs]
6. Little Black Humming Bird

This tattoo is complete in itself, it symbolizes a strong character of being independent and free spirit. Its bold black shade makes it alluring and strong. A little tattoo on the ankle, neck, wrist or fingers can work out very well.
7. A small blue and pink shade humming bird on arms

8. Humming Bird in the Shades of Blue and Black On Feet

Little This is quite stylish and trendy, it is not too big and colourful, ideal for those who are looking for a delicate design without much colours. It would look great on your feet, ankle or wrist.
9. Humming Bird with Bright Bold Flowers

This is definitely class apart, the bold colours and the big flower motifs make it unique and classy. The designs are very detailed and needs lot of attention while creating it. The shades of blue at the side of the flowers enhances its beauty even more. Go for it if you are looking for something bold, big and colourful
10. Two Colourful Humming Birds On Thighs

This piece of art depicts love for each other, it signifies love and attraction towards the other gender. The two humming birds facing each other talks about closeness and togetherness. You can choose this if you are in deep love.
11. A Small Red Humming Bird on the Finger

12. A Small Black and Cute Humming Bird on Neck

13. Humming Bird With Musical Notes and Flowers

Humming bird with musical notes and flowers brings out your lively personality, if you are a music and nature lover then this is the tattoo for you, it is vibrant, musical and full of life. The intricate designs of the tattoo would sure steal many hearts.
14. A blue shade humming bird with three flowers

15. Colorful humming bird on back

16. Small and cute black colourful humming bird on finger

17. Multicoloured humming bird on hand

18. A black color humming bird on hand

19. A unique humming bird on back

20. Small humming bird on body

21. A colourful humming on hand

22. A colourful humming bird with quotes on ribs

23. A colourful humming bird with flower on back

24. A vibrant humming bird on ribs

25. A small humming bird on the back of the year

Humming bird tattoos dates back to the Naive American origin and have become a part of their culture, legend and folklore. So go ahead and choose the one that suits your personality completely. Indulge yourself in this beautiful piece of art.
Best Lotions for Healing a Tattoo
You Might Also Like:
Photo Credit – 1,2,3,4,5,6,7,8,9,10,11,12,13,14,15,16,17,18,19,20,21,22,23,24,25