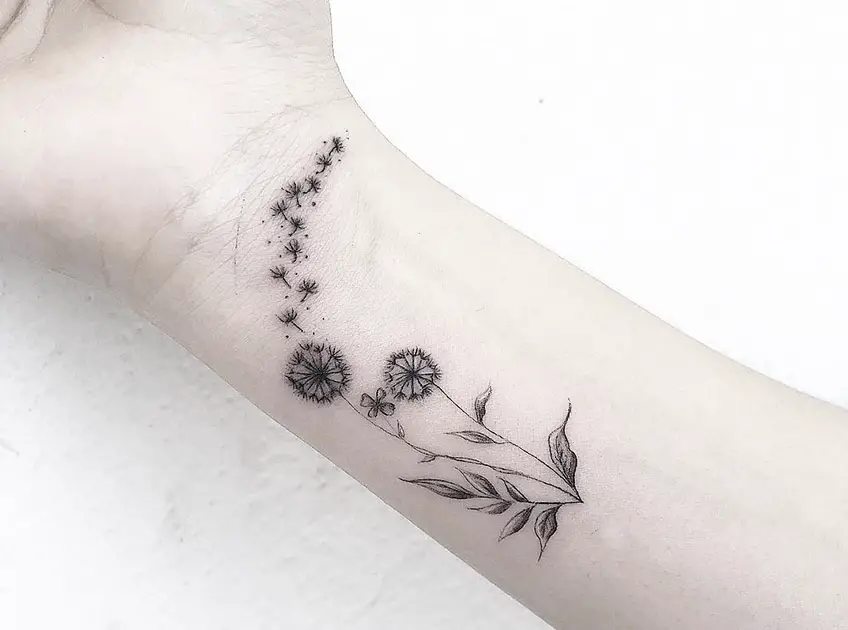 The dandelion tattoo can be black and white, or colored and symbolize rebirth and resilience. Purity and innocence are represented by it and help us in recalling our childhood memories. It can be worn by men or women and can be inked anywhere on the body, though wrist or shoulder are popular opinions. Let's see Some Beautiful Dandelion Tattoos
Dandelion Tattoo Designs and Ideas
1. Happy Kid with a Dandelion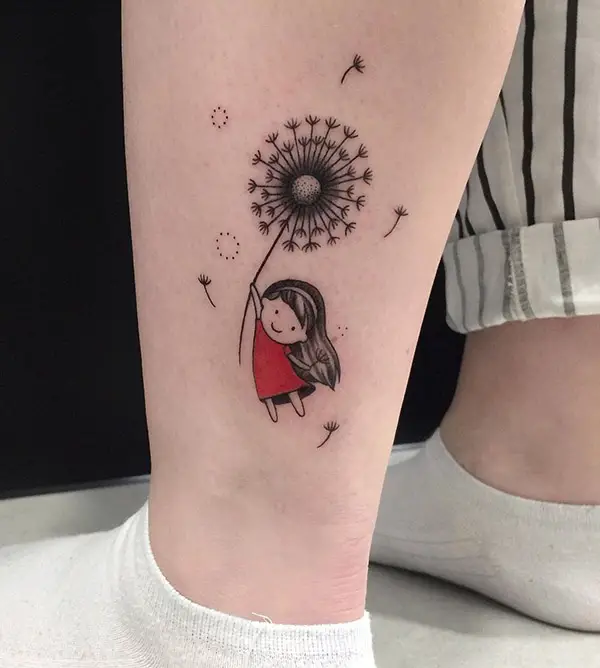 Dandelions are dried and used in kids' birthday parties and for celebrating summer days or any happy event in life. This cute little girl with the dandelion shows cheerfulness and positivity and reminds you to keep the child in you alive to enjoy small things in life.
[ Recommended: Inspirational Quote Tattoo Designs ]
2. Multi-Color Dandelion Tattoo with Birds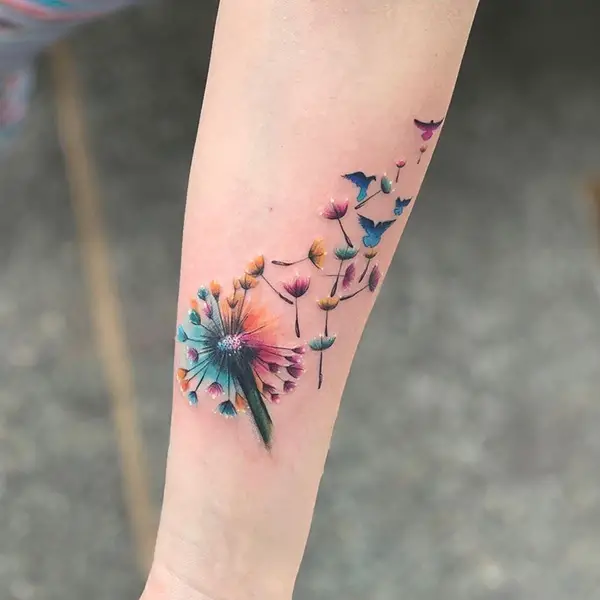 The multi-colored tattoo is perfect when you are looking for an interesting tattoo. The color accents have been used for creating a subtle design and getting this inked on the upper arm or shoulder can take advantage of the natural lines in the body. The birds symbolize your free-spirited nature.
[ Recommended: Butterfly Tattoos and Their Meanings ]
3. Black and White Blowing Dandelion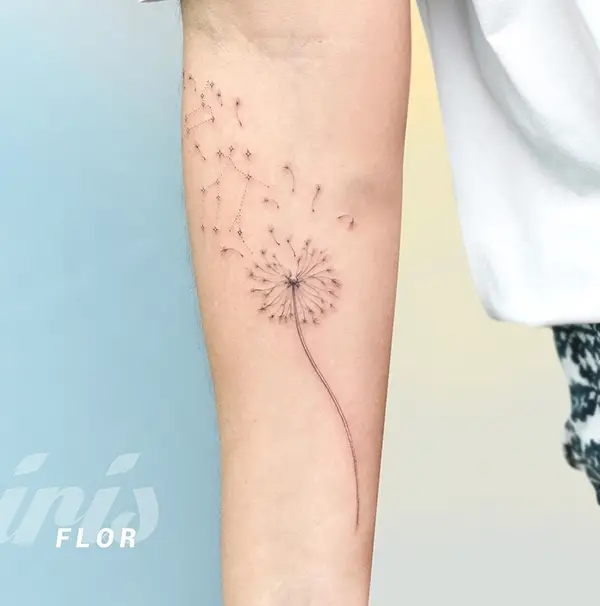 The blowing dandelion can usually be associated with childhood memories and can be inked on the arms. Whenever you see it, it will remind you to stick to your dreams, hope for better, and keep up your curiosity in life.
4. Blue Dandelion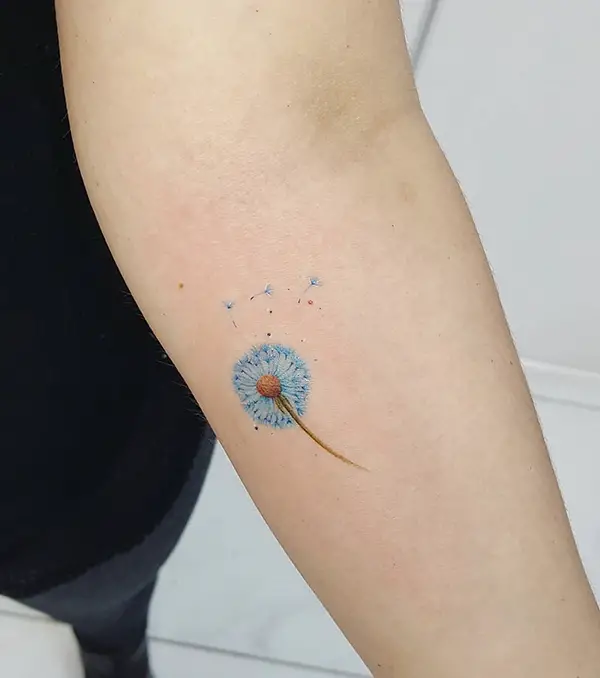 This is a delicate blue-colored dandelion formed from a yellow flower. Its state changes gradually, signifying that we need to count the blessings we receive every day and live each moment to the fullest without simply regretting the shortcomings.
5. Kid with a Dandelion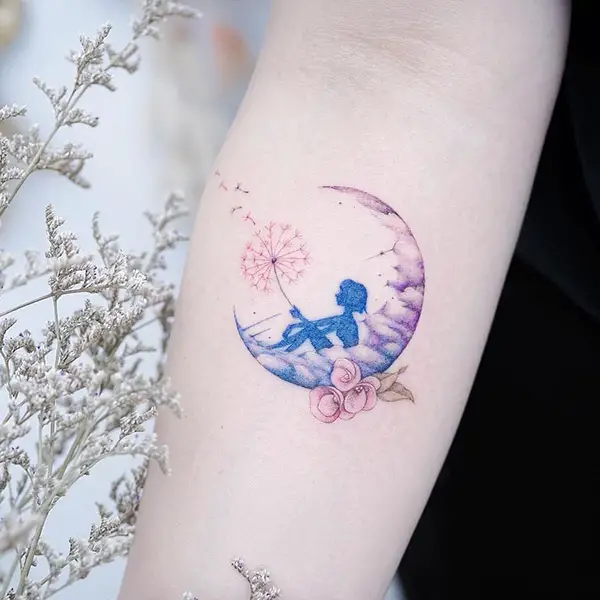 This is a beautiful tattoo with a kid sitting and watching the dandelion flowing in wind. The moon on which the kid sits symbolizes a peaceful and tranquil surrounding and the pink flowers add a feministic touch to it.
6. Dandelions with Different Elements of Nature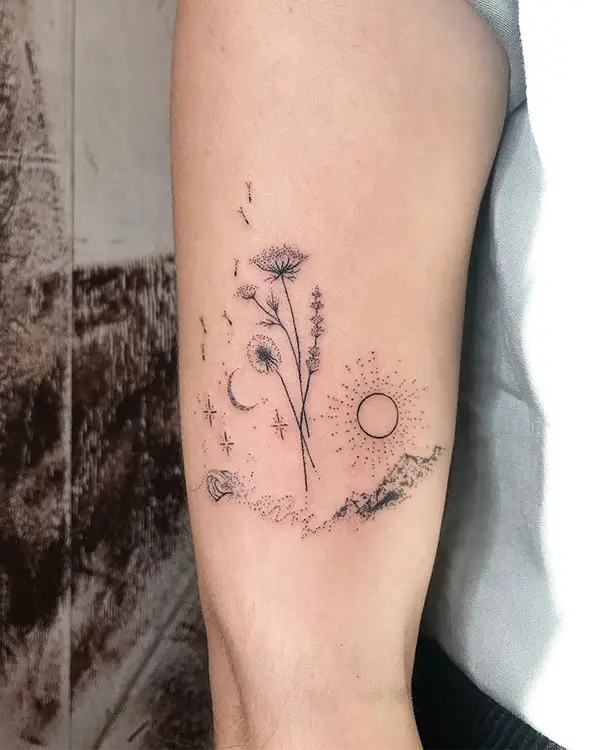 This tattoo has symbolic meaning as one side of it shows unbloomed dandelion but then some dandelions bloom and get blown away by the wind to fall on the soil and become a different plant. It portrays the cycle of life symbolized by the sun on one side and the moon, and stars on the other side.
7. Dandelion with Leaves and Blowing Seeds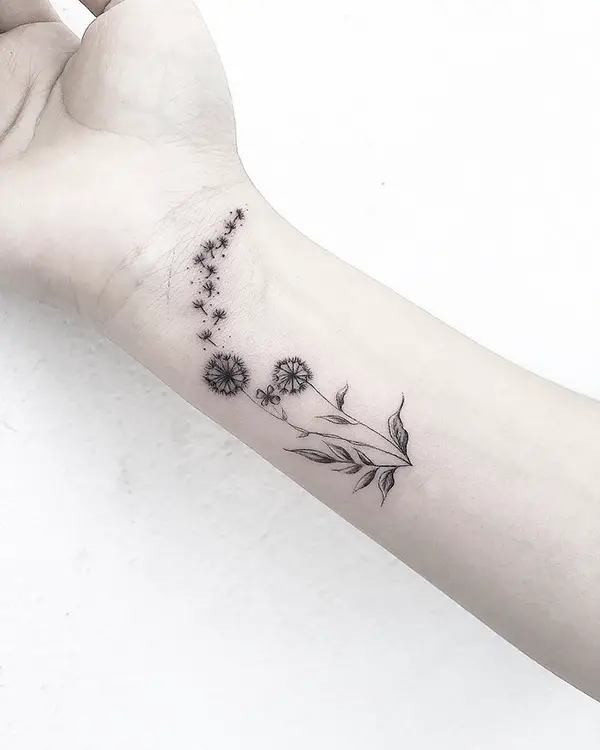 Love plants? Then this is a great way to get them inked on your wrist. The simple black and white tattoo showing the dandelions attached to the stem symbolizes the beauty of nature and how life continues by the transfer of seeds from the plant.
8. Delicate Blowing Dandelion Tattoos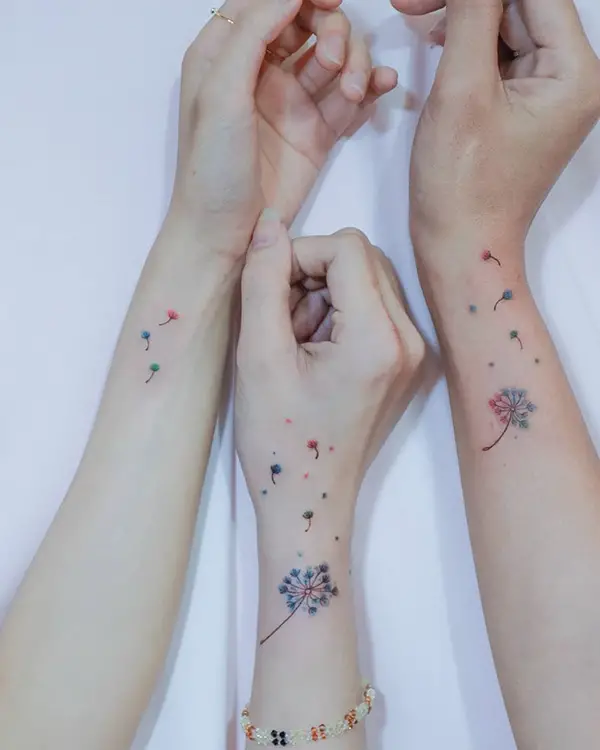 This is a popular blowing dandelion tattoo with a twist that it is on the arms of three persons. If you are a group of friends who want to do a similar tattoo that would symbolize mindfulness and live in the moment, this is a great choice. It also implies good luck and the belief that a wish comes true if made while blowing a dandelion.
9. Dandelion with Happy Kids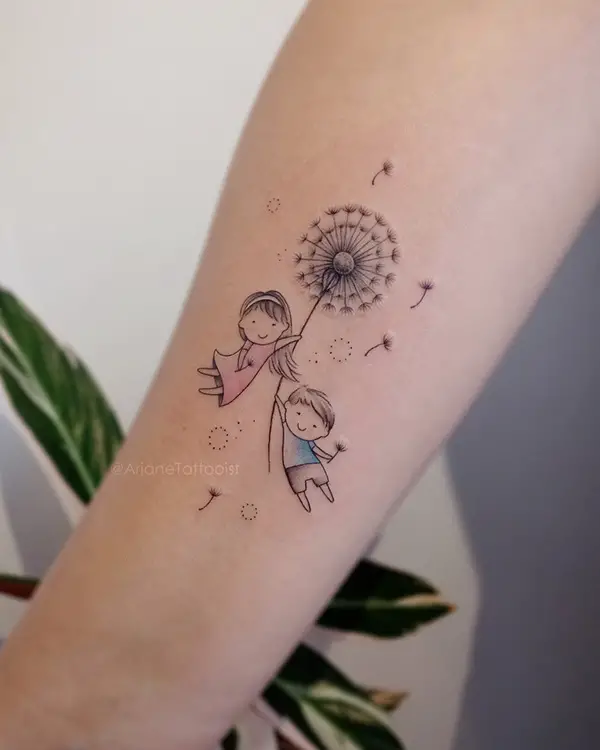 This tattoo reminds us of playful and innocent childhood memories filled with fun when we were filled with hope and joy rather than being trapped by negative aspects of life. So whenever you see this tattoo, it reminds you to lead your life in the same way to lead a happy and optimistic life.
10. Dandelion Behind the Ears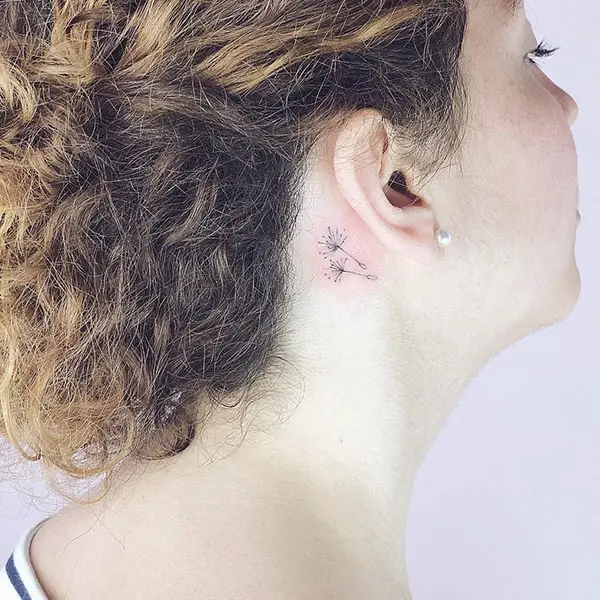 When you want dandelions in a concealed location, then the best location is to get it inked behind the ears. These signify the importance of letting unwanted things go of your life for a better tomorrow.
11. Dandelion on the Plant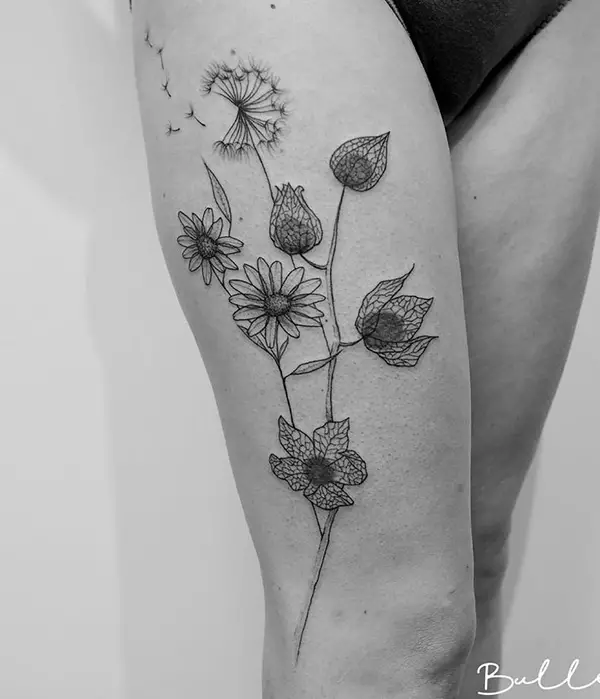 The dandelion tattoo's plant can be inked on the arms when you need an extensive one. The weightlessness of the seeds in the dandelion makes it get blown away by the wind.
12. Gun Shooting Dandelion Seeds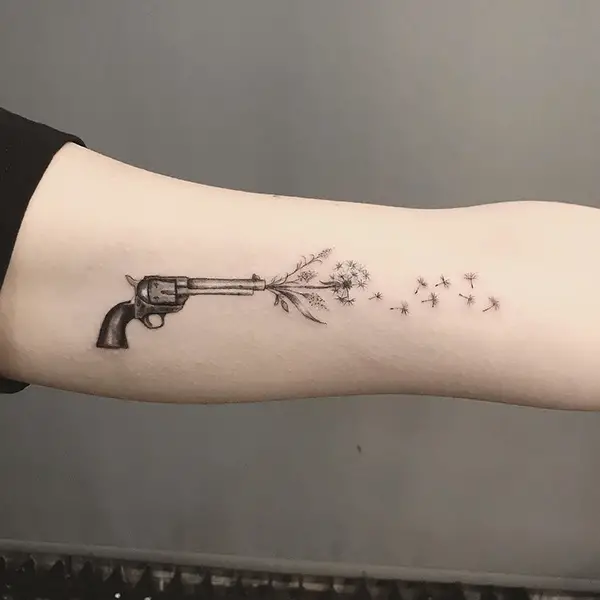 Gun is usually seen as a serious weapon that can harm others but the dandelions coming out of it add a completely different meaning to it. This implies that you just dont need to win situations with bullets but by just staying away from people who take away your peace and happiness. Letting them go to ensure your mental peace is the biggest victory in a negative situation.
13. Dandelion with a Semi-Colon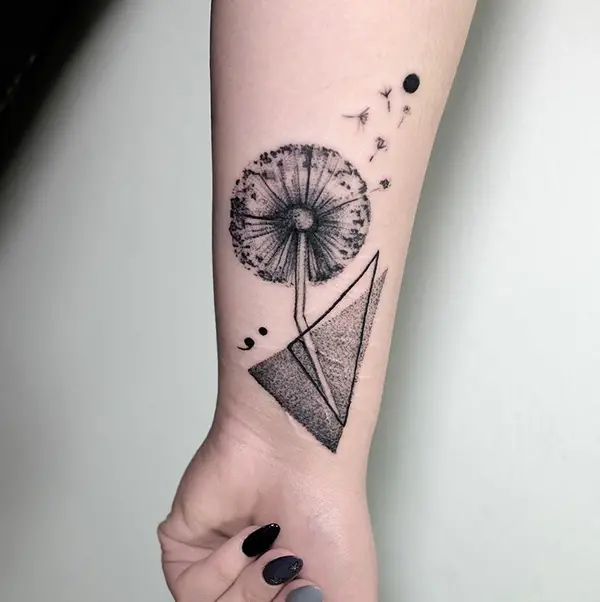 This black and white dandelion indicates resilience and rebirth and recalls childhood memories. The semi-colon added to it shows a preference for choosing to live by facing challenges, especially those related to mental health, and become a better human being with time.
14. Simple Dandelion with Seeds Blown by Wind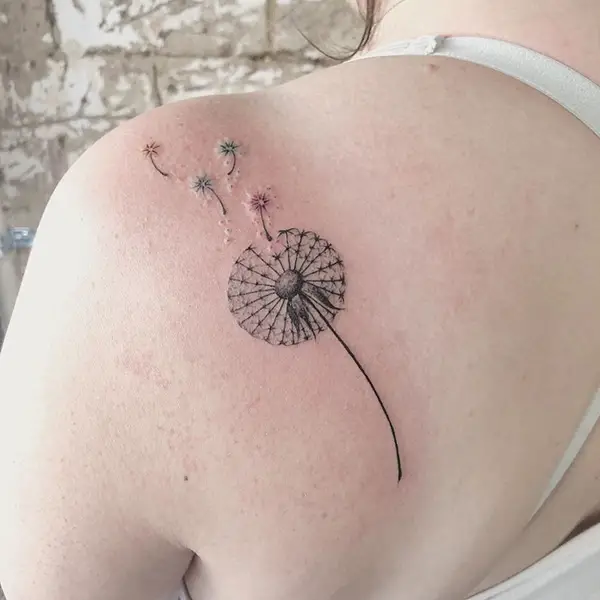 This simple tattoo where the seeds of dandelion are seen blowing by the wind symbolizes that we need to let go of things, memories, and people who hurt us. It simply implies, letting away things that dont serve our purposes and starting something new and interesting.
15. Girl Blowing a Dandelion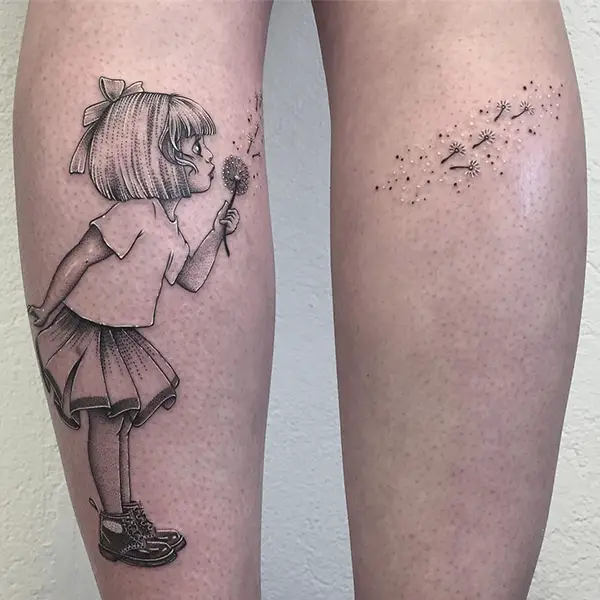 The ease with which the girl blows away the seeds in the dandelion symbolizes hope and the potential to overcome the obstacles in life confidently. The tattoo will remind you that with the right inspiration, you can handle any situation in life easily.
16. Minimalistic Dandelion Tattoo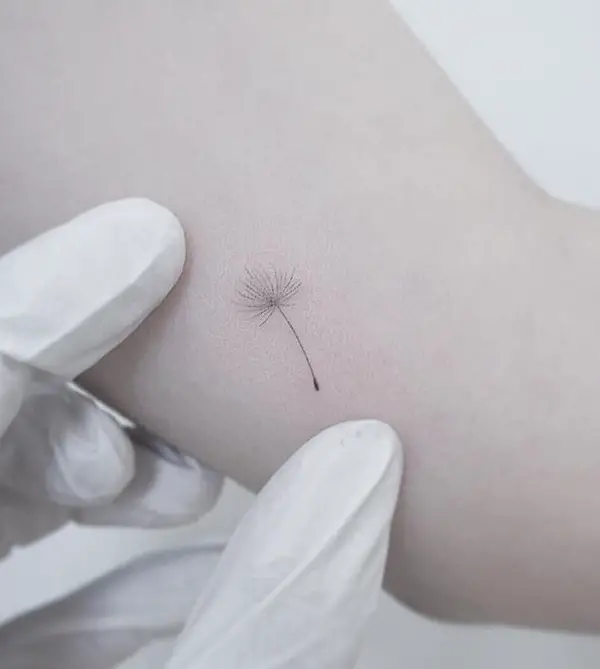 When you want a minimalistic tattoo, this dandelion design is the best one for you. It can be inked on the wrist or behind the ears for a subtle addition to your look and signifies innocence and purity.
17. Dandelion with a Quote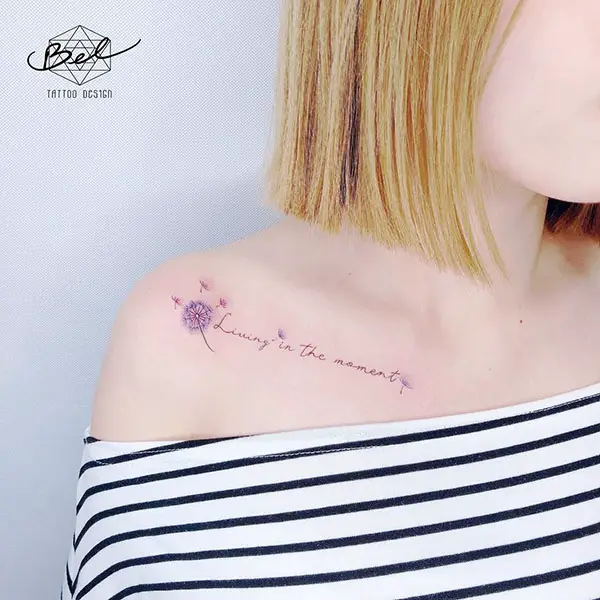 If you often wear off-shoulder dresses then getting a dandelion inked near your collarbones would be a great way of showing your love for them. Besides it, a short quote related to life will show the values you hold in life.
18. Girl Carrying a Dandelion on her Shoulders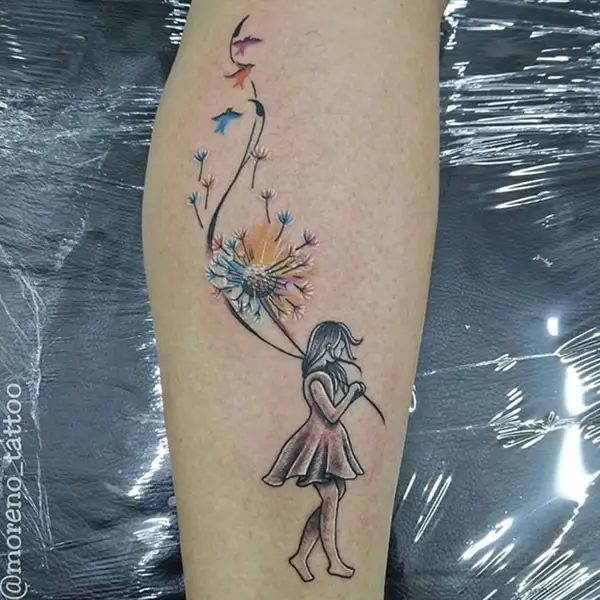 The colorful dandelion and its seeds represent life. This grows from an ugly weed but the beautiful dandelions growing on it show transformation in life. Then the perfect geometry is spoilt when the wind blows away its seeds, which implies that we need to cherish every moment in life as each phase has its own beauty and nothing lasts forever.
19. Dandelion Seeds Blowing in Wind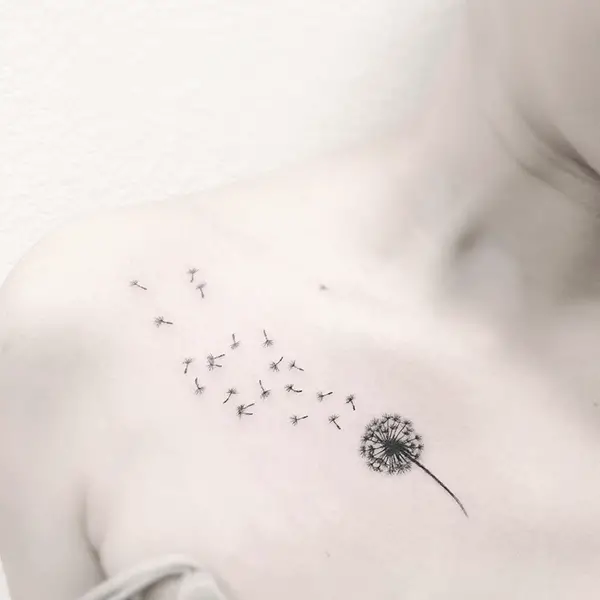 Dandelions symbolize purity and innocence and represent your wish for a good fate. It can be inked below the collarbone or on the arms for creating a trendy look.
20. Dandelion with Birds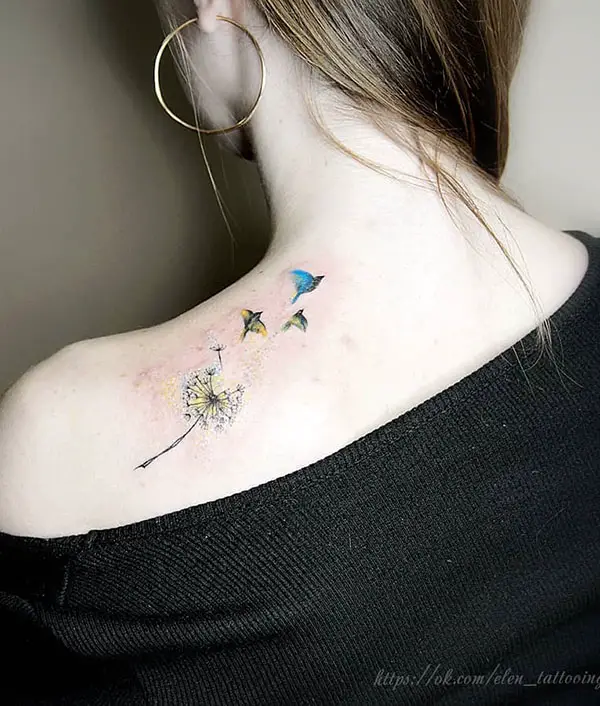 The delicate seeds of the dandelions flow with the wind and these are joined by the birds flying in the sky symbolizing freedom, hope, and optimism. It is best inked on the shoulder, neck, or neutral body lines.
Check More Images:
21. Black Dandelion Tattoo with Birds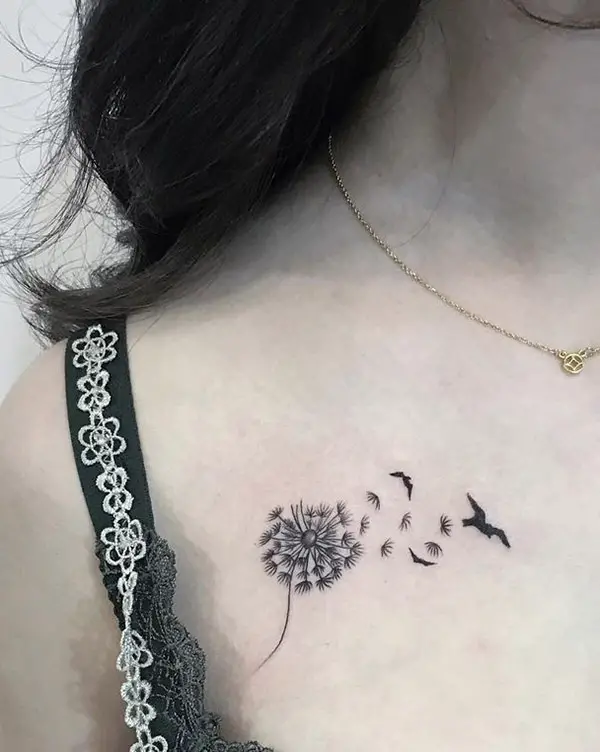 22. Blowing Dandelion Tattoo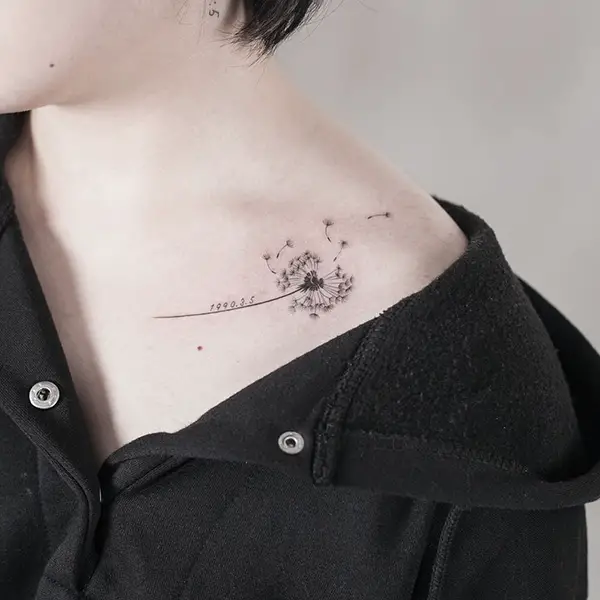 23. Colorful Dandelion Tattoo with Quote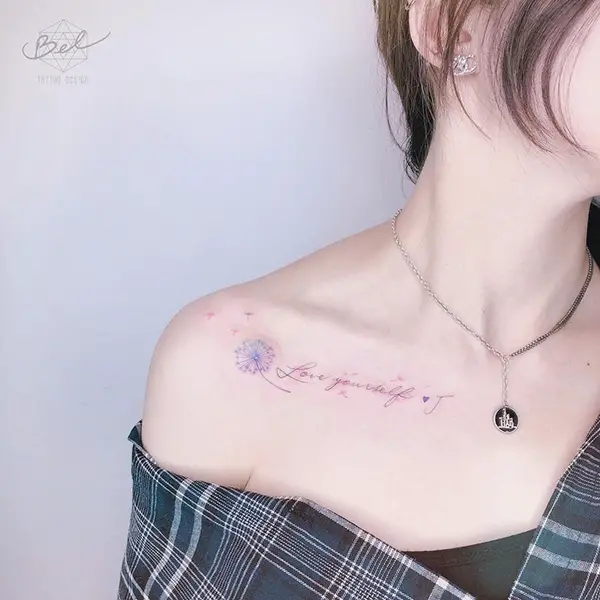 24. Dandelion Tattoo on Arm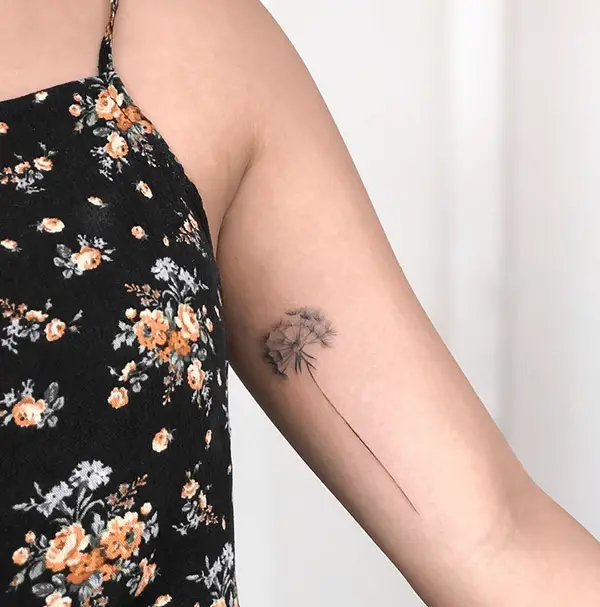 25. Dandelion Tattoo on Waist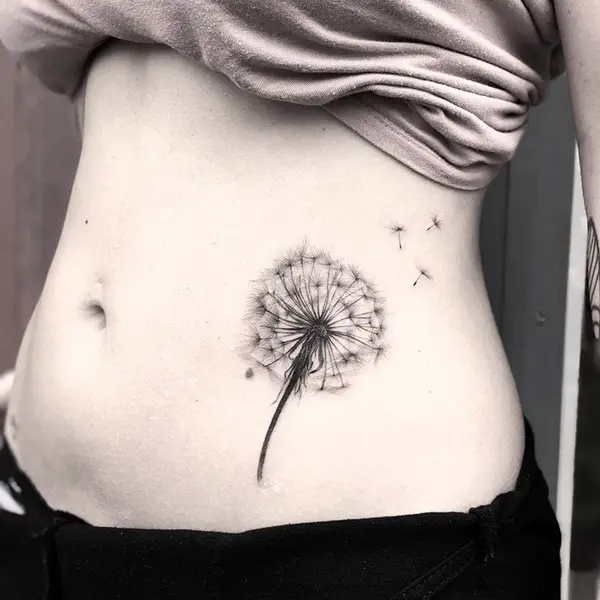 26. Dandelion Tattoo on Wrist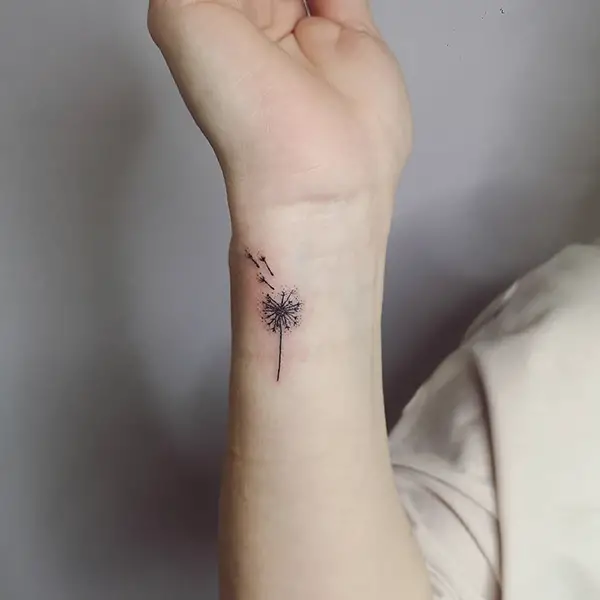 27. Dandelion Tattoo with Shading
28. Little Boy Flying with Dandelion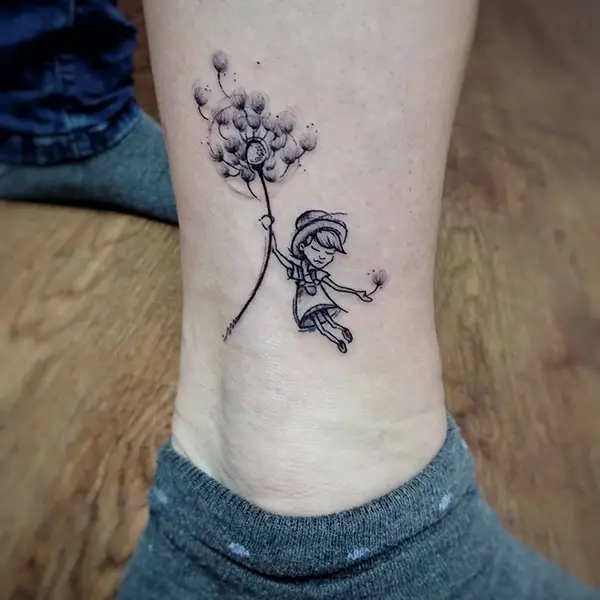 29. Two Dandelions Blowing in Wind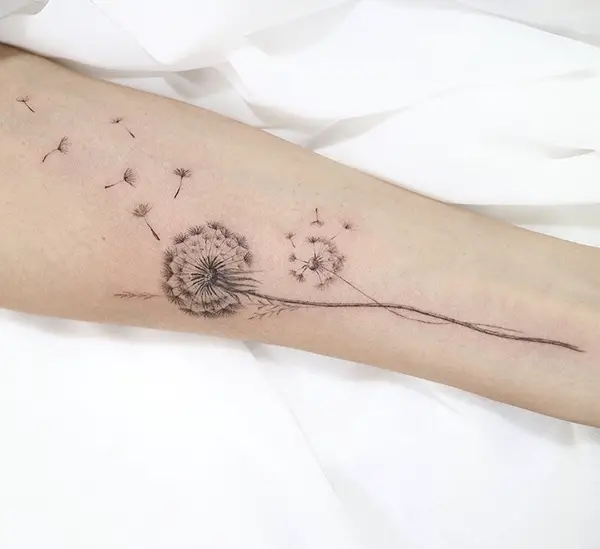 Recommended Topics: