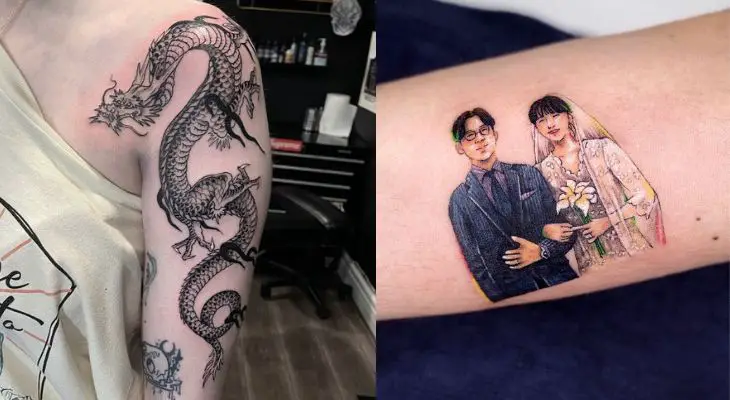 Decided to get some ink on your arm for the first time? Not sure what tattoo design will work for you? Nothing to worry about. We're here to help you! Each tattoo has a meaning that reflects a person's feelings. In light of this, we have selected the best arm tattoo designs for you. Look at the list, and let's decide which is best for you.
20 Awesome Arm Tattoos for Men and Women
1. Butterfly Arm Tattoo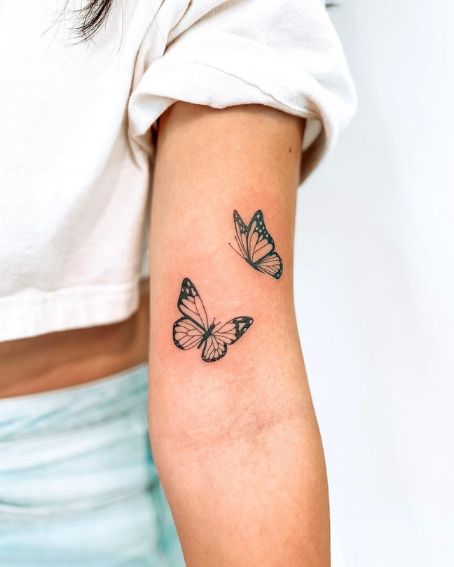 The cute butterfly tattoo represents the start of a new chapter in life. Butterfly tattoos are a great choice if you want something meaningful and beautiful. Adding it to your look enhances your beauty and instantly makes you stand out from the crowd.
2. Angel Tattoo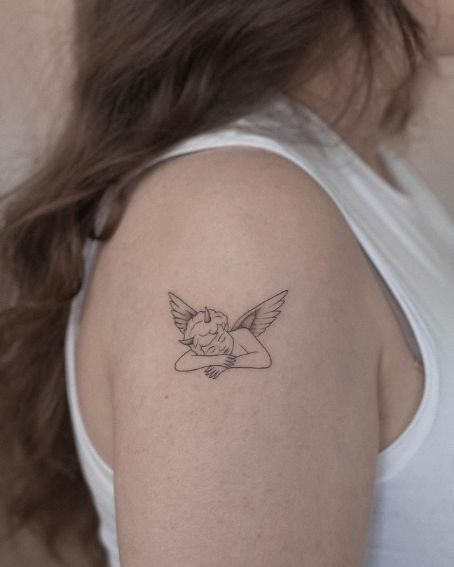 "Angelic" tattoos are the epitome of "Hope & Guidance". In other words, it is a connection between earth and heaven. Tattoos such as the sleeping baby angel are often used to commemorate the loss of a young child.
3. Creative Forest Tattoo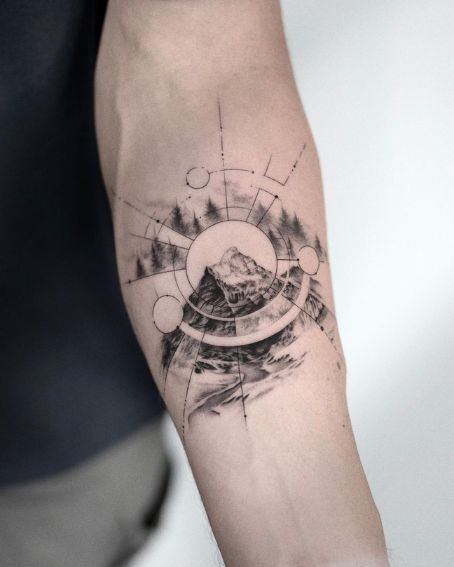 It features a Wetterhorn design. The Wetterhorn is a peak in the Swiss Alps. In memory of this lovely place, most people tattoo it. If you love the spot, ink it on your arm.
4. Geometric Tattoo Design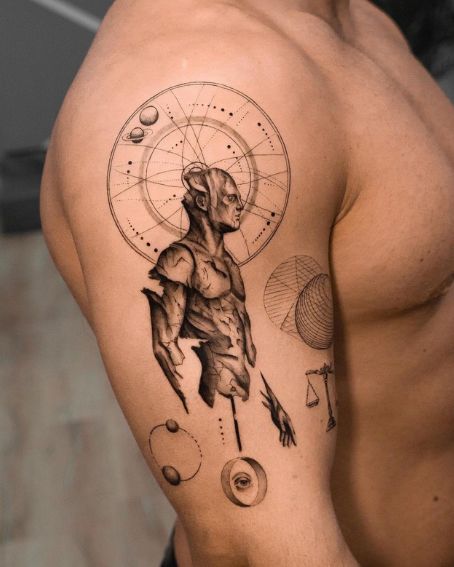 Geometry tattoos come in a variety of shapes. Whether you want circles or overlapping shapes, geometry has endless possibilities. This creative tattoo features an alien look man with geometric shapes. Make it yours if you love it.
5. Horse Tattoo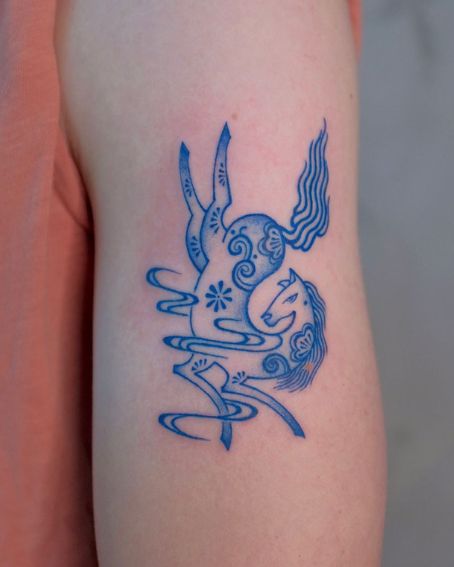 If you like stylish and fancy designs, this horse tattoo is perfect. Horse tattoos symbolize freedom, beauty, strength, and spirit. This tattoo on the arm allows the horse to move more freely and easily show off.
6. Leaves And Branch Tattoo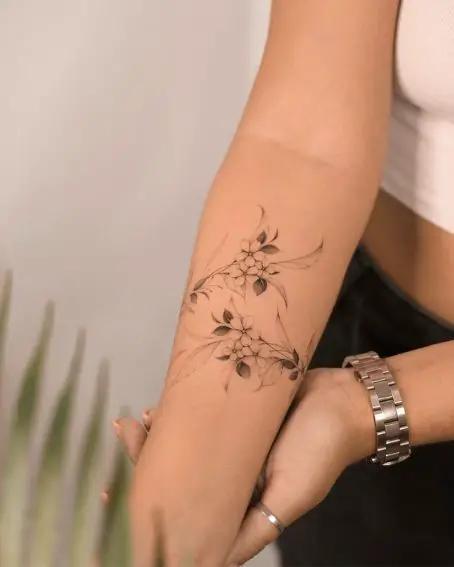 This cute little tattoo represents the cycle of life. In other words, if the leaves die off, the branches will remain healthy. Some people consider wearing this charming tattoo for its positivity. Wrap your arm with this lovely one.
7. Dragon Tattoo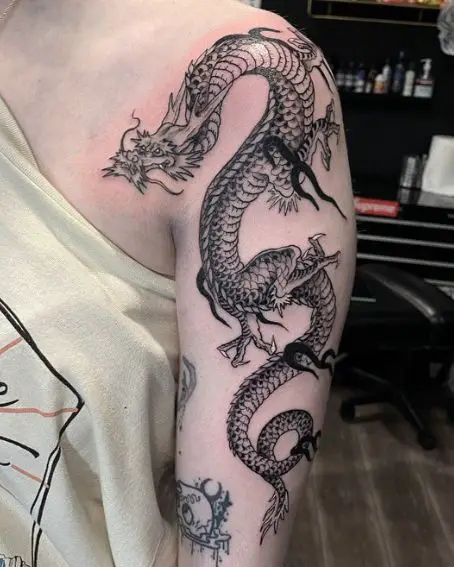 This dragon tattoo is one of the most famous Chinese-type dragon designs. It symbolizes rage, fearlessness, and wisdom. This mythical creature gives a majestic look to your arm.
8. Simple Heart With 'j' Letter Tattoo
Tattoos with realistic heart designs have become increasingly popular. Men are most likely to be attracted to this design rather than women. Why don't you try this out if you're in love with someone whose name begins with J?
9. Black And Grey Tattoo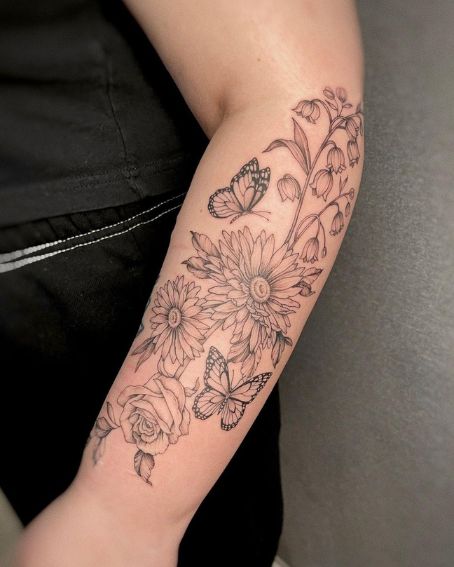 Jailhouse tattoos are usually black and grey. This amazing tattoo fills your arms with lovely floral branches. There are also cute little butterflies near the flowers. Nature lovers will enjoy this.
10. Dragonfly Tattoo
The dragonfly symbolizes tranquillity. This is a perfect choice if you want to wear a symbol of peace on your arm. A tattoo of a flower and dragonfly is a good choice for the optimistic person who seeks to find themselves wherever they go.
11. Cat Tattoo With Outer Blue Design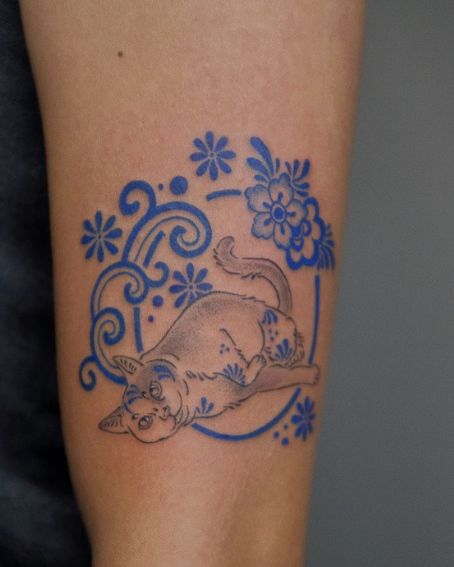 The cat is a favorite pet of many people, in which cats represent "Resilience.". If you are a cat lover looking for the best cat tattoo design, this should be your choice. You can enhance your arm's appeal with the cute bubbly cat outlined in a blue floral pattern.
12. Magnolia Branch And Butterfly Tattoo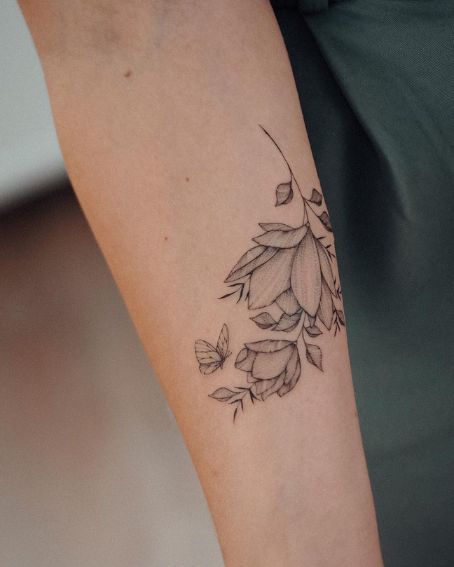 Regardless of the type of flower, flower tattoos always attract everyone and Magnolia symbolizes Purity and Perfection. When it comes to magnolia tattoos, it enhances your arm with an incredible look. Never miss it!
13. Wildflower Tattoo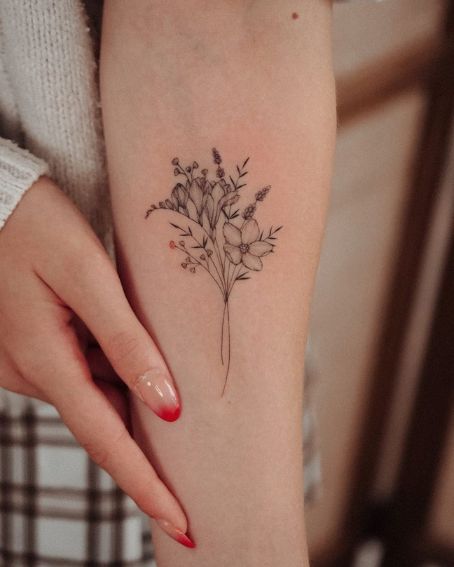 The wildflowers are the symbol of Joy. This lovable floral tattoo can be suitable for those seeking positivity and good fortune.
14. Tiger Tattoo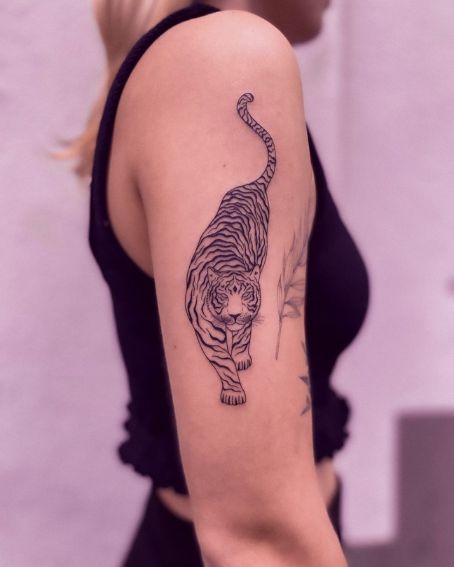 Tigers symbolize power and strength. Inking a powerful trigger tattoo design on the arm signifies that the person demands respect. Make it yours if you want to strike fear into your prey.
15. Girl Diving Tattoo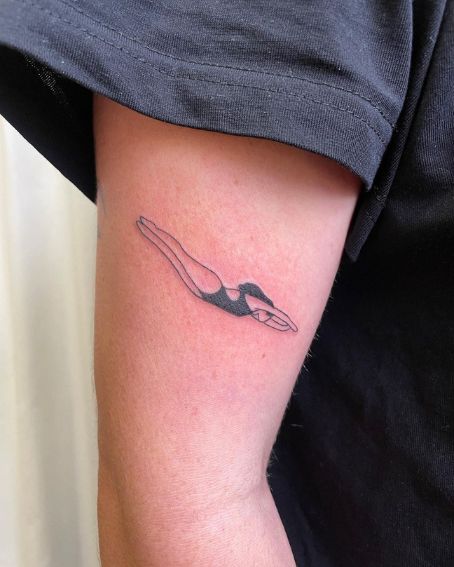 Diving girl tattoos are a traditional American design. Why don't you try this out on your arm if you are a swimming lover? It shows your swimming talent to others.
16. Beach Tattoo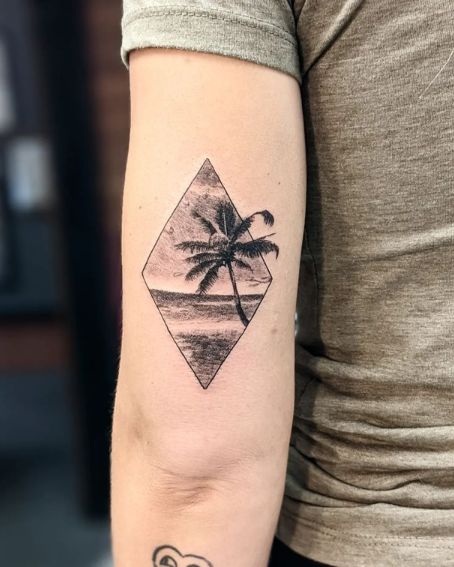 Some people get beach tattoos to express their love for someone in life. You can ink your arm with this warm sunny weather look with a beachy vibe.
17. Black And White Tattoo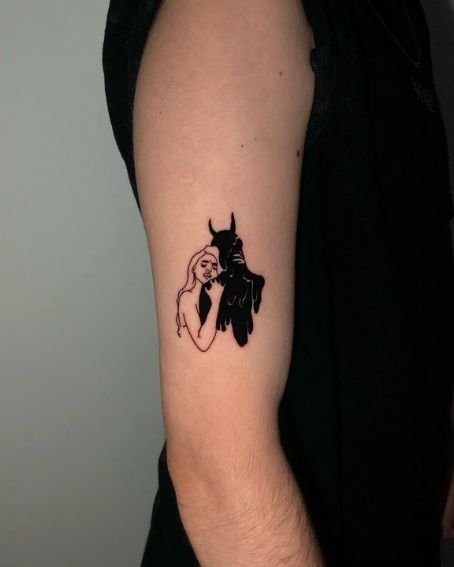 This black and white tattoo is an Angel Devil Hug tattoo design. If you are in love with someone opposite to your nature, this tattoo should be yours.
18. Large Floral Arm Tattoo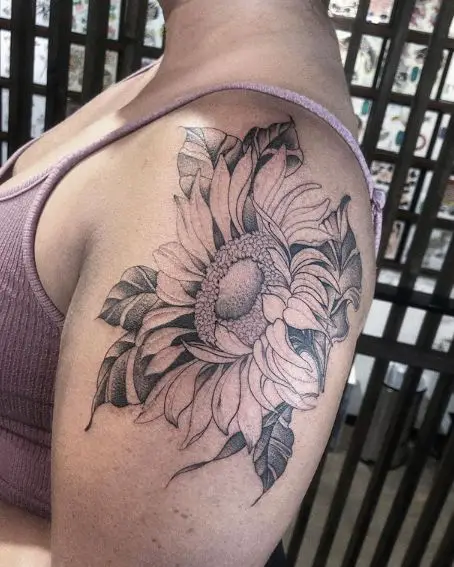 Flowers represent love. This huge flower inked like a sunflower on the arm. It expresses the love toward nature. If you like it, ink your arm.
19. Family Tattoo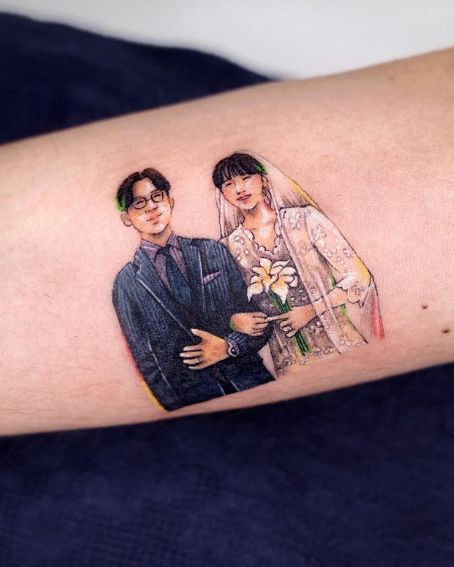 This is a lovely tattoo which can be done in remembrance of their family. The couples in this tattoo showcased their love for each other. If you want to have a memory of your wedding moment, you can wear this on your arm.
20. Medusa Tattoo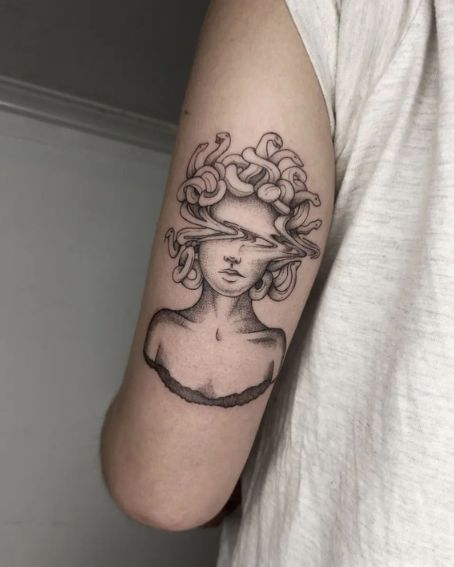 Medusa tattoos symbolize the fighting spirit of women. Draw Medusa on your arm if you want a unique tattoo with rich symbolism. You can show your female power to the world through it.
Best Lotions for Healing a Tattoo
You Might Also Like: