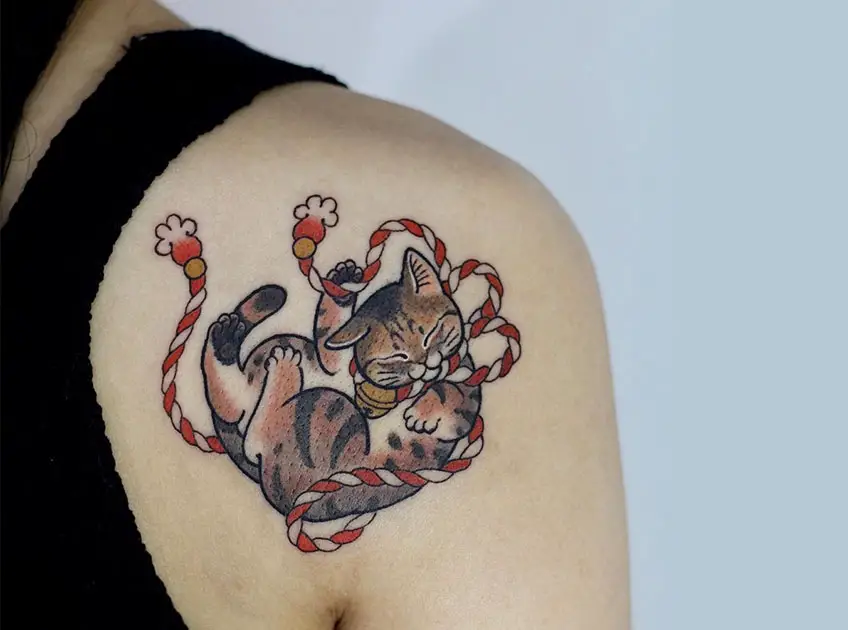 Cats are one of the common pets and are believed to have nine lives. They represent resilience. People get cat tattoos to show their love for their pets or to portray some symbolic meaning attached to it. Let us see some cute and unique cat tattoo ideas.
1. Cat with Blue Eyes and a Purple Flower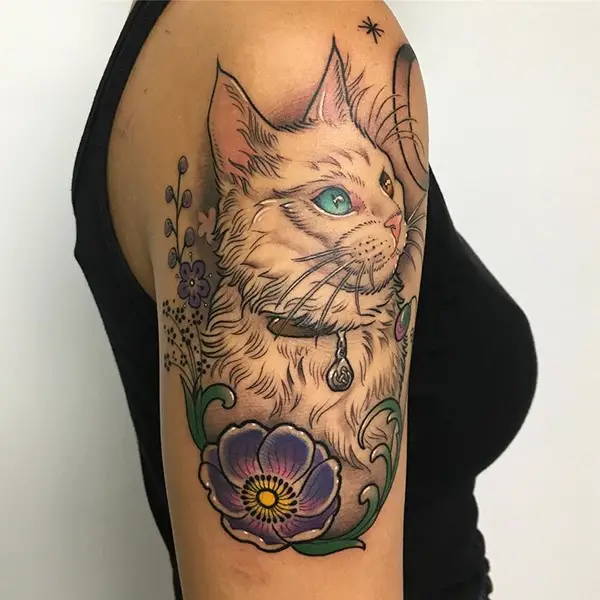 Love natural elements in your tattoo? Get the purple flower and green stem and a cat over it to show your love for cats. The blue eyes of the cat make the tattoo adorable.
[ Recommended: Beautiful Camera Tattoo Ideas ]
2. Black Cat Tattoo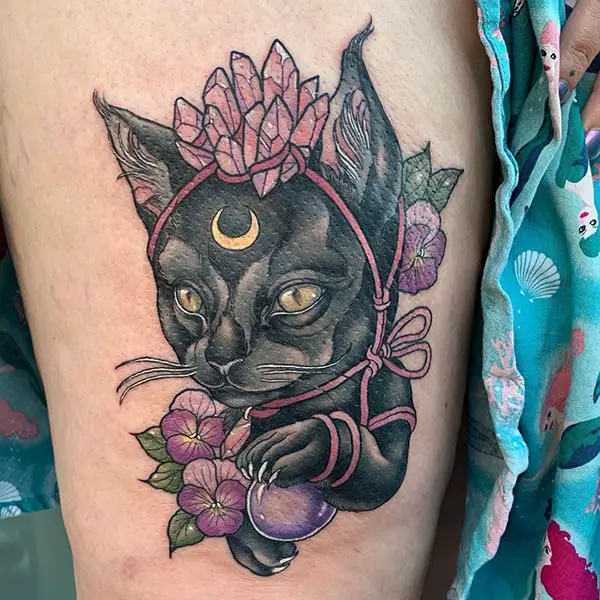 People often opt for a black cat tattoo in the memories of a beloved person or their pet, hence it doesn't represent any negativity but death itself. Some purple flowers added to the tattoo, make it more pleasing.
[ Recommended: Cute and Inspirational Small Tattoos ]
3. Simple Cat Tattoo with Roses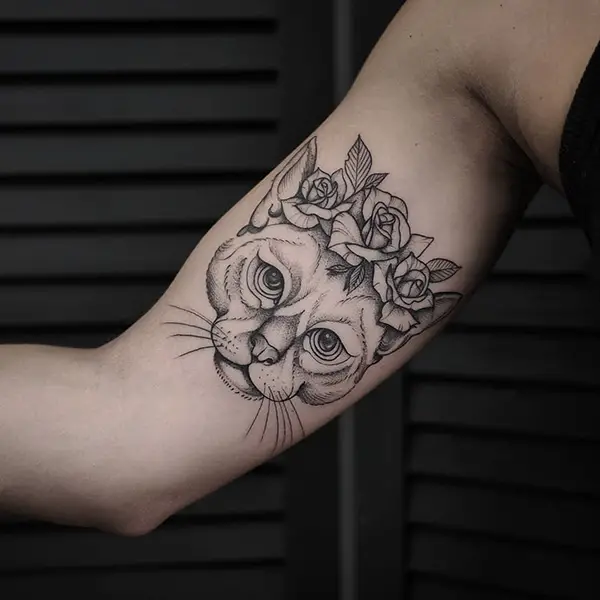 Show your love for cats in this cute and simple cat tattoo, distinctively representing the facial features. The roses adorning its head, add to the tattoo's beauty.
4. A Happy Cat Among The Plants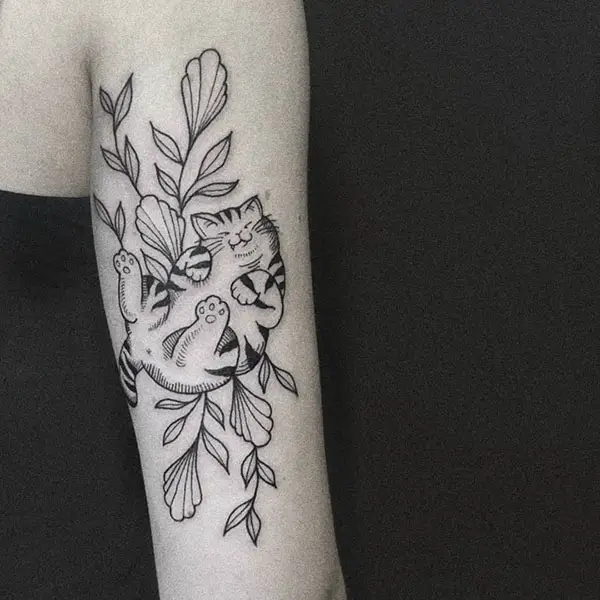 Do you have a jovial cat or love jovial cats? Get this happy cat tattooed on your arms and the stems with leaves around the cat to show your love for nature.
5. Harry Potter Cat Tattoo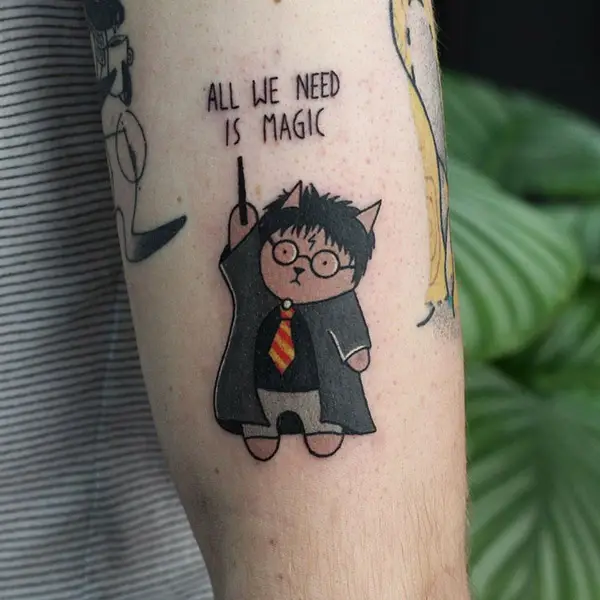 Love Harry Potter fictional character? Get a cat tattooed in a similar get-up to show how much the character inspires you. "All we need is magic" implies we are all hoping for some miracle to happen in our lives and make the world a better place to live in.
6. A Fat Sleepy Cap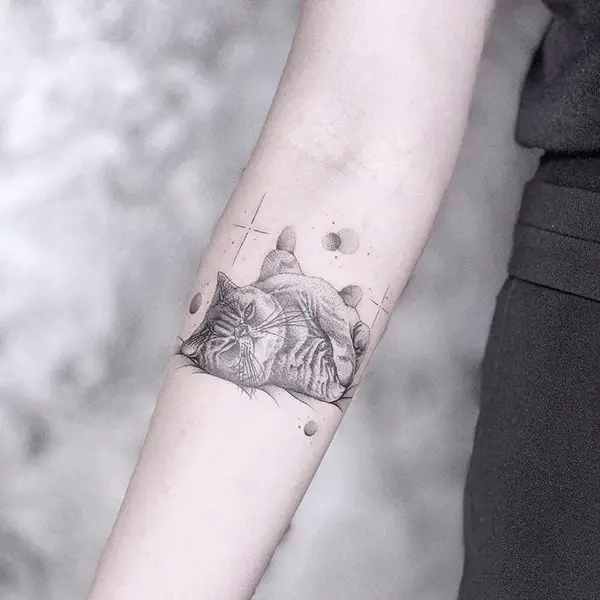 Do you find fluffy fat cats adorable or own one as a pet already? Get this tattoo inked on your arms to show your love for it.
7. Playful Cat Tattoo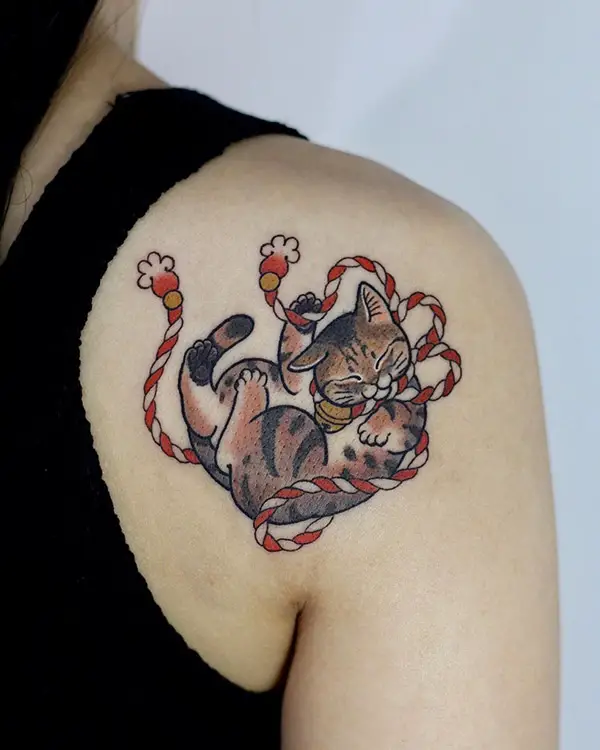 Don't want black and white tattoos? Get this yellow cat tattooed in which the cat is seen playing happily with the striped red rope, resulting in a cuter look.
8. Batman Cat Tattoo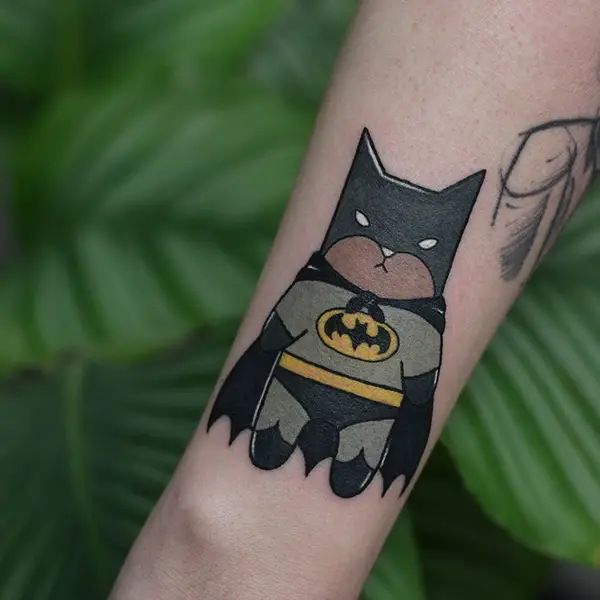 Is batman your superhero? Represent your cat as a batman, showing it as an amazing creature with superpowers to fight the evil in the world.
9. Cat Outline with a Tiny Heart Tattoo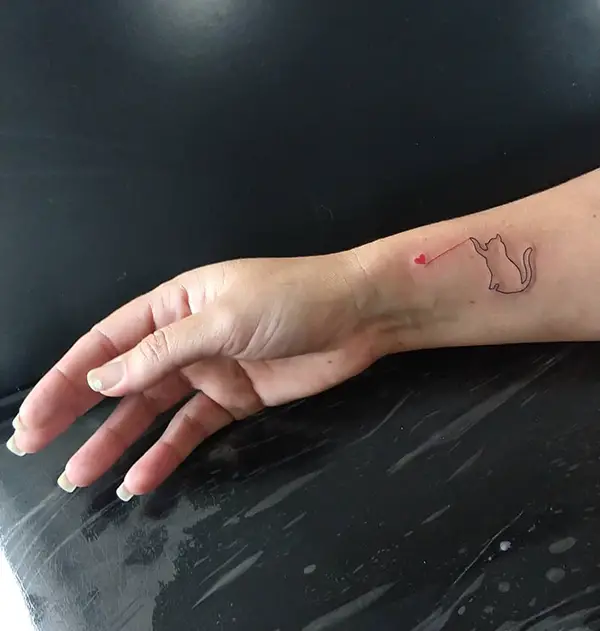 This is a simple cat outline tattoo that is linked to a tiny red heart through a line, representing your deep love for the cat and that it is an important part of your life.
10. Cats Among Flowers Tattoo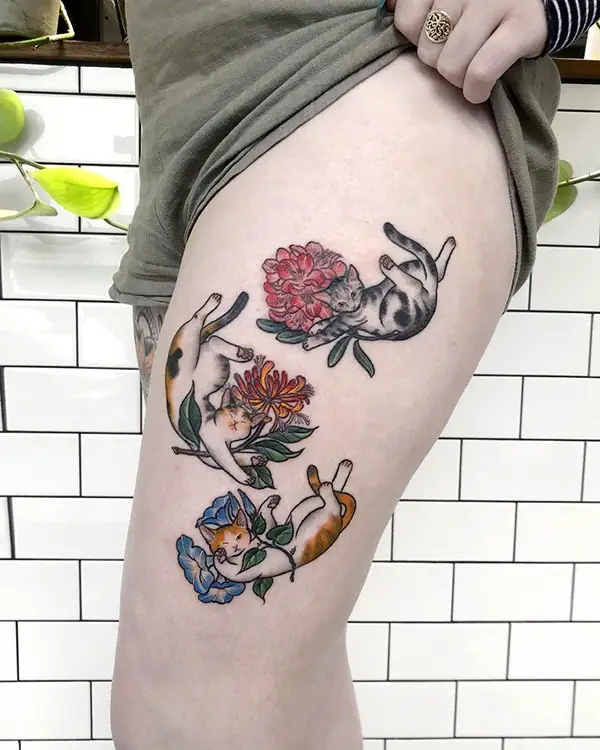 Have more than one cat and love them equally? Get the colorful flowers tattooed with the cats near them. It shows your love for beautiful natural elements and your pets.
11. Cat Peeping Out Tattoo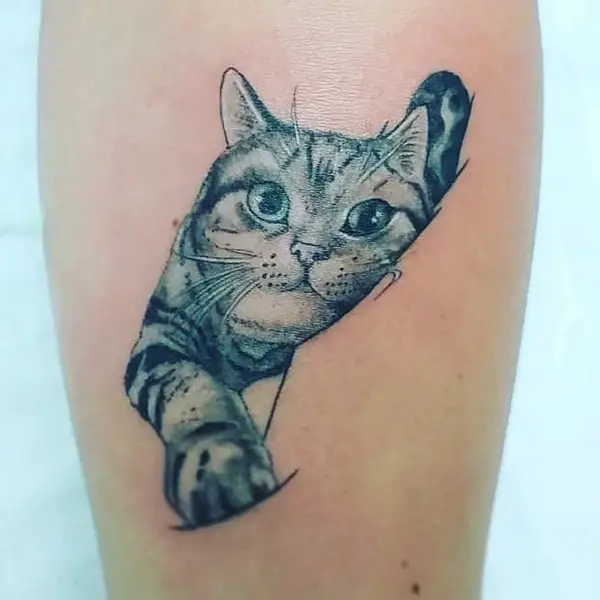 This is a unique tattoo of a cat, shown as if it is peeping out of your skin. The features of the cat are shown distinctively, which gives it a realistic appearance.
12. Cat Lying in a Carefree Way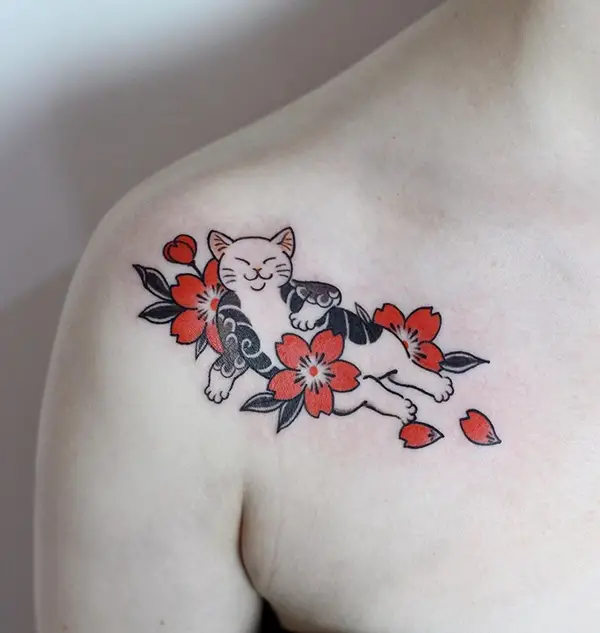 This is a simple black and white cat relaxing amidst the red flowers. It is shown in a jovial mood and is perfect if you love to relax amidst the beauty of nature.
13. Cat, Moon and Flowers Tattoo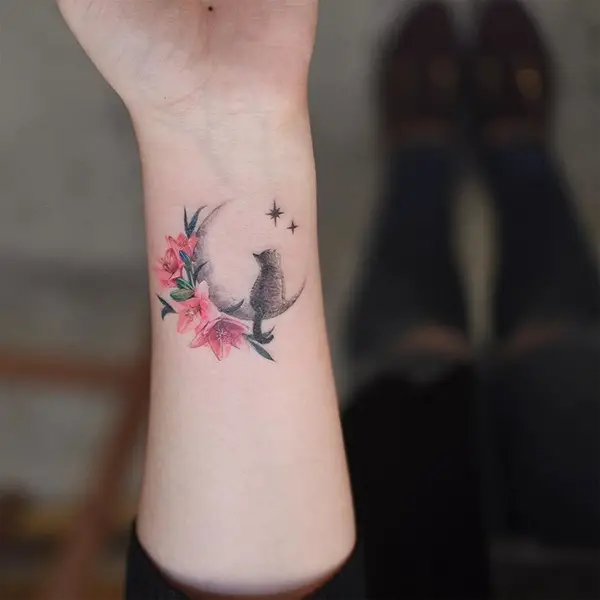 This is an interesting tattoo where the cat sits on a tree with flowers but the moon behind makes it appear as if it sits on the edge of the moon, under the sky filled with twinkling stars.
14. Cat and Moon Tattoo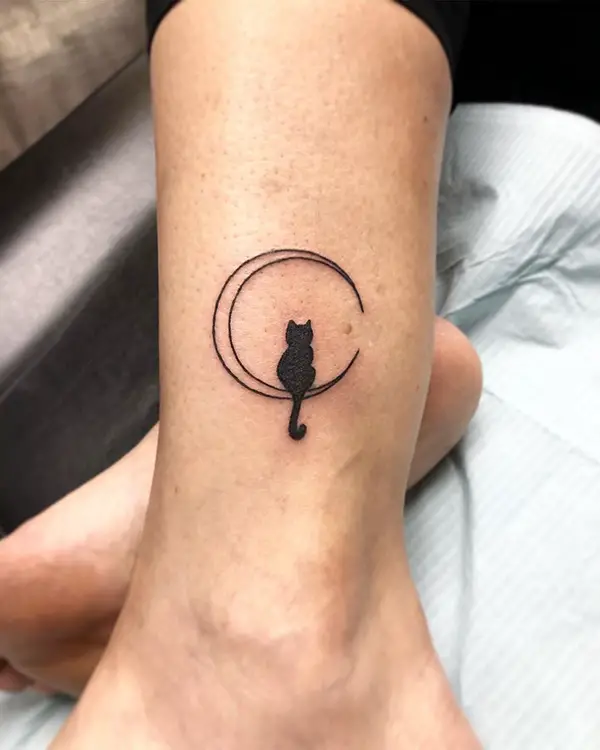 This is a minimal cat tattoo, seen sitting at the night, staring around. But the artist draws it in such a way that it appears to be sitting on the moon's edge with its dangling tail.
15. Cat with Golden Eyes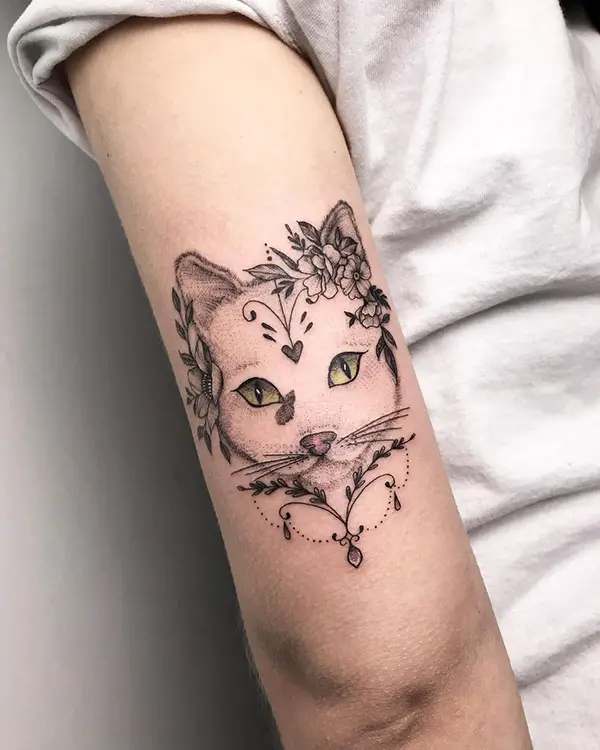 This is a delicate representation of a cat with distinct golden eyes, wide open and it is among the flower-bearing plants. There is a tiny heart symbol and a design added to its forehead to make it appear more interesting.
16. Cartoon Cats Tattoo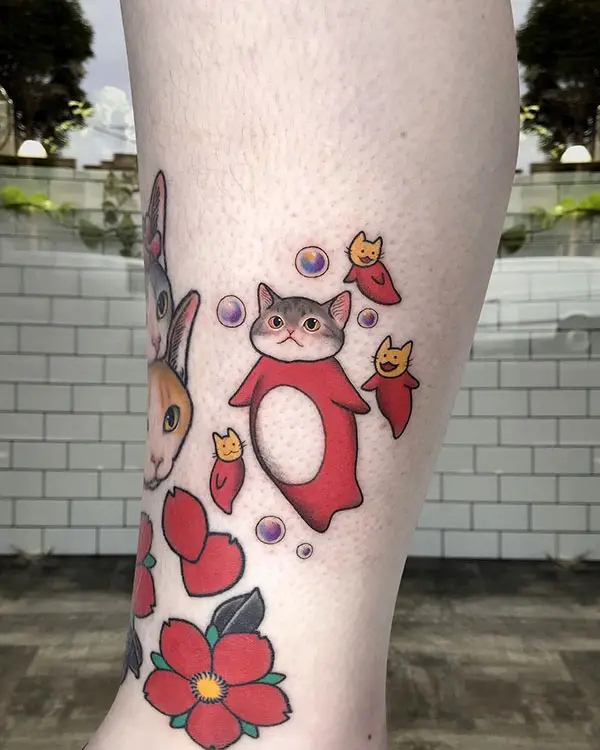 Love cartoons? These tiny red cats flying among the red flowers are an adorable way of representing the creature.
17. Cat Outline Tattoo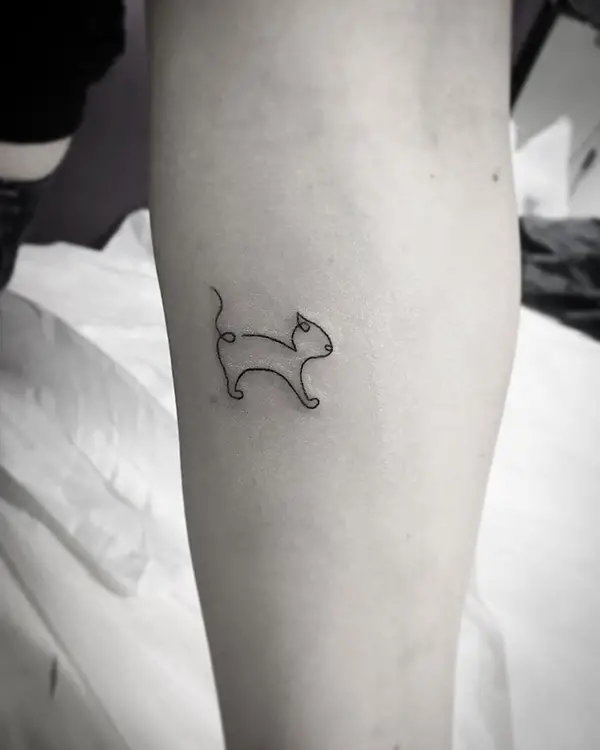 Like minimalism? Show your love for cats with this minimal outline tattoo of a cat in a standing position.
18. Girl with a Cat Tattoo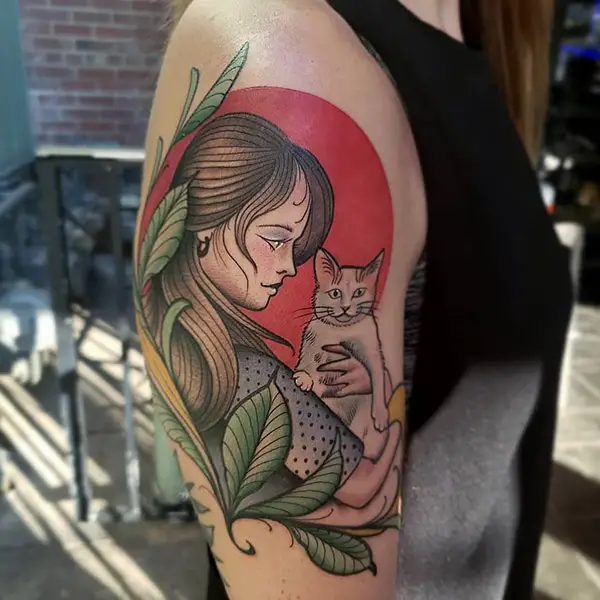 Love intricate tattoos with detailing? Get this beautiful girl tattoo holding the cat among the plants with green leaves and a red moon in the background, for an amazing look.
19. Cat Head Tattoo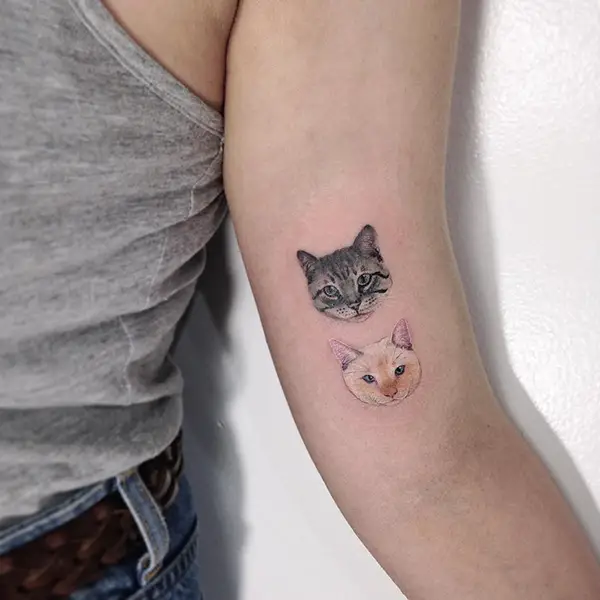 Don't want to get a full cat figure tattooed? Then just go for these head tattoos with perfect detailing to make them look like real cats.
20. Cat Eyes and Nose Tattoo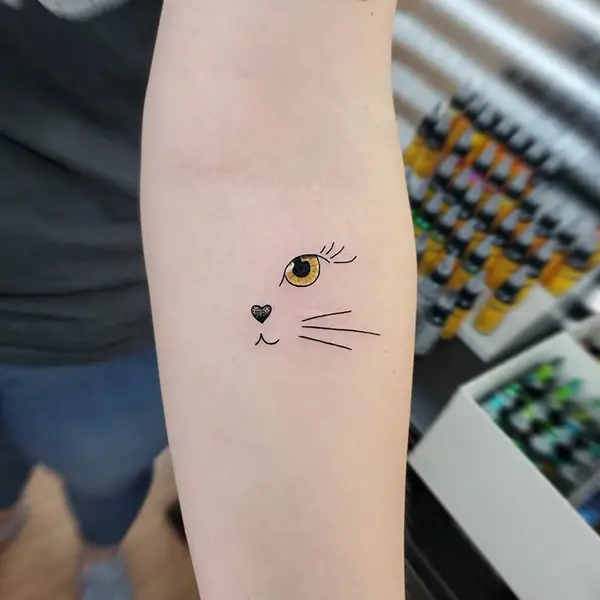 Want a minimal yet adorable cat tattoo? Just go for its golden eyes, with its nose, mouth and tactile hairs, to show your love for cat body features.
21. Black Cat Tattoo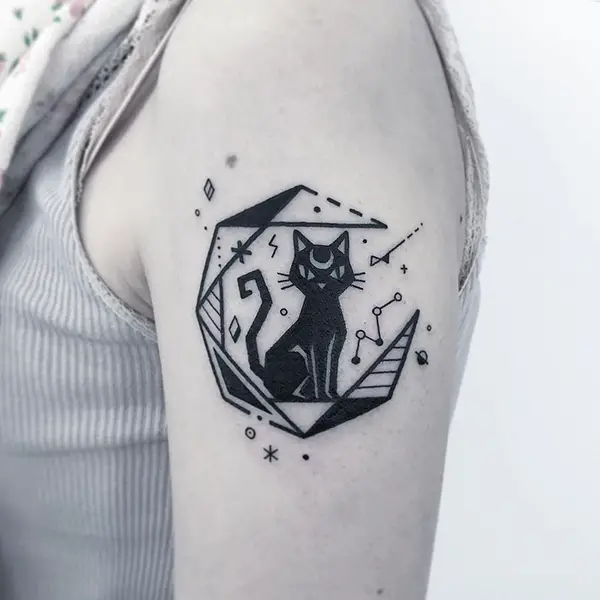 22. Black Egyptian Cat Tattoo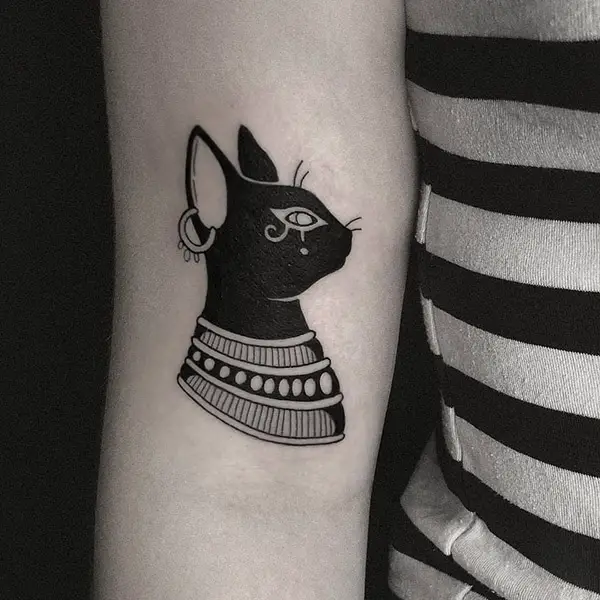 23. Cat Lying in Flowers Tattoo
24. Cat Reading Book Tattoo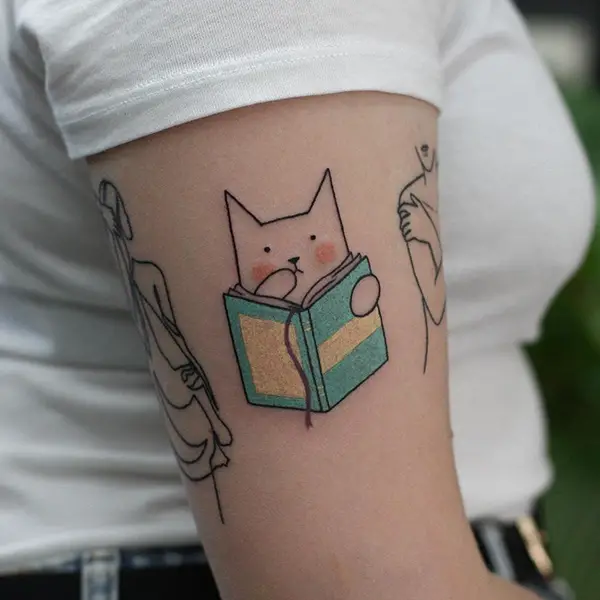 25. Cat Tattoo on Hand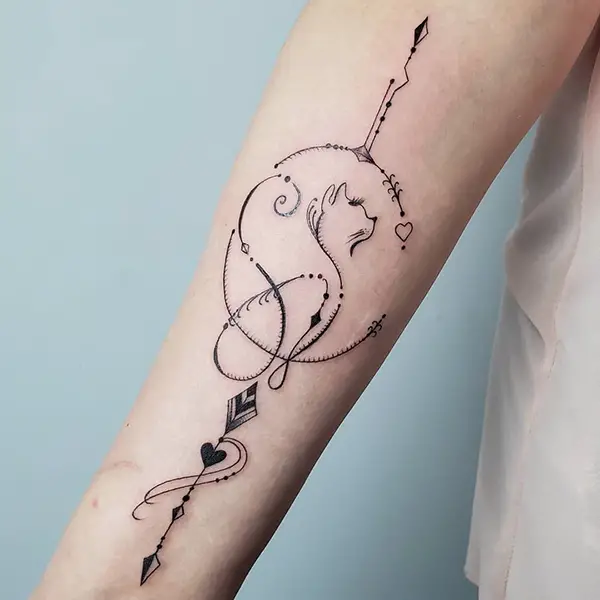 26. Cat Tattoo with Fish Tail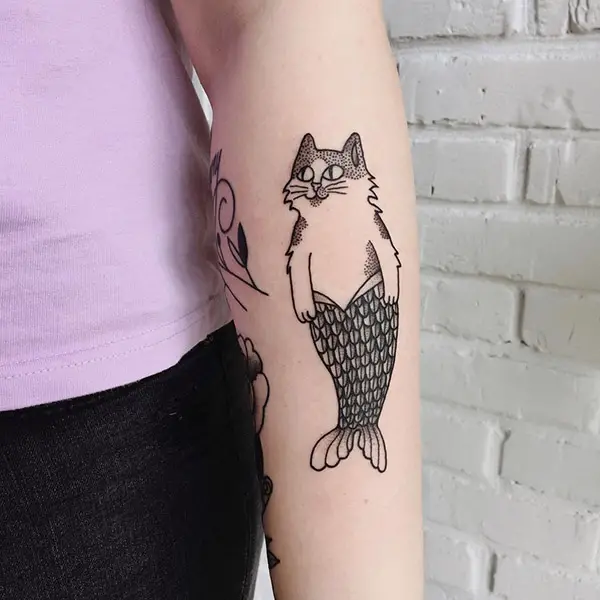 27. Cat Tattoo with Flowers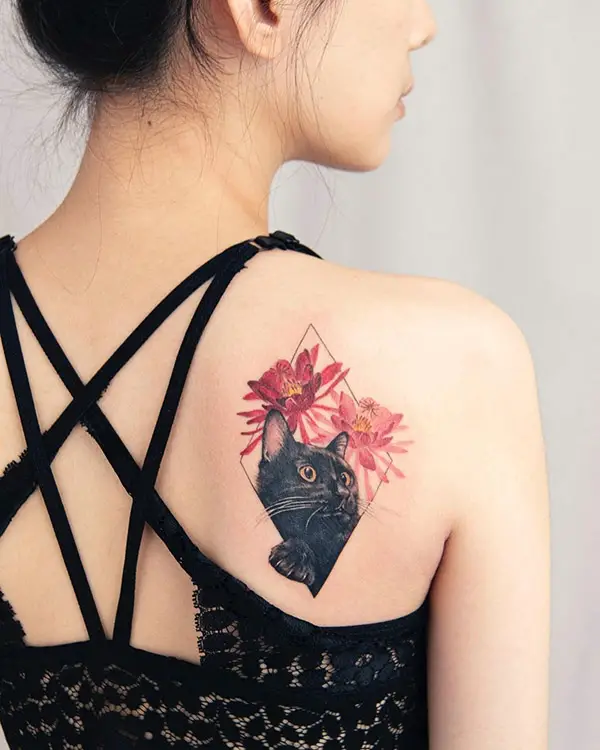 28. Egyptian Cat Tattoo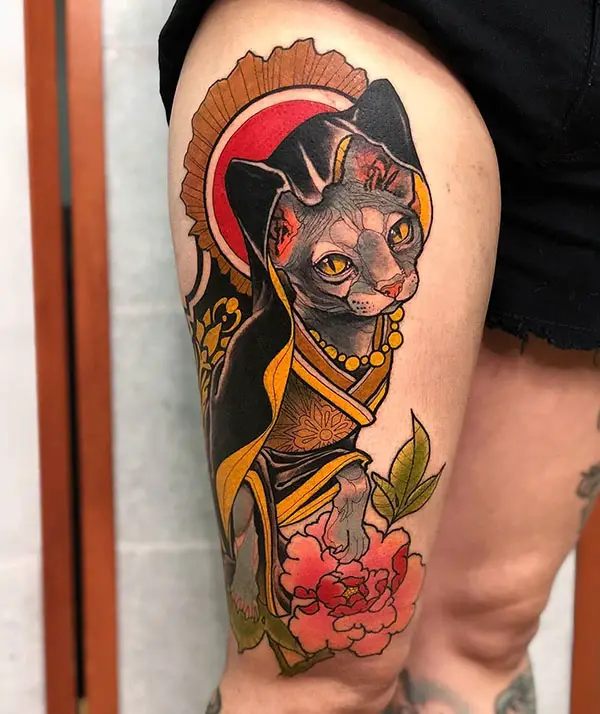 29. Simple Cat Outline Tattoo With Heart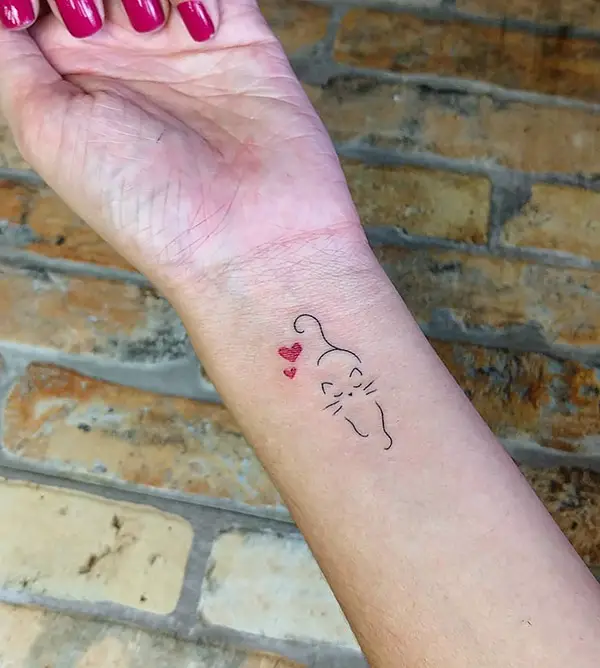 30. Simple Cat Tattoo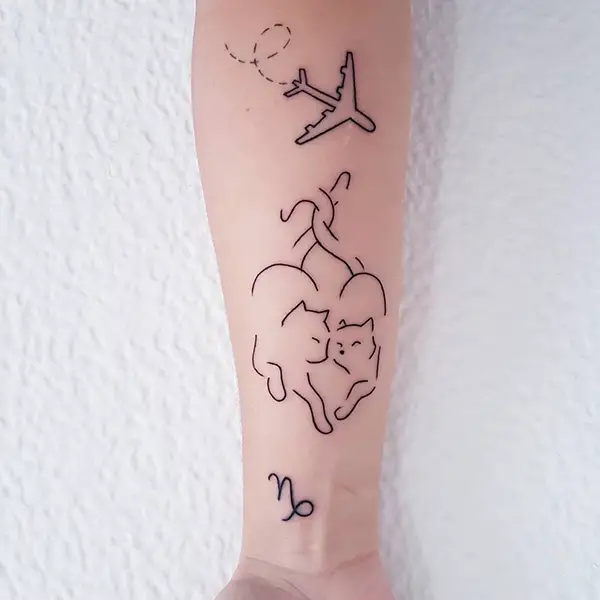 31. Small Cat Tattoo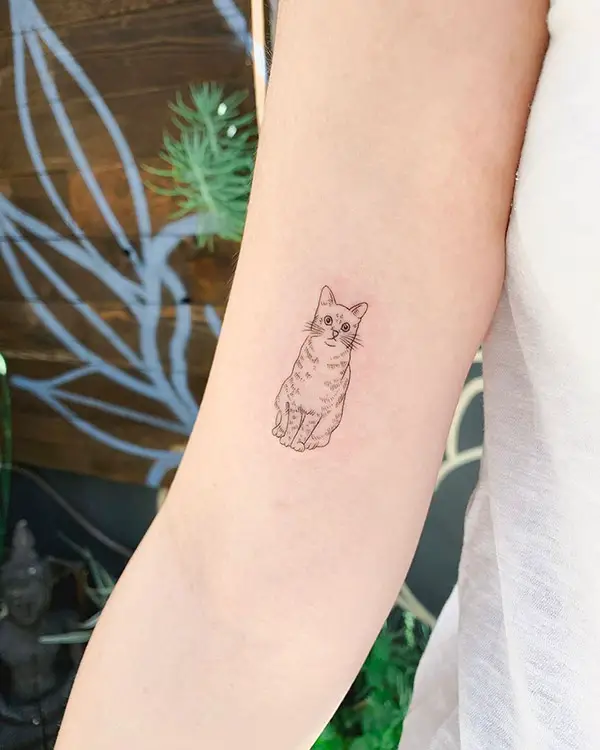 32. Stretching Cat Outline Tattoo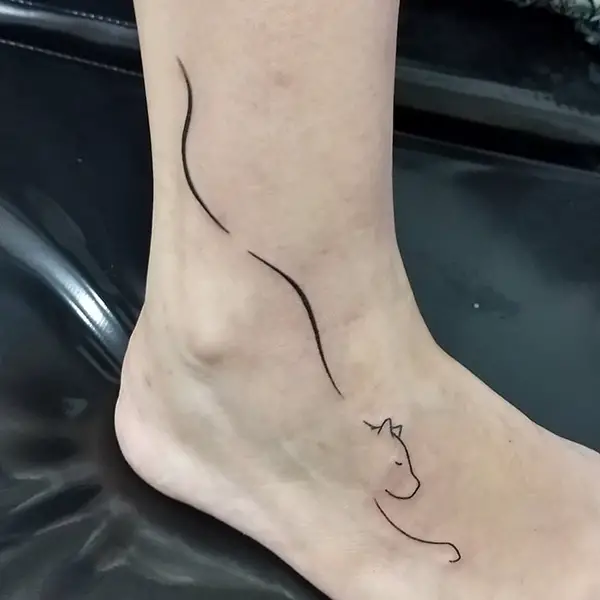 33. Two Playful Cat Tattoo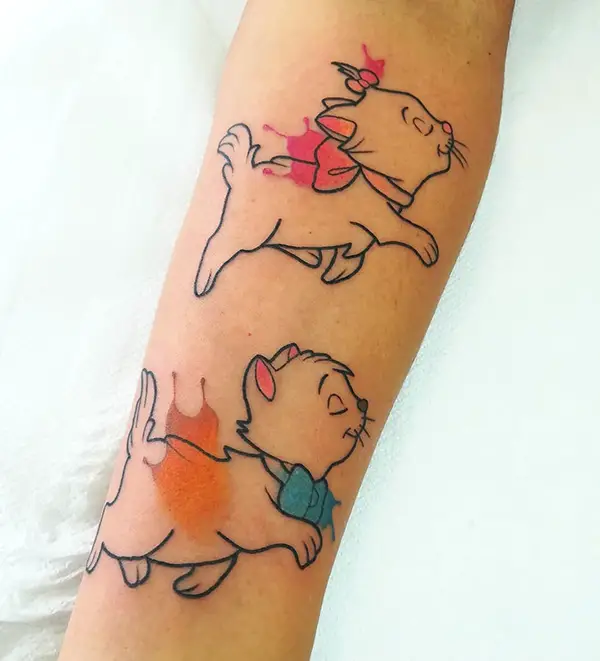 34. Women Hugging Cat Tattoo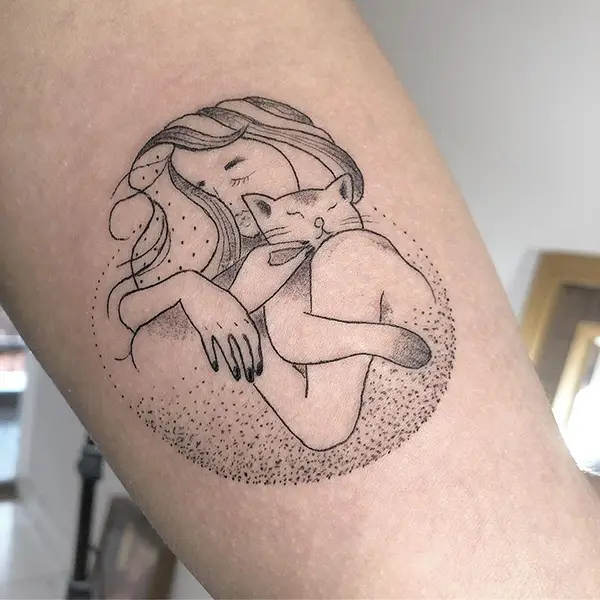 35. Geometric Cat Tattoo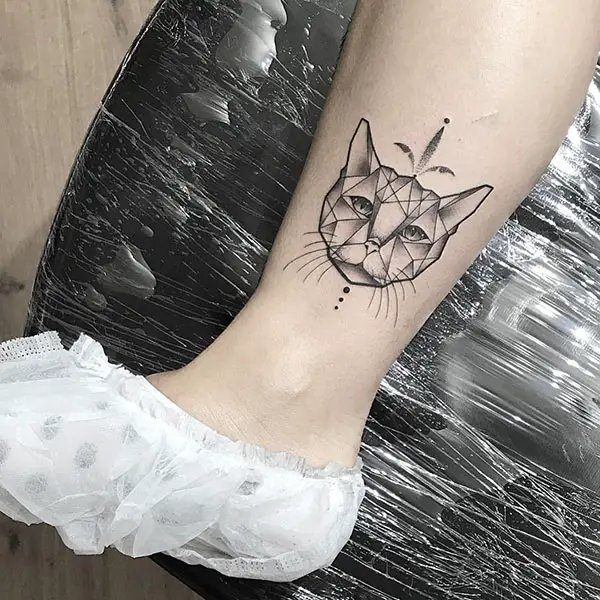 Recommended Topics: