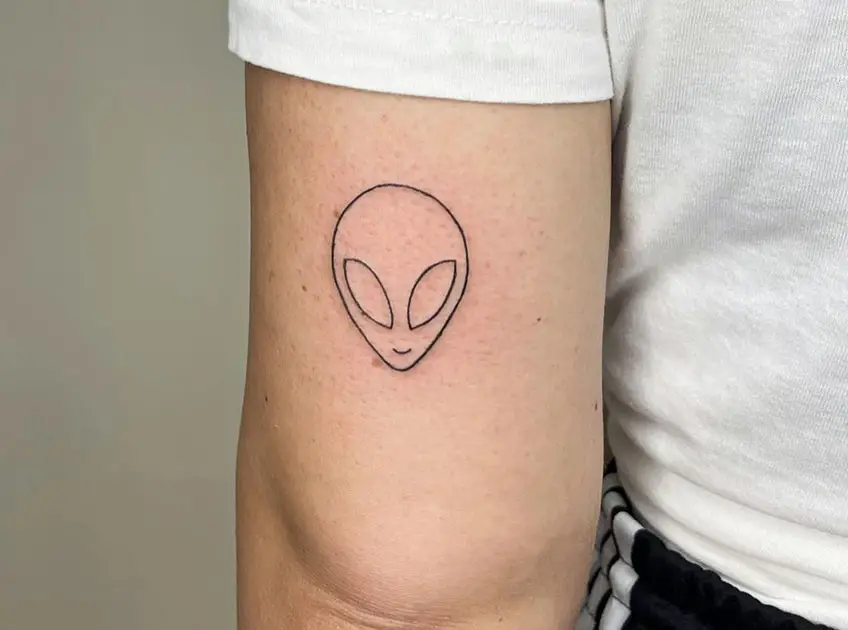 The idea of existence of extra-terrestrial beings have always fascinated humans. Their immense interest in space and sci-fi makes them get aliens inked on their skin in different forms.
1. Alien Tattoo With a Caption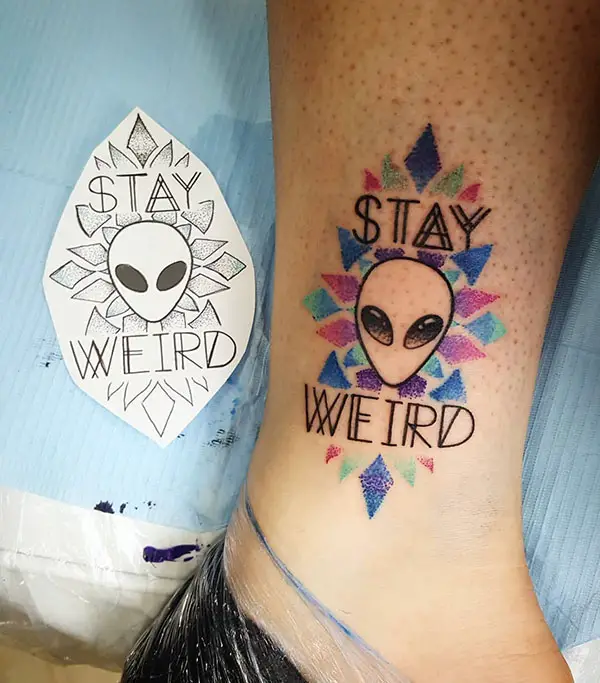 Just like we perceive aliens as weird creatures, this tattoo has a colorful touch and is captioned to stay weird. This implies setting yourself apart from others by doing something different in the field that interests you.
[ Recommended: Best Buddha Tattoo Designs and Meanings ]
2. A Funky Alien Tattoo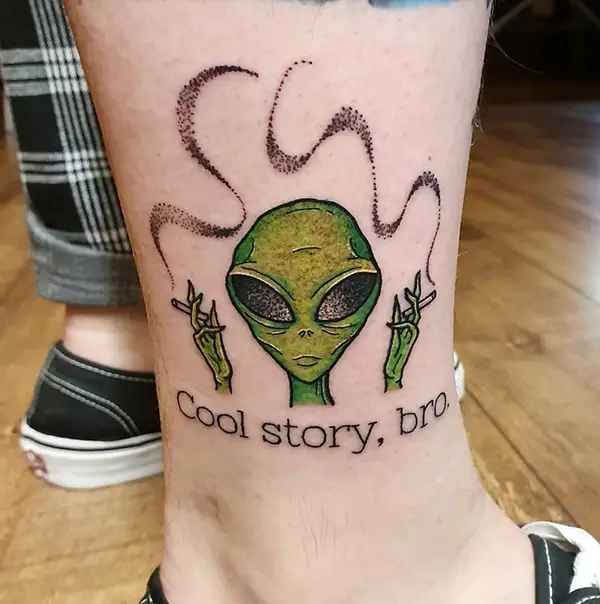 This is a funky alien portrayed in green color and oval shape, holding cigarettes in both hands. It showcases a carefree life similar to certain humans.
[ Recommended: Cute Collarbone Tattoo Designs ]
3. Alien Resembling Fruits Tattoo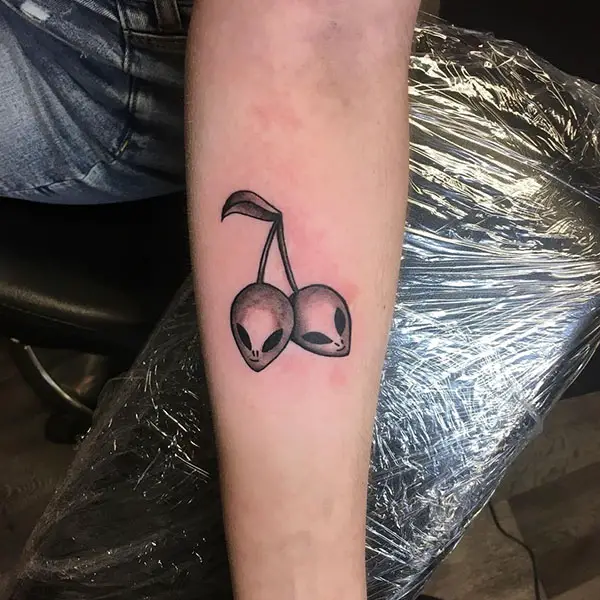 Love fruits and crazy about sci-fi too? Get this tattoo which resembles cherries, but are oval-shaped alien heads attached to a stem with a leaf.
[ Recommended: Beautiful Hourglass Tattoos Designs ]
4. Oval Shaped Alien Tattoo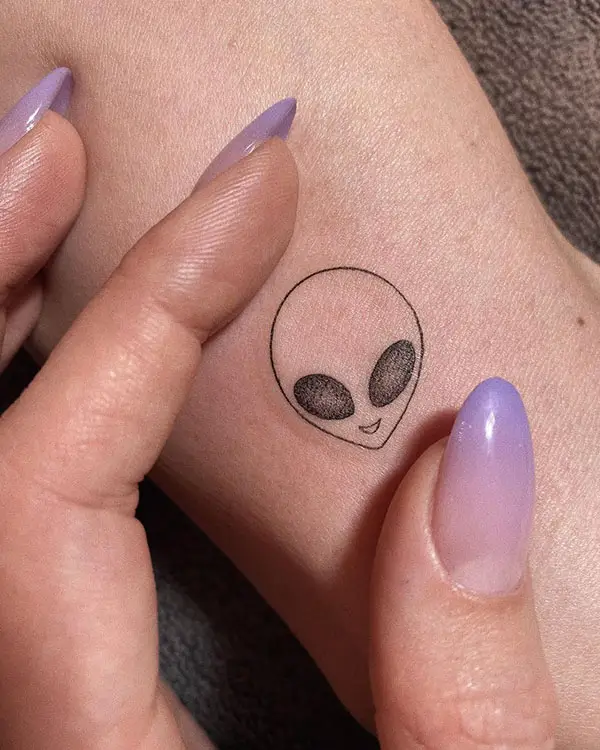 This is a perfect minimalistic oval-shaped alien tattoo for space and sci-fi lovers. Though this is not the real appearance of aliens, the most commonly used structure is used.
5. Alien Tattoo for Two Friends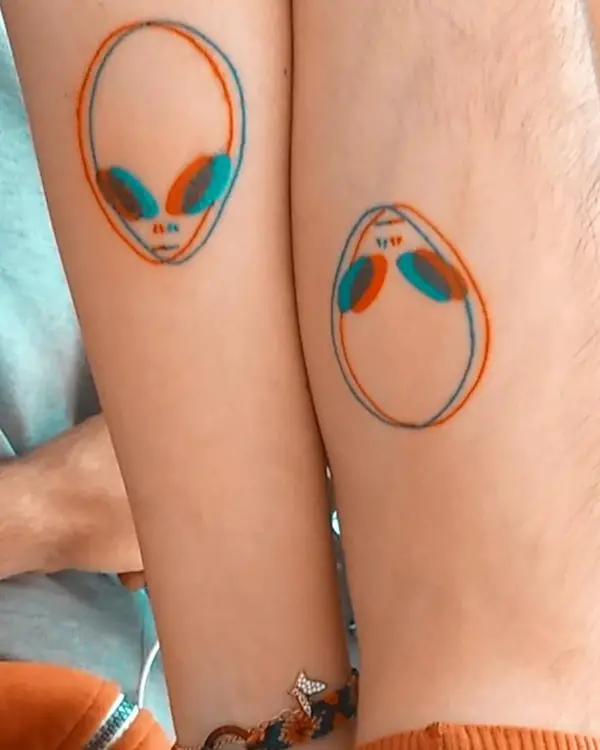 If you and your friend are sci-fi lovers and want to get something inked to portray your interest in the topic, then this oval-shaped alien tattoo is the best option. It can be inked on the arms, with a little bit of color to avoid the monotonous black and white shade in such tattoos.
6. A Baby Alien Tattoo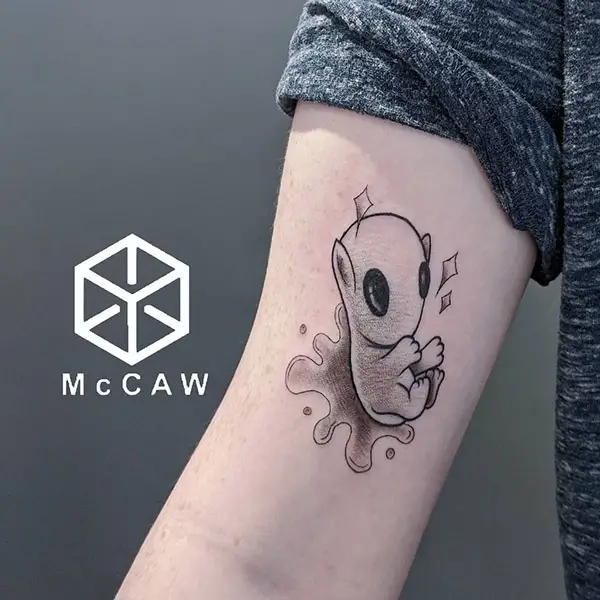 Want to make aliens cuter? This baby alien can tattooed on your arms as sitting down, and splashing water around.
7. Alien Tattoo With a Twist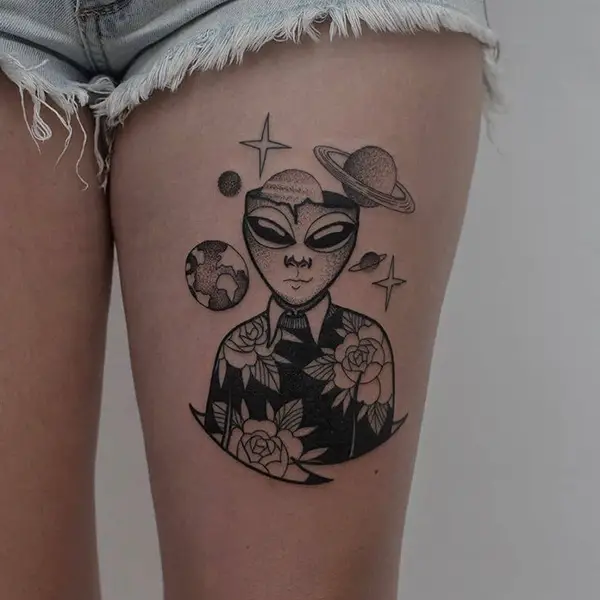 If you love getting alien tattoos out of custom drawing, this is the perfect one. It depicts aliens in space where there are other planets and stars, wearing an outfit just like humans.
8. Tiny Alien Tattoo on Finger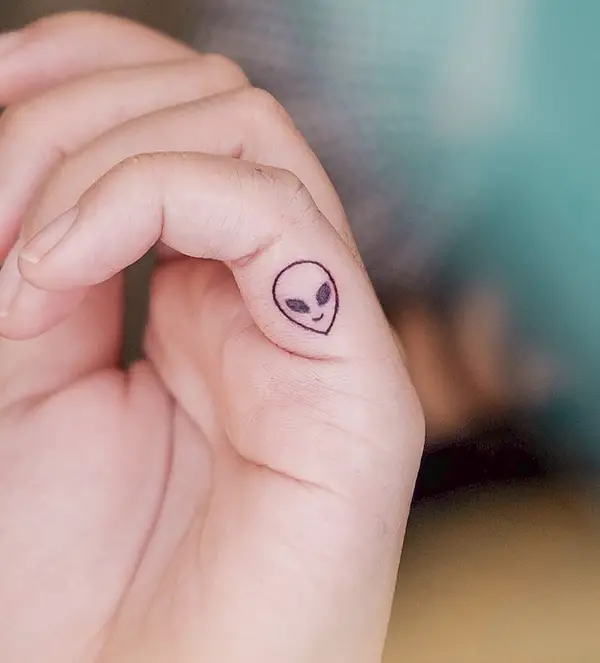 Some people dislike making large tattoo designs on skin, rather want minimalistic and smaller ones. If you belong to this category and love sci-fi, this oval-shaped alien tattoo can be inked on your little finger for portraying your interest in aliens.
9. Aliens as Pizza Lovers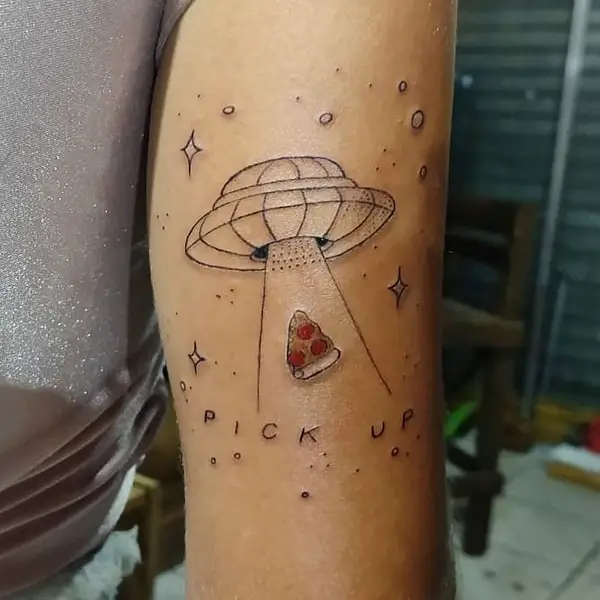 Just like most humans love pizza, the same concept is used for creating the tattoo with a UFO which picks up a piece of pizza from the earth. Maybe aliens too love pizza? We don't know this but it is an interesting tattoo for sci-fi lovers.
10. Cute Colorful UFO Tattoo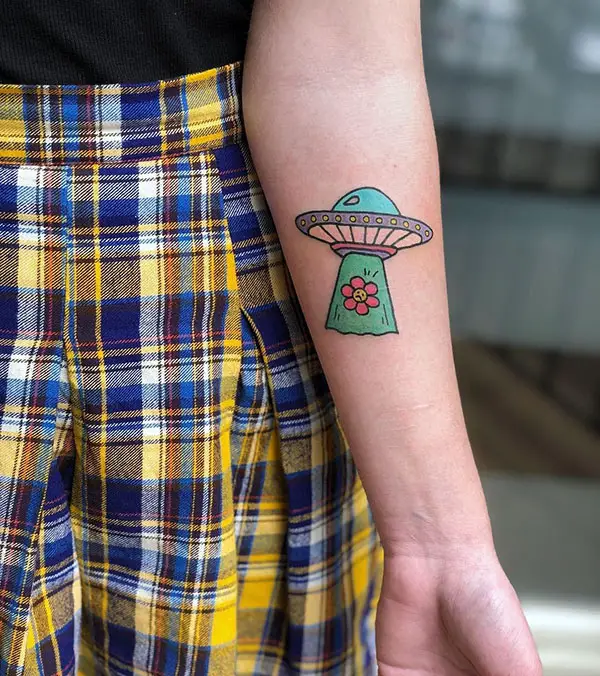 UFOs are generally visualized as something serious and scary but with this colorful touch, it appears cute and lovable. The flower coming out of the UFO indicates peacefulness and amicability.
11. Minimalistic UFO and Alien Tattoo
When you love UFOs and aliens alike, but don't like bigger tattoos, this is the minimalistic one that you can get inked in your arms. The UFO in one arm and the alien in the other show both are associated and probably the UFO is the alien's spaceship.
12. Aliens in Solar System Tattoo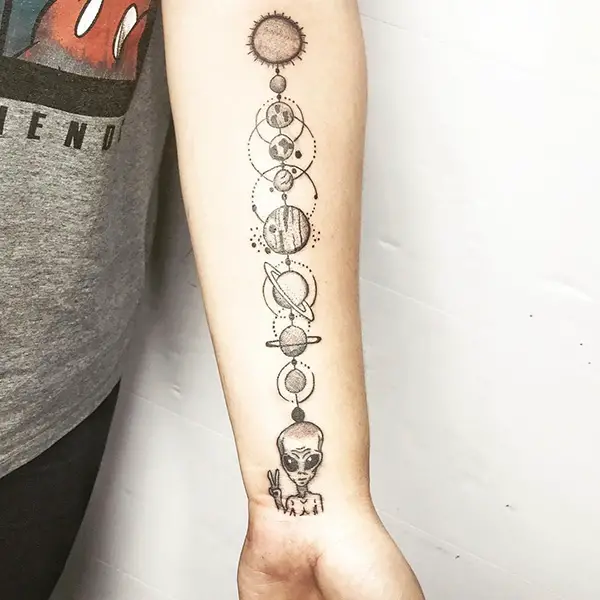 Love space and wondering about aliens' existence in space? This tattoo is a great way of portraying your thoughts of aliens' existence in the solar system with the nine planets and the sun.
13. Colorful Alien Tattoo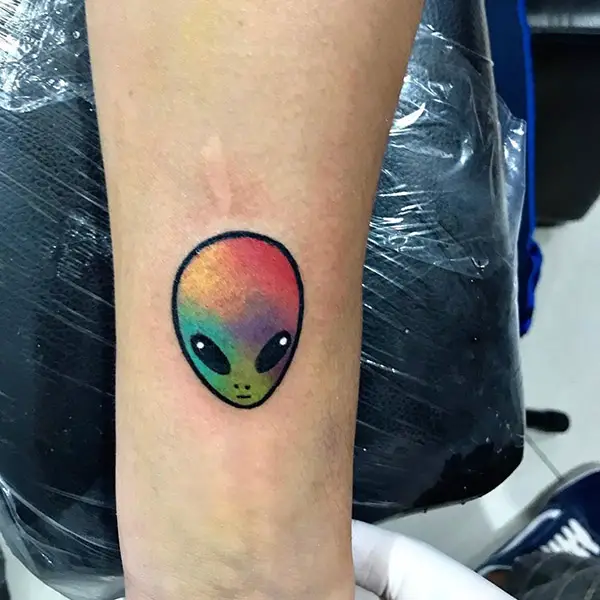 Love aliens but want to portray them as more interesting beings? Get this colorful alien head inked on your arms, to create an interesting look.
14. A Colorful Alien Tattoo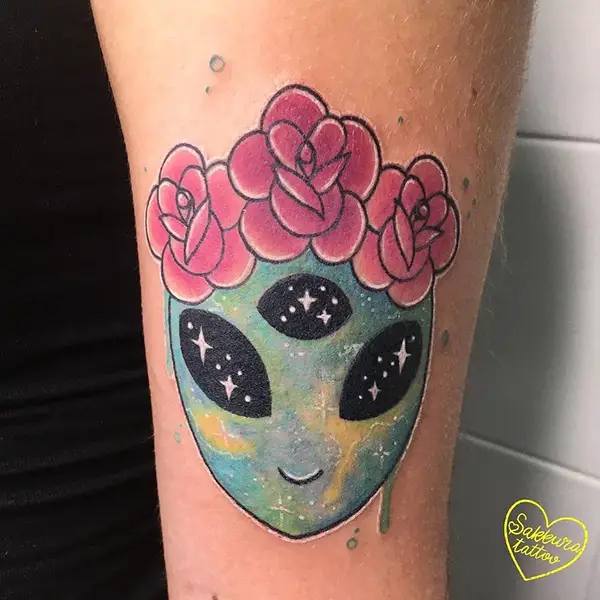 Don't like the monotonous alien tattoos? Get a twist with this colorful alien, having flowers on its head and eyes showing stars in the universe.
15. A Colorful Alien Tattoo for Neck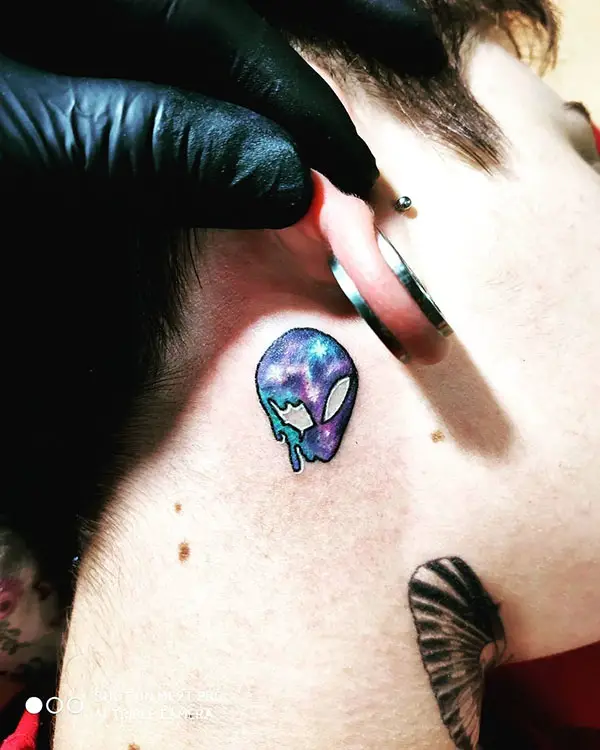 Want to ink something interesting on your neck? Get this simple oval-shaped alien, full of colors, below the ear lobes, showcasing your love of sci-fi and aliens.
16. Alien Like a Cat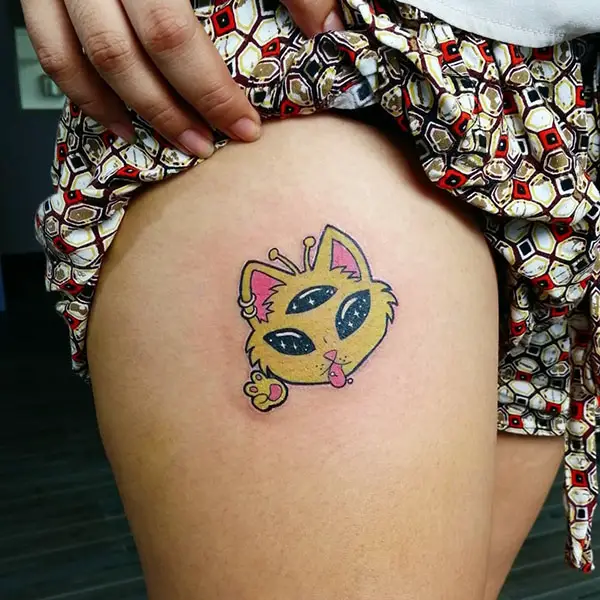 Love your pet cat? Get a cat tattooed in your arms with a twist by making its eyes and antennas like aliens, with a dash of color to make it appear more quirky.
17. Alien and Astronaut Tattoo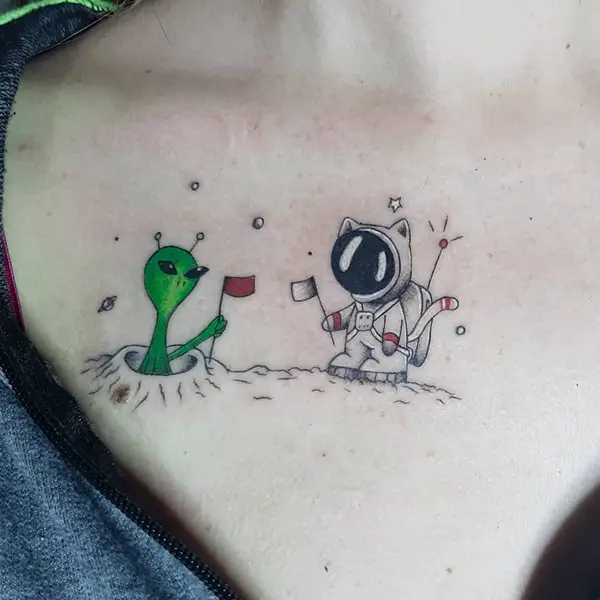 This is an interesting tattoo where an astronaut finds aliens on another planet or moon. The alien is shown waving a red color flag, indicating danger and probably staying away from them.
18. A Simple UFO Tattoo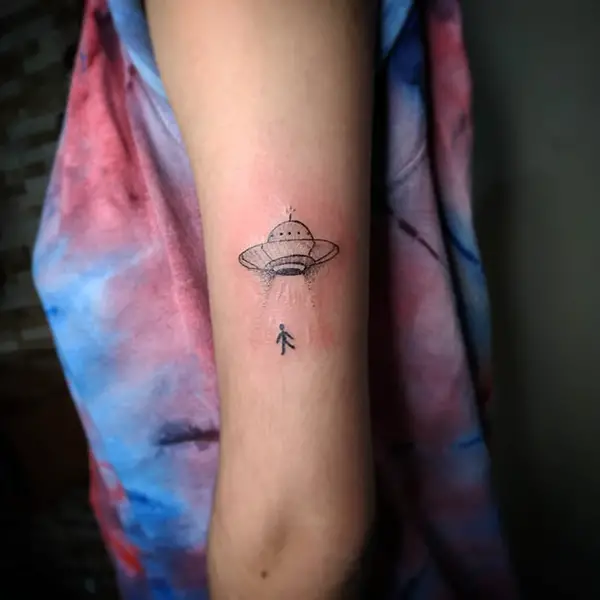 If UFOs have always fascinated you, then this is the simplest tattoo you can get inked on your arms. It depicts the image of a human entering the spaceship from the earth's surface.
19. Space and its Creatures Tattoo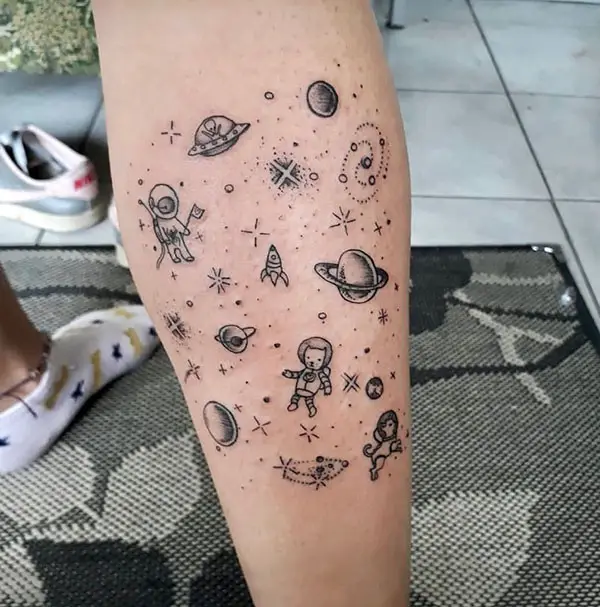 This tattoo portrays space and its components such as planets, stars, and even aliens moving around freely. There is even an astronaut in the setting, on his trip to space.
20. UFO Tattoo Taking in a Human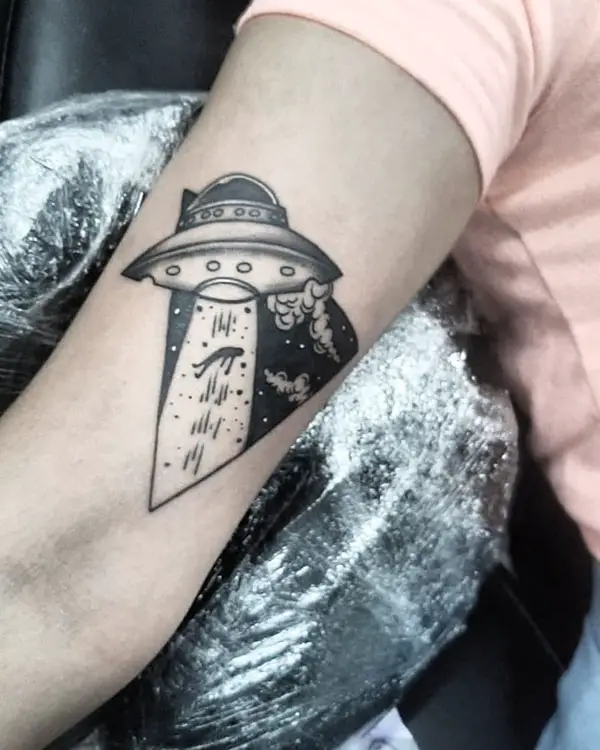 This is an intricate imaginative alien tattoo showcasing a UFO. It is taking in a human from the earth's surface which could be for any purpose such as researching humans or creating clones or anything else.
Check More Images:
21. Basic Alien Tattoo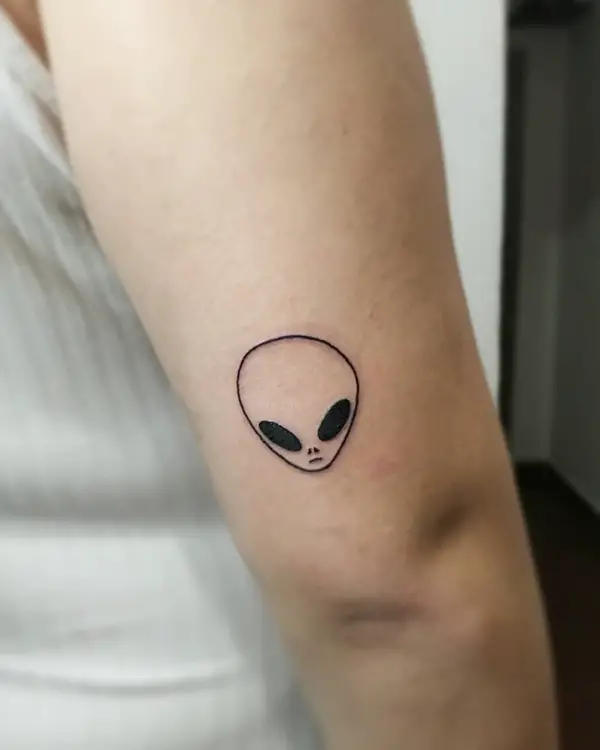 22. UFO and Alien Tattoo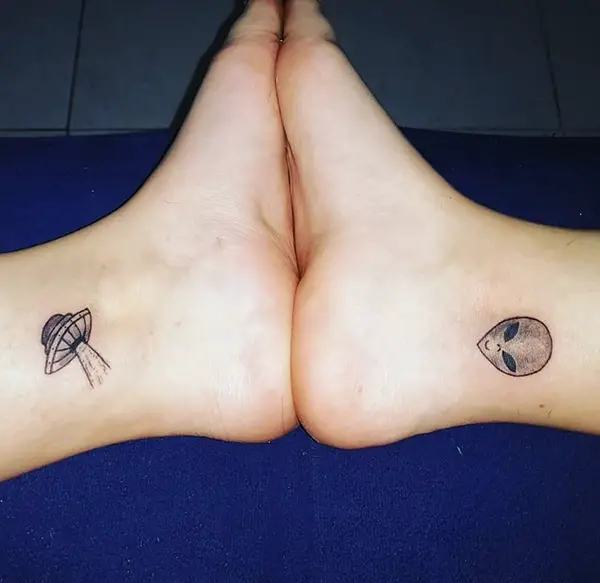 23. Colorful Alien Tattoo on Leg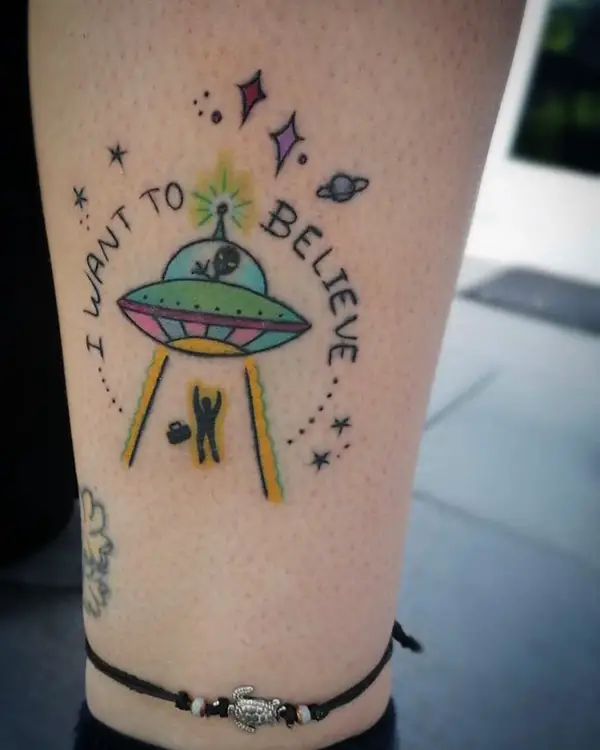 24. Black Alien Tattoos are Awesome Too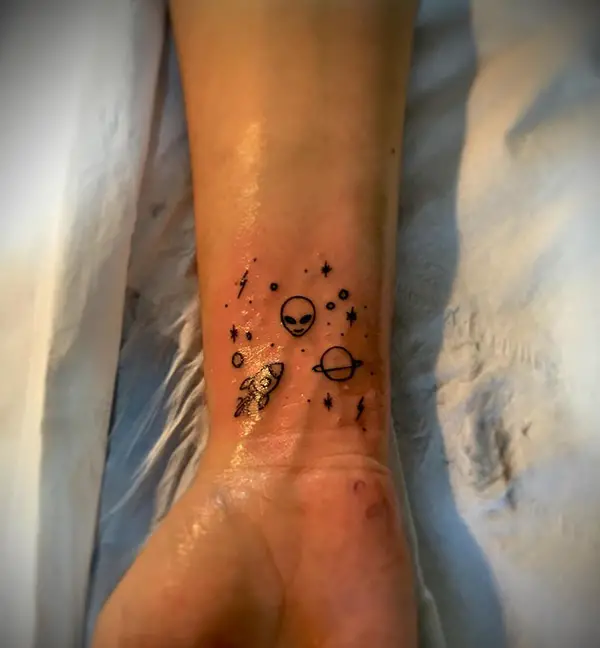 25. Eye and Alien Tattoo
26. Creative Alien Tattoo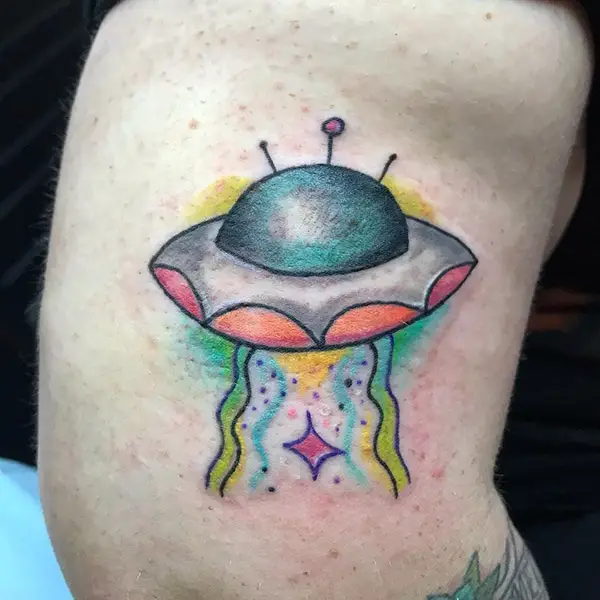 27. Realistic Alien Tattoo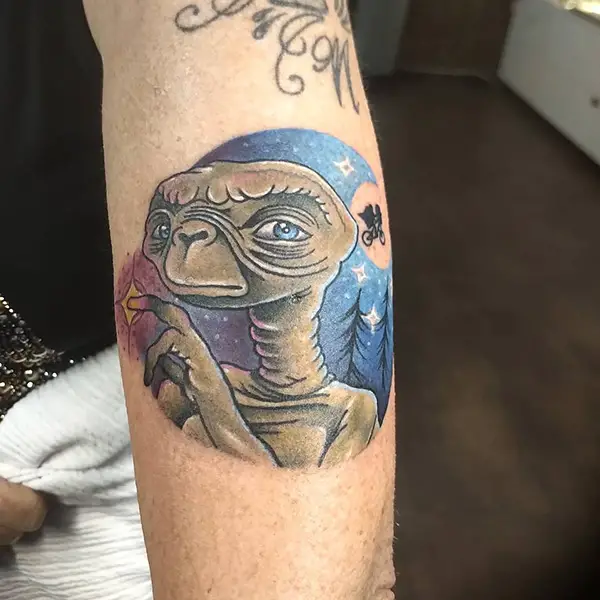 28. Simple Alien Tattoo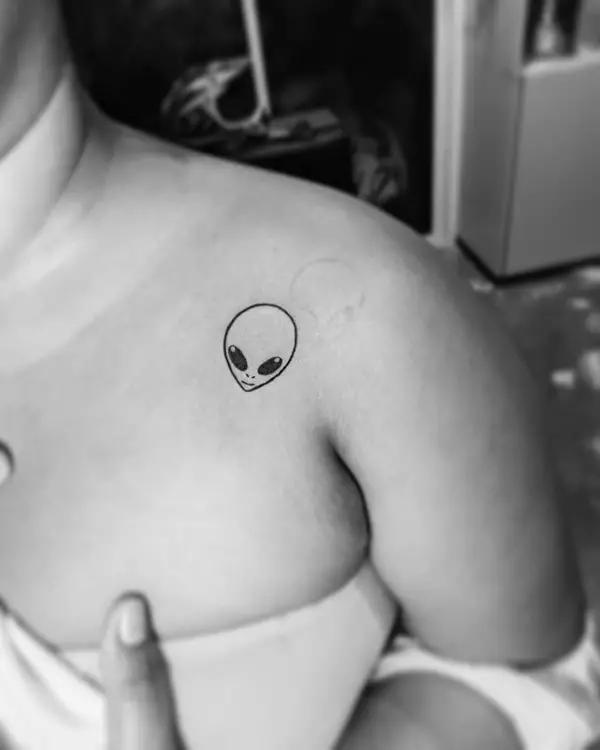 29. Couple Alien Tattoo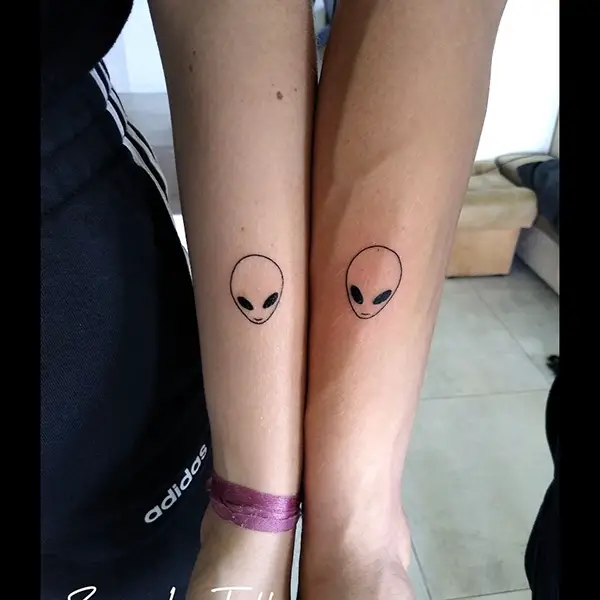 30. Alien Tattoo on Thigh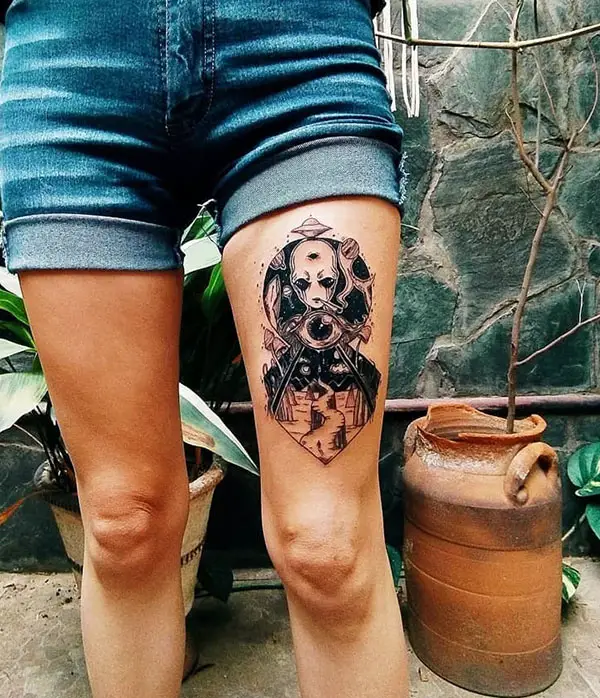 Recommended Topics: