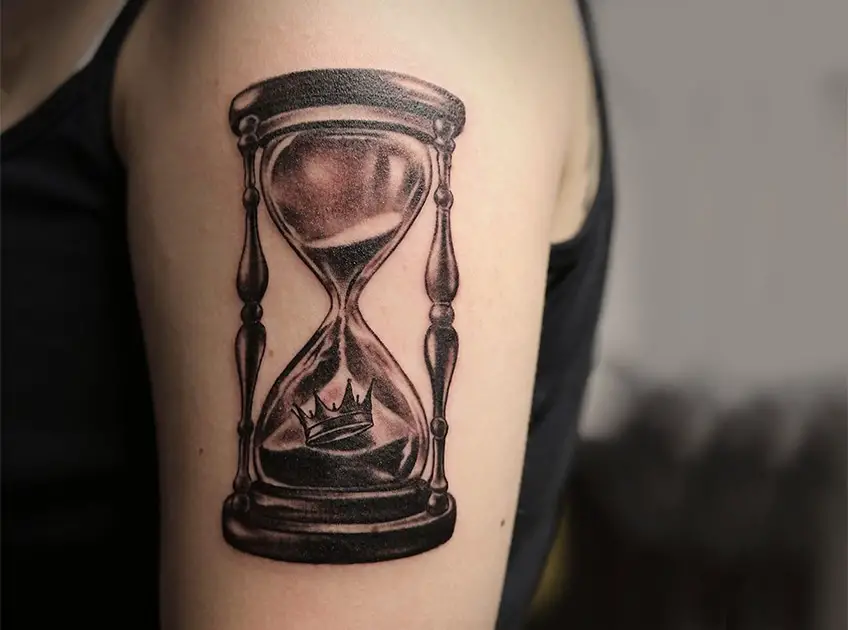 Hourglass is the representation of time in life. It reminds us of mortal life and we have limited time, which necessitates leading an honest life and cherishing every moment. Let us see some interesting hourglass tattoo designs.
1. Hourglass with Two-Color Sands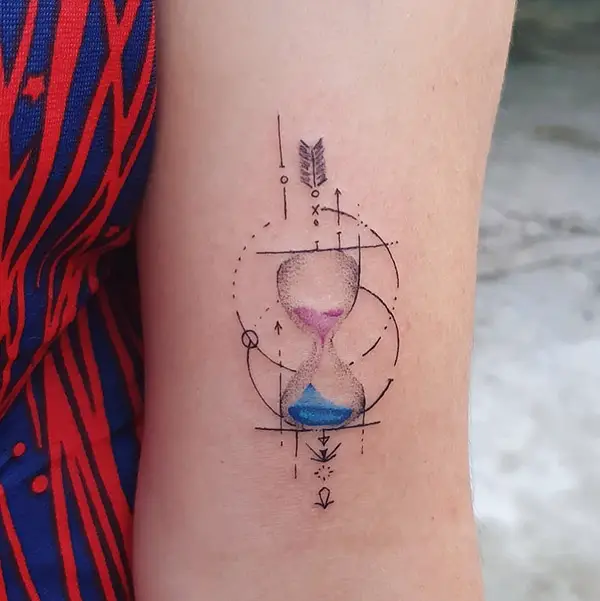 The pink color sand in the hourglass is seen to change into blue color on falling to the other side. This symbolizes change with respect to time, which is applicable to everything in our life, be it living or non-living things.
[ Recommended: Beautiful Camera Tattoo Ideas ]
2. Hourglass Tattoo Representing the Universe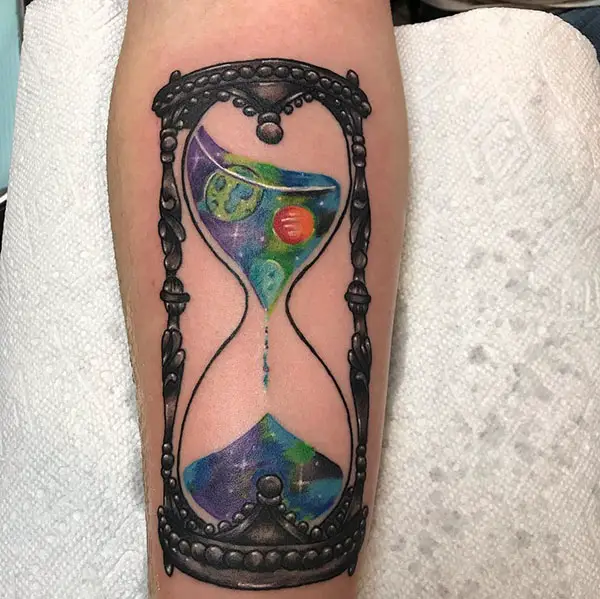 If science fascinates you then you can get this hourglass with universe elements. The upper part shows the planets in the universe, which transform as they get into the other side of the hourglass, symbolizing change is the only consistent thing in the universe.
[ Recommended: Cute and Inspirational Small Tattoos ]
3. Sci-fi Cartoon Hourglass Tattoo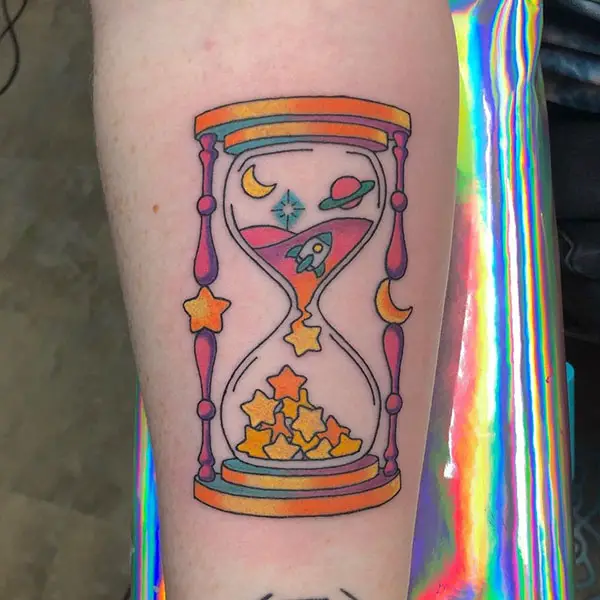 This is a cute hourglass tattoo with the moon, stars, planet, and rocket in the upper part which come down to the lower part as stars. This implies that planets and heavenly bodies like the sun would eventually get transformed into stars with the passage of time.
4. Broken Hourglass with Natural Elements Tattoo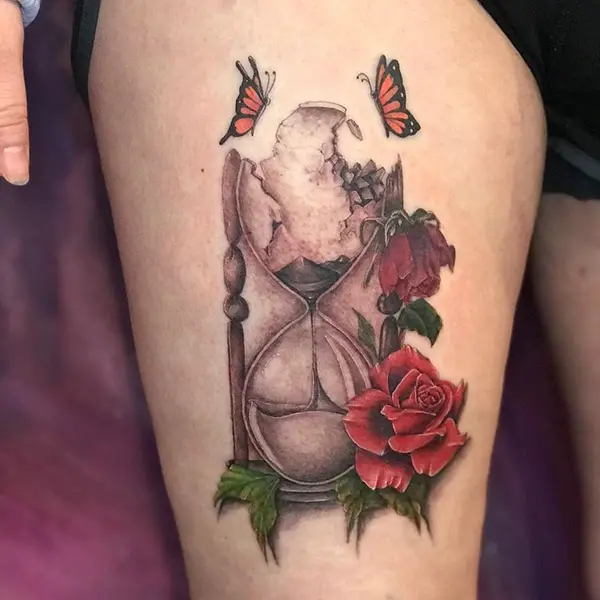 The upper part of this hourglass is shown as broken, symbolizing a dream of escaping from time. This is evident from the greenery and roses and butterflies flying out of the broken part after they have transformed from their caterpillar state.
5. Hourglass with Large Sea Waves Tattoo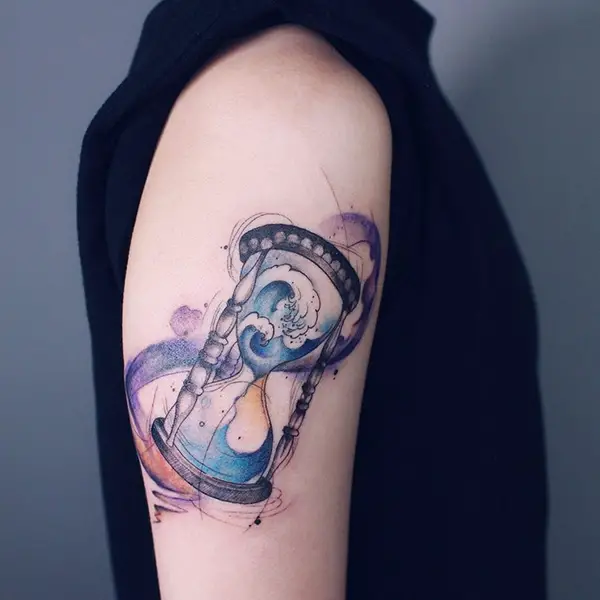 The violent waves on one side of the hourglass which are not seen on the other side indicate how things change with time. Even the most intense situations calm down over time, symbolizing that we should never get disheartened when there is turmoil in our lives, but wait patiently for it to pass.
6. Hourglass with Roses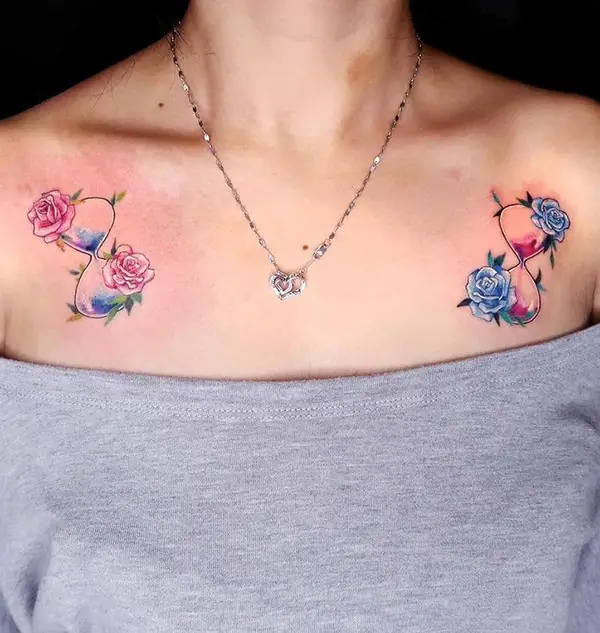 You can enhance the beauty near your collarbones by getting tiny hourglasses on either side with the flower of your choice. This is a great option when you don't like putting on the jewelry but still want to look adorable.
7. Classic Hourglass Tattoo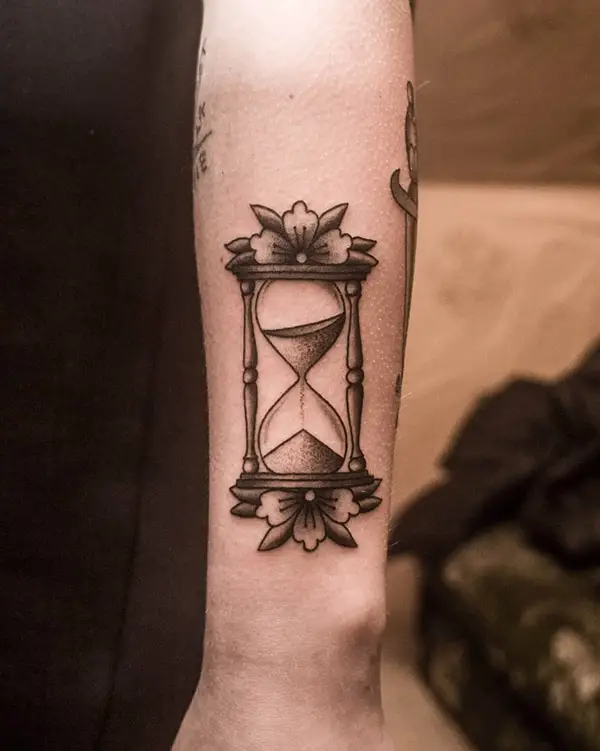 This is a classic hourglass in black and white that symbolizes humans' mortal nature and the need to efficiently use every moment for self-development. The flower with leaves adds to its beauty.
8. Hourglass with a Crown Inside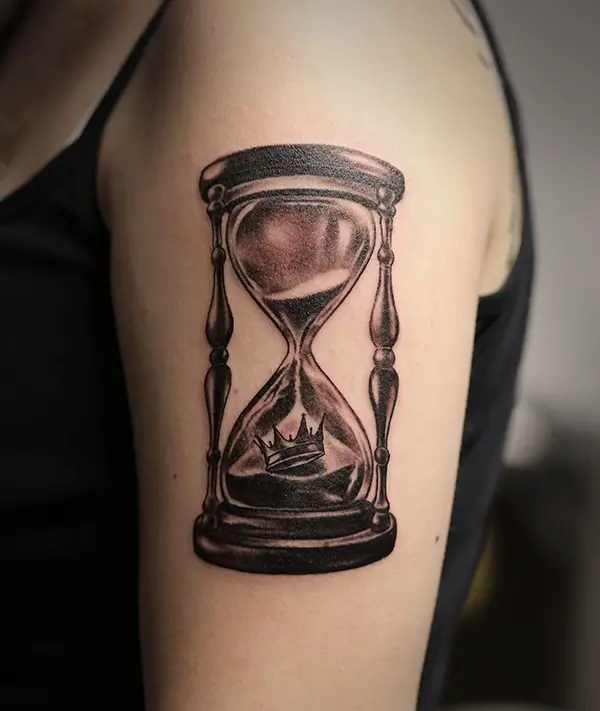 The crown at the lower part of the hourglass indicates the fall of an empire with time. This signifies, that no matter how powerful a kingdom is, it would deteriorate with time. It is just that, with the right rulers, the process would slow down.
9. Hourglass with Leaves Surrounding it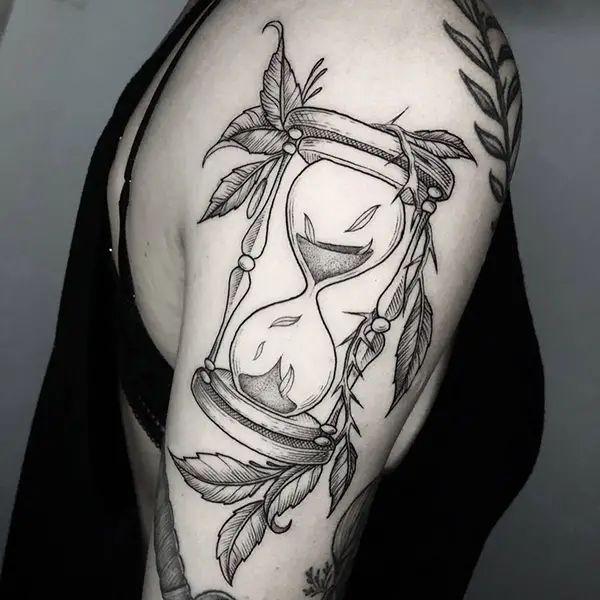 This tattoo can have a meaning specific to each person but generally considering, if you love adding natural elements, leaves form a good addition to the hourglass. Scientifically speaking, it symbolizes our round-the-clock dependency on the leaves of plants for oxygen.
10. Hourglass with a Colored Sand Tattoo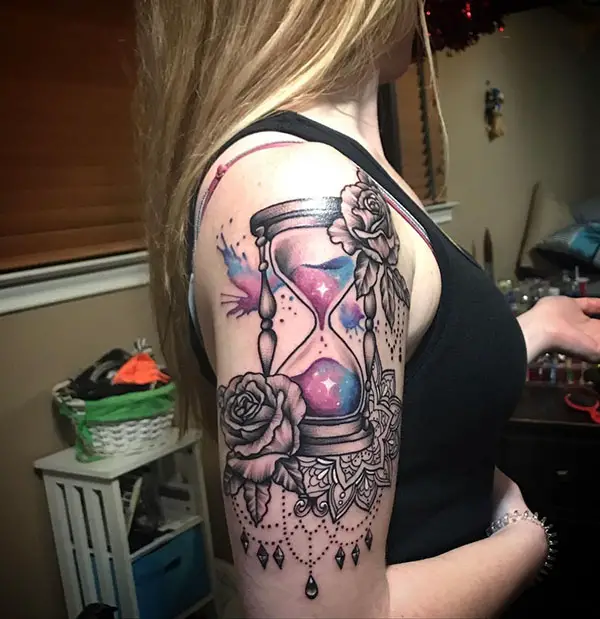 Love colorful tattoos? Let your imagination loose with this colored sand in the hourglass for an interesting look. Colors splashing around, along with roses and leaves symbolize cheerfulness around.
11. Hourglass with Roses and Red Sand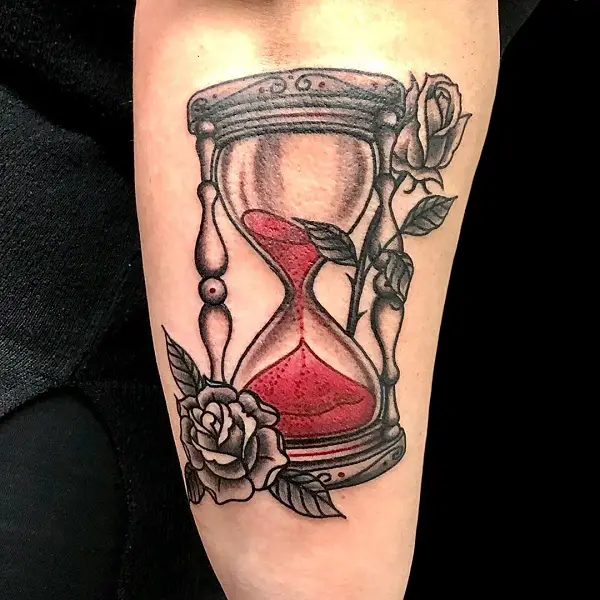 This is an elegant hourglass in black with red sand. Even though the roses are not colored, the combination creates a lovely tattoo.
12. Hourglass with Colored Sand and Pink Flowers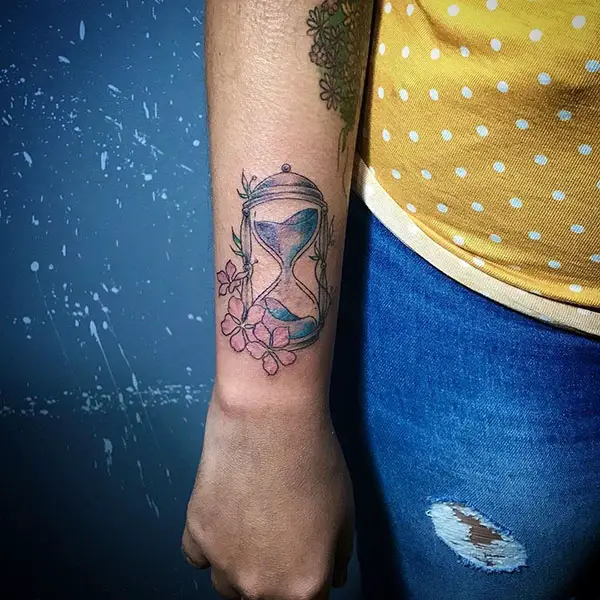 The colored sand in the hourglass represents mixed events in time, some happy and some filled with sorrow. The pink flowers on one end, add a feministic touch to it.
13. Hourglass with a Quotation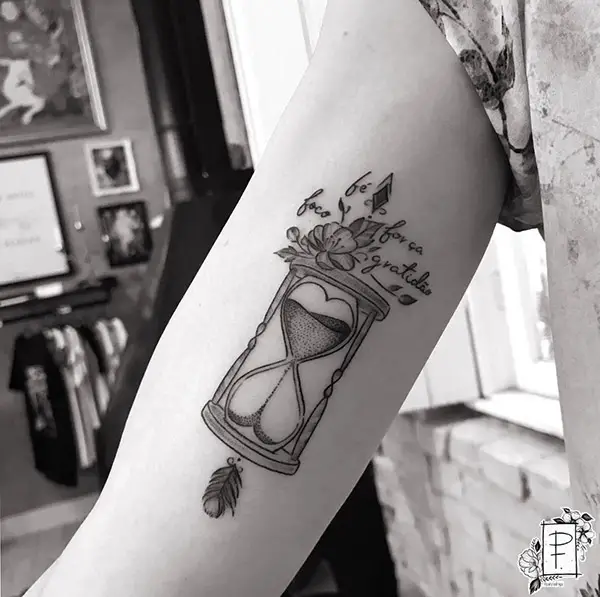 This hourglass has a heart-shaped glass that makes it unique. Also, the flowers with your favorite quote at the top of it, related to your life values of beliefs can help you connect with them whenever you look at the tattoo.
14. Hourglass with Geometric Shape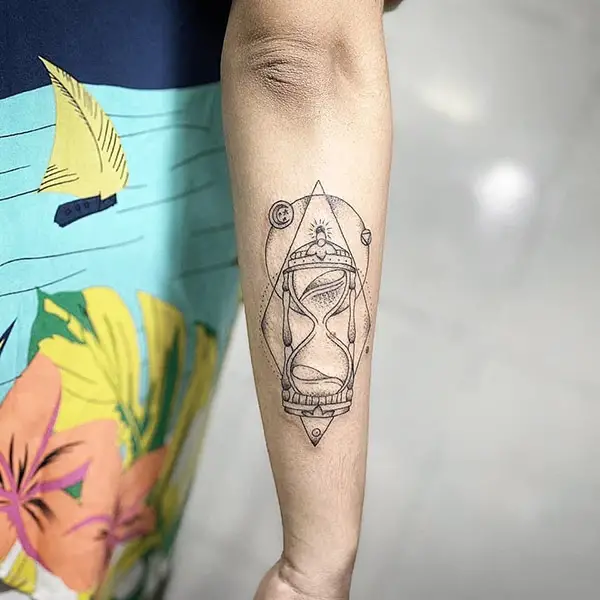 The geometric shape around the hourglass represents that you have an artistic brain and often think outside the box. When considering in relation to real-life situations, such people use their creativity to come up with the best solutions to any problem in their personal or professional lives.
15. Hourglass with Roses and Butterflies Around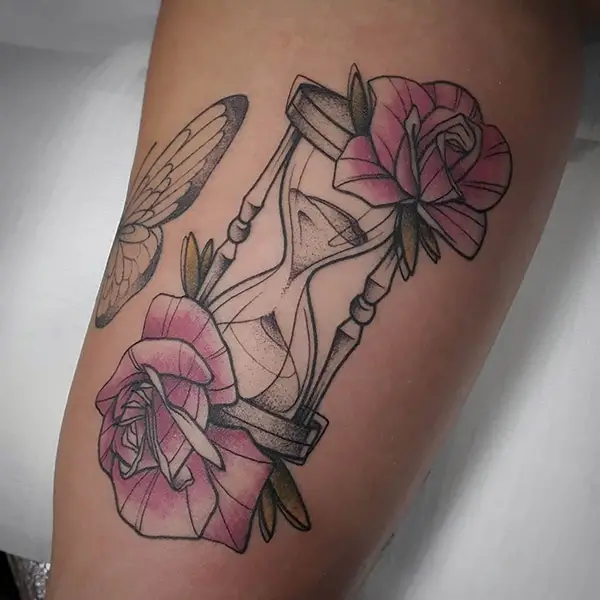 Hourglass in general reminds us that we are mortal and hence need to wisely use the time making our lives more meaningful. The flowers and butterflies around the hourglass, focus on the beautiful things in nature and how important it is to enjoy them to the fullest.
16. Hourglass Representing Nature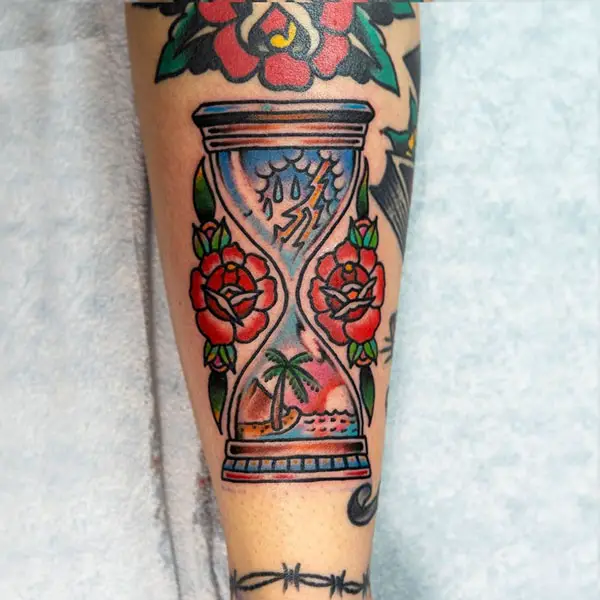 This is not a regular hourglass with sand but it shows beautiful nature. The top part shows clouds whereas the lower part shows mountains, trees, and beaches, all of which highlight the positive things that nature has blessed humans to enjoy during their lifespan. To make this tattoo fuller, two red roses with green leaves are added in the middle.
17. Black and White Roses and Hourglass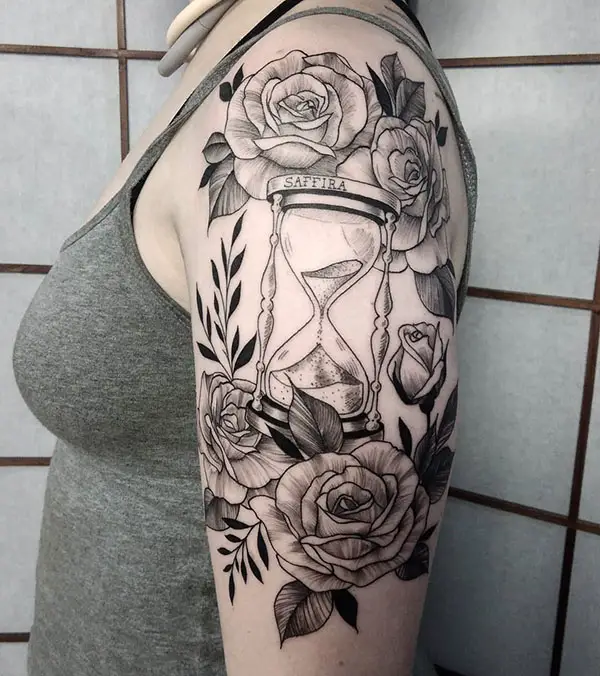 The hourglass has a name inscribed on its top portion, which can be of your loved one, to show them your timeless love. The roses surrounding it shows give the tattoo an elegant look.
18. Playful Cartoon Hourglass Tattoo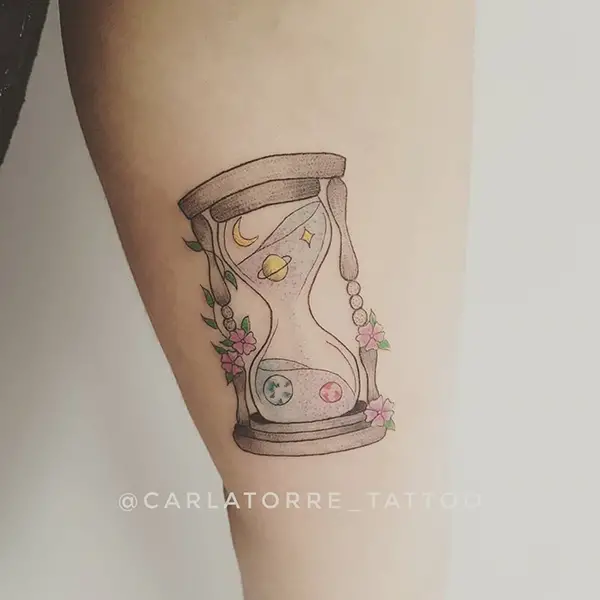 This cartoon hourglass tattoo is perfect for someone with a playful nature but loves science as it shows the planet, star, and moon in it. It doesn't let you forget the science lover child in you, keen on exploring new things in the universe.
19. Minimalistic Hourglass Resembling a Dumbbell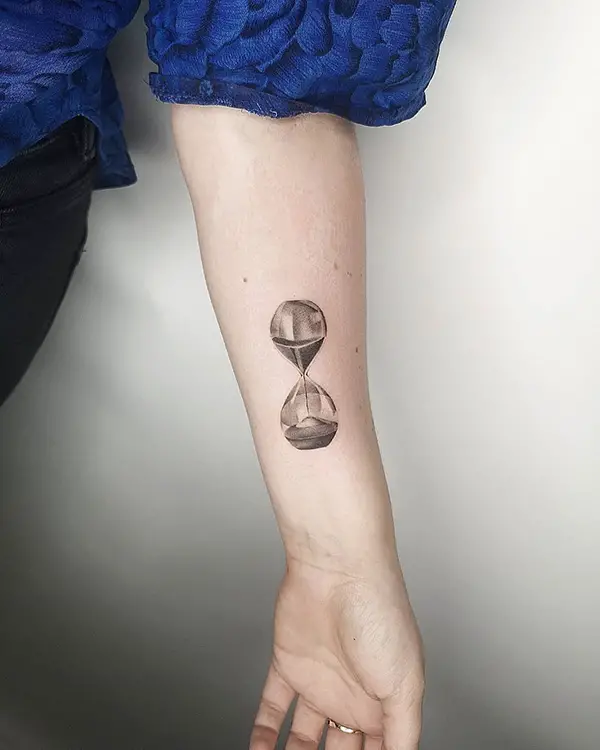 Love working out and always find time in your hectic schedule for staying fit through exercises? This hourglass resembles a dumbbell and is a reminder of how important your health is for you, to stay fit while growing older with time.
20. Hourglass with The Sun and The Moon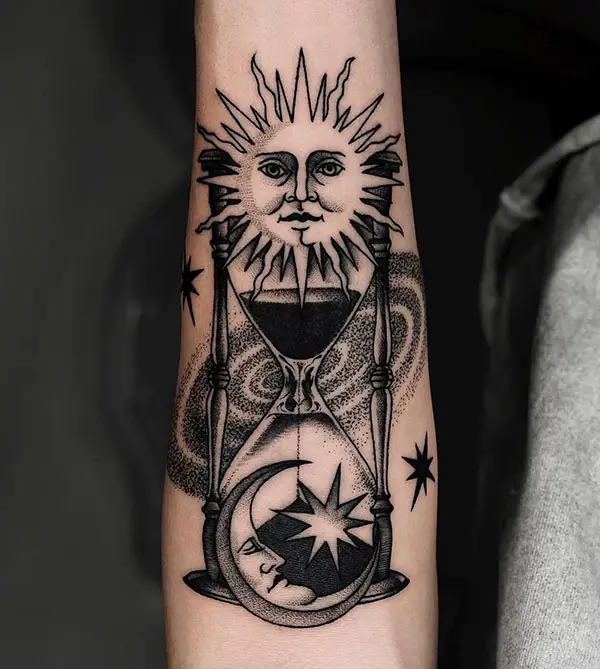 This tattoo symbolizes the sun in human-like form in the upper part and the lower part has a mountain and a moon beside it, picturized in the same way. This symbolizes how the moon and sunrise cyclically every day with time.
21. Colorful Hourglass Tattoo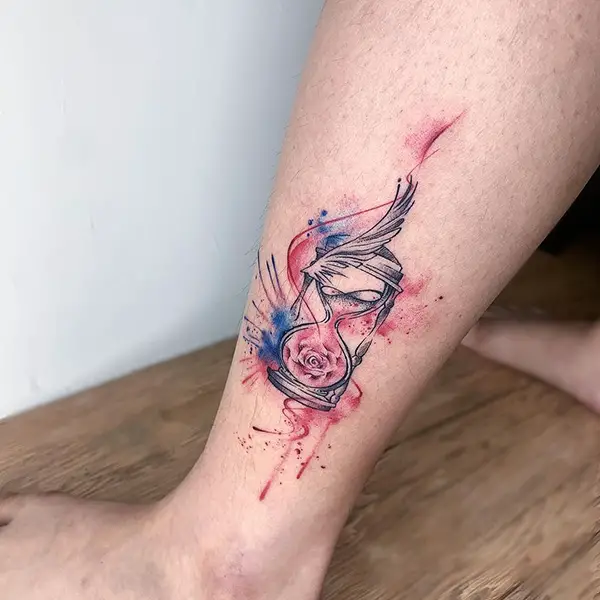 22. Geometric Hourglass Tattoo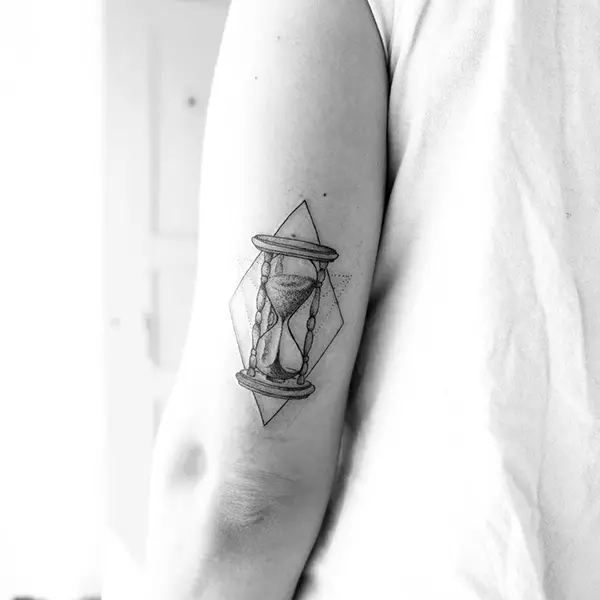 23. Hourglass Tattoo With Blue Sand and Pink Flowers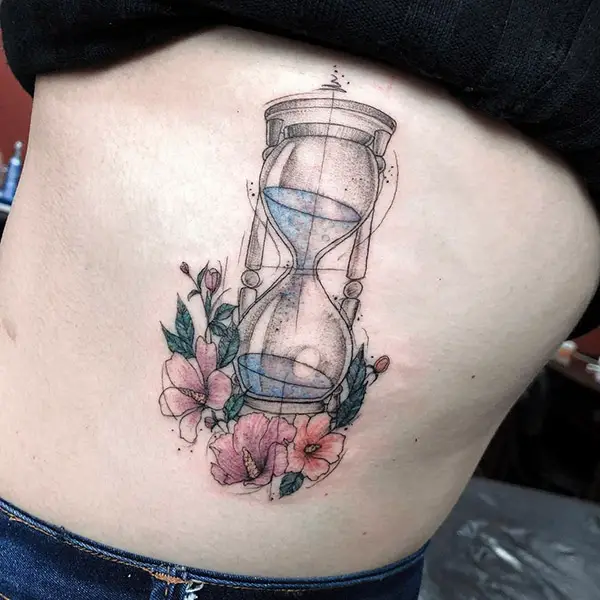 24. Large Hourglass Tattoo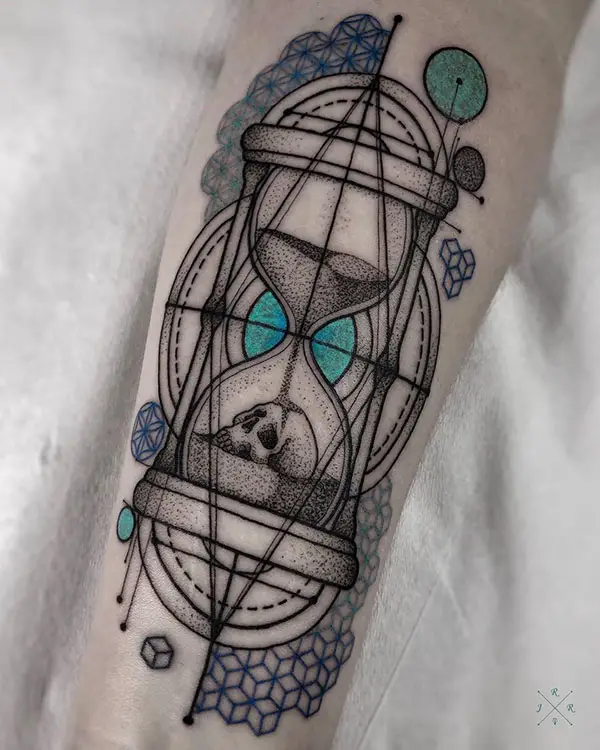 25. Royal Hourglass Tattoo With Butterflies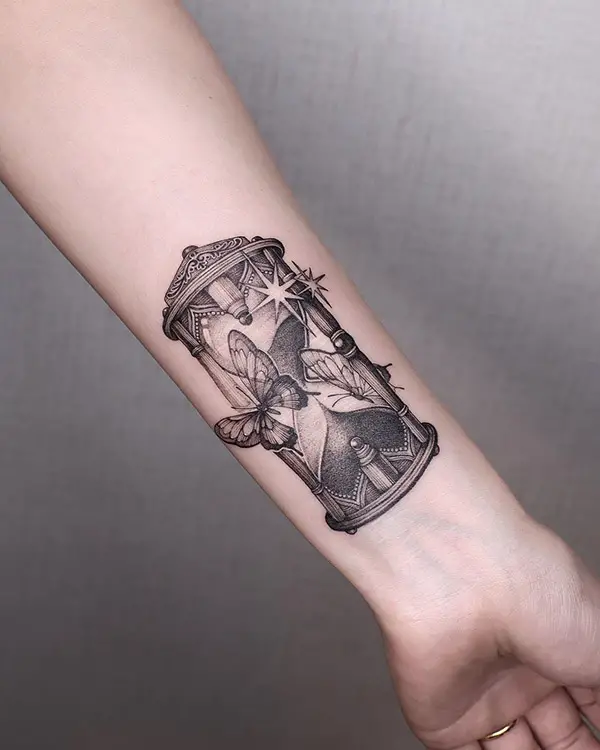 Recommended Topics: