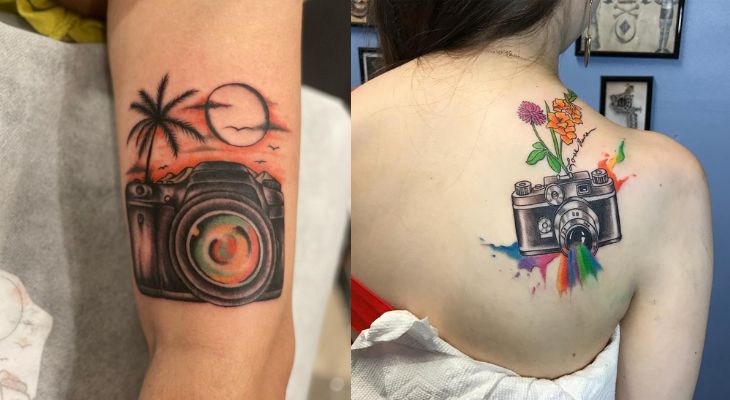 The camera tattoo lets others know that you are a fan of snapping shots and keeping them for your memories. people will wish they had been taking photographs to remember loved ones or special moments. Another reason to get a camera tattoo is to represent your passion towards snapping and your lifestyle.
15 Most Beautiful Camera Tattoo Ideas
1. Tiny Cartoon Ghost Camera Tattoo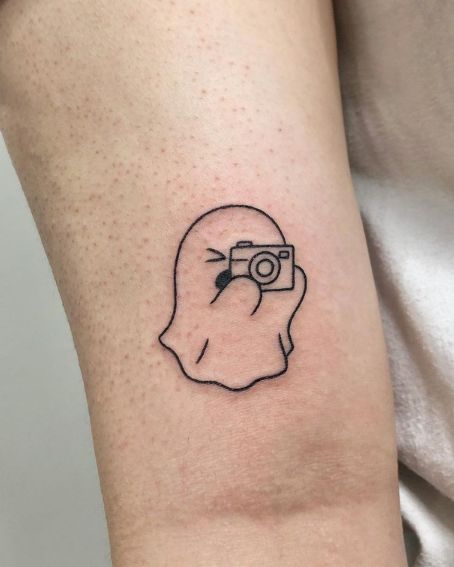 This is a beautiful tiny tattoo with a ghost captured with camera. This tattoo looks funny and adorable, suitable for teenagers and photographers. This tattoo makes you remember the childish mentality with the ghost picture.
2. The Man With Camera Head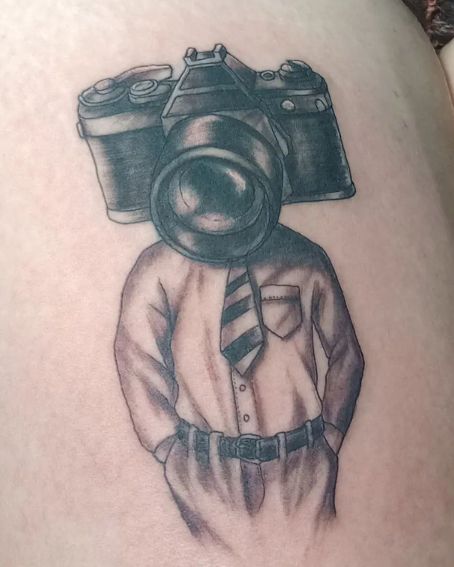 The man with the camera head shows interest and passion towards the camera and is filled with pictographs though. This tattoo of a camera headed man looks very decent in dressing along with Tie and belt. This proffection teaches us a new thing everyday and we discover new things.
3. Beautiful Camera With Half Filled Water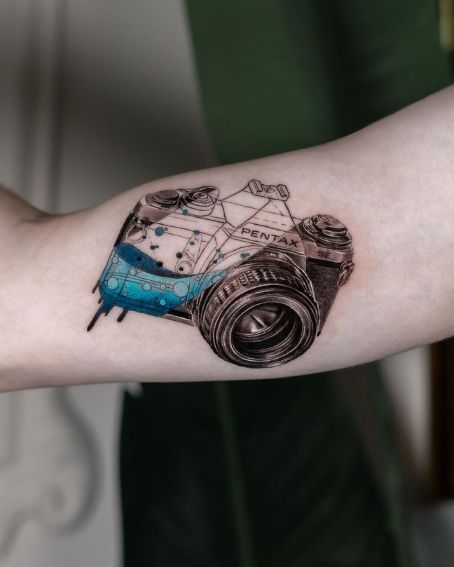 The amazing tattoo of a camera is half filled with water with a skeletal drawing and half with black, this tattoo looks very unique and shows the creativity of the cattoo and is best suitable for teenagers and photographers.
4. Camera Tattoo With Mosquito On Lens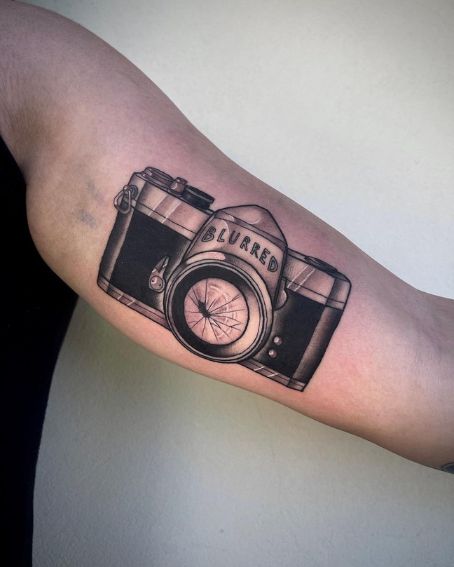 The beautiful tattooing of a camera is done with black ink which shows the interest towards the camera. This tattoo of the camera is with a mosquito on the lens, which means the photographer is capturing a picture of the mosquito, interested in capturing the small objects.
5. Lavender Flowers With Camera Tattoo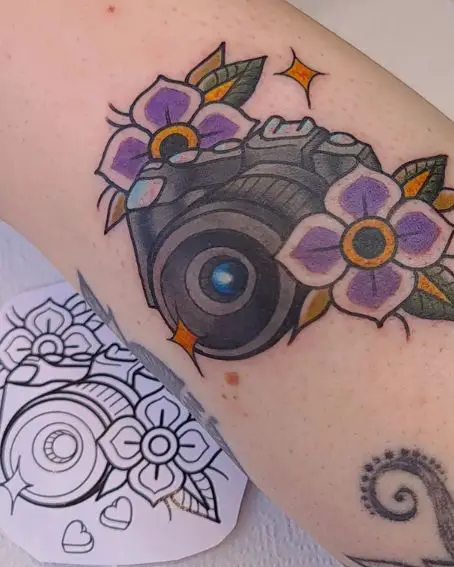 The lavender color beautiful Floral tattoos look classy with Pair a meaningful floral tattoo with a camera in between. The meaning of it is to have a never ending love towards photography. This tattoo is recommended for photographers to show their passion.
6. Awesome Camera Tattoo With Handle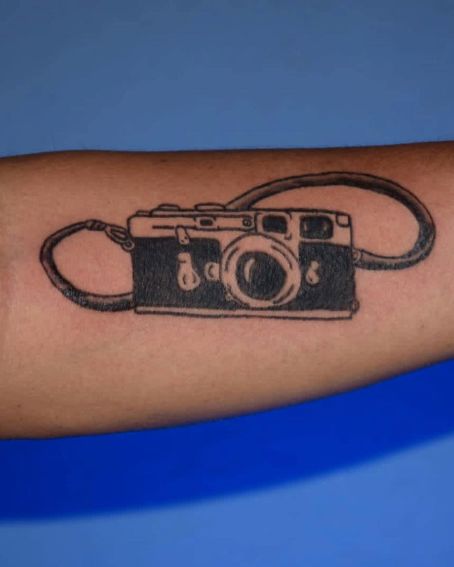 This Black camera tattoo is unique and stylish if the size and simple to look at. Here is a back camera tattoo on hand with intriguing details of the lens along with holding a sling, this tattoo remembers the olden days shape of the camera.
7. Beautiful Tattoo Of Camera With Flowers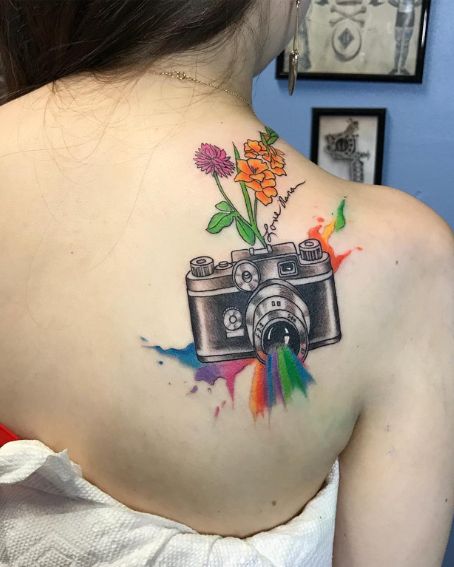 Watercolor tattoos look so cute with cameras and flowers. You can also use some other different colors for flowers backdrop from other tattoos. Here is a watercolor camera tattoo with a beautiful and minimalist design for both male and female.
8. Simple And Best Nikon Camera Tattoo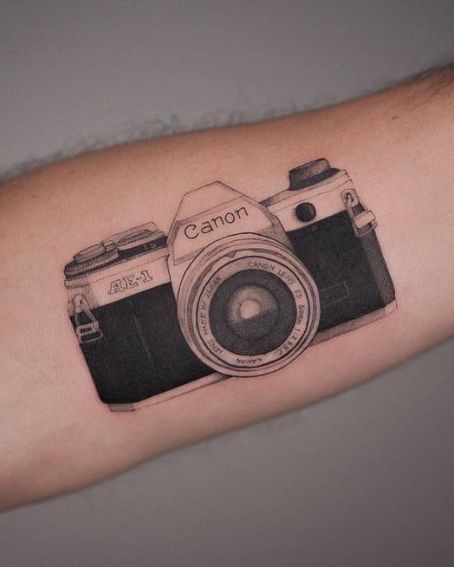 The beautiful tattoo of Nikon camera, and if you love it immensely, having this nikon camera tattoo with black ink looks gorgeous and gives a realistic feel for the photographers, Can try this tattoo.
9. Vintage Camera Tattoo With Leaves And Snake Tattoo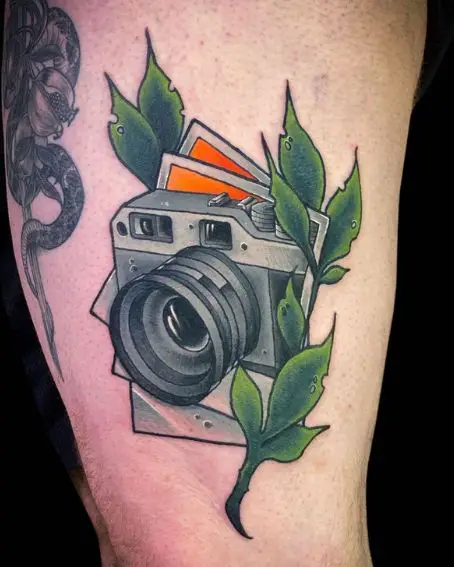 The simplest and best for the first to get a tattoo of the vintage camera is the best for beginners who want to click the image and then tattoo. This will give a really nice effect with leaves and the snake on the plant will always remember your memories.
10. Heart On Camera Tattoo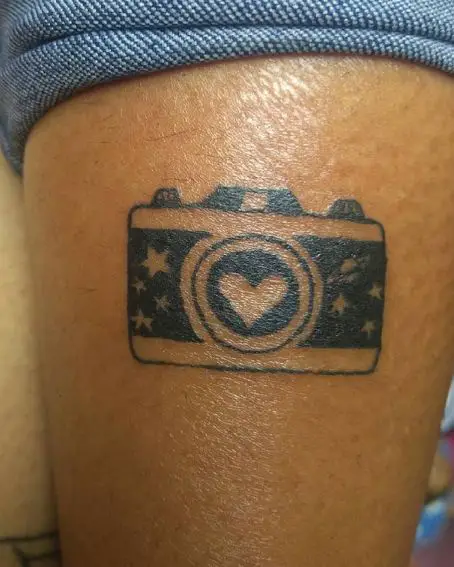 This is a cute heart and camera tattoo design for you with a lovely appeal.if you are planning to have a lovely tattoo representing your interest and love for the camera with stars and heart shapes on camera.
11. Camera Sketch With Watercolors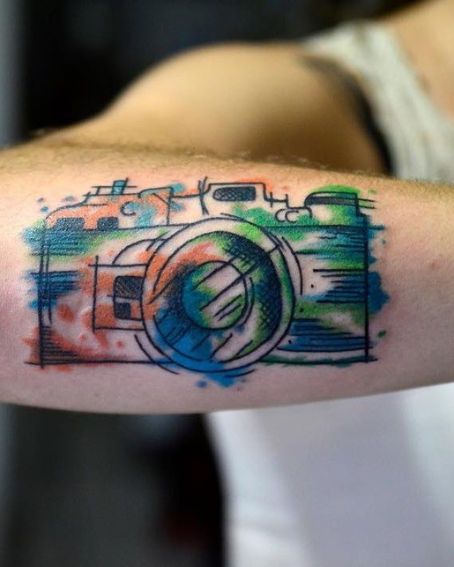 Watercolor tattoos always look cute and playful. You can use different colors based on the backdrop of the tattoos. Here is a watercolor simple sketch camera tattoo with a simple and minimalist design.
12. Black Ink Tattoo With Sun Setting Background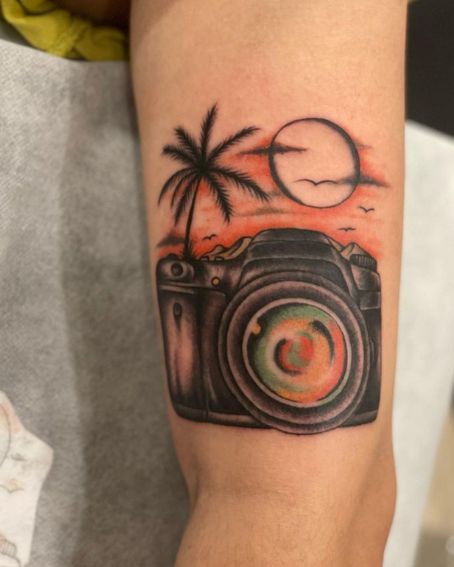 Having a tattoo of a camera itself shows your love and passion towards the camera, but having a tattoo which always remains as your weakness will show how deeply you love it. Here is a camera tattoo along with the beautiful nature of the sun set.
13. Adorable Colorful Camera Tattoo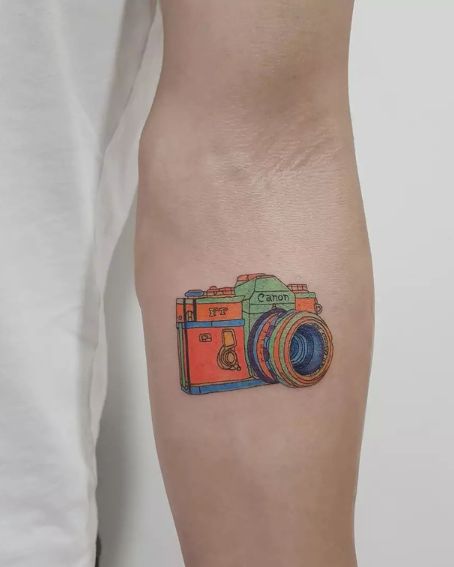 The bright and adorable colorful camera tattoo looks so inspiring with its appeal. The important thing is to make a wise decision on tattooing because it will help you to show your tattoo in a meaningful and attractive manner.
14. Camera Lens Shoulder Hand Tattoo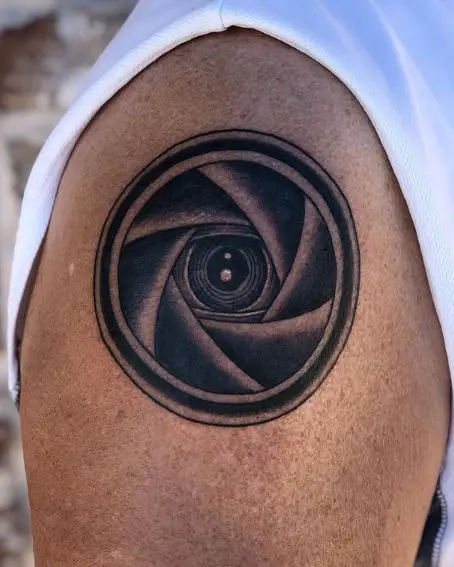 Camera lenses are the most important for photographers and it is the best choice for tattooing. The lens of the camera looks like a maze with multiple shutters, this tattoo is spontaneously realistic on the hands which fits on the arm.
15. Realistic Camera Tattoo With Reels Around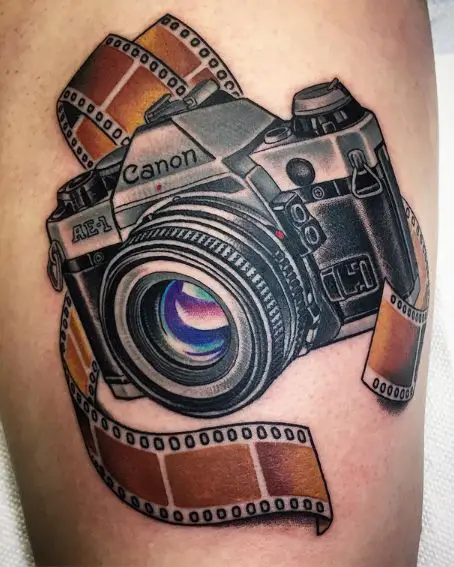 This is an awesome camera tattoo with a specific design of the reels around the camera which give a realistic feel of a DSLR camera tattoo with the brand name. This tattoo is the best choice for the photography lover with reflection on the lens of it.
You Might Also Like: