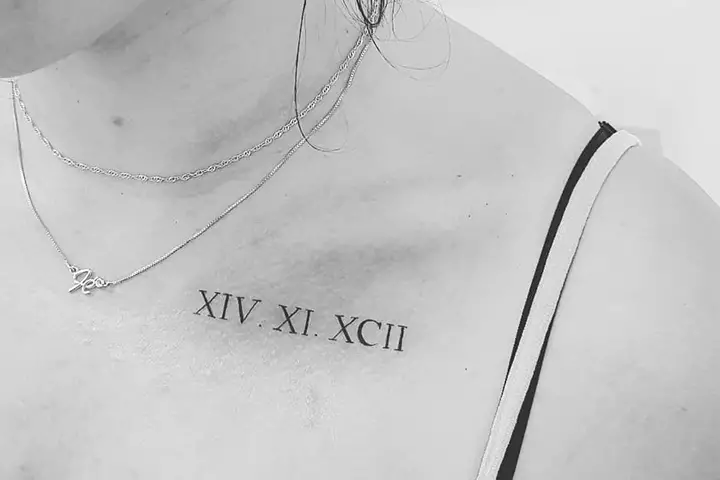 People honor and show love to our dear ones by getting their names and dates inked on the skin. Doing this in roman numerals adds a special beauty to it and makes them appear classy.
1. Roman Numerals on Shoulders: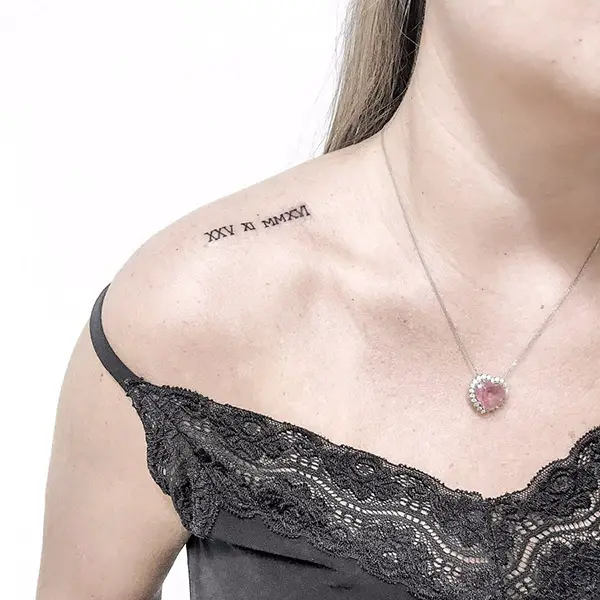 This is a perfect spot to get your favorite date inked on your body when you often wear off-shoulder outfits. It makes the shoulder visually appealing.
[ Recommended: Inspirational Quote Tattoo Designs ]
2. Roman Numeral with a Flower: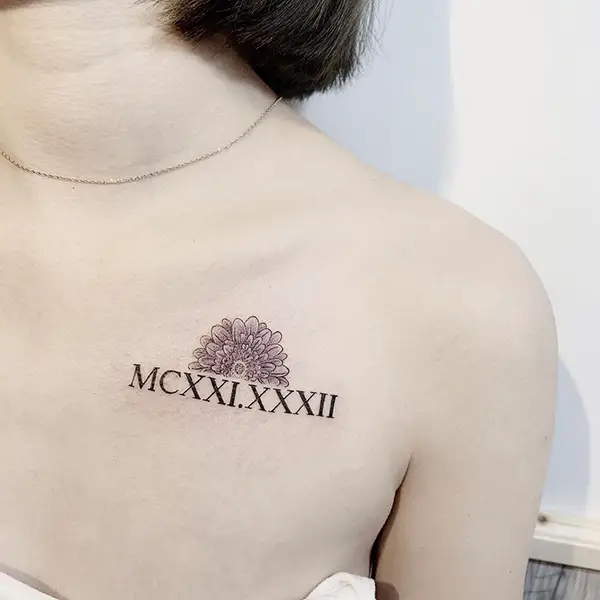 Do you perceive an empty look without any jewelry while wearing certain outfits, but don't like wearing too much jewelry? Then get a special date inked as a roman numeral near your collarbone with the flower over it to create an elegant look.
3. Minimalistic Roman Numeral Tattoo: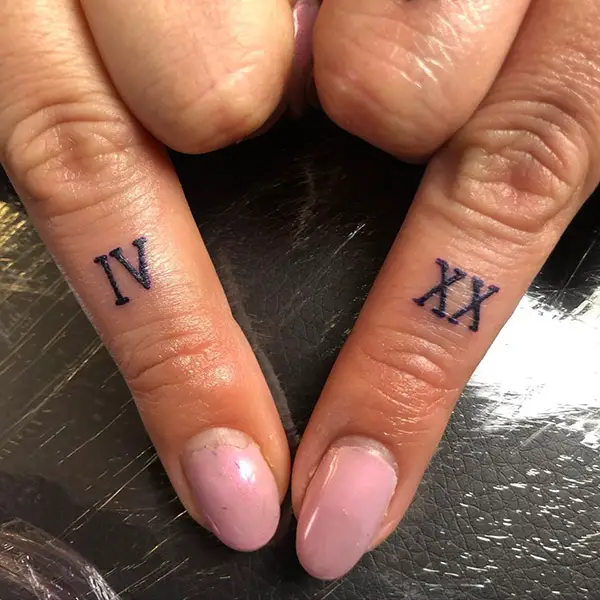 Do you have two lucky numbers and love minimalistic tattoos? Then get the roman numerals inked on the fingers of your both hands for a voguish look.
4. Roman Numeral on Collar Bone: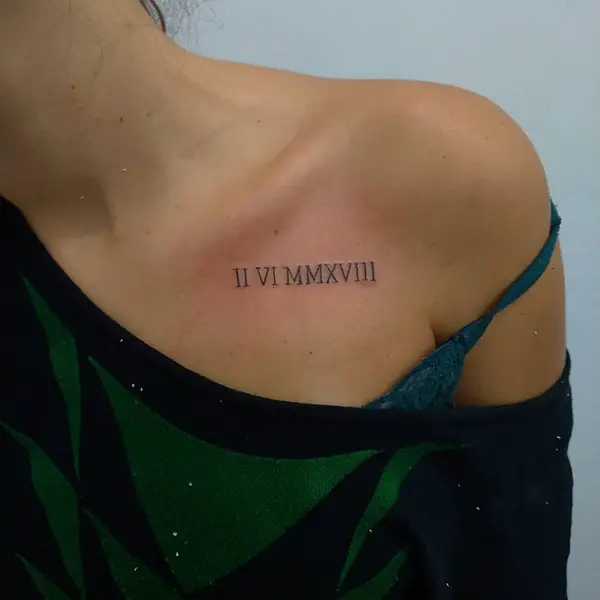 Want to get a special date inked but don't want to reveal it often? The area below the collarbone is the perfect spot, so you can reveal it only while wearing off-shoulder dresses.
[ Recommended: Beautiful Ankle Tattoos and Their Meanings ]
5. Roman Numerals Behind the Ears: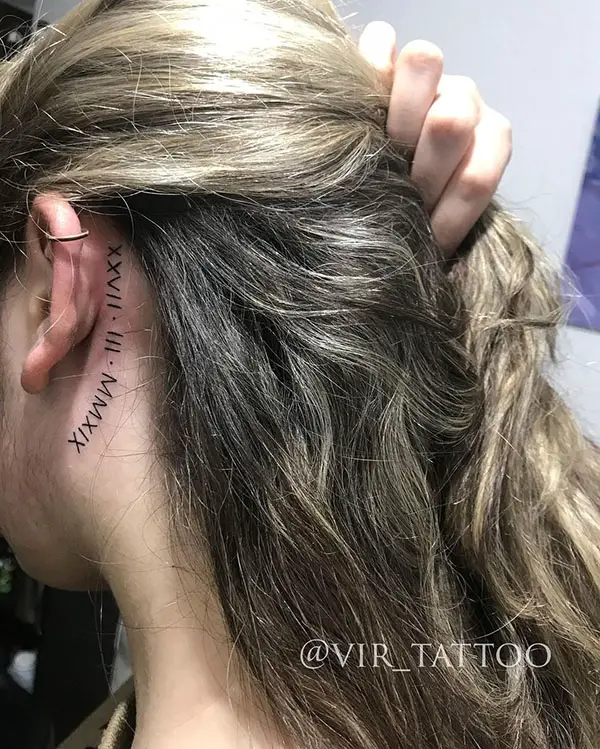 Do you love concealed tattoos that are not easily visible to everyone? Behind the ears is a great spot to ink your special date, so that it's visible only when you make certain hairstyles such as a ponytail or anything in which hair doesn't get covered on the ears.
6. Roman Numerals Tattoo of your Family: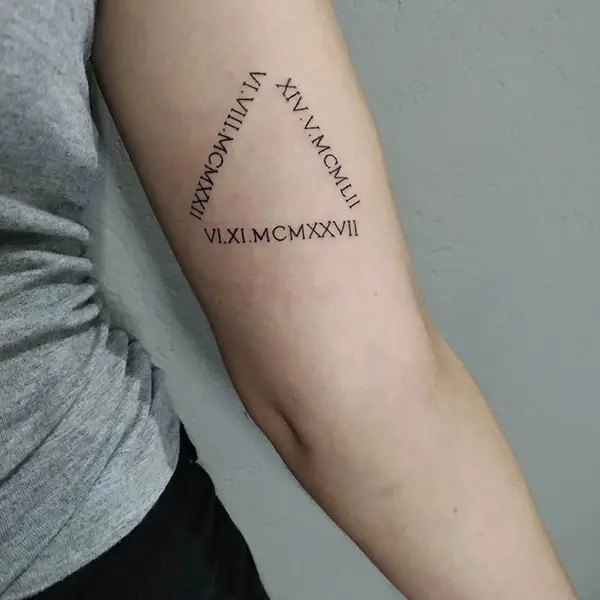 Arms are a good place to get special dates inked, especially if you have 3 members in the family. This is always easily visible and keeps reminding you of your loved ones and the best moments with them.
7. Colorful Roman Numeral Tattoo: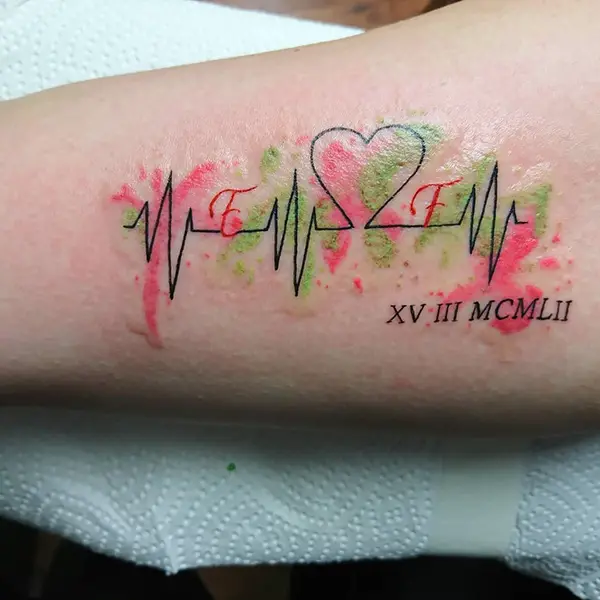 Want to show your love for your life partner in a unique way? Get this heart shape and heartbeats inked in your arms with your wedding anniversary date. The colors in the tattoo indicate how they have filled your life with happiness.
8. Cactus and Roman Numeral Tattoo: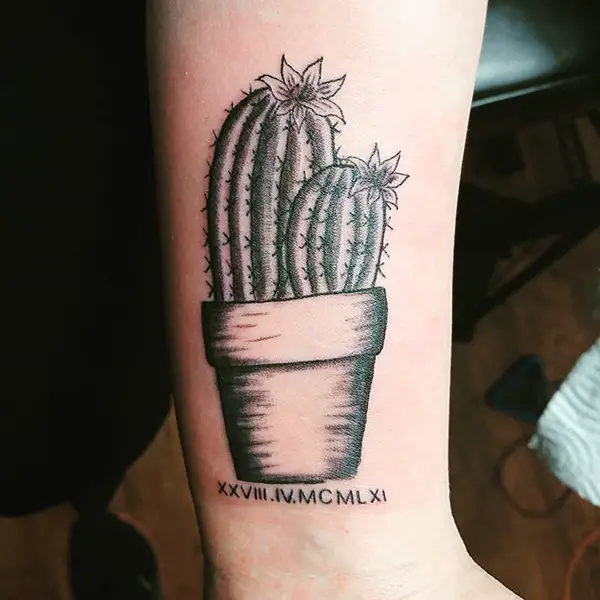 The cactus plant in the tattoo has flowers, signifying that there's good in tough situations in life. If you had a similar experience regarding a date that you cherish, this can be a perfect tattoo to portray your feelings.
9. Name with a Date in Roman Numeral: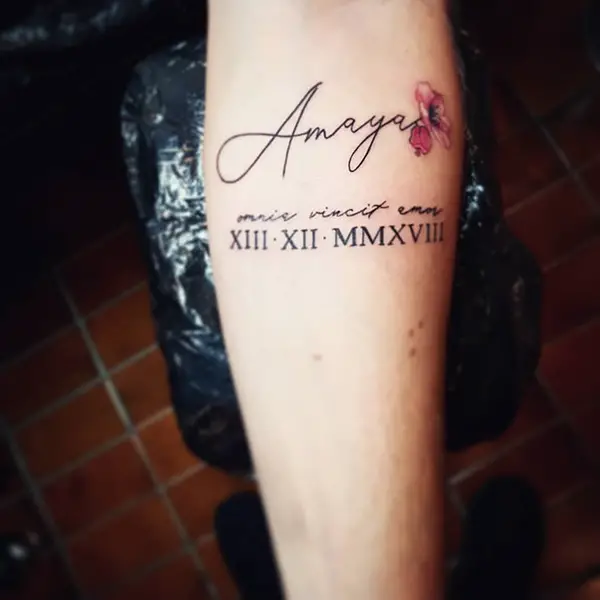 A date inked with the name of your beloved one is a profoundly personal tattoo. This is one of the loveliest ways of adoring and honoring your loved one.
10. Roman Numeral Tattoo with Love Between Opposites: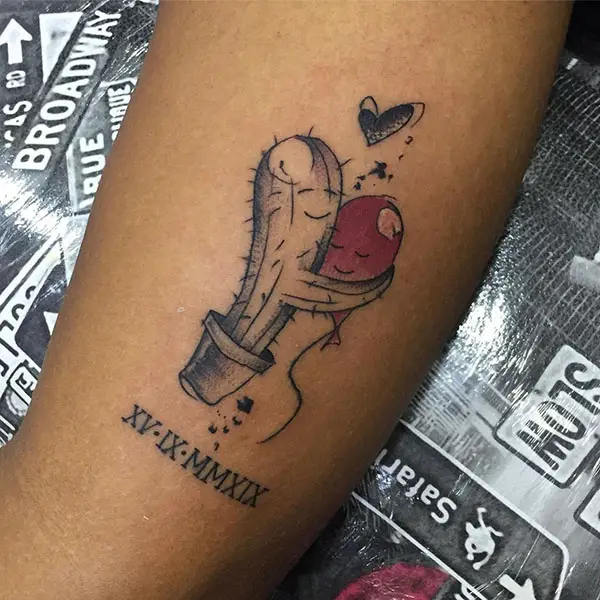 This is a beautiful depiction of how love can happen between two opposites like a harsh cactus and a balloon. If you and your partner have similar characteristics and are still living in a harmonious relationship, then get your special date wedding inked along with the elements for creating a meaningful appearance!
11. Roman Numerals on your Feet: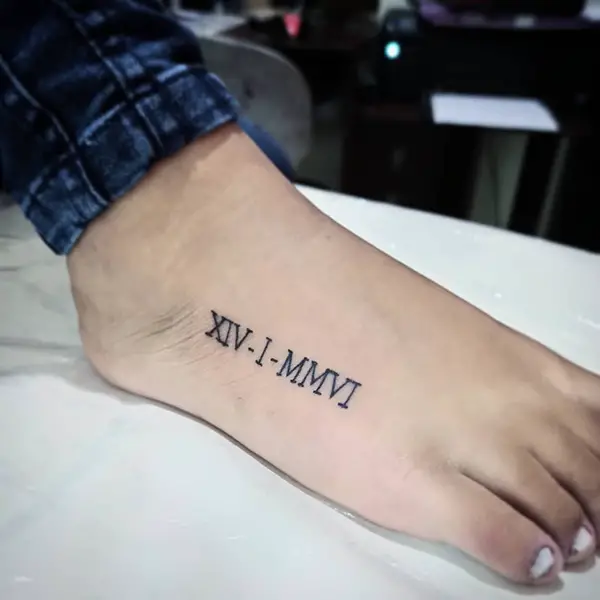 Getting a certain important date inked in roman numerals on feet is interesting as it makes the feet look different. Also, some might feel less pain in the process as the feet have thicker skin.
12. Roman Numerals Behind your Neck: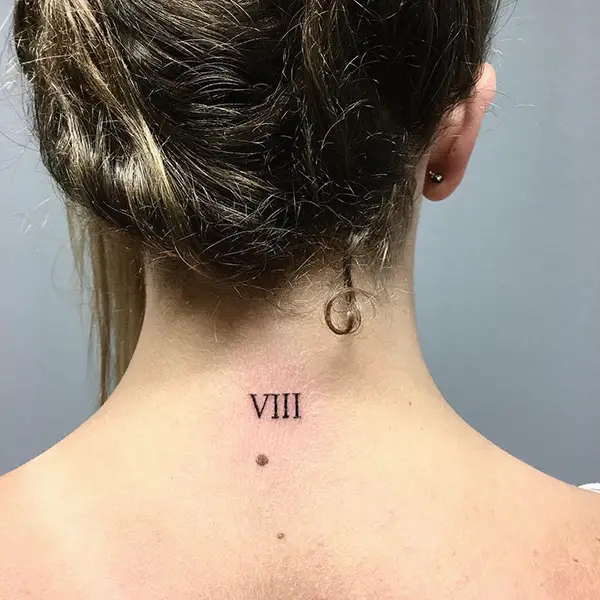 Want to ink your lucky number on the skin? The area behind the neck is the best region to do this as a single number can easily fit into the space and will be visible only when you go for hairstyles that don't cover it up.
13. Roman Numerical in a Geometrical Shape: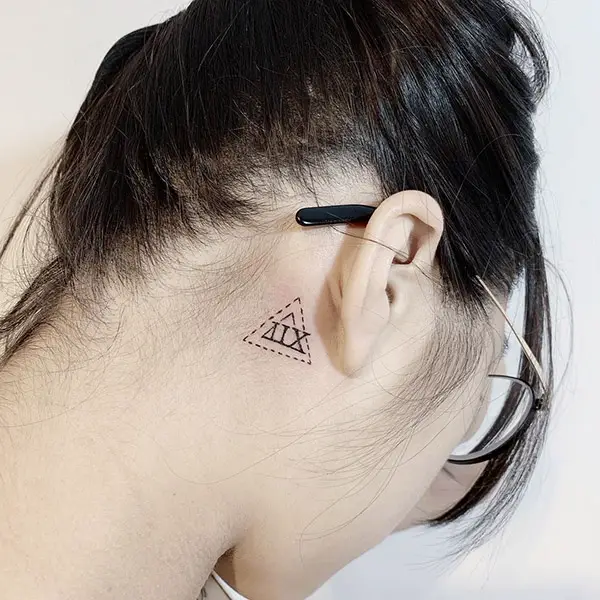 Roman numeral tattoos look fancy but to add more glam to them, a geometrical shape like a triangle can be added around it. For a single number, it can be inked behind the earlobes, when you prefer to keep it concealed.
14. Roman Numerals Tattoo with your Pet's Paw: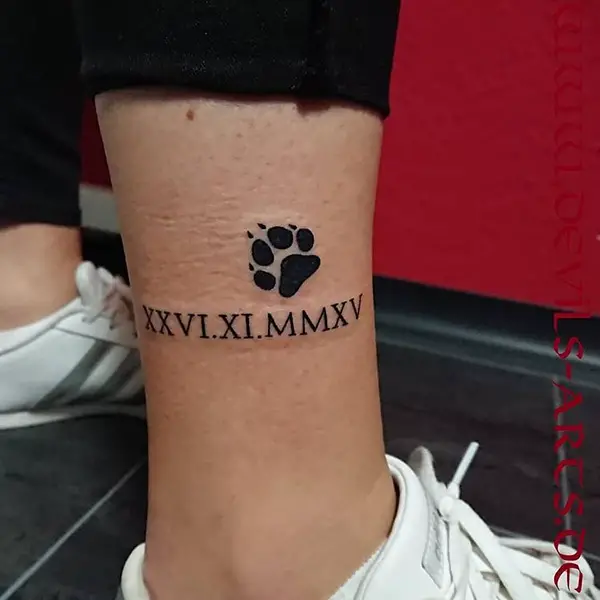 Is your pet dog dearest to your heart? Have the most cherished date when it first came to your life by getting the date inked on the outer side of your arms along with the symbol of its paw.
15. Roman Numeral on the Inner Side of a Finger: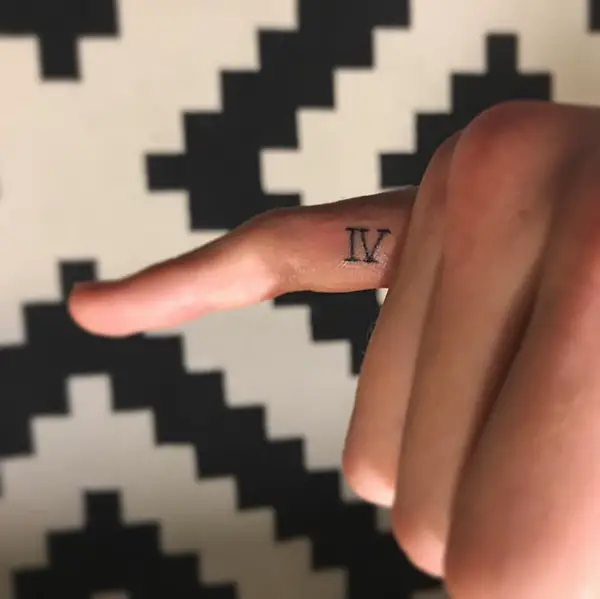 Want to get your lucky or favorite number inked on your skin but never like to get others to see it easily? The inner side of your finger is the best location to get this done.
16. Roman Numeral with a Subtle Art: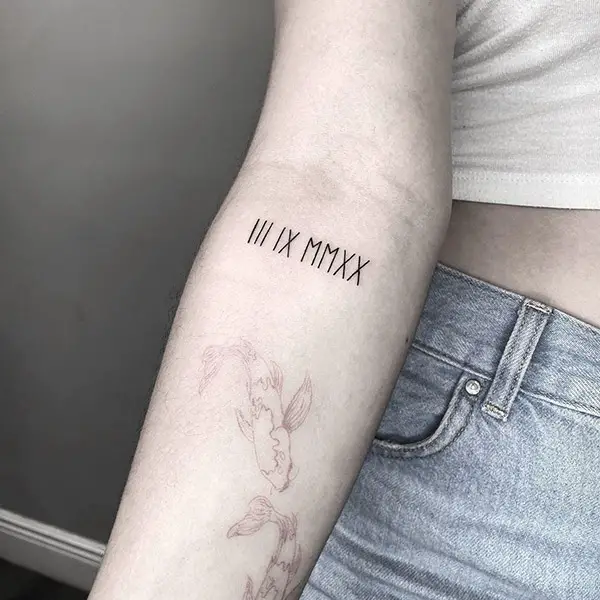 Love roman numerals but want to add an interesting touch to it? Get some subtle art inked beside your memorable date in roman numerals, to make it look more interesting.
17. Roman Numerals with a Clock: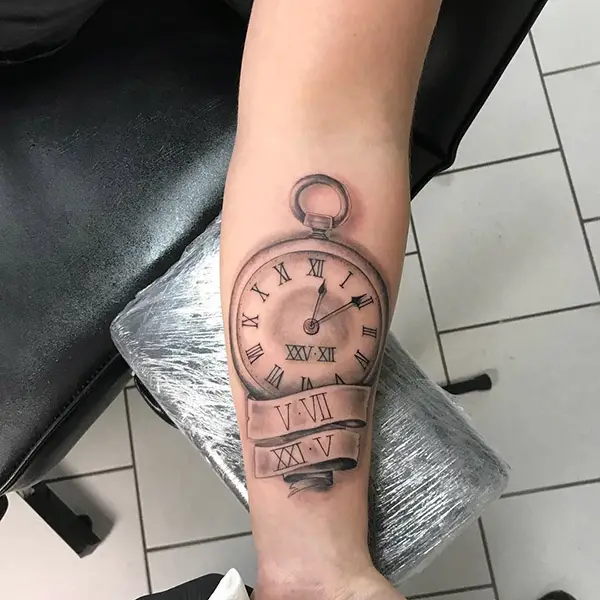 Clock tattoos are always symbolic as it contemplates the mortality of humans and the point where you wish to keep the clock hands can symbolize an important event such as the birth of your first baby or a time when you lost your beloved one. Adding a roman numeral date to this enhances the significance.
18. Rose Tattoo with the Roman Numeral Date on the Neck: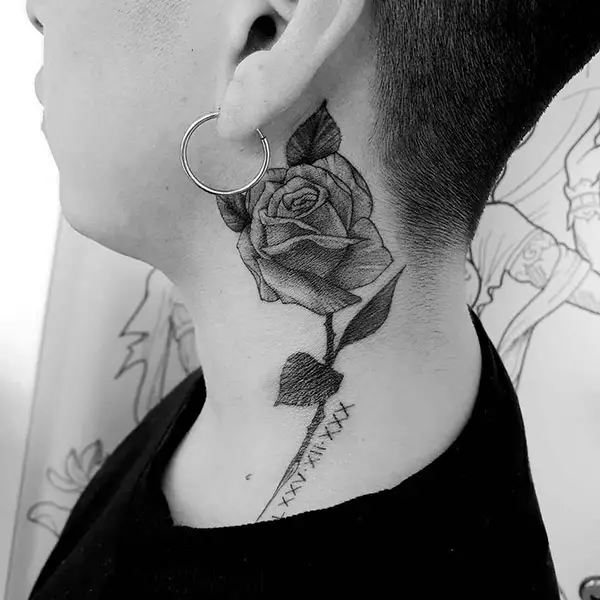 This black and white rose in the tattoo depict grief and death, but if you choose to make a red rose, it shows mixed emotions of happiness and sorrow. Along with it, you can ink the date when you mourn over the loss of your beloved one in life.
19. Roman Numerals Tattoo with a Rose: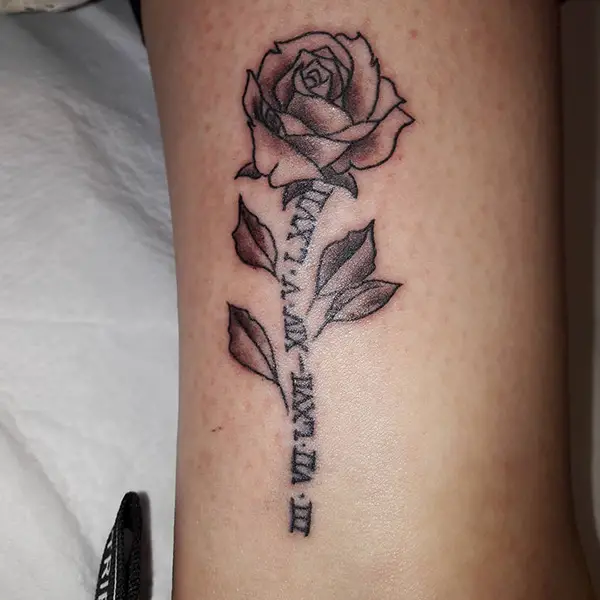 A date inked in roman numerals becomes more impressive and meaningful by adding an element like a flower, clock, or feather to it; the flower being the most popular one. Rose in the tattoo shows a balance between happiness and sorrow related to the inked date.
20. Roman Numeral Date with a Tiny Heart: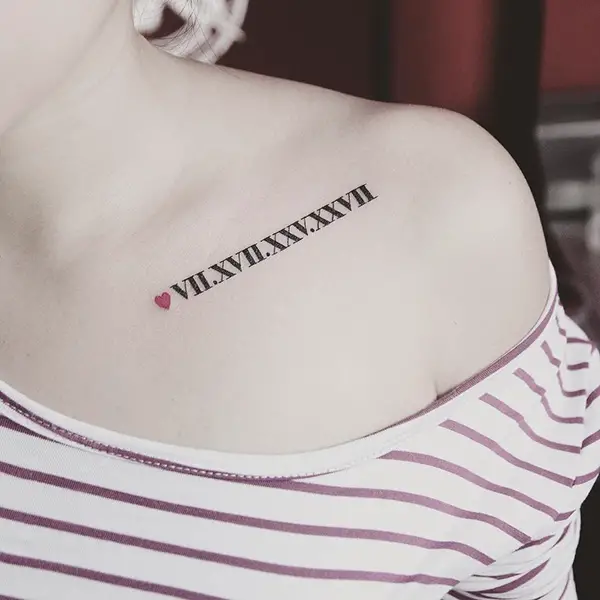 Want to ink the date of your wedding anniversary with your life partner? A simple way of doing it is putting a small red heart beside the date, to convey your affection for your partner.
Check More Images:
21. Cool tattoo combine with geometric shapes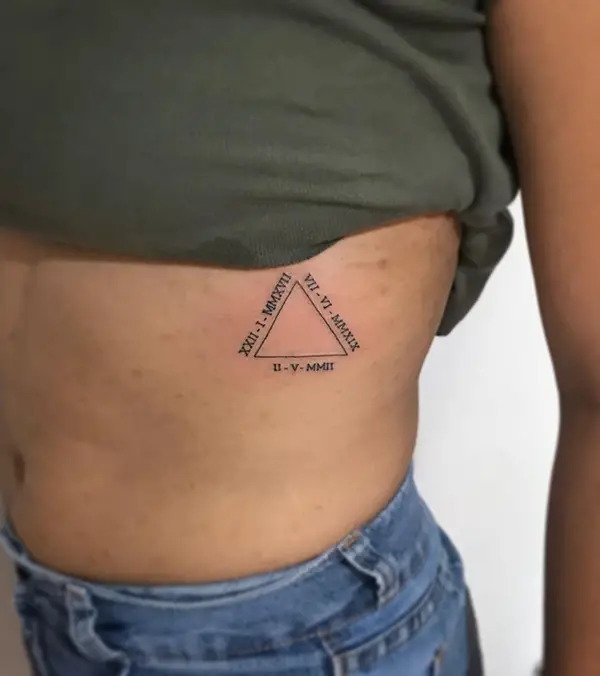 22. Numeral Tattoo on Hand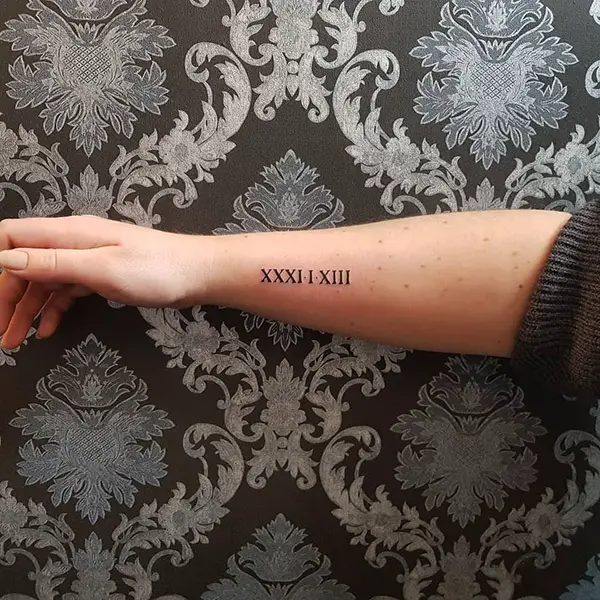 23. Milestone Date Tattoo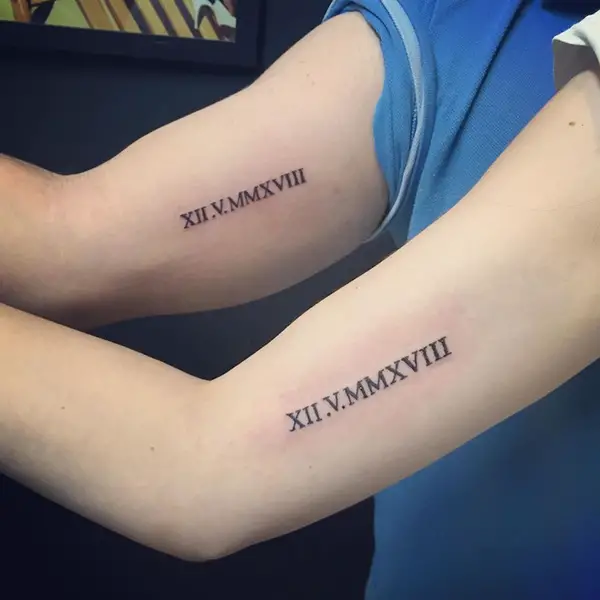 24. Delicate Collarbone Tattoo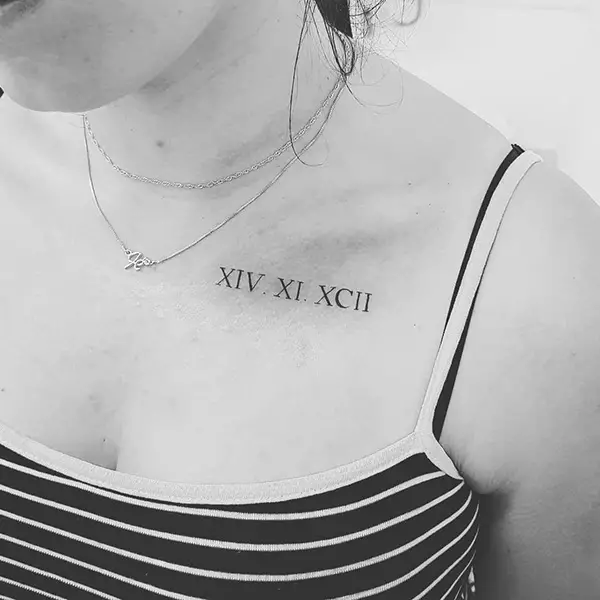 25. Exciting Numeral Tattoo on Finger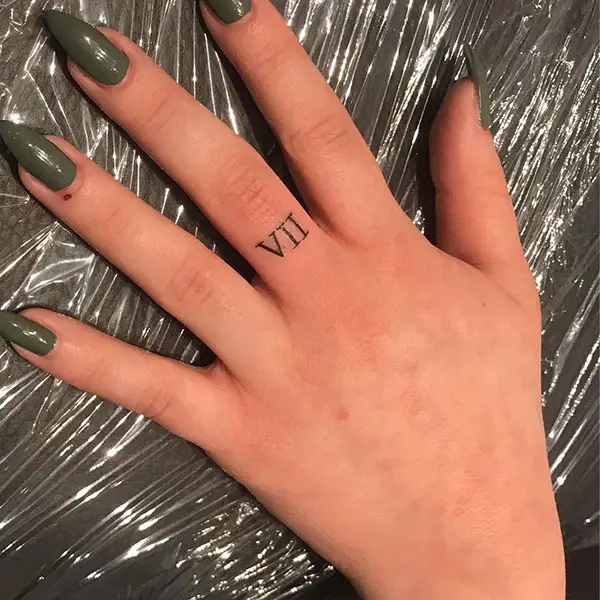 26. Day you Never Want to Forget in Roman Numeral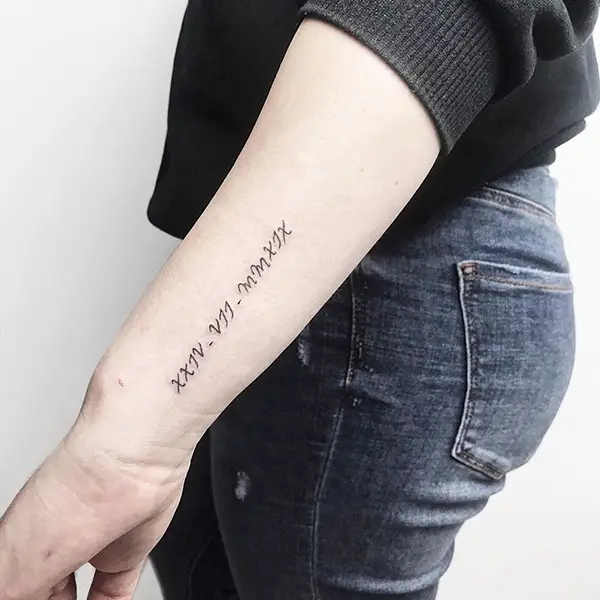 27. Day of First Kiss in Numeral Tattoo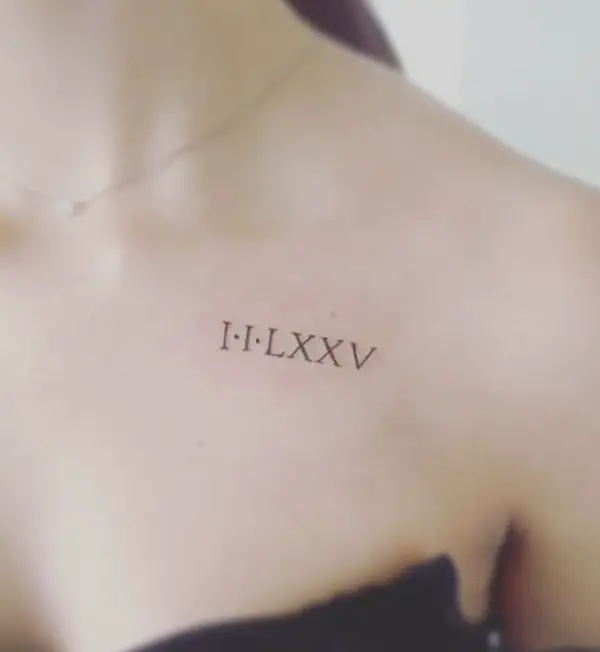 28. Roman Numerals in a Couple Tattoo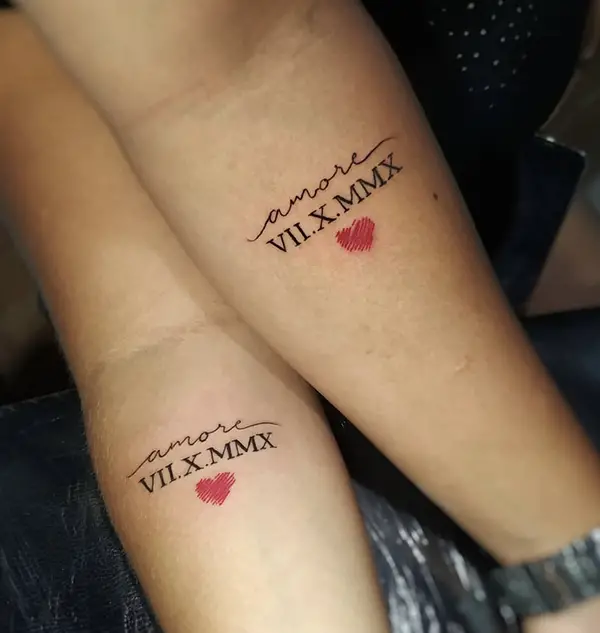 29. Relationship Roman Numeral Tattoo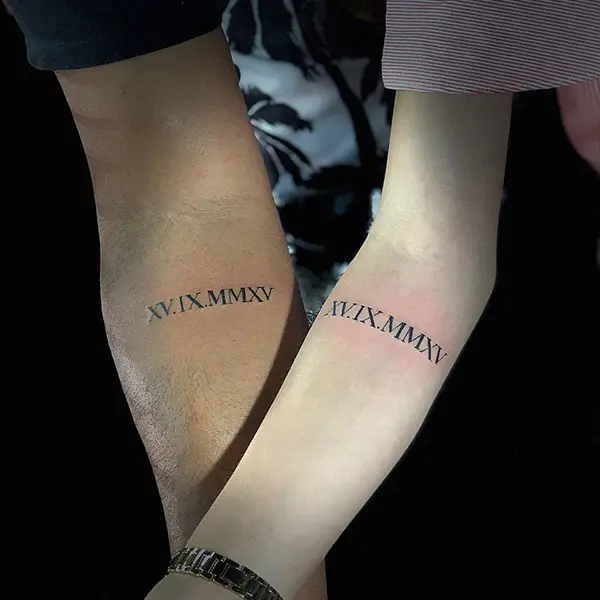 30. Roman Numeral Tattoo Honoring a Specific Person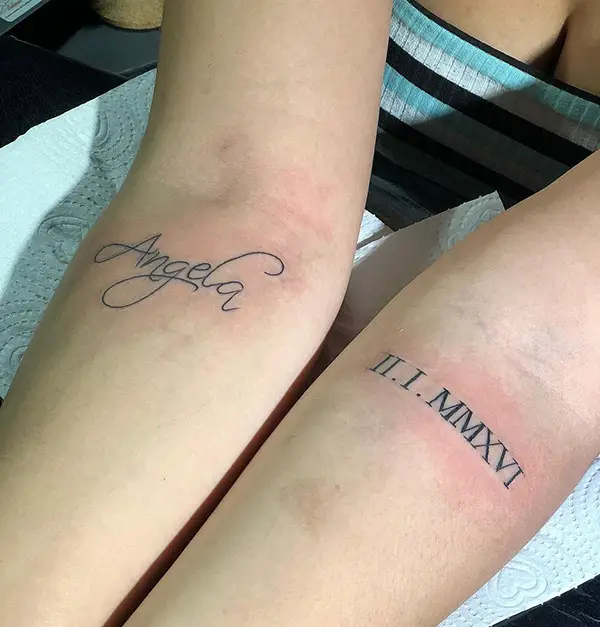 31. Numeral Tattoo on Back of the Hand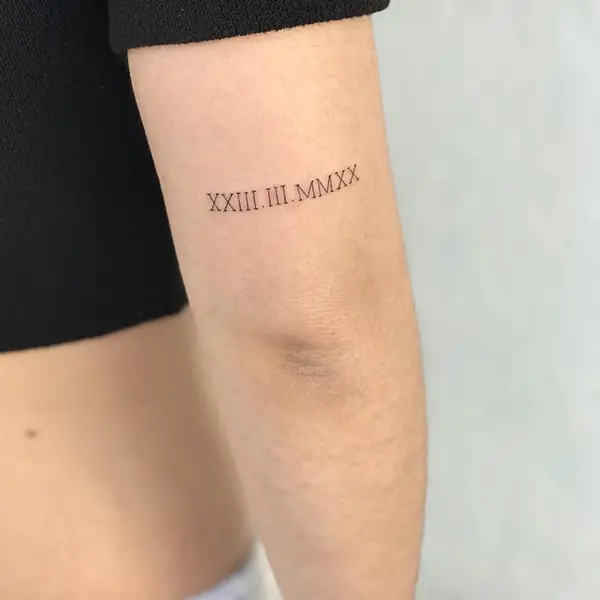 32. Roman Numeral Tattoo on Both Legs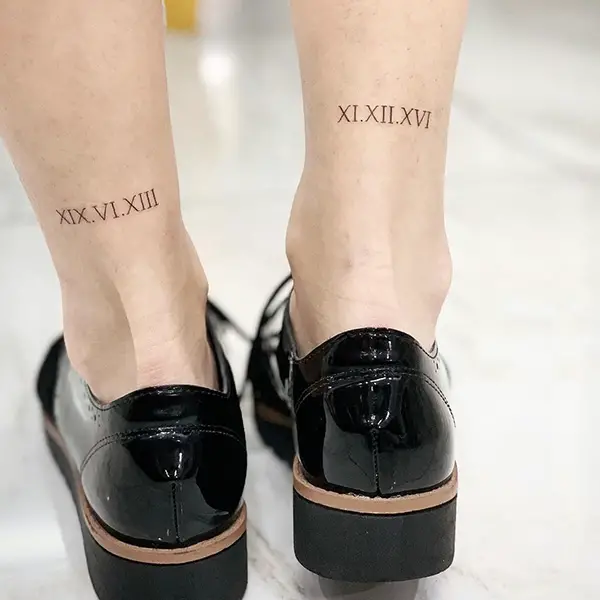 33. Several Dates in the Same Tattoo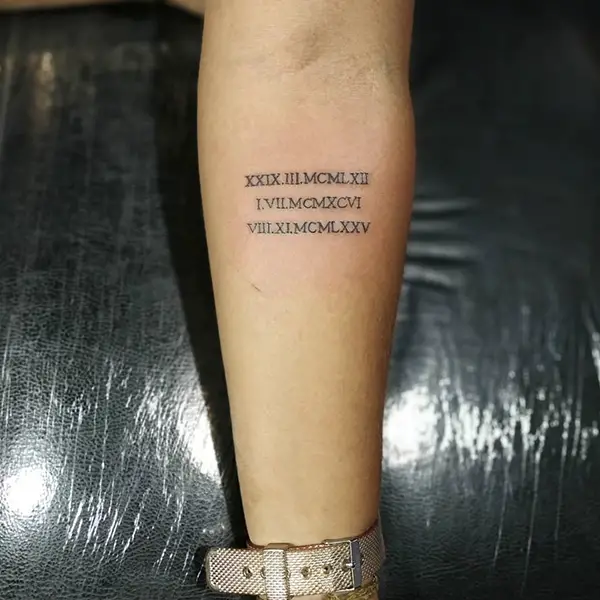 34. Cute Numeral Tattoo with Butterfly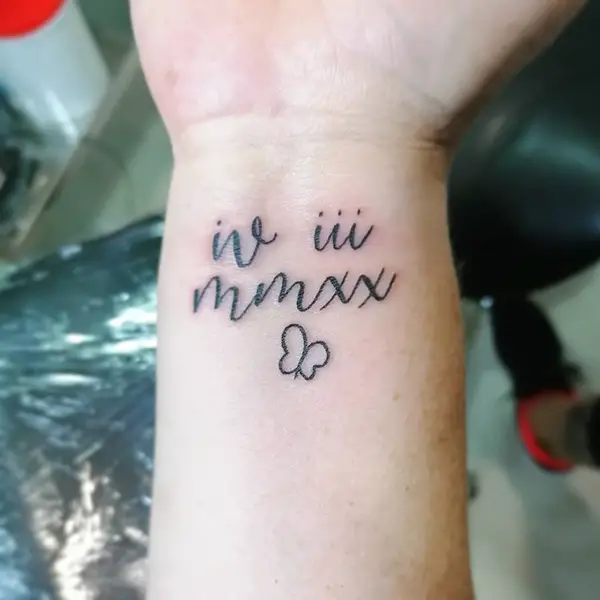 35. Roman Numeral Tattoo with Footprint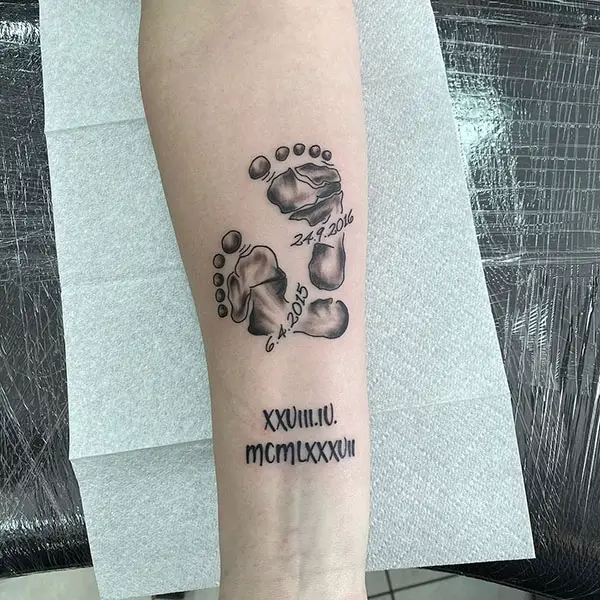 Recommended Topics: