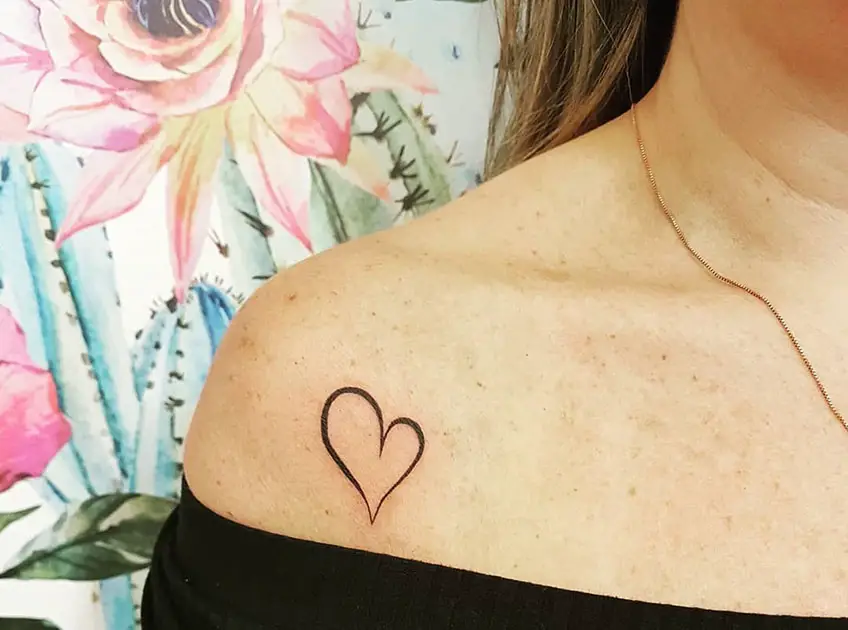 A heart tattoo represents happiness and passionate nature but the color which is chosen for it has various meanings. Different designs can be inscribed on the tattoo to make it more meaningful.
1. Heart with Family Mentioned in its Outline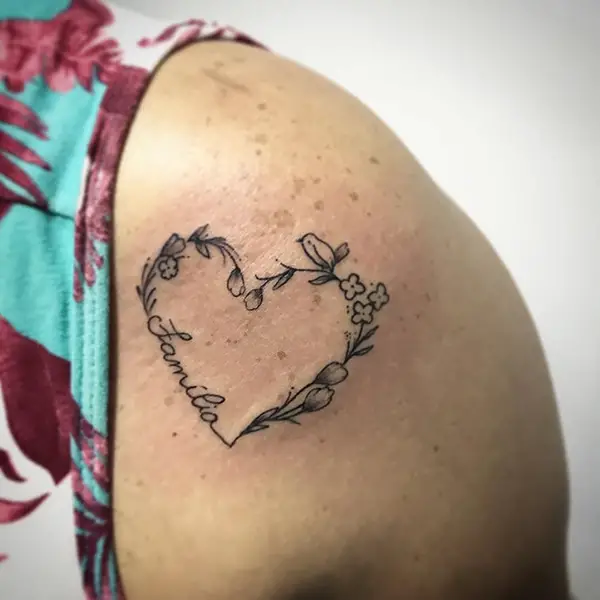 In this tattoo, "familia" is mentioned on the heart outline which means "family". So when your family is everything to you and has been with you in your journey throughout your life, this is the best tattoo you can get inked for showing your love for them. The flowers in the heart borders show the happiness you have in your life because of your family.
[ Recommended: Small Tattoos and Their Meanings ]
2. Heart with a Pink Rose and Holy Cross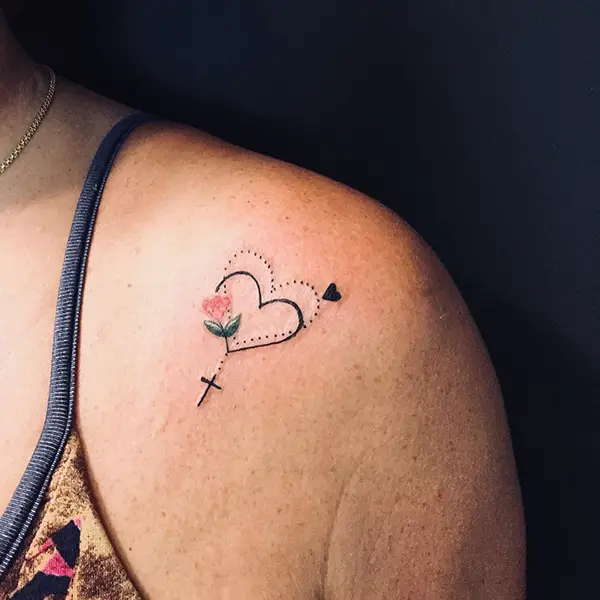 The pink rose in the heart outline symbolizes innocence, new love, and remembrance of your beloved one. The tiny black heart in the tattoo shows grief over the loss of someone near and dear. Along with this, the holy cross attached to the heart symbolizes remembering God while praying for the departed souls.
[ Recommended: Best Couple Tattoos Ideas ]
3. Heart Filled with Tiny Flowers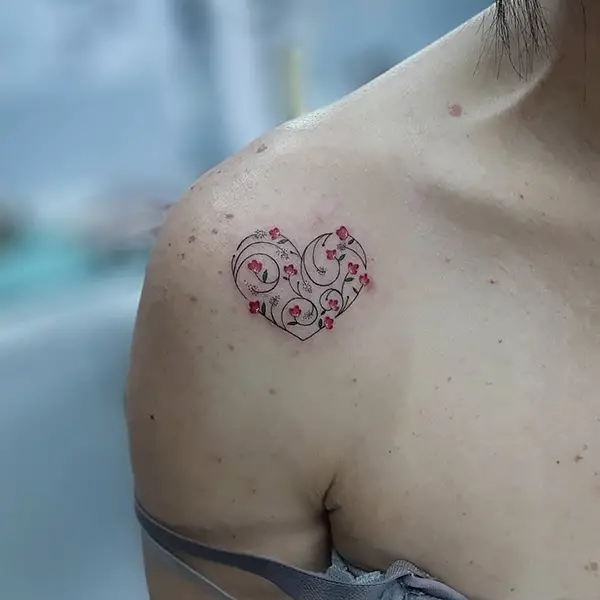 Dont you like a simple heart outline tattoo? Fill it with tiny flowers which symbolize love, and beauty and add a feministic touch. The design imparts an ornate look to your shoulders.
4. A Tiny Black Heart Tattoo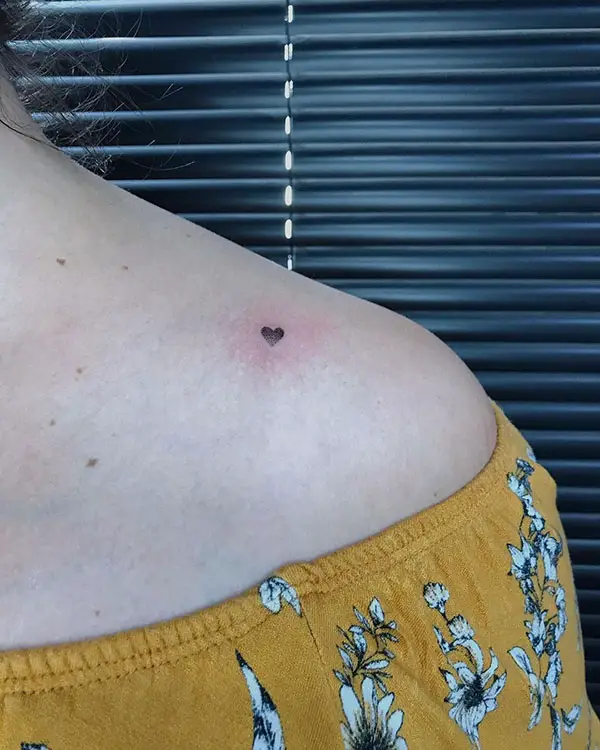 This is a minimal tiny black heart tattoo that symbolizes sadness and emptiness because of the loss of something close to our heart. It reminds you of your dear one whom you have lost in the past.
5. Heart Tattoo with Flower and Name
When you are looking for a simple tattoo that is meaningful, this is an amazing design that has the name of your loved one in the heart. Also, there are tiny flowers that make it more adorable.
6. Heart Outlines with Flowers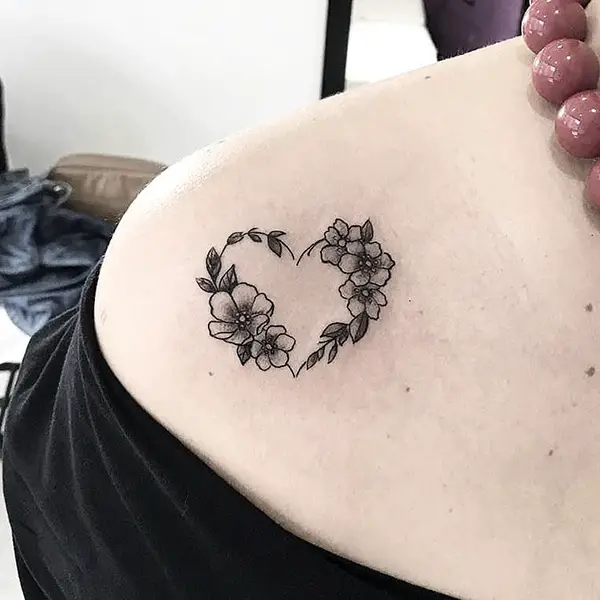 When you want a simple yet elegant tattoo, this is the perfect one you can get inked for a classy look. The flowers along with tiny leaves in the border forming a heart shape results in an adorable look.
7. Heart with Two Flowers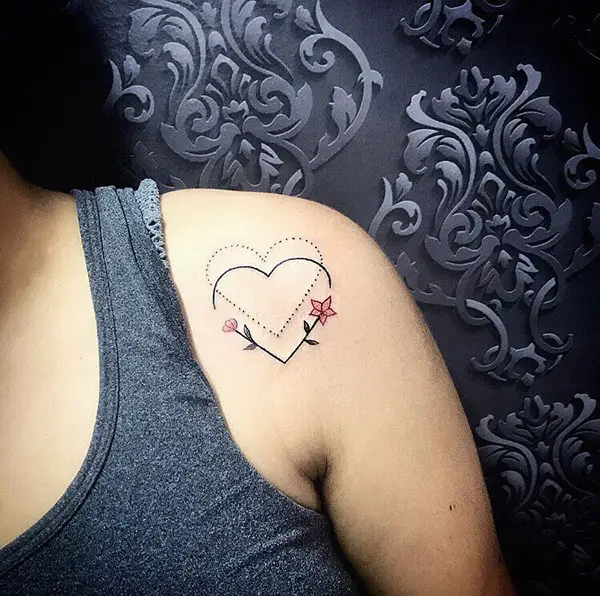 The combination of red and black is considered to create a fashionable outcome. The same is applied while creating this tattoo that has a black outline with two red flowers on either end. The dotted heart shows your previous state and the current state is the solid lined heart with flowers, symbolizing love and happiness.
8. A Minimal Heart Outline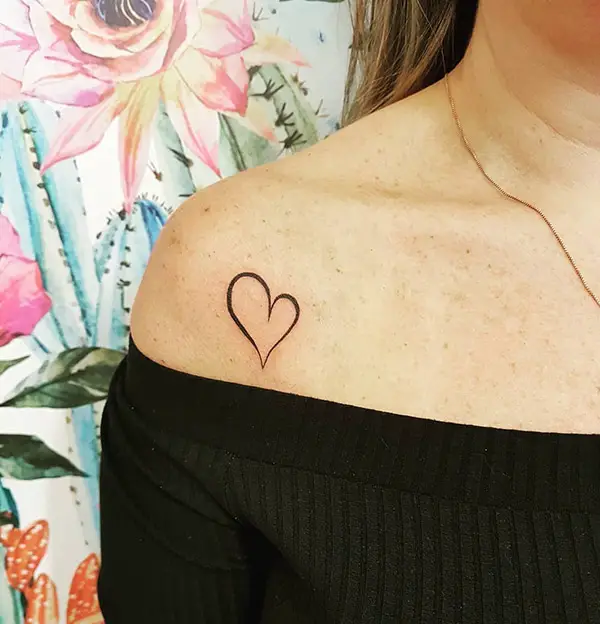 Need to make your shoulders appear trendy, especially while wearing black outfits? This minimal heart outline tattoo, in black looks best on fair-skinned individuals who often wear black outfits on various occasions. The tattoo matches their outfits to create a glamorous look.
9. Colorful Flowers and Name in the Form of a Heart Tattoo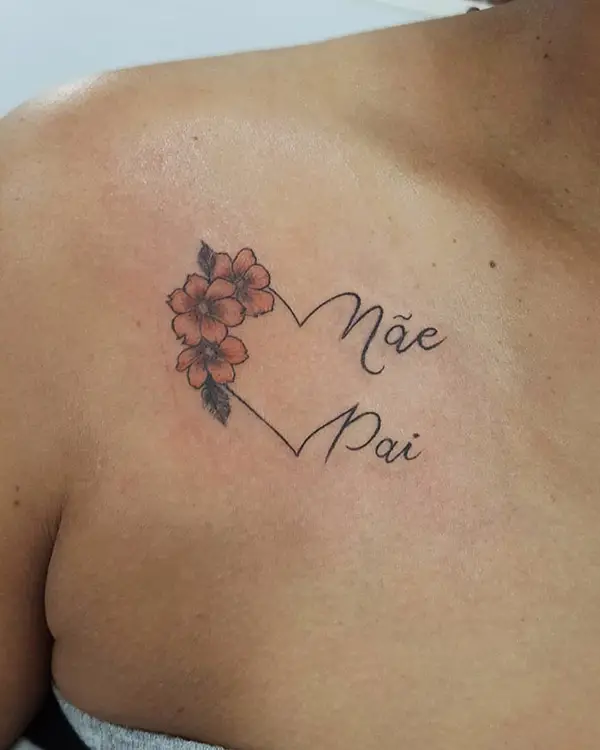 This heart shape has peach color tiny flowers representing gratitude and there are names written on the other side in an artistic way. The names can be of your kids, partner, or anyone who is close to your heart.
10. Heart Resembling Precious Diamond Cuttings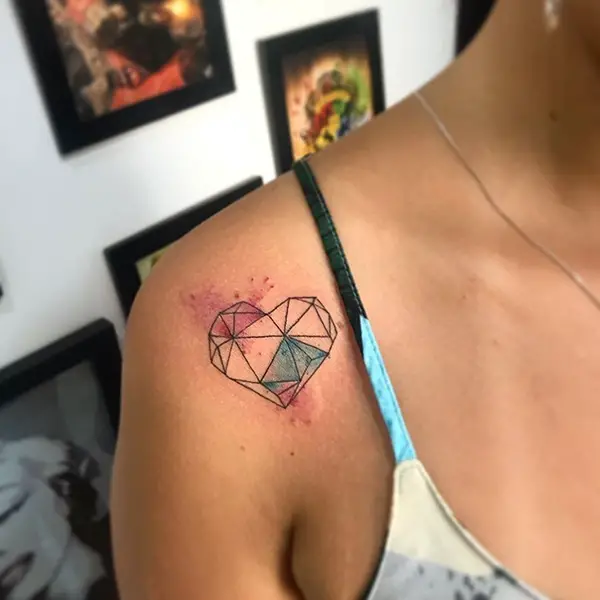 When you have a heart filled with compassion, kindness, and optimism, it is similar to a heart of a diamond, as it spreads happiness around. To indicate this, you can just get the heart tattoo with cuttings like a diamond and the splash of colors it has symbolizes the cheerfulness it spreads everywhere.
11. Quote Tattoo in the Shape of a Heart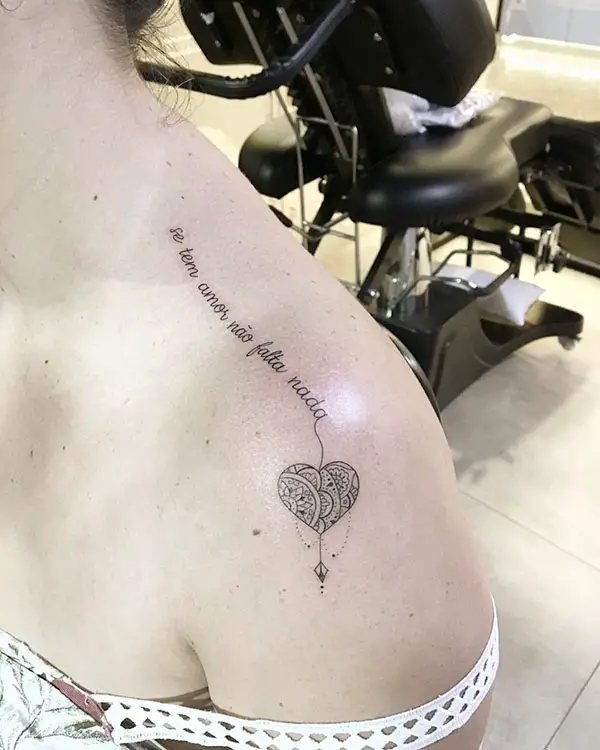 When a quote is close to your heart, you can get it inked in the heart-shaped, just as in this case "se tem amor não falta nada" is mentioned in Portuguese which means "if you have love, nothing is missing." There is a pattern design inside the heart, making it more adorable.
12. Initial in the Form of a Heart Tattoo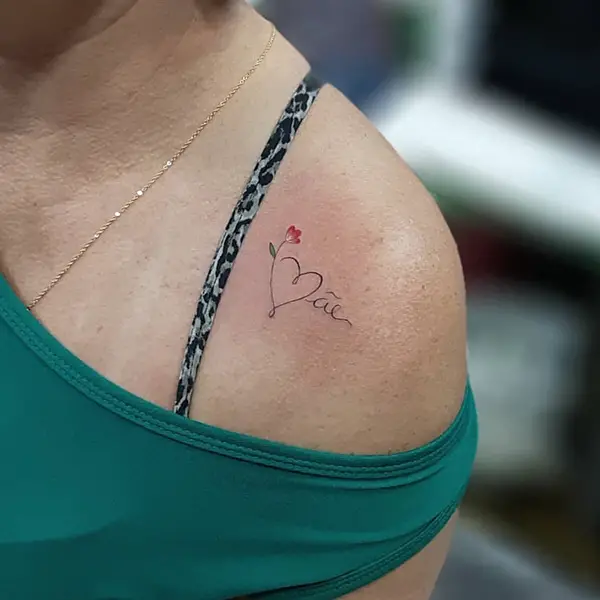 An artistic way of getting the initial of your loved one inked on your shoulders is as shown in the tattoo. To this, a tiny red tulip is added, which symbolizes confidence and happiness.
13. Heart Formed with Tiny Roses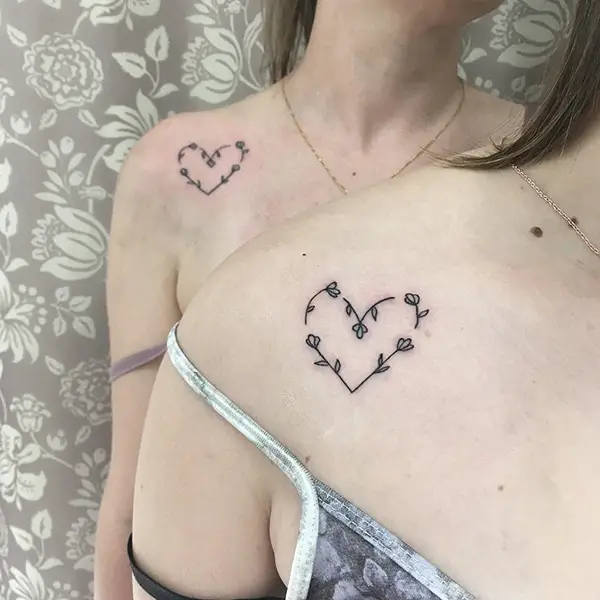 Roses are a symbol of love and passion and when you want a simple tattoo to represent these emotions, forming a heart shape with the tiny roses, is a perfect way. The tiny leaves along with the flowers make it more adorable. It can be inked on the arms or collarbone for a trendy look.
14. Patterned Heart Shape with Name Tattoo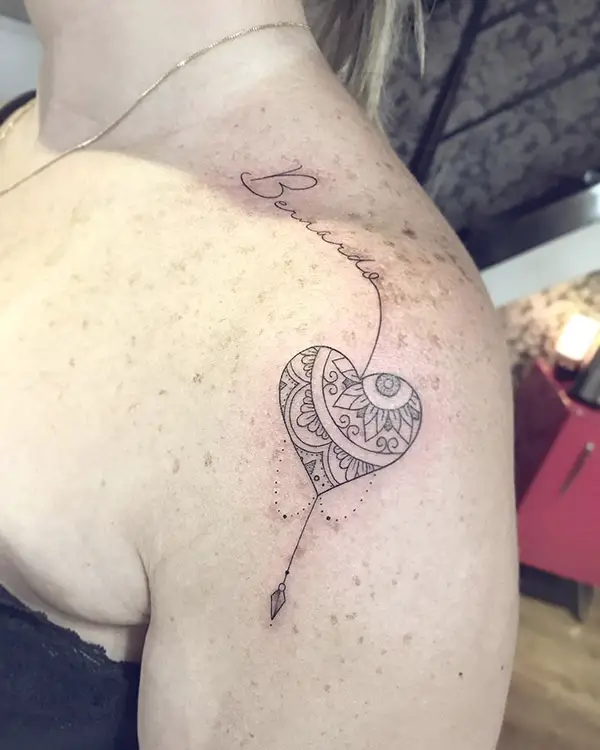 If you love mandalas and patterns in Mehendi designs, this heart tattoo with a pattern in it would be something you would love. Attach the name of your beloved one to this to show your love for them.
15. Colorful Heart with Green Leaves and Flowers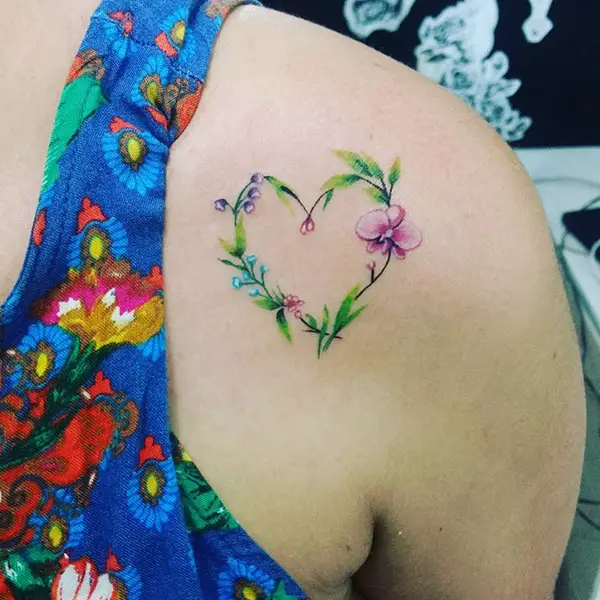 Want to add colors to a simple heart outline tattoo? A great way to do this is to add green leaves to its borders and colorful flowers. This signifies your joyful and happy life for which you are always grateful.
16. Heart with Rose and Name Tattoo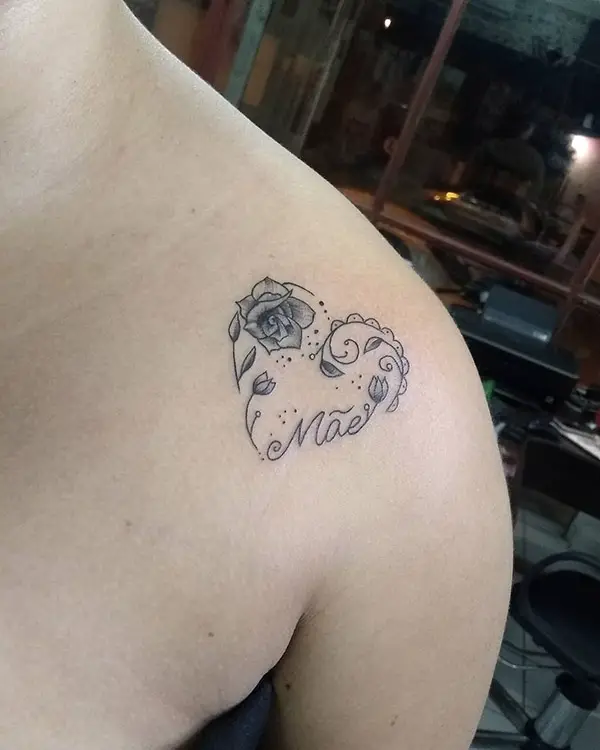 In this tattoo, a name is written and a rose with leaf and other tiny flowers are arranged in a way to create a heart shape. It is an artistic way of representing the name of your loved one.
17. Heart with Two Flowers and a Bird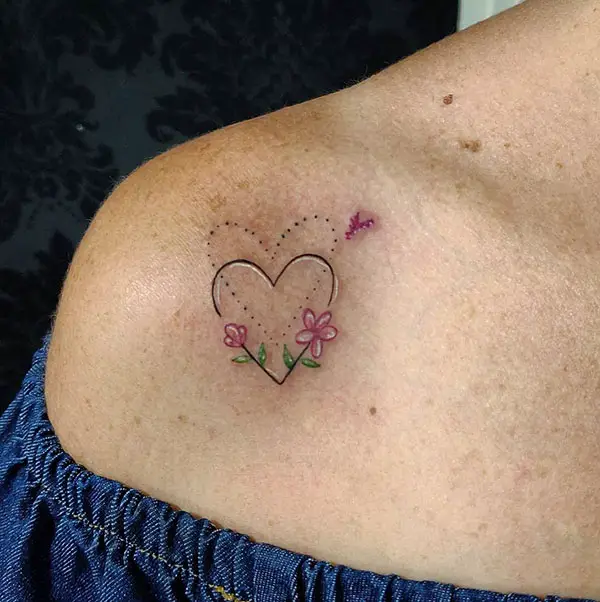 The dotted heart shows your heart in the past and the one with solid lines and flowers is the current state of your heart which is more cheerful and grateful for every moment in life. To this, the bird tattoo signifies your high ambitions in life.
18. Line Expressing Love for your Beloved One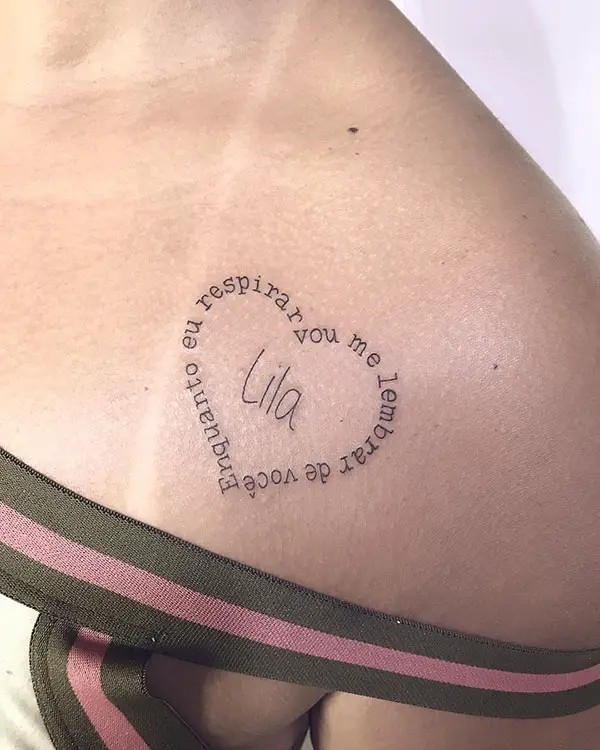 The tattoo mentions "Enquanto Eu Respirar Vou Me Lembrar De Você" in Portuguese which means "as long as I breathe I will remember you". Inside the heart, mention the name of your partner or someone who is close to your heart, to show how important they are to you!
19. Express Gratitude through a Multi-Colored Heart Tattoo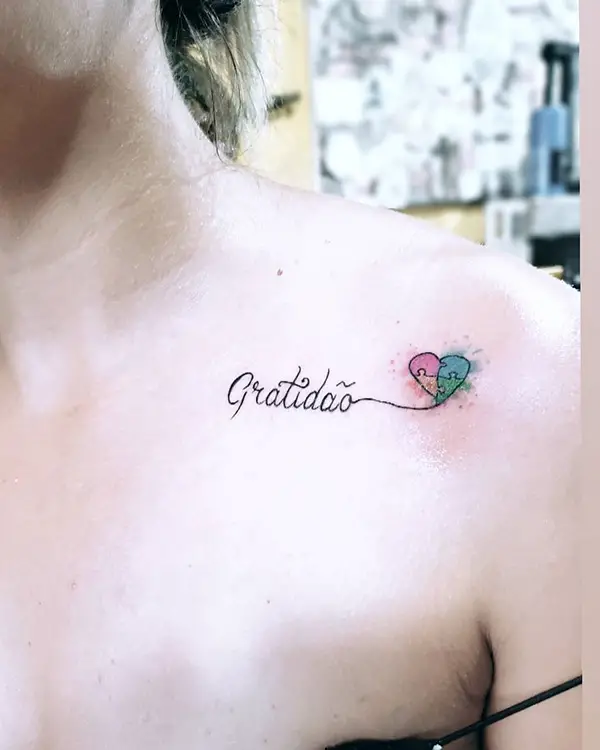 The tattoo mentions "gratidão' which is a Portuguese word meaning "gratitude". The heart attached to the word has different colors and it is shown as the parts are joined, as in the case of a puzzle, symbolizing that various circumstances in life have shaped you as the person you are today, for which you are extremely thankful.
20. Heart with an Initial and a Flower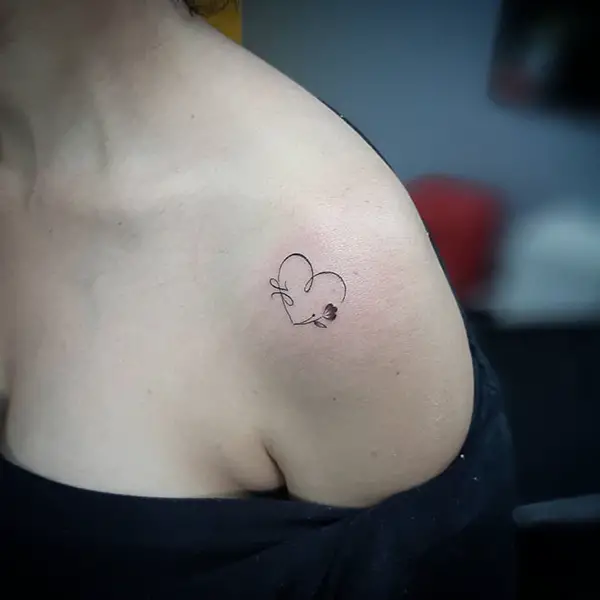 Show your love and respect for your partner with this simple heart-shaped tattoo having his/her initial on one end and a flower on the other end. Alternatively, you can even ink the initial of your name to remind loving yourself first whenever you see the tattoo.
21. Faith Heart Tattoo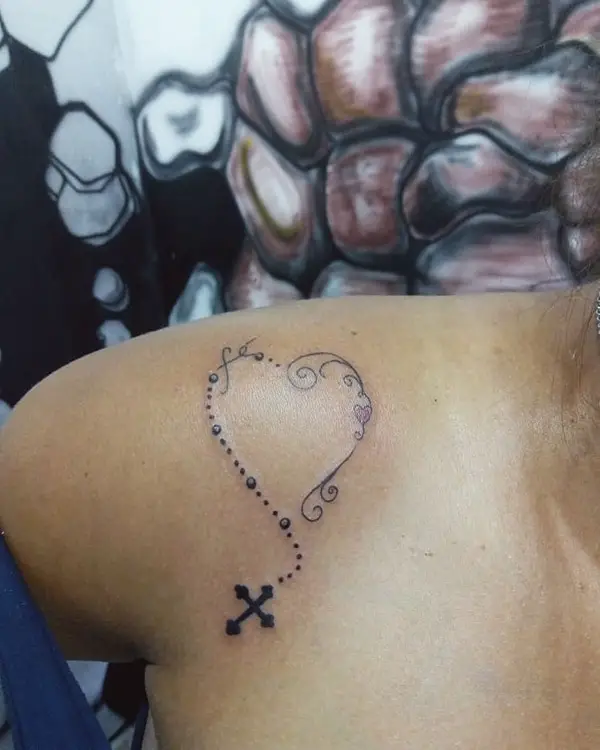 22. Friendship Heart Tattoo with Small Flowers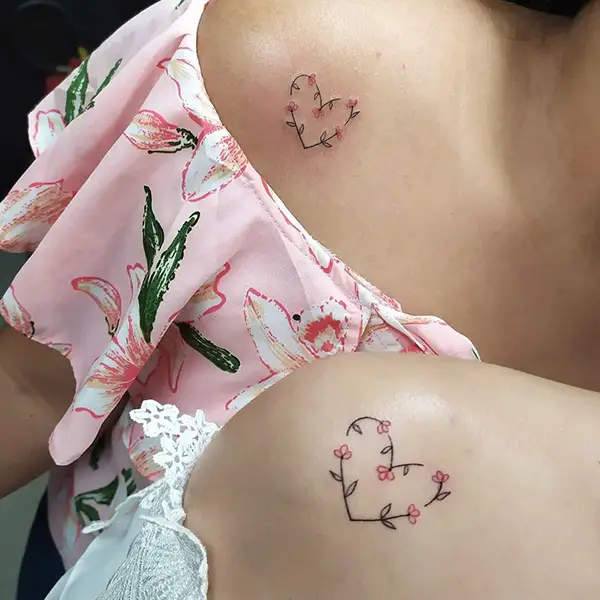 23. Heart Drawn with Flowers Tattoo
24. Heart Tattoo with Beautiful Floral Design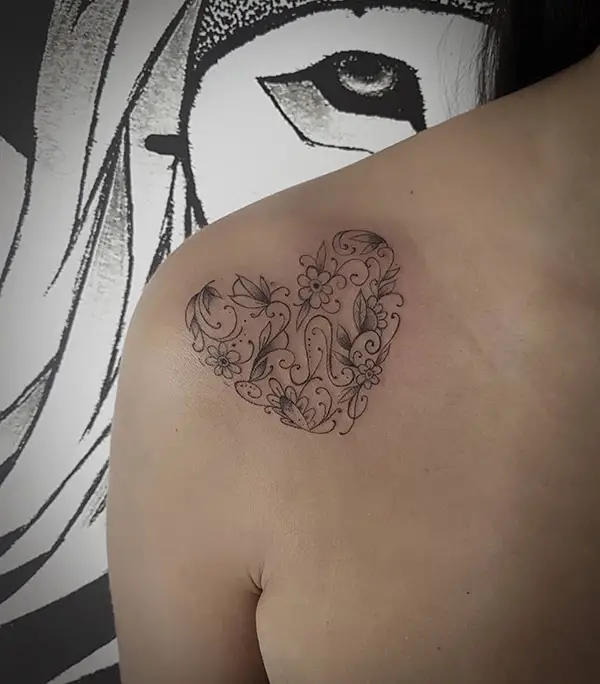 25. Heart Tattoo with Dots Outline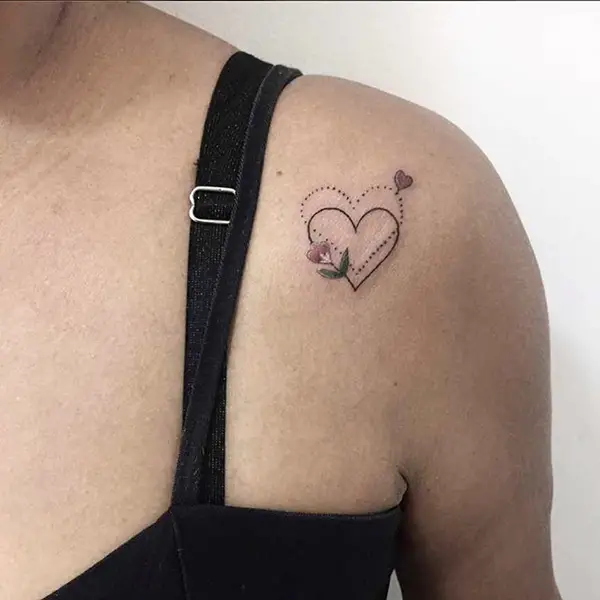 26. Heart Tattoo with Red Flowers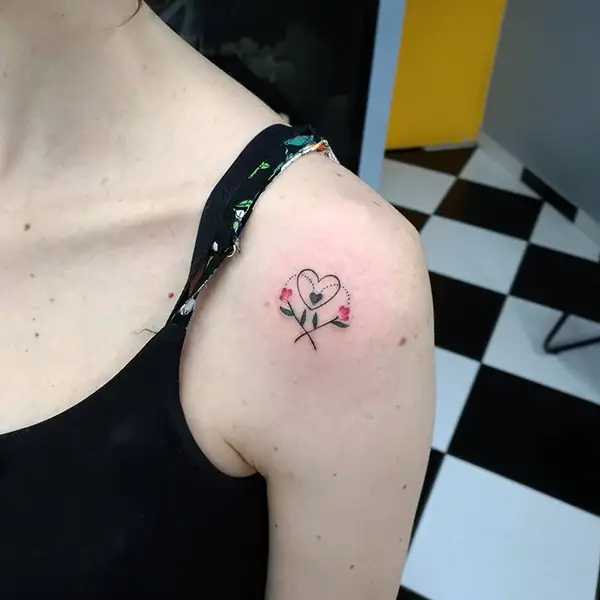 27. Heart Tattoo with Two Different Flowers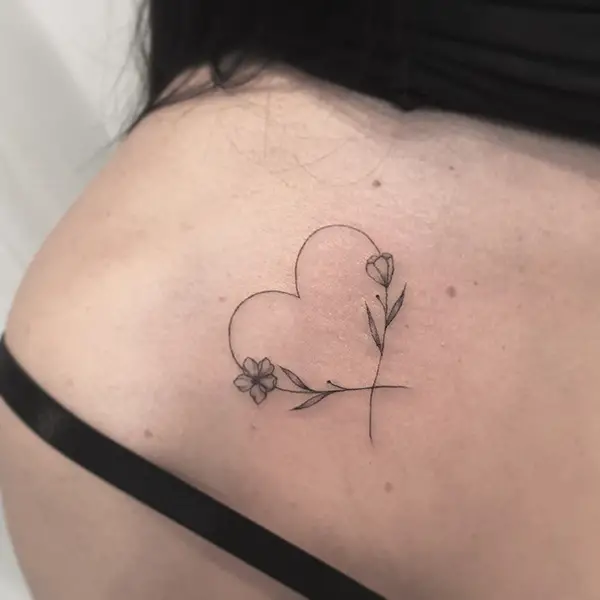 28. Print Heart Tattoo with important message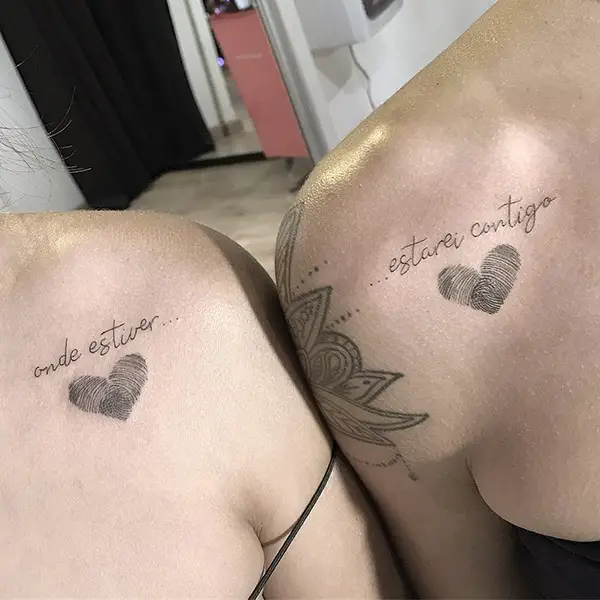 29. Simple Heart Design with Small Rose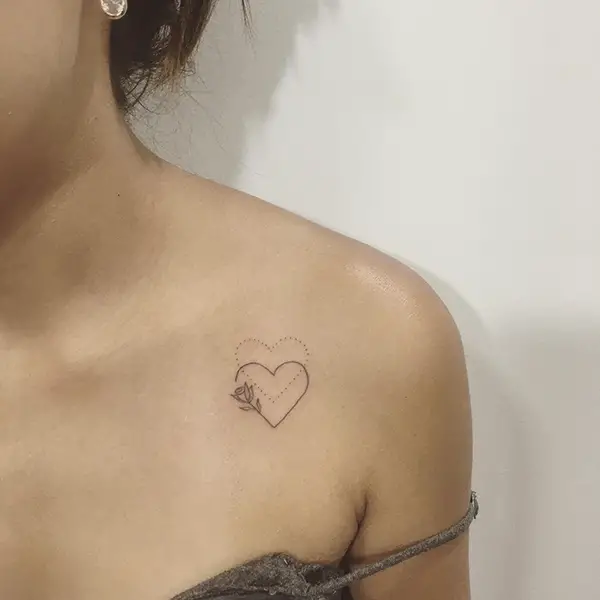 30. Simple Heart Tattoo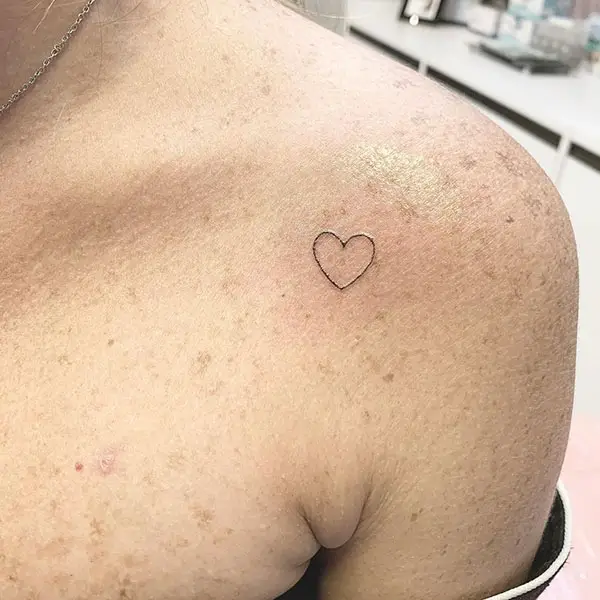 31. Watercolor Heart Tattoo on Shoulder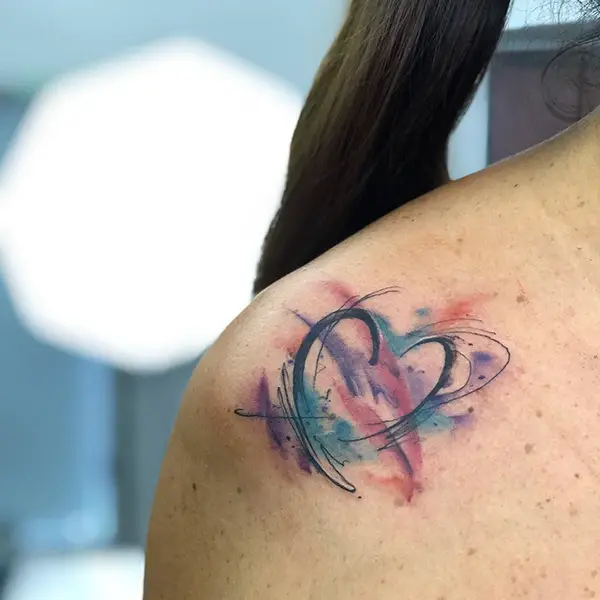 32. Watercolor Heart Tattoo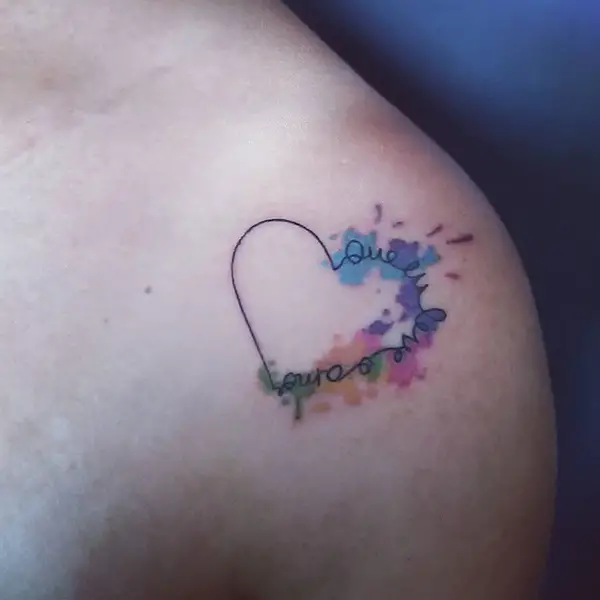 33. A Heart Means Affection and Love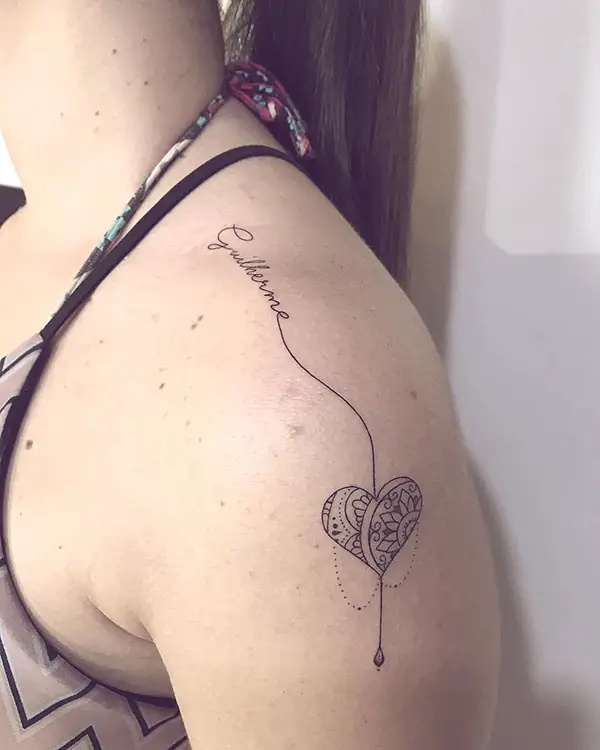 34. You can Honor Someone Who has Passed Away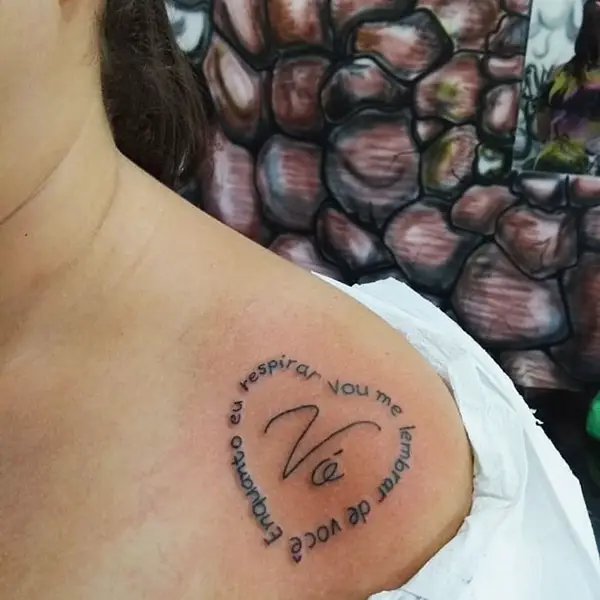 35. The Shadow Effect is Striking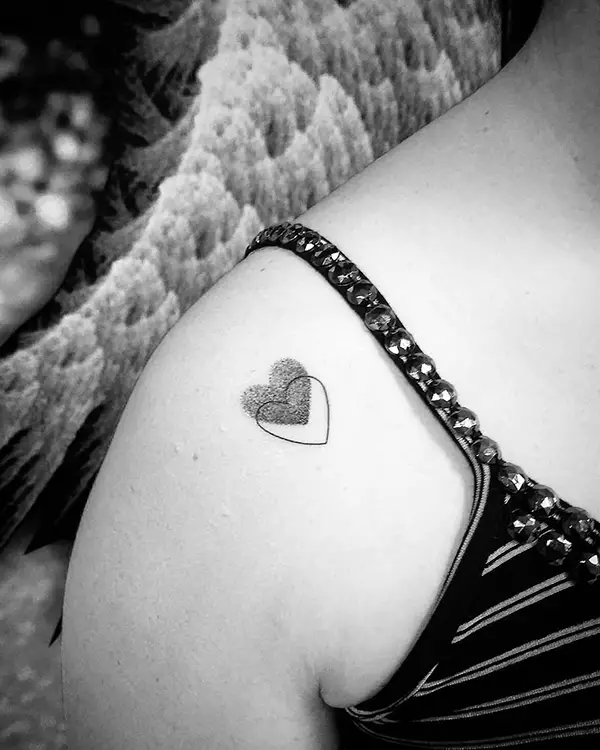 Recommended Topics: