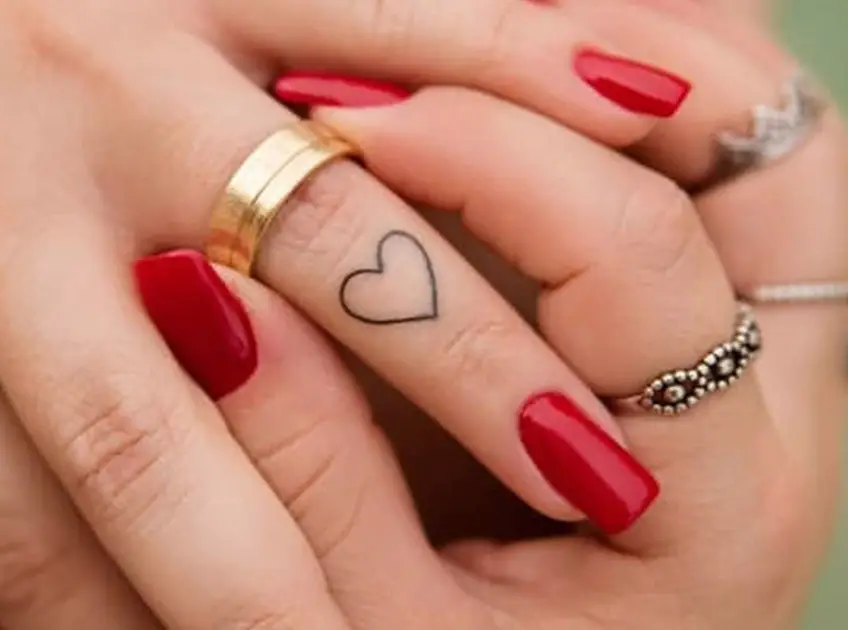 A heart tattoo is a sign of happiness and love. The color chosen to represent it can have various meanings. These are best for those who want to dedicate something to their dear ones. Let's see some of the best heart tattoo designs on fingers.
Beautiful Heart Tattoos on Fingers
1. Heart Tattoo on Ring Finger
Want to add a simplistic yet elegant touch to your ring finger? A simple heart outline below the ring fingernail will make your hands look beautiful. Painting the nails in red nail paint is the perfect combination for it.
[ Recommended: Heart Tattoo Designs on Shoulder ]
2. Broken Heart Tattoo with Thunder Tattoo
This broken heart tattoo on the ring finger indicates feelings of intense pain but since the broken parts are still connected, it shows that you have overcome the hard times. The thunderbolt tattoo shows that you are strong now and learned from life enough, to deal with any situation.
[ Recommended: Inspirational Quote Tattoo Designs ]
3. Heart Tattoo with a Hot Beverage Cup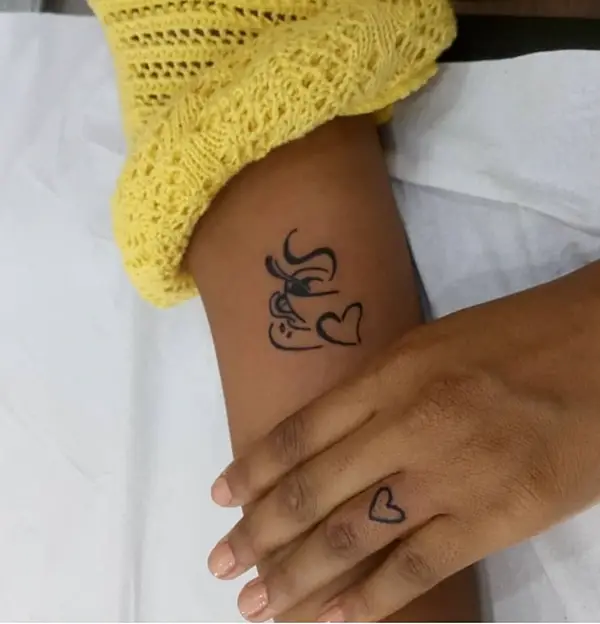 Can't imagine your day without a hot beverage? Get a heart tattoo outline on your ring finger and a heart with a hot beverage cup on the other hand to show your deep love for it.
[ Recommended: Beautiful Ankle Tattoo Designs and Meanings ]
4. A Concealed Heart Tattoo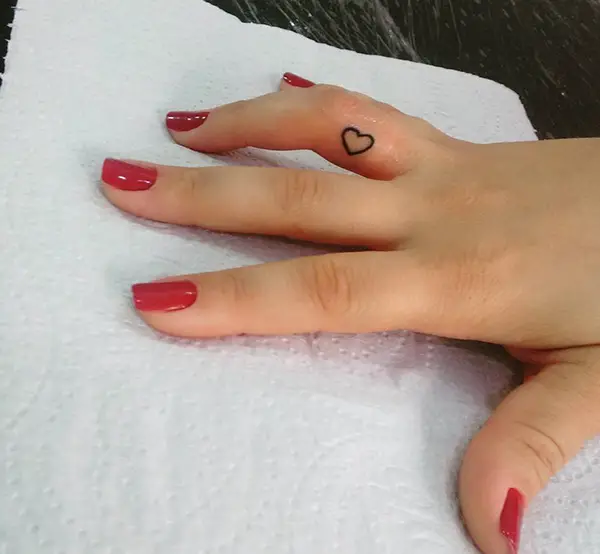 Love heart tattoos but don't want to reveal them to others often? Get it inked in the side of your finger for feeling cute. Whenever you look at it, it will remind you of your lovable life partner.
5. Tiny Heart Outline Tattoo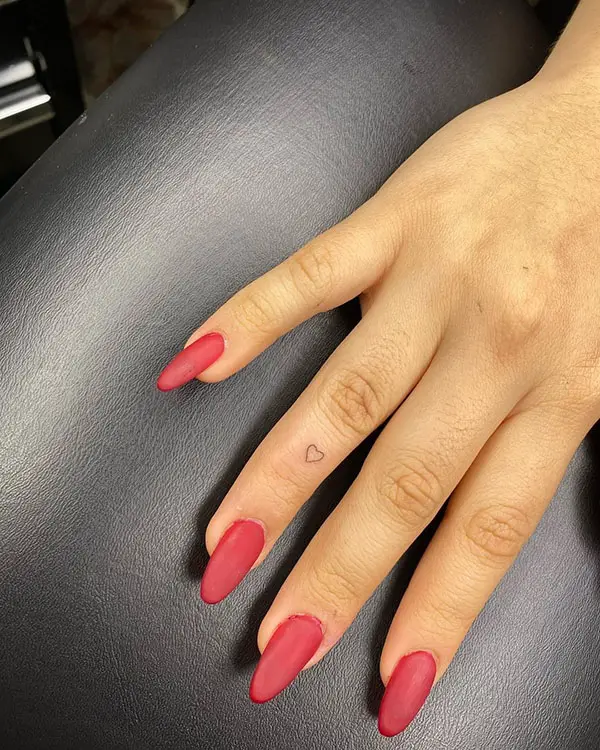 Do you fear getting intricate designs inked? This mini heart outline tattoo on your ring finger is the simplest one with the least pain and can still make your finger appear lovable when paired with painted nails.
6. Heart Tattoo on Middle Finger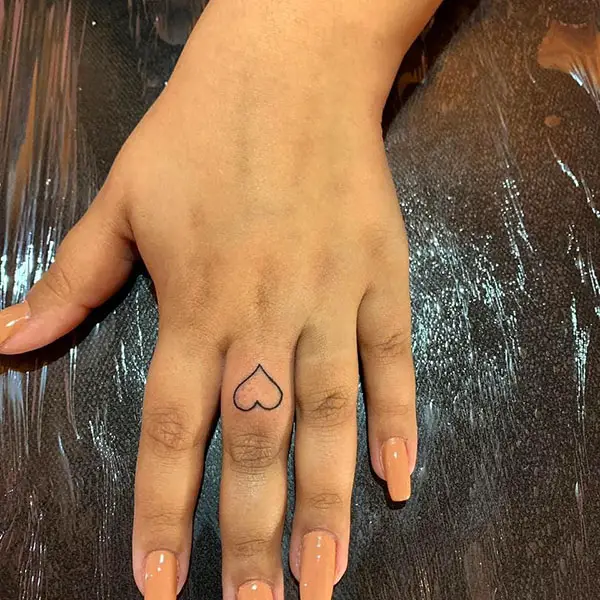 This heart tattoo represents love for oneself and a caring spirit. Looking at it reminds you that self-care is important to spread love and happiness around.
7. Color Filled Heart Tattoo with a Black Outline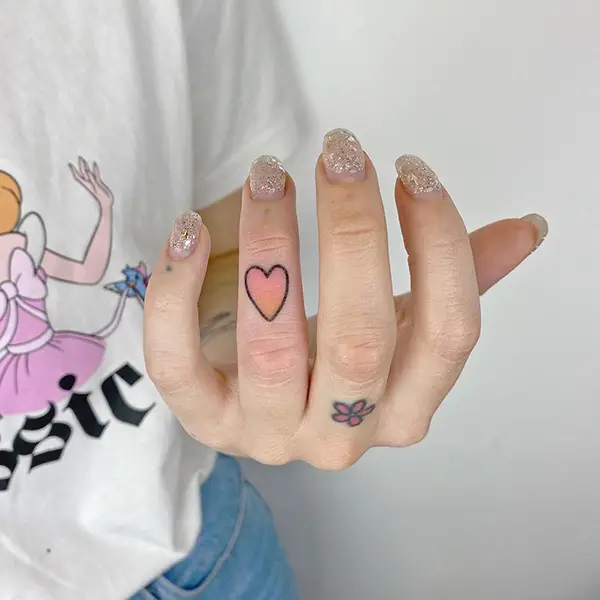 Don't like empty heart outline tattoos? Fill it with subtle pink color and a pink flower on the middle finger to create a classy look that looks great with glittery nails.
8. Heart Shape Tattoo as a Replacement for Ring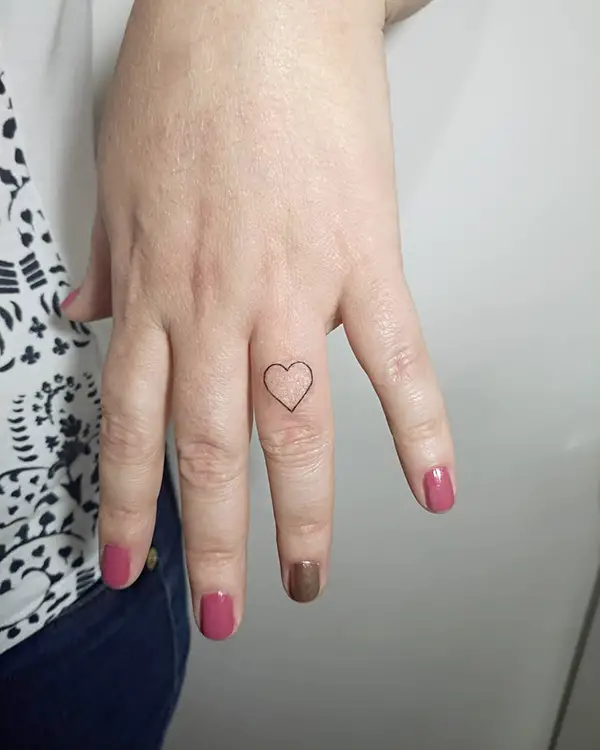 When you don't like to put on jewelry often but still want to make your fingers appear fashionable, this heart-shaped tattoo on the ring finger is the best one you can have. It eliminates the need for putting on jewelry when you are going out.
9. Heart Tattoo on a Pot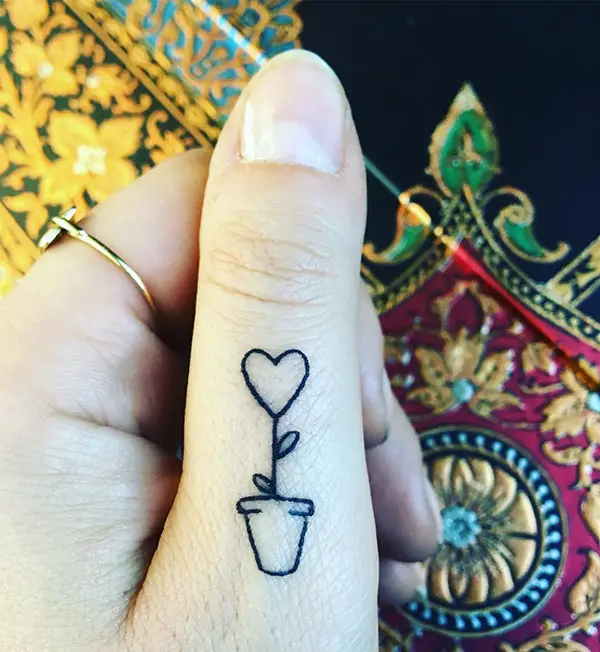 Love plants? Show your love for them with a heart-shaped tattoo on a pot with leaves on the stem. This shows how connected you are with nature through the plants.
10. Tiny Heart Tattoo for Every Finger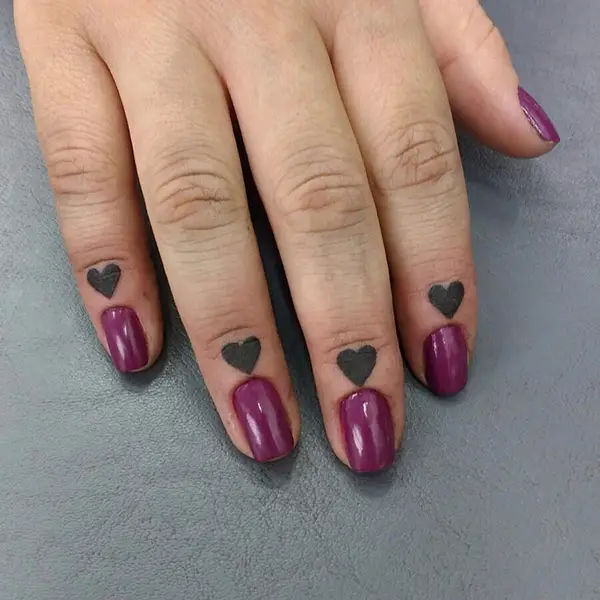 Love applying minimalistic Mehndi on your hands but don't have enough time? Add these tiny heart tattoos below the nails for an adorable look even without Mehndi.
11. Heart Tattoo and Flower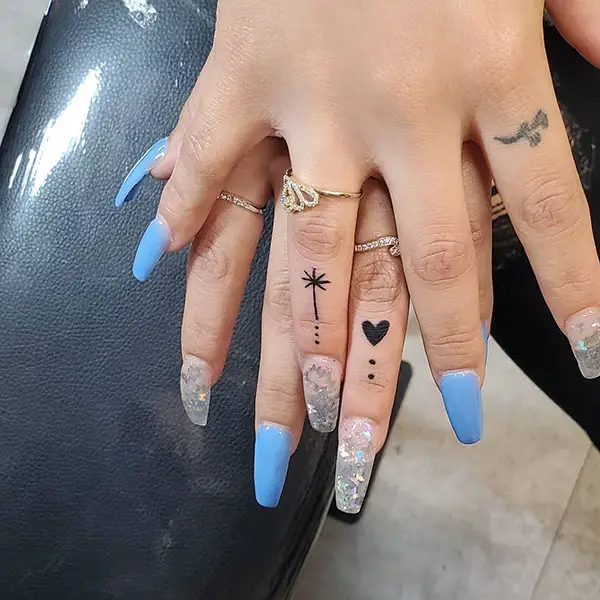 When you want to go for multiple tattoos on different fingers, you can make a small flower, an asterisk with long steam, and a heart on separate fingers. The black heart symbolizes the grief or death of your beloved one.
12. Heart Tattoo with Three Dots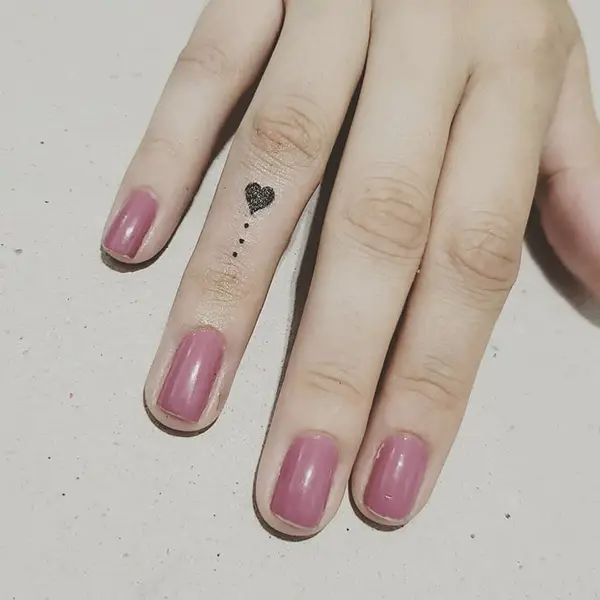 This tattoo symbolizes emotional feeling and is suitable for those with a morbid sense of humor. Apart from this, it adds a fashionable touch to your finger with painted nails.
13. Heart and Stars Tattoo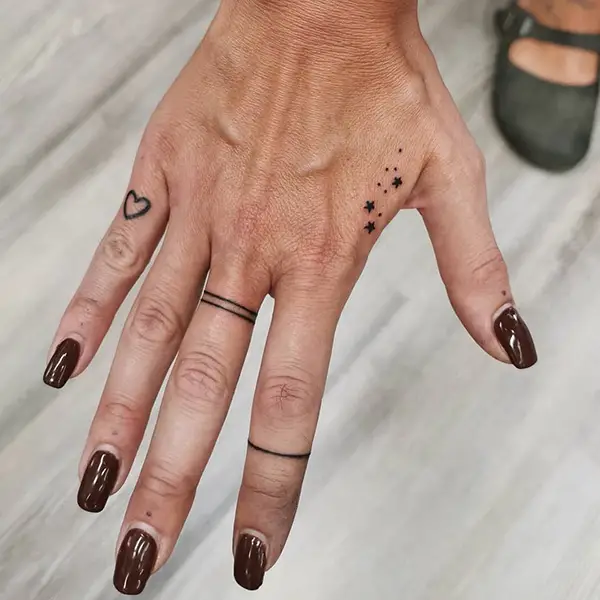 This is a simple heart outline tattoo on a little finger with stars between the index and thumb finger. There are plain ring tattoos made on the index and middle finger, all of which create a trendy look.
14. Holy Cross and Heart Tattoo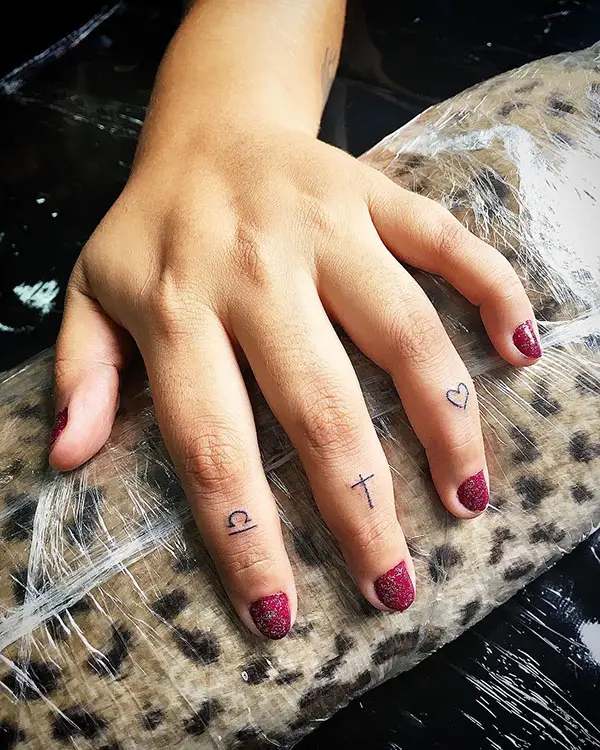 When you want to get multiple fingers inked but still prefer to be minimalistic, then make a small heart tattoo on one finger, a holy cross on the other finger along with any of your favorite symbols on the remaining fingers below the nail. The holy cross and the heart signify your immense love and faith in the Almighty!
15. Heart Tattoo with Multiple Elements in other Fingers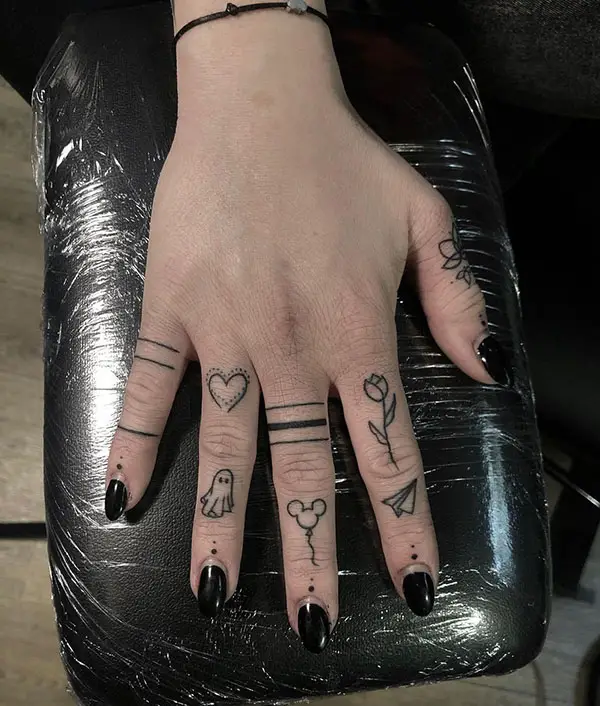 This tattoo has various elements such as a mickey mouse head, ghost paper plane, flower with leaves along with a heart tattoo. All these together show the childish nature in you even when you have grown up, besides creating a stylish look.
16. Heart Tattoo with Initials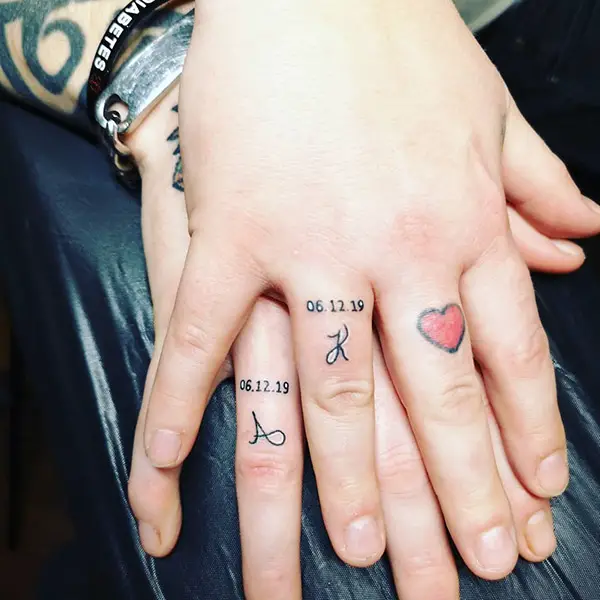 The best way to show love for your partner is to get the name initials inked on each other's fingers with the anniversary date. Along with this, a red heart tattoo on one finger symbolizes your love and respect for one another.
17. Heart Tattoo with Playing Card Symbols Tattoo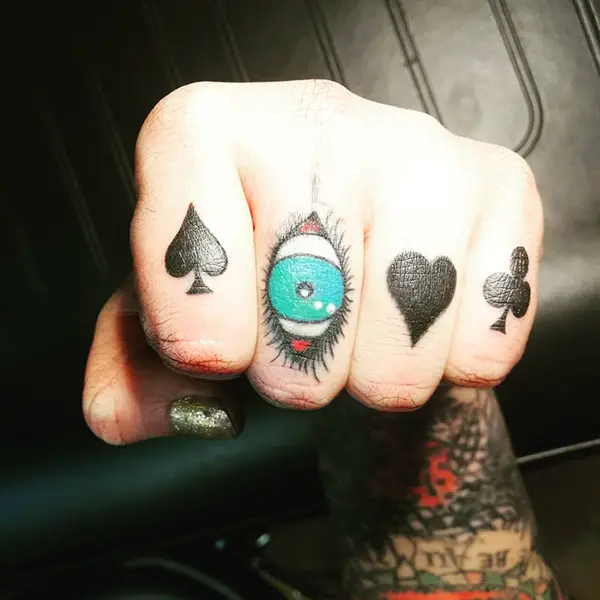 When you love playing cards, then getting the heart, club, and spade tattoo inked on the fingers is a great way of showing that as your favorite game. The diamond symbol is replaced with an eye, symbolizing your observation power and expertise in the game.
18. Heart Tattoo and a Crown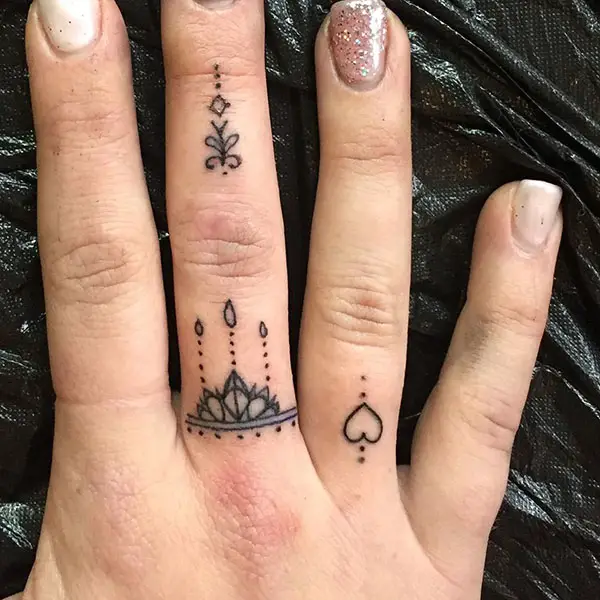 Want a subtle yet elegant tattoo for your fingers? Get the crown symbol with the pattern as shown above on the middle finger and a tiny heart symbol on the ring finger.
19. Heart Tattoo with an Eye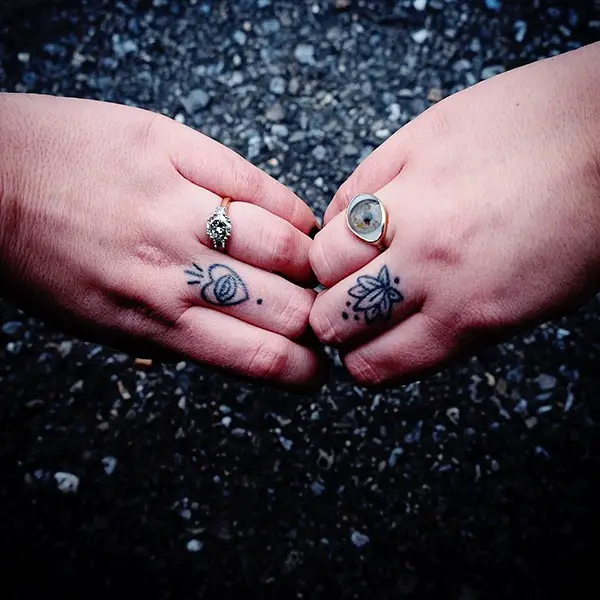 A heart with an eye symbolizes your foresight about intense love. Along with this, a lotus tattoo
represents rising above your temptations to become a better person with purity at heart and spiritual awakening.
20. Heart Tattoo in The Form of a Diamond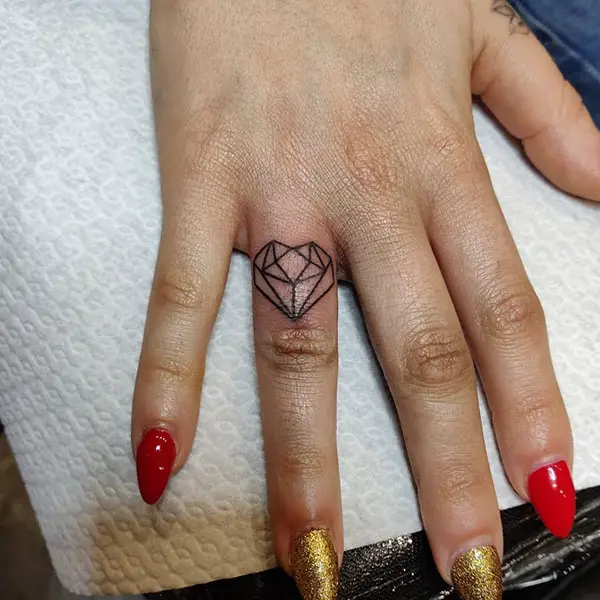 This heart symbol is inked in the form of a diamond with geometrical cuttings. This symbolizes that you have a heart of diamond or may also imply that your loved one is precious as a diamond, as it is inked in the ring finger.
21. Broken Heart Tattoo on Ring Finger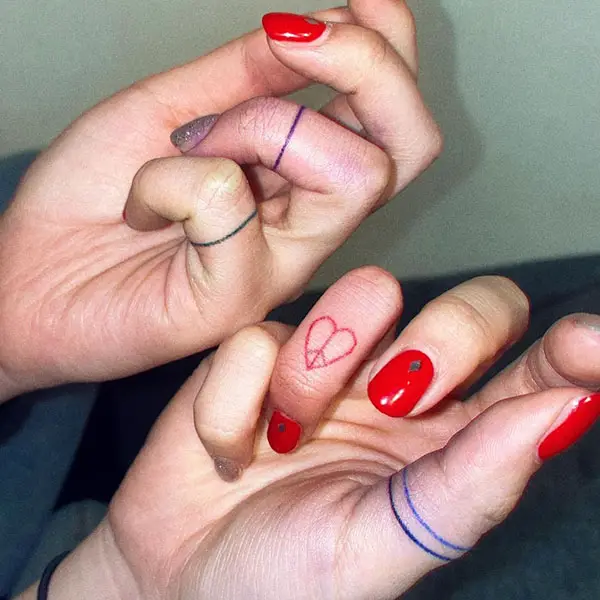 22. Heart Shape Tattoo on Ring Finger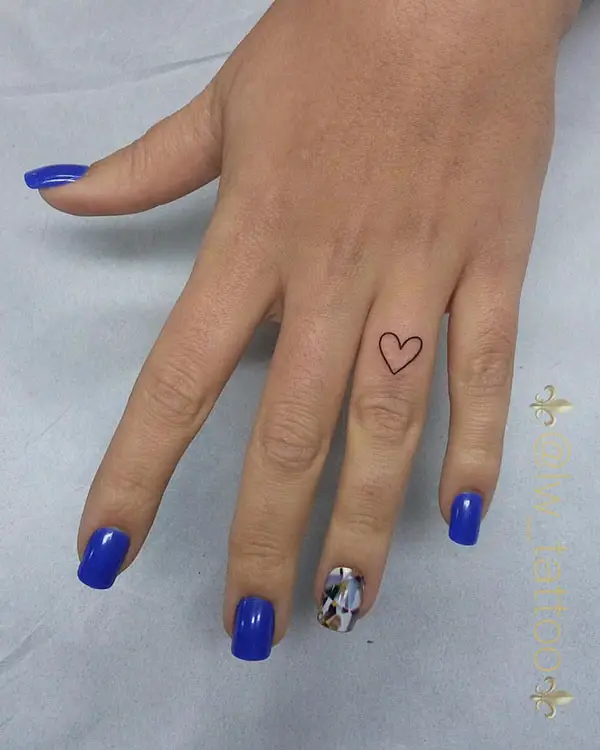 23. Heart Tattoo with Shading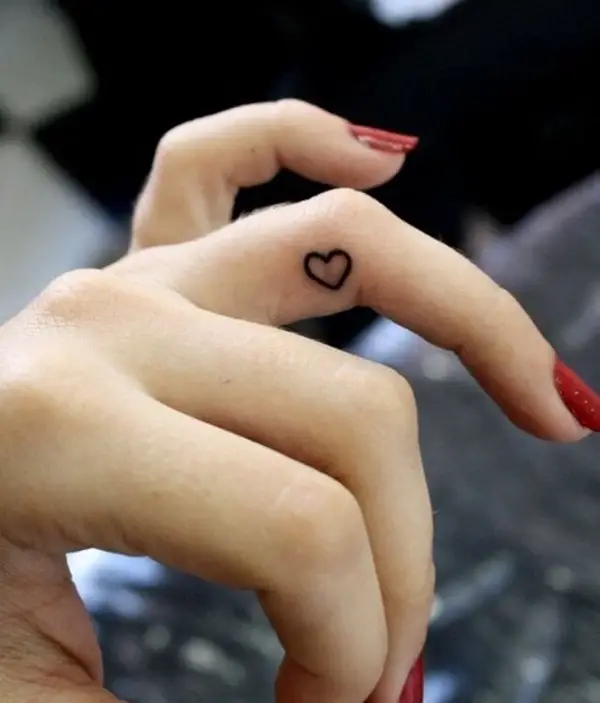 24. Heart Tattoo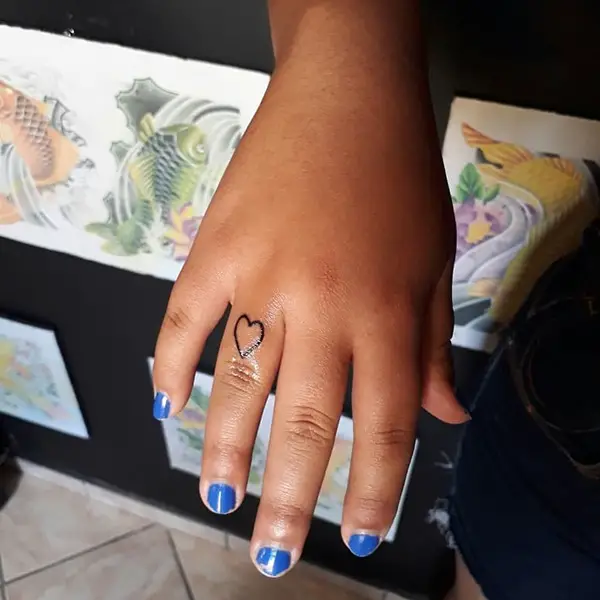 25. Red Heart Tattoo with Dots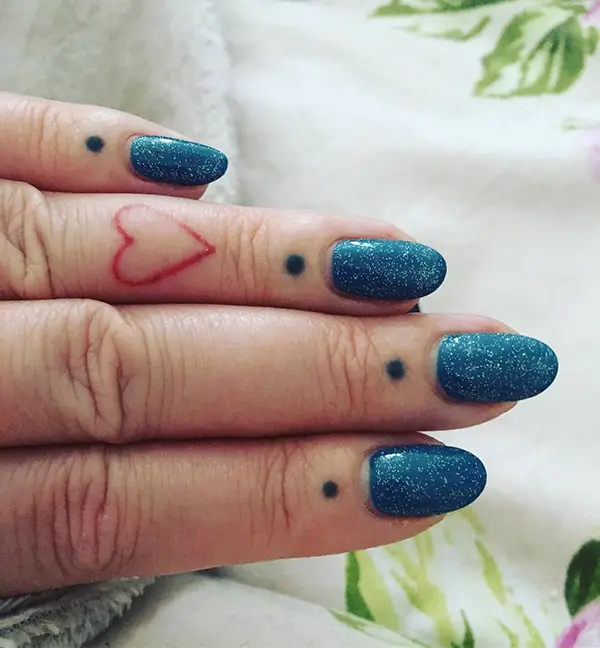 26. Red Heart Tattoo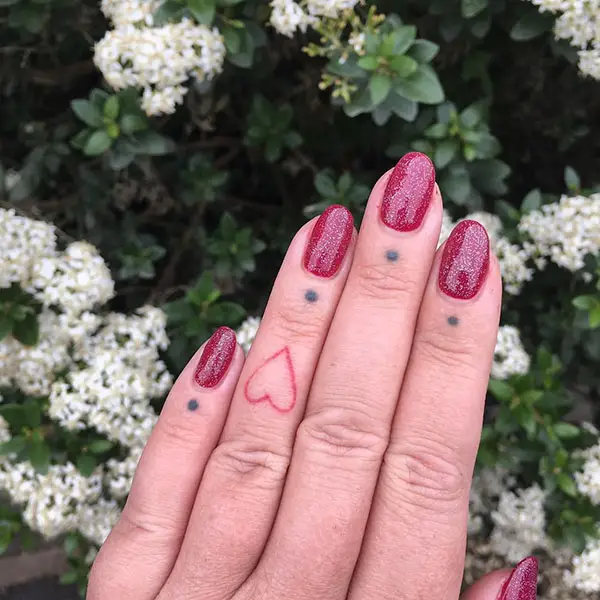 27. Simple Heart Shape Tattoo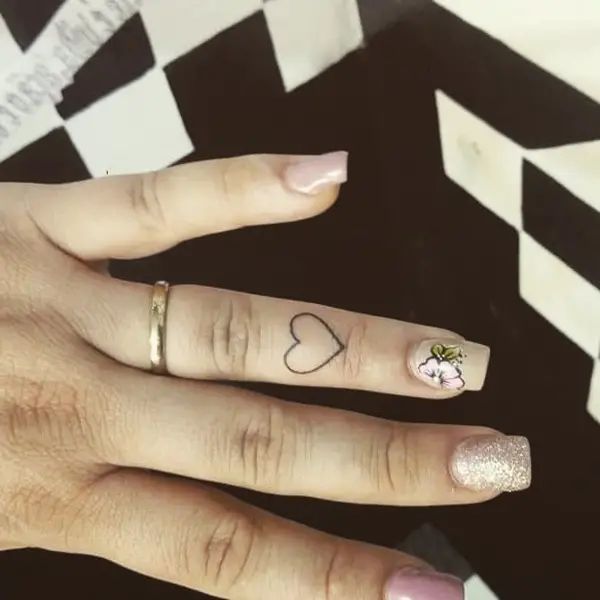 28. Simple Heart Tattoo on Ring Finger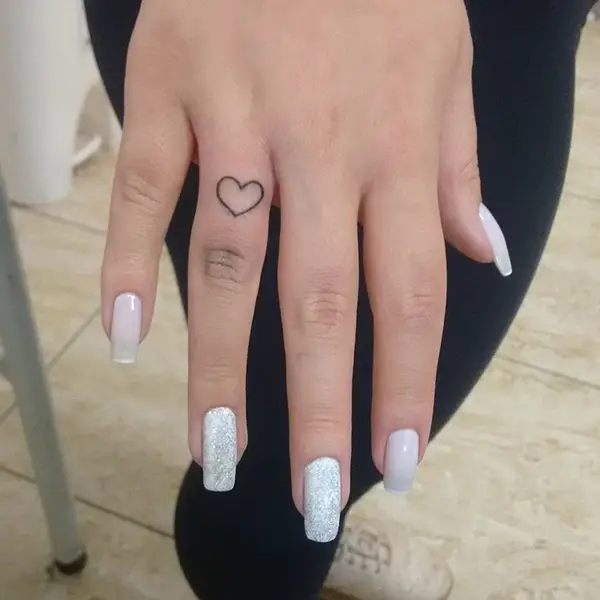 29. Simple Heart Tattoo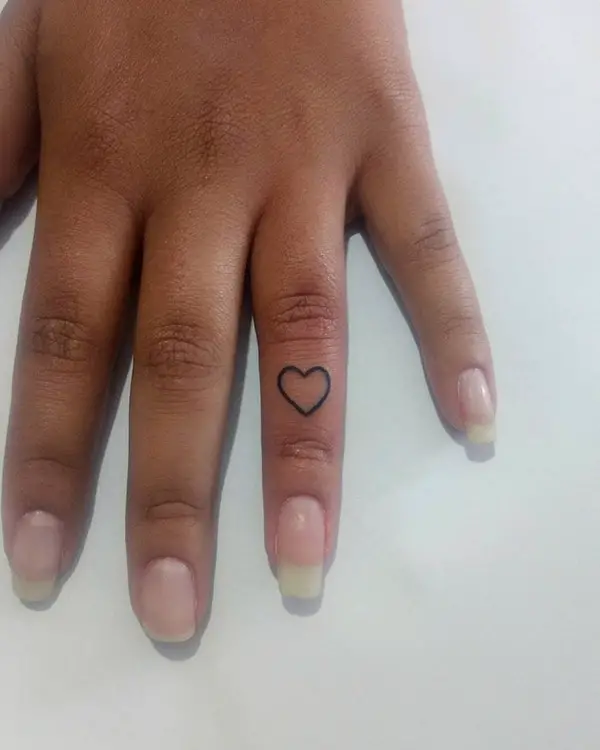 30. Small Heart Tattoo on Middle Finger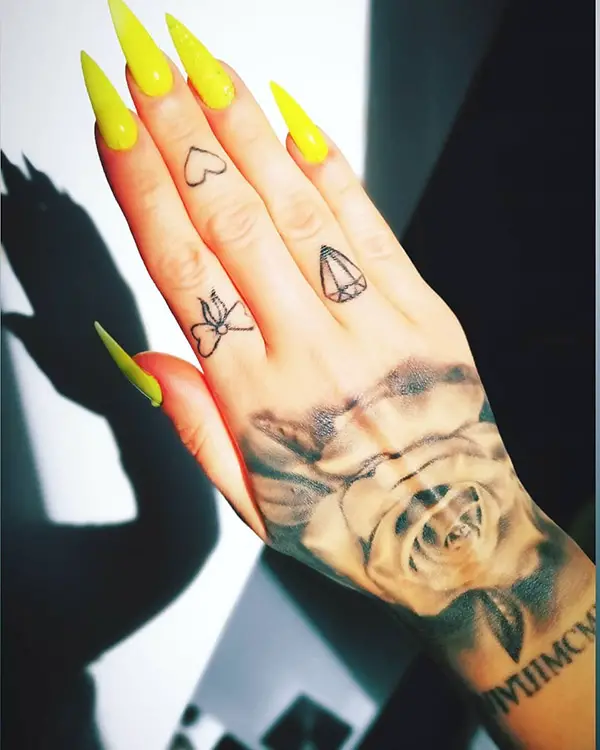 31. Small Heart Tattoo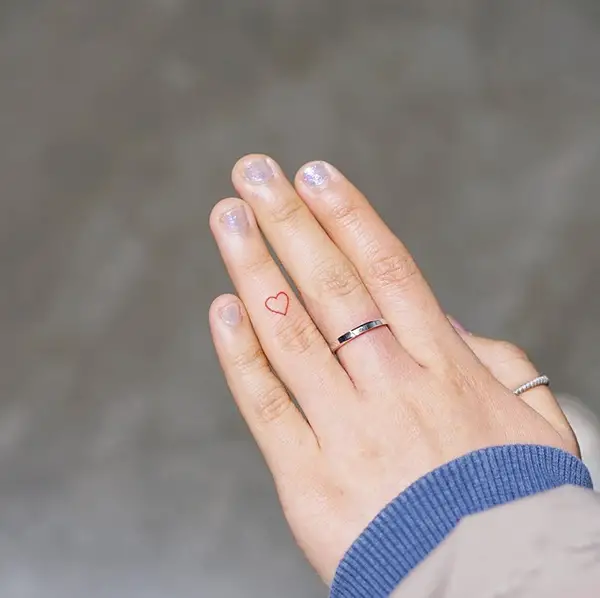 You Might Also Like: