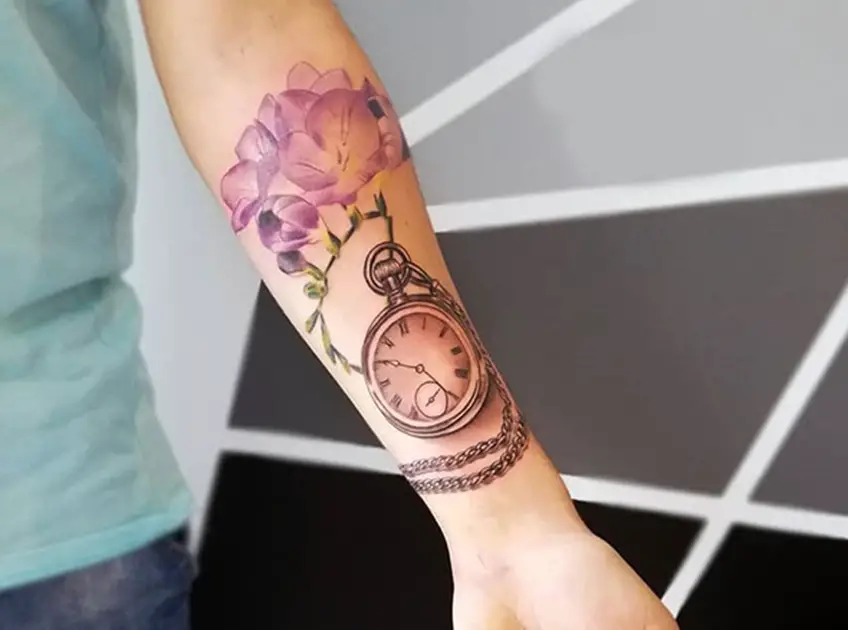 A clock tattoo symbolizes life and death. It reminds us of the mortality of human existence. The tattoo can also be used to reference some specific special moment in life.
1. Clock Tattoo with a Name and Date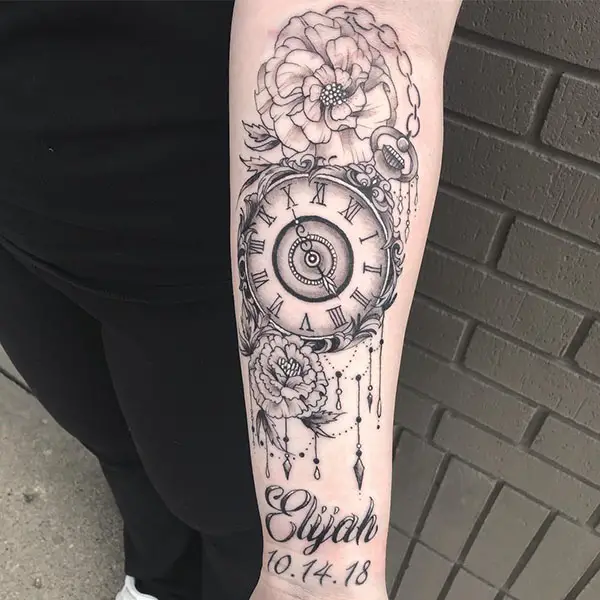 Get a special date inked on your arms with the name of the person associated with the name. The clock can mark a memorable moment that will always remain close to your heart. The flower over the clock adds a feminine touch to the tattoo.
[ Recommended: Hourglass Tattoos Designs for Men and Women ]
2. Clock with a Black Rose Tattoo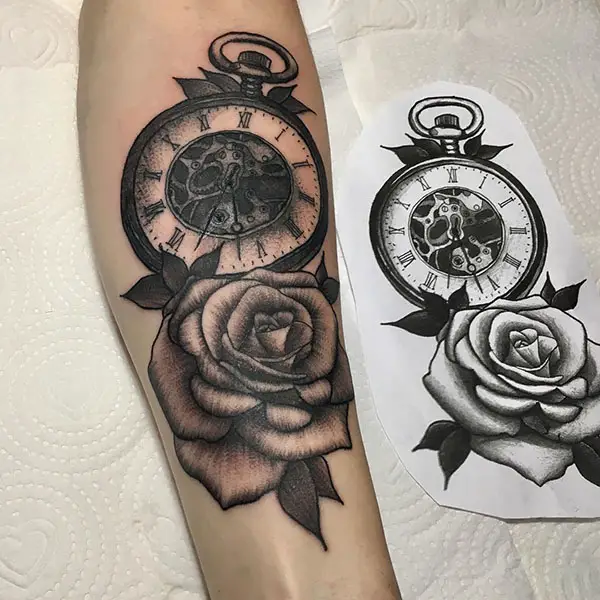 When you want to add a gothic or mysterious touch to your tattoo, get it done in black and white. The black rose beside the clock indicates sorrow over the loss of your beloved one.
[ Recommended: Amazing Dragon Tattoo Designs & Ideas ]
3. Partial Clock and Compass Tattoo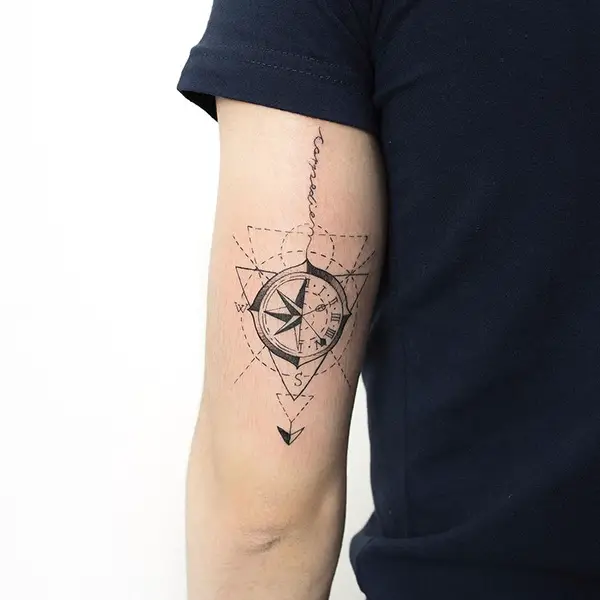 This is an interesting way of showing a clock and compass. Together it symbolizes how time is capable of changing things in life, no matter whether we like changes or not. Hence, we need to accept the changes wholeheartedly and move on in life.
[ Recommended: Beautiful Dog Tattoo Ideas for Dog Lovers! ]
4. Clock with a Compass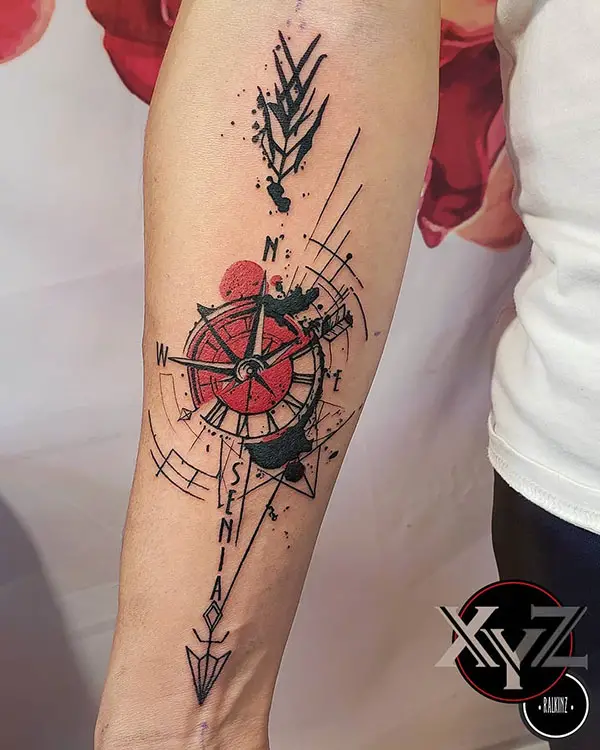 This is a meaningful tattoo signifying that time can change the direction of how things are going on in life. SENIA mentioned in the arrow mark indicates that the Special Education Network & Inclusion Association has brought in good times for the differently-abled individuals by providing them support.
5. Sand Clock with Sunflower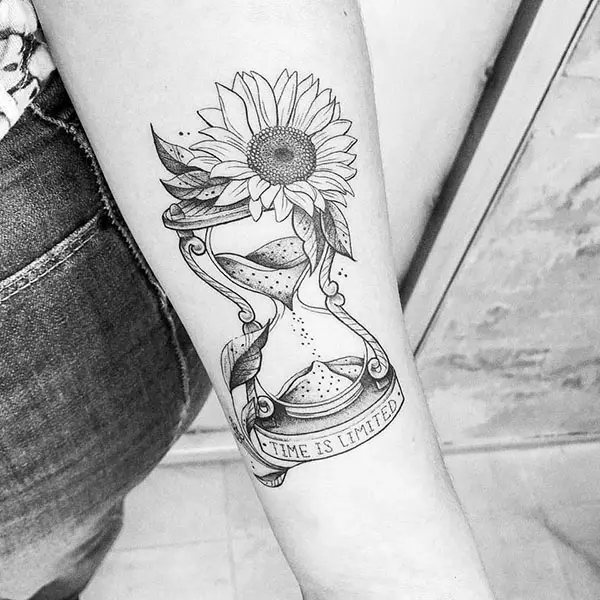 A sand clock shows the passage of time, symbolizing that time never stops for anyone. The sunflower beside it symbolizes happiness and good times. Together the combination shows that be it good or bad times, it never remains forever.
6. Hourglass and Anchor Tattoo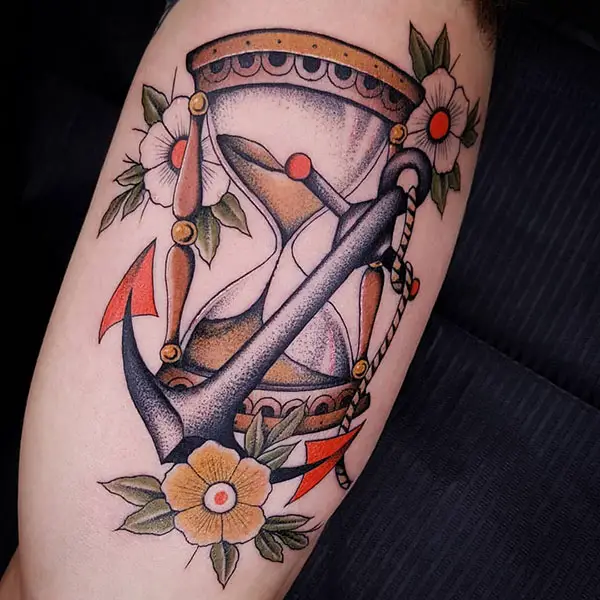 The hourglass shows the importance of time, especially the rough phases which teach us many things. Anchor beside it symbolizes that we need to be firm and tranquil during tough phases of life. The coloured flowers and leaves around the tattoo add elegance and create a fashionable look.
7. Clock with a Dreamcatcher Tattoo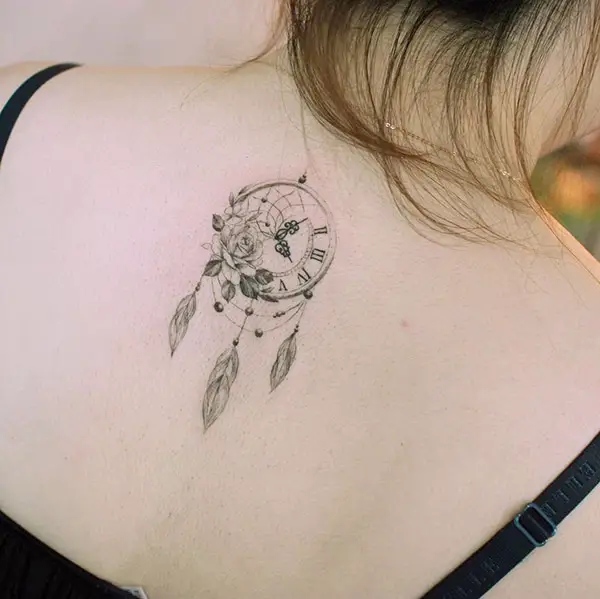 The clock has a rose beside it, which indicates loving memories in life. Dreamcatcher attached it reminds you to avoid negative thoughts and catch only good and positive vibes in life.
8. Black and White Sand Clock and Flowers Tattoo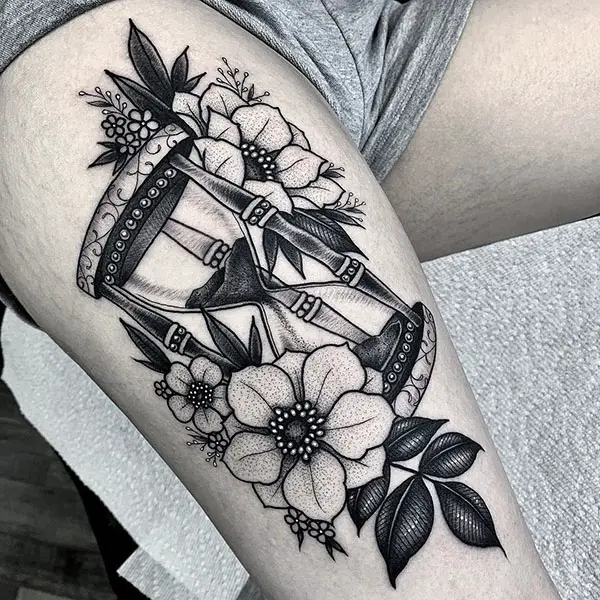 This tattoo doesn't have any colors, yet it results in a bold look with the shadings done in black. The flowers symbolize nature and the combination indicates the eternal nature of time.
9. Clock and Red Roses Tattoo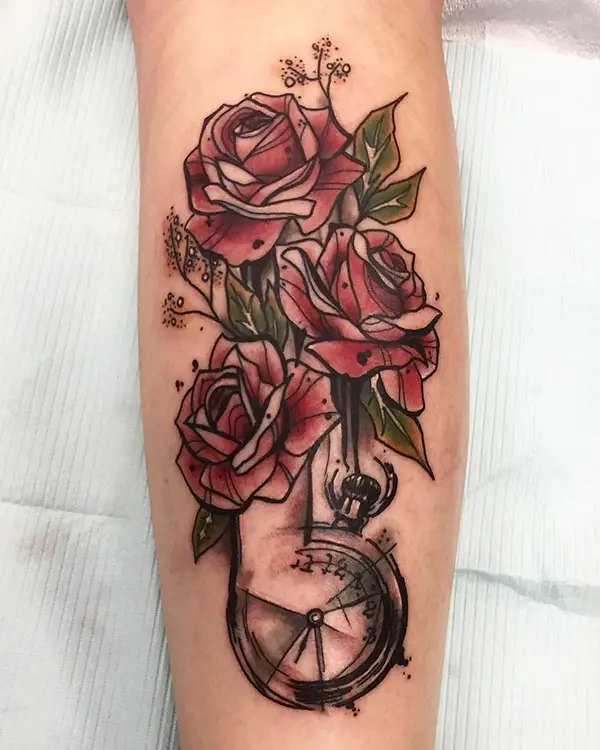 The red roses with the clock symbolize that you honor and respect time. You admire the things that time gets you through in life and try to learn from the incidents.
10. Black Clock with Pink Flowers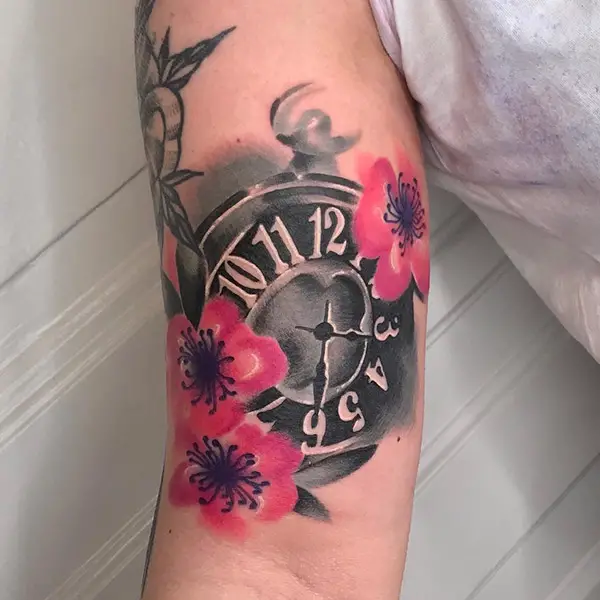 The black clock is made in a way to make it appear as a 3D clock. The hazy pink flowers with the clock add a mysterious touch to it.
11. Two Clocks with Elements of Nature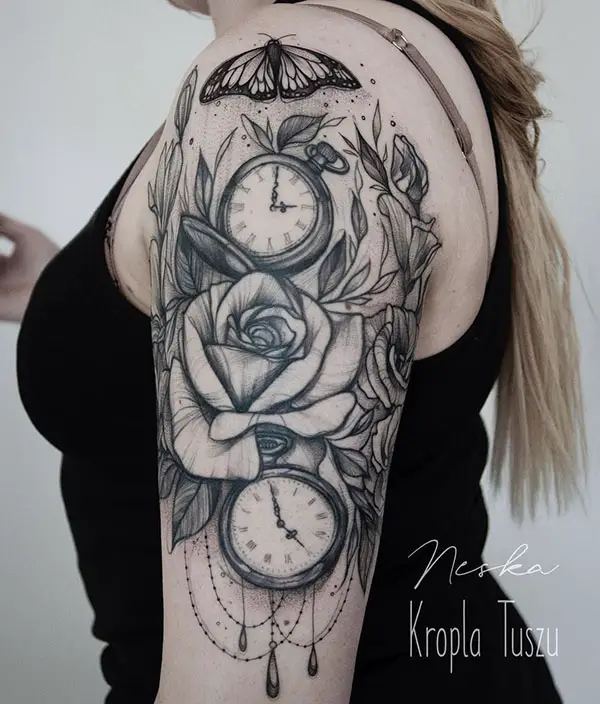 This is an intricate tattoo with rose, leaves and butterfly which symbolizes transformation over time. The two clocks can be used to indicate two important turning points in life which brought remarkable changes.
12. Heart Shaped Clock with Red Roses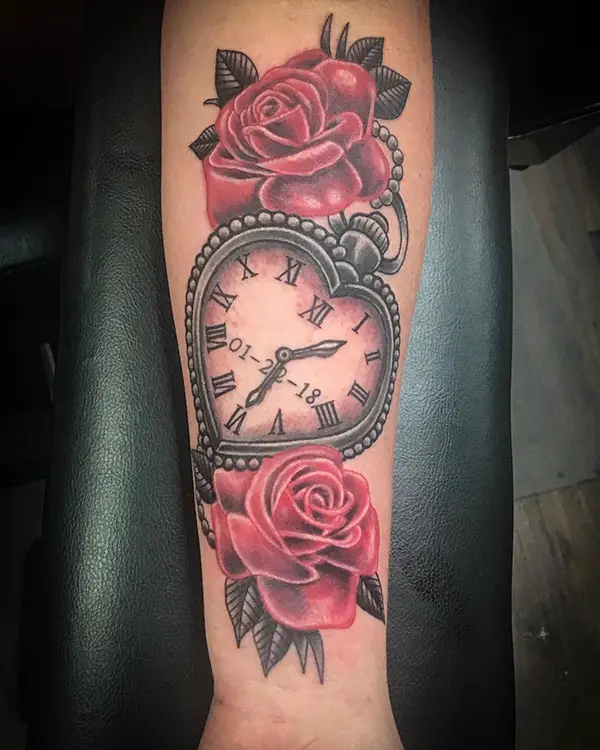 This is the most adorable tattoo you can get inked to show how you have a memorable time with your partner. The red roses with the clock symbolizes eternal love.
13. Clock with a Butterfly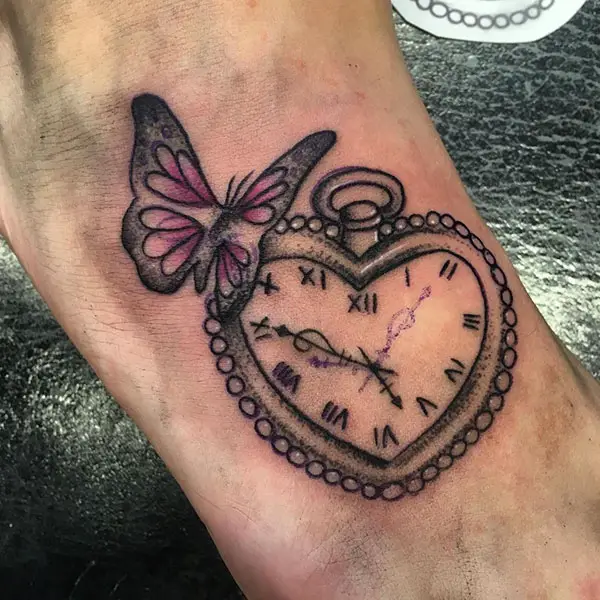 This simple heart-shaped clock with a butterfly sitting on it symbolizes transformation with time. The purple color of the butterfly adds a classy touch to the tattoo.
14. Designer Clock Tattoo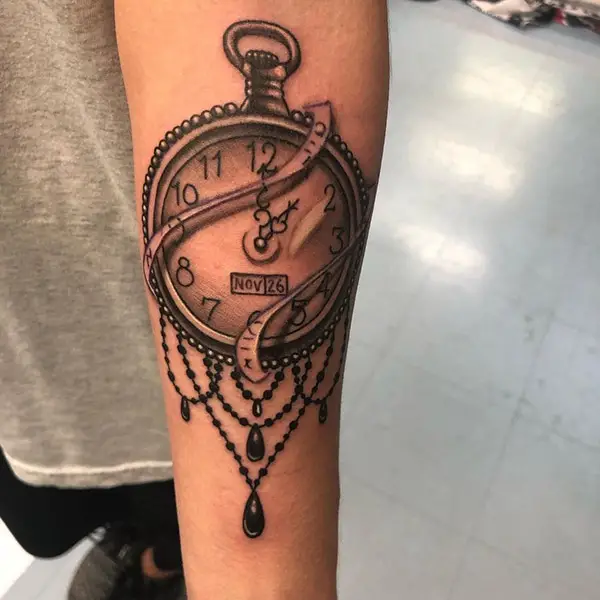 Clock signifies the mortal nature of humans. The dangling's from the clock adds a feminine touch to it, making it a fashionable design for women.
15. Clock with Purple Flowers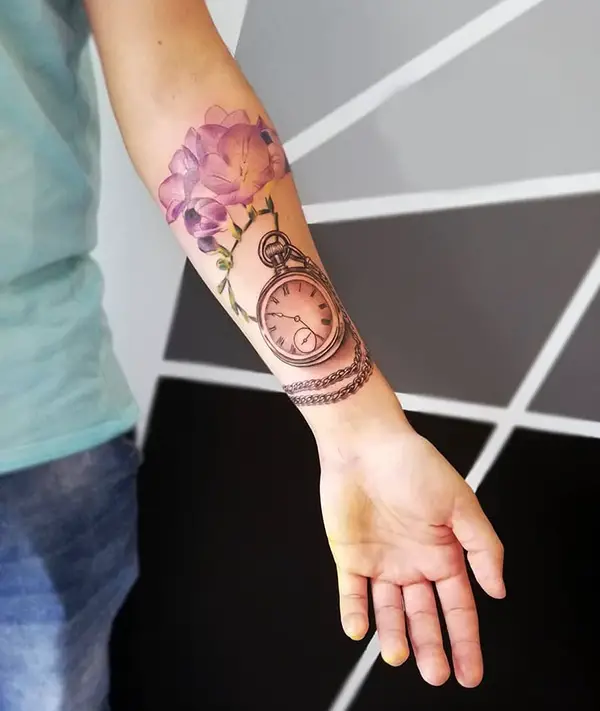 The purple flowers on the top of the clock show your love for nature. Together, the flowers and clock symbolize the timelessness of nature's beauty in every phase.
16. Pink Rose and Clock Tattoo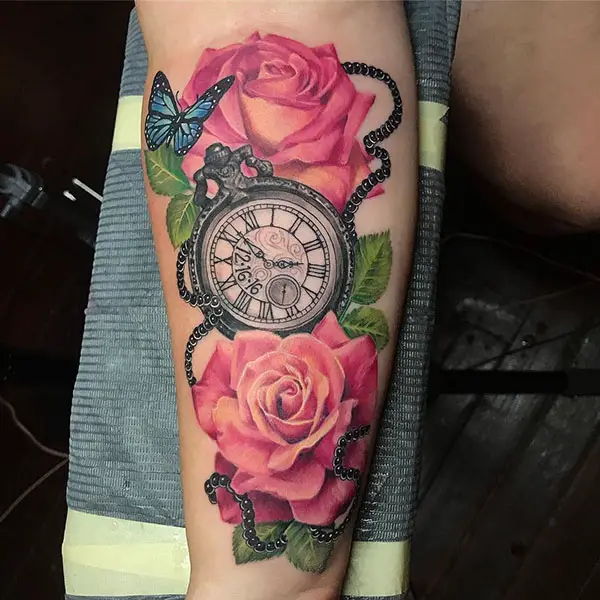 The pink roses with tiny green leaves add a feminine touch to the tattoo. The clock with a butterfly in the tattoo symbolizes transformation with time. It indicates that things change and we need to cherish the best moments in life as life is too short to spend it regretting on failures.
17. Clock Cover up Tattoo with Flowers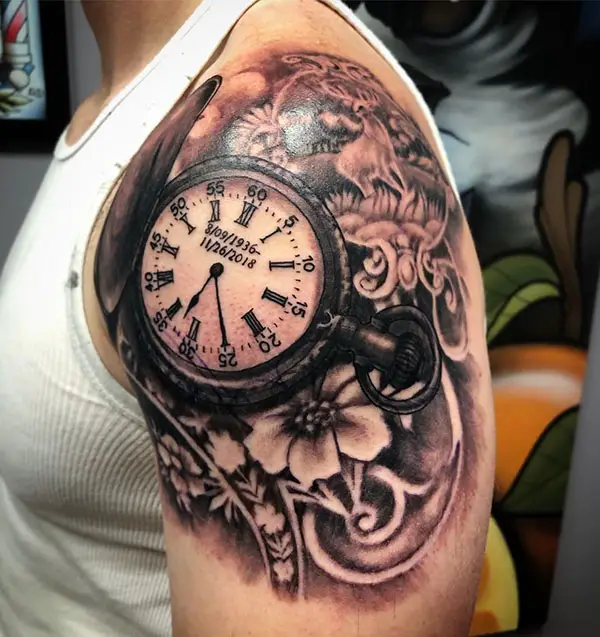 This intricate tattoo with flowers and a clock amidst it is a perfect way of hiding any mark on the skin which you dislike. When inked on the shoulders, it creates a bold look!
18. Clock with an Angel on It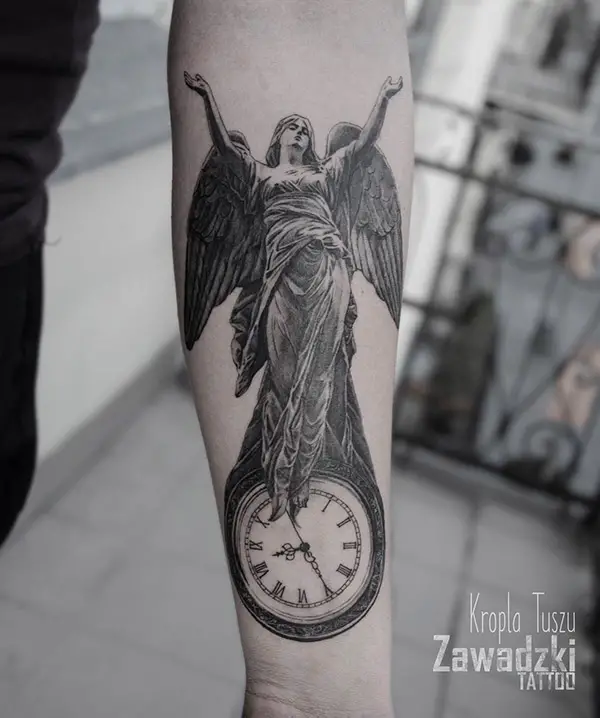 The winged angel on the clock symbolizes that in all times, we have our guardian angel beside us, watching over us and protecting us from evil. We just need to hold on to positive thoughts and believe that time will put all things in place.
19. Roses and Clock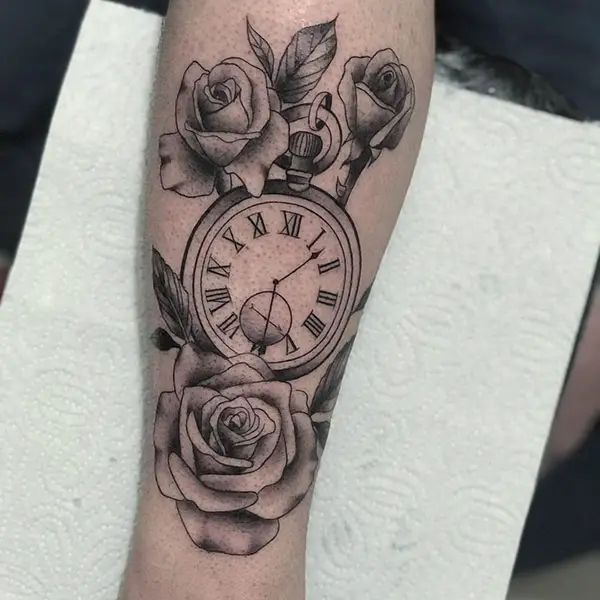 Roses are beautiful elements of nature but their beauty also fades with time. The clock beside the roses symbolizes that everything changes with time and reminds you that humans are mortal beings on earth.
20. Clock with a Holy Cross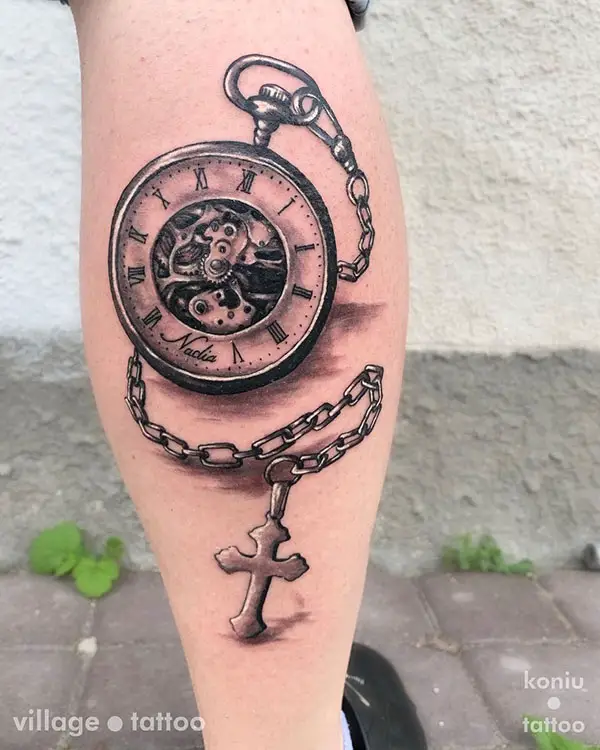 This clock with a holy cross tattoo reminds you to have constant remembrance of God, in good and bad times. In difficult times, it reminds you to have faith in the almighty and believe that this too shall pass.
21. Clock Tattoo with Leaves and Bird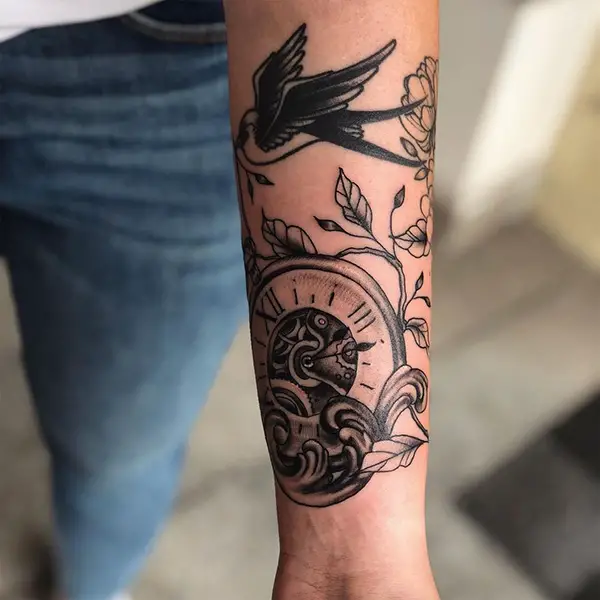 22. Clock Tattoo Design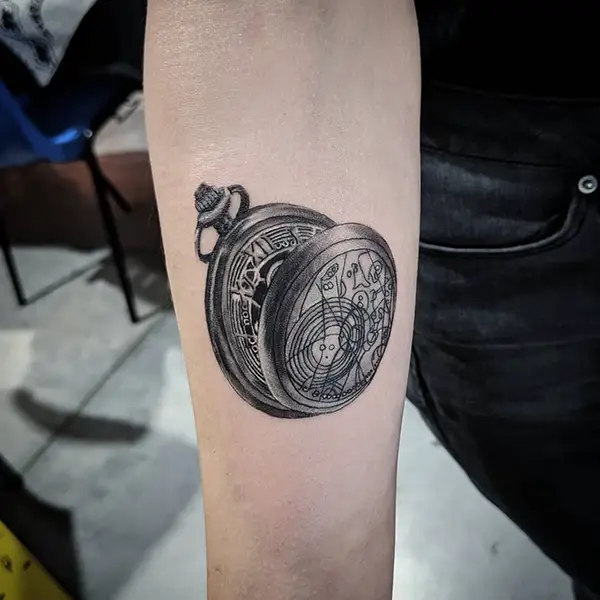 23. Clock Tattoo with Arrow Design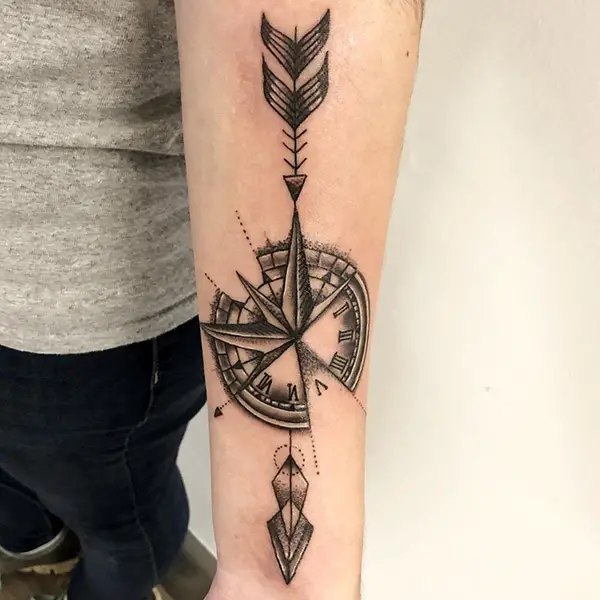 24. Clock Tattoo with Clock Parts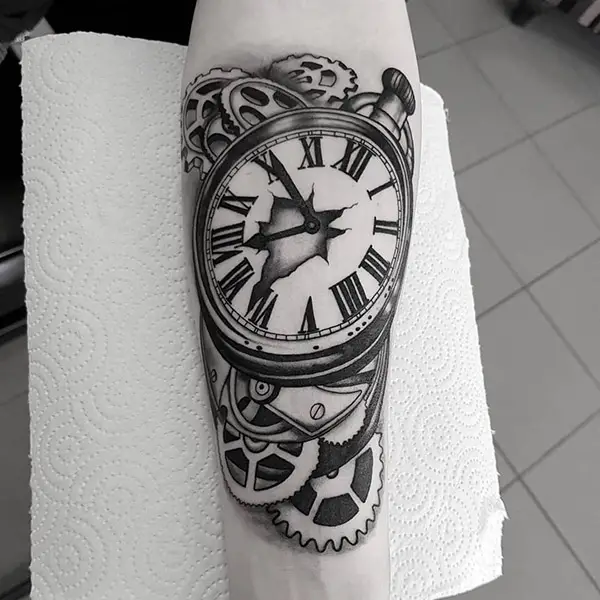 25. Clock Tattoo with Compass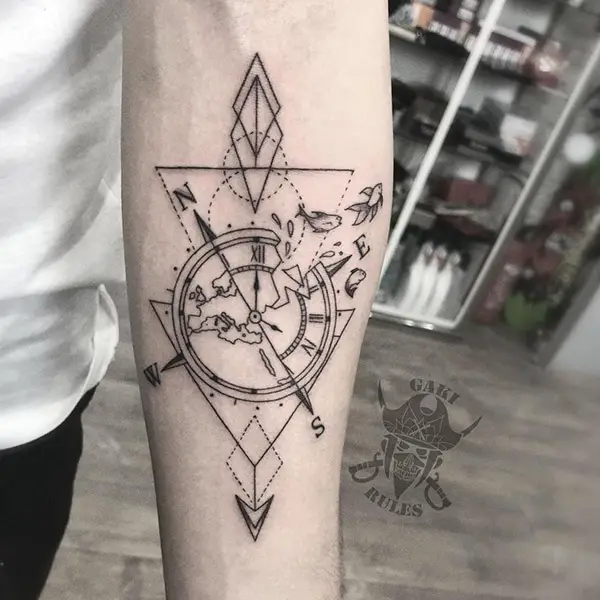 26. Clock Tattoo with Eye and Rose Tattoo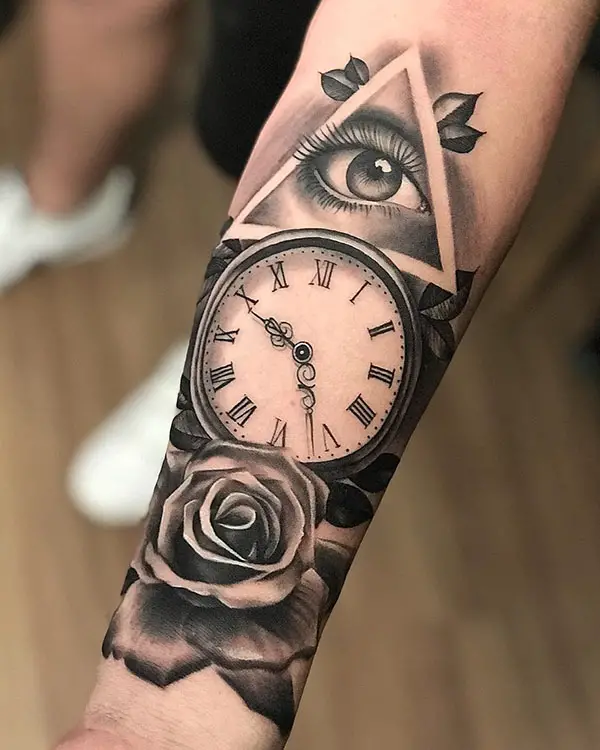 27. Clock Tattoo with Navigation Compass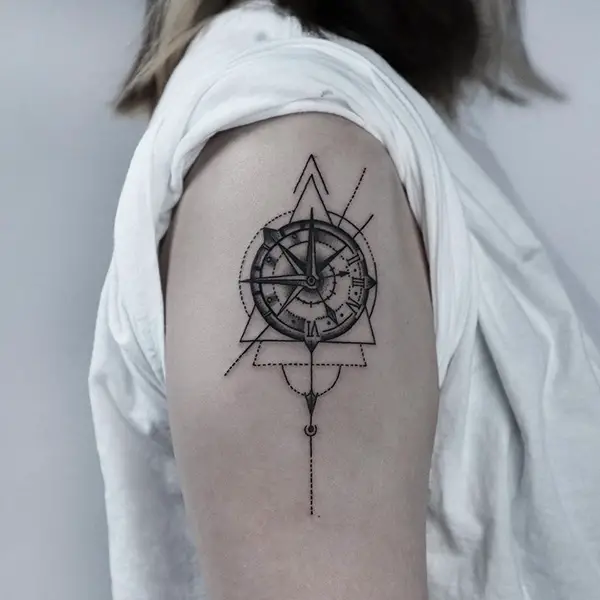 28. Clock Tattoo with Rose Flowers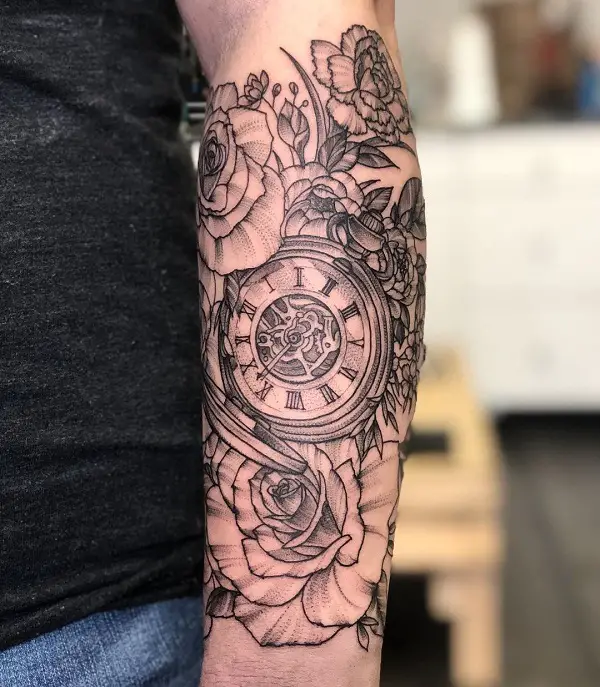 29. Clock Tattoo with Roses and Chains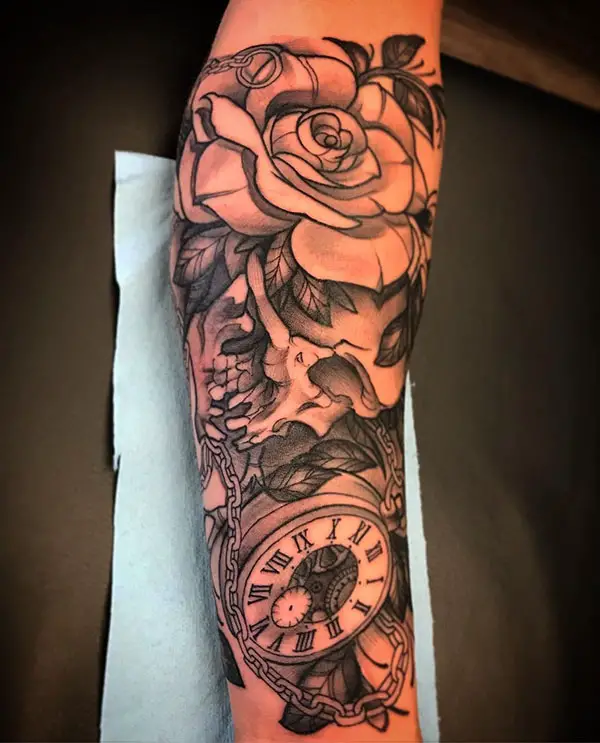 30. Clock Tattoo with Statue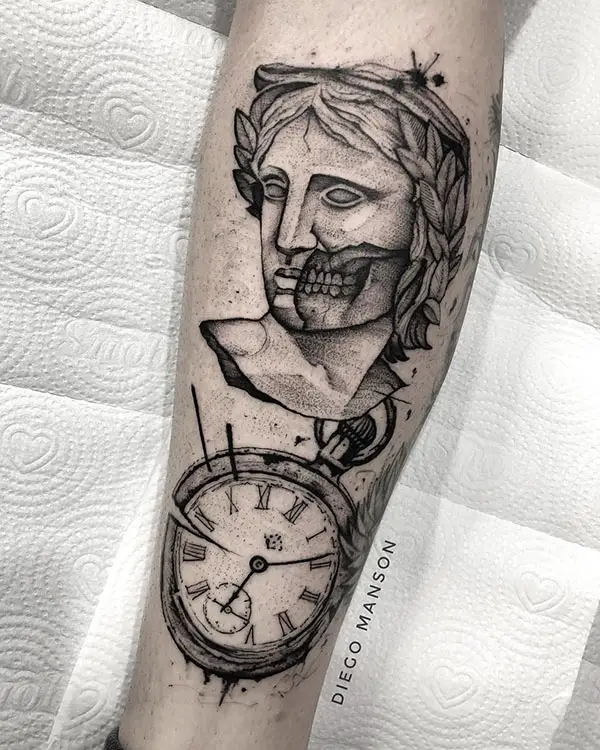 31. Rose in Hourglass Tattoo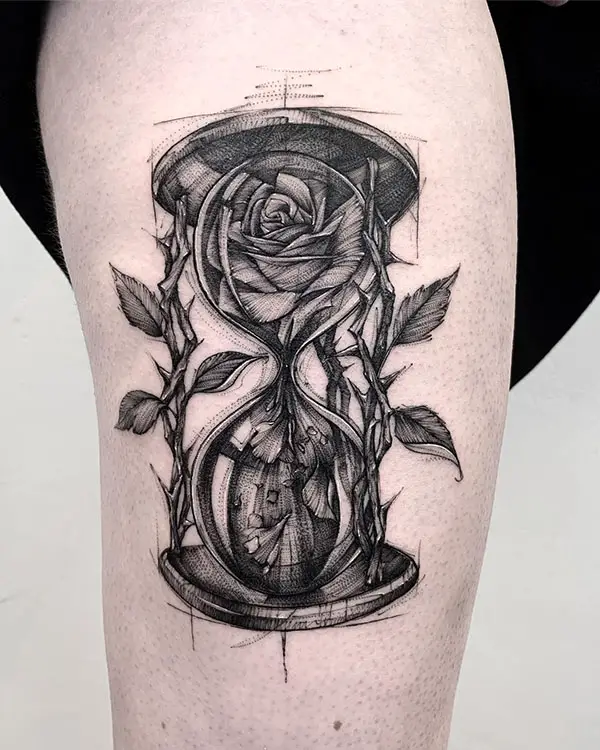 32. Cute and Small Hourglass Tattoo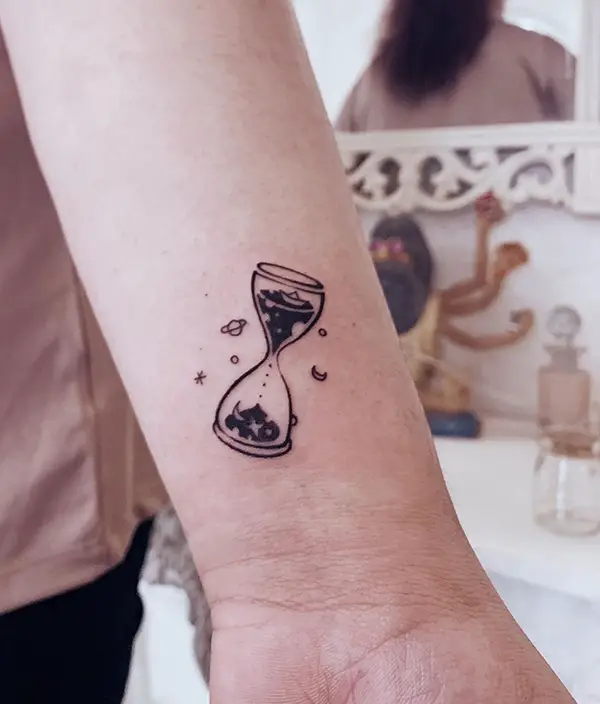 33. Creative Clock Tattoo Design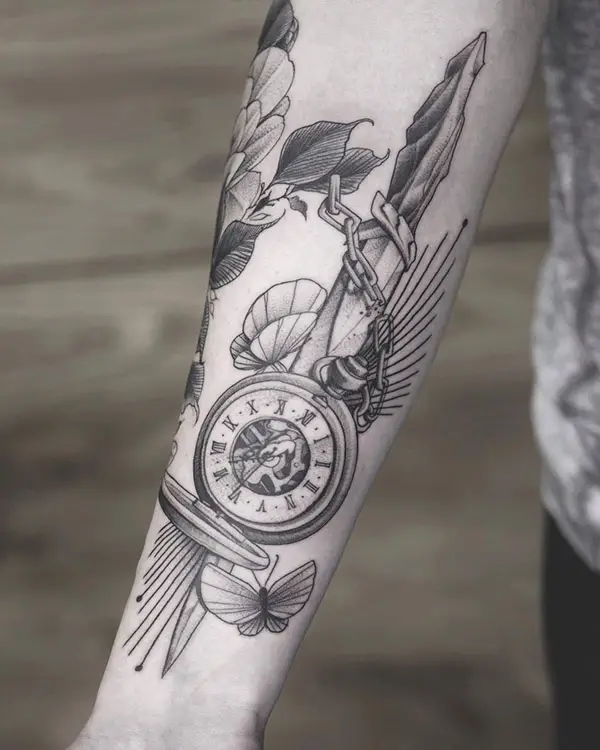 34. Clock with Rose Tattoo Design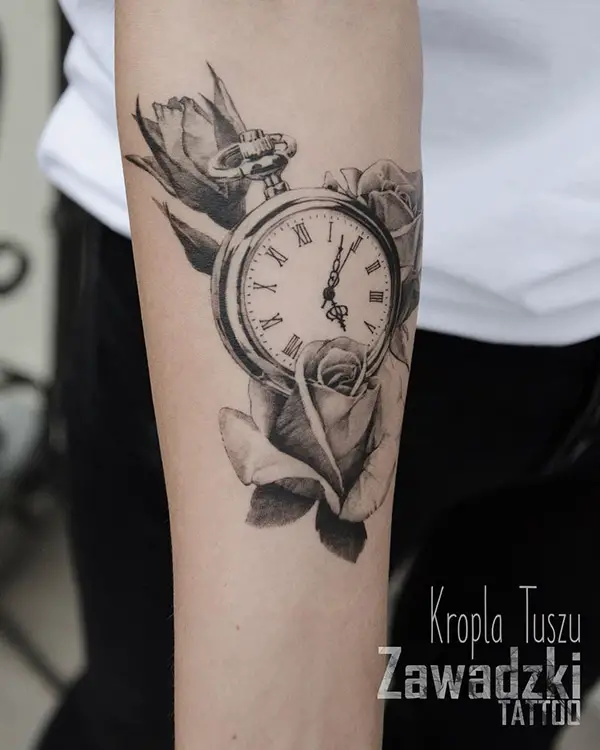 35. Flower Clock Design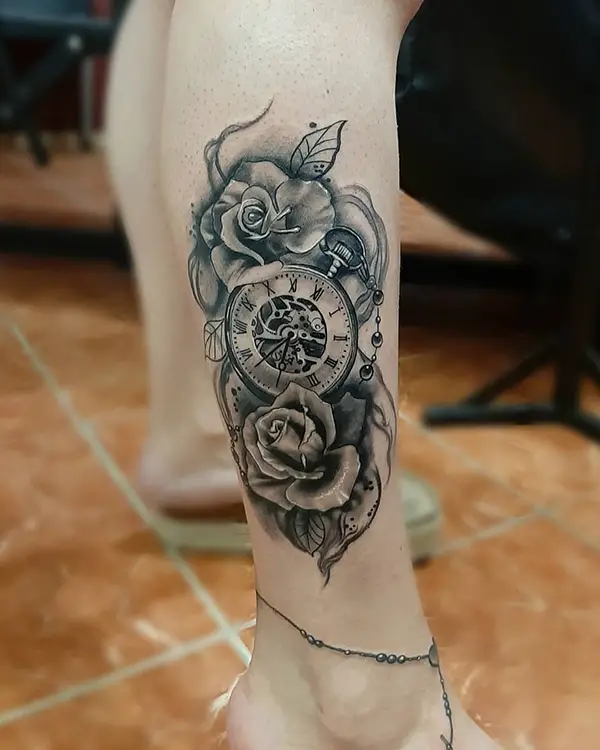 Recommended Topics: