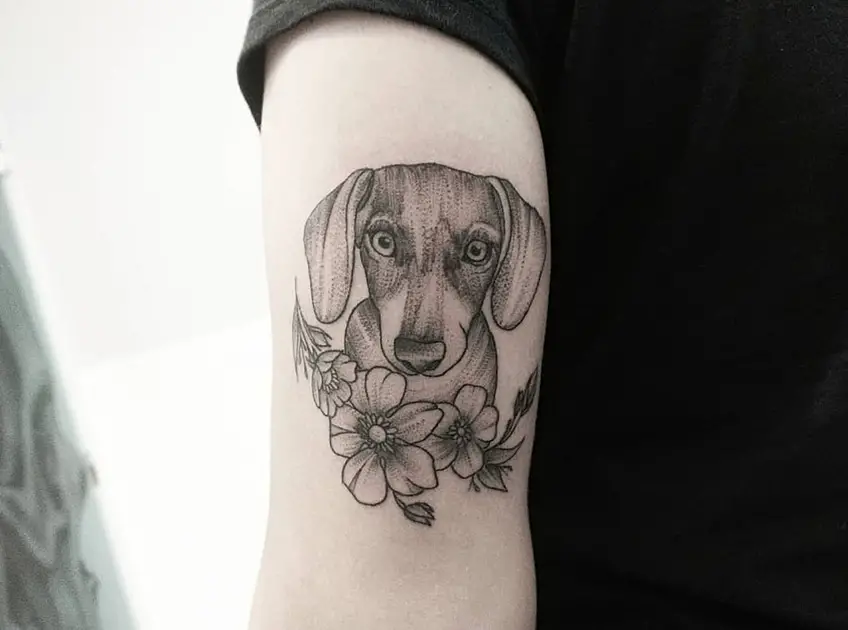 A dog tattoo is a great way of conveying your love for your pet or animals in general. It symbolizes virtues like friendliness, obedience, prosperity and good fortune. Let us see some of the best dog tattoo ideas.
1. Dog Holding a Ball Tattoo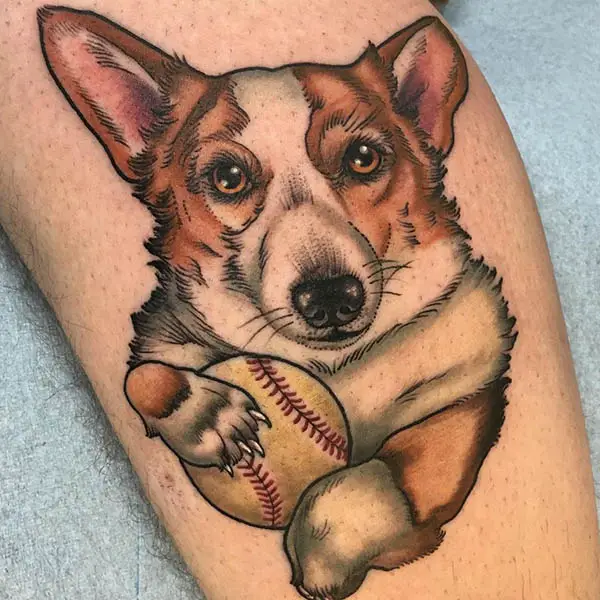 This is a cute dog with an innocent look and holding a ball in its hand. If your pet loves playing balls, this is a perfect tattoo to consider when you want to get inked.
[ Recommended: Best Elephant Tattoo Design Ideas ]
2. Dog Peeping Out Tattoo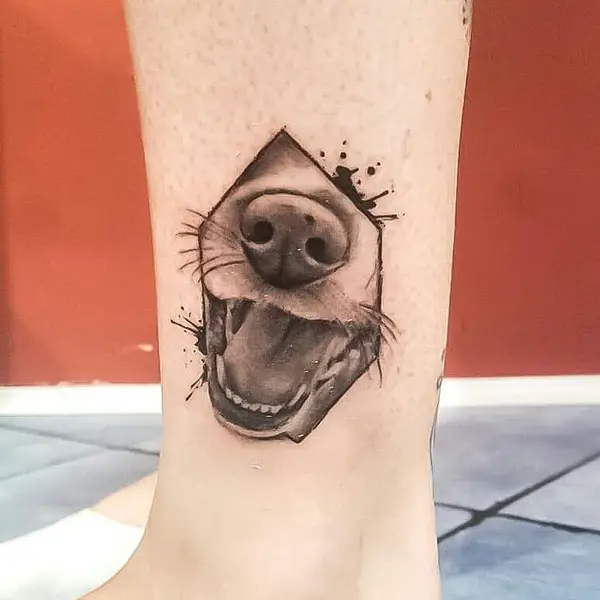 This tattoo can be seen as a dog in the cut, which is shown as if it is peeping out of the skin. It is a good choice when you want something different, and not an extensive tattoo of a full dog image.
[ Recommended: Best Bear Tattoo Design Ideas ]
3. Perrito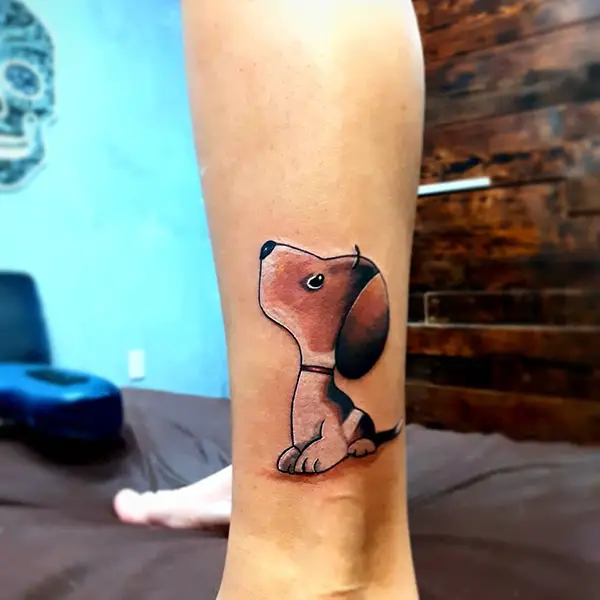 When you love cute little puppies, this Perrito can be an adorable choice of tattoo. It can be inked on the arms or near the ankle for a cute look.
4. Minimalistic Dog Tattoo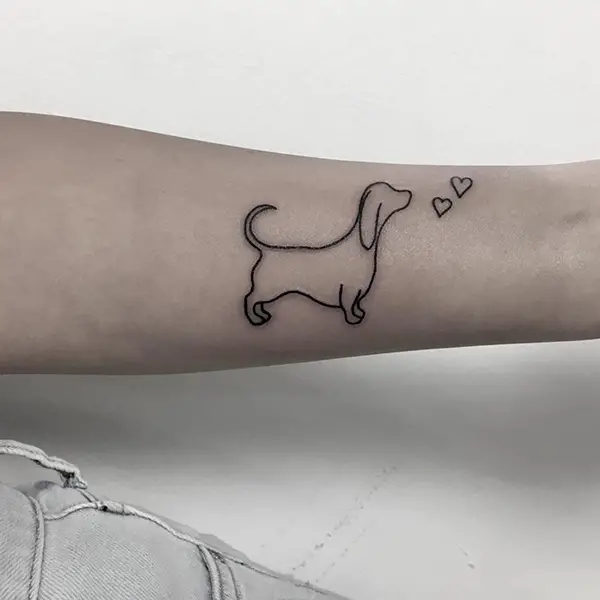 When you don't want intricate and detailed tattoos, the dog outline is the simples option to choose. The tiny heart symbols beside it show a lovable relationship with your pet.
5. Pug Head Tattoos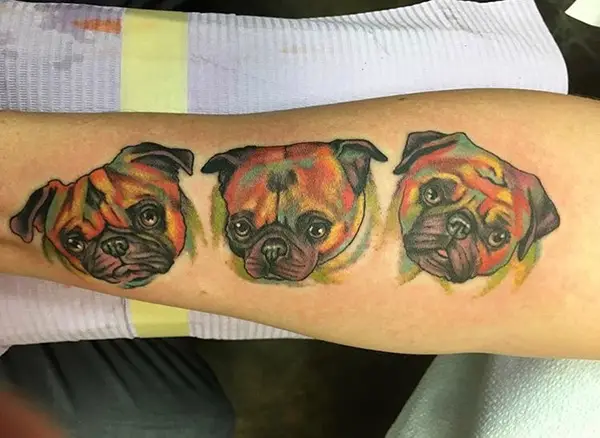 Pugs are clever and have a charming nature. They are stubborn, yet sociable and calm. This pug tattoo is a great way of showing your love for such qualities.
6. Moon Dog Tattoo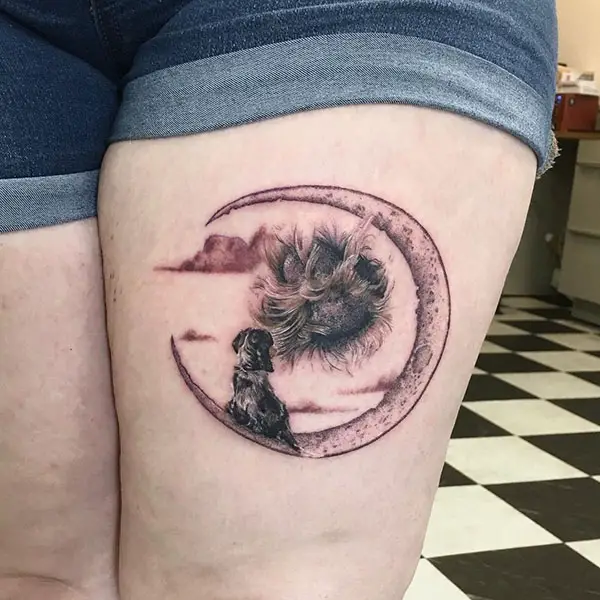 When you love sitting peacefully with your pet dog on a moonlit night, this is an excellent way of portraying your emotions and love for nature.
7. Dog with a Quote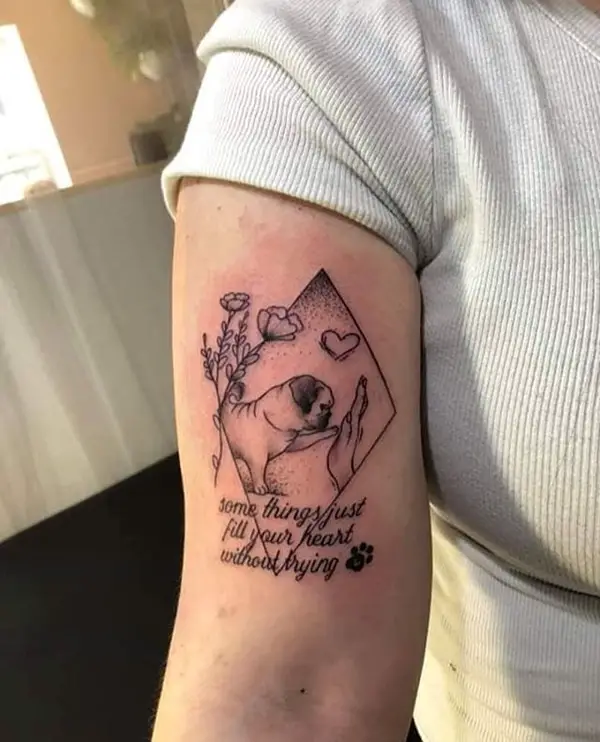 When geometrical shapes are something you find quite appealing, get this tattoo in the form of a diamond shape. It looks like a human hand and the dog's palms are framed while they high-five. The quote below it is a perfect expression of how the love of your pet has filled your heart.
8. Dog Paw Tattoo with Designs on it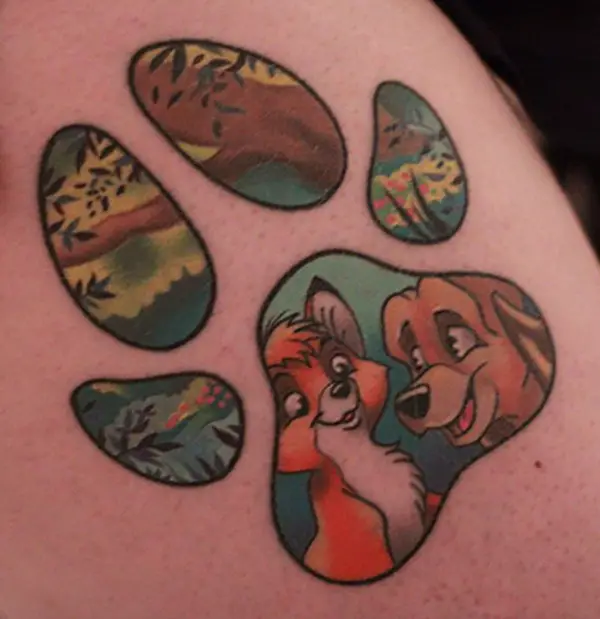 Paw tattoos of dogs show the love and respect for your pet. To make this more meaningful, the paws are filled with colorful elements of nature, with the larger one having two animals in it. Overall, this shows your love for nature and animals.
9. Dog's Paw Held by a Human Hand Tattoo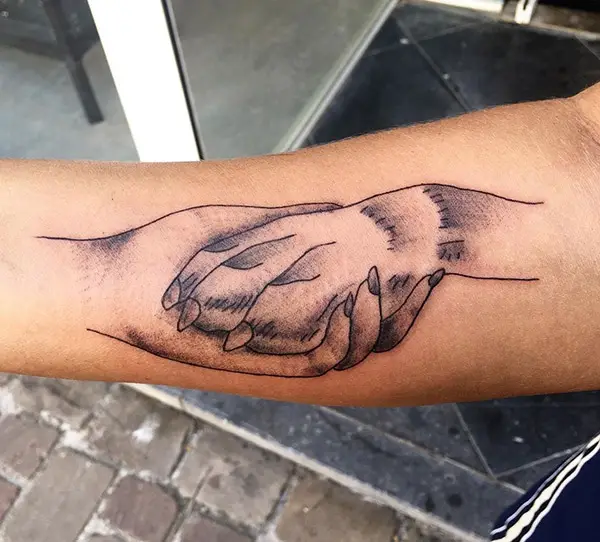 This is a simple tattoo showing the bond between a dog and a human. It signifies the love and understanding that creates a strong bond between them.
10. A Small Kid with a Puppy Tattoo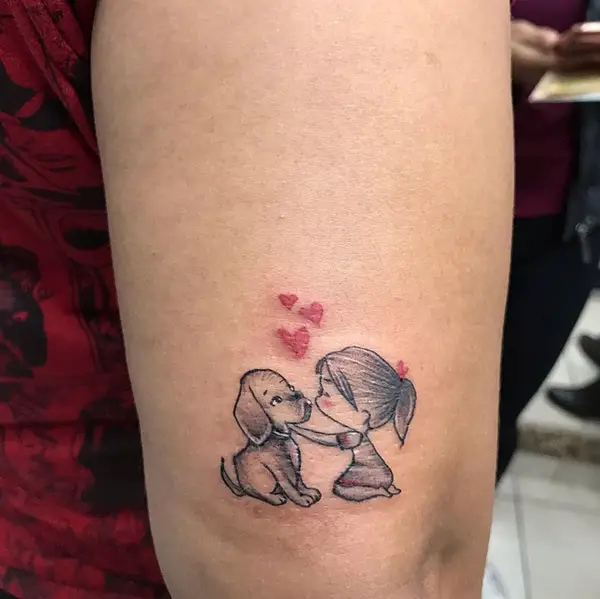 Puppies are so lovable that they easily get close to human kids too. The heart symbol between the girl and the puppy and the warm touch shows the deep attachment between the two.
11. Weimaraner Riding a Cycle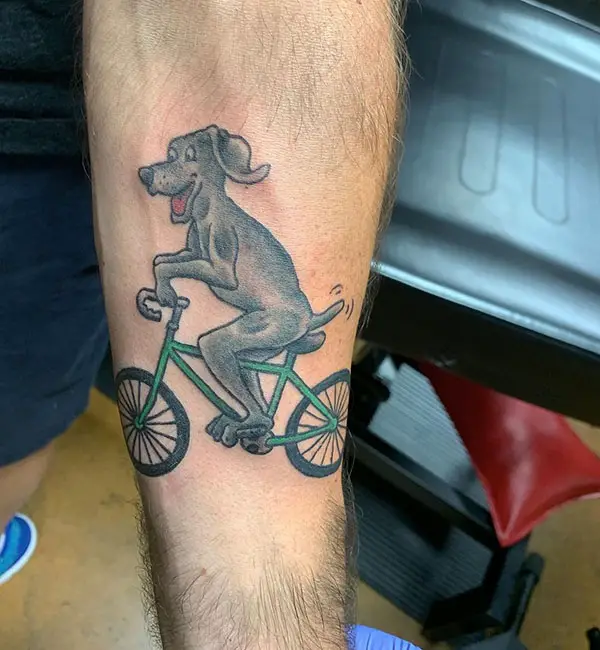 Want something interesting and playful? This smiling Weimaraner riding a green bicycle shows its intelligence, alertness, and powerful characteristics.
12. Siberian Husky Tattoo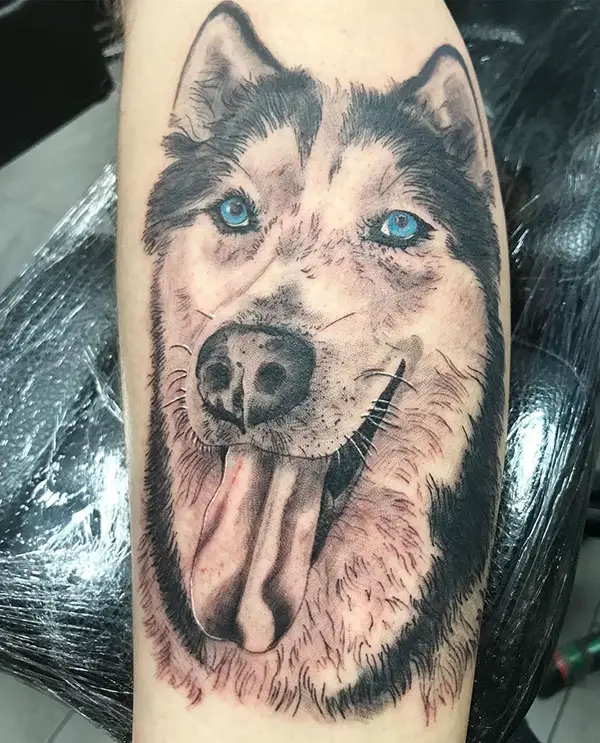 When you have a friendly, and outgoing nature and own a Siberian husky, this is the best tattoo to get inked, for showing your love for the pet. It is known for its intelligent, alert yet gentle nature.
13. Folk Art in a Dog Tattoo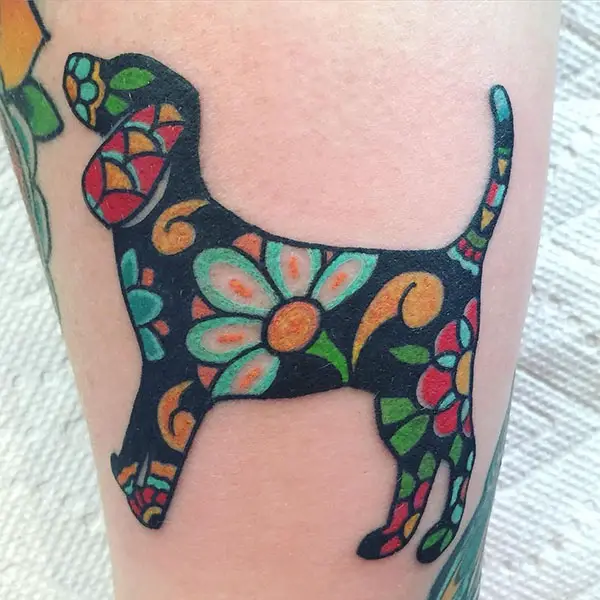 Want some colorful twist on a dog tattoo? Get the folk art in it on a black background of dog outline for creating a trendy look.
14. Colored Bulbs Around a Dog Tattoo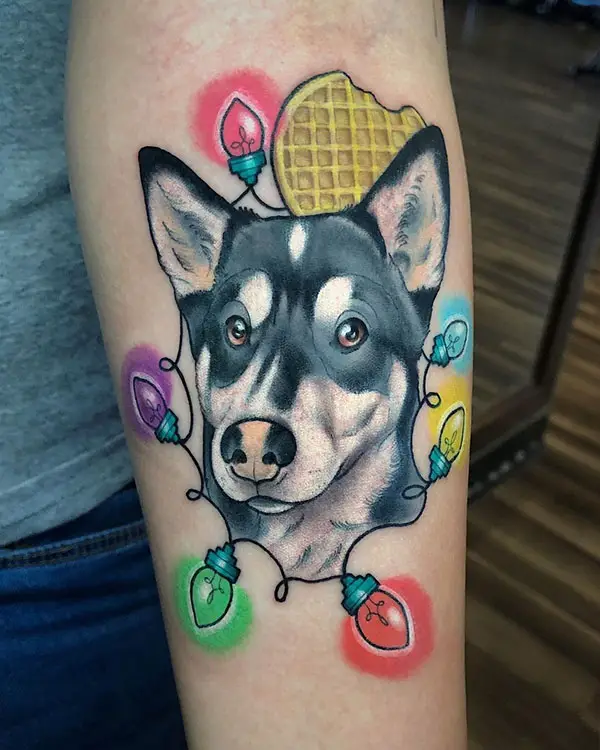 This dog tattoo is intricately made with complete detailing, to impart a realistic look to it. The glowing bulbs signify how your pet has made your life more cheerful.
15. Cute Pooch Expressions Tattoo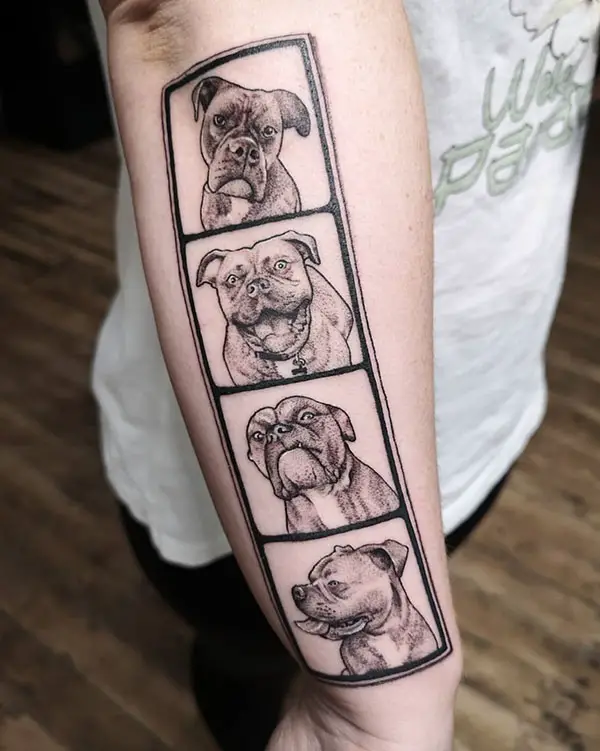 Love the expressions of your pooch? Get them inked in the form of a reel to show your affection for it.
16. Dog with a Name Tattoo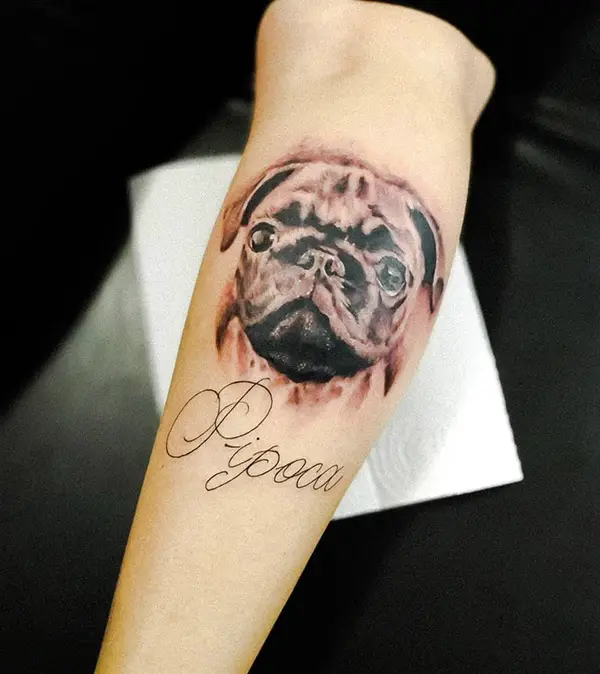 Want to keep the memories of your pet close to your heart forever? Get the pet dog image inked along with its name below, so whenever you are away from it, the tattoo brings a smile to your face with the good memories associated with it.
17. Dog with Flowers Tattoo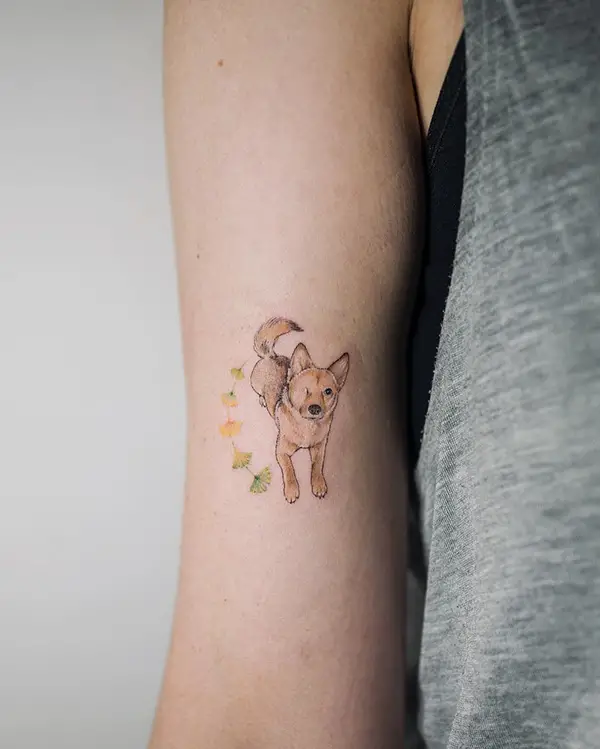 This yellowish dog tattoo is a simple yet elegant representation of the dog's obedience and friendliness. The flowers beside it signify friendship and happiness.
18. Paw with Color Splashes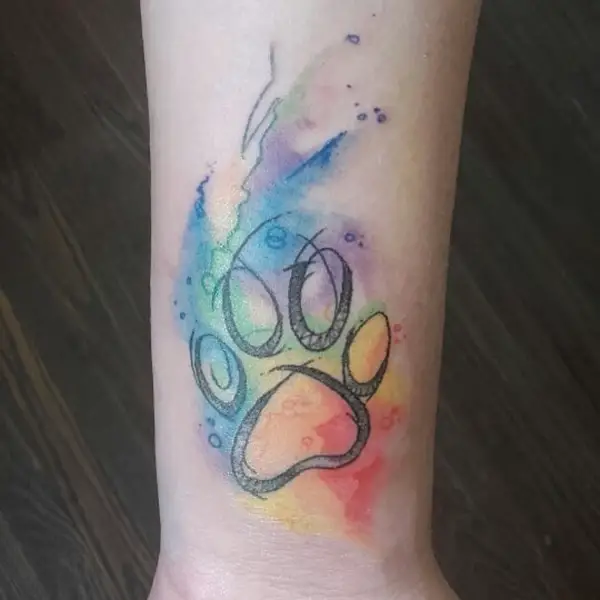 A paw tattoo is a perfect way of showing your respect and love for your pet dog. The splash of colors on the paw shows how your pet has filled your life with happiness.
19. Dog with Flowers Below it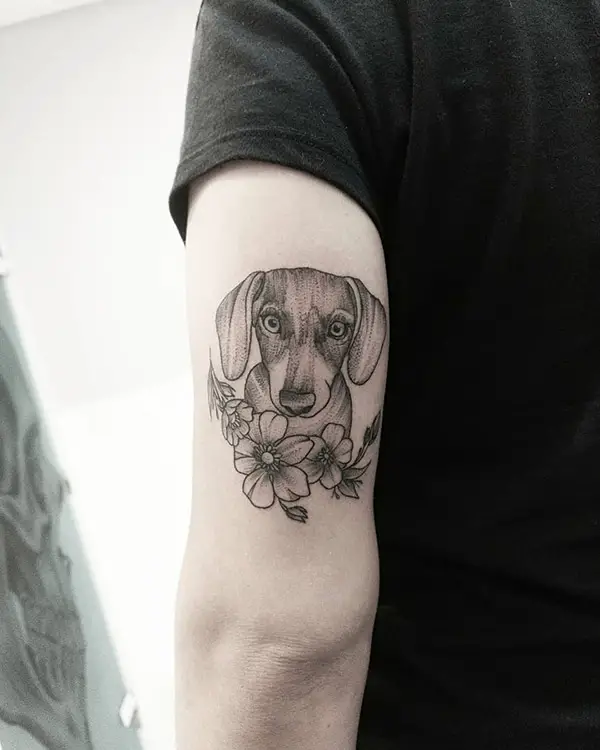 This tattoo is a good way of remembering your dog who is no more with you. The flowers placed below it serve as a way of appeasing its spirit and also result in an ornate look.
20. Balloon Dog Tattoo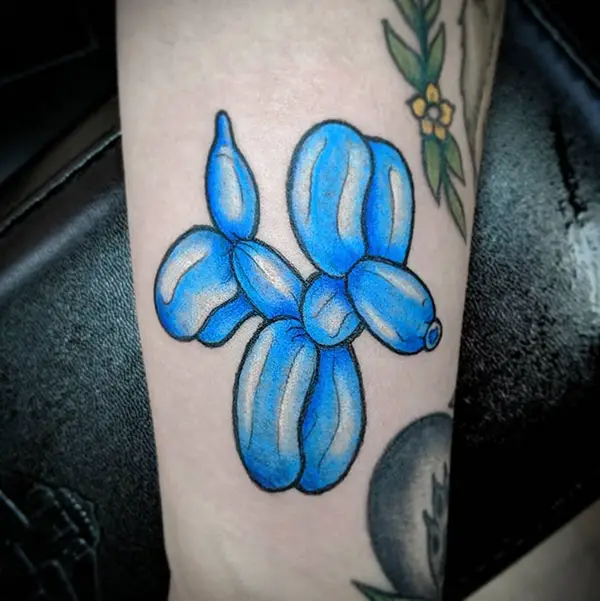 Fascinated by cartoons and love your pet dog? Add an interesting twist to a simple dog tattoo by getting the balloons arranged in the form of a dog. It represents that the childish nature within you is still alive.
21. Cute Chihuahua Dog Tattoo with Fish Tie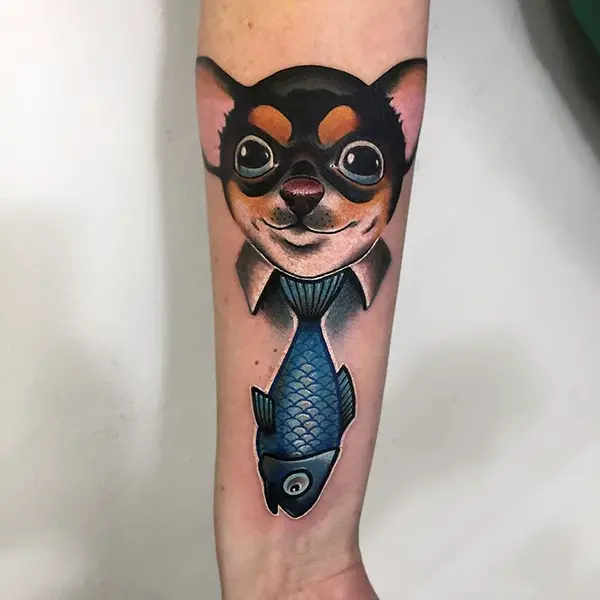 22. Cute Husky Tattoo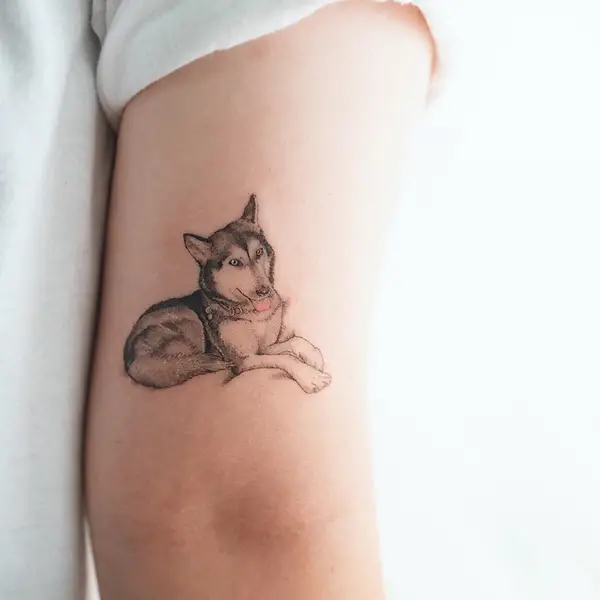 23. Dog and Moon Tattoo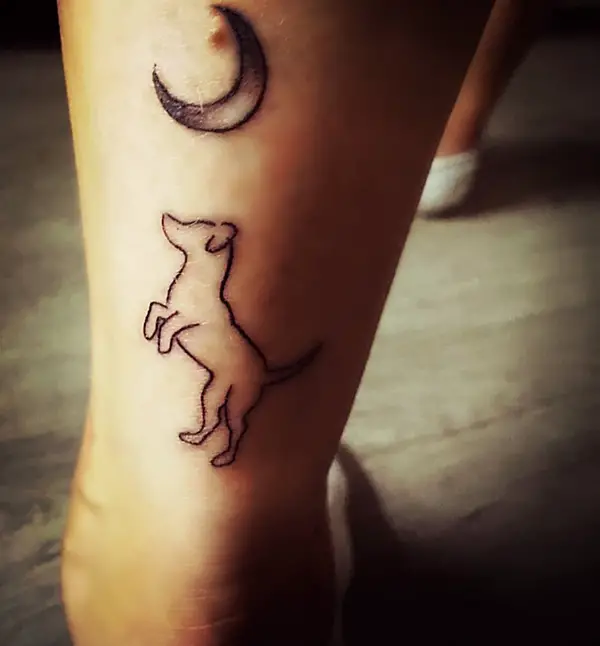 24. Dog Paw Tattoo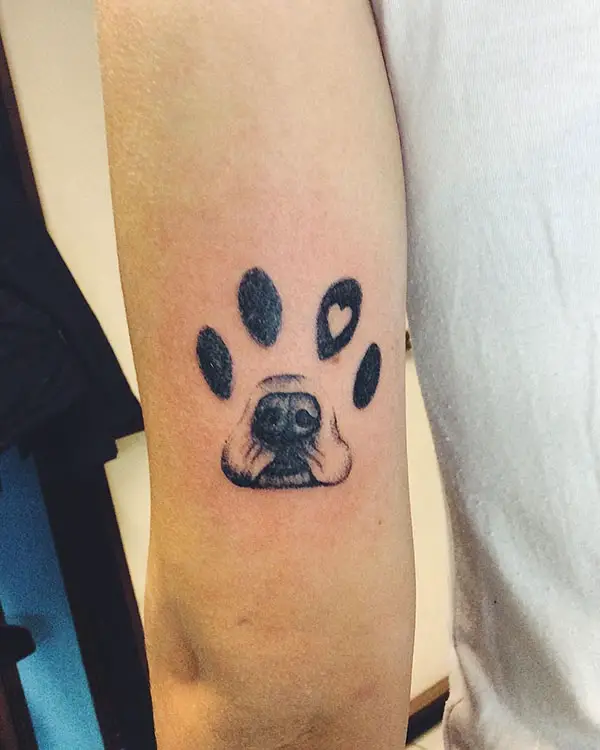 25. Dog Tattoo in Triangle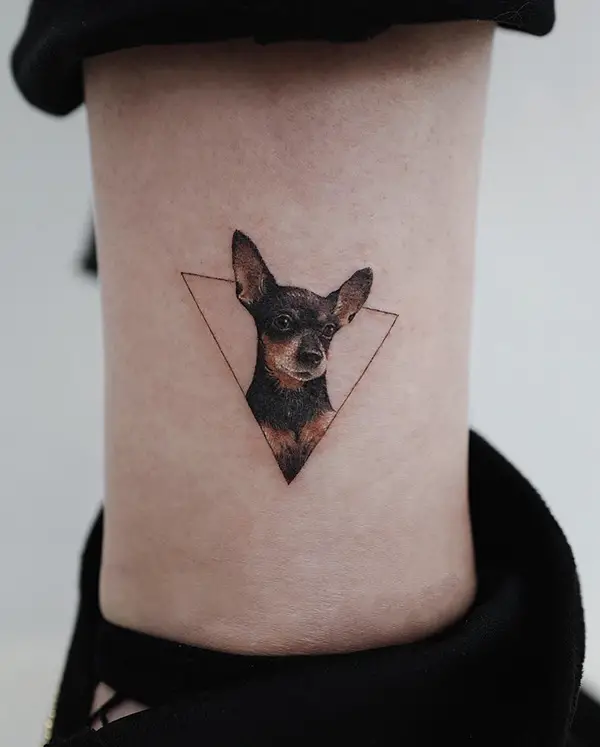 26. Dog Tattoo on Arm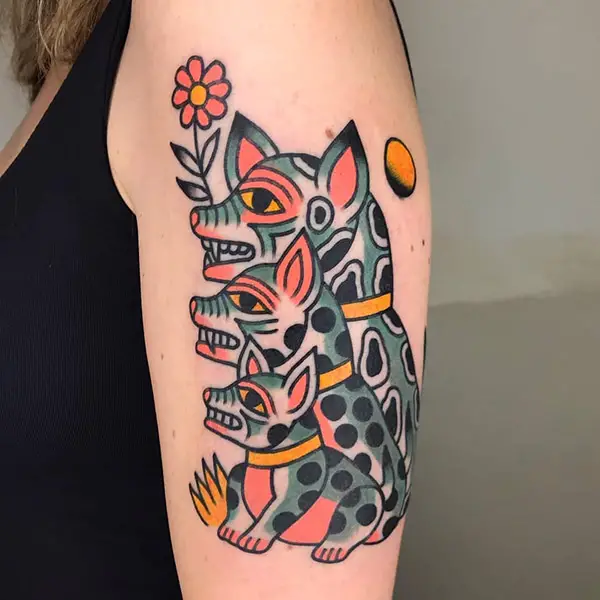 27. Dog Tattoo With Heart Symbol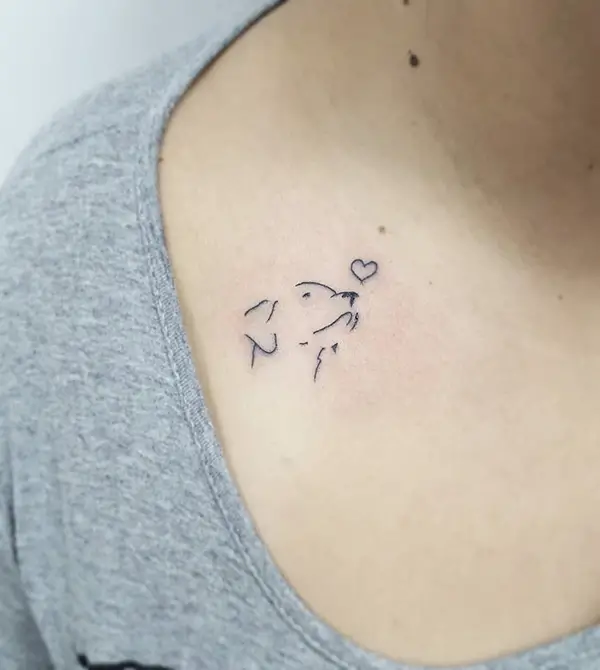 28. Dog Tattoo with Sunflowers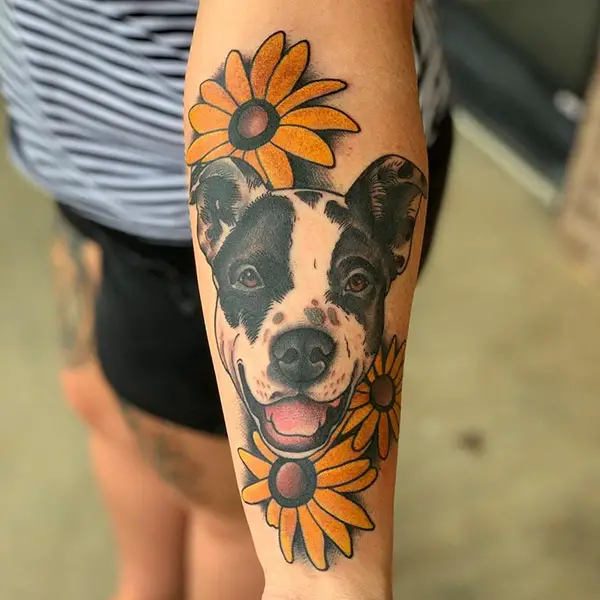 29. Dog with Specs Tattoo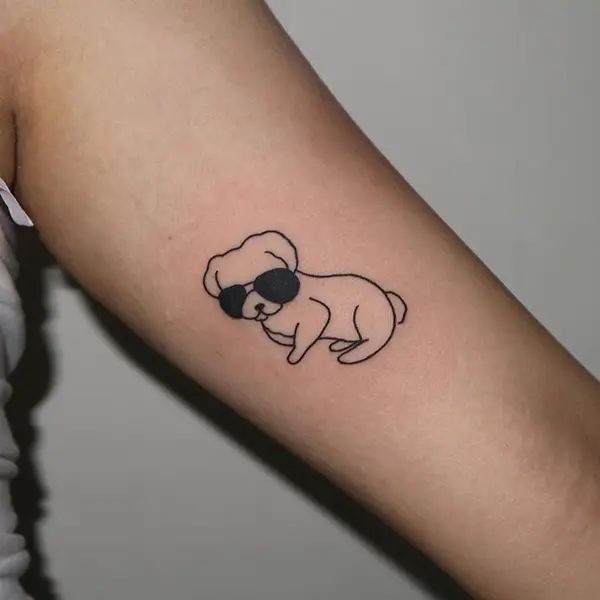 30. Half Cat and Half Dog Tattoo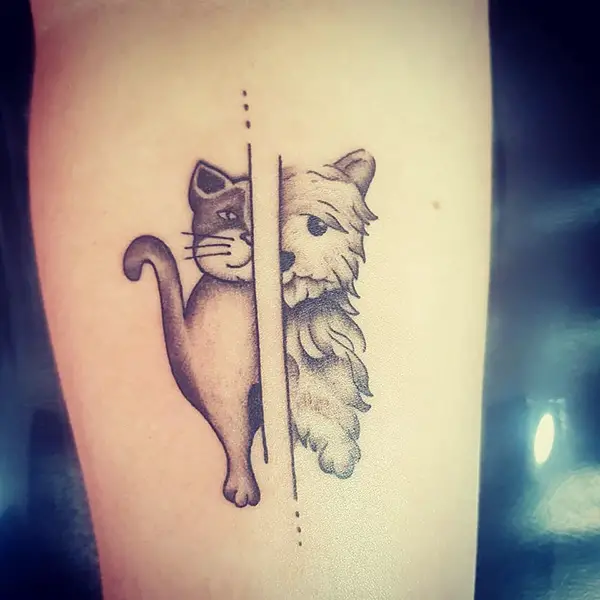 31. Man and Dog Tattoo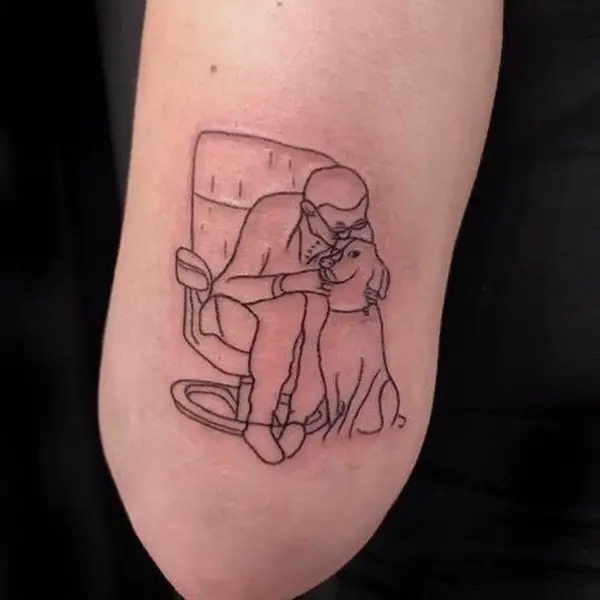 32. Playful Dog Tattoo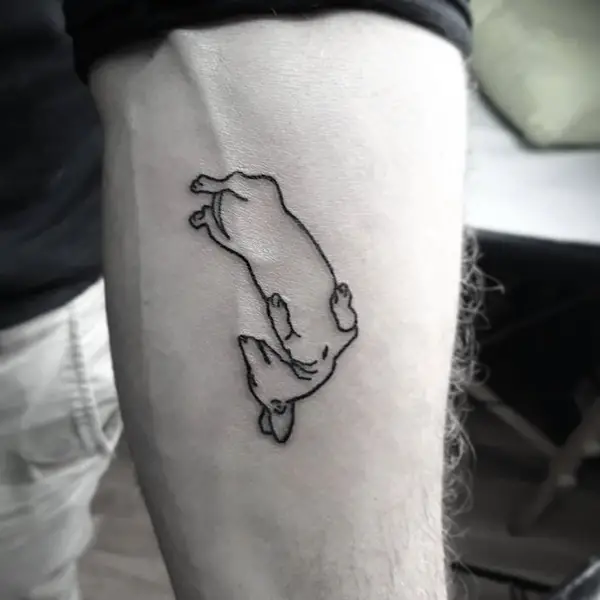 33. Tribute Dog Tattoo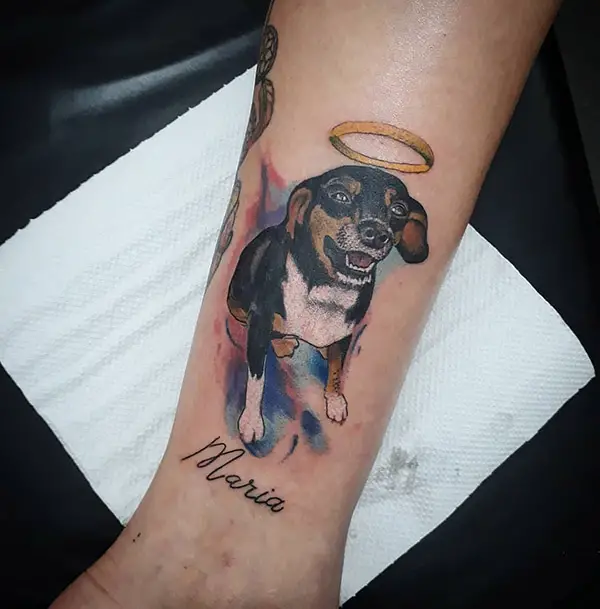 Recommended Topics: