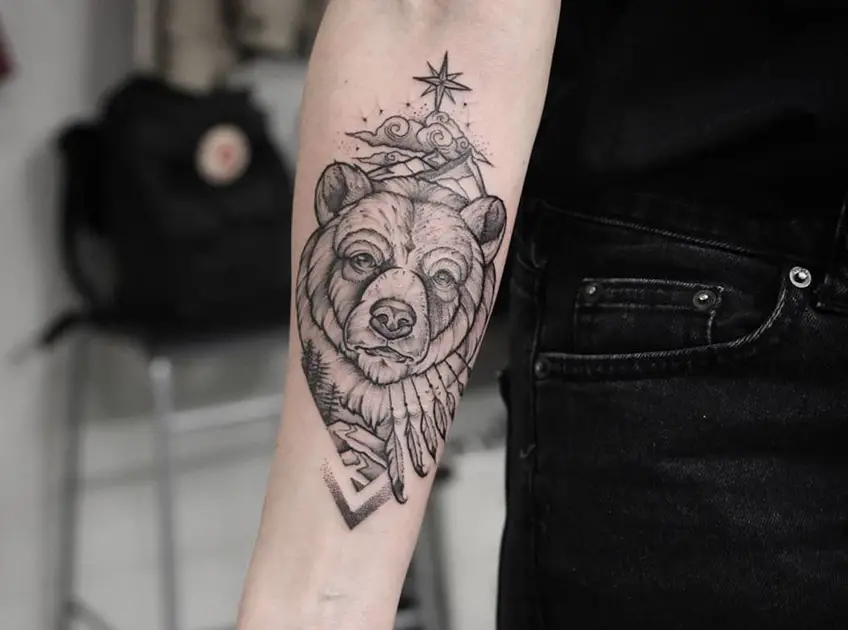 Bear is a fearless animal in the jungle, which is well known for its courage and strength. Its tattoo can be inked in complete detailing, or just outline or showing all the natural elements in its surrounding.
1. Playful Bear Eating Berries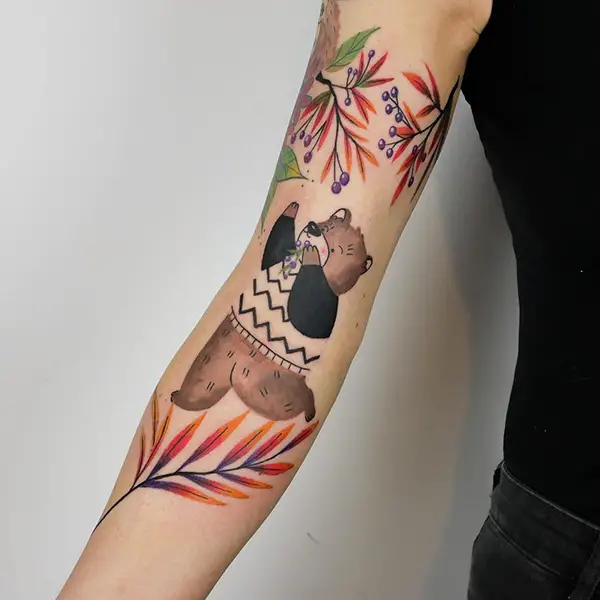 This is a colorful tattoo with a bear and tree having berries that the playful bear is plucking to eat. It shows how bears put effort to gather food despite being one of the strongest creatures in the jungle.
[ Recommended: Inspirational Quote Tattoos Designs ]
2. A Cartoon Bear Tattoo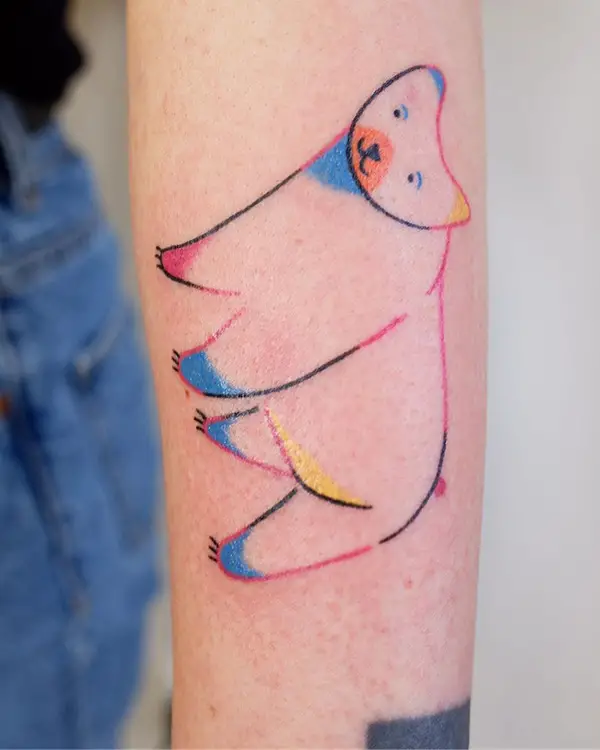 Love bears but dont want to represent them as a ferocious creatures? This simple bear tattoo with its outline and colors added to it, makes the mighty creature appear cute and lovely, representing that a cute person can also have courage like a bear.
3. Bear Claws Tattoo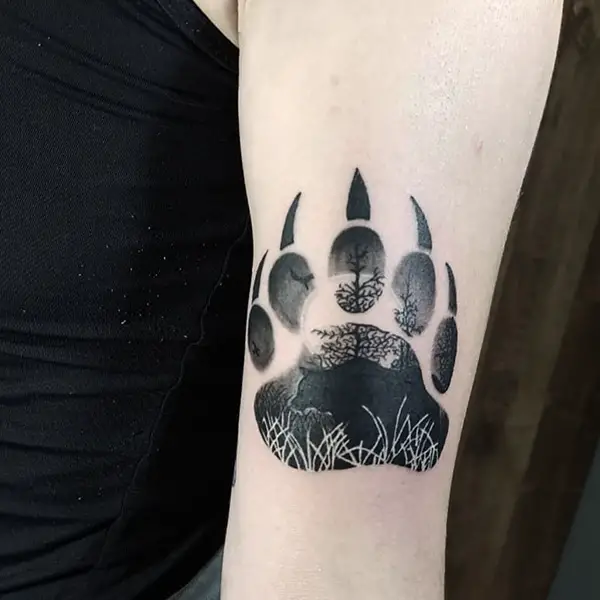 This tattoo of the bear's claws has an intricate representation of the trees in the jungle as well as a bear in it. Claws are the strongest weapon of this creature, symbolizing courage, strength, and hence a major tool for self defense.
[ Recommended: Cute and Inspirational Small Tattoo Designs ]
4. Bear Cuddling a Girl Tattoo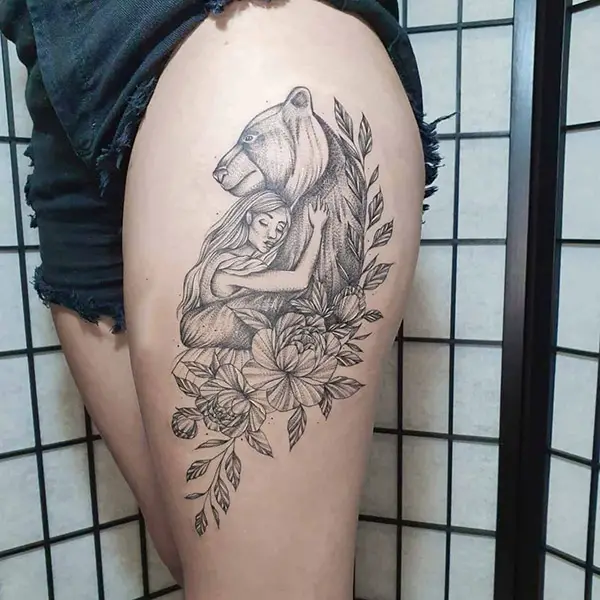 This tattoo represents the bear as having a softer side too, because of which it hugs a human girl in the jungle. Elements like flowers and leaves in the tattoo glorify emotional bonding.
5. Cute Teddy Bear Warrior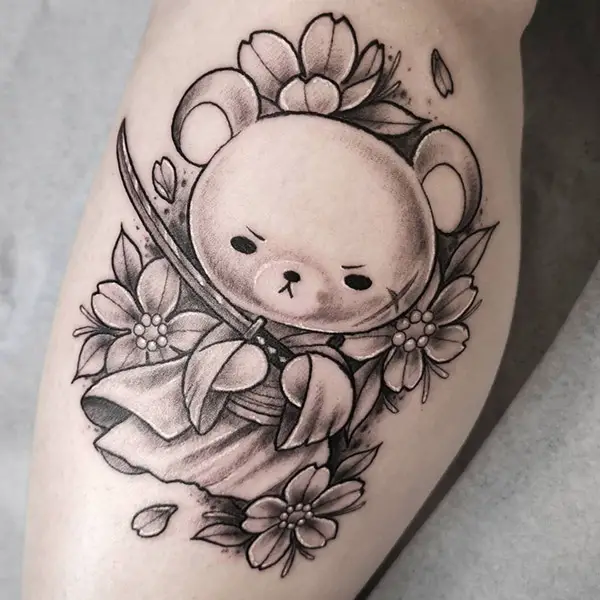 Love teddy bears but want to showcase them as a warrior in the jungle? This is a cute teddy holding a sword and its eyebrows represent its fury disposition despite the cuteness. Flowers in the tattoo add a feministic touch.
6. A Mother Bear with its Cub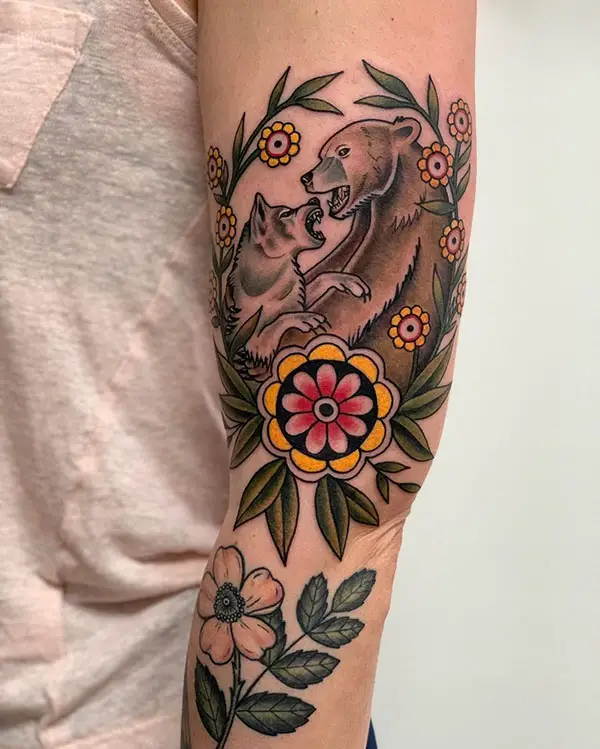 This tattoo is a representation of a bear's motherly nature with its cub, amidst the jungle. The green leaves and colorful flower adds to the beauty of this priceless visual.
7. Bear Among Colorful Flowers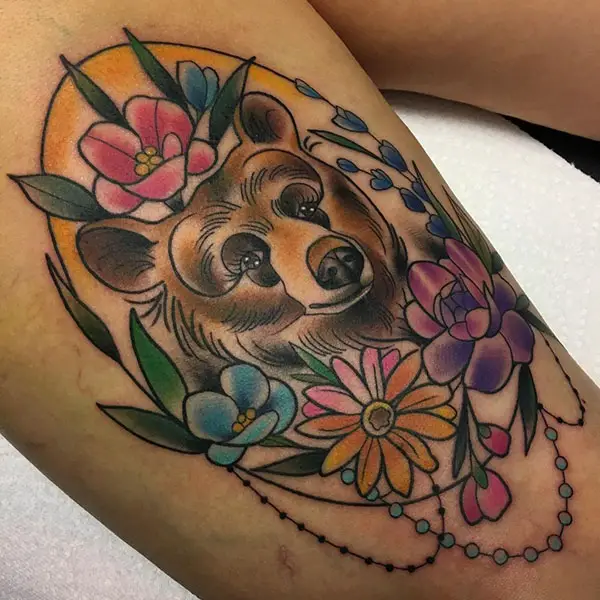 This tattoo is suitable for females as it has a lot of colorful flowers and leaves surrounding it. The flower symbolize delicate and humble nature and the bear symbolize valor and courage, all these qualities can coexist in women.
8. Cartoon Bear Sitting Near the Fire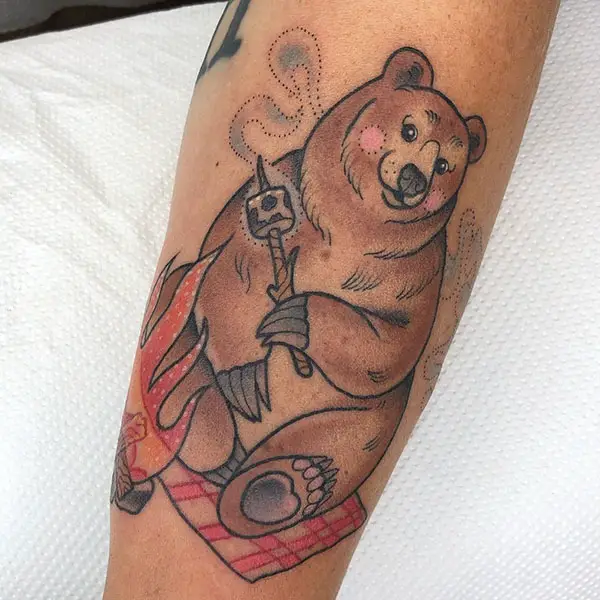 This cartoon bear is shown in a jovial mood, sitting on a mat, in front of the fire and enjoying food with its knife. If you love the valor of bears but want to portray them as jovial creatures, this is a great choice of tattoo.
9. Bear Plucking Leaves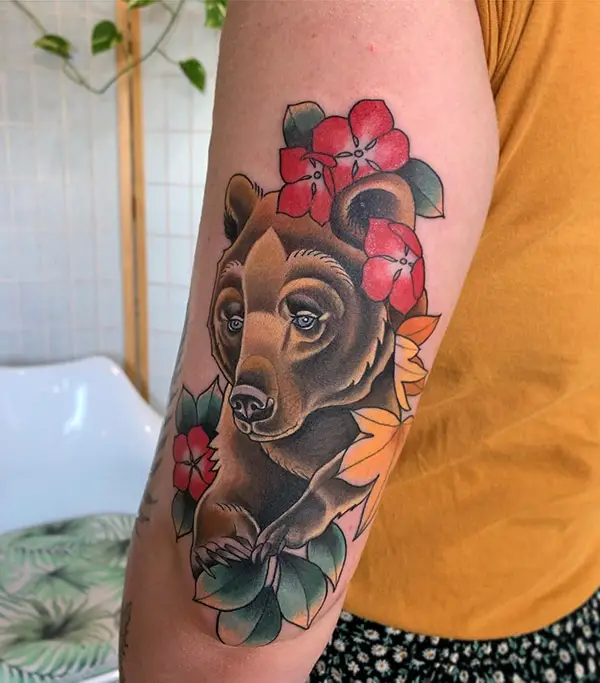 Bear is a mighty creature of the jungle, which is more powerful than most other creatures. This tattoo shows it plucking leaves for food, just like others.
10. Bear Tattoo with a Geometrical Shape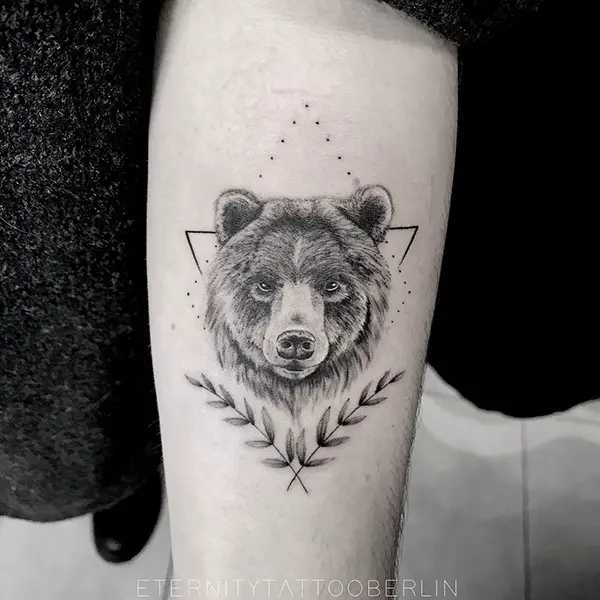 In this tattoo, the bear is surrounded by a triangle and two stalks of leaves beneath, signifying it to be a jungle creature. It is suitable for someone who wants to indicate their strength and energy like a bear.
11. Bear and Deer Tattoo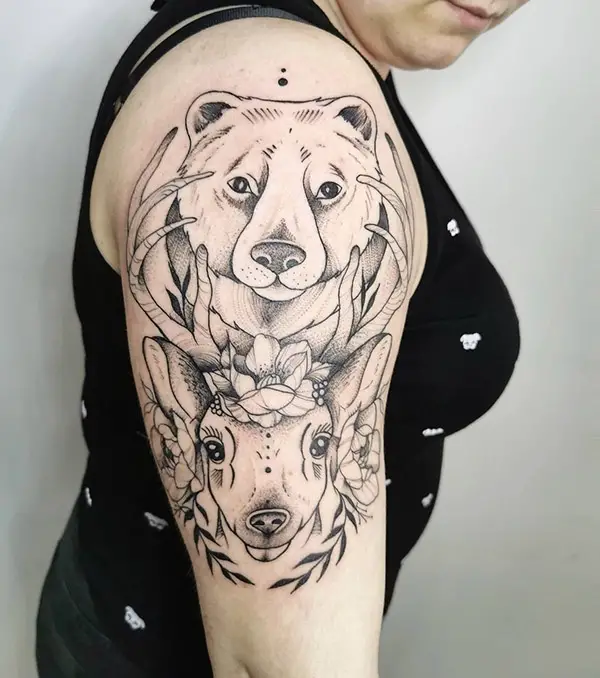 Deer and bear are two creatures with contradictory aspects in terms of size as well as food habits. These two animals in the same tattoo with leaves and flowers surrounding them is an indication of coexistence in an ecosystem, which implies we need to live and protect ourselves in a world with people of different natures.
12. Bear with a Butterfly Tattoo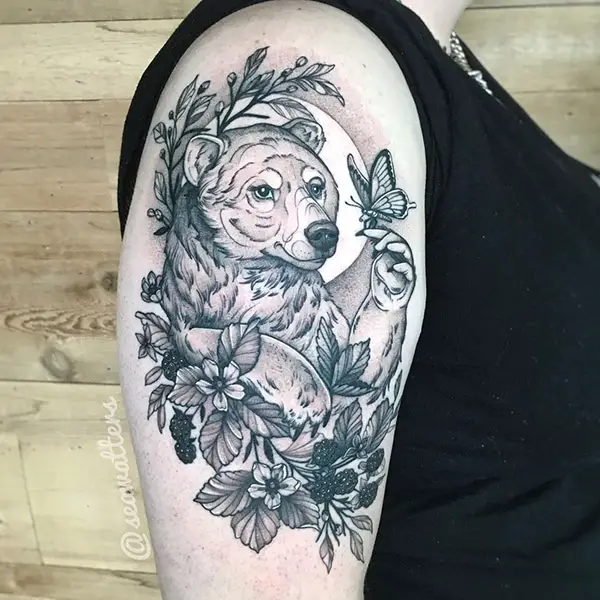 Bears symbolize courage and stubbornness which never lets them give up on anything. The butterfly in this tattoo indicates transformation with time and the bear looking at it affectionately, despite being having a ferocious nature, which implies everyone in nature can stay in harmony.
13. Intricate Bear Tattoo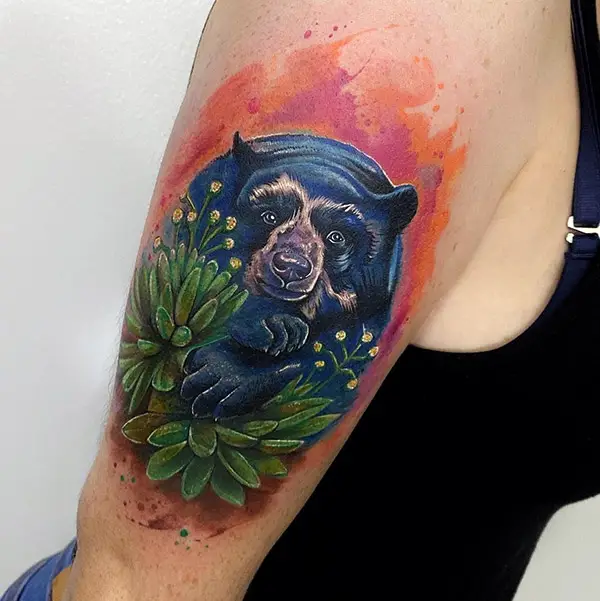 This bear tattoo details every aspect of the creature and portray a realistic image amidst the jungle vegetation. In this picture, the bear is seen going through the dense leaves of jungle trees in search of food.
14. Minimalistic Bear Shape Tattoo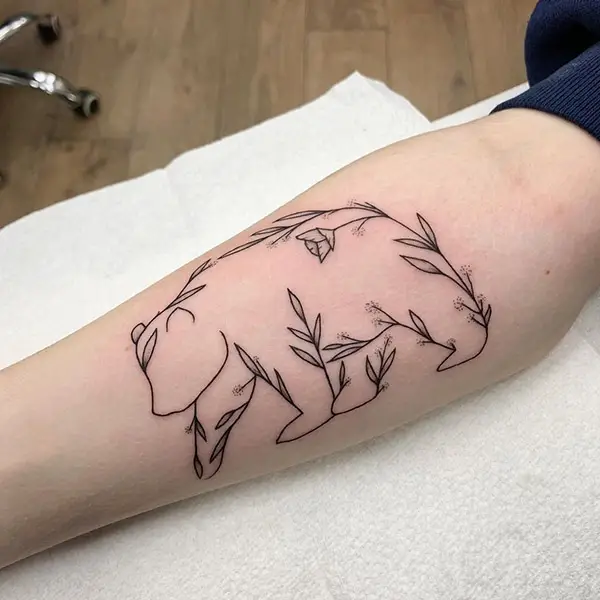 Don't like to get the intricacies of the jungle and bear but still want to get a bear inked on your arms? This minimalistic outline tattoo symbolizes a mighty and courageous bear with the leaves, representing the jungle.
15. Intricate Bear Walking Through the Jungle Tattoo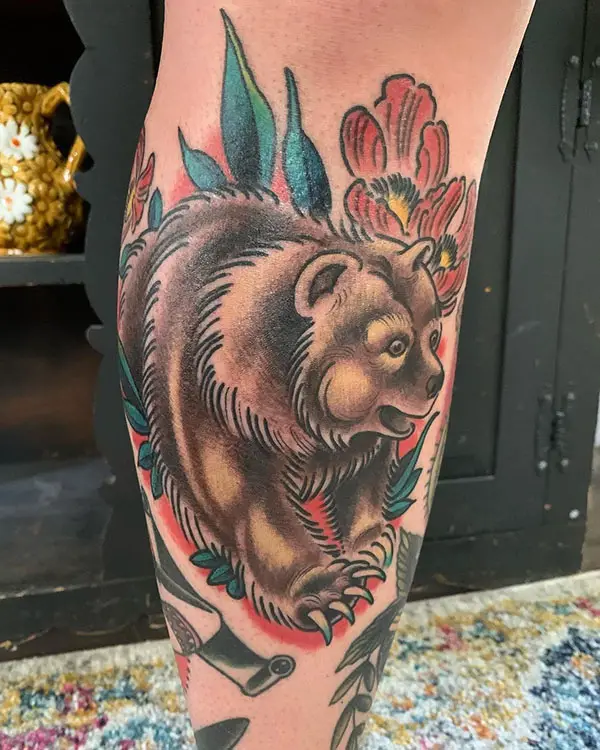 This is a very detailed and artistic tattoo that clearly picturizes a bear walking through the jungle, shown by the leaves and flowers. Its claws are prominent, which symbolizes that it is actively looking for its prey as well as vigilant enough for self-defense.
16. Bear and Flowers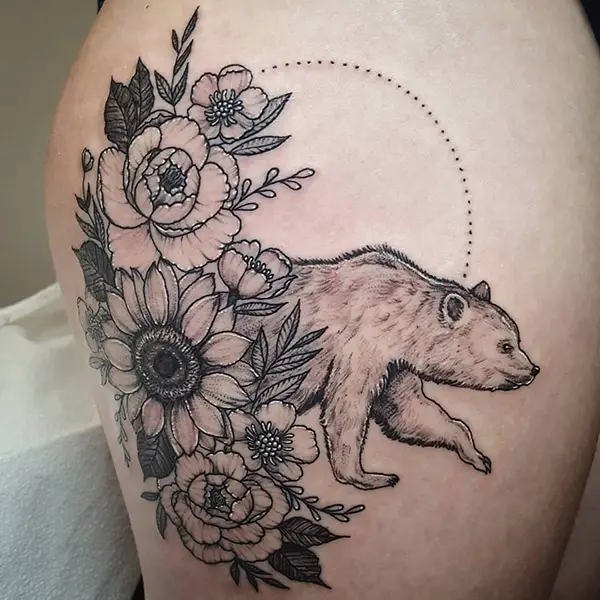 The tattoo represents a grizzly bear which is a perfect example of strength. The flowers alongside the bears represent a person's softer side even if he has the strength and courage similar to a bear.
17. The Ferocious and Courageous Bear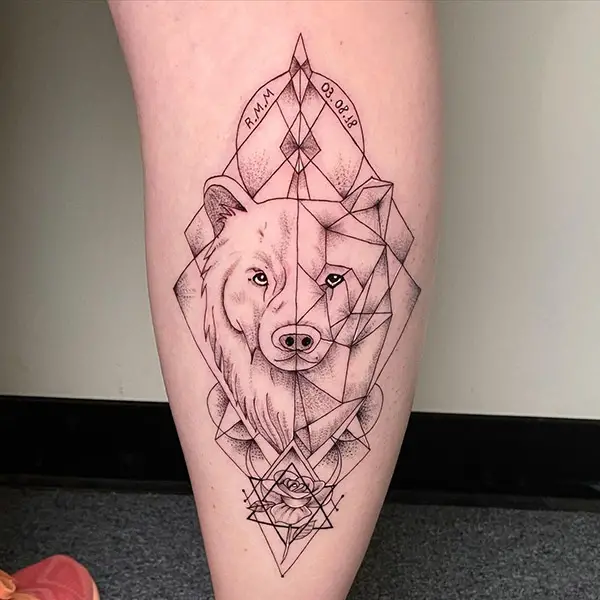 Love the mightiness of a bear and inspired by its strength and courage? This is an amazing bear tattoo that clearly represents all the intricacies without any color. Its disposition is represented as being ferocious and mightiest among the jungle animals.
18. Bear and Red Rose Tattoo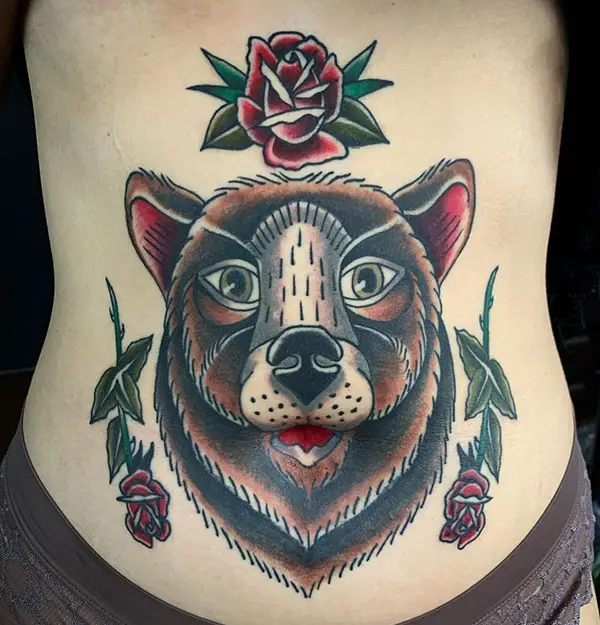 Bear has been inked in this with all intricacies, signifying a ferocious creature full of strength. To this, the red roses add a feministic touch.
19. Mother Bear with its Cubs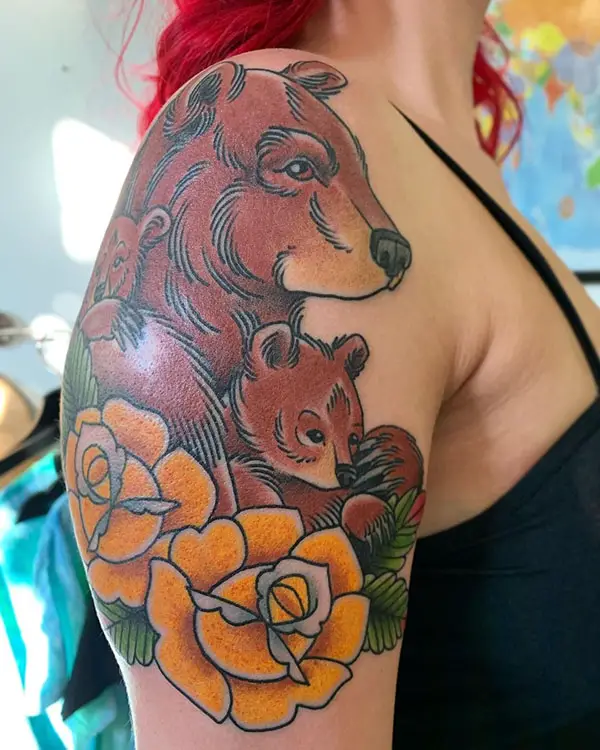 This tattoo shows the motherly love of a bear, with cubs cuddling it. The yellow flowers and green leaves create a contrasting look.
20. Mighty Bear in an Exquisite Natural Setup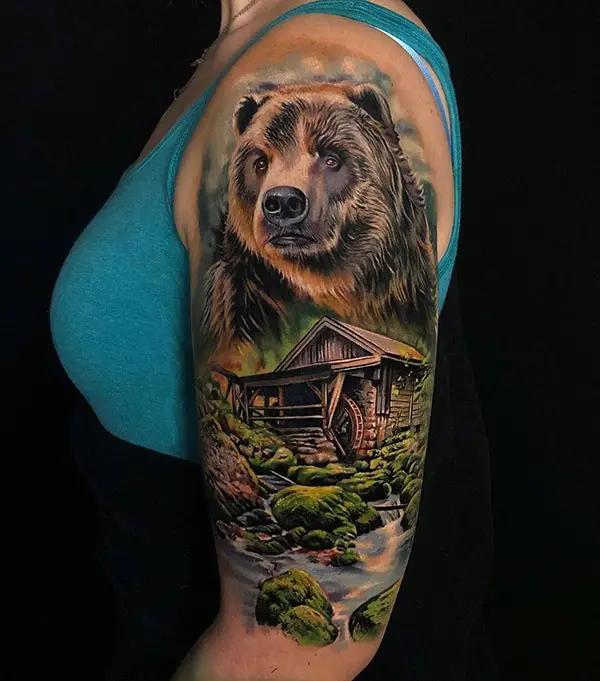 The tattoo is for someone who loves a lot of detailing as it portrays a river with greenery and a house in the jungle. Above all these setups, is a mighty courageous bear, symbolizing brave and ferocious nature.
Check More Images:
21. Small Bear Tattoo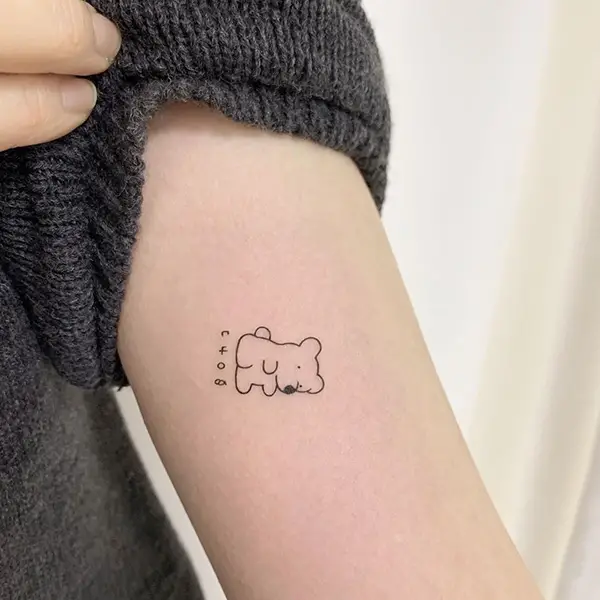 22. Singing Bear Tattoo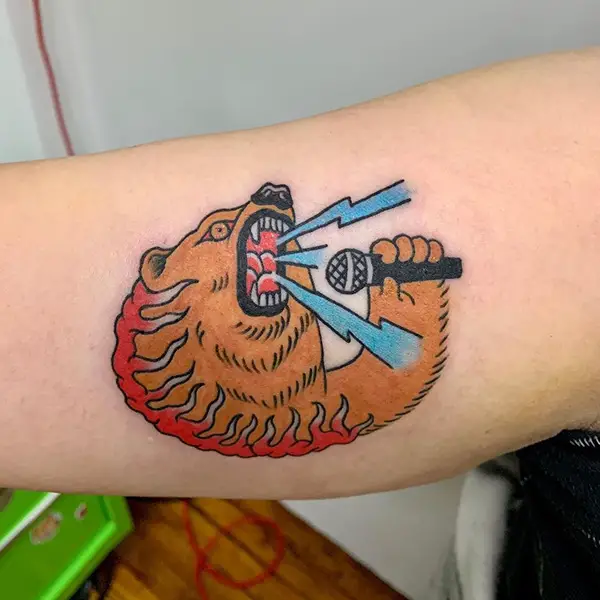 23. Unique Bear Tattoo on Thigh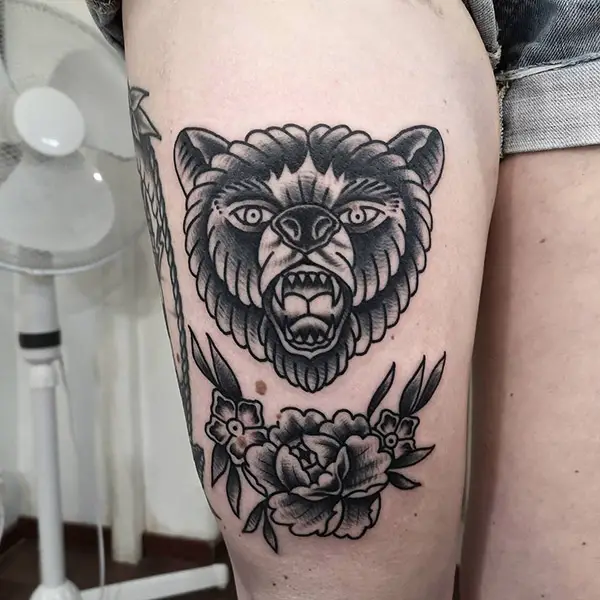 24. Little Cub with Flowers Tattoo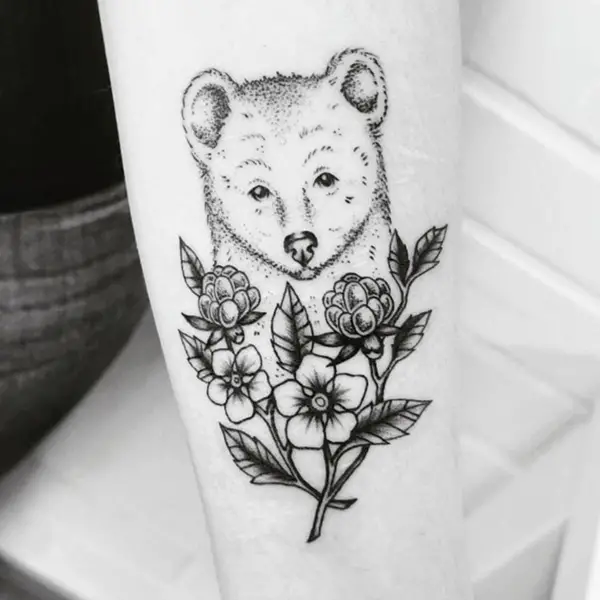 25. Bear Tattoo on Hand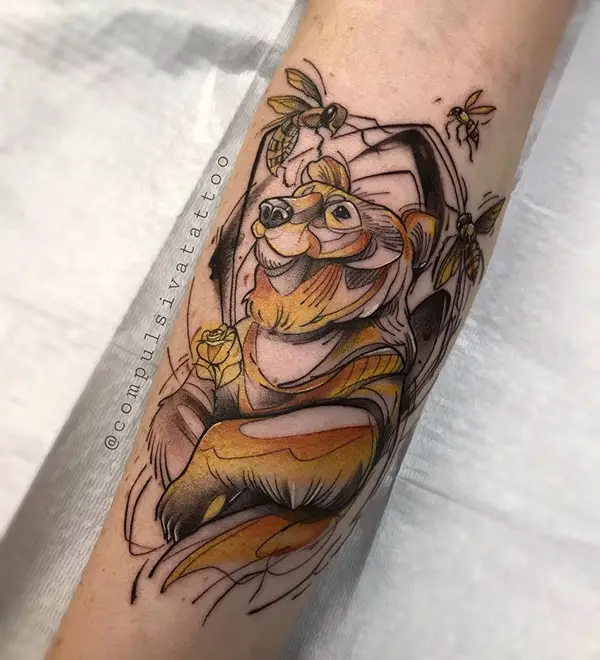 26. Realistic Bear Tattoo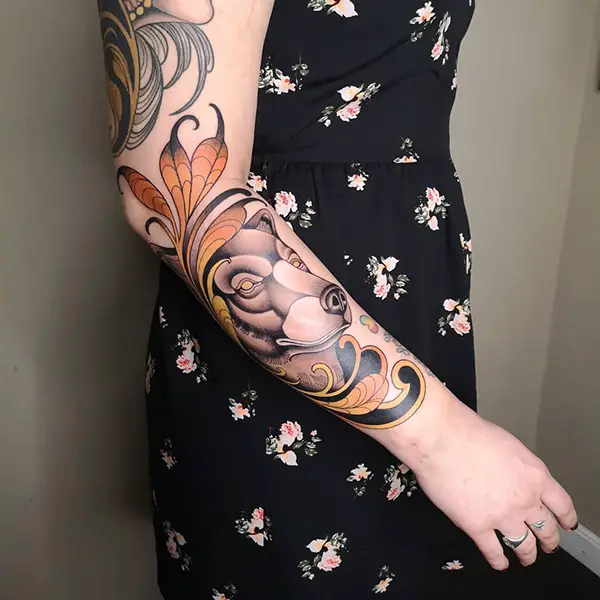 27. Bear and Girl Tattoo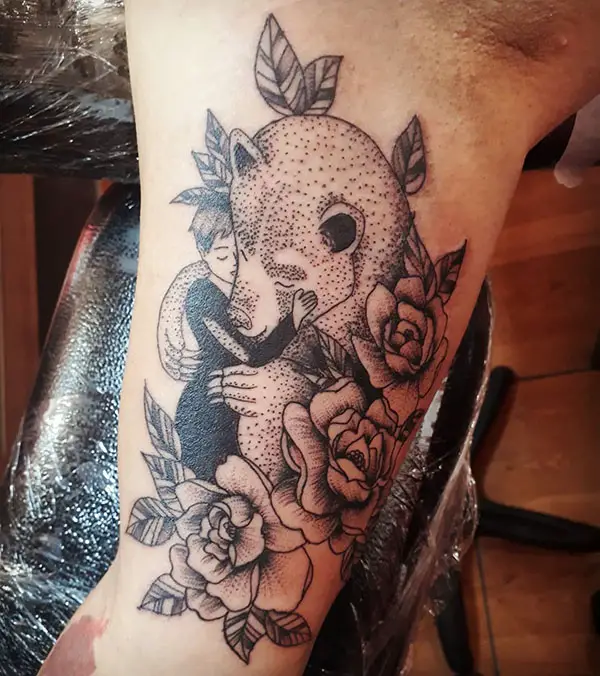 28. Traditional Bear Tattoo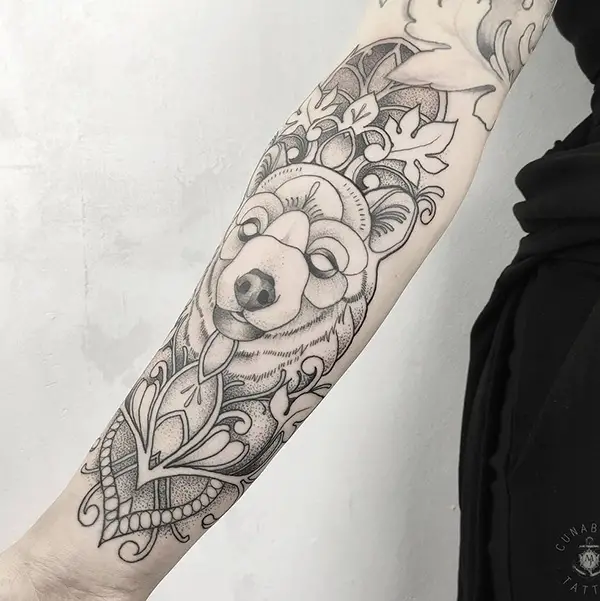 29. Cool Bear Tattoo Design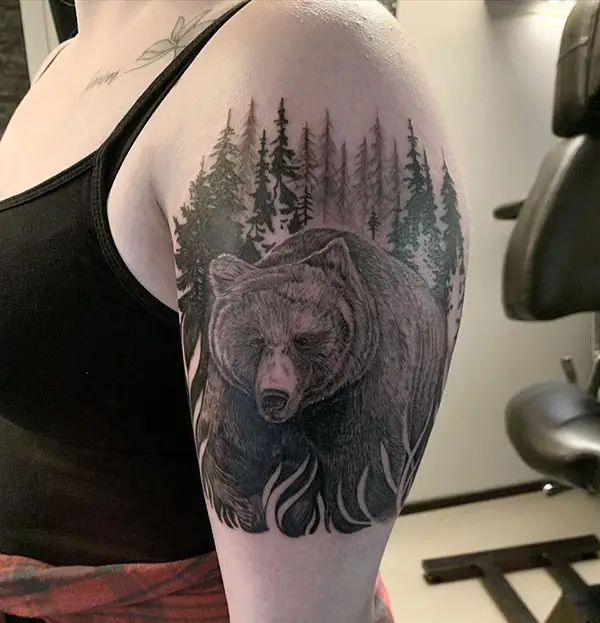 30. Bear and Moon Tattoo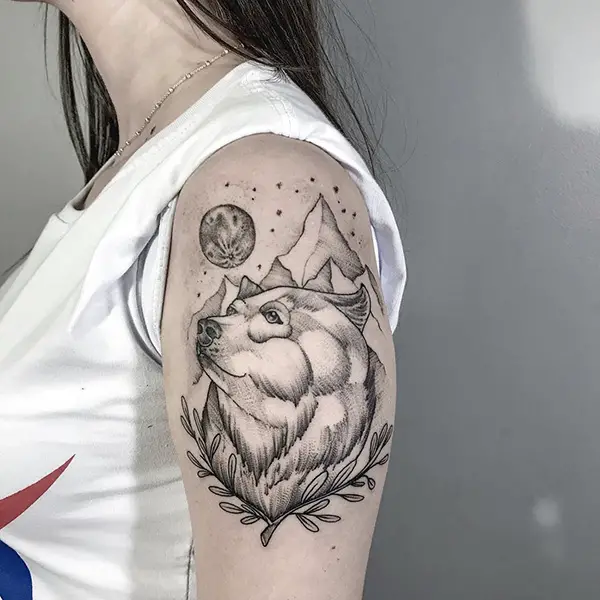 31. Nature Bear Tattoo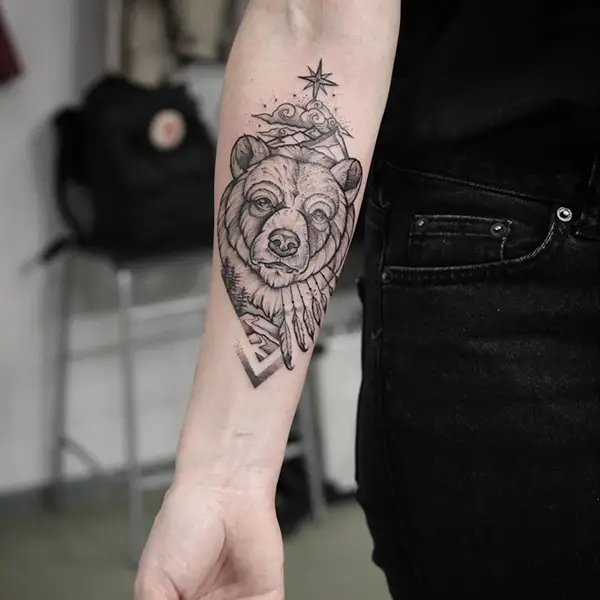 32. Bear and Mountain Tattoo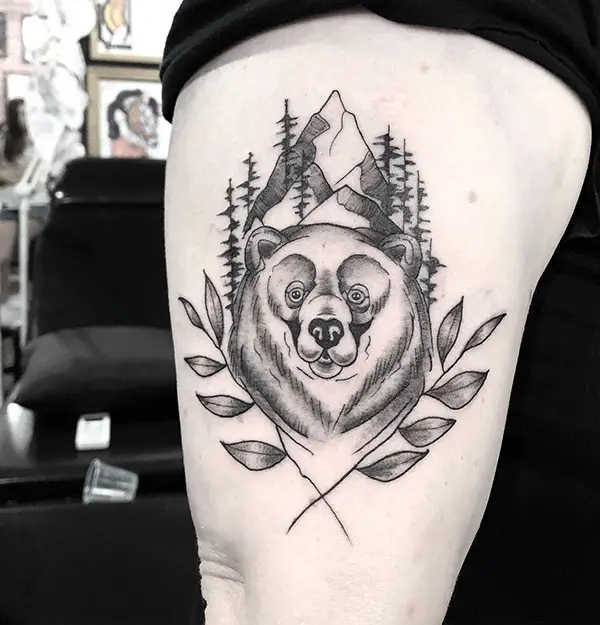 33. Watercolor Bear Tattoo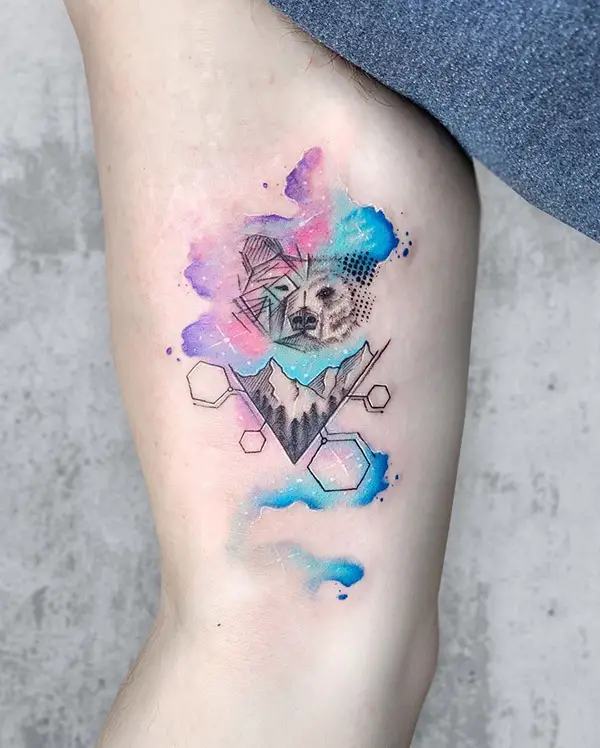 34. Bear Tattoo on your Thigh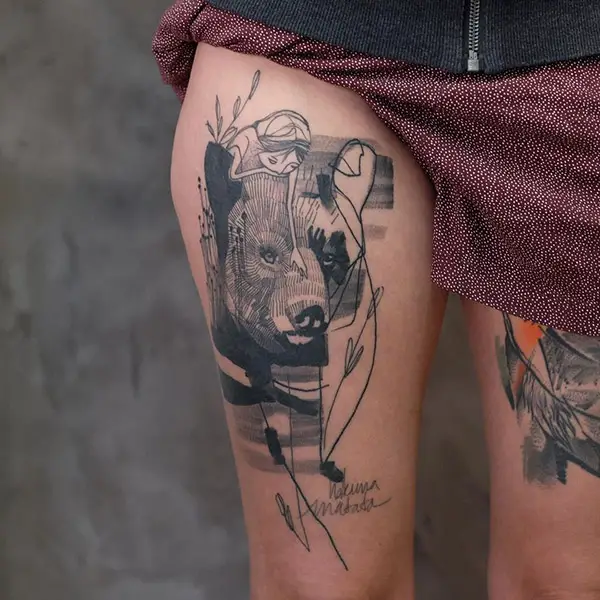 35. Outstanding Bear Tattoo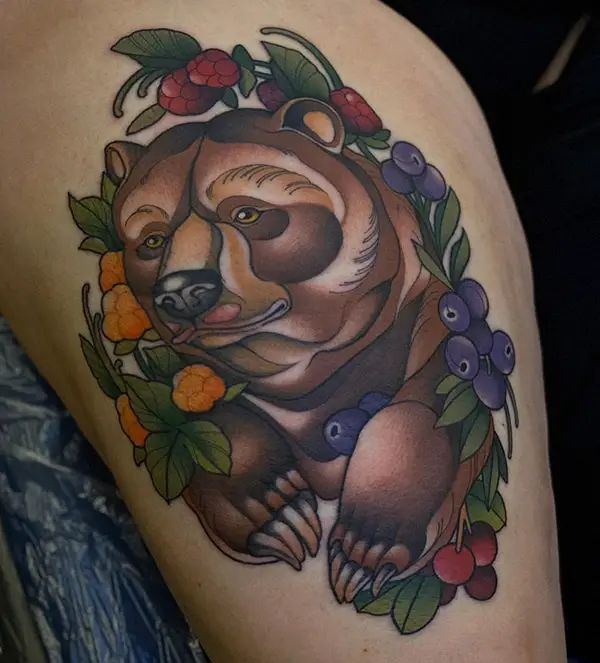 Recommended Topics: