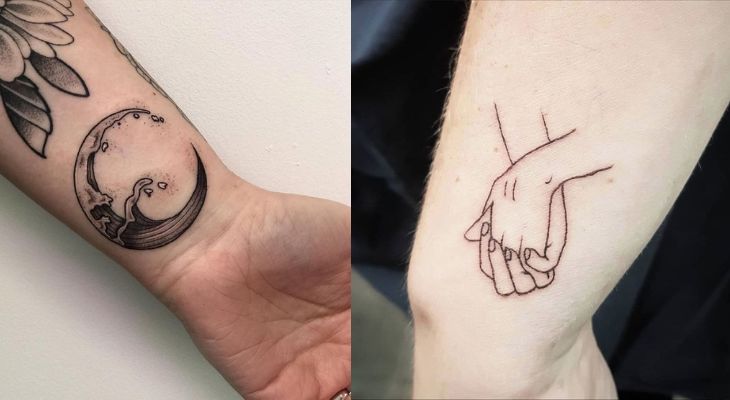 Tattoos are popular and famous everywhere in the world. It is not only a new trend but also from the ancient period, tattoos were used and it denotes their life, culture, traditions, rituals, etc., In the modern era, all boys and girls love to do a tattoo with their favorite things, love, nature, and names. A wrist tattoo is preferred by most boys and girls, which can be visible and show their personality. Will see some of the few wrist tattoos below.
17 Inspiring Cool Wrist Tattoos For Men & Women
1. Black Scorpian Gap Filler Tattoo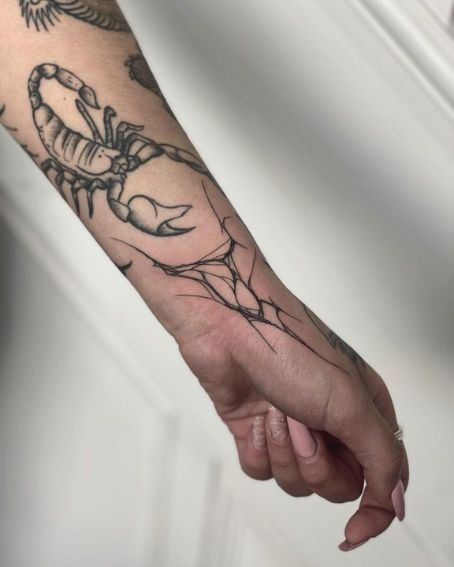 The black scorpion tattoo grabs the attention of others. Very unique and stylish appearance, wildness, and roughness are the characteristics of this tattoo. The web-like tattoo with the Scorpio on the wrist is perfect for the trendy person.
2. Positive Quote In Wrist Tattoo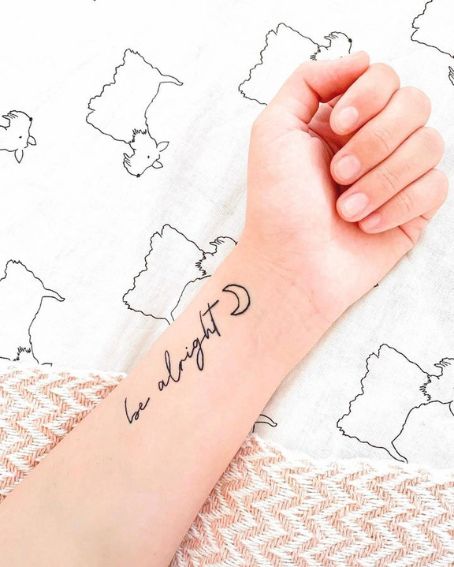 This is one of the girlish tattoos, which explain you as a positive vibe. The quote like 'be alright' with half–moon shows you are a self-motivators
3. Feather Tattoo With The Tiny Bird On The Wrist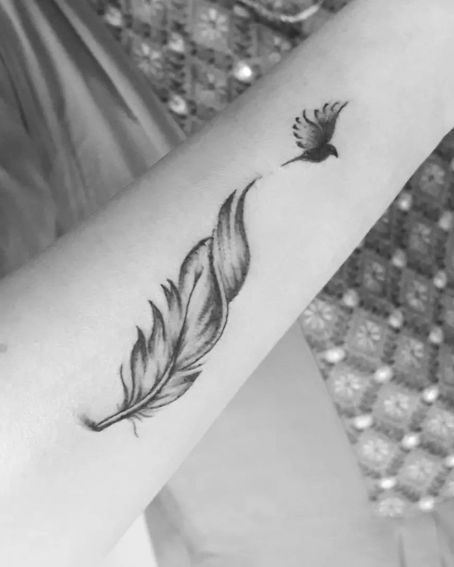 Like a black and white tattoo image, the feather with a bird on a wrist. It depicts a feather falling from a distant bird. So, the bird's image is tiny, and the feather image is larger. It is a Interesting idea with a content tattoo, which will make you stare a while.
4. Running Image Love Tattoo On Wrist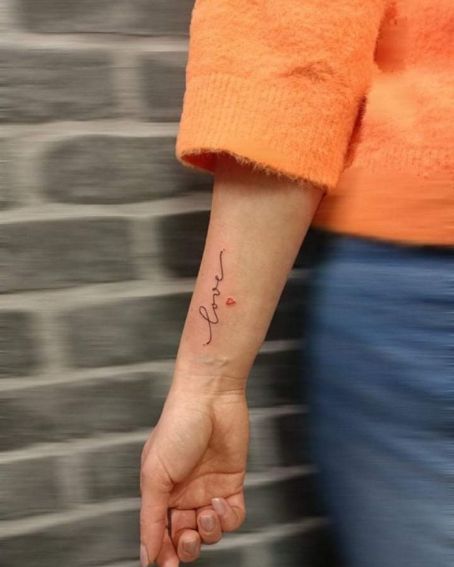 It is Commonly using this tattoo with both boys and girls on their wrists. The attractive word love, in a running letter and under the image, a cute little red heart in a colored tattoo, sounds very friendly and lovable person.
5. Global Greenhouse Tattoo On A Wrist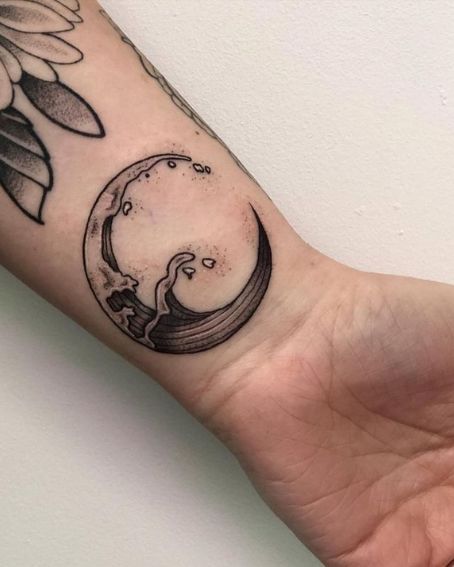 This type of tattoo creates awareness about global warming and greenhouse. If you are a nature lover, then you surely like this elegant tattoo. The wrist acts as a perfect place to draw this excellent tattoo.
6. Puppy With Stars On Wrists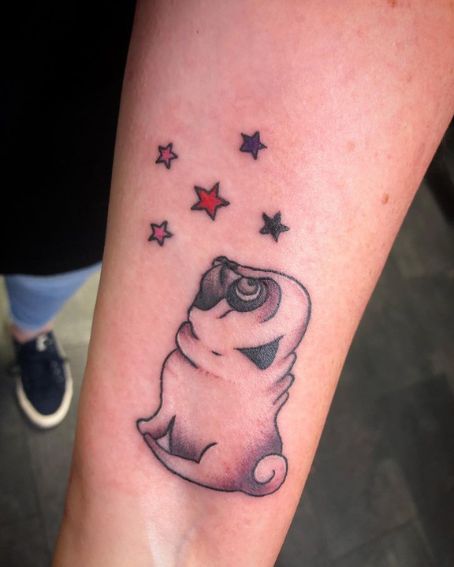 The tattoo denotes this girl as a pet lover, she has done a tattoo with the image of a puppy with twinkling stars. Some stars are red and the rest of them are black. The tattoo expresses that a puppy happily sees up the stars, which is fun and cute.
7. Leaf Tattoo On A Wrist With Lined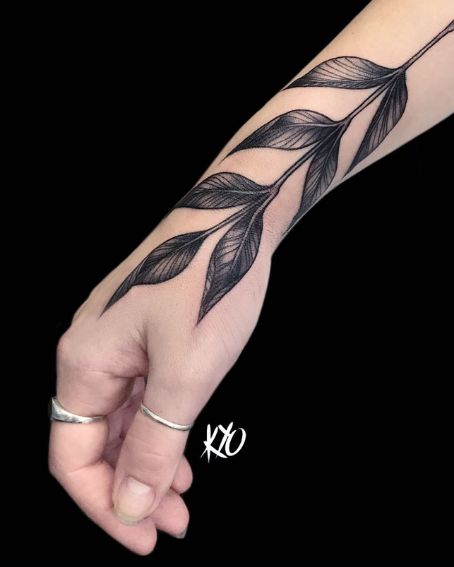 The tattoo was classic and it represents protection and growth. This is a girlish tattoo; makes sense like a dancer. The whole tattoo with black and lined which feels fresh, perfect, and quirky.
8. Colorful Butterfly Tattoo With Sunflower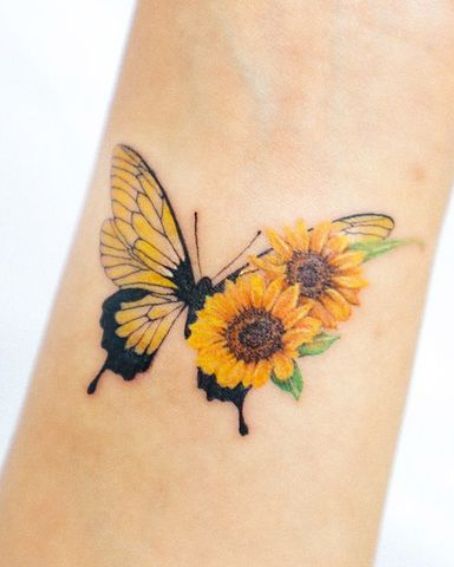 Mostly butterfly tattoos will give a feminine look. Because butterfly represents freedom and transformation, which tells that they want to be or they like to be in their life. The sunflower with butterfly in the same color gives you an impressive and traditional wrist.
9. Flower With Leave Tattoo On Wrist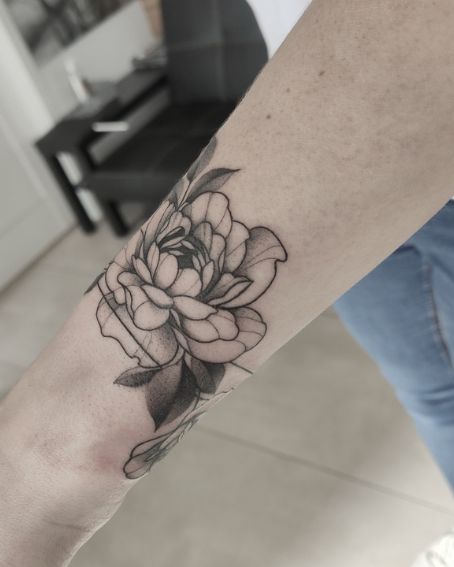 It is one of the most traditional ideas, flower design which has been said to be a favorite among a man for a year. It also represents the harmony of the universe and the flower represents good health. A very trendy and soft-looking tattoo on the wrists is amiable.
10. Heart Shape Flower And Leaves Garland Tattoo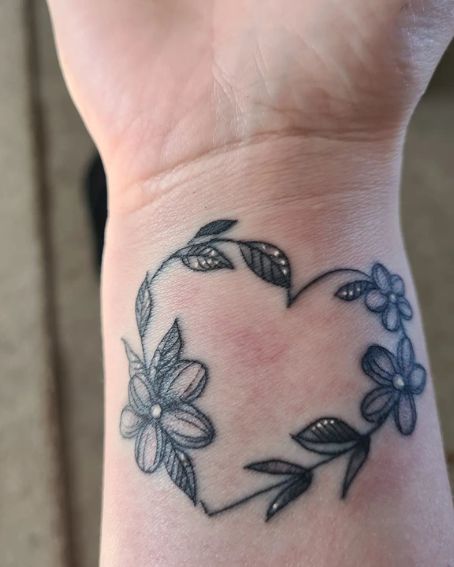 Very brave attempt to select this tattoo shape on the wrist. Because it occupies space and takes time more for design on the wrist. The heart was shaped with flowers and leaves garland, a symbol of peace and love.
11. Guitar Outline Tattoo On A Wrist
Instruments tattoo is common for both gender, it needs quality for a music lover. If anyone designed musical instruments in their tattoos, it shows that they live for music and nature. This guitar outline is very small, so it saves time and painful process.
12. Pineapple Fruit Tattoos On Wrist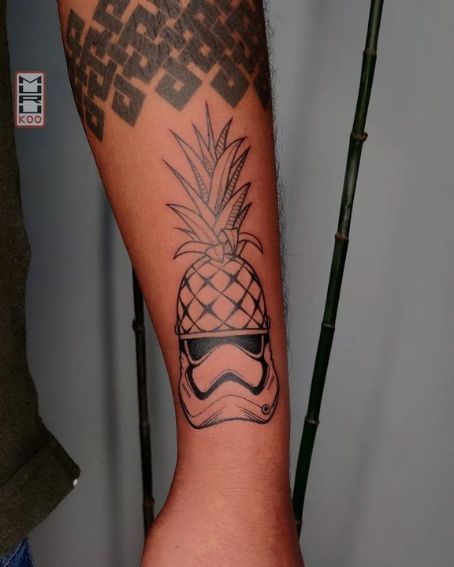 Most people like to do a tattoo on the wrist, even though it takes more time and hurtful process according to the image. The creative ideas are present in the pineapple, which looks a little terrified and give a masculine version.
13. Handholding Love Tattoo On Wrist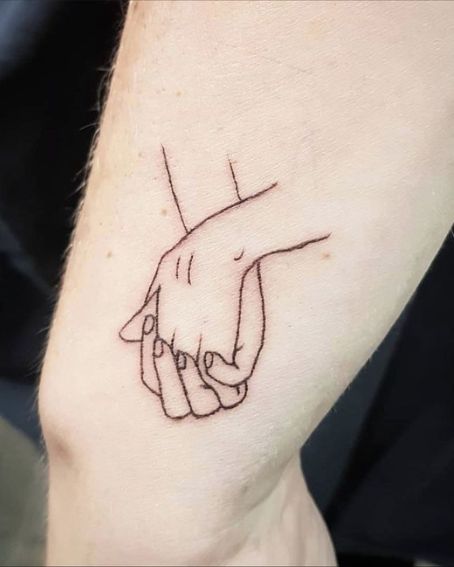 Many lovers and girls resemble this idea of tattooing on their wrists. The outlined tattoo, visible to everyone, that they meanderingly convey the message about their love and marriage. Trendy and stylish, everyone glances a moment while crossing them.
14. The Matchstick Burning Tattoo On The Wrist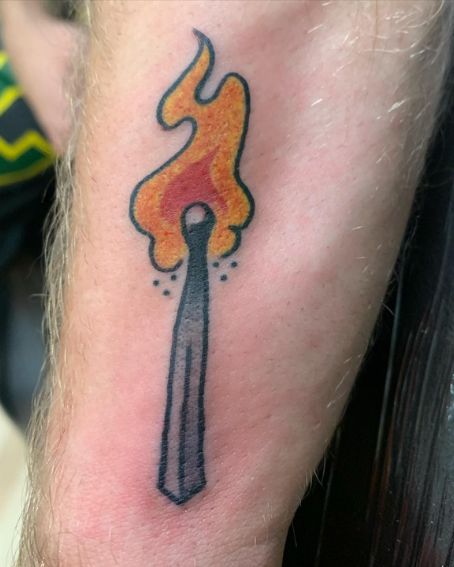 The exclusive idea about the tattoo, want to be special and stylish this way. The burning matchstick was colored and just they want to convey this one as a versatile option for a wrist. Only males wish to have a more complex design like this, conveying as they are strong and brave.
15. Sleeping Tiger Tattoo On A Wrist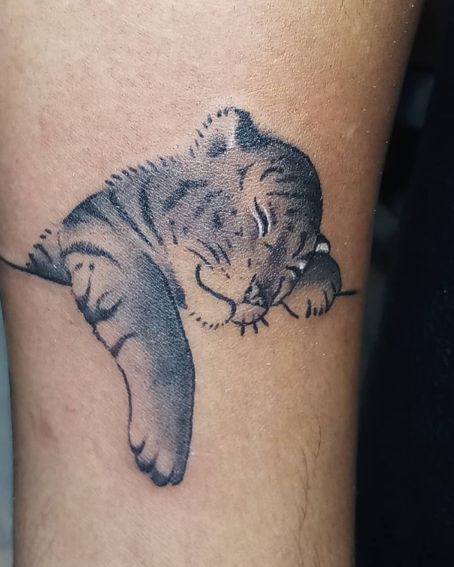 Mostly tigers were chosen by men and they want to show their attitude and character through tattoos as visible. Tiger's sleeping image was just denoted that they hide their anger, and wildness and simply tied with that character.
16. Baby Elephant Tattoo On Wrist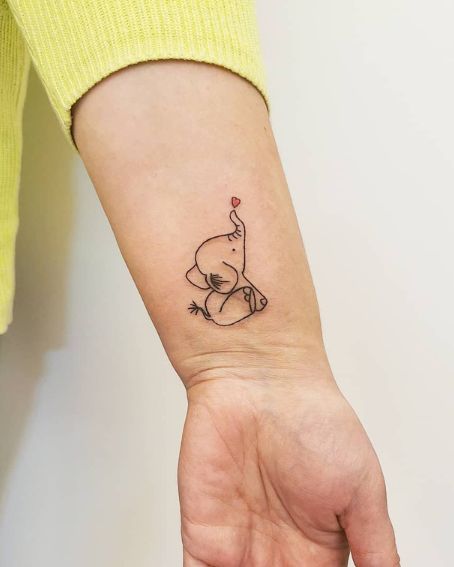 Very charming and every animal lover like to tattoo baby animals. Specifically with the baby picture, only the outline with the whole elephant baby, trunk towards the little heart. The cute little heart is red and stretches adding more beauty to it.
17. Penguin Tattoo On The Wrists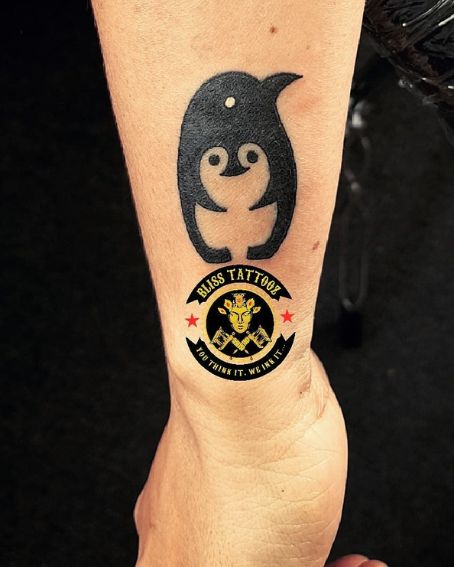 Penguin tattoos are rare and unique, which denotes some cartoon characters or game characters. Both boys and girls love to do a tattoo on their wrists to admire them. Fun and soft natural youngster love this tattoo very much.
Best Tattoo Aftercare Products
BEST OVERALL
Hustle Butter Tattoo Aftercare – Buy on Amazon
BEST SOAP
Dial Antibacterial Liquid Hand Soap in Gold – Buy on Amazon
BEST SKIN OINTMENT
Aquaphor Healing Ointment Advanced Therapy Skin Protectant – Buy on Amazon
BEST UNDER $10
Badger Tattoo Balm – Buy on Amazon
BEST BODY LOTION
Eucerin Advanced Repair Body Lotion – Buy on Amazon
BEST POST-PEEL BODY LOTION
La Roche-Posay Lipikar Balm AP+ Intense Repair Body Lotion – Buy on Amazon
BEST SUNSCREEN
Mad Rabbit Defend Tattoo Sunscreen SPF 30- Buy on Amazon