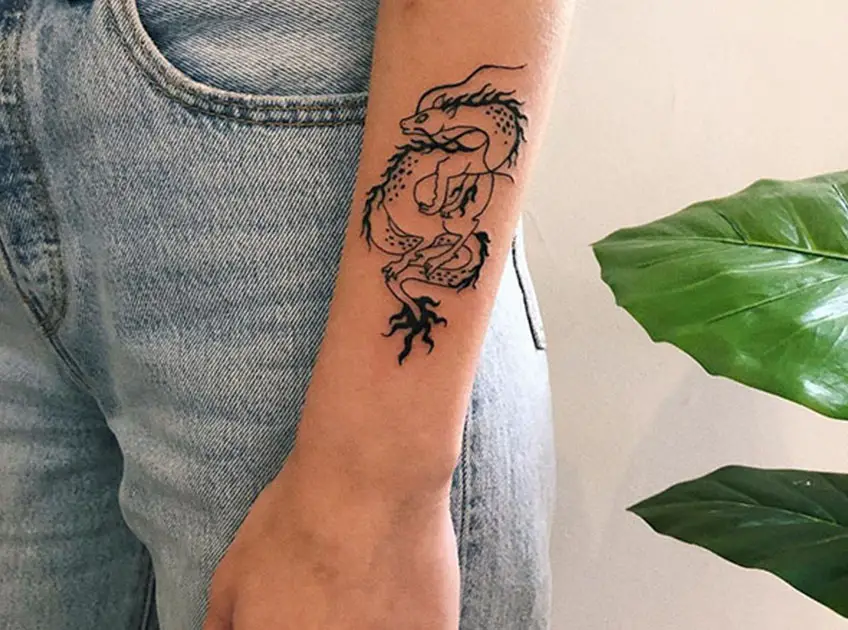 Dragon tattoos are believed to have different meanings, such as good luck, wisdom, power, peace, strength and protection. It is believed that these tattoos are known to enhance the above parameters in life. Let us see some interesting dragon tattoo ideas.
1. Dragon Tattoo with a Tiny Heart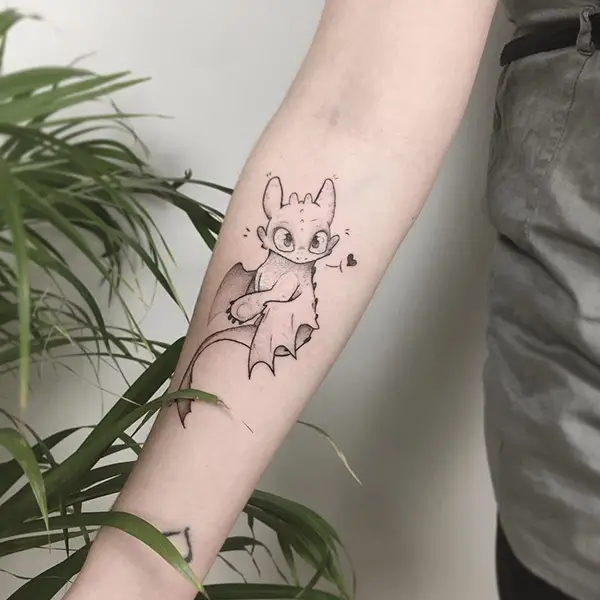 Like dragons but want to make them appear more adorable? Get this cute dragon tattoo with a heart to show that despite being mighty creatures, they too have the heart to love.
[ Recommended: Inspirational Small Tattoos and Their Meanings ]
2. Flying Dragon Tattoo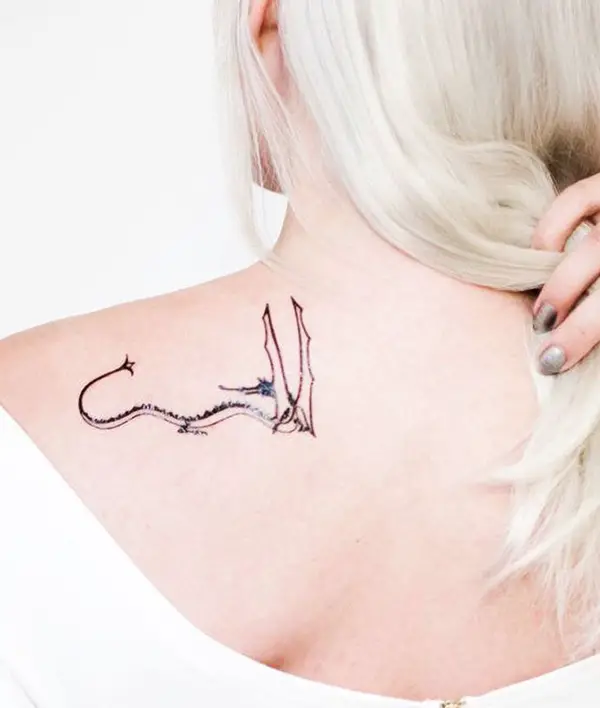 This is horizontally flying dragon tattoo is perfect for getting inked on the shoulder or back. It symbolizes the protection of family and home as dragons are viewed as guardians who bring happiness and longevity.
[ Recommended: Wrist Tattoos For Men and Women ]
3. Colored Haku Dragon Tattoo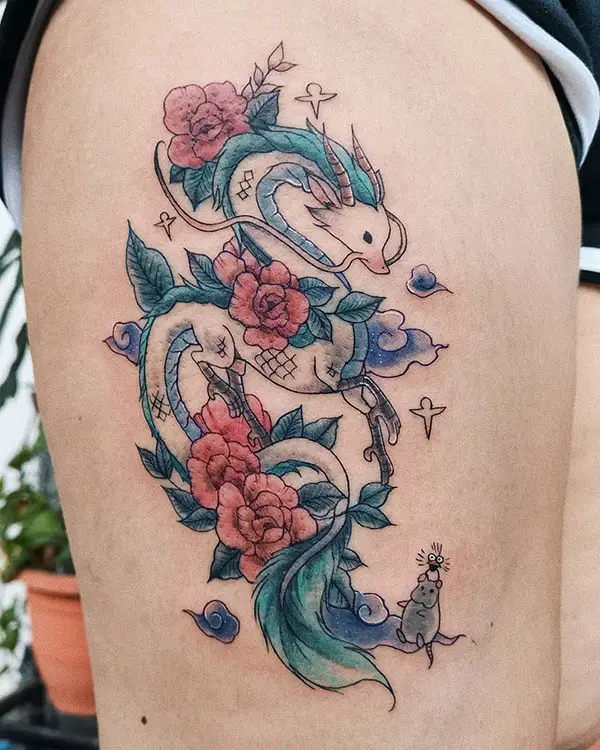 This is a Haku spirited away dragon tattoo with bold colors. It is not always composed but is brave and also exhibits sadness.
4. Black Dragon Tattoo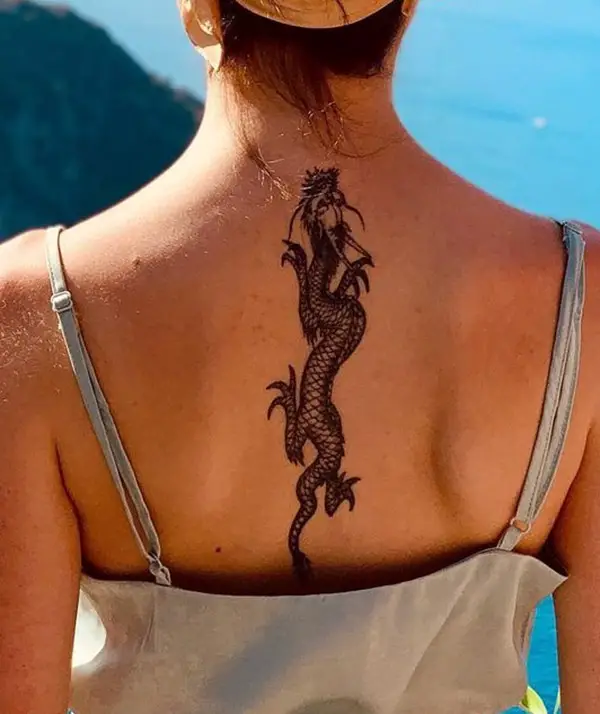 If you are inclined to pursue something that sets your soul on fire, get this black dragon tattoo inked on your back to show your fearlessness, strength and belief to turn your dreams to reality.
5. Black Flying Dragon Tattoo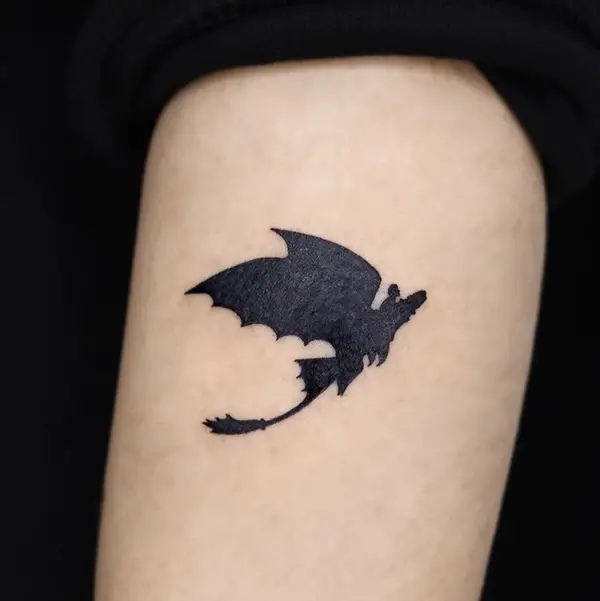 Dont want to show any intricacies in your tattoo? Then this black dragon tattoo is the best one to symbolize your experience and wisdom.
6. Ferocious Winged Dragon Tattoo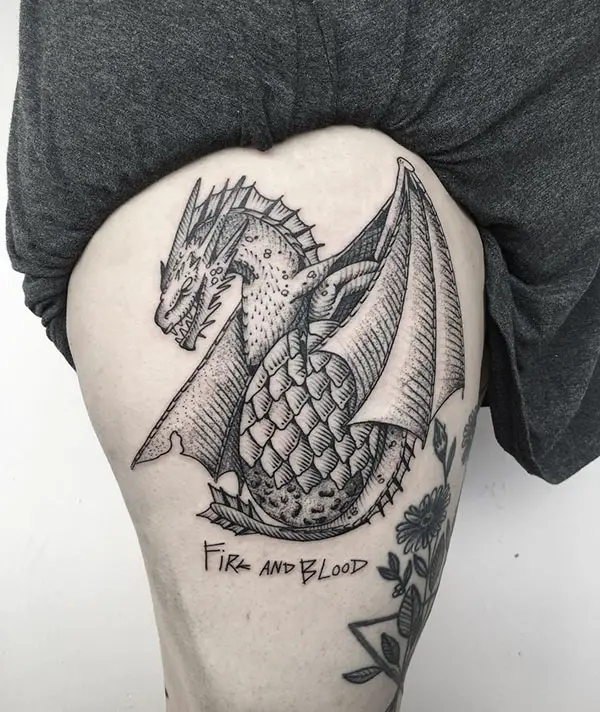 The giant dragon tattoo indicates power, strength and longevity. It is seen surrounded by small plants, symbolizing their existence amidst nature.
7. Dragon with Tiny Flowers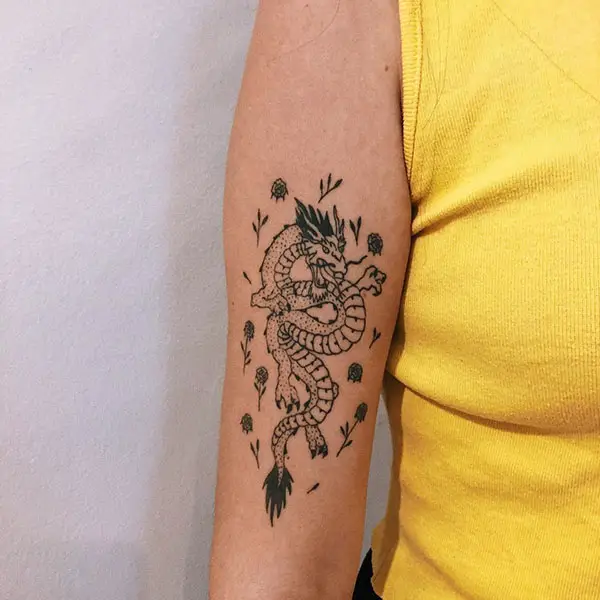 This dragon is surrounded by tiny flowers, which represent healing and that the dragon is not violent, but rather a protector and helpful to mankind.
8. Snake like Dragon Tattoo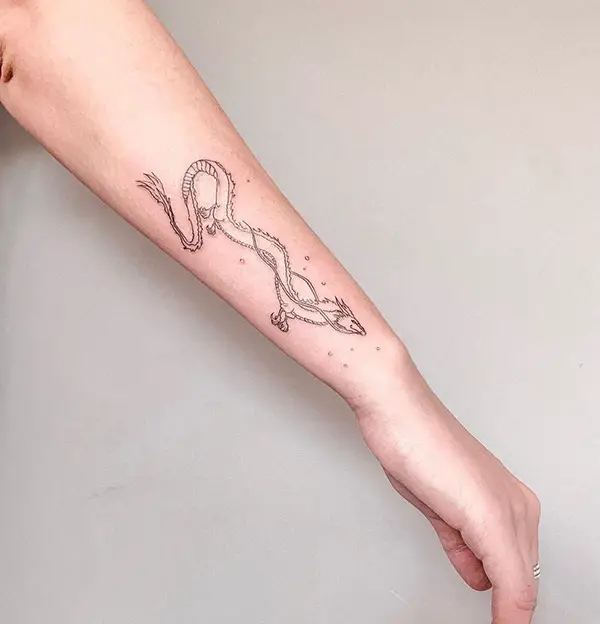 When you want something minimal but extensive enough to spread across your arms, this is the good choice of the dragon, you can opt, to symbolize power, strength and good luck.
9. Intricate Realistic Dragon Tattoo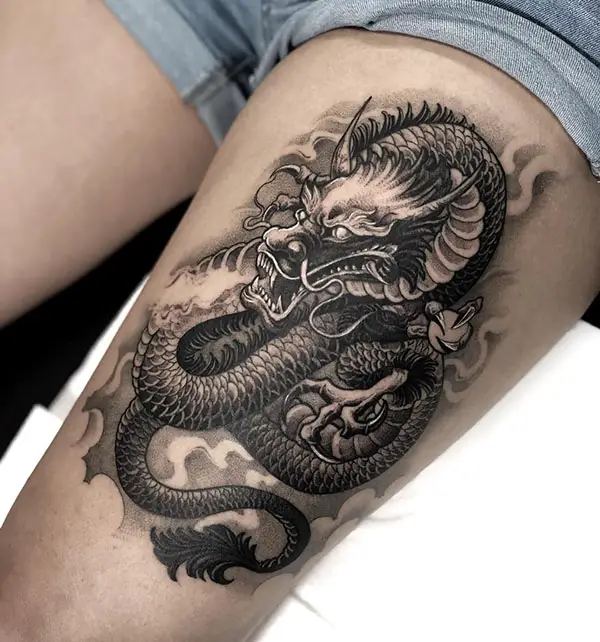 Love realistic tattoos? Get this intricate dragon design inked on the arms to symbolize power and strength. It is intricately designed to make it appear like 3D.
10. Dragon with a Rose Tattoo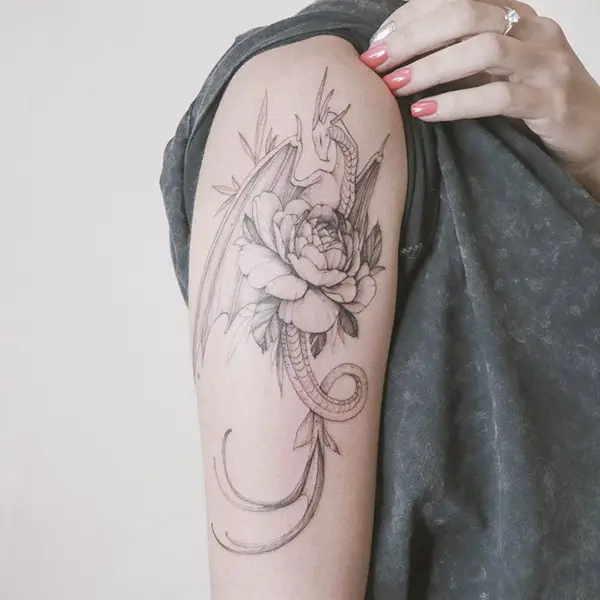 A dragon with a rose tattoo indicates fiery passion. Rose adds a sense of love and passion to the dragons who are known to be intensively powerful and strong.
11. Dragon with a Red Tongue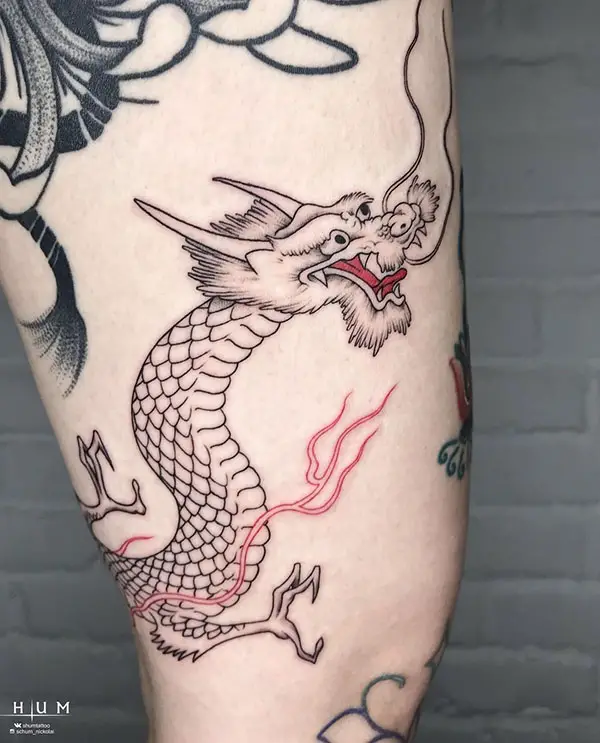 This tattoo shows a strong, ferocious dragon which is black in color but the red coloured tongue and the red lines around it add an interesting touch. It symbolizes power and strength.
12. Dragon and a Tiger Tattoo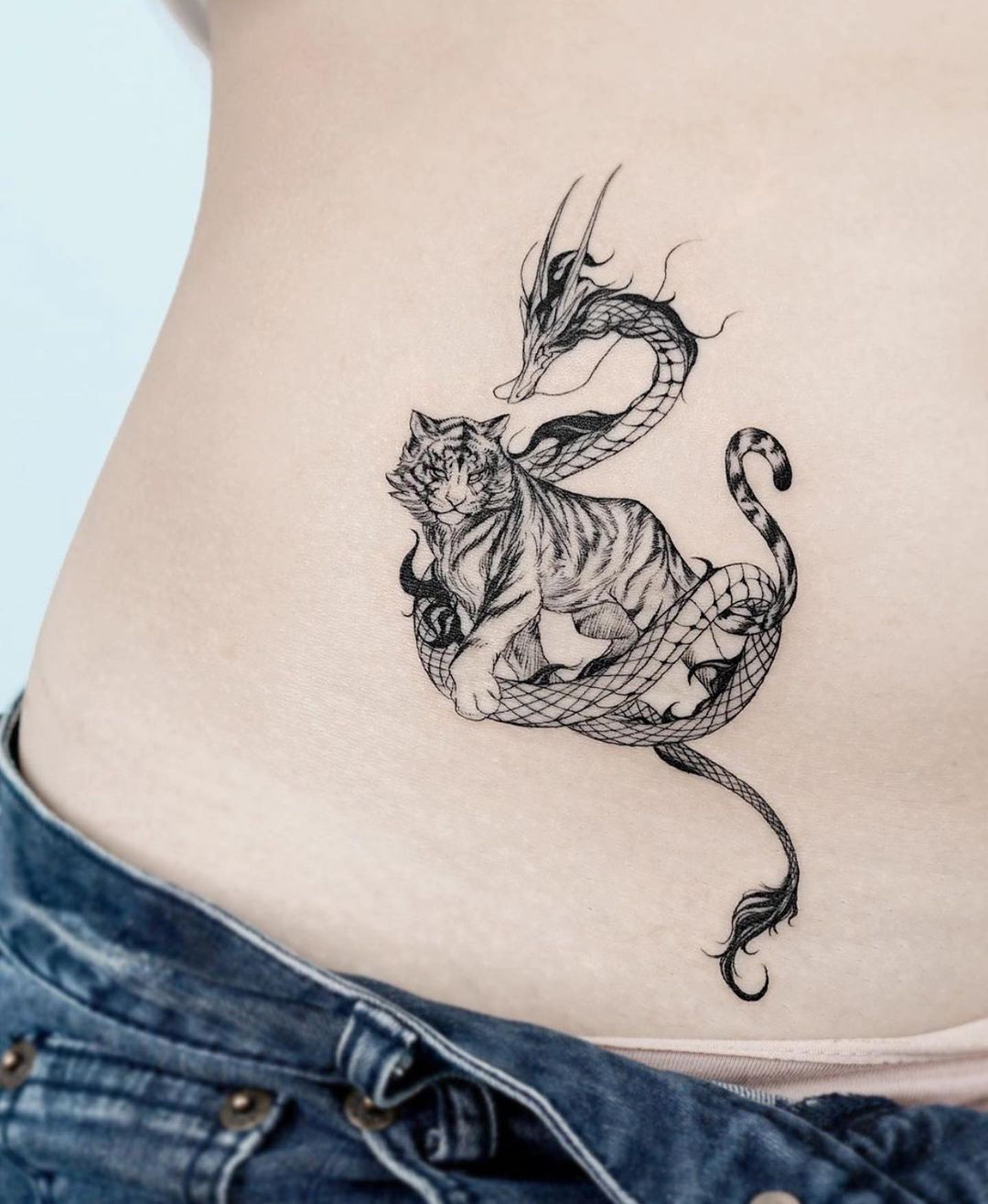 The tattoo has two wild spirits which are different yet similar in nature in terms of strength and power. Together, these two are considered to be ancient yin and yang symbols which imply the forces making up the universe.
13. Red Dragon Tattoo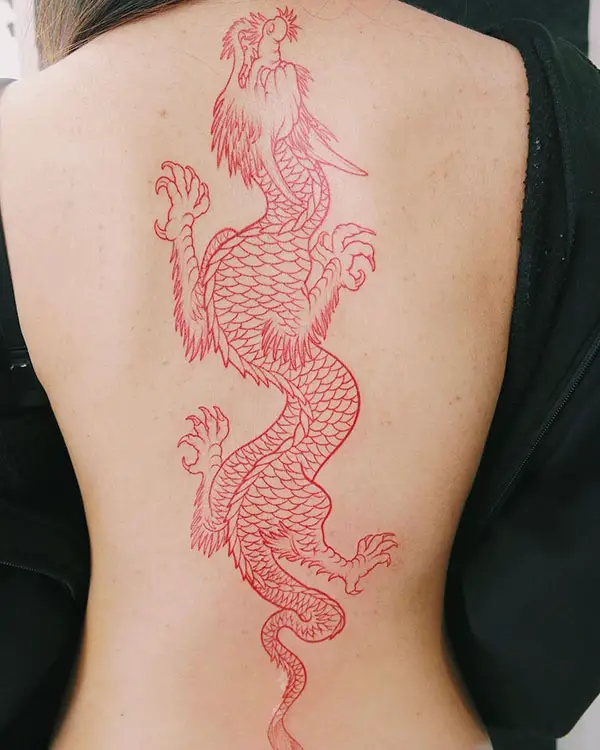 A red dragon tattoo is a symbol of strength and masculinity. The color represents fortune and good luck and can be inked on the arms or back.
14. Ferocious Black Dragon with a Weapon Between its Teeth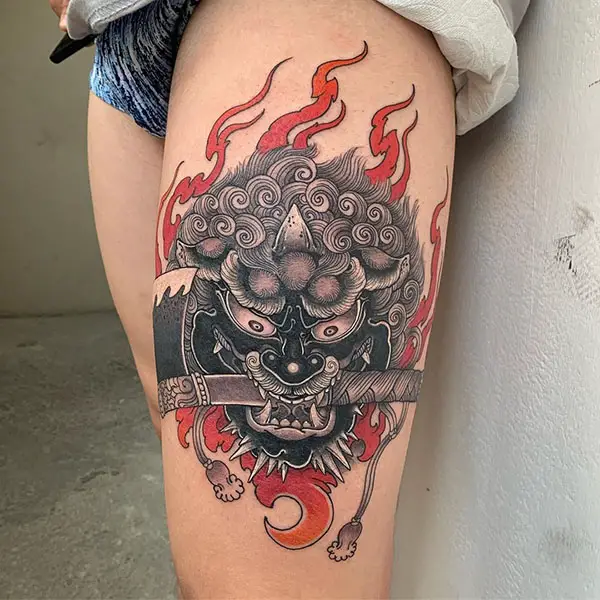 This ferocious dragon holding a weapon between its teeth represents wisdom, blessing and force of good over evil, based on the ancient belief that dragons alter the elements for the benefit of people and bring good to the world.
15. Tiny Dragon Tattoo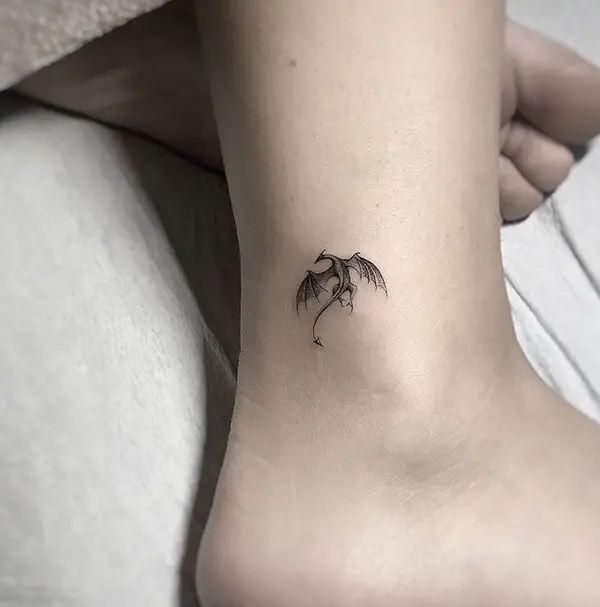 When you don't want an intricate design, yet are fascinated by the dragons, this tiny flying dragon is the perfect one that can be inked on your wrist, ankles, shoulders or any other place of your choice.
16. A Couple of Flying Dragons Tattoo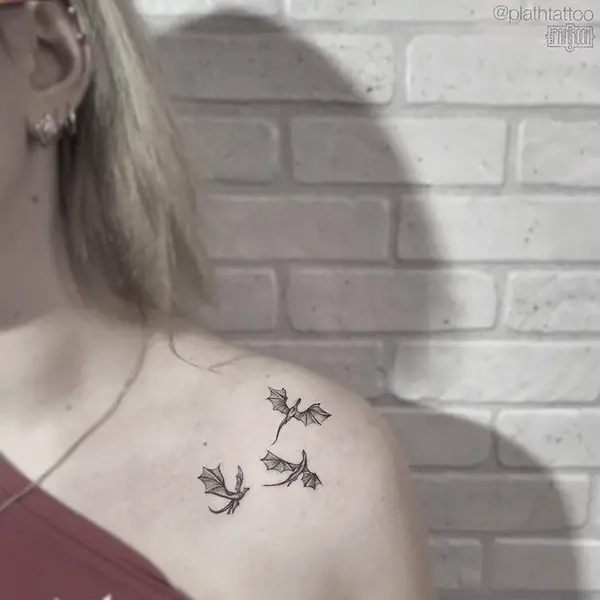 Dragons can be as tiny as silkworms and can fly in the sky freely or be on earth, fire and water. They are considered to bring good fortune and happiness. You can get these inked on your shoulders for a classy appearance.
17. Dragon and Wave Tattoo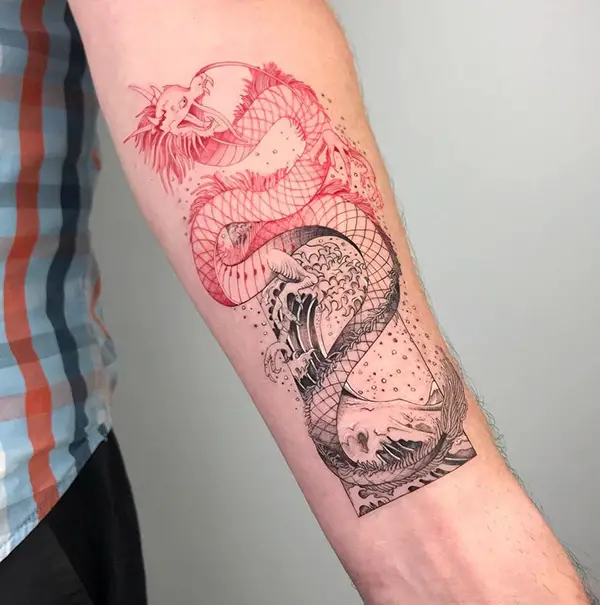 Red dragons indicate strength and masculinity and are believed to bring fortune and good luck. The sea wave near the dragon shows that life is in constant motion and the unstoppable natural force continues its course with time. Both are fierce elements.
18. Dracarys Tattoo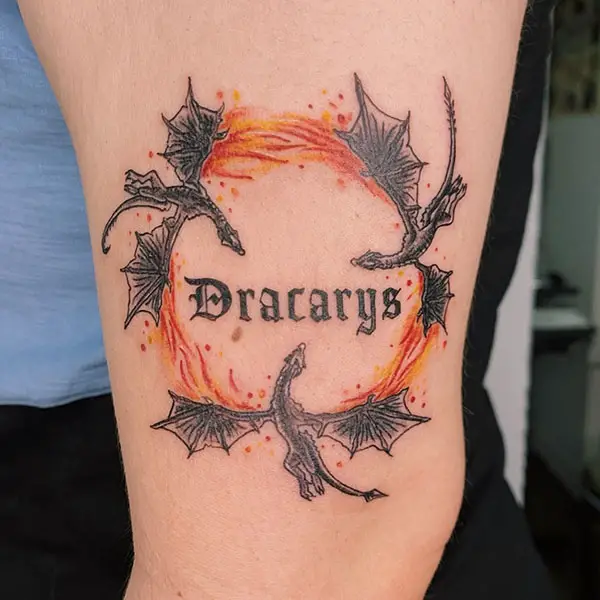 Dracarys is a word for Dragon fire. It creates an amazing visual when inked with 3 dragons with fire between them. It can be inked on the arms for a trendy look.
19. Hydra Dragon Tattoo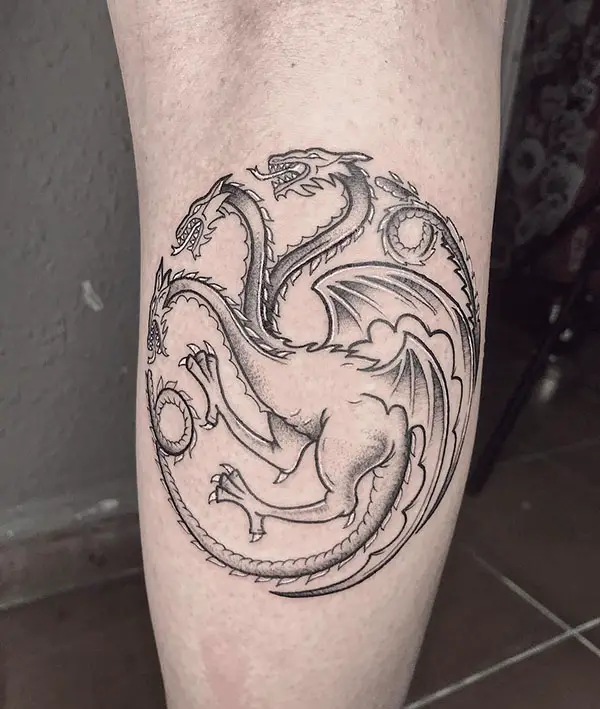 Hydra dragon has multiple heads. This tattoo representing the hydra has three powers, i.e. immortality, regeneration and poisoned blood.
20. Cute and Small Dragon Tattoo on Waist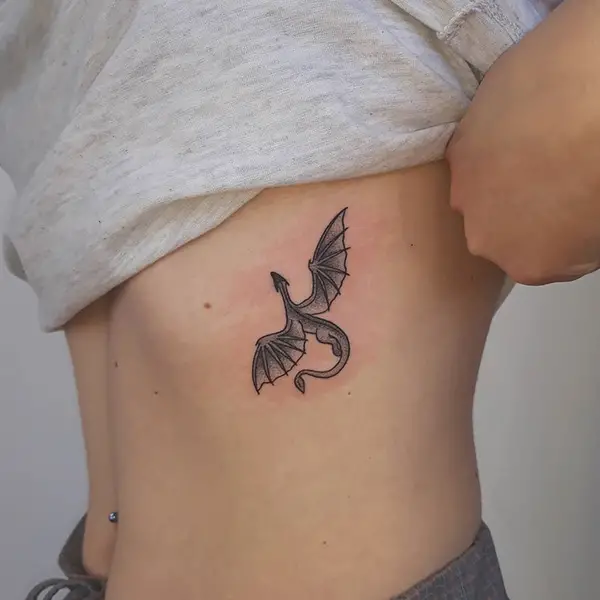 21. Cute Dragon Tattoo with Flowers on Thigh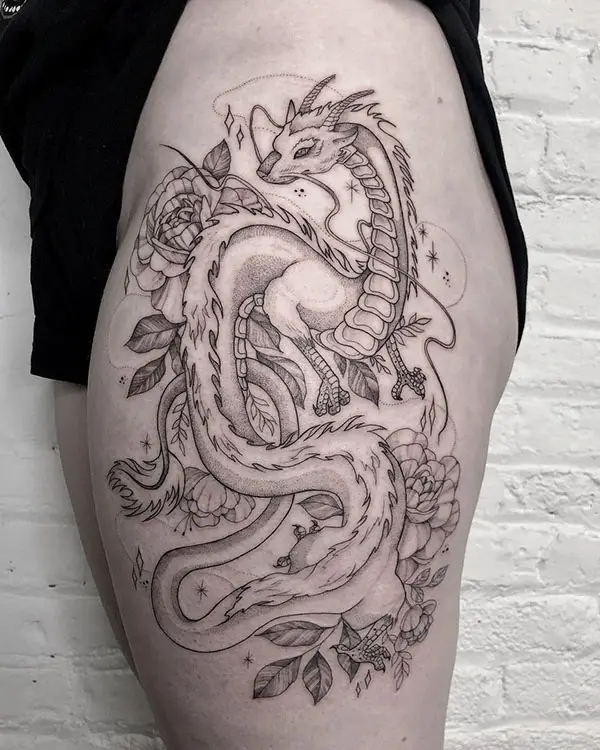 22. Dragon Tattoo on Back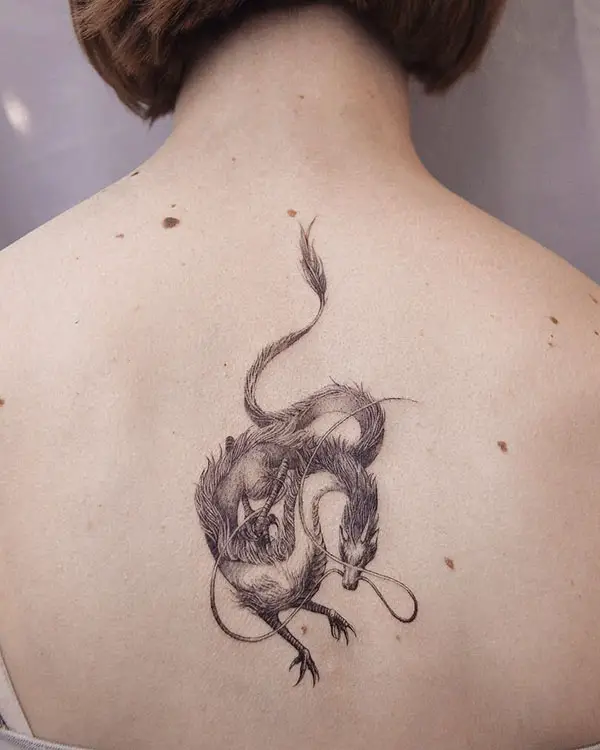 23. Dragon Tattoo on Behind the Arm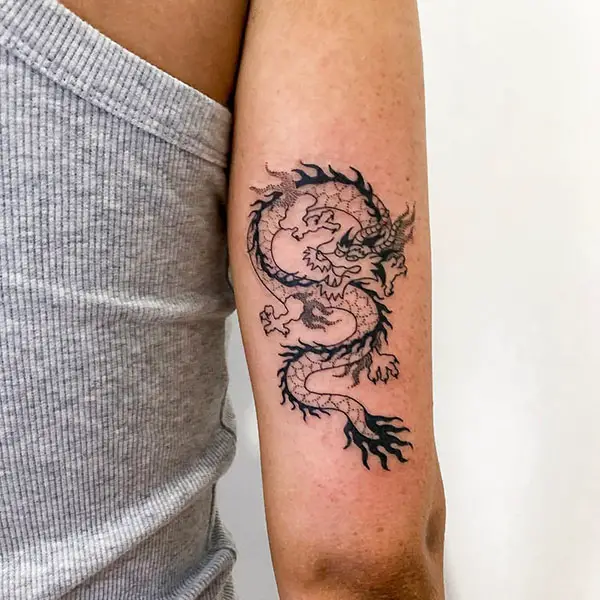 24. Dragon Tattoo on Hand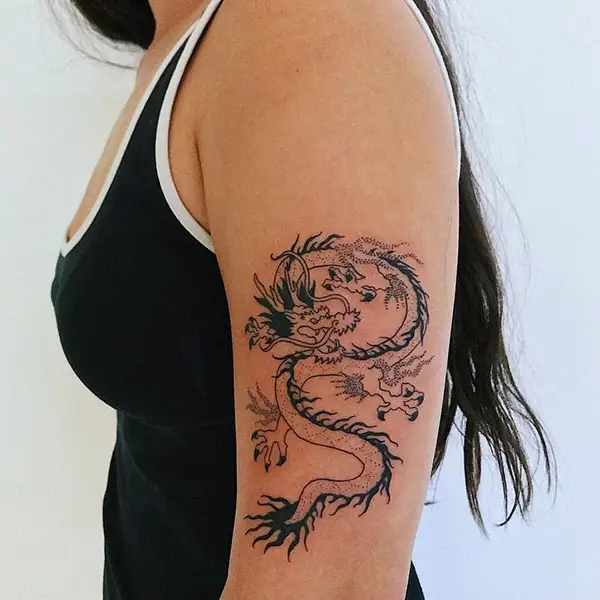 25. Dragon Tattoo on Leg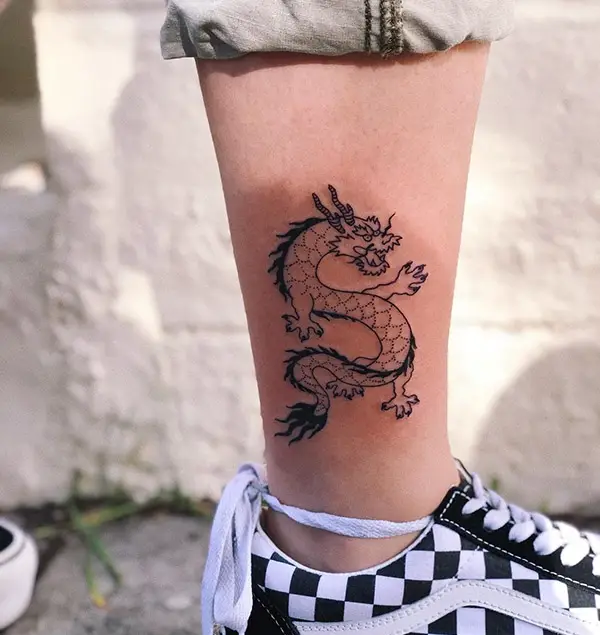 26. Dragon Tattoo with Flower and Leaves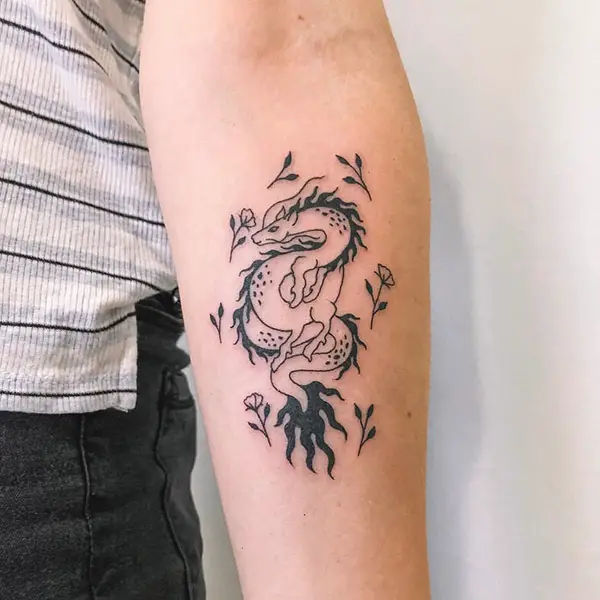 27. Dragon Tattoo with Shading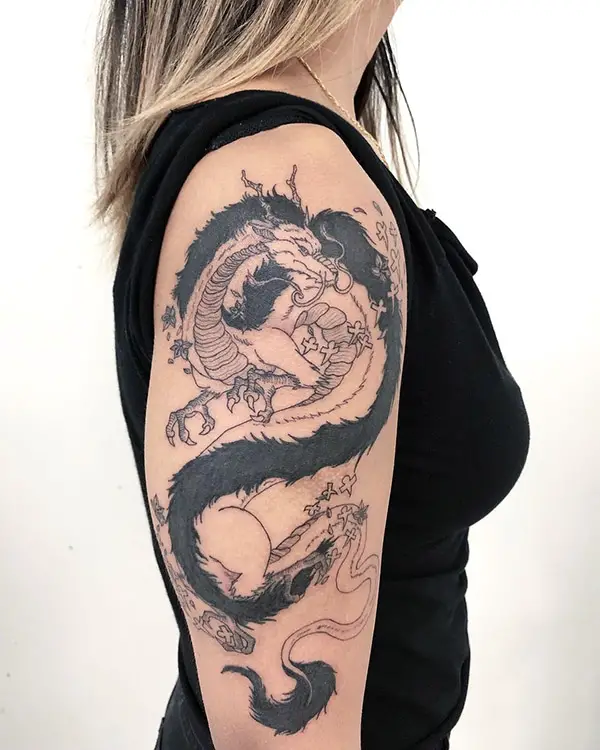 28. Dragon Tattoo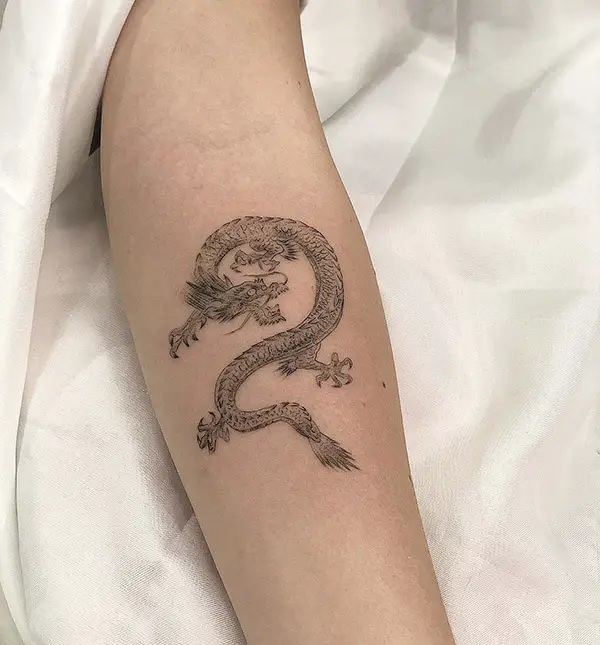 29. Realistic Dragon Tattoo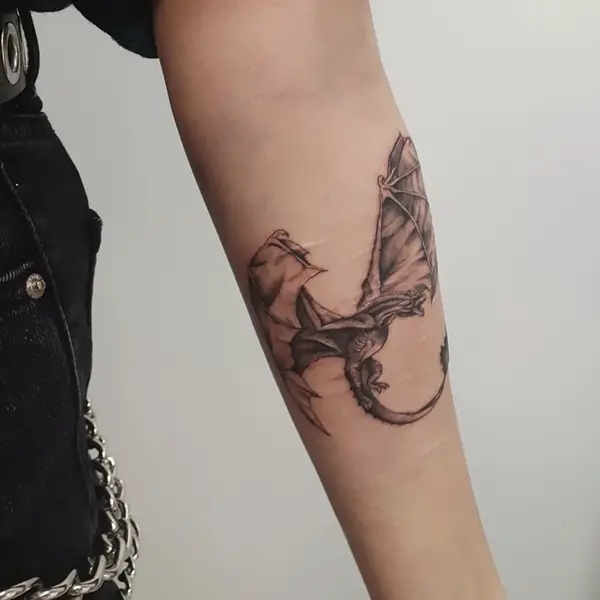 30. Simple Dragon Tattoo on Hand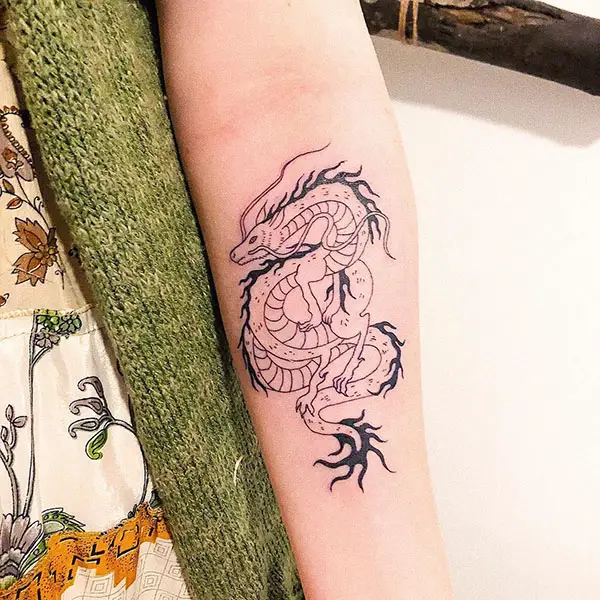 31. Simple Dragon Tattoo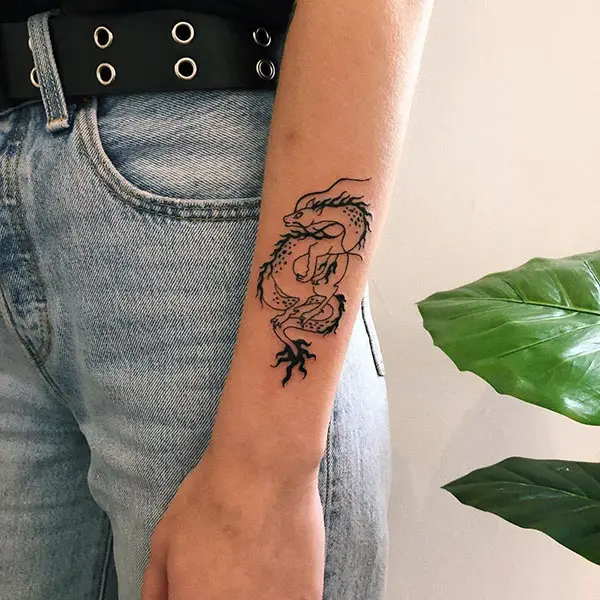 32. Twisting Dragon Tattoo on hand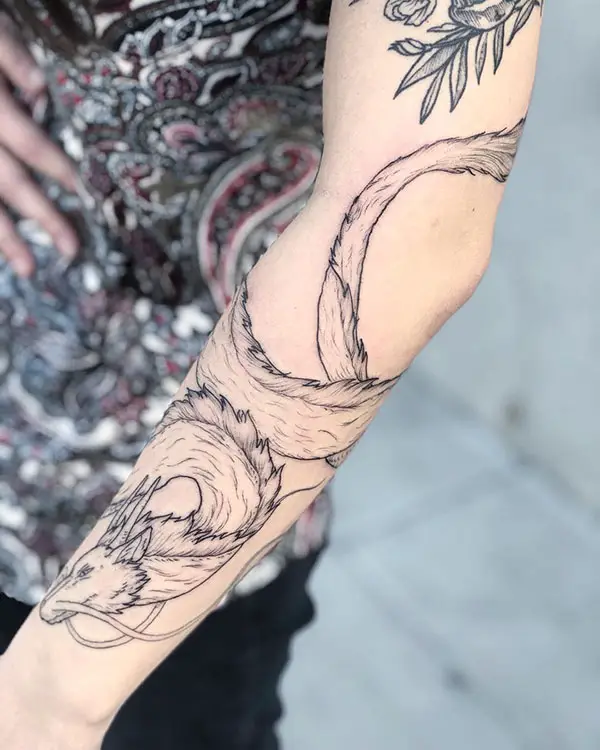 Recommended: