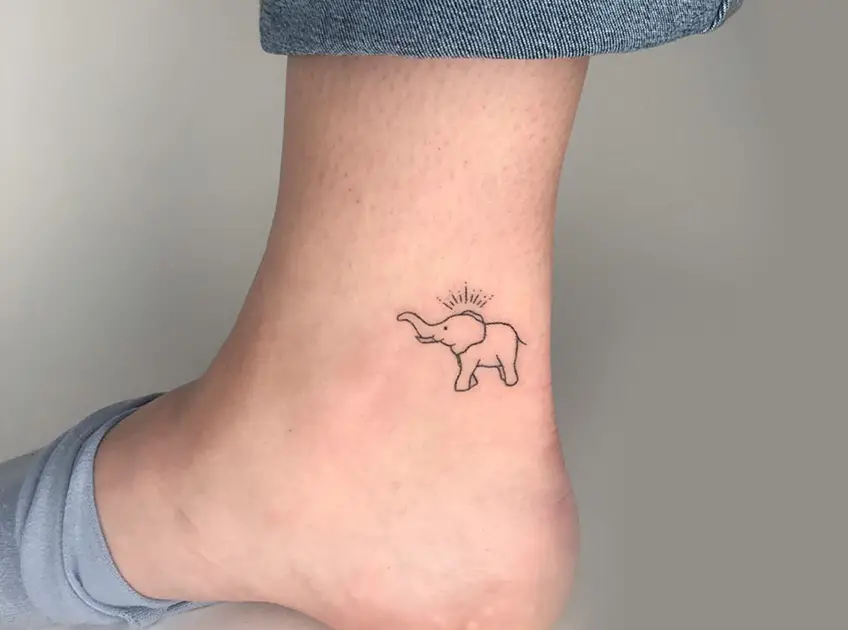 An elephant is a huge animal and is considered to be dominating one in the jungle. It is quite graceful and has an even temper, that doesn't get aggressive unless provoked. They are known for their loyal nature and are considered to be sacred in various cultures. When placed at a planned location in the body, it can create a powerful look.
1. Classic Elephant Tattoo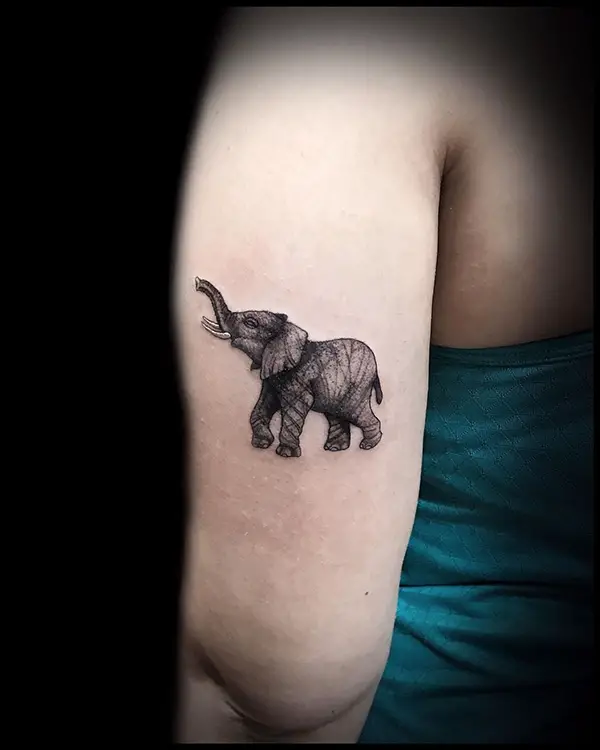 This elephant tattoo has a close association with reality as all details have been represented in it. When power, strength, and mightiness are important for you in life, this forms a suitable tattoo.
[ Recommended: Beautiful Dandelion Tattoo Design Ideas ]
2. Elephant Family Tattoo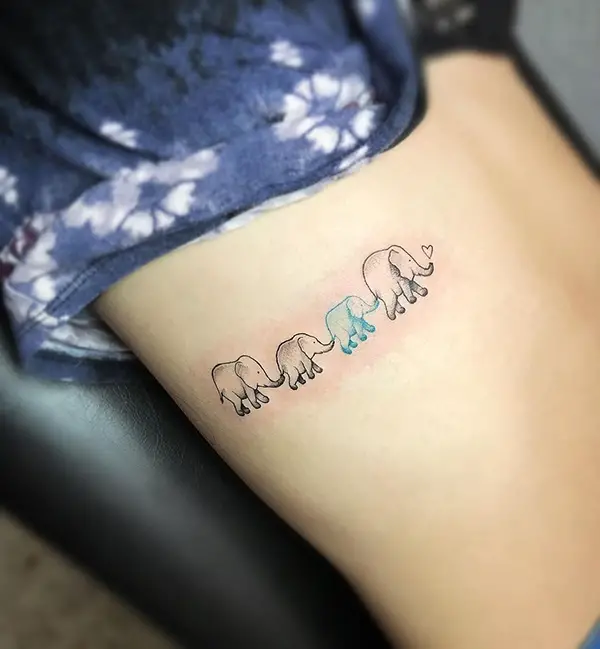 Elephants are family-oriented, similar to humans, and live along with their babies for many years. This tattoo shows the unbreakable bonds with the family, which is perfect for a person for whom family is the most important thing in life.
[ Recommended: Cute Heart Tattoo Designs on Shoulder ]
3. Baby Elephant Following its Mother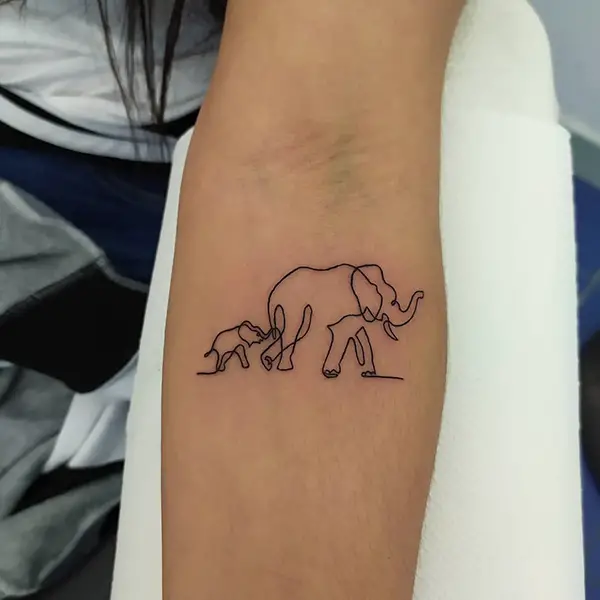 This is a simple tattoo showing the bond between a mother and the baby elephant. Just like human babies follow their parents and learn from them, so is the case with elephants too.
[ Recommended: Best Bear Tattoo Design Ideas ]
4. Mother Elephant Cartoon Tattoo with its Baby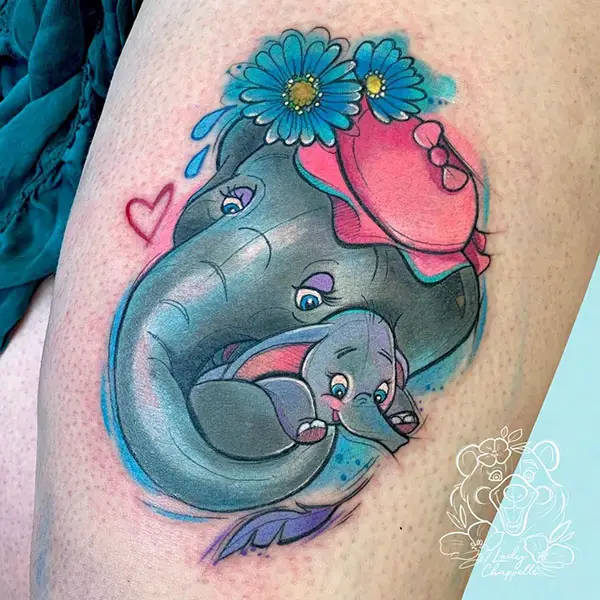 This is a cute tattoo showing a mother elephant cuddling its smaller one with its trunk. The pink cap, blue flower, and a heart shape beside the elephant make the cartoon tattoo more adorable.
5. Elephant Tattoo with Flowers and Leaves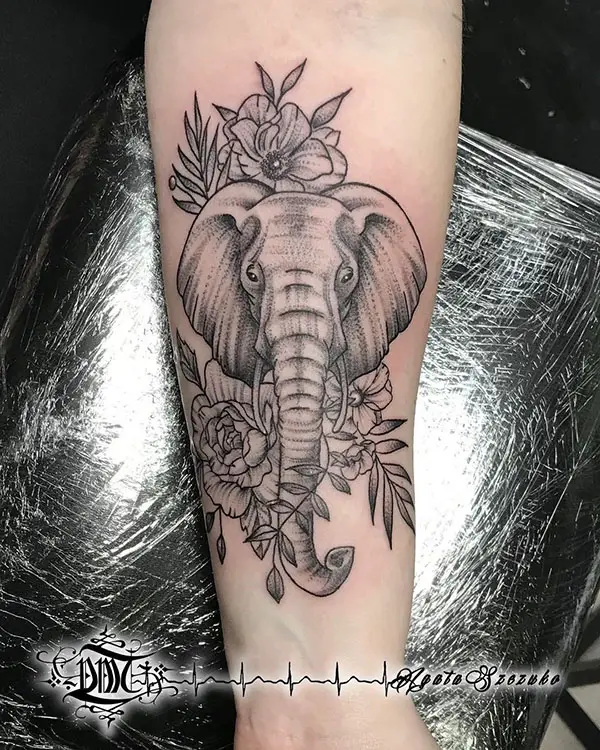 The flowers along with the mighty elephant head result in a striking look and symbolize concepts such as life, death, and love. The elephant symbolizes loyalty, divinity, and good luck.
6. Elephant Tattoo with a Royal Look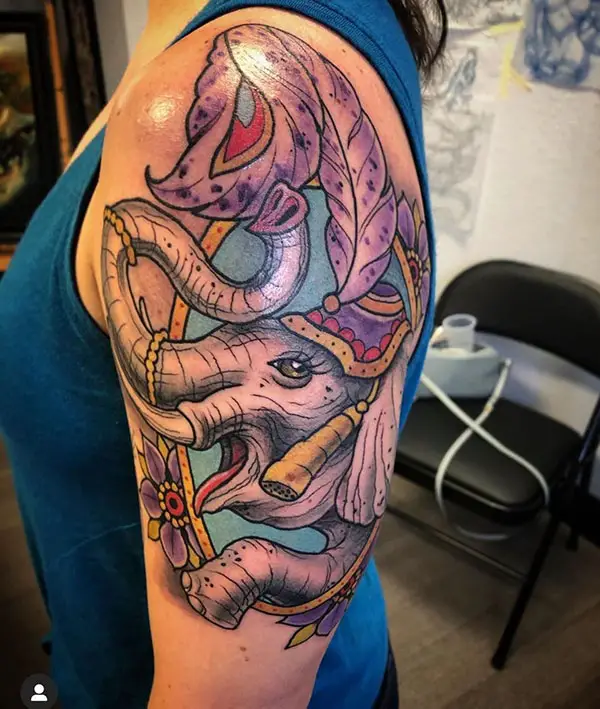 This elephant is seen wearing accessories like the ones which used to be with the kings of historical times. It symbolizes richness and royalty.
7. Tiny Elephant Outline Tattoo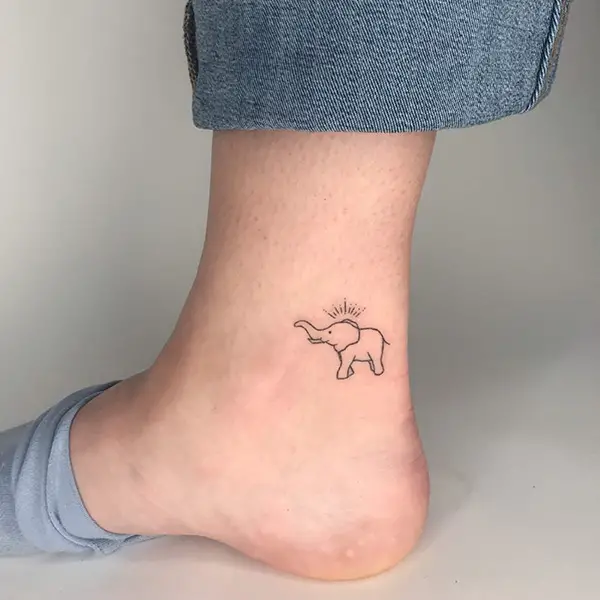 Love tattoos but not the intricate ones? This is the simplest elephant outline tattoo that can be inked on the ankle, wrist, or arms to show your love for the creature.
8. Classic Elephant Tattoo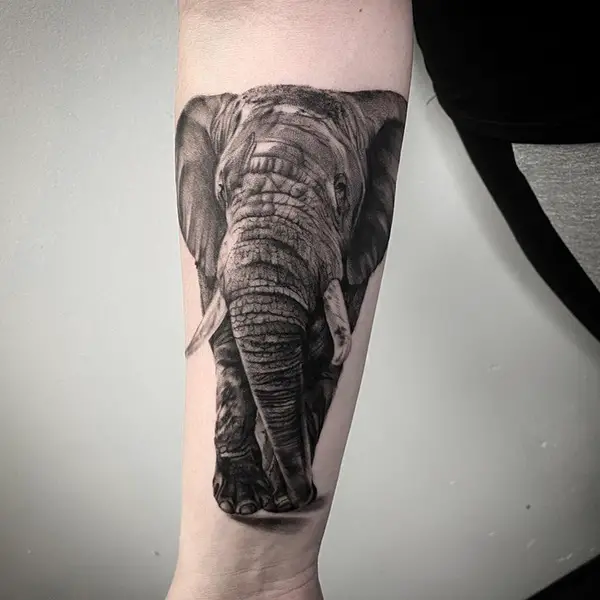 Love the strength and mightiness of elephants? Get this 3D elephant tattoo inked on your arms to symbolize loyalty, divinity, and good luck.
9. Indian Elephant God Tattoo
Lord Ganesha is considered to be the Indian God with an elephant head that has an adorable royal look. Getting it inked in the arms indicates your belief in him and ensures constant remembrance and gratitude whenever you look at the tattoo:
10. Paper Elephant Tattoo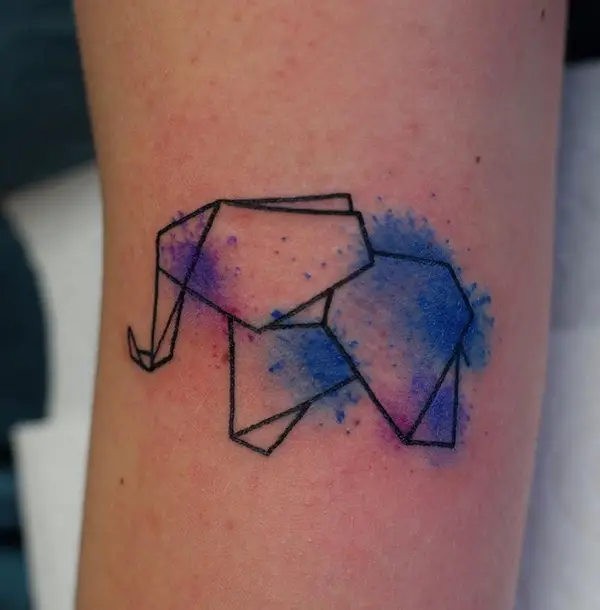 This is a papercraft that kids make in their school activity. Its geometrical-shaped parts make it an interesting tattoo, adding a modern and futuristic touch and reminding you of your childhood memories whenever you look at it.
11. Baby Elephant Curled up in the Mother Elephant's Trunk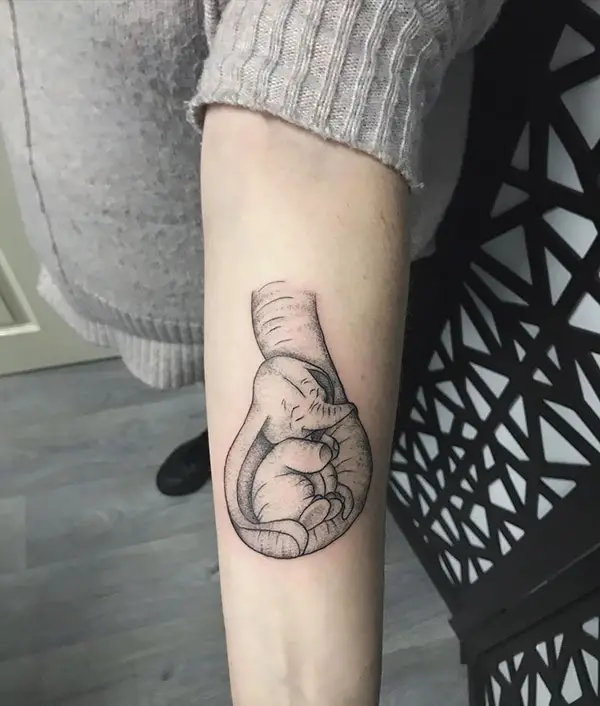 The powerful emotion and bonding between a mother and a baby are portrayed through this tattoo. It is suitable for someone who prioritizes the love of a mother as the most important emotion over any other relation in the world.
12. Baby Elephant with Heart-Shaped Balloons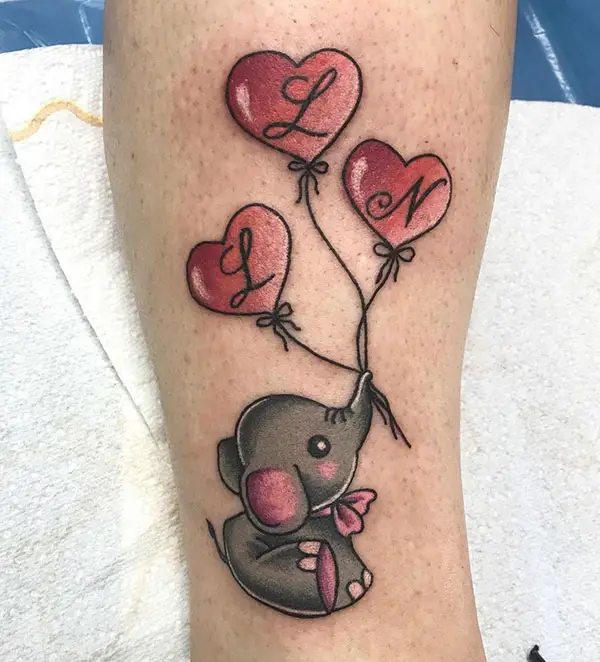 Love elephants and want to view them from a cartoonist's point of view? This is the cutest one you can get inked on your arms and the balloons with initials show the love for people who are closest to your heart.
13. Elephant with Mandala Designs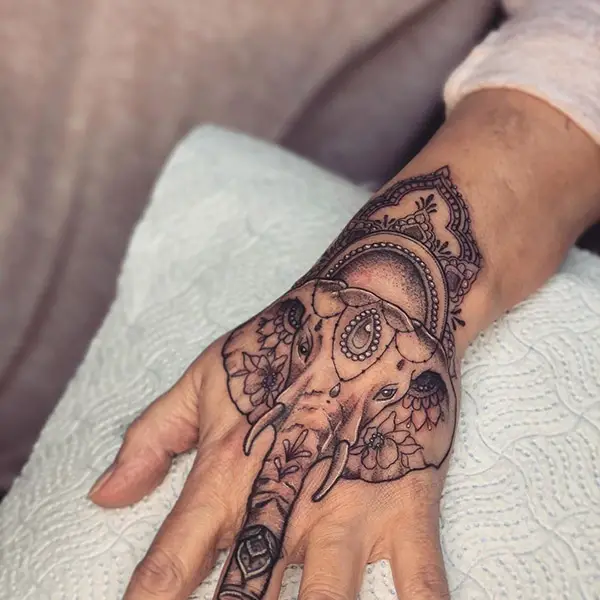 Love the royal look of elephants that historical Indian kings used to have? Get this tattoo with mandala designs on the top, in the ears, trunk, and head of the elephant to symbolize focus of mind, spiritual connectivity, and love for learning.
14. Tribal Elephant Tattoo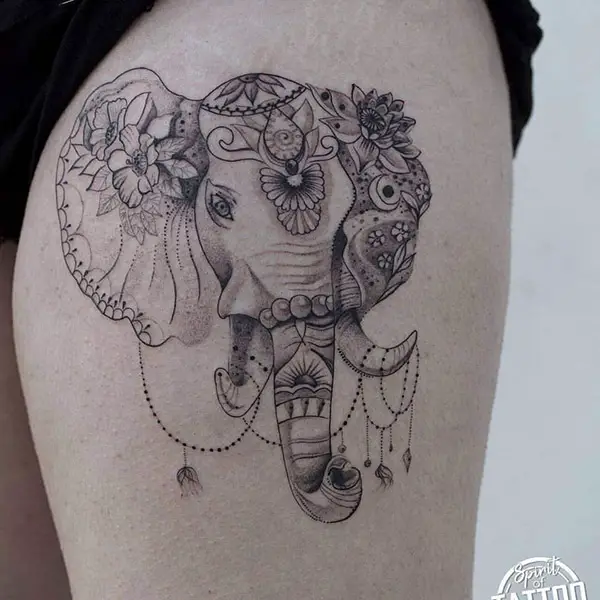 This tribal elephant tattoo uses curved lines, and patterns for creating a powerful design. The flowers and leaves designed on the ears are inspired by the natural world. Human connection with the wild is depicted through this tribal-style tattoo.
15. Watercolor Elephant Tattoo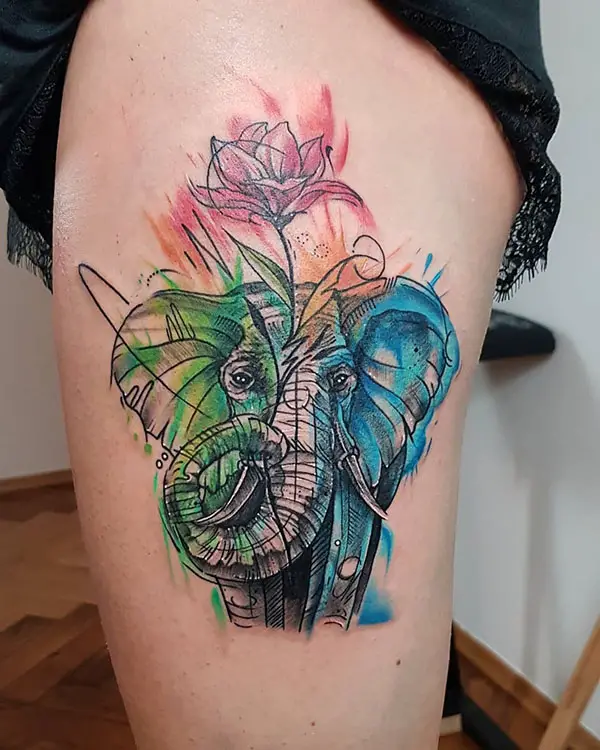 The watercolor elephant tattoo signifies thoughtfulness, refinement, pride, and glorious femininity. It shows a lasting beauty with a happy life and having bonds of affection with others.
16. Elephant Walking Amidst Flowers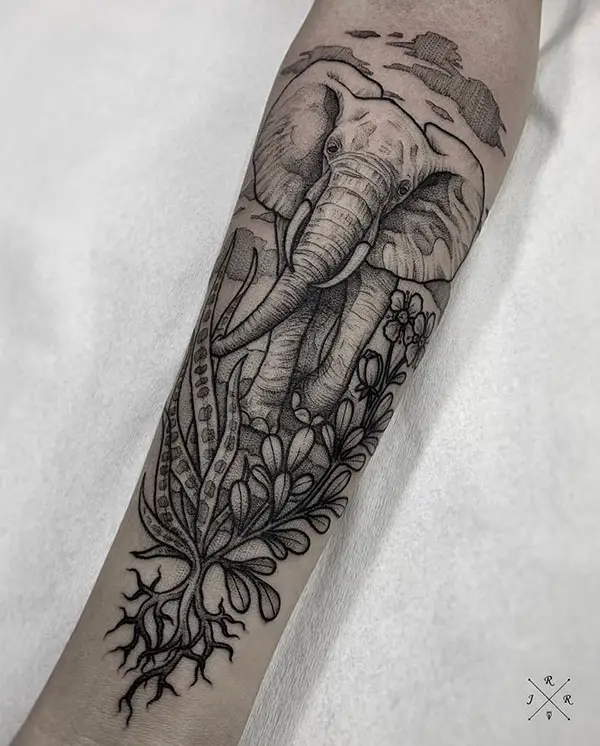 The elephant is a mighty creature symbolizing strength and loyalty. Flowers beside it add a feministic touch to the tattoo.
17. Black and White Elephant in a Colorful Setting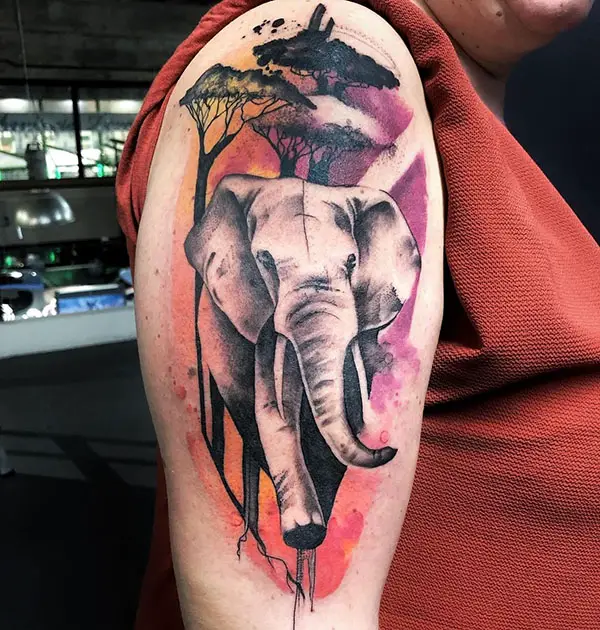 When you love a vibrant and colorful background, then representing elephants in such an eye-catching setting is a great idea. It has bold hues representing the beautiful nature that is home to the elephant.
18. Elephant Head, Carrying a Stem with Leaves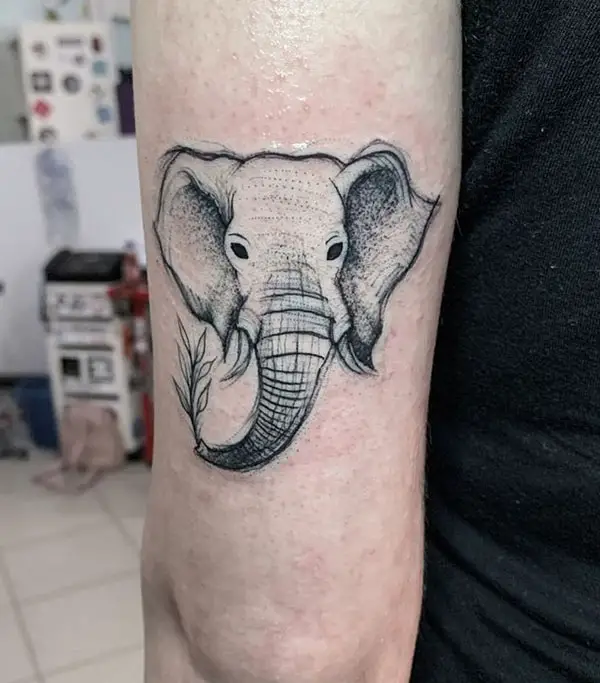 When you love elephants but just want to get their head portion to get tattooed on your arms, this forms a good choice. It is in black and white but exudes elegance and symbolizes strength.
19. Elephant Holding a Bunch of Flowers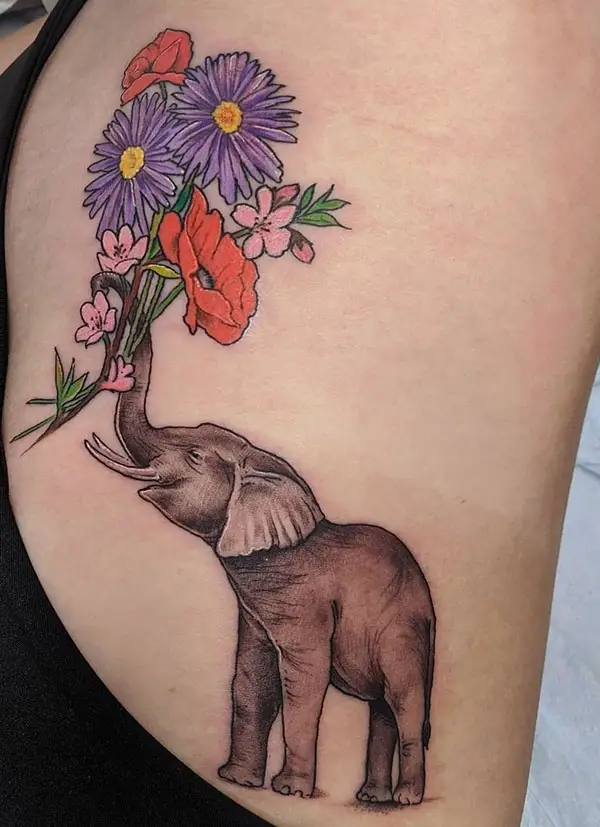 An elephant is a sign of strength and divinity and the bunch of flowers it is holding in its trunk
Implies thoughtfulness, matured charm, and refinement. The complete tattoo indicates a happy life with lasting beauty.
20. Elephant with Sleek Lavenders Around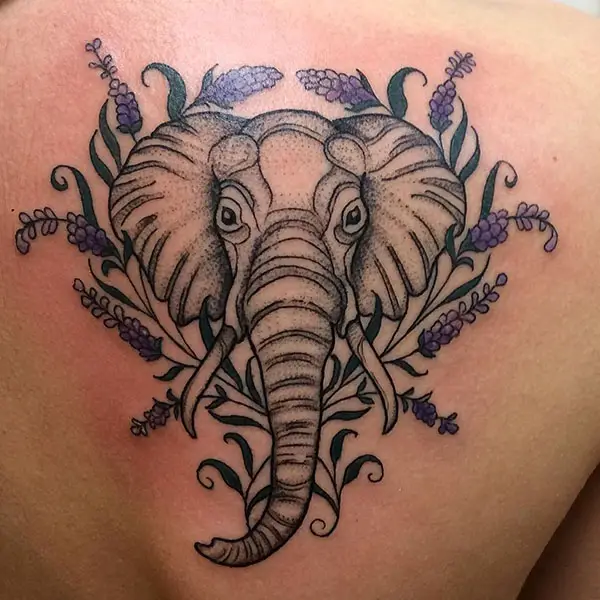 When you want a tattoo to be detailed, this is a good option for you as it clearly shows the elephant's head. The lavender flowers surrounding it are a sign of purity, grace, and devotion.
21. Elephant Scenery Tattoo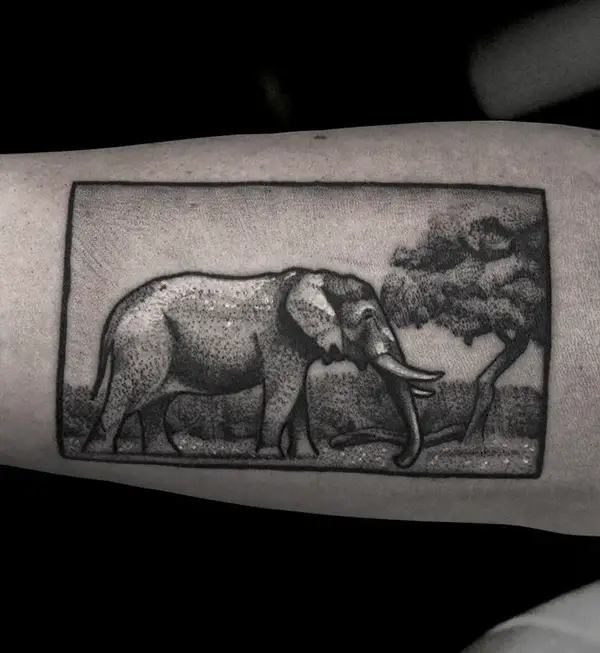 22. Elephant Tattoo with Flowers on Thigh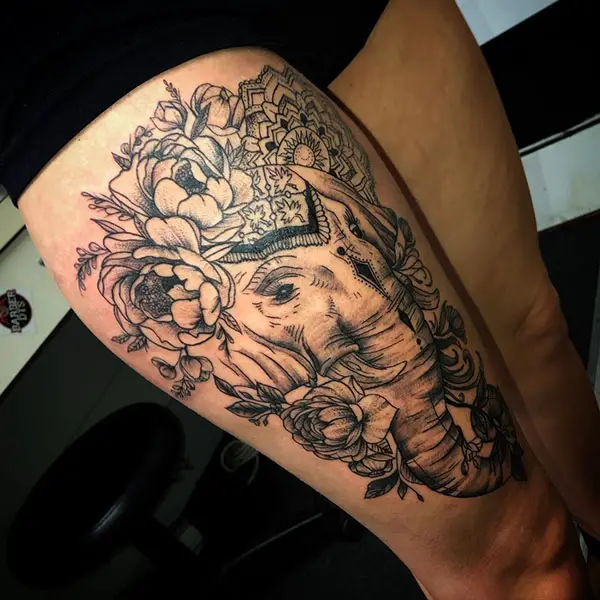 23. Elephant Tattoo with Flowers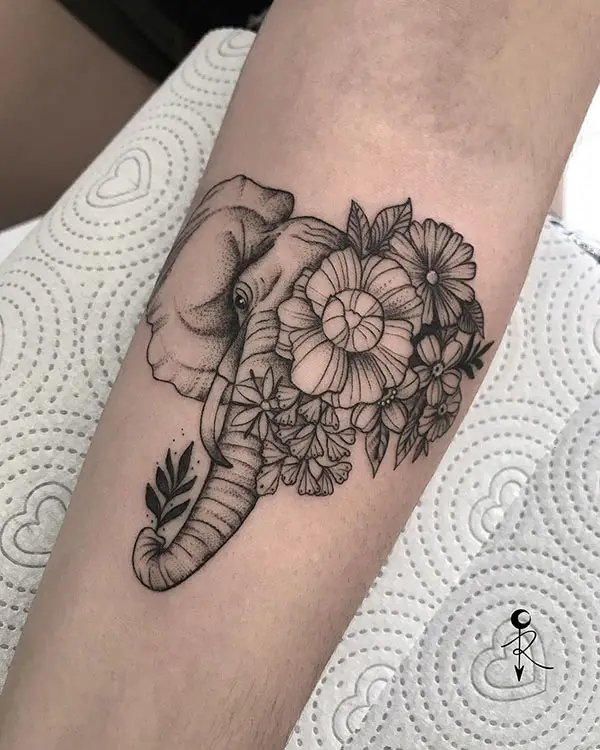 24. Mandala Elephant Head Tattoo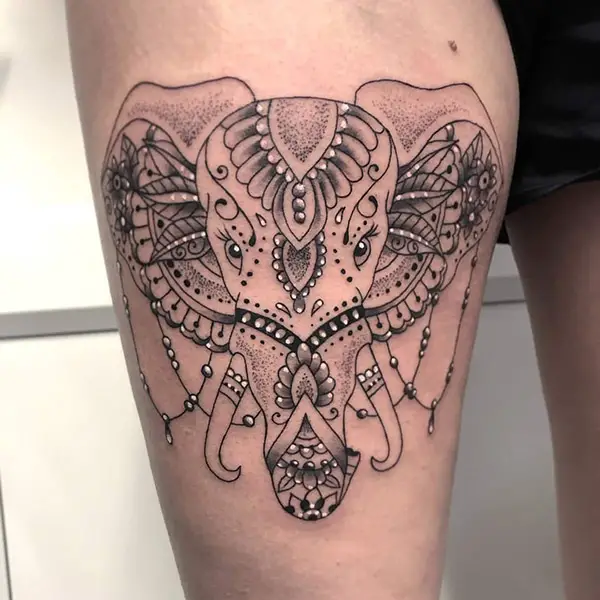 25. Mandala Elephant Tattoo with Small Details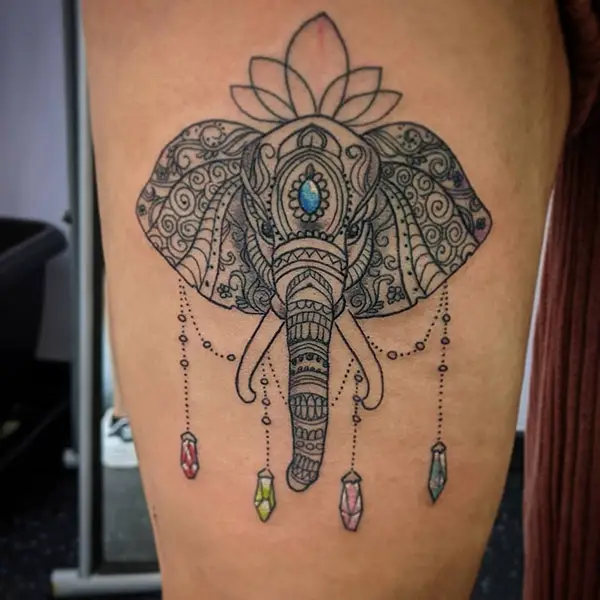 26. Stylish Elephant Tattoo with Flowers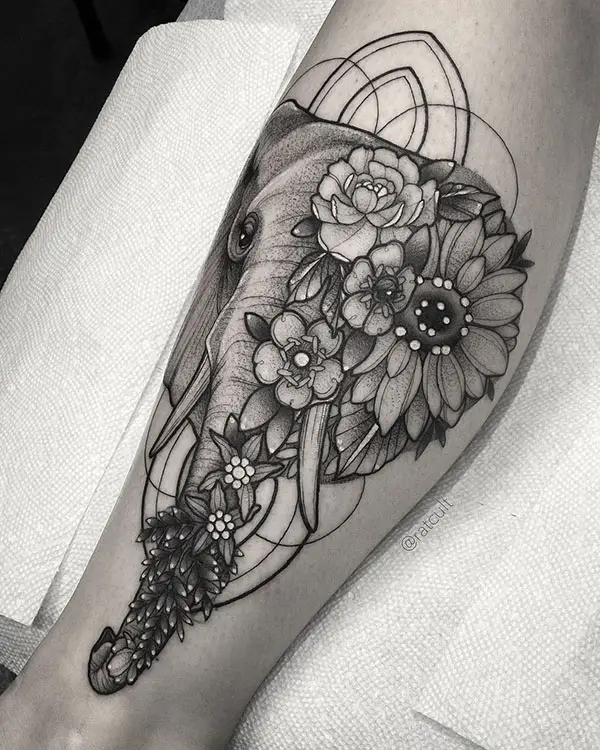 27. Small Realistic Elephant Tattoo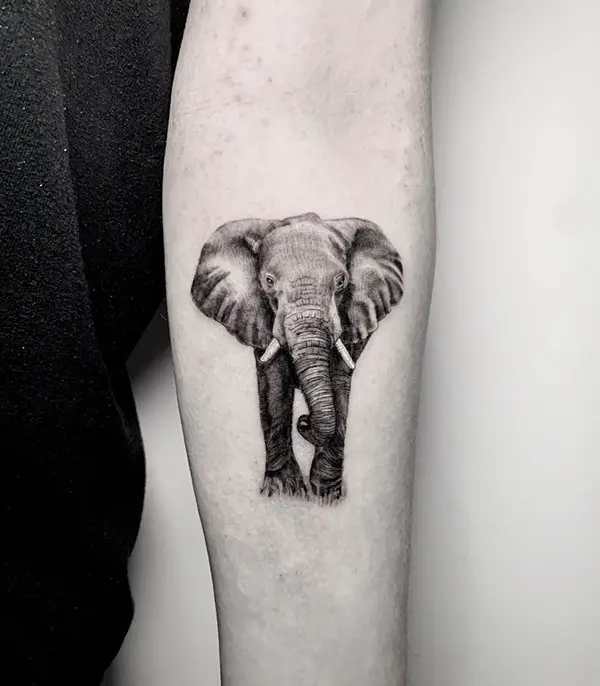 28. Tribal Elephant Tattoo with Flowers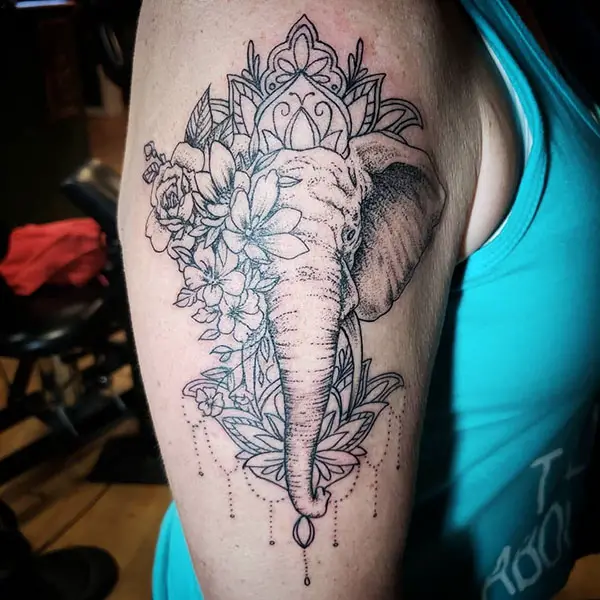 29. Cute Elephant Family Tattoo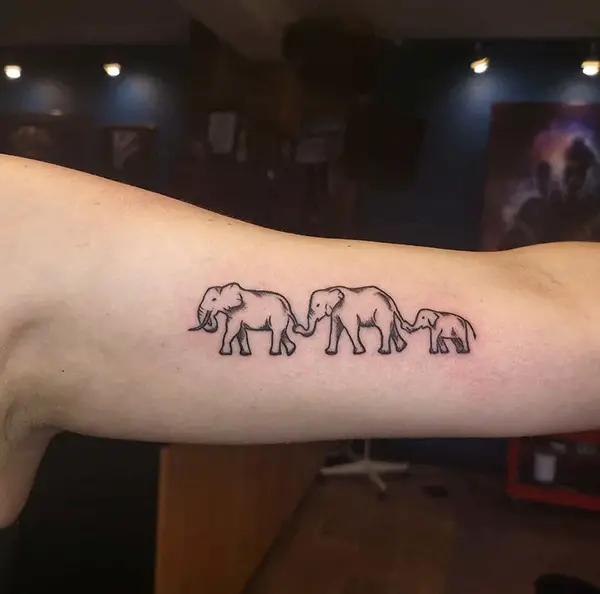 30. Beautiful Elephant Tattoo on Back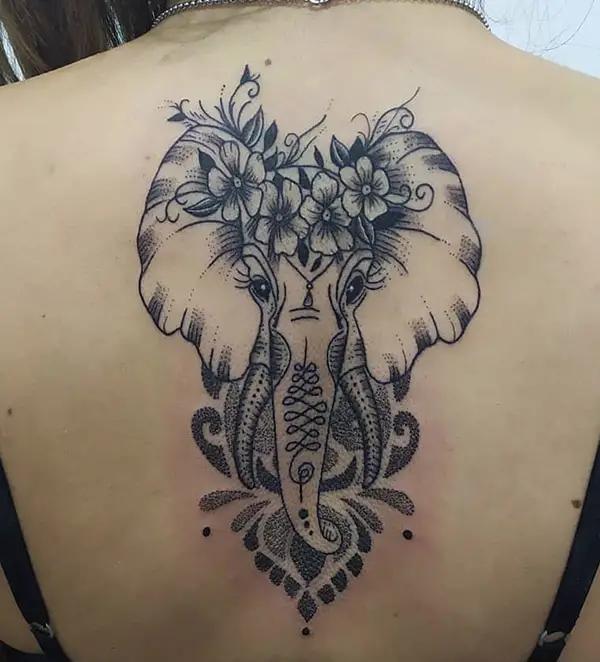 Recommended Topics: