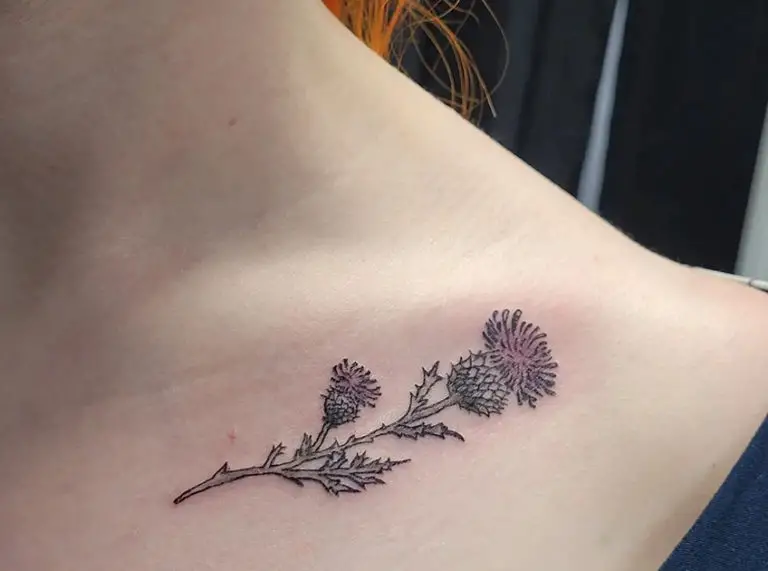 The collarbone is a perfect place to get beautiful tattoos done to enhance your look. It eliminates the need for putting on jewelry as the tattoo itself results in a glamorous look.
1. Name Tattoo on Collarbone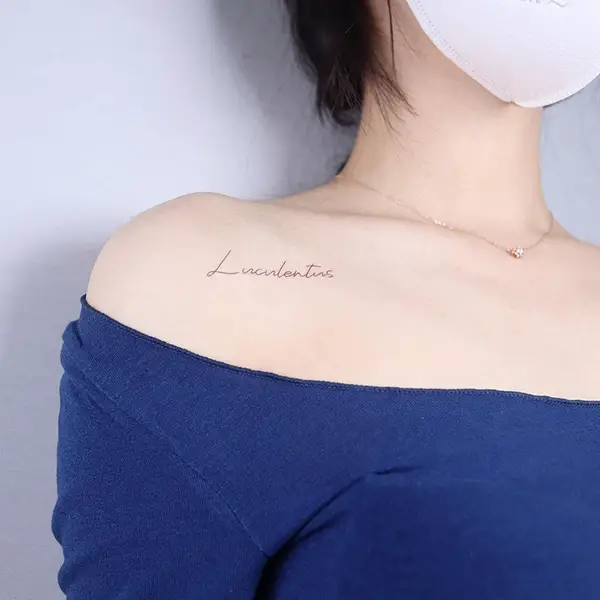 When you have someone most important in your life, inking their name on your collarbones is a great way of showing your love for them. When you don't like making it more complex, just get the name inked without adding any other color or element to the tattoo.
[ Recommended: Small Tattoos and Their Meanings ]
2. Sunflower Tattoo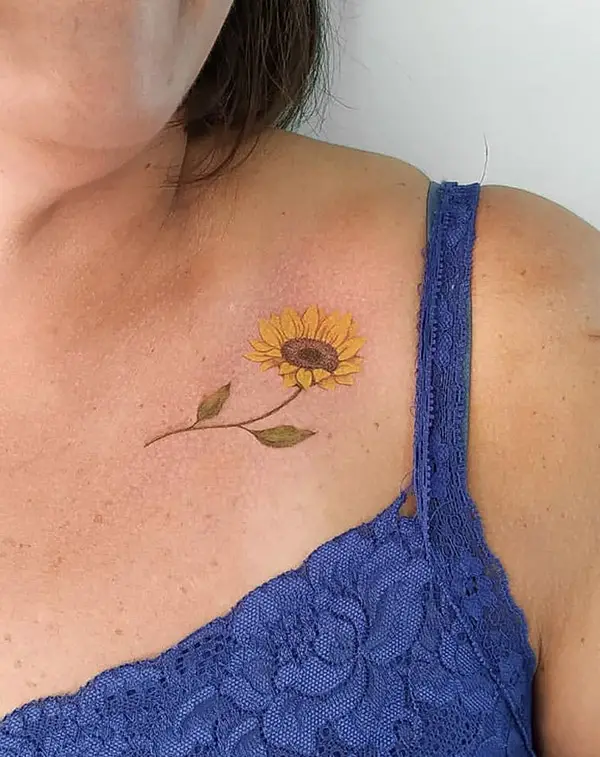 Love flowers and colors? Sunflower with its leaves is a perfect tattoo to enhance the look of your collarbone and add elegance through its subtle colors.
[ Recommended: Best Couple Tattoos Ideas ]
3. Minimalistic Heart with a Rose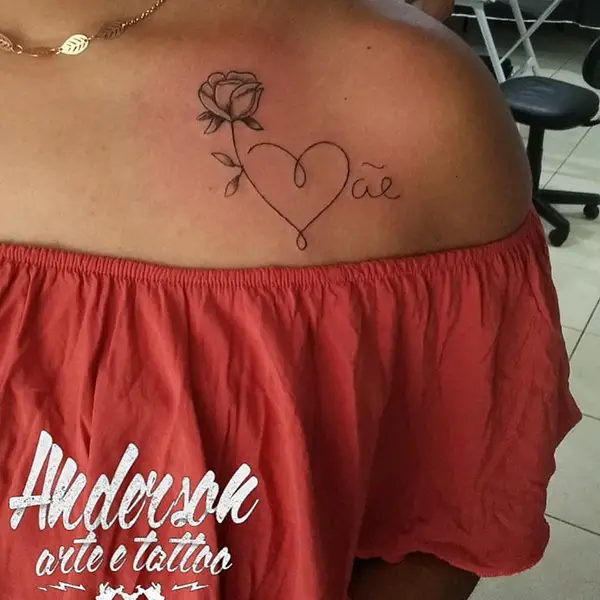 The tattoo connects the heart with a rose in a beautiful way. Though it is not colorful, it signifies that our heart is just like a rose, and when taken care of, it blooms and spread happiness around.
[ Recommended: Beautiful Camera Tattoo Ideas ]
4. Vibrant Red Flower with Leaves Tattoo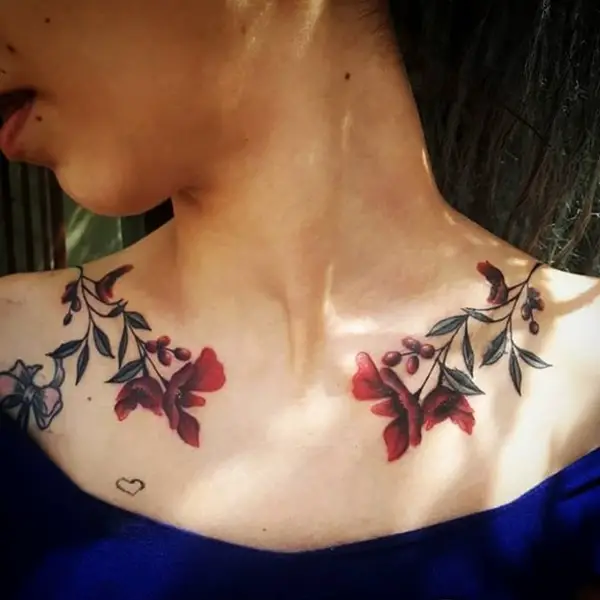 This is a beautiful collarbone tattoo that adds colors and a rich look to your neck. If you don't like putting on any jewelry often, then a tattoo can be a great alternative for a glamorous look.
5. Radiant Flowers Tattoo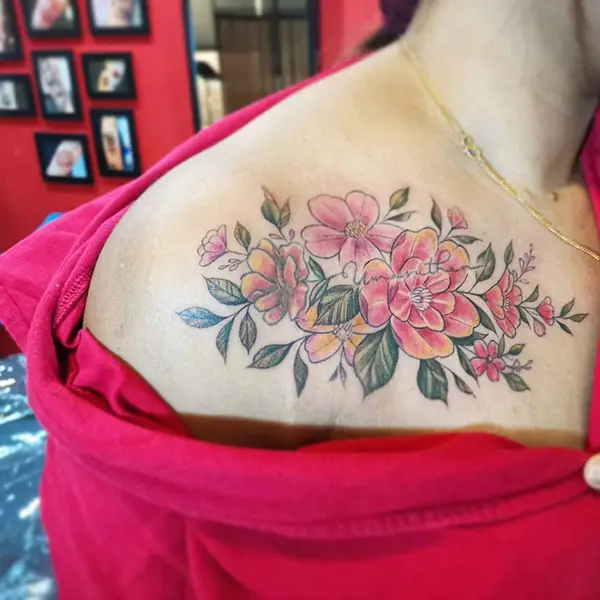 Like everything colorful and attractive? This tattoo with flowers and leaves, creates an amazing look in contrasting colors on your collarbones, adorning any attire for a special occasion.
6. A Flower of Gratitude Tattoo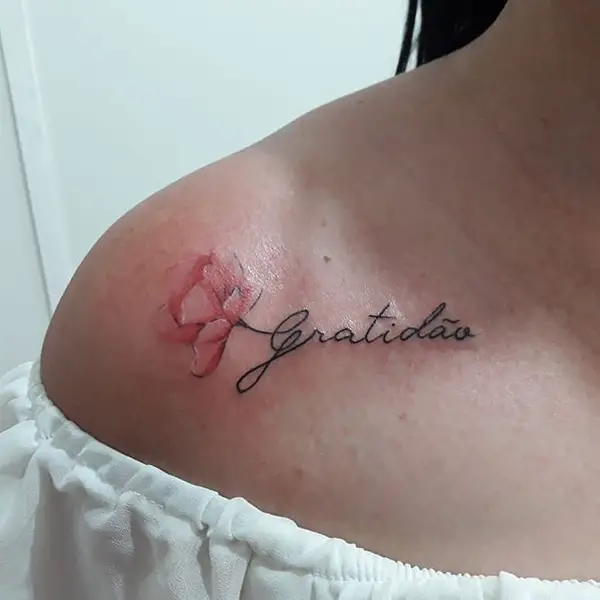 This is one of the simplest tattoos with a dash of color in the form of a flower. The word gratitude signifies thankfulness to God for everything he has given in life and for the life itself.
7. Tattoo with a Feather and Flower for a Contemporary Look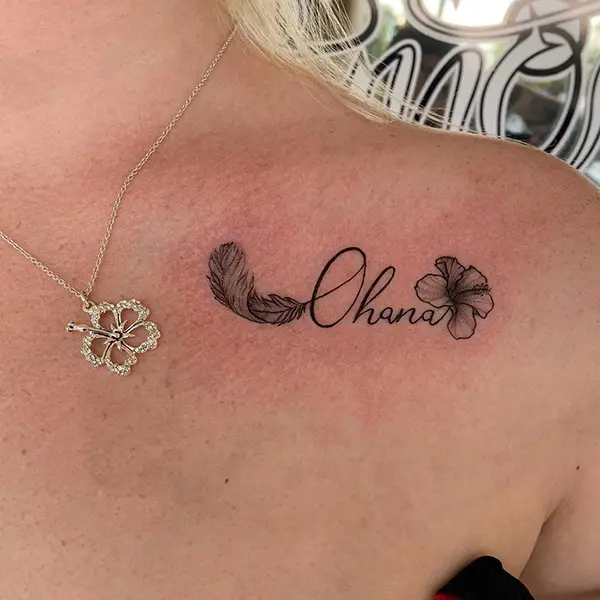 You can get your name or your loved one's name inked on your collarbones to show your love for them. This becomes even prettier when an element like a flower and feather is added to it and resulting in a contemporary look.
8. Gorgeous Flowers with Purple Color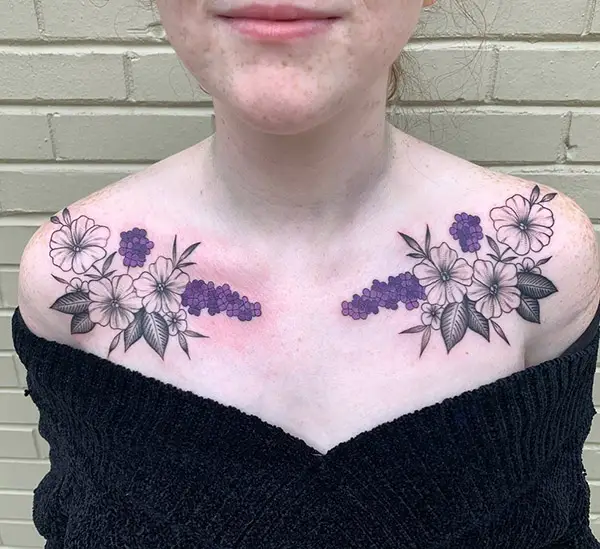 Want a fuller collarbone tattoo with rich color? Then this is a great choice as it has green leaves, flowers with simple outlines along with purple florets, which results in a fancy look.
9. A Broad Pattern Across the Collarbone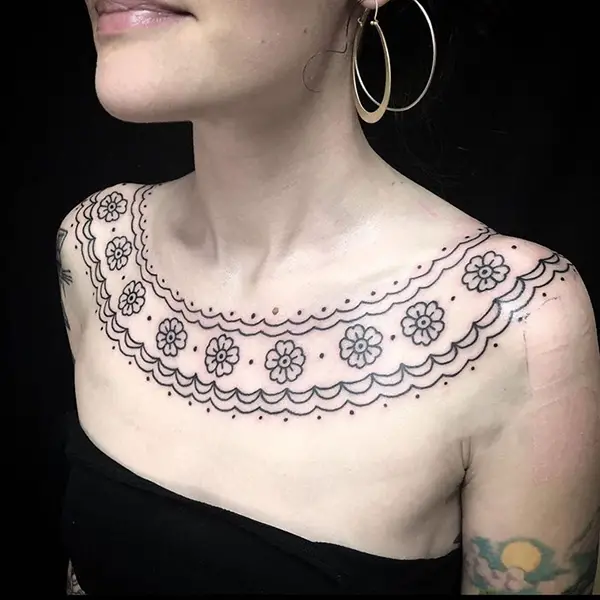 This tattoo perfectly creates a design across your collarbone that gives you a complete look even without any jewelry when you are wearing crop tops or off-shoulder dresses. Its coverage prevents your neck from looking empty in any attire.
10. Minimalistic yet Classy Tattoo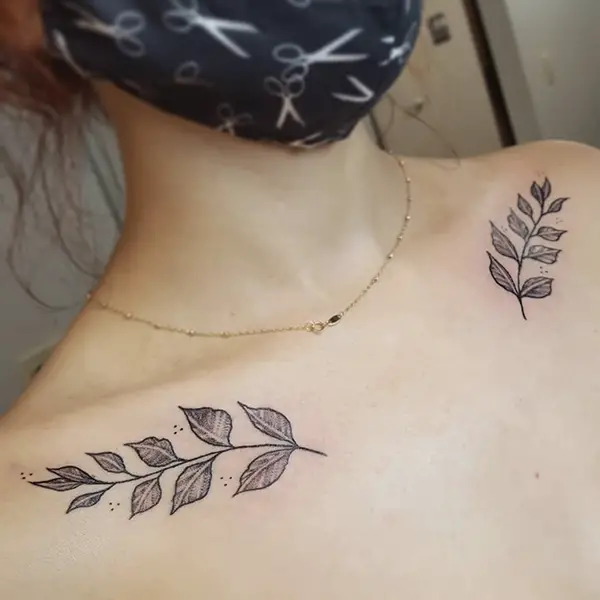 Don't want to get any colors inked on your collarbone? This is a minimalistic design of leaves' outlines along the collarbones for a classy look.
11. A Crown Tattoo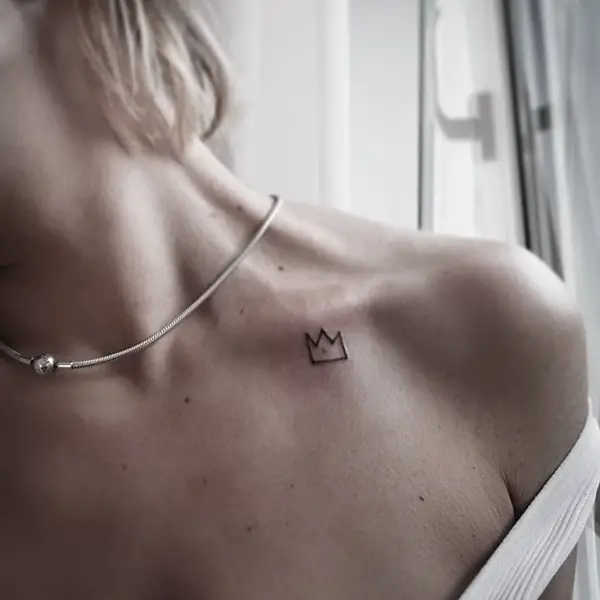 When you value yourself and consider yourself to be the best, this crown tattoo is the best one you can get inked. It does not just signify your independent nature, but also your principles and values, which make you better than everyone else in life.
12. Galaxy Tattoo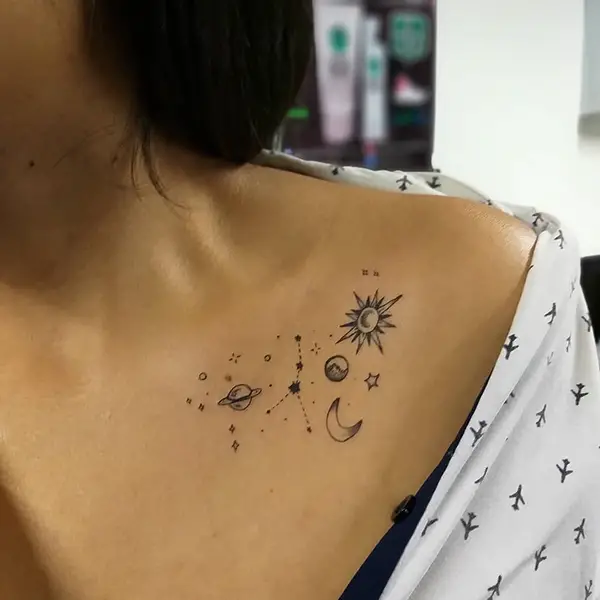 This tattoo depicts the constellations, moon, planets, and sun, which is perfect for someone who loves science and mainly galaxy. It doesn't have any colors but still speaks a lot about the person's interest.
13. A Dancer with a Splash of Colors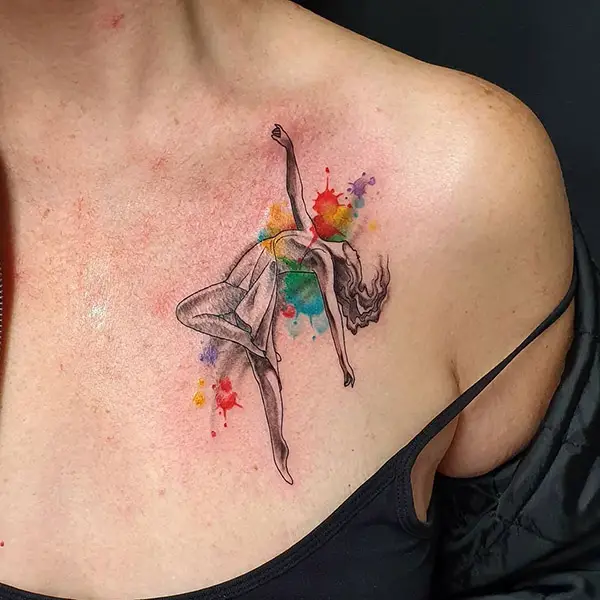 Love dancing and know how it adds meaning to your life? This dancer-tattoo with colors splashing around it signifies how the hobby can fill life with happiness and make it more interesting.
14. A Quote Tattoo on the Collarbone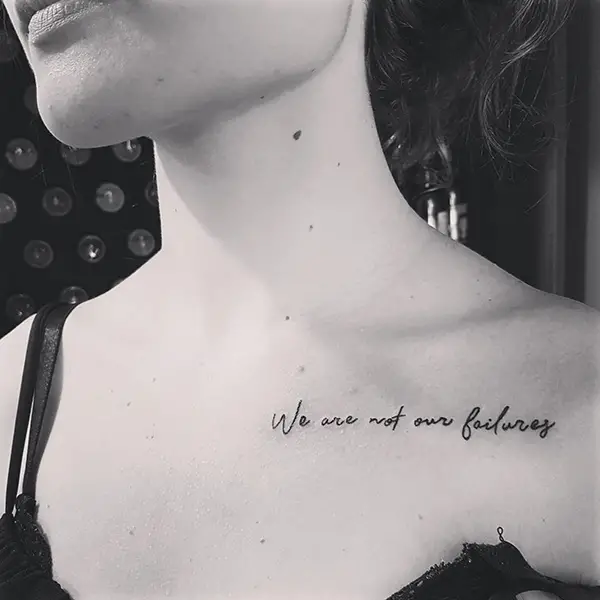 You can get your favorite tattoo inked on the collarbone so whenever anyone sees you and reads it, they will have an idea about your beliefs and ideologies. For example, this tattoo tells. "We are not our failures" which implies that we must never be defined by our failures, instead learn from them to move ahead in life.
15. Tattoo with Waves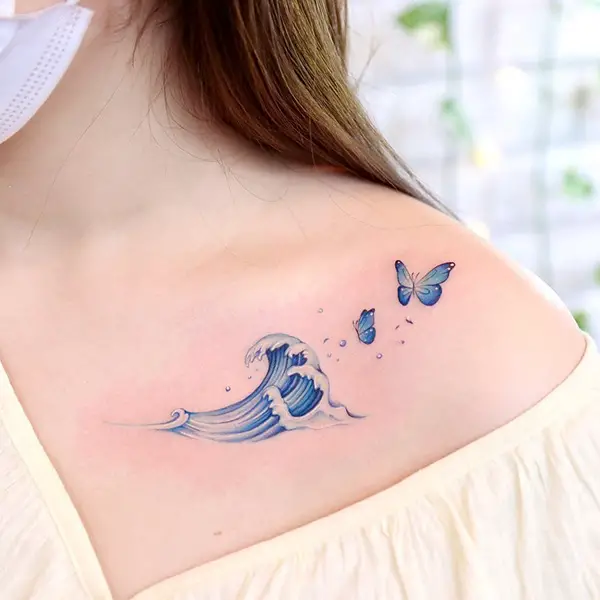 Love sea waves? This is a minimalistic tattoo showing sea waves in beautiful blue color, that adds to its elegance. The bird and butterfly in the tattoo symbolize the free-spirited nature of a person.
16. An Initial Letter Tattoo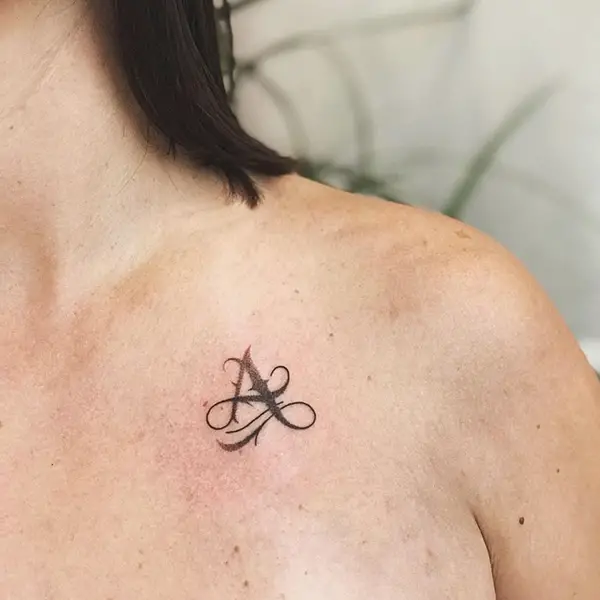 Such a tattoo can be the initial of your name or someone you love. The stylish way it is inked on the collarbone results in a fashionable look and adds to your glam.
17. Tattoo for a Traveler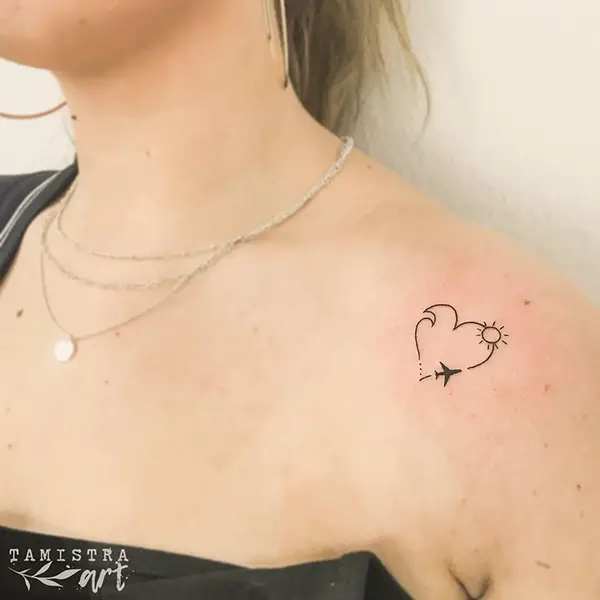 Are you a traveller and love exploring places? This cute little heart with a sun and an airplane in its outline show your immense love for going to a new place like a free bird.
18. Green Leaves Tattoo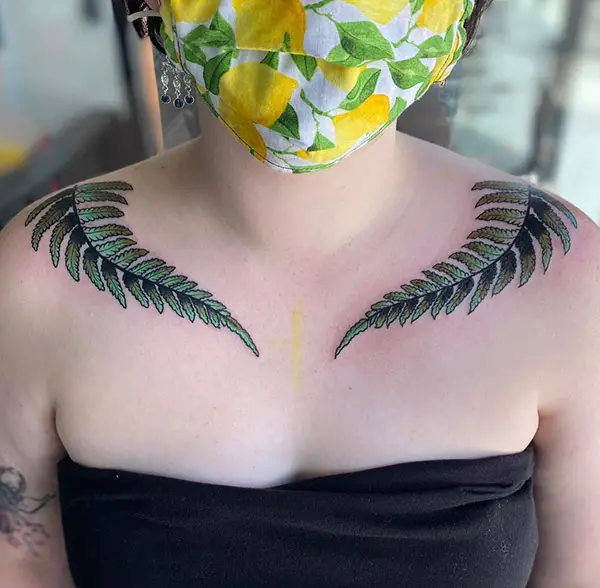 Love greenery? Get this tattoo showcasing beautifully aligned green leaves along the collarbones, to show your love for.
19. Simple Stem with Fruits Tattoo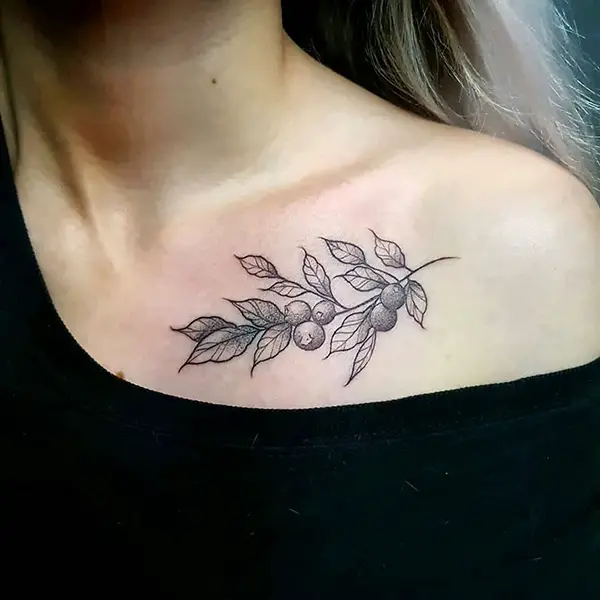 Inspired by nature's gift to us in the form of fruits? Get these simple stem, bearing berries, inked on one side of your collarbone for a stylish appearance.
20. Charming Florets with Butterflies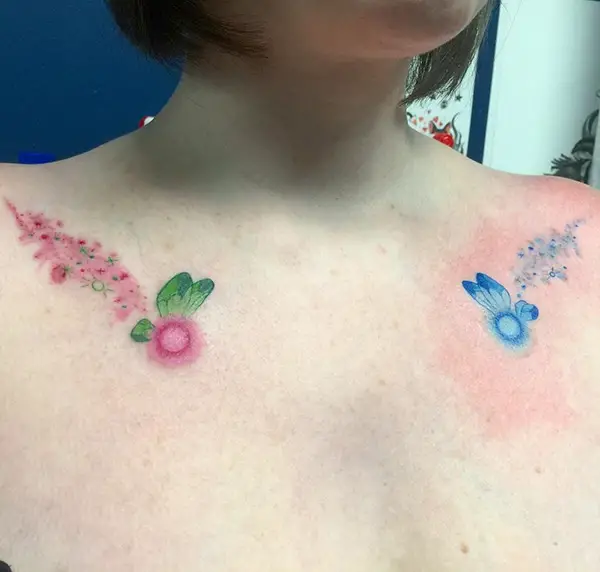 This is a charming tattoo with blue and pink color flowers and similar color butterflies on it. It is the perfect one when you are inspired by the colorful nature around you.
Check More Images:
21. Realistic Tattoo with Shadows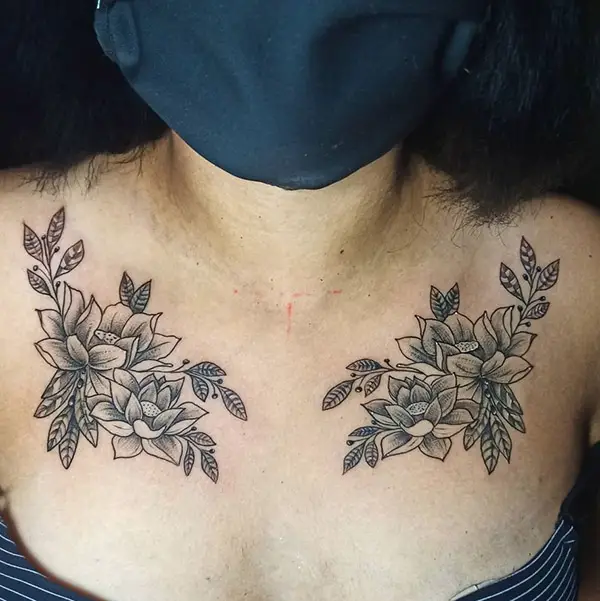 22. Stylish Rose Tattoo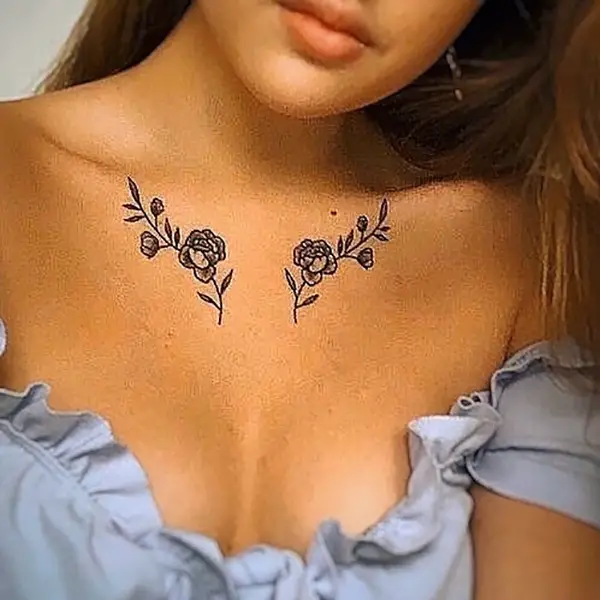 23. Animal Tattoo on Both Sides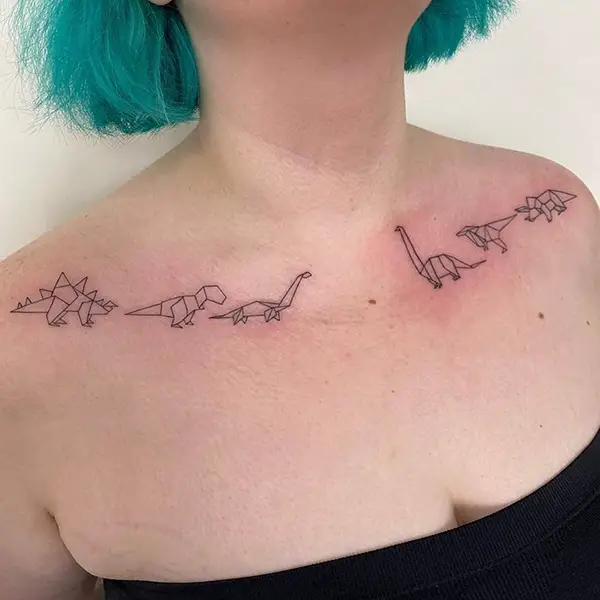 24. Triangle With Flower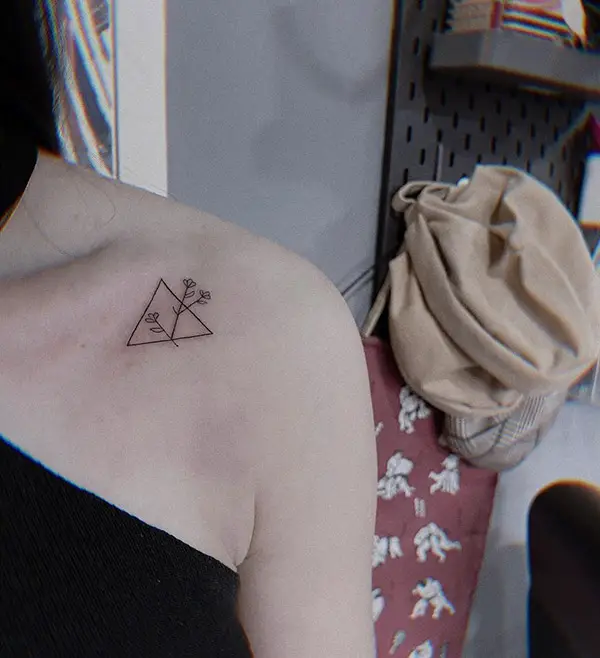 25. Stem with Berries Tattoo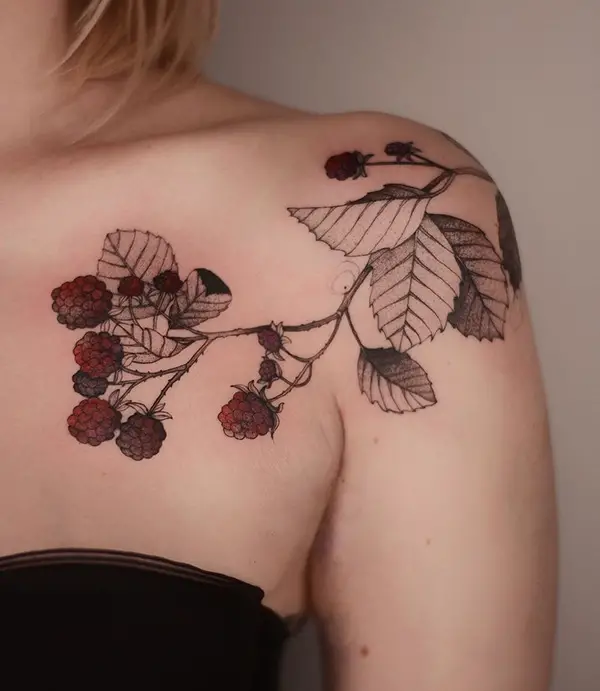 26. Galaxy Tattoo on Collarbone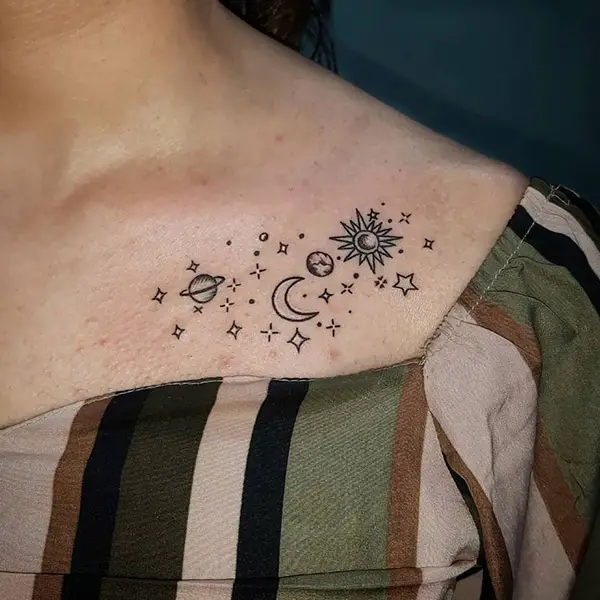 27. Little Roses on Both Sides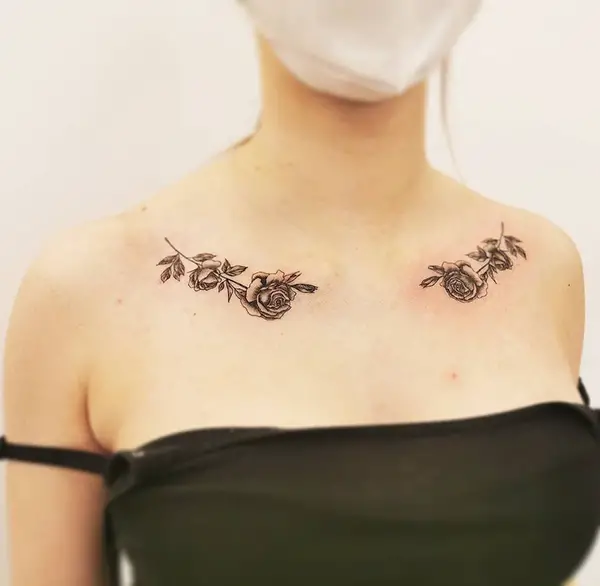 28. Flower Tattoo on Both Collarbones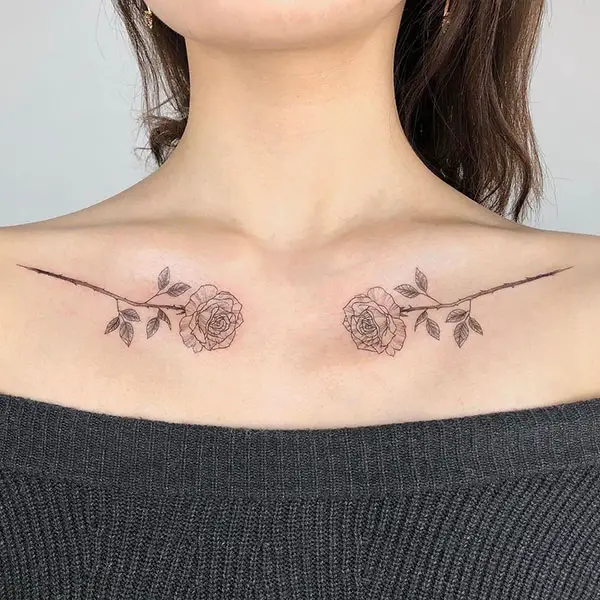 29. Small Flower and Leaves Tattoo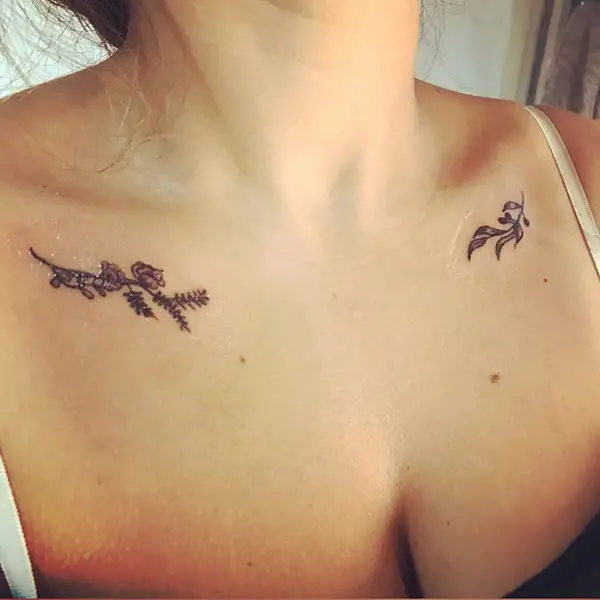 30. Collarbone Quote Tattoo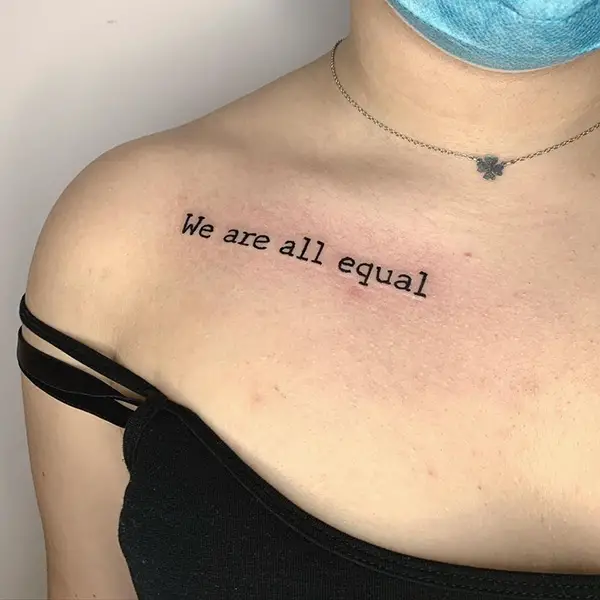 Recommended Topics: