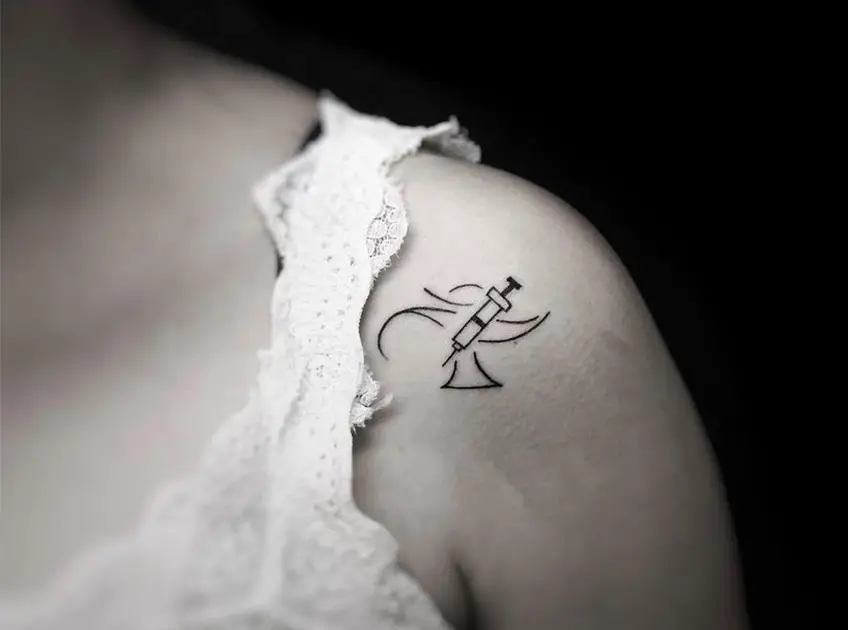 Nurses form a vital part of the healthcare system in the world. Once the doctor prescribes the medicines and treatment process, it is the nurse who ensures adhering to the doctors' instructions. The treatment provided by a nurse with love and care helps in healing any ailments easily.
35 Cool Nurse Tattoo Ideas
1. Cartoon Tattoo of Medicines and Injection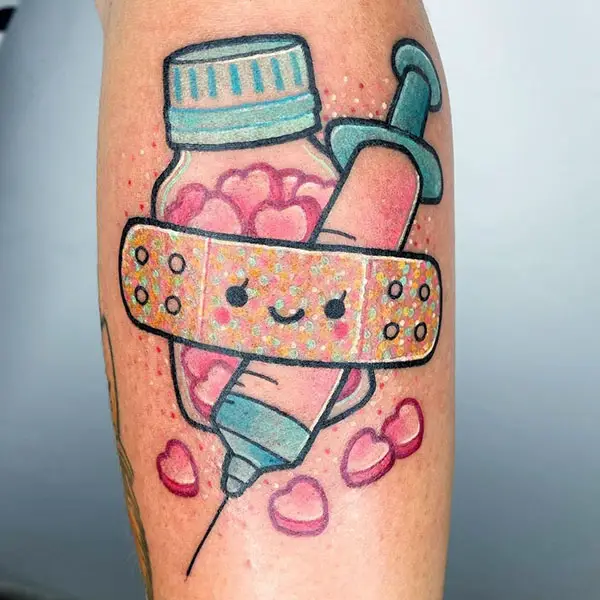 This is a cute cartoon showing medicines in heart shape which are given by the nurses with love and care, so the patient gets well soon. The same goes with the injection and Band-Aids applied with a smile, so the wounds are healed easily.
[ Read: Beautiful Dandelion Tattoo Designs ]
2. A Stethoscope Surrounding a Heart Tattoo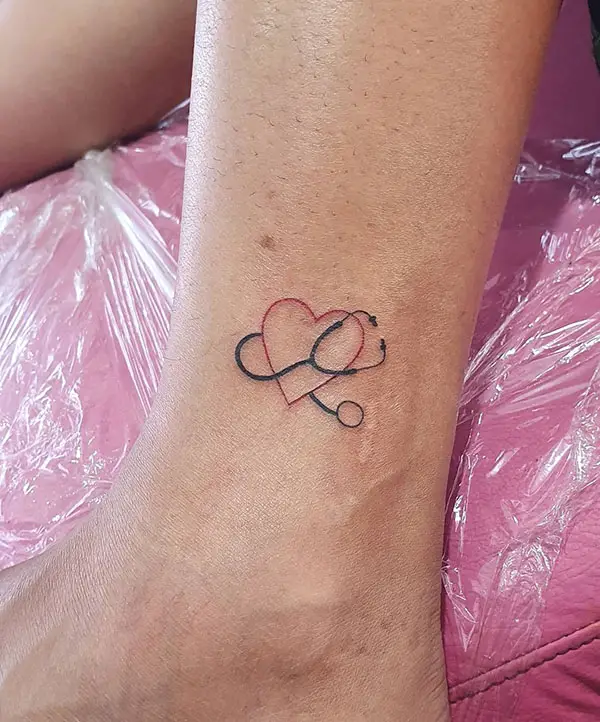 When you like to get inked with a minimalistic design, then this is the simplest and most expressive tattoo for you. It shows the heart as a red outline and the black stethoscope around it, symbolizing how the healthcare provides helps us stay fit and recover from any illness.
3. Stethoscope and a Heart Tattoo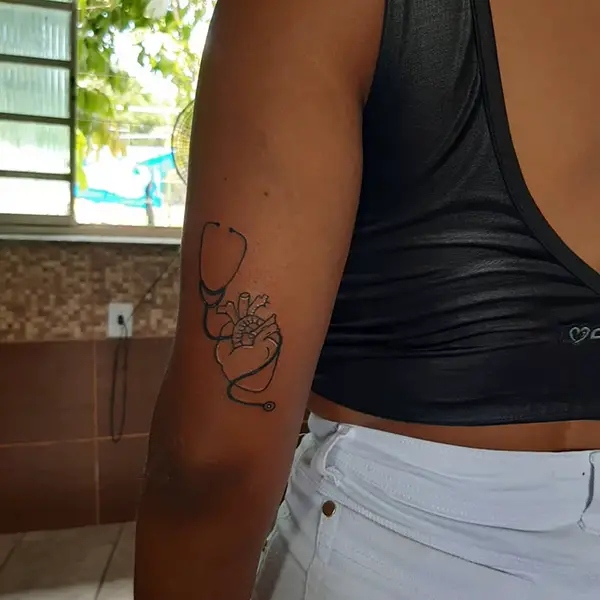 The stethoscope in the tattoo signifies a doctor treating a disorder to cure a person. It surrounds the heart, showing how a nurse cares for the patients by monitoring various health parameters including heartbeat so that the patient can recover quickly.
[ Read: Best Elephant Tattoo Designs ]
4. A Red Heart with a Quote and Stethoscope Tattoo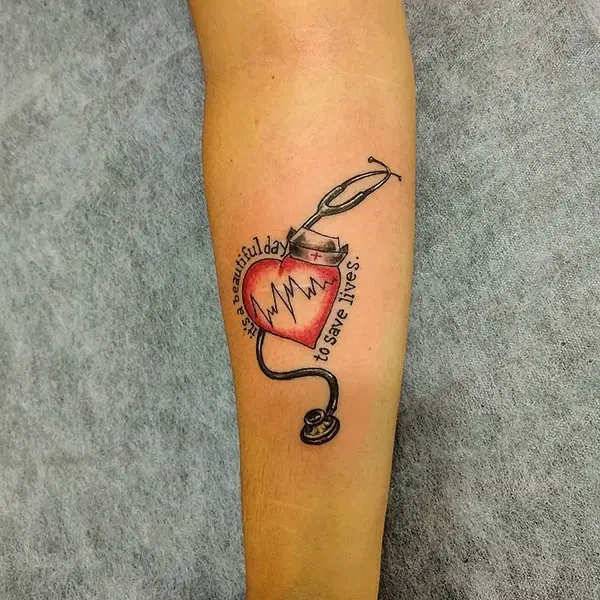 This is an interesting tattoo with the heartbeats inside the heart with a tint of red color. To it, the stethoscope attached shows how important doctors and nurses are for us, to help us stay alive. The tattoo shows that healthcare professionals perceive a beautiful day when they successfully save lives.
5. Nurse Holding an Injection Tattoo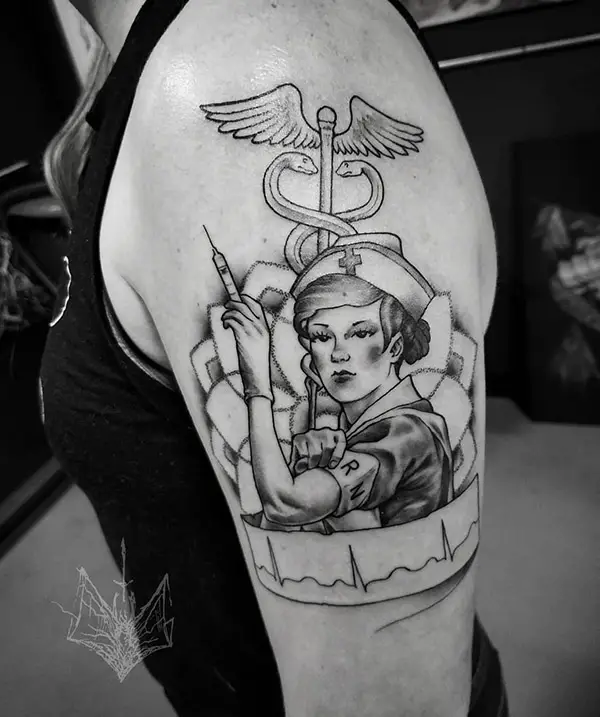 This tattoo clearly portrays the crucial elements in the medical conditions of a person, such as his heartbeat and the nurse needed for taking care of the patient throughout the period. For the nurse, injection is one of the crucial techniques to administer vital medications into the patient's body.
6. A Red Heart with a Nurse's Cap and Stethoscope Tattoo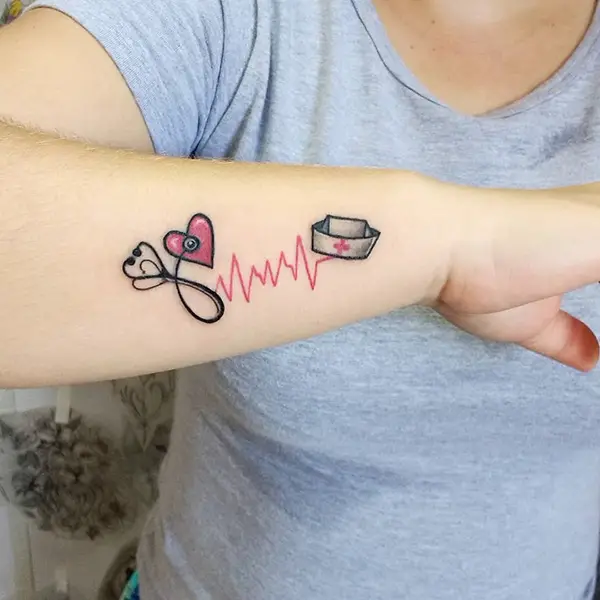 This is a self-explanatory tattoo, indicating respect for the nurses, who help us stay alive by helping us cross difficult phases of life with any critical health issues. The stethoscope shows the important tool used by nurses to keep an eye on the heartbeat of patients and the cap with a cross sign signifies a nurse performing his/her service to mankind.
[ Read: Cute Heart Tattoo Designs on Shoulder ]
7. Miraculous Service of Nurses' Tattoo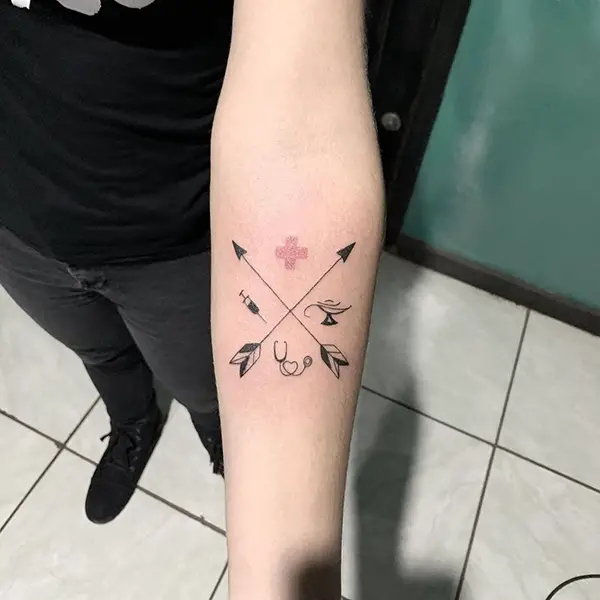 This tattoo has four sections with an Aladin's magical lamp being one of them. This implies that nurses have a magical touch as they use the tools like stethoscopes, medications, and injections with love and care for the quick revival of their patients.
8. Magical Lamp with an Injection Tattoo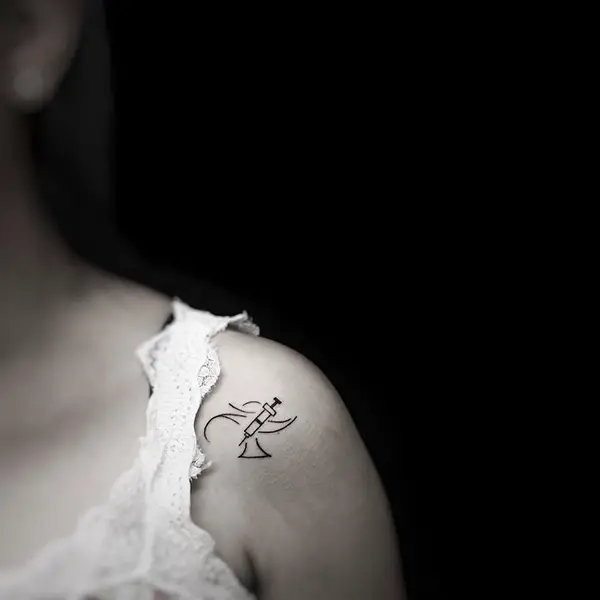 Just as we heard the tale of Aladin and his magical lamp that did wonders and helped him overcome all obstacles, so do the healthcare providers, especially the nurses, who treat patients with utmost care so they recover quickly. The injection indicates that it is a vital tool for injecting medications into the patient so his deficiencies can be eliminated easily.
9. Heart with an Initial Tattoo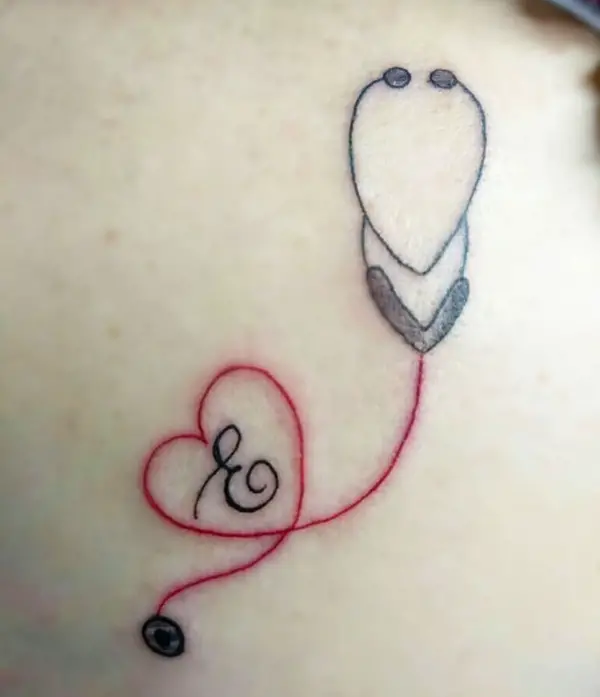 In this tattoo, you can ink the initial of your beloved one inside the heart to show your love for him/her. The stethoscope connected to the heart symbolizes the care given to the person for his well being,
10. Heart, Stethoscope, and Splash of Colors Around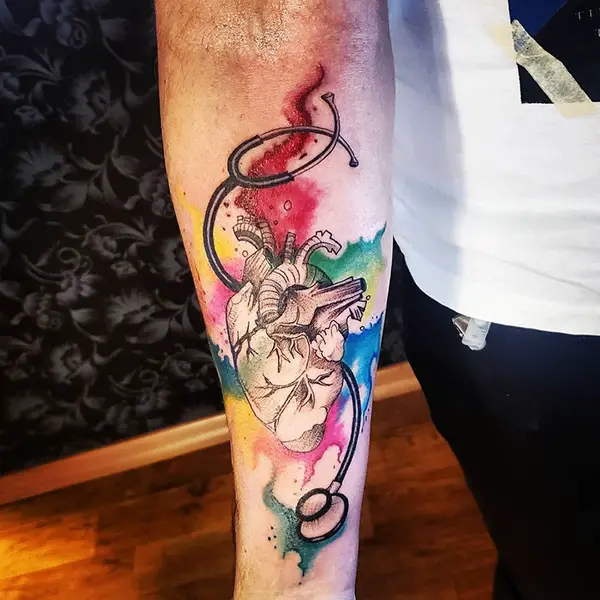 The colors splashed around the heart in this tattoo symbolize, how the doctors and nurses fill your life with happiness by helping you recover from any illness. The stethoscope shows that it is an important tool for checking your heartbeat to ensure that you keep recovering.
[ Read: 30 Beautiful Heart Tattoo Designs on Fingers ]
11. A Lovely Nurse Tattoo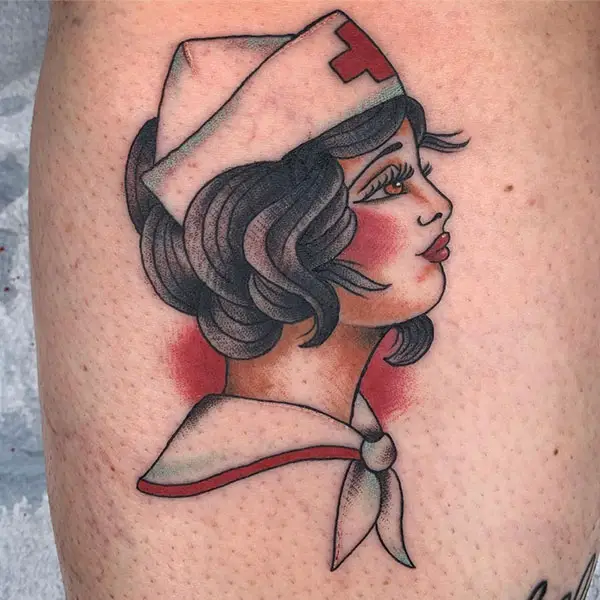 Nurses have beautiful and humble heart, that is willing to cure all ailments and help patients lead happy life. This beauty is represented in the tattoo through a charming face, that exudes kindness and can heal every would.
12. A Stethoscope with a Quote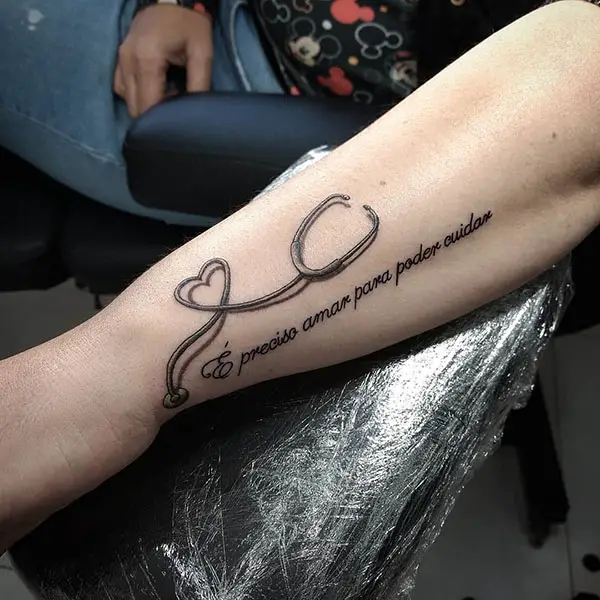 A simple tattoo for showing your love and respect to the healthcare providers like nurses would be to ink a stethoscope with a short quote beside it. This can even be a thankful note, for the incomparable services provided by them to help people get over their pain and revive back to life.
13. Injection and Stethoscope Tattoo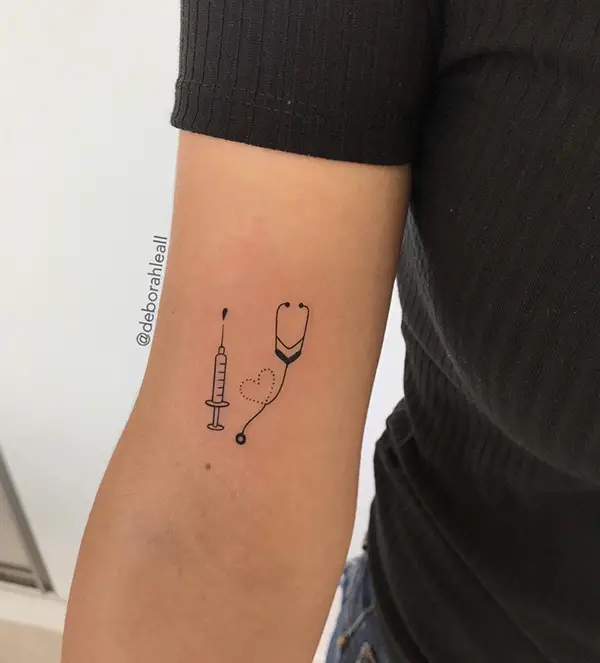 The stethoscope is linked to the heart, indicating it is an instrument that nurses use for monitoring the improvements of their patients. Similarly, they also inject the required drugs to help them get well soon.
14. Minimalistic Heartbeat Lines with a Red Heart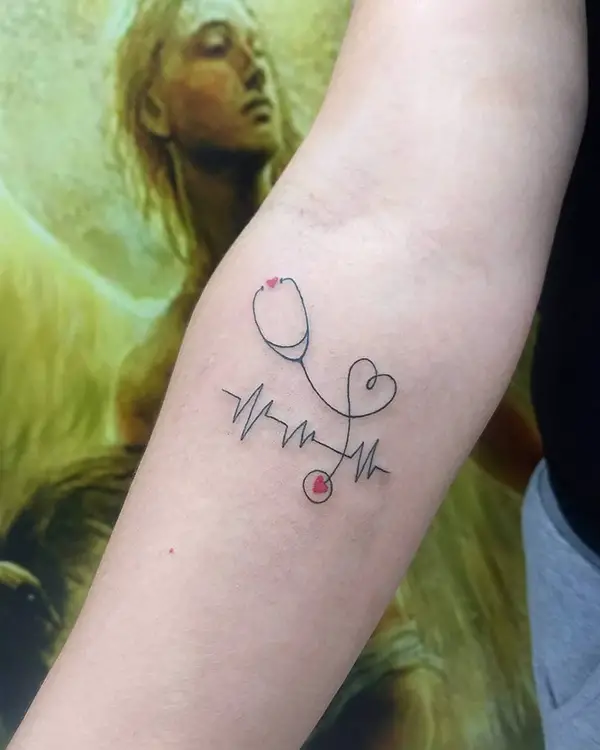 Love minimalistic tattoos but want to show your love and respect for nurses? This is the simplest tattoo showing heartbeats and the stethoscope in the shape of a heart. The care of the nurse is indicated through the tiny red heart in between the stethoscope ends.
15. Roses with Stethoscope Tattoo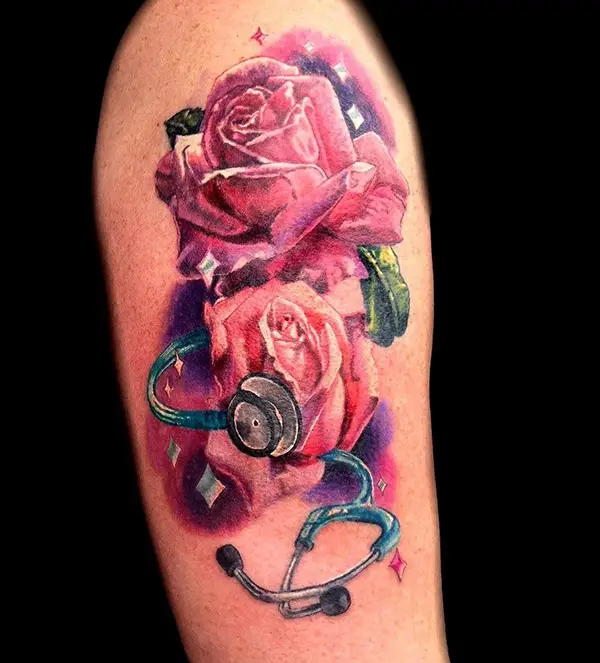 The beautiful roses in the tattoo show how the healthcare providers fill our lives with happiness through their selfless services to mankind. They help us overcome critical stages easily with their love and care.
[ Read: 30+ Most Beautiful Flower Tattoo on Shoulder ]
16. Intricate Heart with all Medical Elements Tattoo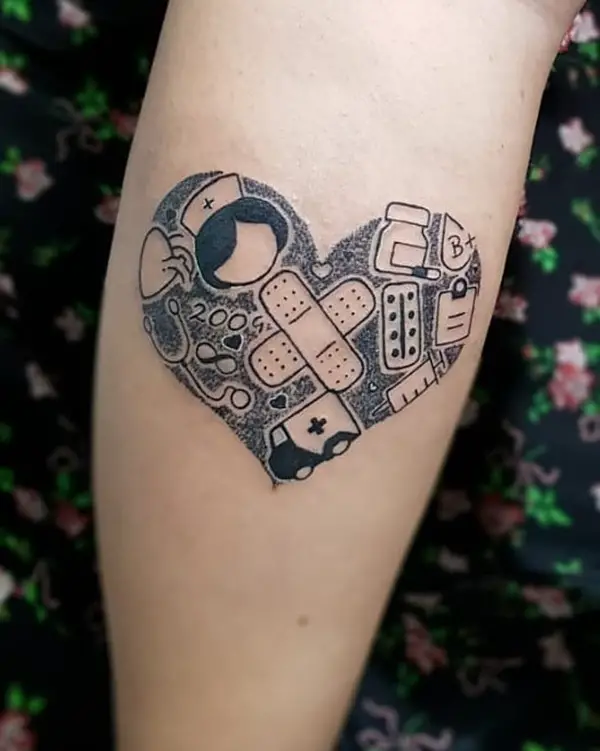 This is a simple black and white tattoo of a heart with various medical elements in it, such as a nurse, band-aid, ambulance medicine, reports, and bill. It signifies that a nurse uses all possible means to help a person recover.
17. Cute Tattoo with Life and a Heart Symbol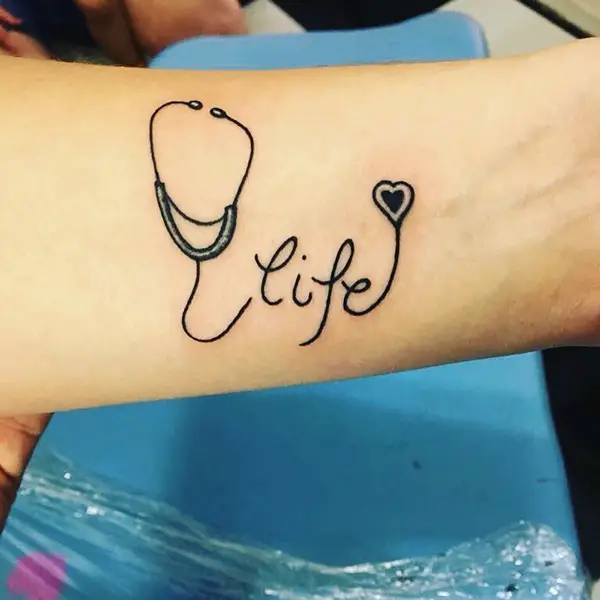 Doctors and nurses are known to give patients a second life. So portray your thankfulness to them through this simple tattoo where life is inked and connected to a heart on one end and a stethoscope on the other end.
[ Read: 30+ Amazing Wings Tattoo Designs For Men and Women ]
18. Heartbeat Tattoo with a Transformation of Phases in Human Life
This tattoo beautifully portrays how the stage of humans change from childhood to adulthood and right from the beginning, they need the help of doctors and nurses to overcome any illness related to their health. The stethoscope in the shape of a heart, indicates, how the nurses and doctors help us overcome health issues and stay alive.
19. Nurse with a Quote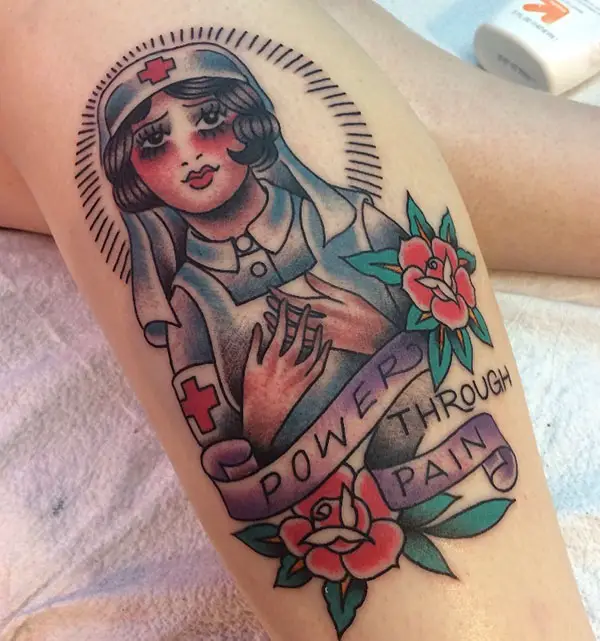 This tattoo shows a beautiful nurse with flowers around, signifying how they heal the patients with care and love. The quote "power through pain" implies that a person has to undergo pain to gain the power of well-being.
20. Cute Nurse Tattoo in Black and White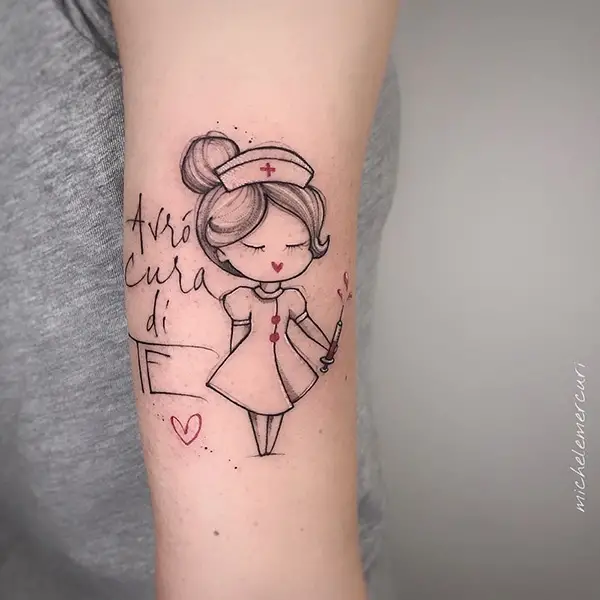 This is a cute little nurse holding an injection and wearing a smile on her lips, which is the biggest medicine for a patient as the emotional connection established with patients, is crucial for their faster recovery. Besides this, you can get a small thank you in your own language with a heart symbol, to show your thankfulness to the nurses.
Check More Images:
21. Small Heartbeat Tattoo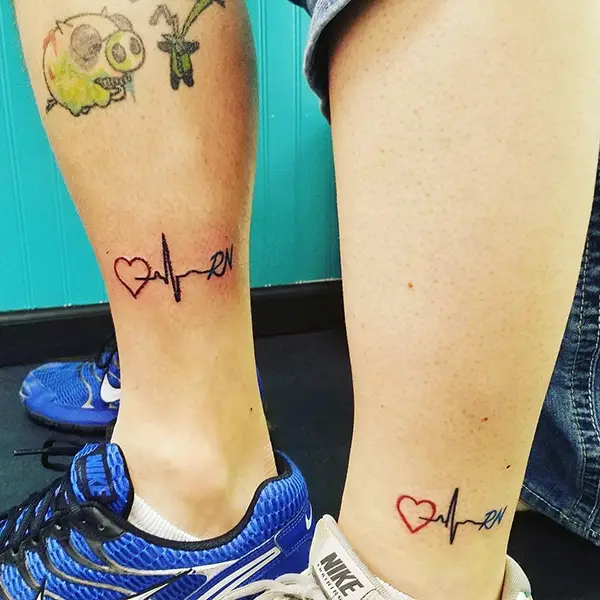 22. Heart with Stethoscope Tattoo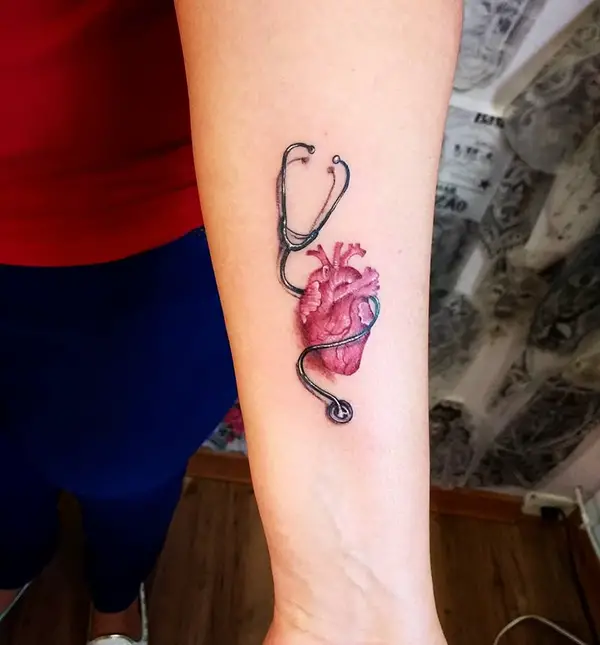 23. Stethoscope Heart with Quote Tattoo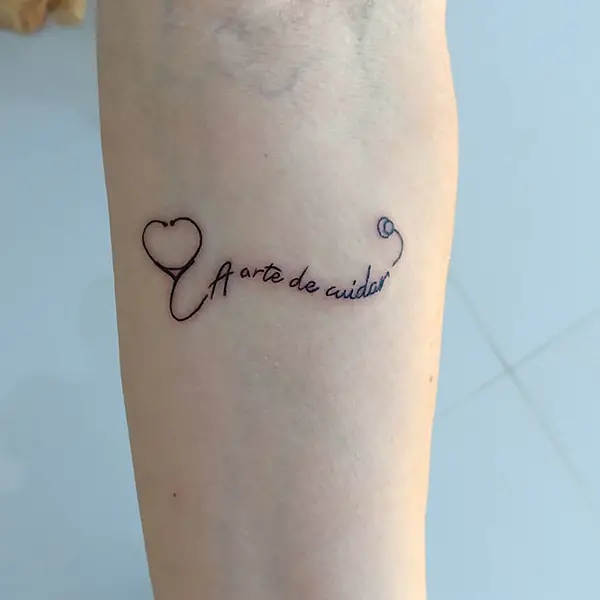 24. Really Small Tattoo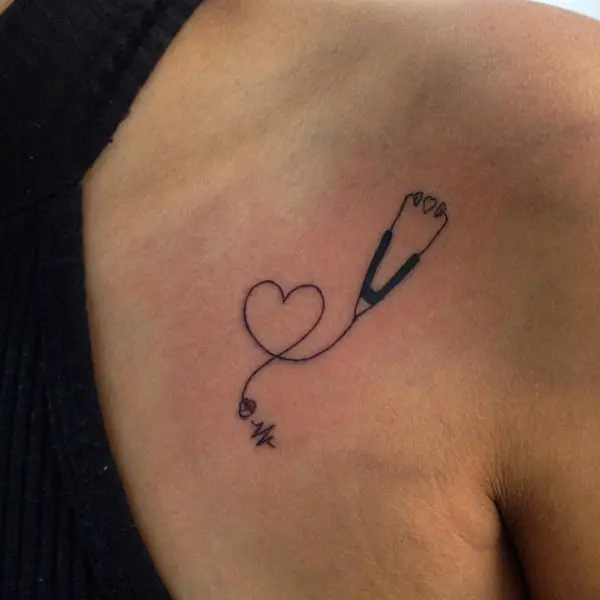 25. Vibrant Nursing Tattoo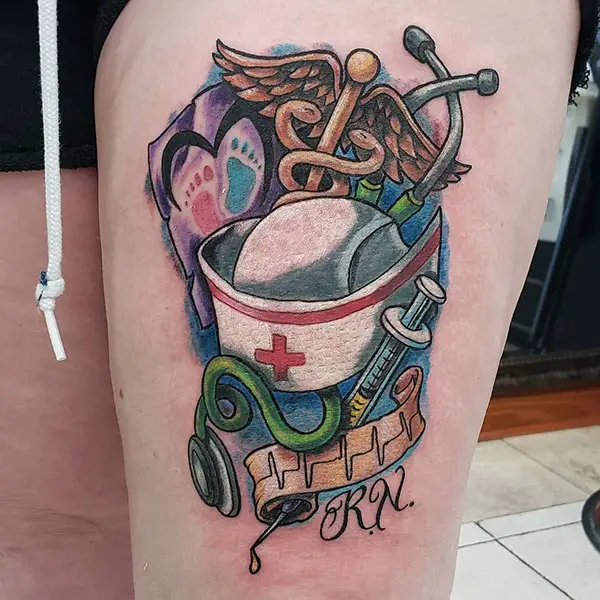 26. Watercolor Stethoscope Tattoo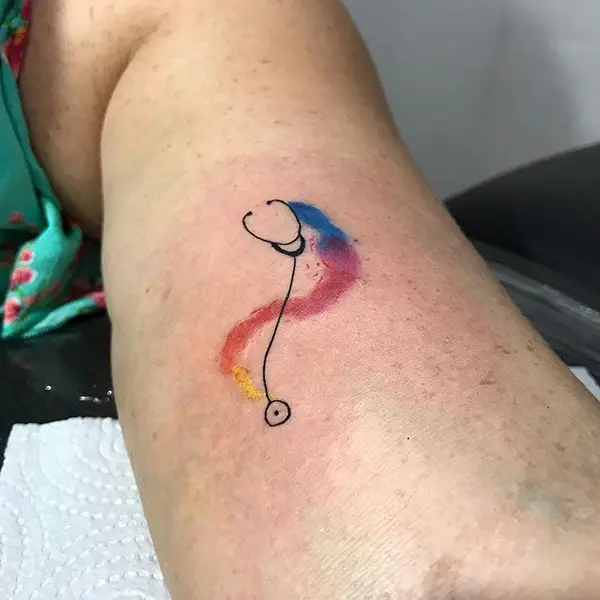 27. Colorful Nursing Tattoo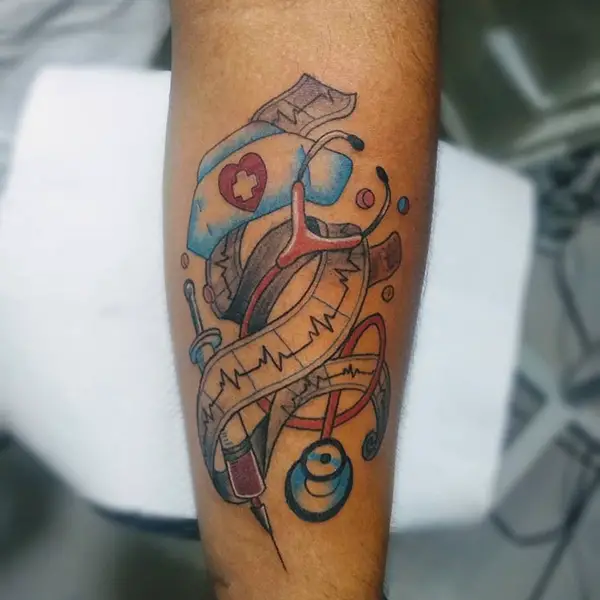 28. The Nursing Tattoo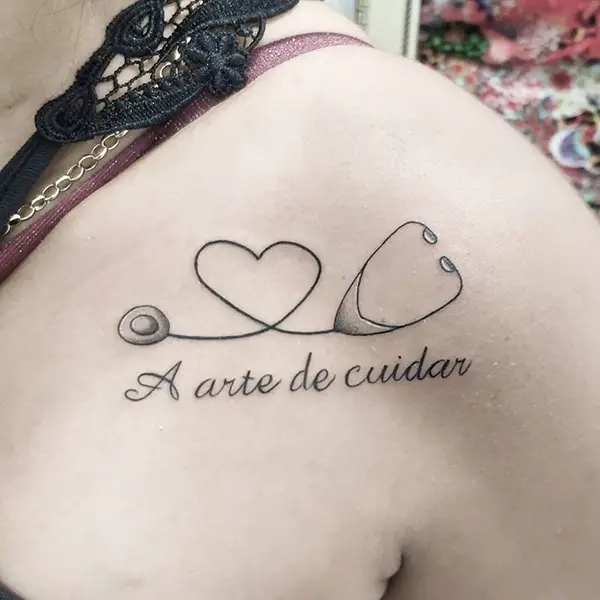 29. Nursing Tumblr Tattoo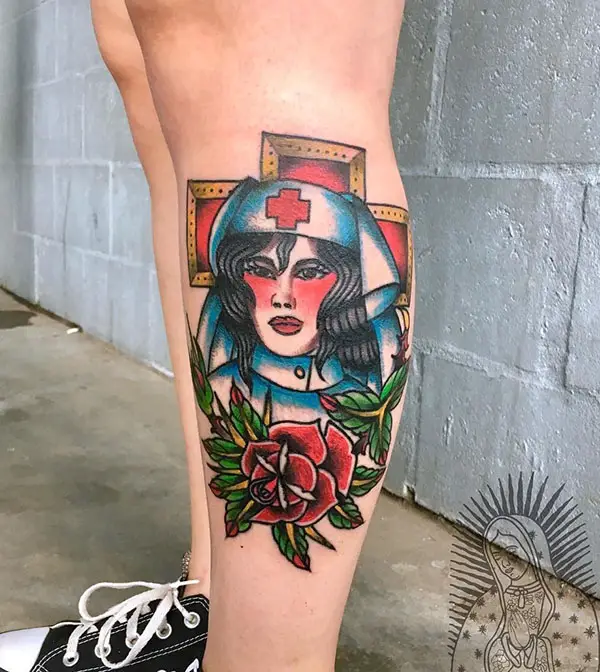 30. Tattoo with a Symbol of Nursing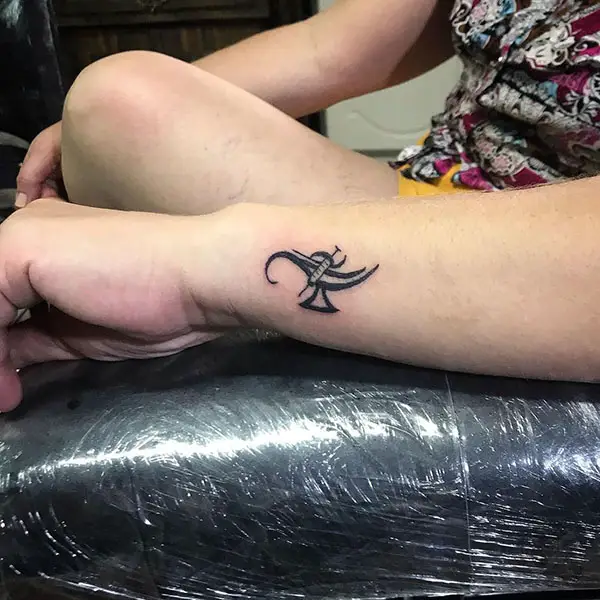 31. Creative Nursing Tattoo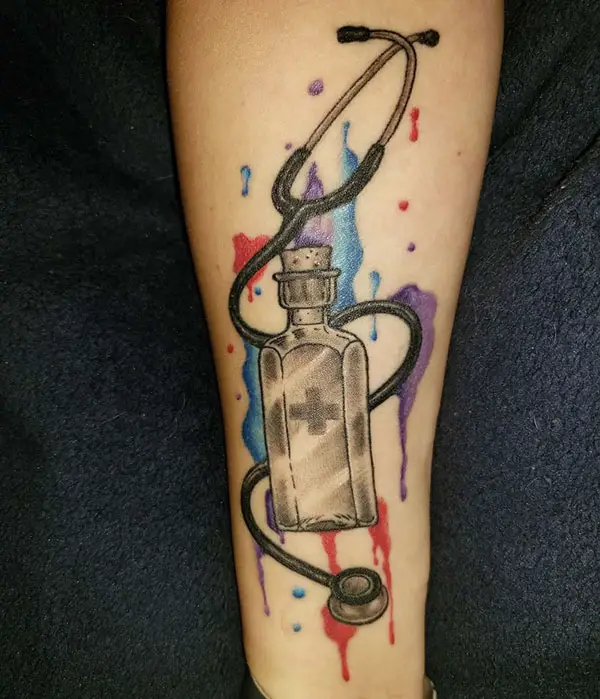 32. Minimalist Tattoo on the Back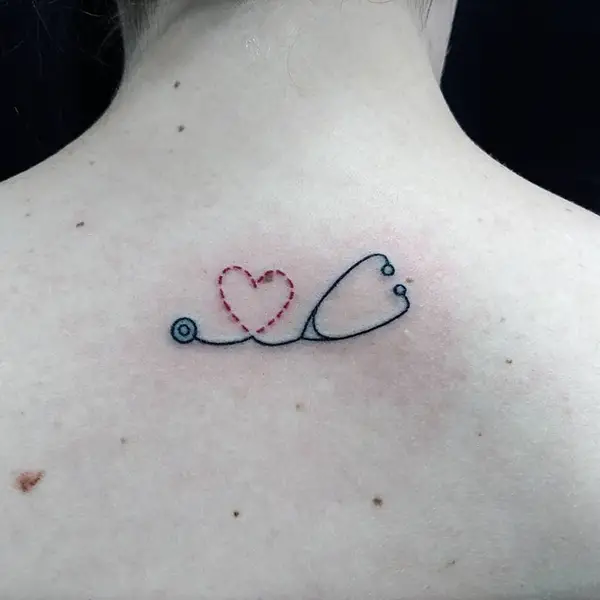 33. Watercolor Heart and Stethoscope Tattoo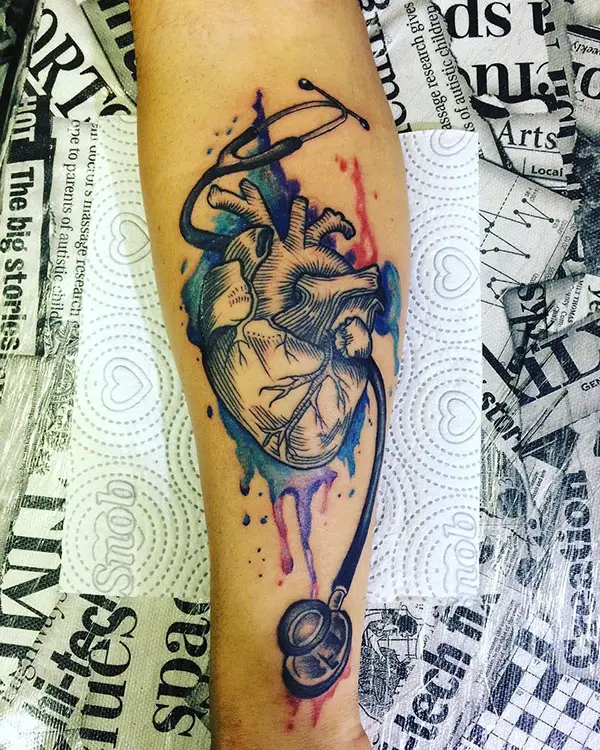 34. Small Stethoscope Tattoo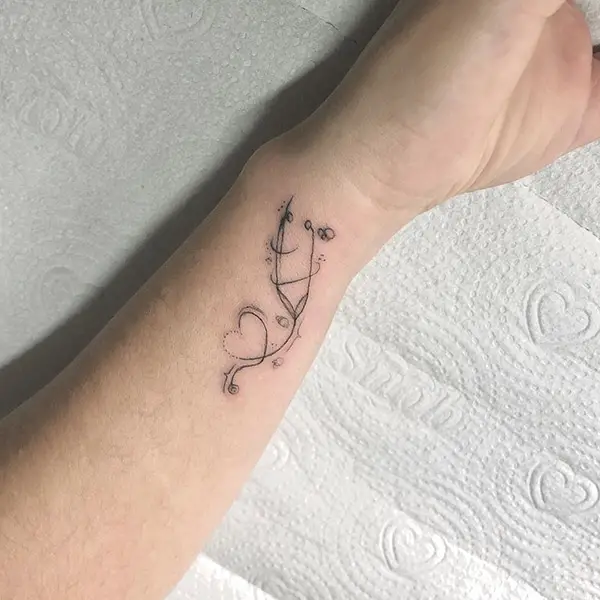 35. Nurse Tattoo on the Arm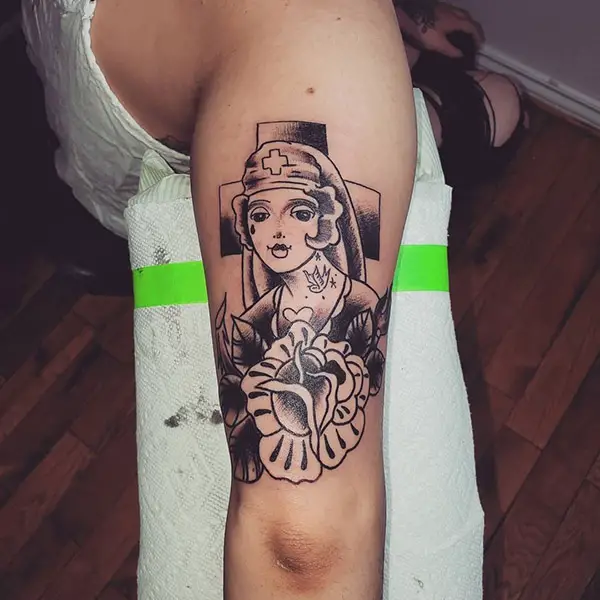 Best Lotions for Healing a Tattoo
You Might Also Like: