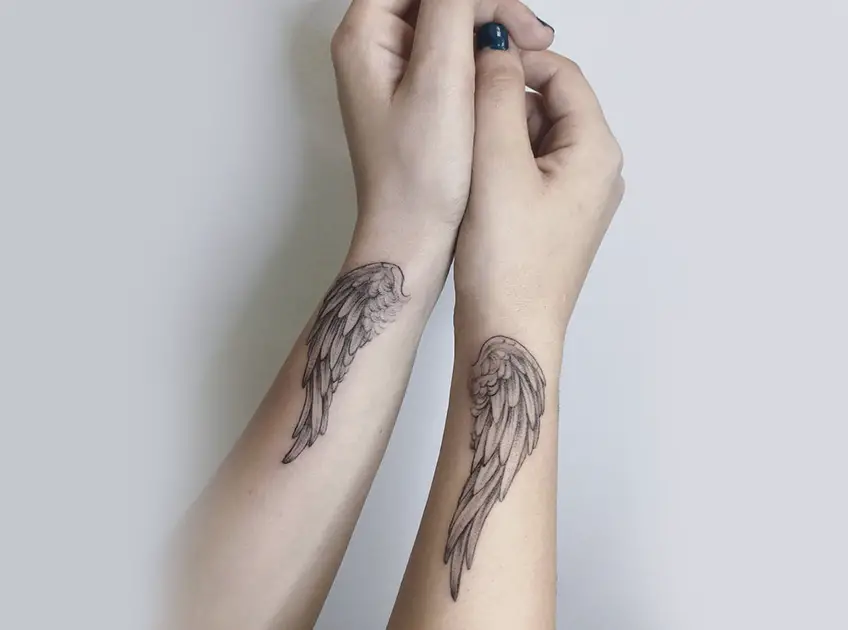 Wings tattoo designs implies protection and freedom. It is a great option for men who want to honor their loved ones who have passed away but the wing designs have various other meanings too. Let us see some of these designs.
Best Wings Tattoo Designs
1. Wing Tattoo with Name and a Line for Beloved One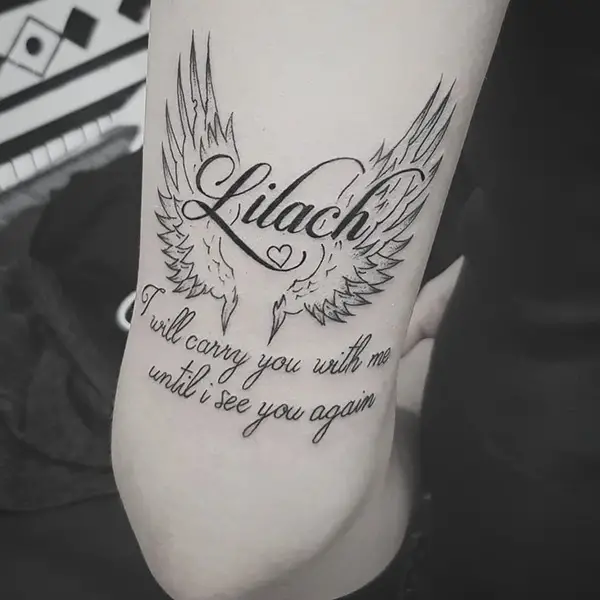 This wing tattoo has the name of the beloved one inked in the middle with a tiny heart, showing the love for the person. The line mentioned below it, " I will carry you with me until I see you again" shows the intense connection with the person.
[ Recommended: Small Tattoo Designs and Their Meanings ]
2. Wing Tattoo with a Crown, Date, and Splashes of Colors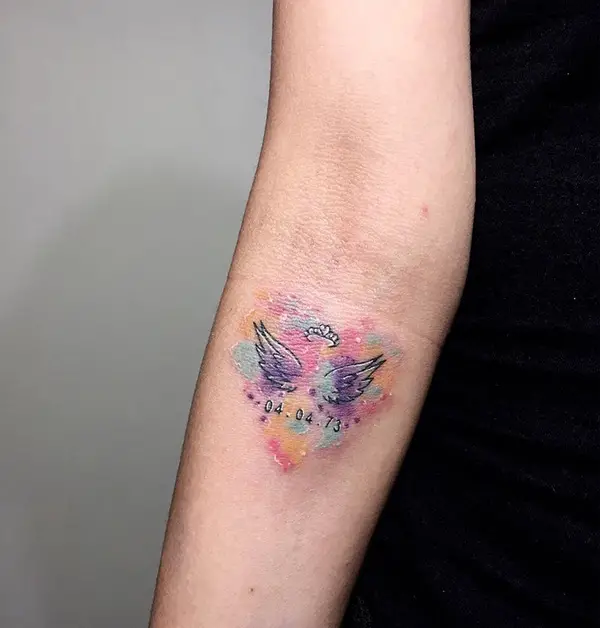 This is a perfect tattoo if you want to get the birth of your baby girl in your arms. The crown and the wings symbolize an angel appearing in your life on the inked date and color splashes indicate how she has filled your life with happiness.
[ Recommended: Ankle Tattoo Designs and Meanings ]
3. Wings Tattoo with Date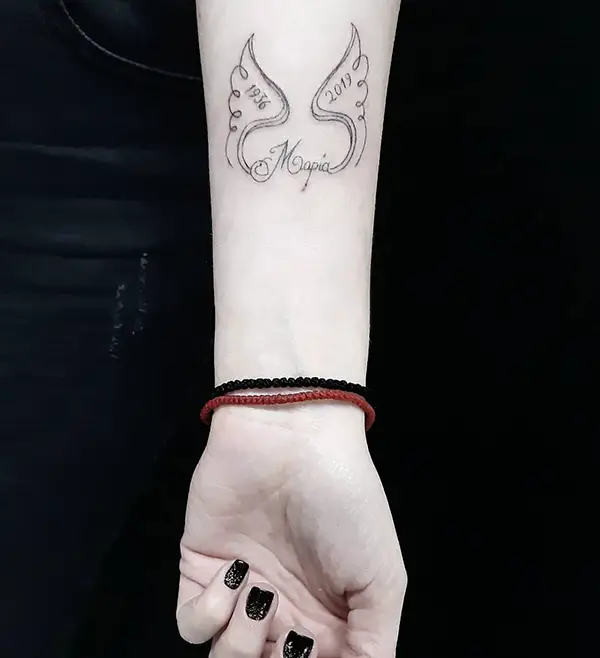 A simple and subtle way to express your grief for the loss of your beloved one is to get his/her last date inked on the wings with the name in between. Every time you see the tattoo, you will remember the last moment spent with the person.
[ Recommended: Arm Tattoo Designs for Men and Women ]
4. Wings with Baby Footprint Tattoo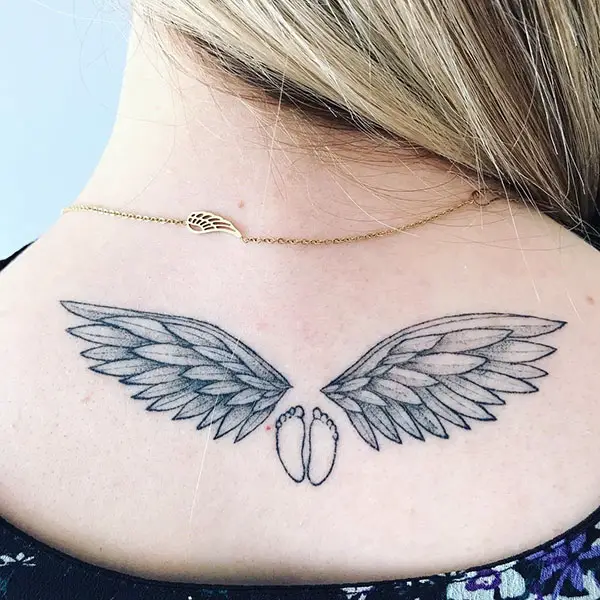 Your newborn baby has been the best thing that ever happened to you and resembles an angel in your life? Get his tiny foot shape inked in between the inks to show the importance the baby has in your life.
5. Wings Tattoo with a Halo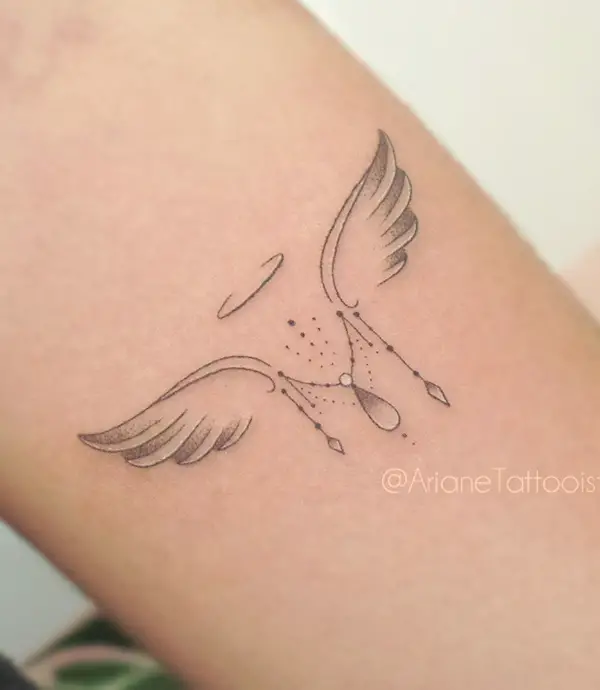 The wings with a halo symbol in between indicate a guardian angel whose presence has been felt by you in every phase of life, protecting you from negative things. The dots and necklace pattern made between the wings give it a feministic touch.
6. Butterfly Wings Tattoo
The butterfly is a creature representing the transformation from an ugly caterpillar form to a beautiful fly. It symbolizes that we should let time take its course, wait patiently and believe in the change to enjoy the reward.
7. Wings Tattoo with a Quote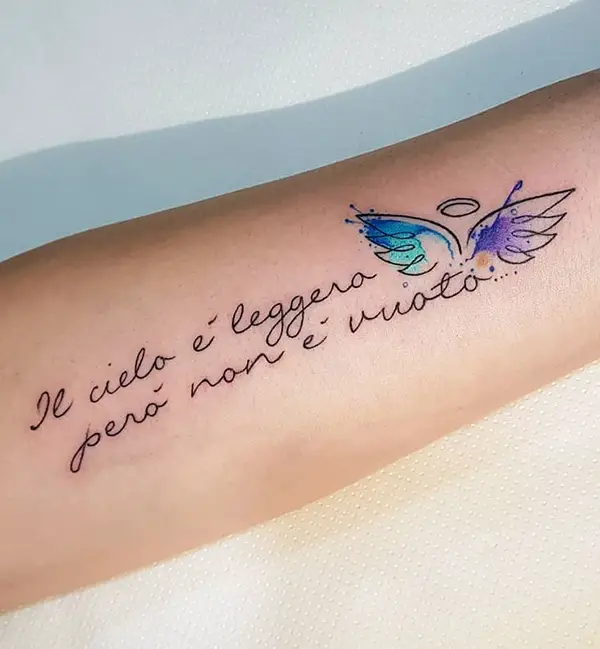 You can get a quote inked on your arms alongside the wings. Looking at the colorful wings and the quote, you will get inspired to stick to your dreams and fly high while believing in the guardian angel to protect you during unforeseen circumstances.
8. Angel Wings Tattoo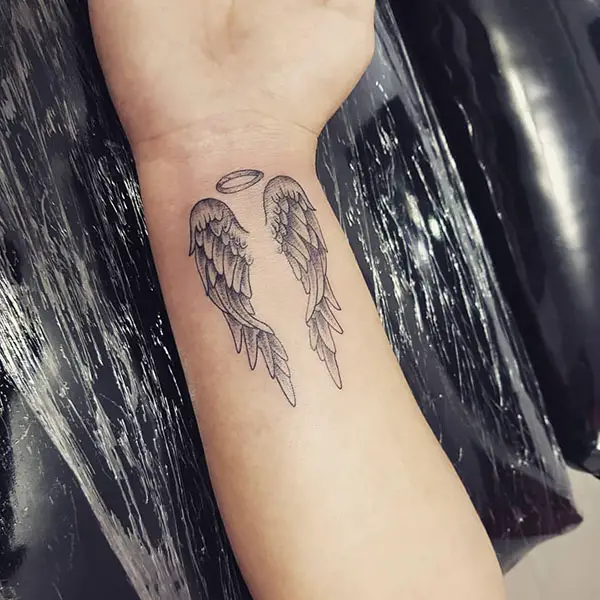 This wing tattoo with a halo in between is of an angel. It symbolizes your wish for becoming better in life with your good deeds to secure a place in heaven after death.
9. Single Wing with a Name Tattoo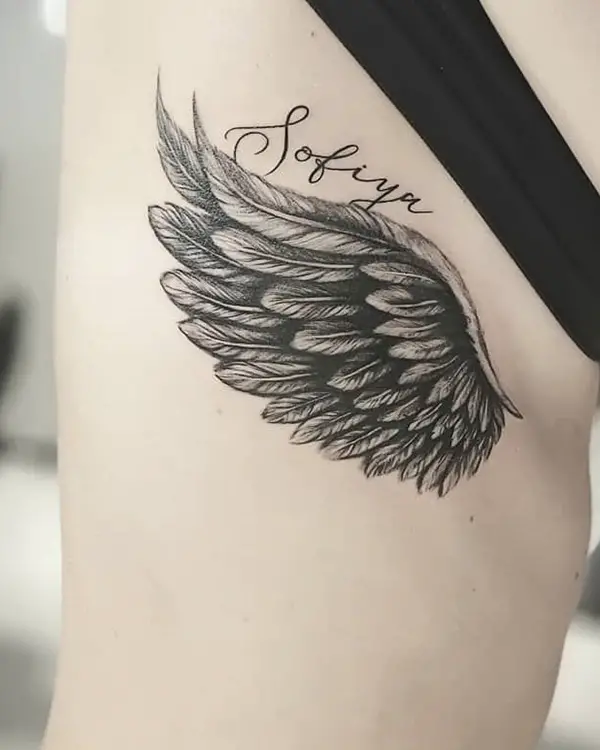 When you don't want to get the pair of wings inked on your skin, just get one wing done with the name of your dear one on it. This will remind you of the good times spent with the person whenever you see it.
10. Wings Tattoo on Fingers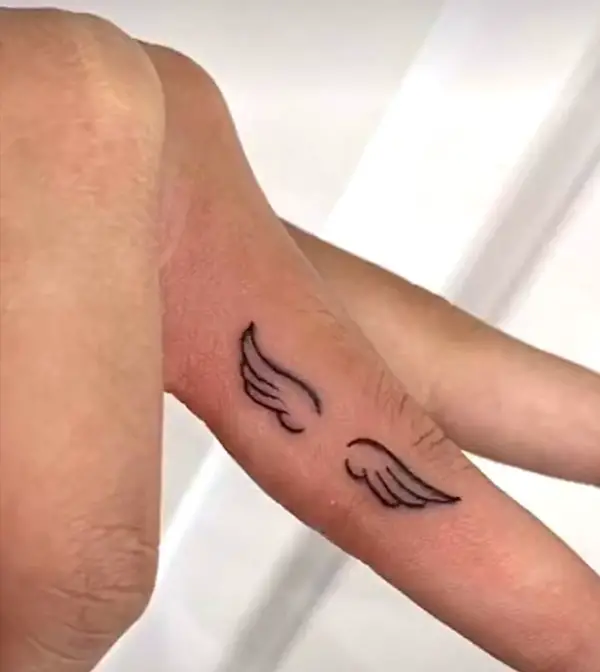 Want to get inked at a concealed location? The side of any finger would be a good place to make it less visible. It symbolizes your desire to explore concepts like power, freedom, and flight and get into a future with better experiences.
11. Wings Tattoo Connected to a Name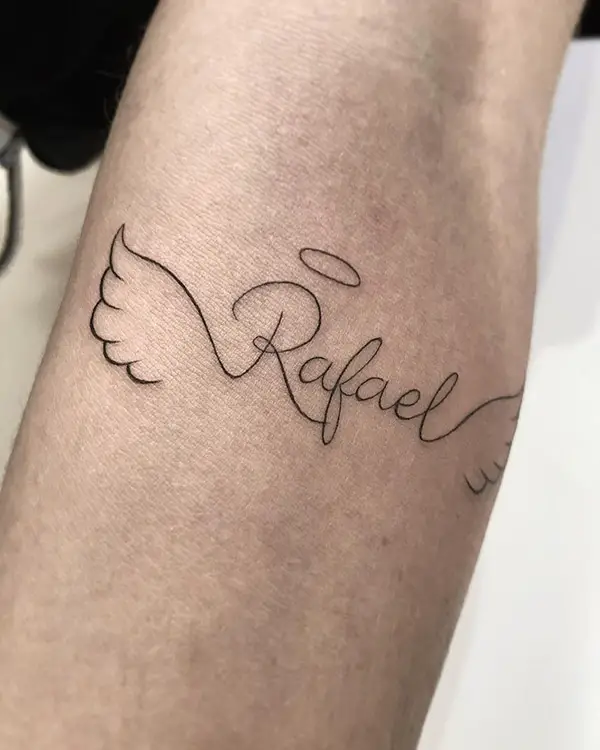 Honor your loved one who is no more on this earth, by connecting his name with wings and a halo sign at the top. This shows that he has turned into an angel and is in heaven with God.
12. Bluewings with Footprints Tattoo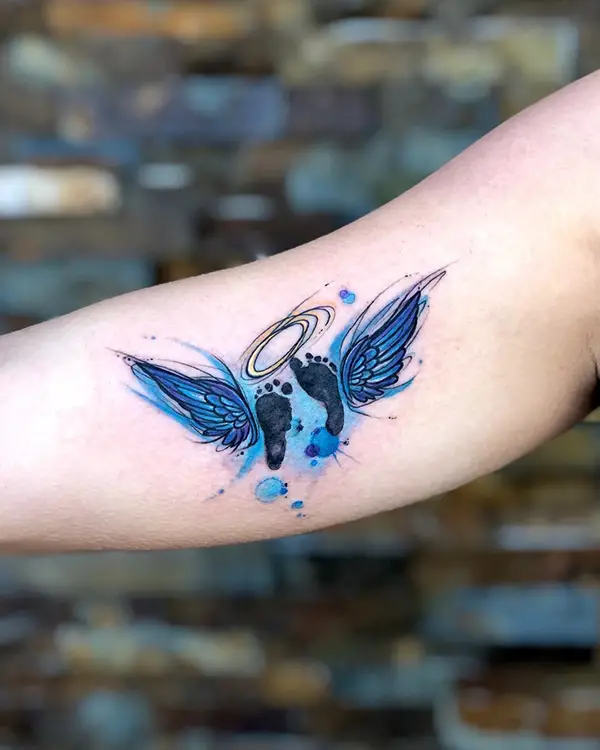 Bluewings represent royalty and elegance and symbolize your desire to seek attention by standing out in the crowd. The footprints with a halo sign at the top are a way of remembering someone you have lost in the past, who has been your role model and you wish to follow his footprints.
13. Colorful Wings Tattoo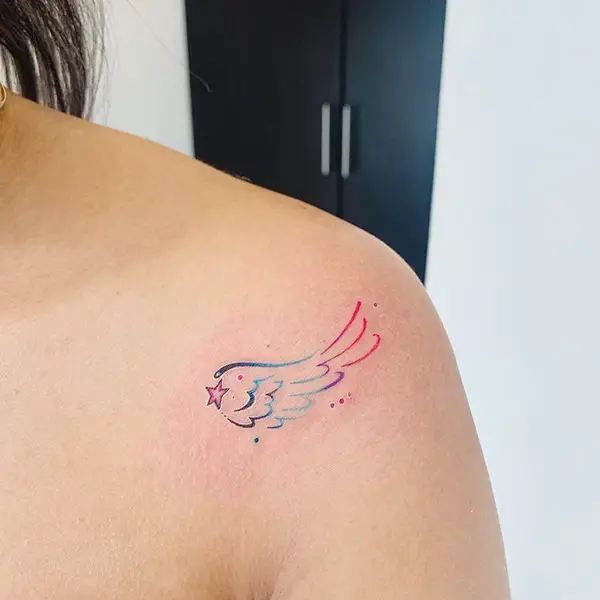 The colorful wings tattoo is perfect for girls who want to add a feministic and fashionable touch to their outfits It signifies their desire for attaining new heights in life through their efforts and shining like a star.
14. Vibrant Wings Tattoo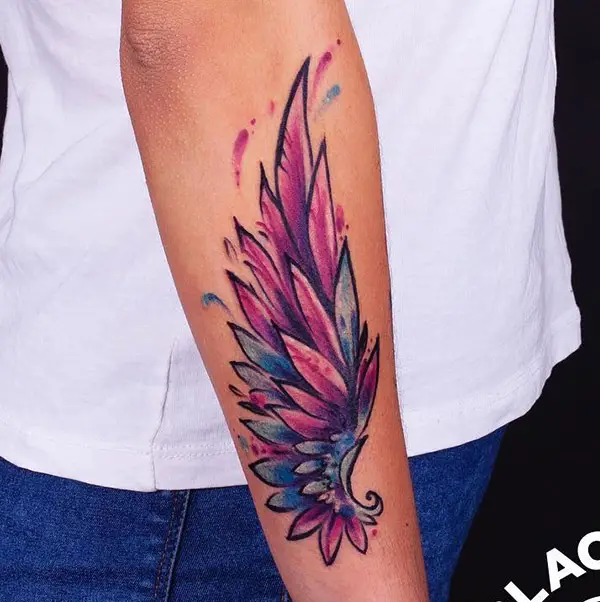 Love colorful arts and get one inked on your arms? Show your desire to rise high by achieving your goals and shine among the crowd with this vibrant wing tattoo.
15. Wing Tattoo with Your Best Friend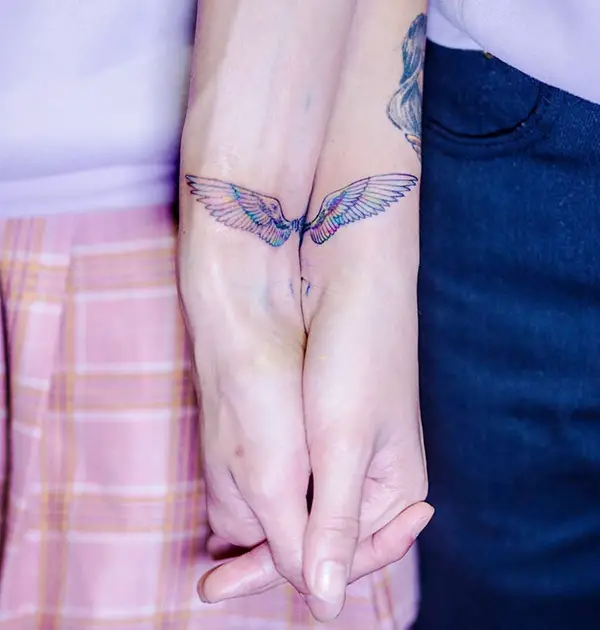 Do you and your friend/partner have a similar mindset and plans to advance in life with hard work and perseverance? Show this by getting one wing inked in your hand and one in the friend's hand so when you join hands, it will result in a complete bird-like look. It symbolizes your combined efforts which can help you conquer unfathomable heights.
16. Wings Tattoo on Arms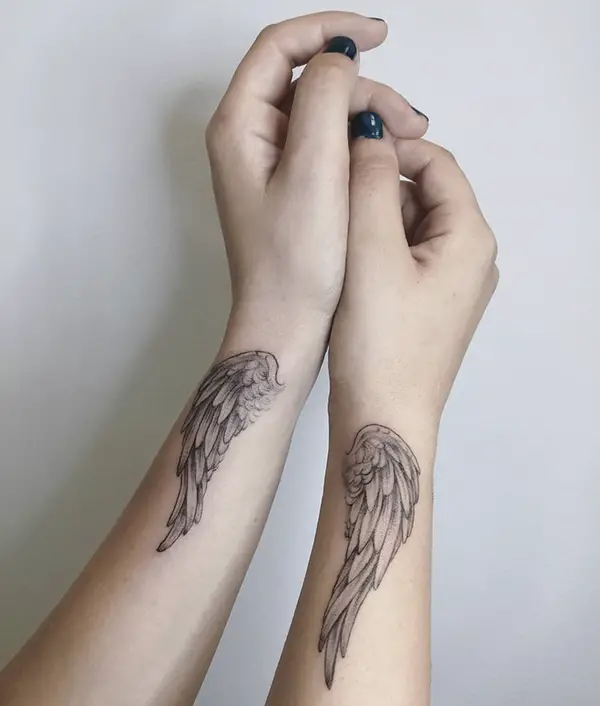 Have an intense desire to fly? And wonder what if humans could fly like birds? To express your curiosity and desire, you can get the black wings inked on both hands.
17. Wings Tattoo on Legs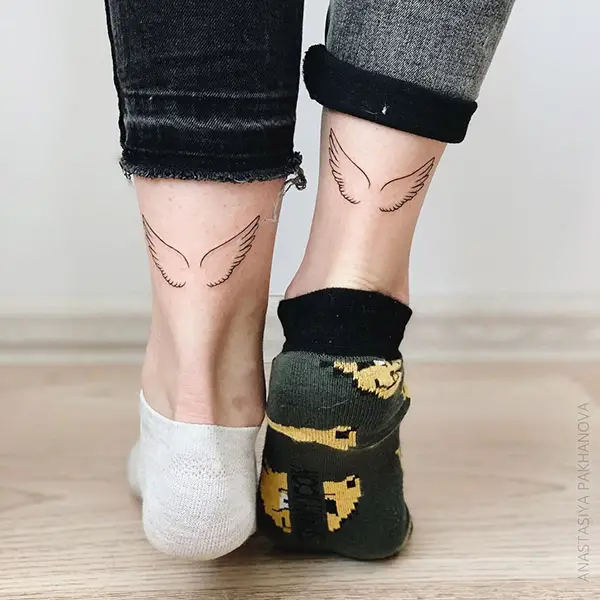 When you don't often wear full-length pants and want to flaunt something on the legs, these wing outlines are the classy tattoos that you can get inked on both legs. They represent your creative side and desire to fly and relax.
18. Wings Tattoo Behind The Ears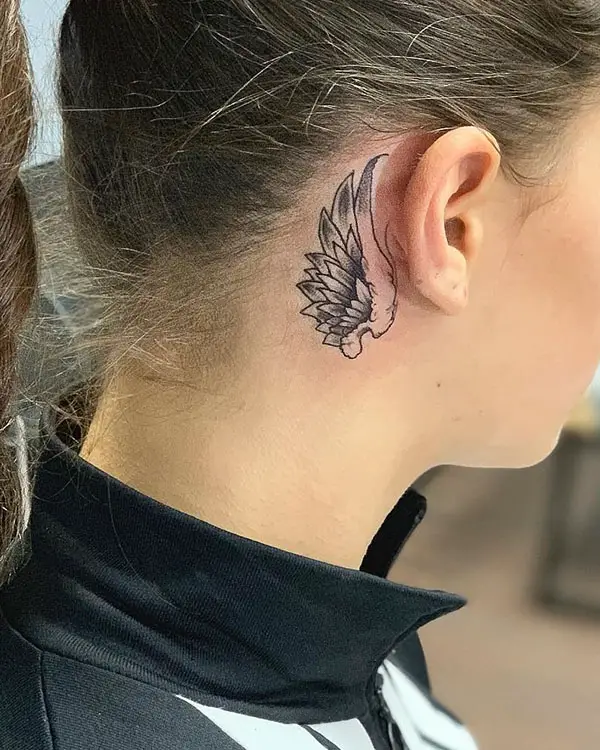 When you don't want to get the tattoo inked in a revealing area, behind the ears is the best place to keep it concealed unless you want to remove the hair over your ears to flaunt it. The tattoo represents hope, faith, and protection by the guardian angel.
19. Minimalistic Wings Tattoo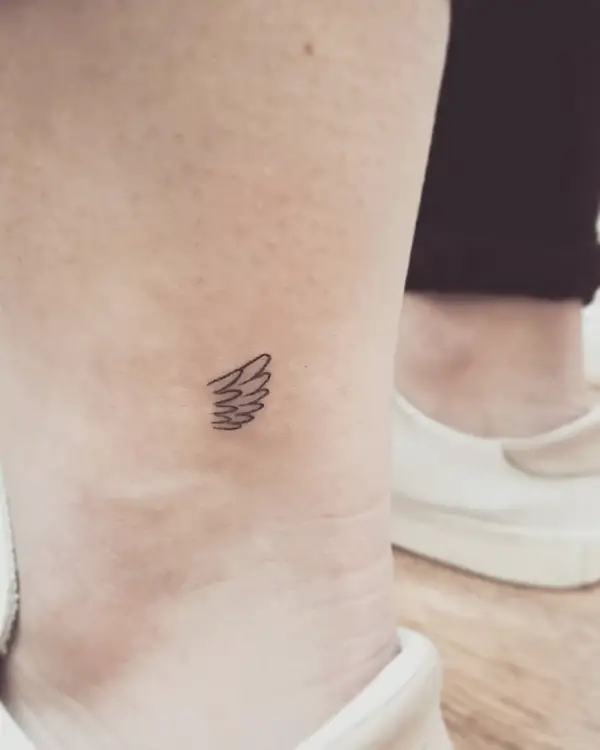 When wings fascinate you but you don't want to opt for complex designs, this is the simplest one you can get inked on your wrist in any other place to show your love for them and symbolically, your desire to fly high in the journey of life.
20. Wings Tattoo on The Back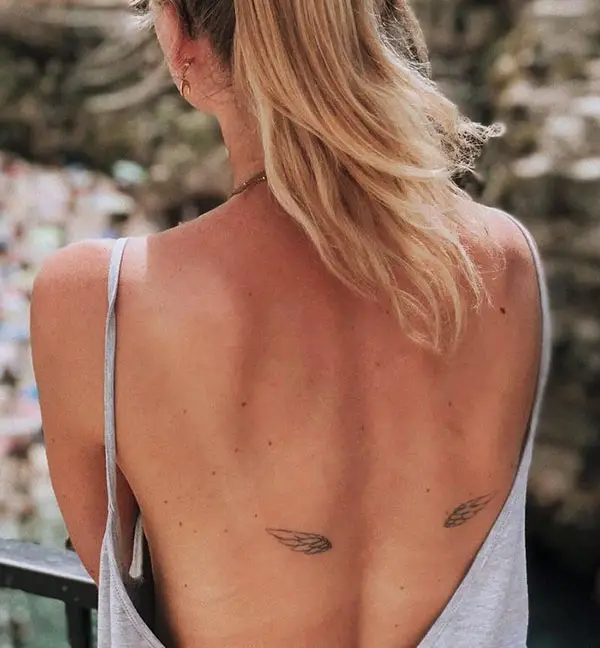 Love traveling around the world? Then these tiny wings are a perfect representation of your desire to fly around and also rise to new heights in life with your own efforts and willpower.
21. Angel Wings Tattoo on Hand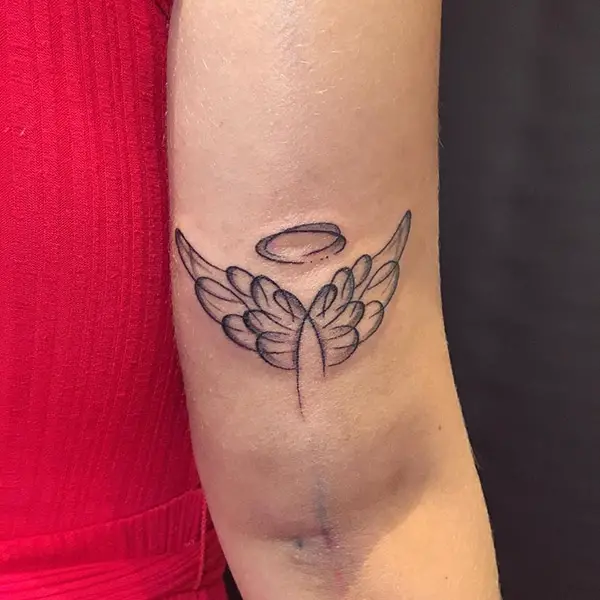 22. Ankle Wings Tattoo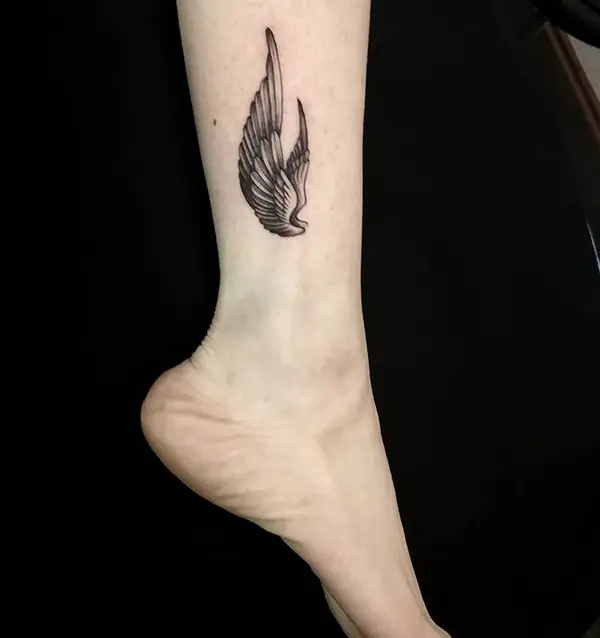 23. Black Ink Wings Tattoo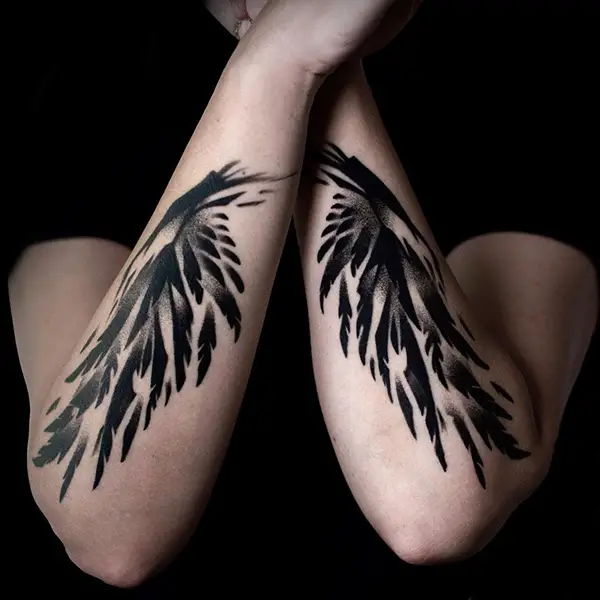 24. Butterfly Wings Tattoo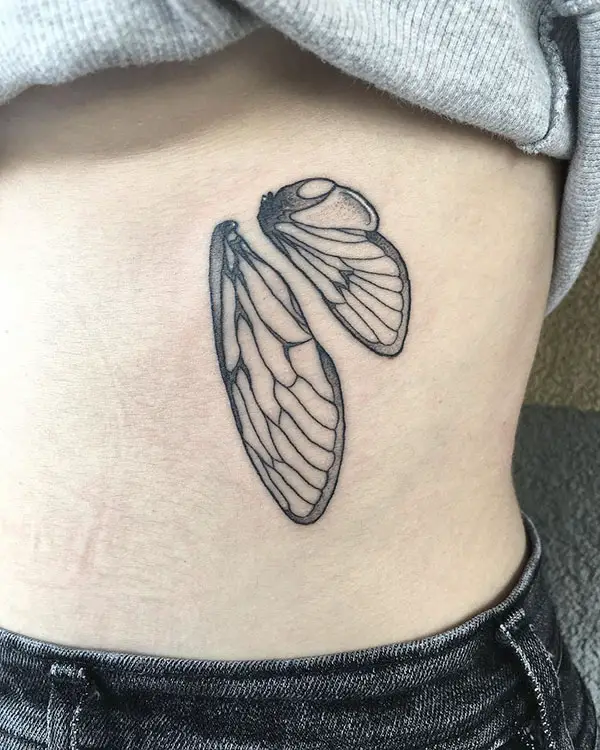 25. Cute Wings Tattoo on Wrist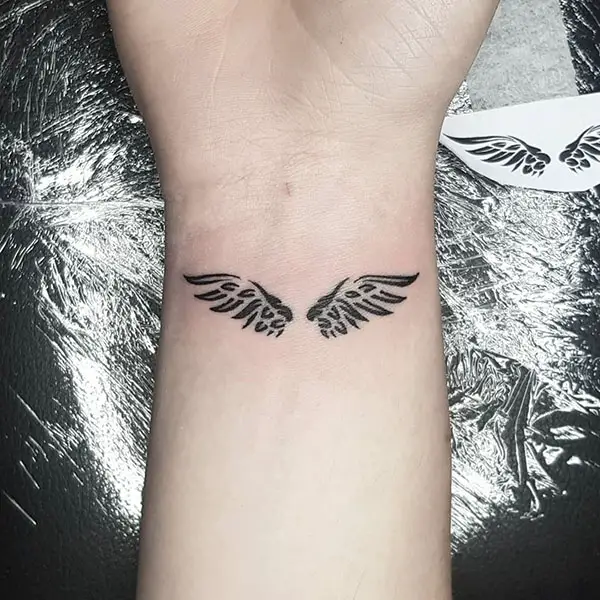 26. Realistic Wing Tattoo on Hand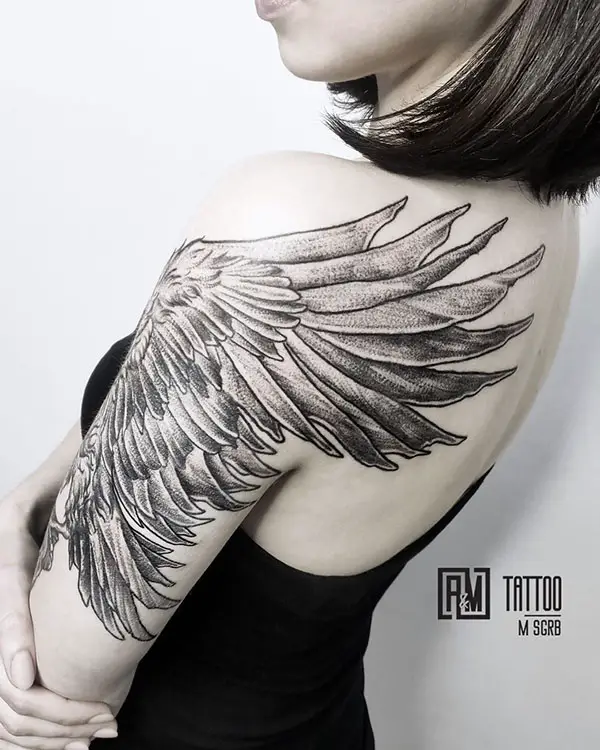 27. Realistic Wings Tattoo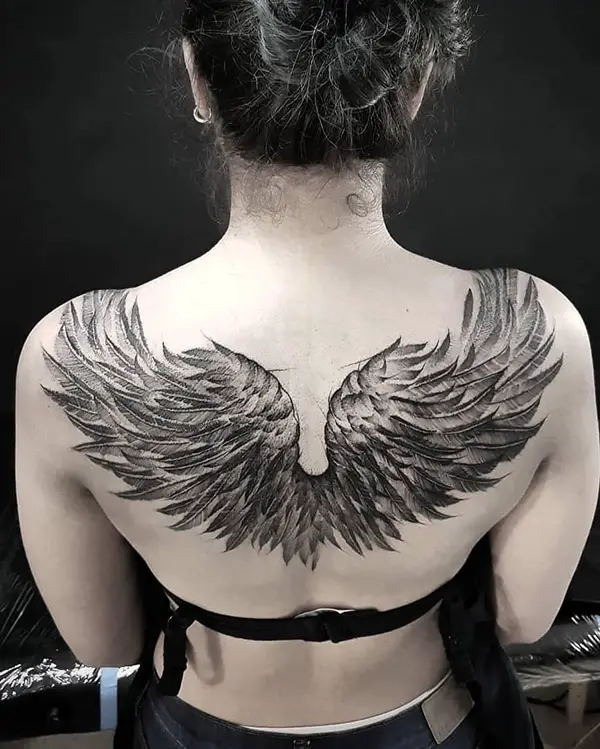 28. Small Wings Tattoo on Back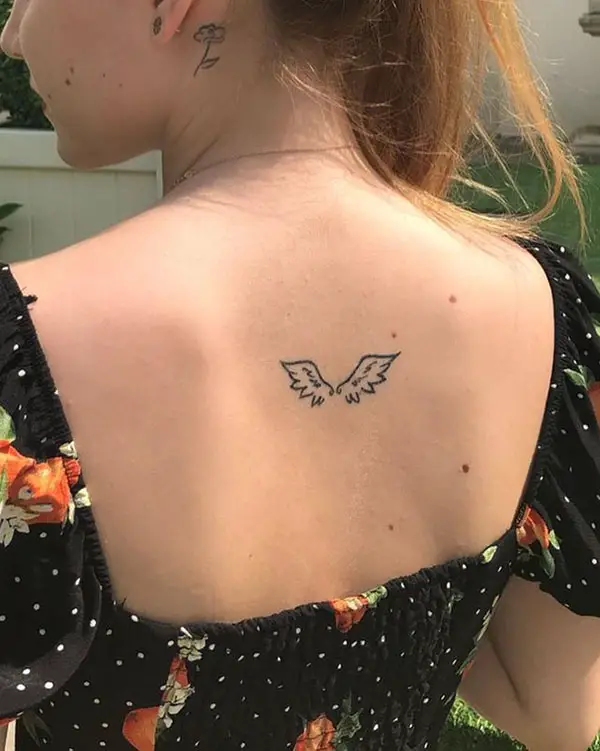 29. Small Wings Tattoo on Waist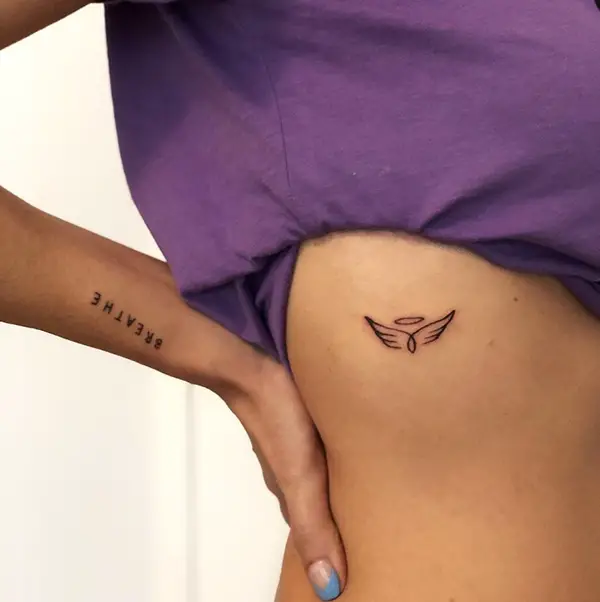 30. Wing Tattoo on Ankle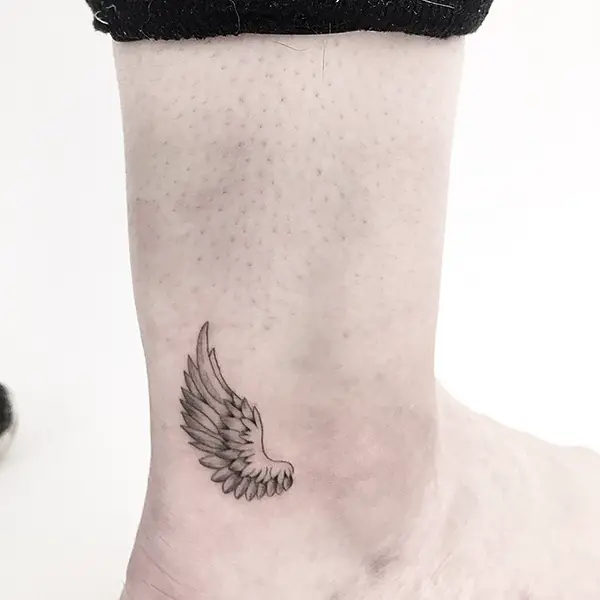 31. Wings Tattoo on Arm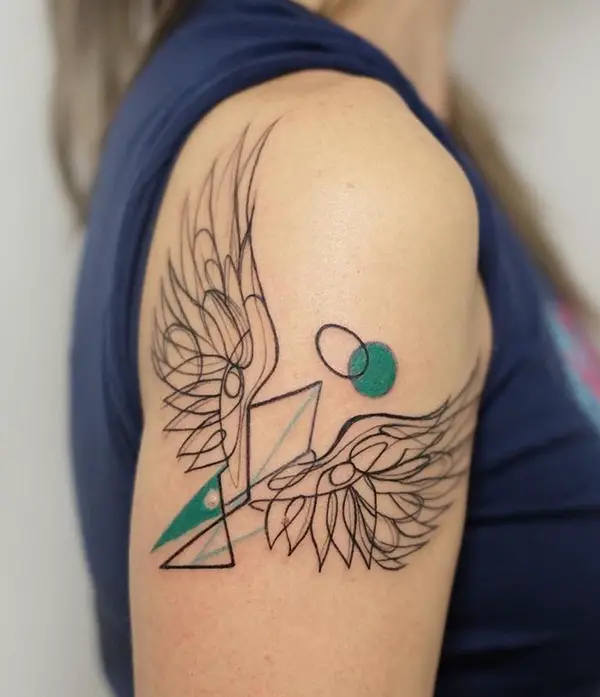 32. Wings Tattoo with Quote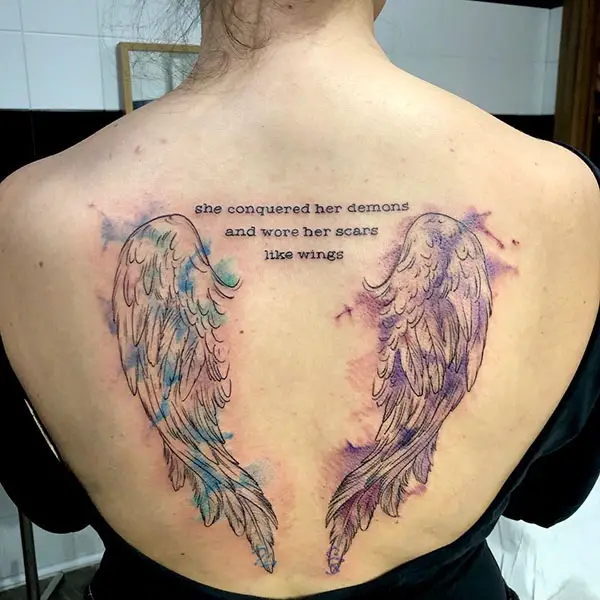 33. Wings Tattoo on Elbow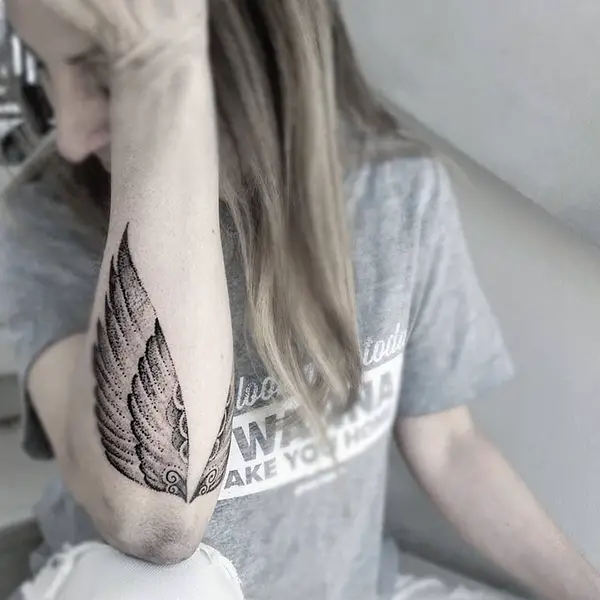 Recommended Topics: