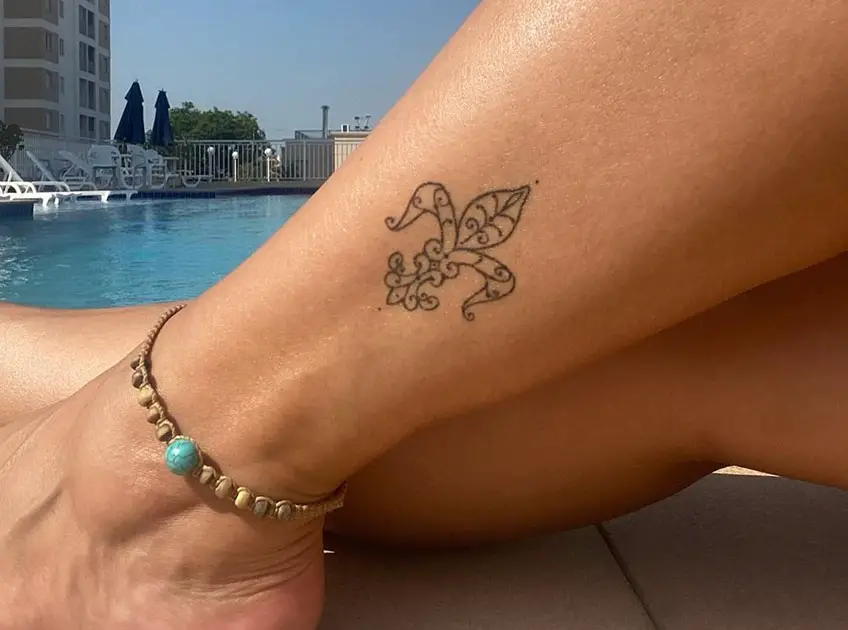 Fleur-de-lis is a popular French symbol and has importance in other cultures too. At first glance, this can be related to medieval Europe and royalty. Besides tattoo, it is used in decor, and architectural works too. In English, it is translated to "lily flower" and was considered to be designed for beautiful irises that naturally grow along the Lys River in France. Let us see some of the designs of this tattoo.
Best Fleur De Lis Tattoo Designs
1. Fleur-De-Lis Tattoo on Finger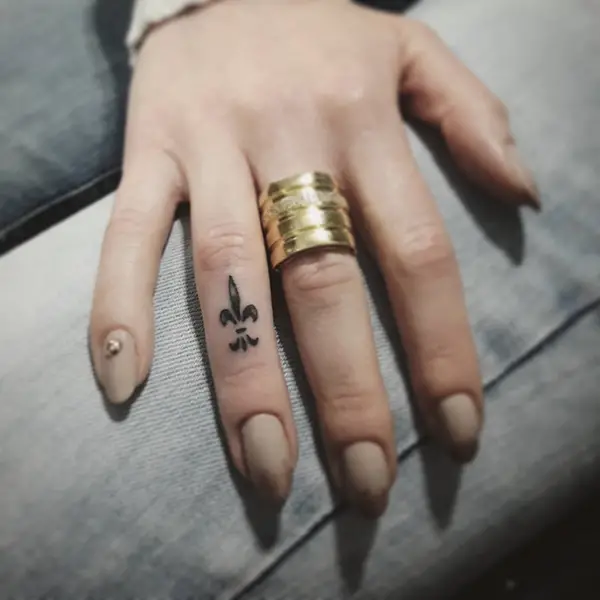 In medieval England, women were expected to be virtuous and have s spiritual inclination, hence this symbol was used to represent their purity. It can be inked on the finger as a noble sign when you want to become better in life.
[ Recommended: Best Buddha Tattoo Designs and Meanings ]
2. Fleur-De-Lis and Holy Cross Tattoo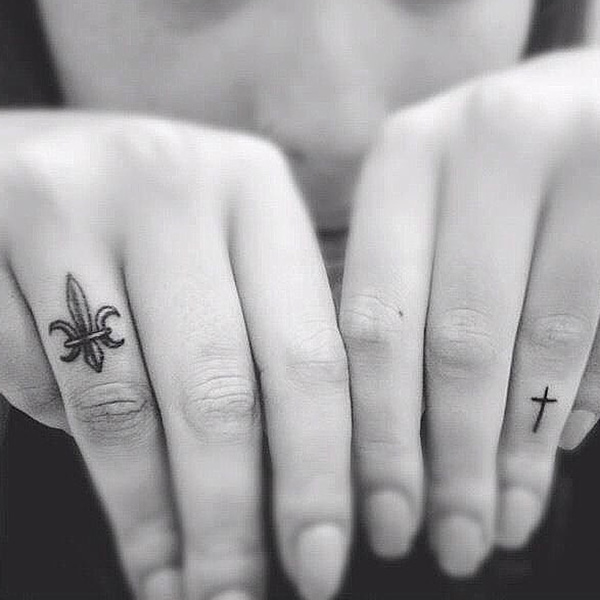 Fleur-De-Lis is also associated with Catholicism and has religious connotations to Holy Trinity. It has been associated with Virgin Mary. Getting the holy cross in one hand and this tattoo in the other can clearly signify this.
[ Recommended: Best Pointillism Tattoo Designs ]
3. Fleur-De-Lis Tattoo Under the Chin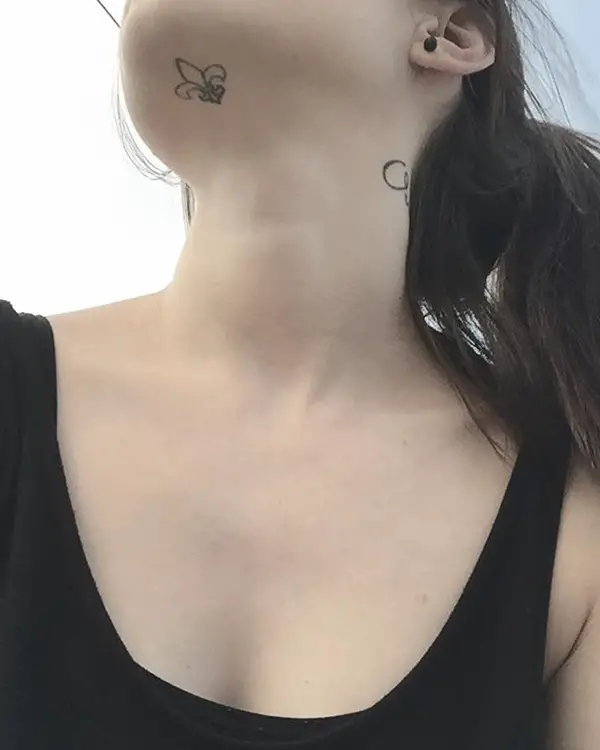 The petals of Fleur-de-lis symbolize faith, chivalry, and wisdom. Hence people get it inked to aim at adding these values to their character and become better.
[ Recommended: Wings Tattoo Designs For Men and Women ]
4. Fleur-De-Lis on Hands of 3 Persons Denoting Unity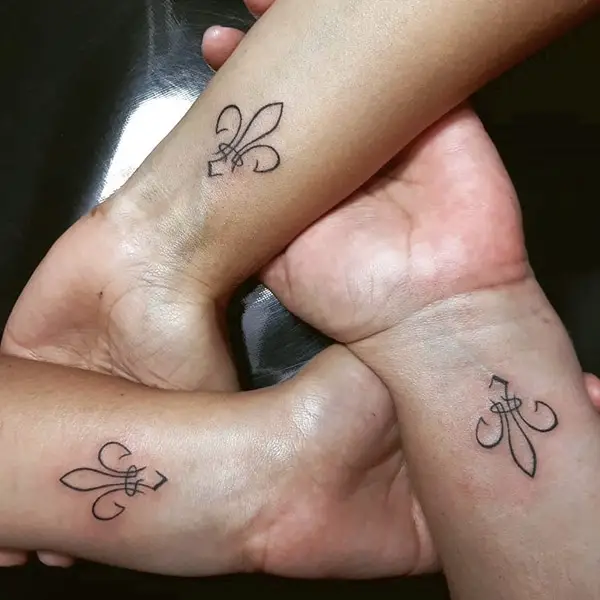 Fleur-De-Lis tattoo can be inked on the hands of 3 persons who are close to one another, to represent their love and faith in them. It signifies the beautiful synchronization among them to deal with any difficult situation easily.
5. Fleur-De-Lis Tattoo in The Form of a Flower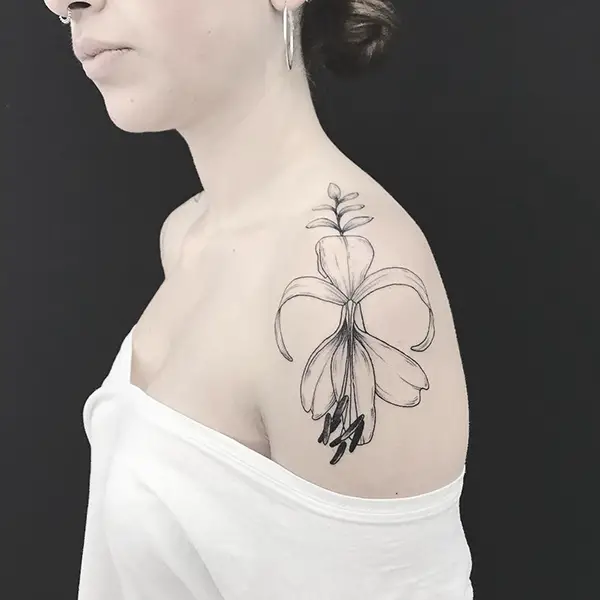 This lily is a traditional way of representing Fleur-De-Lis as its literal meaning implies lily. The floral shape highlights feminine intention and represents purity. It covers the shoulder and make it look fashionable.
6. Fleur-De-Lis with Name Tattoo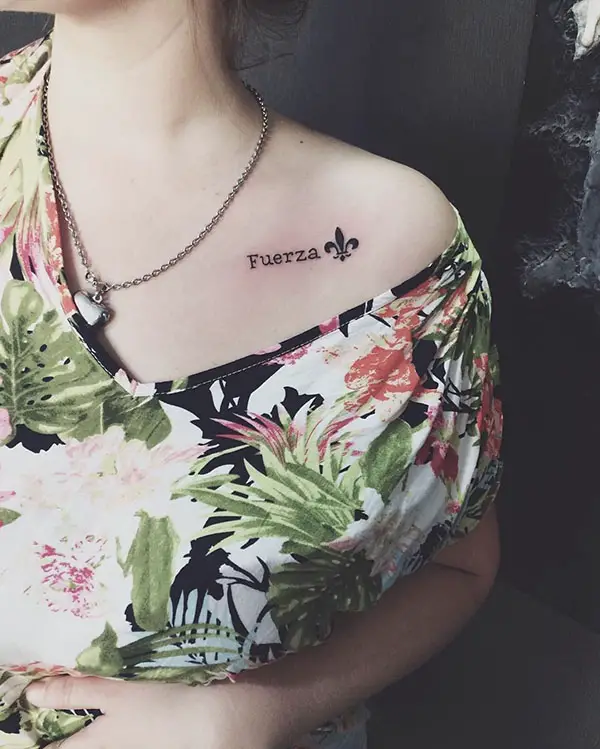 You can ink the name of your beloved one on your shoulders and add the Fleur-De-Lis tattoo beside it as a sign of good luck. This symbolizes that you wish to see good days with the person in the future.
7. Fleur-de-lis Tattoo with Patterns in it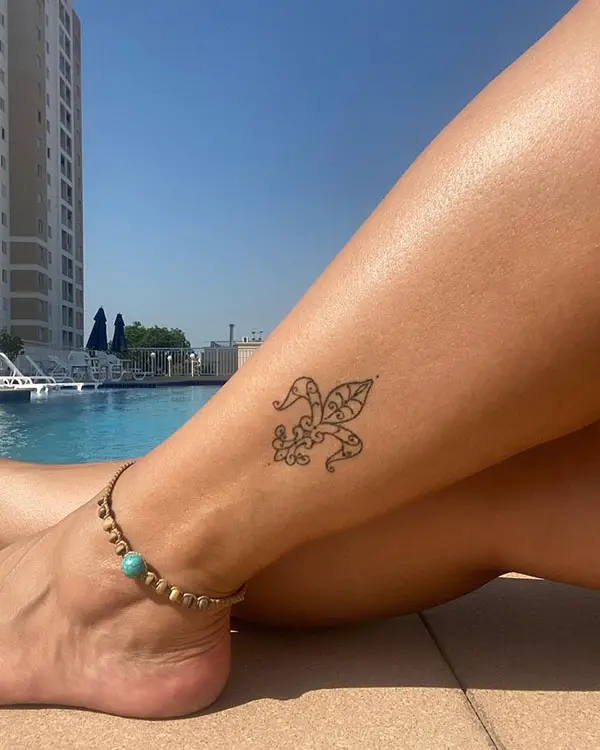 When you want to make the Fleur-de-lis symbol different, adding some patterns is a good choice. It is long connected with regal families, commanding prestige, and symbolizes nobility, dignity, integrity, and honor.
8. Fleur-de-lis with an Additional Dotted Outline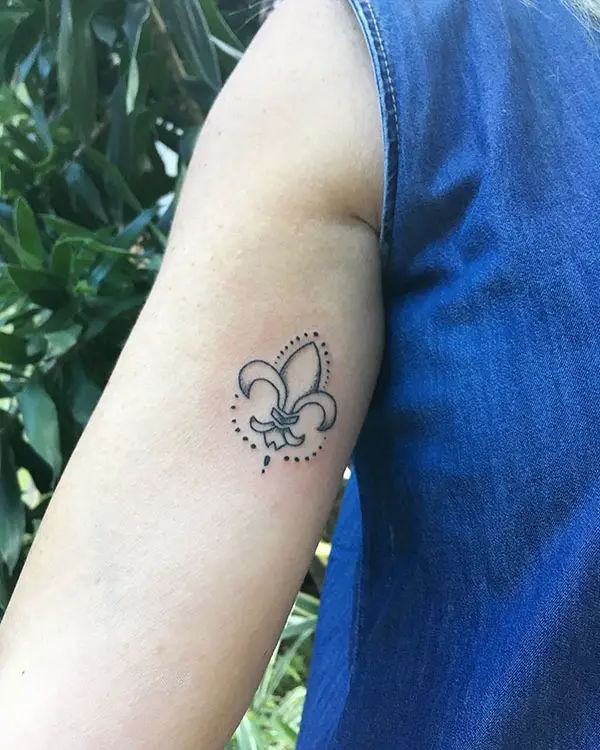 The dotted outline added to the Fleur-de-lis tattoo is a different way of representing the symbol. It represents good luck and hope.
9. Fleur-de-lis with Unalome Tattoo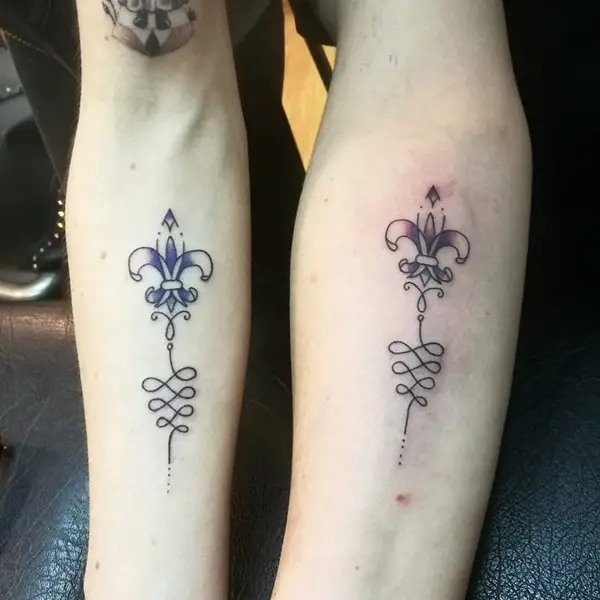 The Fleur-de-lis tattoo symbolizes luck and hope. Along with this, the unalome attached shows the path taken by life to reach enlightenment. Dots at the end of the tattoo signify reaching one's goals and attaining freedom.
10. Black Fleur-de-lis Tattoo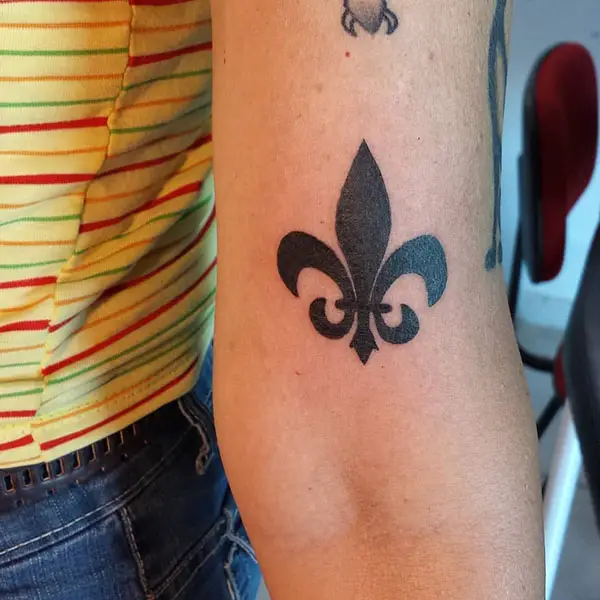 Fleur de Lis is a lily flower that symbolizes faith, love, and beauty but certain cultures symbolize it as death and sadness. It can be inked behind the ears, on the wrist, or any other part to create a trendy look.
11. Fleur de Lis Tattoo with Waves
Fleur de Lis tattoo can be found inked on military soldiers going for a battle to present hope and faith of returning victorious. The sign upright with violent waves around, signifying optimism in tough times helps in overcoming them.
12. Fleur de Lis Outline Tattoo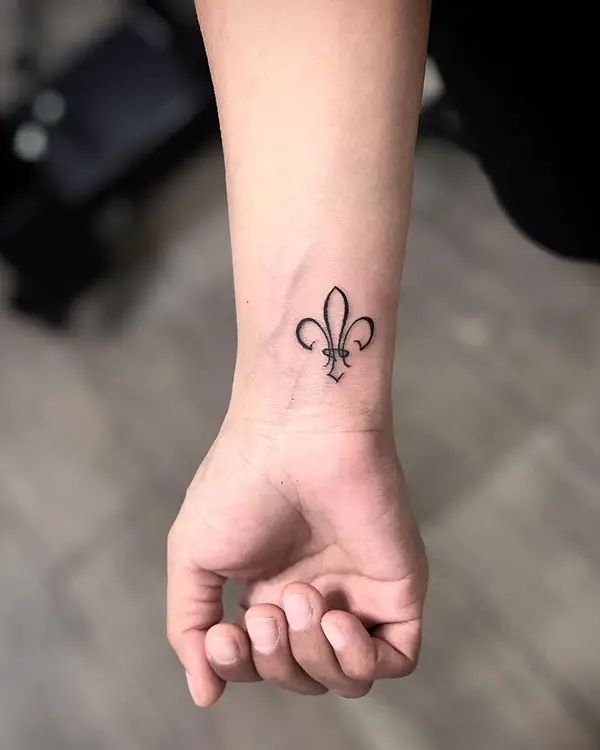 Want a simple tattoo with a strong meaning? This Fleur de Lis tattoo outline is the best way to symbolize purity and devotion.
13. Fleur-De-Lis inside a Circle Tattoo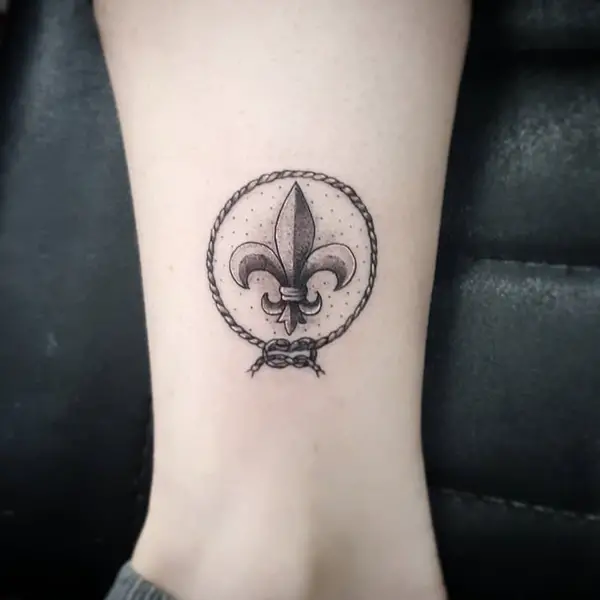 Such tattoos can be seen among people who like to create unity in the community or among friends. The circle shows togetherness among peers.
14. Fleur-De-Lis with a Star as Background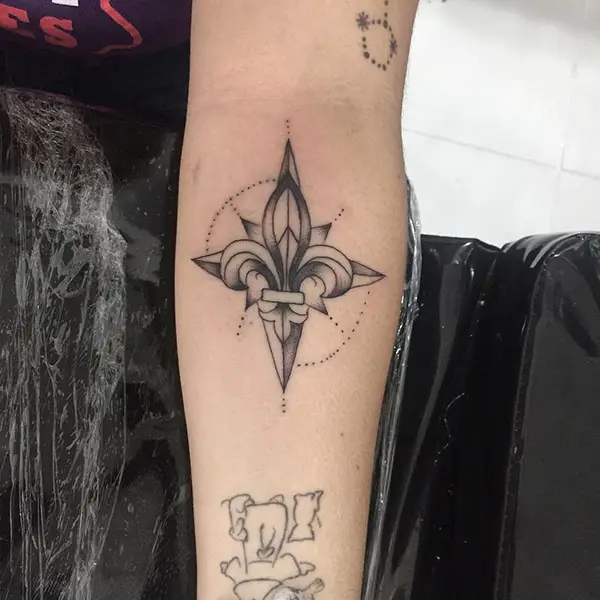 Fleur-De-Lis tattoo represents luck, beauty, and faith. The star added in the background of the tattoo reminds you to keep up your hope at all times in life, even when things are not going right.
15. Fleur-De-Lis Tattoo for Prosperity and Success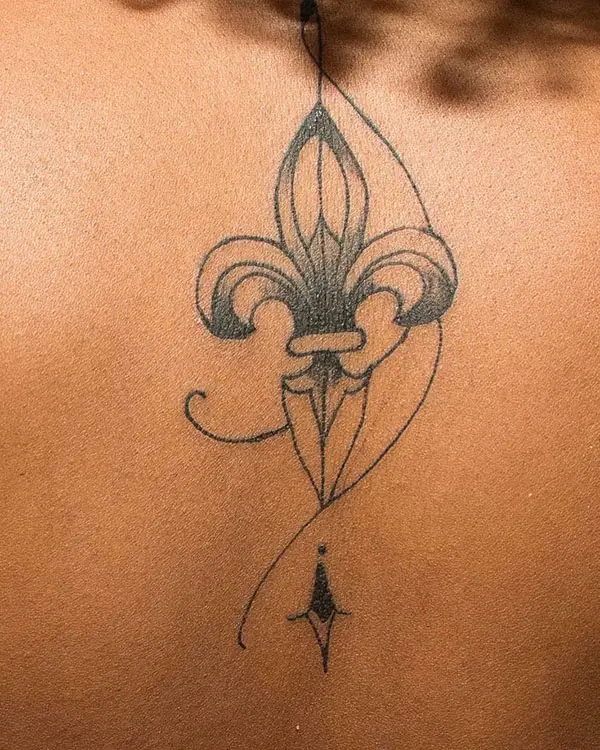 The flower's petals symbolize chivalry and faith. Strong faith in God has helped kinds rule the lands. So this can be inked on the arms as a sign of gaining strength and courage from God, to win and prosper in life.
16. Fleur-De-Les Tattoo for Power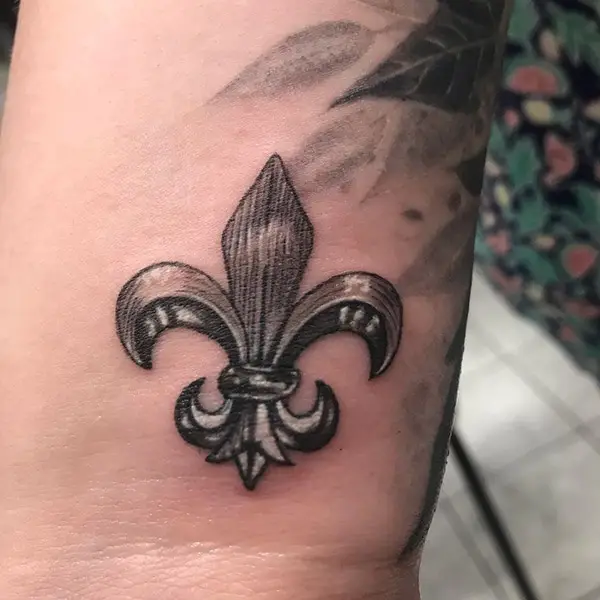 Powerful people, places, or organizations in history are seen to associate the Fleur-De-Lis tattoo with power. This bold symbol in black symbolizes strength and authority over others.
17. Minimal Fleur-De-Les Tattoo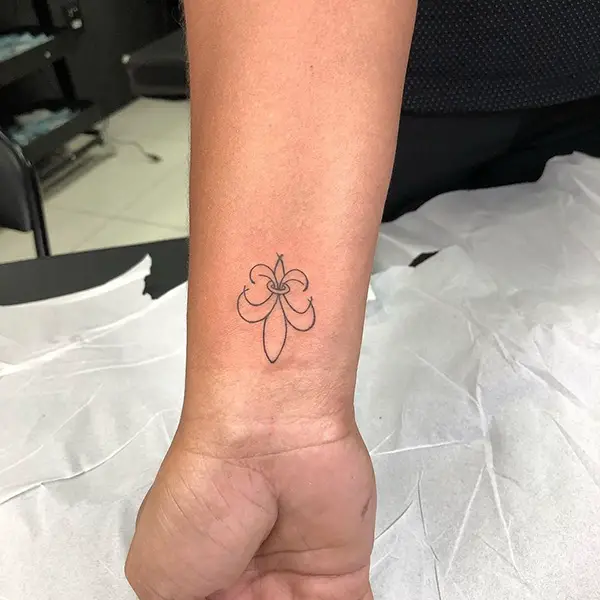 When you just want to get a tattoo inked because of the strong meaning it conveys, get this Fleur-De-Les outlined inked on your wrist. It indicates good luck and will give you hope when you look at it.
18. Fleur-De-Les Tattoo with One Side Shaded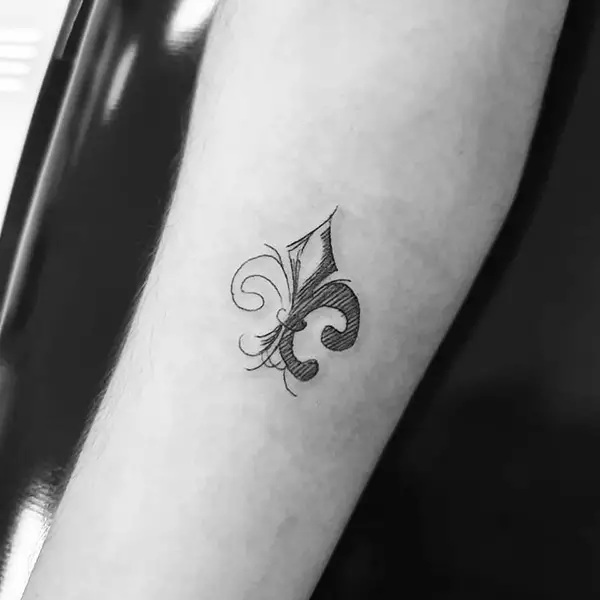 Fleur de Lis is a sacred symbol of a lily that indicates universal affection. It epitomizes romance and history in French civilization. The tattoo is shaded on one side to create a 3 D effect.
19. Fleur de Lis Tattoo inside a Subtle Color Circle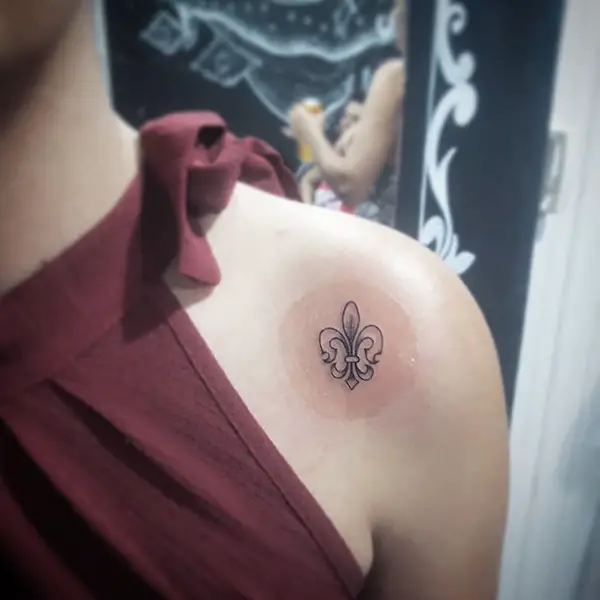 The circle around the Fleur-de-lis tattoo symbolizes love and honor for the family. It can be inked in the arms or on the shoulders for creating a trendy look.
20. Fleur de Lis Tattoo with Prominent Outlines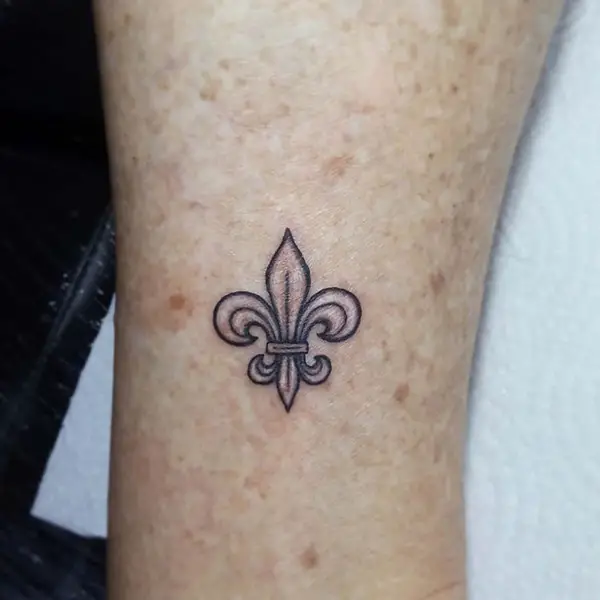 Christianism associates the Fleur de Lis tattoo with devotion and purity. It even adorns Pope's ring and in the current period, the jewelry collection also comes with this symbol.
21. Small Fleur-De-Lis Tattoo Design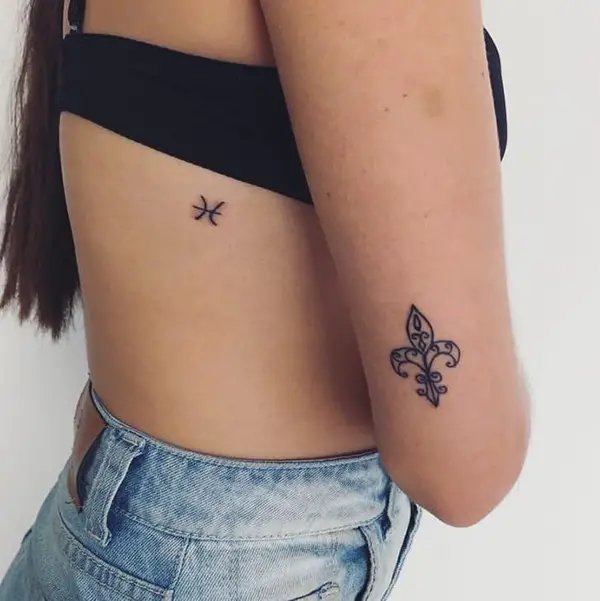 22. Shaded Fleur-De-Lis Tattoo Design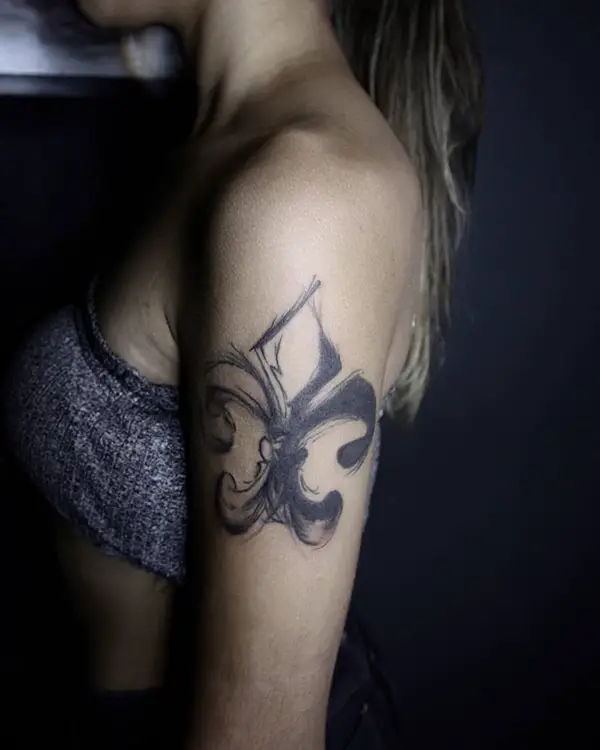 23. Outline Fleur-De-Lis Tattoo Design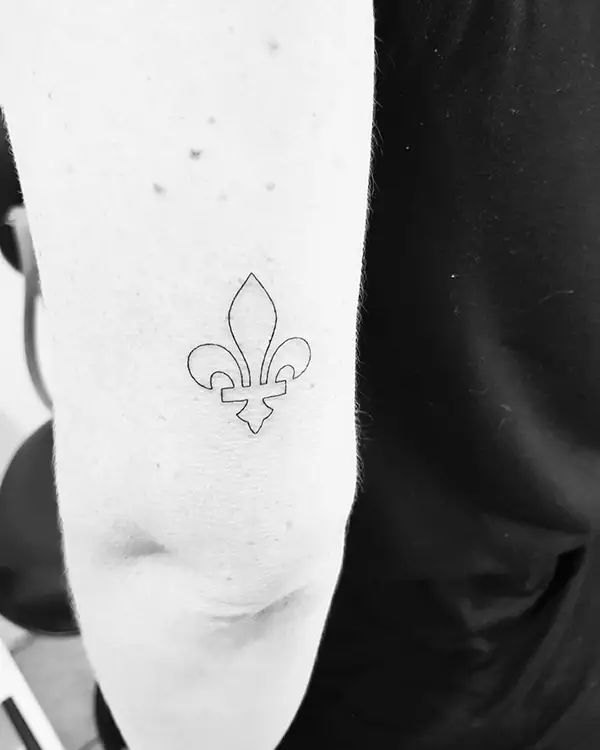 24. Fleur-De-Lis Tattoo Design with Name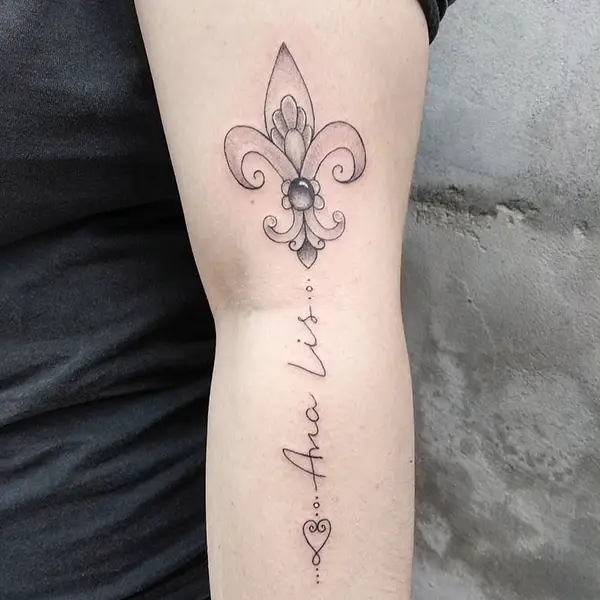 25. Fleur-De-Lis Tattoo on Forearm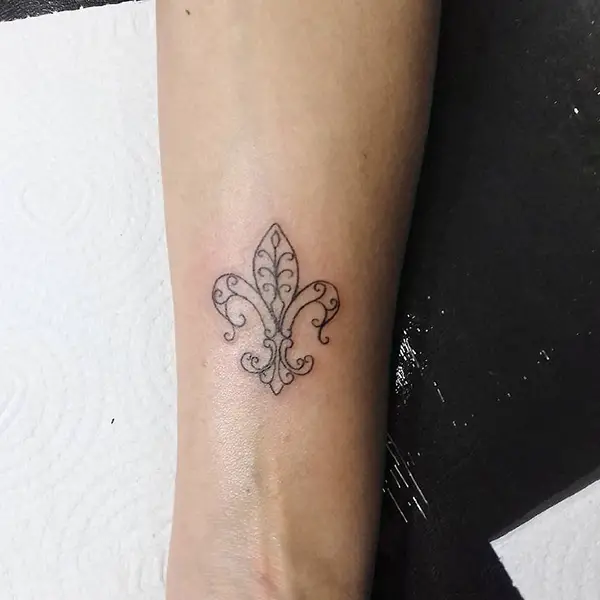 26. Black Ink Fleur De Lis Tattoo Designs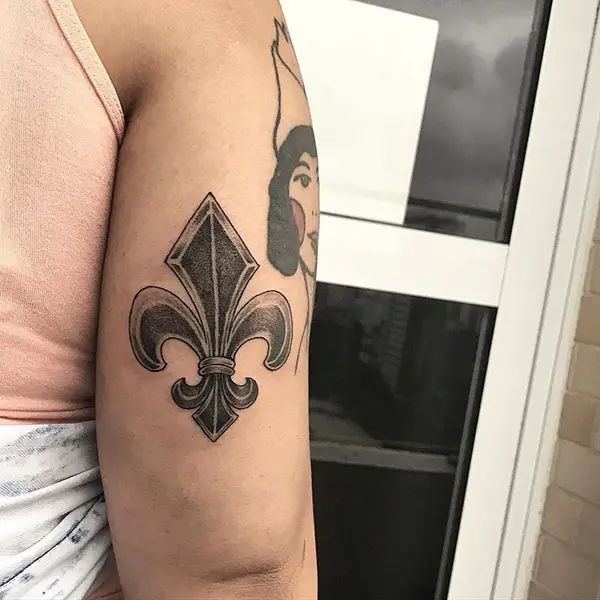 27. Fleur-De-Lis Tattoo Design on Back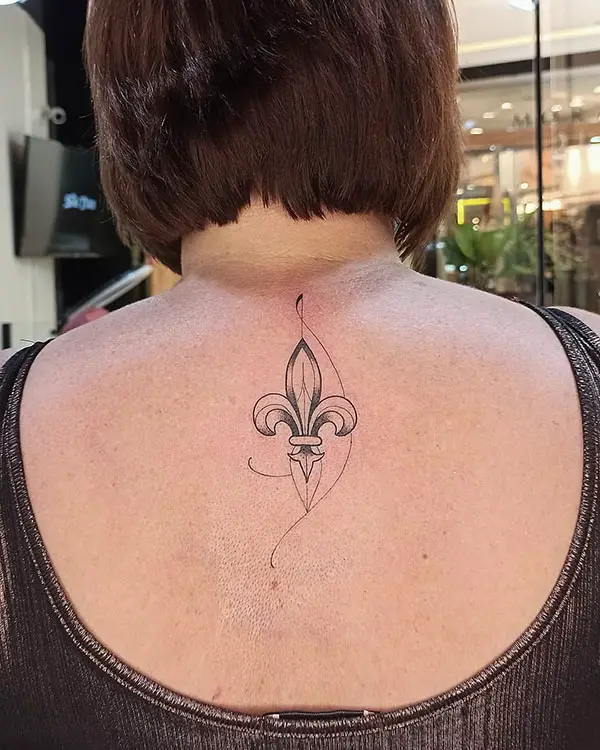 28. Fleur-De-Lis Tattoo Design with a Touch of Color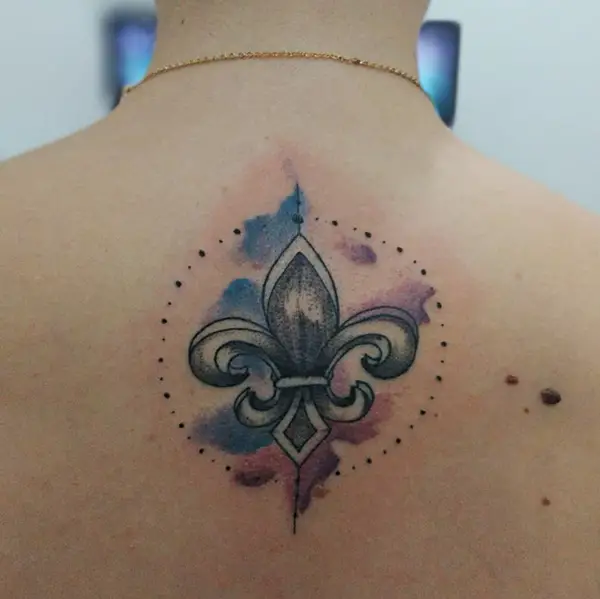 Recommended Topics: