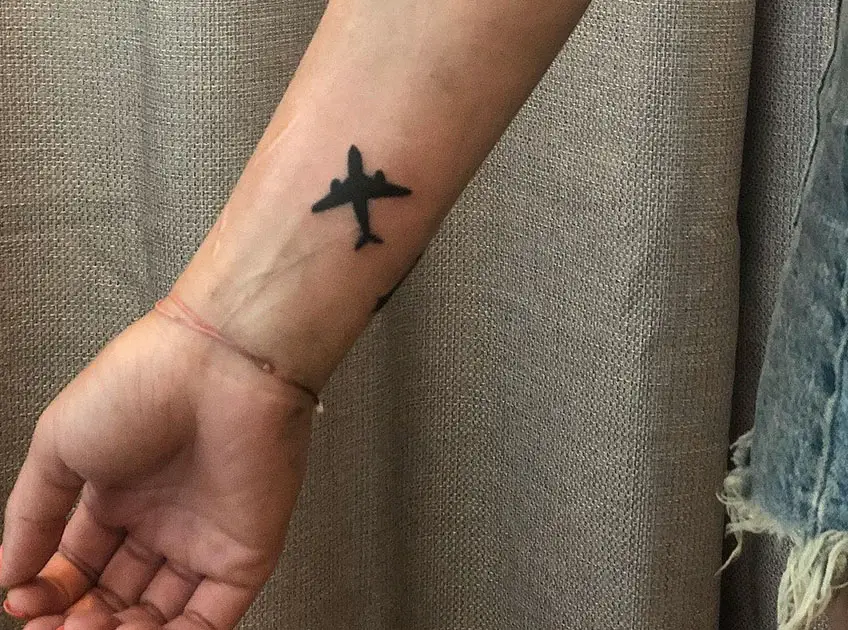 Airplanes are not just a means of traveling around the world but signify human ambition of reaching new heights in life. The tattoo can be paired with other elements to enhance the look and symbolic meaning.
1. Airplane Tattoo Evolving with Time, from a Paper Plane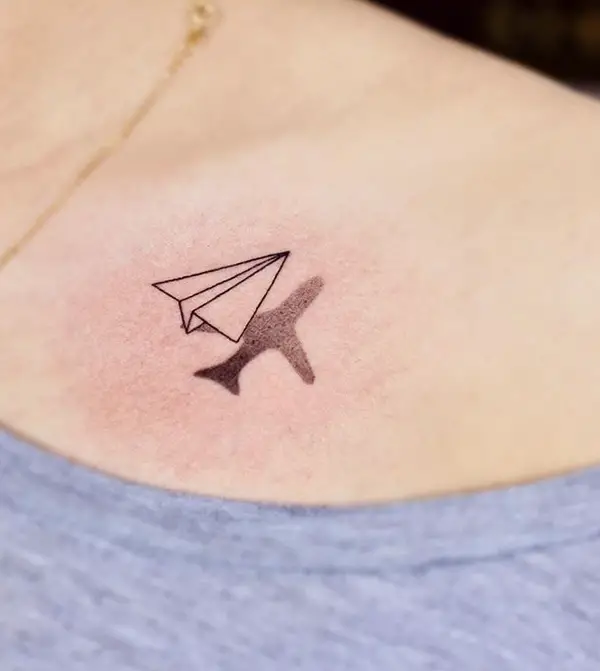 This tattoo has a symbolic meaning of the evolution of technology and growth. As a child, we grow up playing with paper planes, and later, we fly high on airplanes so the tattoo can be visualized as our imaginations turning into reality.
[ Recommended: Small Tattoos and Their Meanings ]
2. Airplane Tattoo in a Concealed Location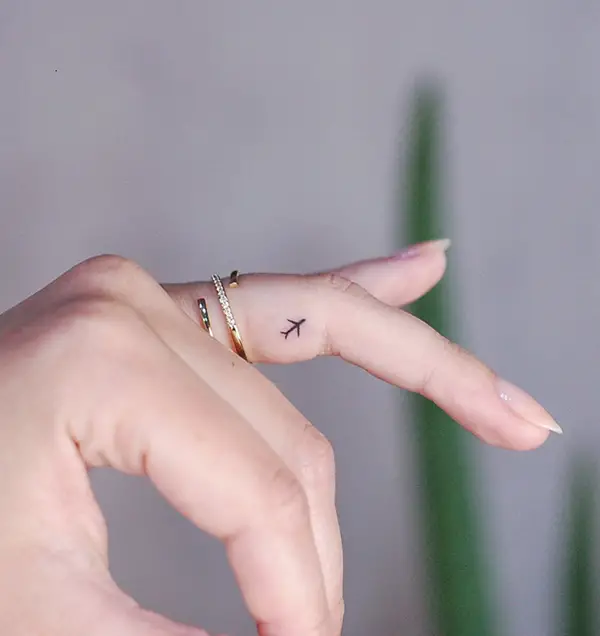 Want to get an airplane inked but don't want to reveal it often to everyone? Get it done on any inner side of your finger for keeping it concealed but at the same time, when you see it, you are reminded to pursue your ambitions of flying high in life.
[ Recommended: Beautiful Camera Tattoo Ideas ]
3. Old School Airplane of the Wright Brothers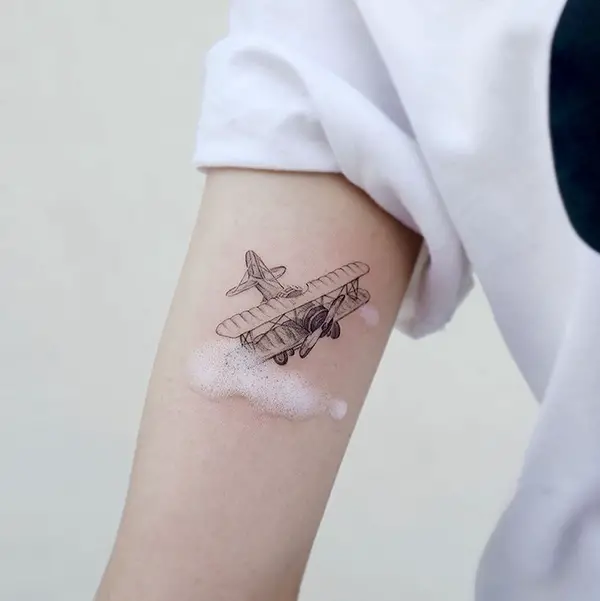 The airplane was first developed by the Wright Brothers. So if you are someone who values the roots in your life, but still aims to fly high in the clouds or fulfill your dreams.
[ Recommended: Best Couple Tattoos Ideas ]
4. Airplane and Earth Tattoo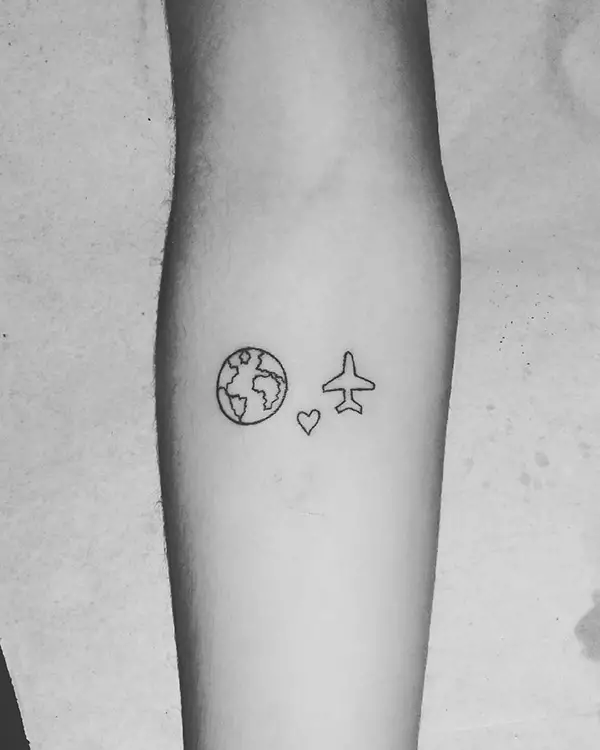 This minimalistic tattoo showcases a heart between the earth and an airplane. It symbolizes that your heart craves traveling and exploring various places around the world.
5. Sleek Airplane Tattoo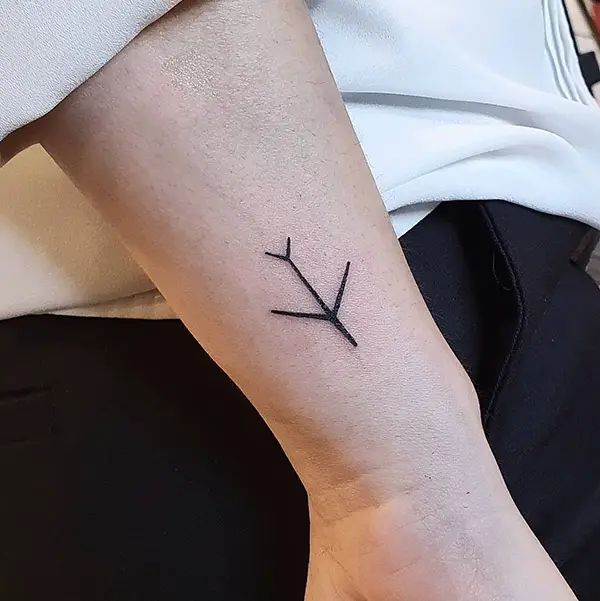 This is a classy airplane tattoo that can be inked on the arms or wrist. It symbolizes your ambitions to fly high in life.
6. Black and White Airplane and a Paper Plane Tattoo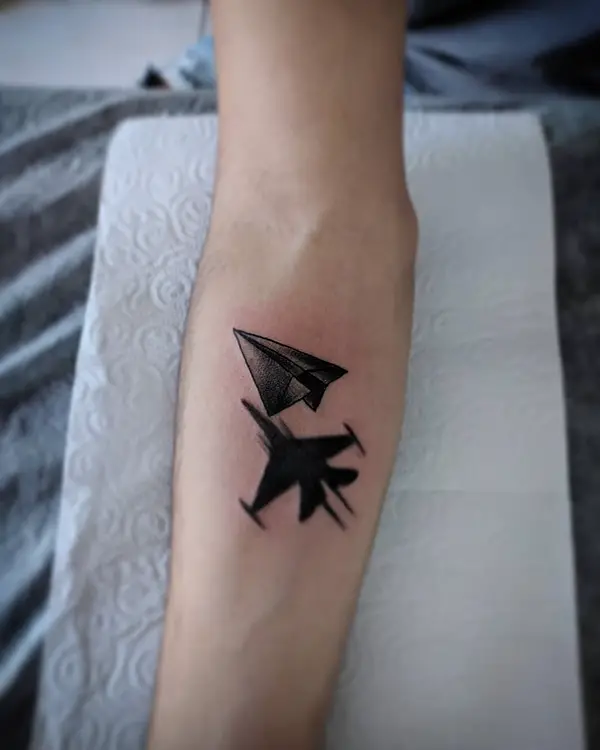 This tattoo is for someone who loves minimalistic tattoo designs. It can be inked on the arms of anyone, irrespective of gender and age, The smaller paper plane symbolizes the inner child in all of us, thus a peaceful personality, and the airplane indicates how we grow up and things change.
7. Quote with an Airplane Tattoo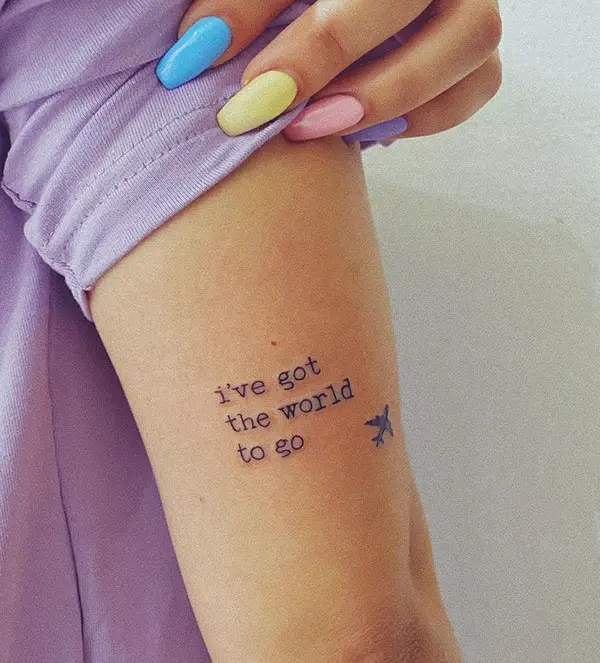 Ink your favorite quote with a small airplane beside it. For travel lovers, it can be regarding traveling as shown in the image or something related to your dreams and ambition which you want to fulfill to flourish in life.
8. Heart Outline Tattoo with an Airplane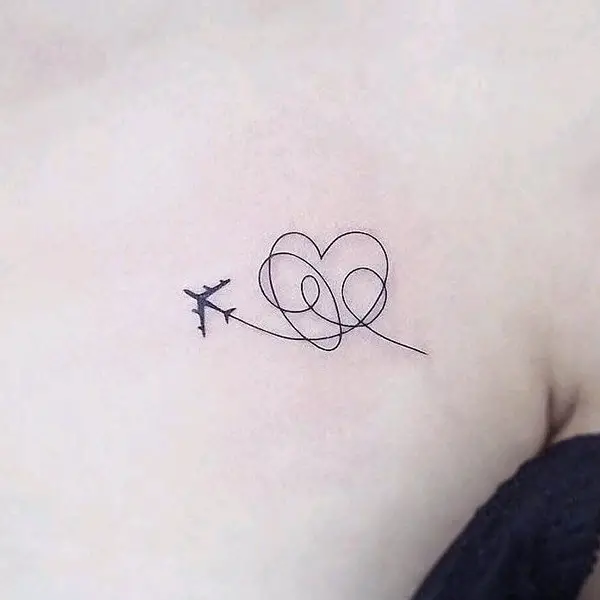 When you have a lot of stress in life and deal with them you often take a break in between and fly away to explore new places. This simple tattoo symbolizes the stress in form of scribblings in the heart, from where the airplane flies away for relaxing and having a refreshed feel.
9. Airplane Among the Clouds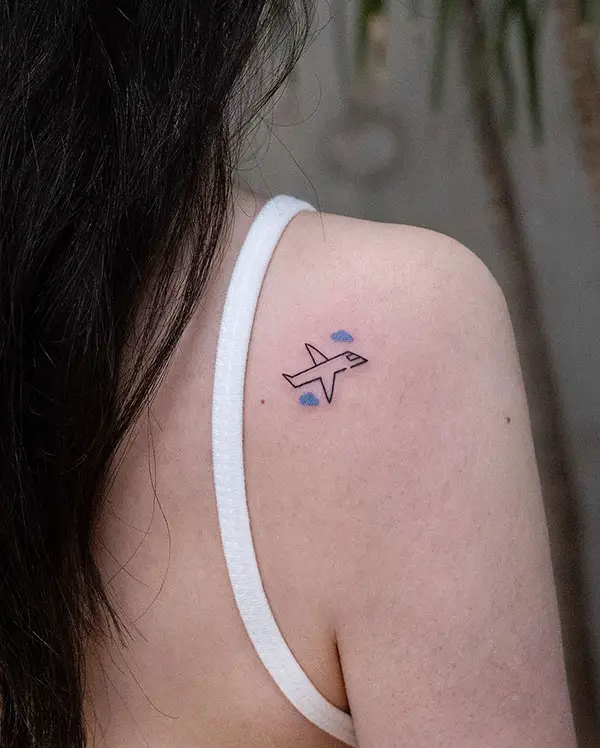 This is a cute airplane flying among the clouds. It can be best done on the shoulders, arms, or wrist.
10. Airplane Tattoo with Heartbeats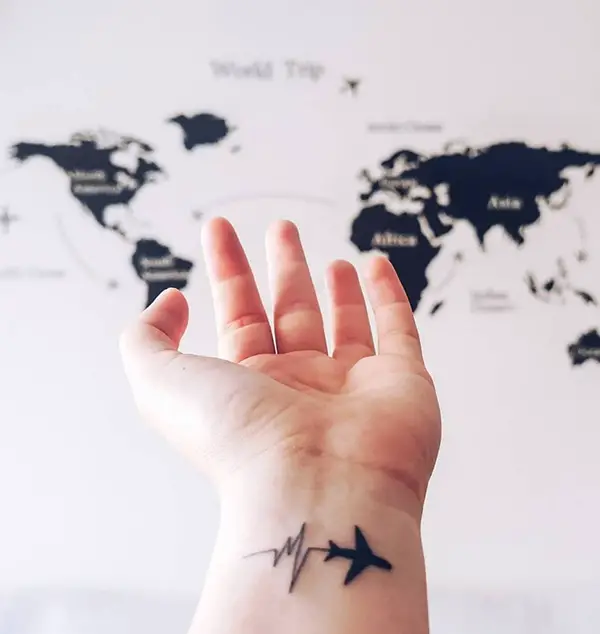 This is a simple yet meaningful tattoo that can be inked on the wrist where the pulse is felt. Its symbolic meaning is your deep love for flying high in life and traveling as your hobby to destress yourselves.
11. Bright-Colored Paper Plane Outline Tattoo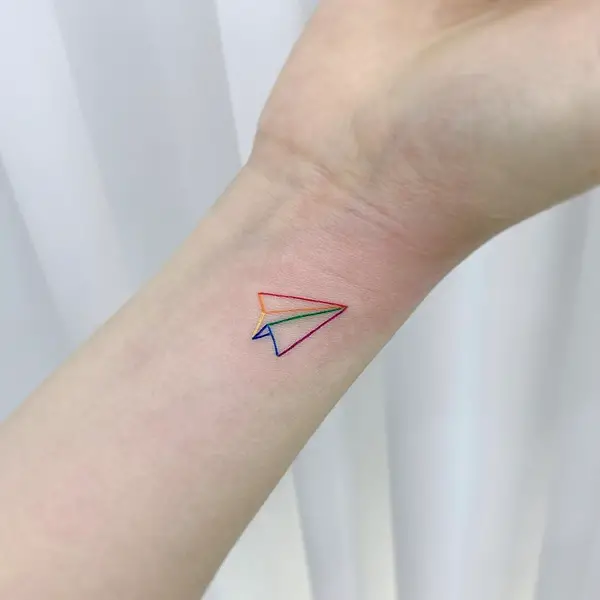 Planning for a small airplane tattoo on your wrist? Get this colorful outline of a paper plane, signifying a happy and cheerful child in each of us, who wishes to fly high.
12. Airplane with a Heart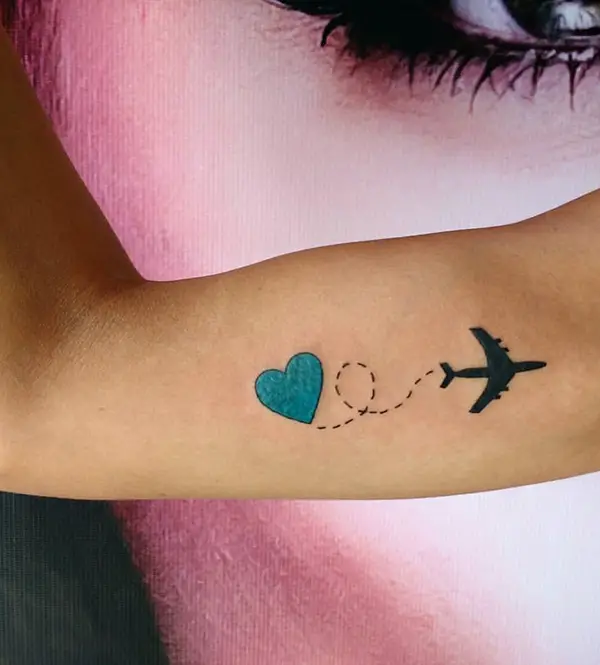 If you are a traveler at heart, this is the perfect tattoo portraying your love for exploring new places. You can fill the heart with the color of your choice to make it more lovable.
13. Tattoo with Flowers, Roman Numerals, and a Plane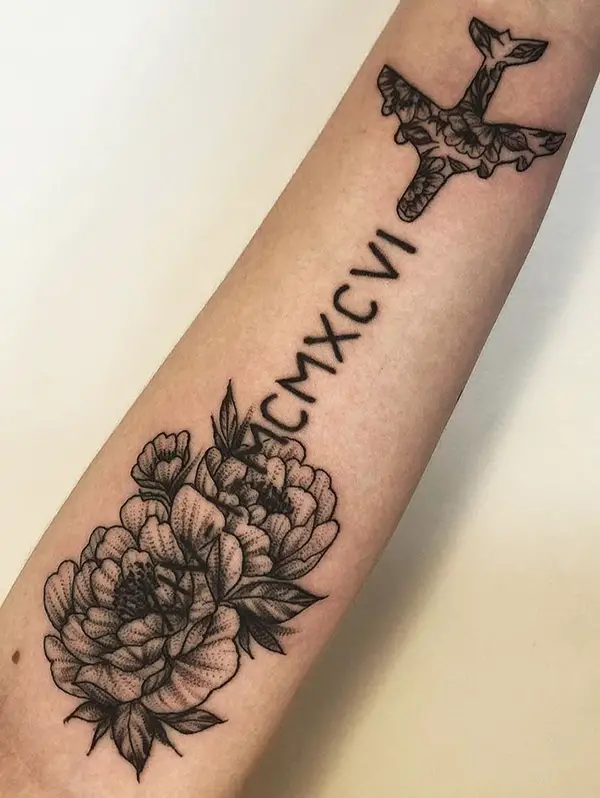 When you have a special life-changing date, for example when your dreams were first fulfilled and life took an interesting turn, you can get this tattoo inked. The flowers indicate a beautiful phase of life started on the inked date and your journey for future successes started.
14. Airplane with Coconut Trees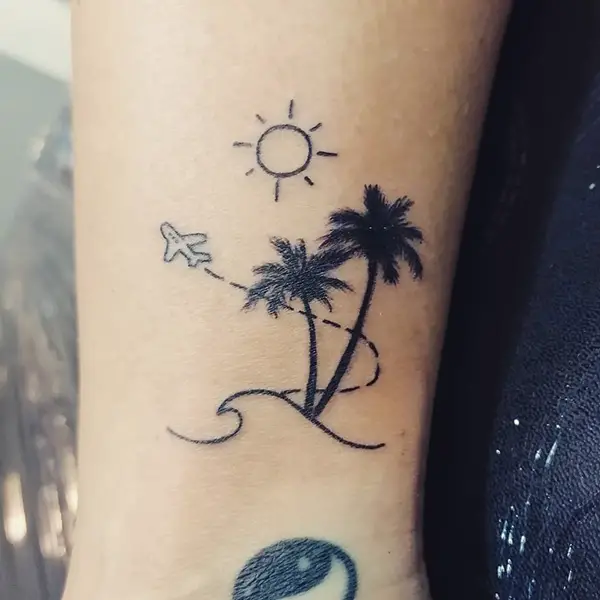 This tattoo shows waves, coconut trees, and the sun, amidst which airplanes fly, symbolizing your dreams knows no bounds and can fly through everything to reach their destination. This is just like airplanes which can fly over any kind of surface to complete the journey.
15. Airplane Tattoo near Ankle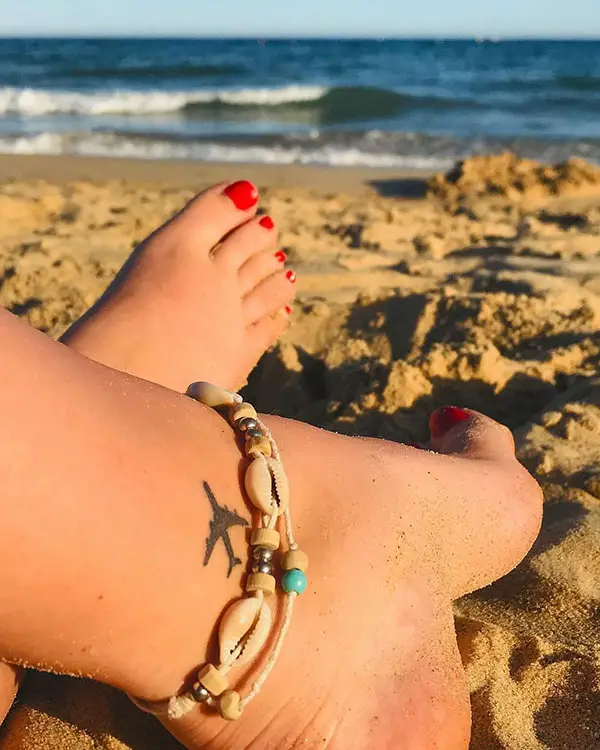 If you want to get tattooed on the ankles, then a small, yet meaningful one would be the best choice. For those who love holidaying in new places, including beaches and mountains, can get it done in the ankle to show their love for traveling.
16. Airplane Roaming Around the Earth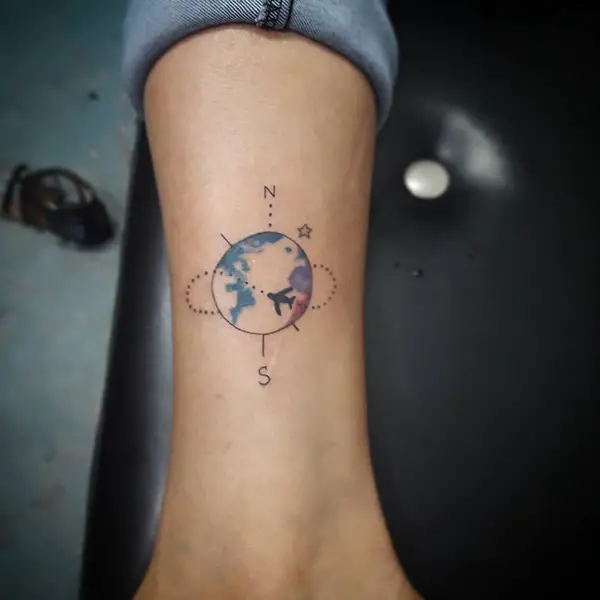 If you wish to cover various places across the earth in an airplane, then this is a perfect tattoo portraying the same. Another symbolic meaning of this is, ambitious nature with a big dream to succeed in every phase of life.
17. Hollow Airplane Outline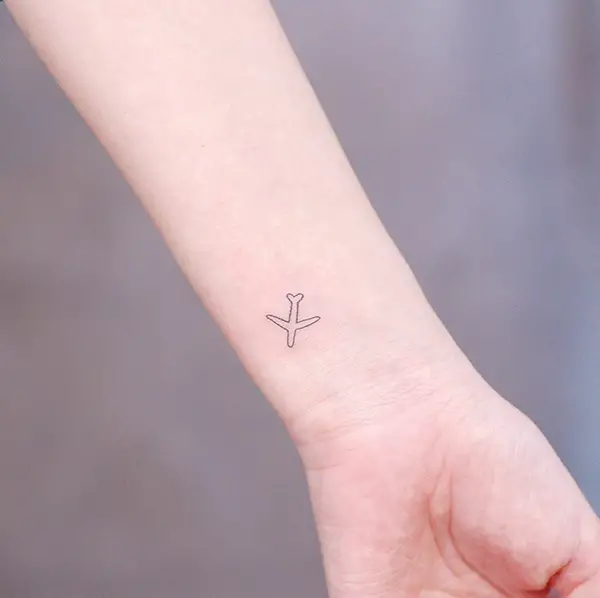 It is a simple and minimalistic airplane outline tattoo with no color filled in it. Anyone who loves traveling on the plane to new places will find this a perfect tattoo choice.
18. Airplane Tattoo Leaving a Colorful Trail Behind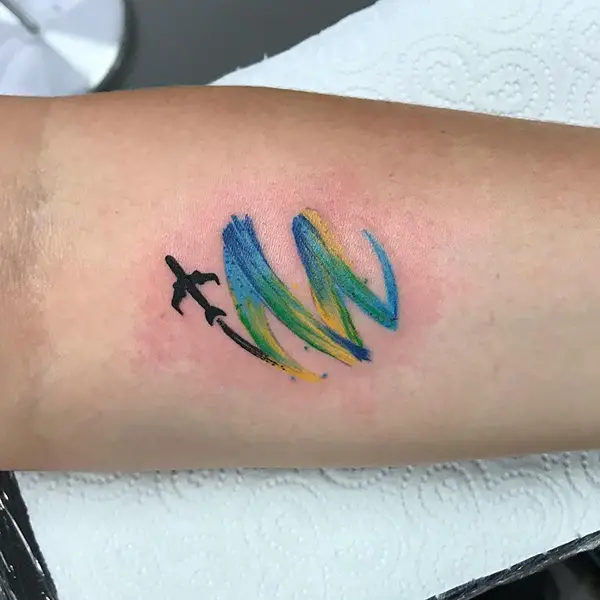 The symbolic meaning of this tattoo is, that no matter where you go or the way you follow in fulfilling your ambition, a righteous path would be a lesson for everyone to follow. It also implies, that no matter how tough your journey is, it would leave a trail behind, that is impressive enough for others to follow.
19. A Paper Plane with a Trail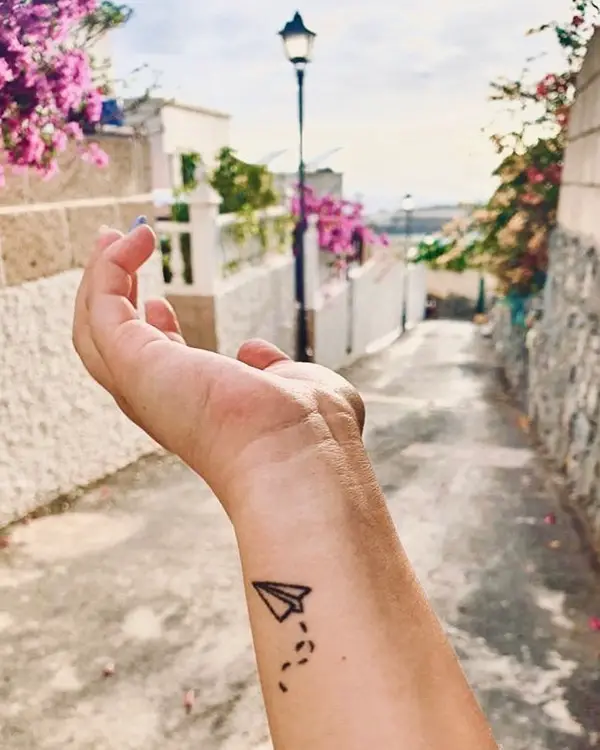 This black and white outline of a paper plane with dotted trails behind it symbolizes the path you need to follow before you start flying high to fulfill your dreams. It can be best inked on the wrist.
20. A Paper Plane Tattoo Picturizing Nature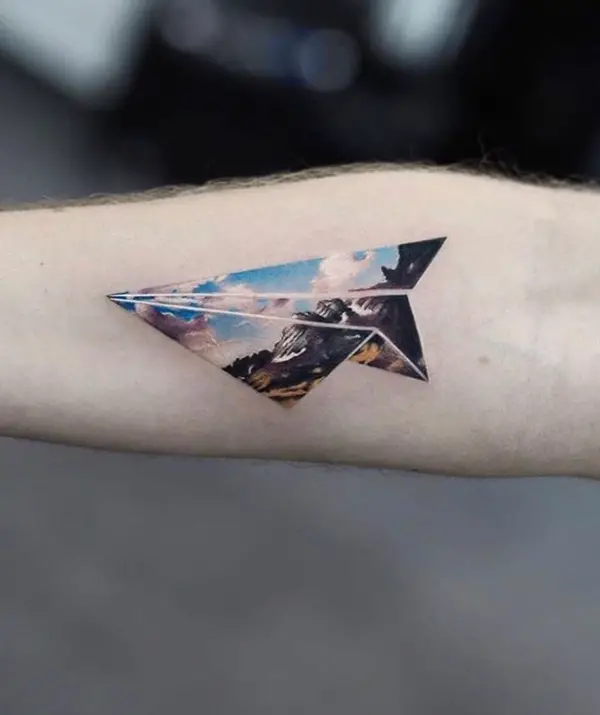 This cute paper plane maybe just something that a child plays but it has pictures of the sky, clouds, and mountains in it, which symbolizes how an airplane traverses through various types of surfaces before reaching its destination. In the same way, we need to face various phases of life in our path to achieve success.
Check More Images:
21. Small Tattoo with Doted Love Symbol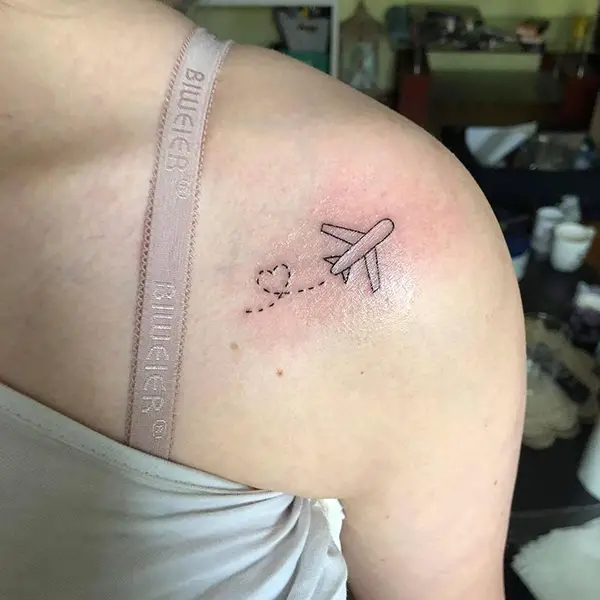 22. Colorful and Small Tattoo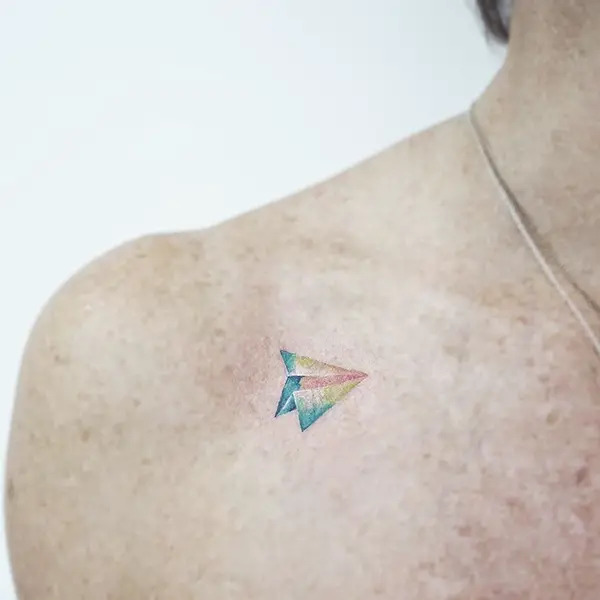 23. Super-Elaborated Tattoo on Forearm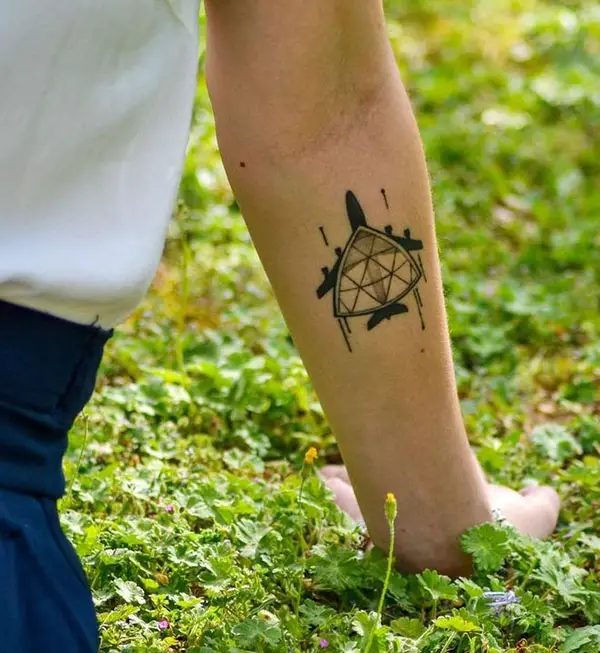 24. Colorful Airplane Tattoo with Heart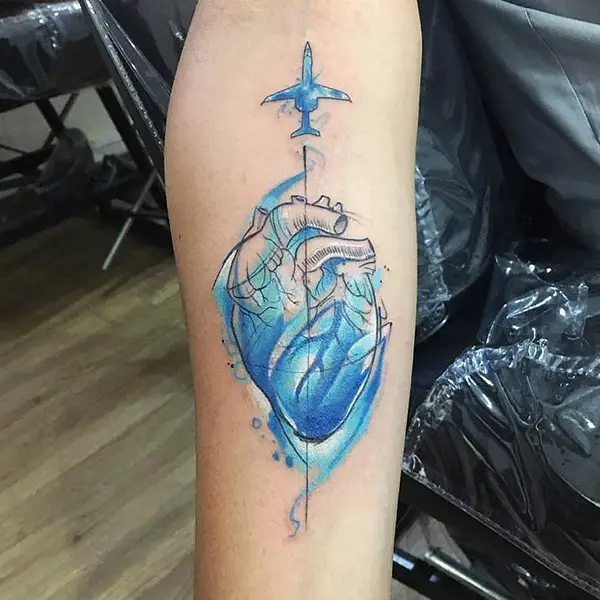 25. Cute Airplane Couple Tattoo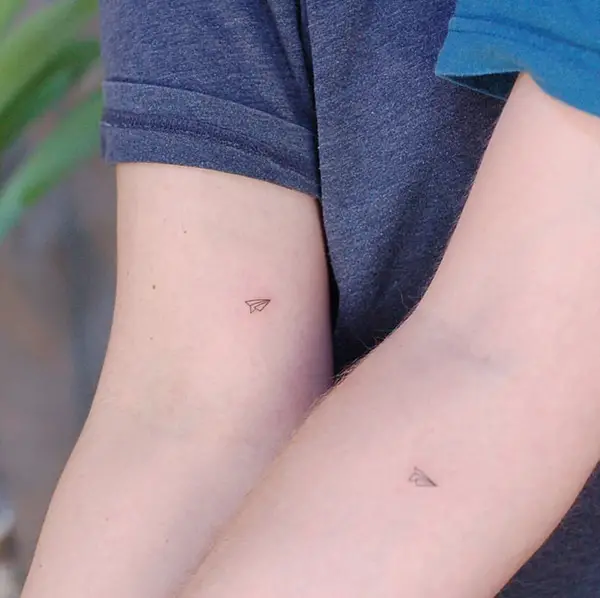 Recommended Topics: