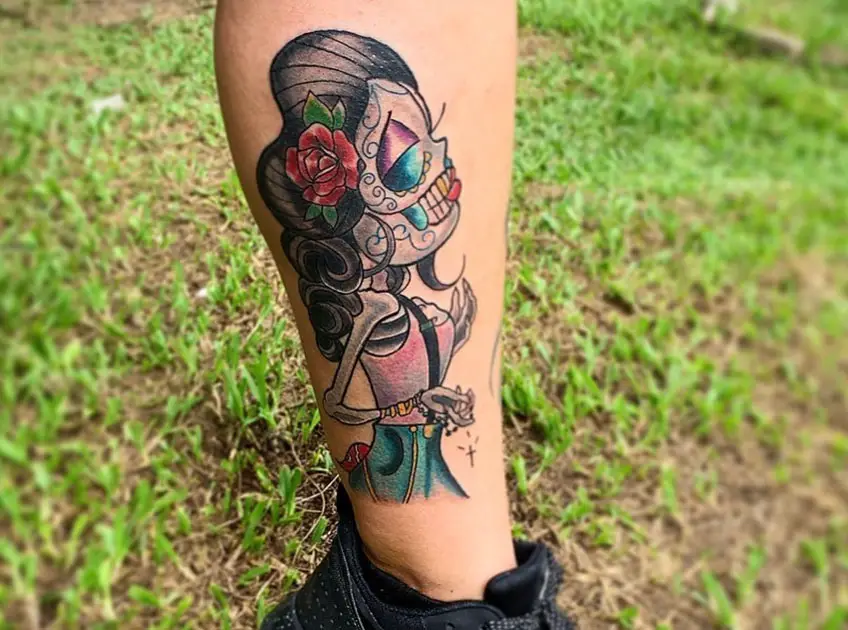 Catrina symbolizes the "Day of Dead" or El Día de Los Muertos and the Mexican willingness to laugh at death itself. Catrina was actually a well-dressed woman, referring generally to rich people, but then death is a neutralizing force that brings an equal end for everyone. Mexican women dress up in La Catrina style during the Mexican holiday.
1. Catrina with a Rose on The Hair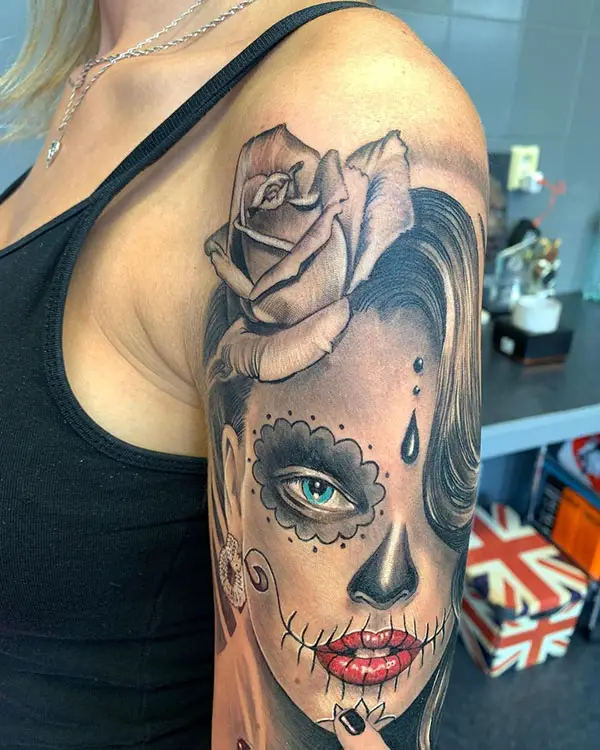 Catina's tattoo symbolizes that even the richest person faces death and is the same for everyone. When you like to have a dash to color to the Catrina tattoo, this is perfect with red lips, blue eyes and a rose on the hair to make it appear more adorable.
[ Recommended: Amazing Scorpio Tattoo Designs and Ideas ]
2. Catrina with Purple Flowers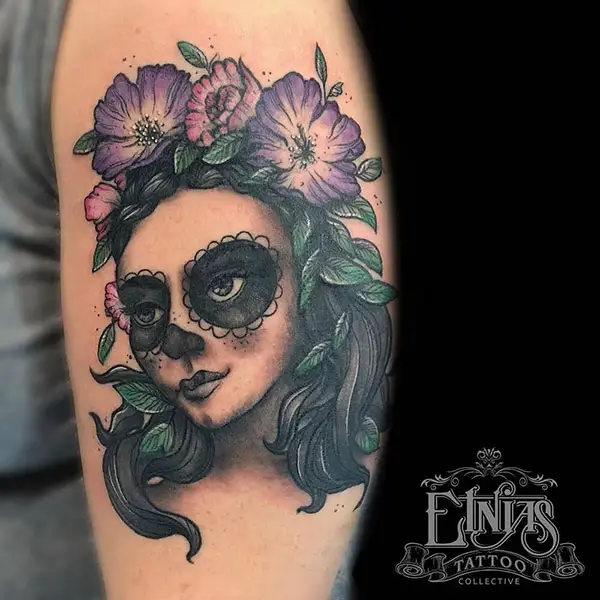 Love purple flowers, and believe that death brings the same end to everyone? Get thus Catrina tattoo with purple flowers and green leaves on the head to show your love for nature and belief in the unavoidable natural force, i.e. death.
[ Recommended: Best Snake Tattoo Designs ]
3. Catrina with Red Rose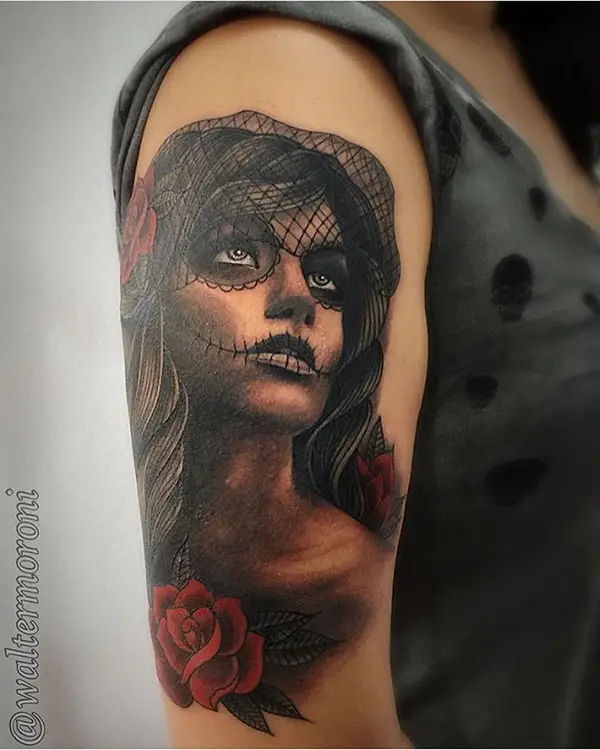 This is a Catrina tattoo with distinct facial features of a woman, holding a red rose which symbolizes life and mortal love.
[ Recommended: Amazing Ocean Tattoo Ideas ]
4. Catrina Tattoo with a Colorful Twist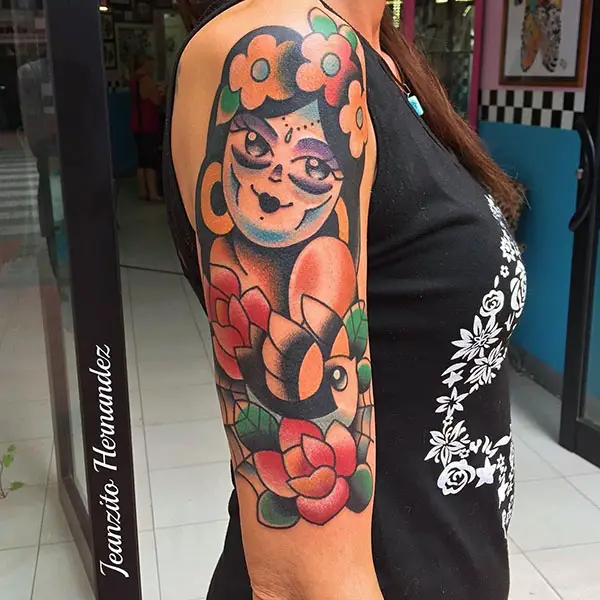 This is a colorful Catrina tattoo which is best when you don't want a black and white tattoo. It shows that though you believe in death as an inevitable end to life, you don't stop living life in its fear. Leading life happily and spreading positive vibes can make the world a better place.
5. Catrina with Wavy Hair and Red Roses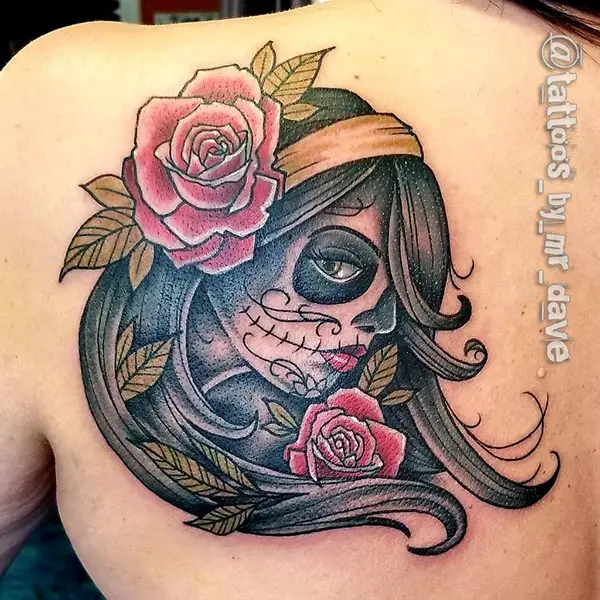 This can be an amazing cover-up tattoo if you have some marks on the skin. It shows a pretty Catrina with wavy hair, a coloured headband, red roses and green leaves, making it an adorable tattoo.
6. Catrina From a While Back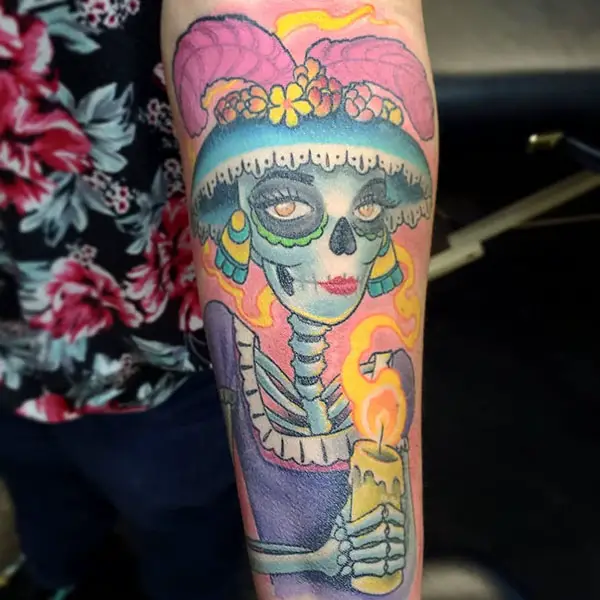 The Catrina tattoo is represented here as a skeleton wearing all jewelry and holding a candle. While this can be a perfect way to dress up on the Mexican Day of the Dead, it symbolizes, that no matter how lavishly you have spent your life, death with come just like it comes to the poor.
7. Catrina with Roses, Skull and Maize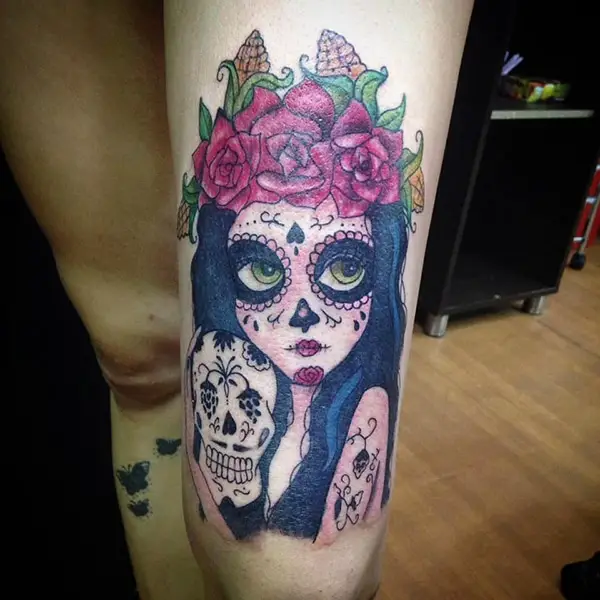 Love nature- its flowers, fruits and the way it colors the environment. Add colors to the black and white Catrina tattoo by adding red roses on the hair, yellow maizes with leaves and some coloured makeup on the face. Catrina holding the skull symbolizes death to be an inevitable end for everyone.
8. Catrina Tattoo with Names of Your Beloved Ones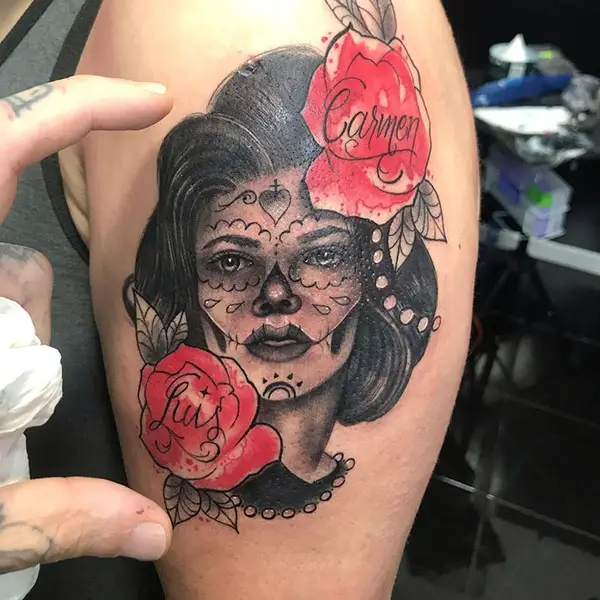 Get the names of your beloved ones in the red roses near the Catrina tattoo to show your immortal love for them. The names within red coloured flowers in the black and white tattoo result in a fashionable look.
9. Catrina Holding a Mask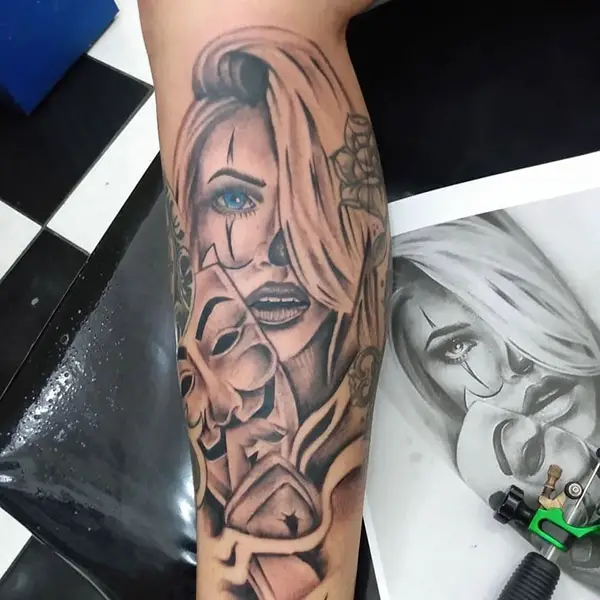 This is an elegant tattoo of blue-eyed Catrina holding a mask. This implies we all live our life with a mask. i.e. perform different roles but when death approaches, it doesn't discriminate against anyone, no matter what type of mask you are wearing.
10. Catrina with Wavy Hair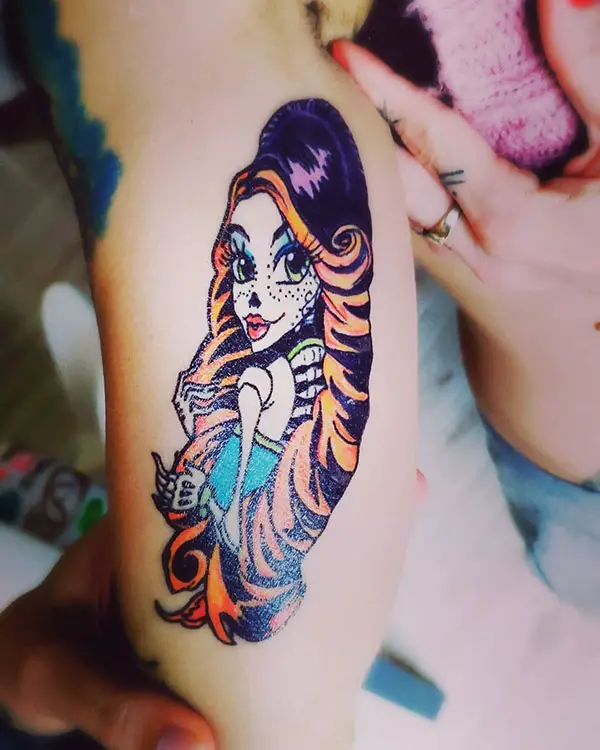 When you want your Catrina tattoo to look actually beautiful, this is the perfect one to get inked on your arms. The back and hands of the tattoo are shown like skeleton, implying your belief in death but that doesn't stop you from living life to your fullest and leaving a good impression in the minds of others.
11. Minimal Catrina Tattoo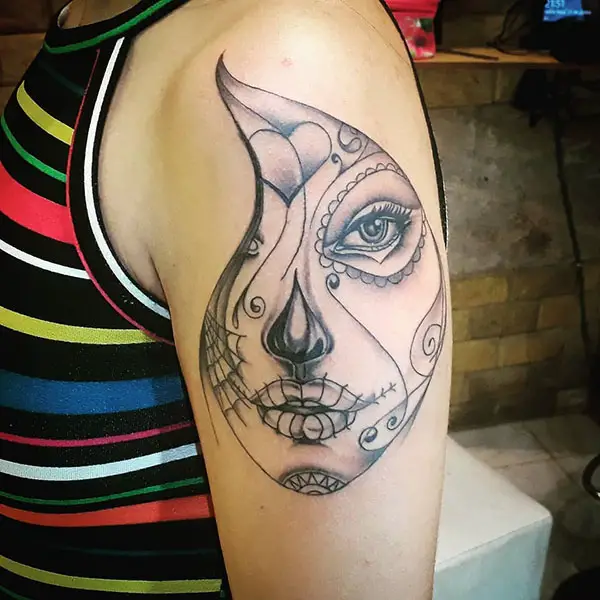 When you don't want a complex tattoo but want it to be meaningful, this is the perfect Catrina tattoo you can get inked. The shape of the leaf inside which the facial features of Catrina have been inked, results in a classy look.
12. Catrina Mermaid Tattoo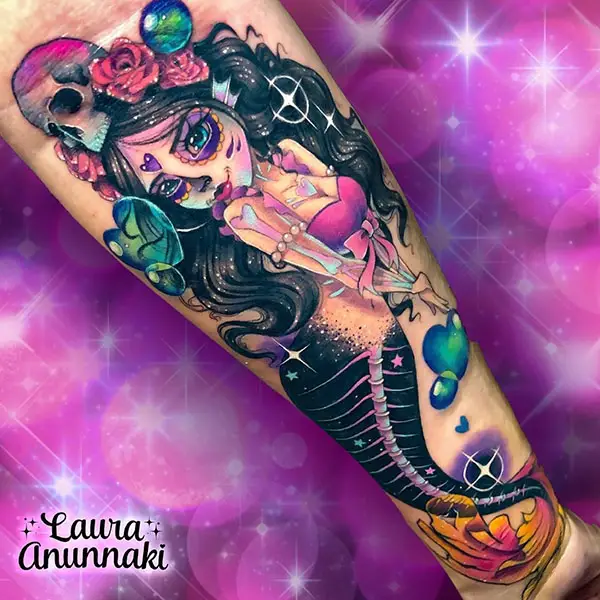 Mermaid is always associated with the sea and hence the Catrina mermaid symbolizes creation, nature, intuition, birth or rebirth. The vibrant colors in the tattoo results in an ornate look.
13. Catrina Tattoo with a Holy Cross Neckpiece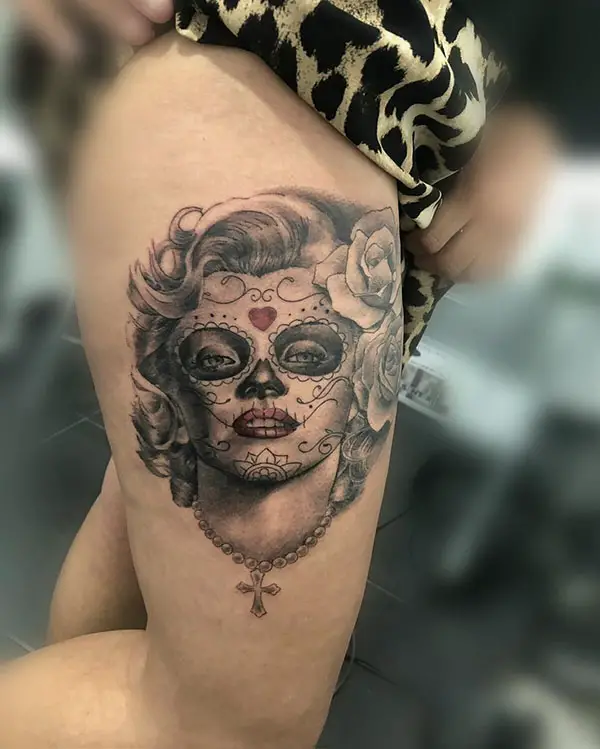 This is an elegant Catrina tattoo in black and white. The tiny red heart on the forehead symbolizes that as humans we need spread love. And the holy cross symbolizes that we should always be grateful to God and keep him close to our hearts, no matter what situation we are in.
14. Catrina Adorned in Jewellery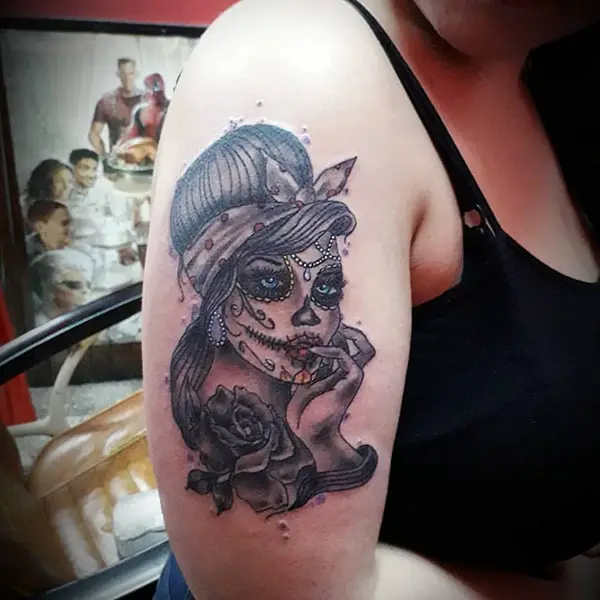 This tattoo shows a gorgeous Catrina with blue eyes, beautiful hair style and jewellery on the ears and head, showing her richness. The rose in the tattoo, adds to its beauty.
15. A Happy Catrina Tattoo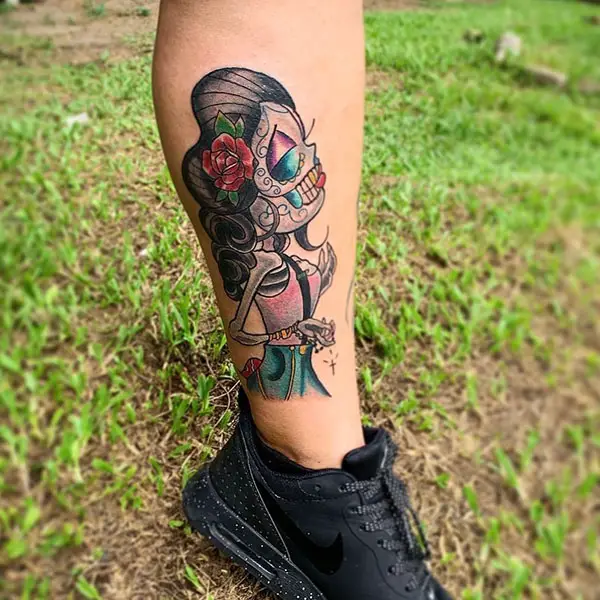 This is a colorful Catrina tattoo that shows your love for appearing good, despite your belief in death to put an end to life one day. The beautiful hairstyle, big round colorful eyes, red rose and a big smile, resulting in an interesting look.
16. Skull Catrina Tattoo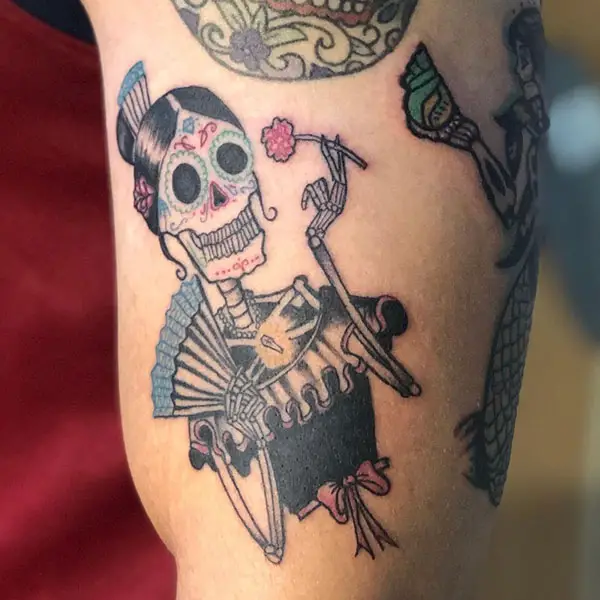 This is one of the interesting ways of dressing up for the Mexican Day of the Dead. The tattoo shows Catrina from a while back, who used to love dressing up with a good hairstyle and makeup, a rose in one hand, and a Chinese fan in the other hand.
17. Catrina Tattoo with Long Wavy Blonde Hair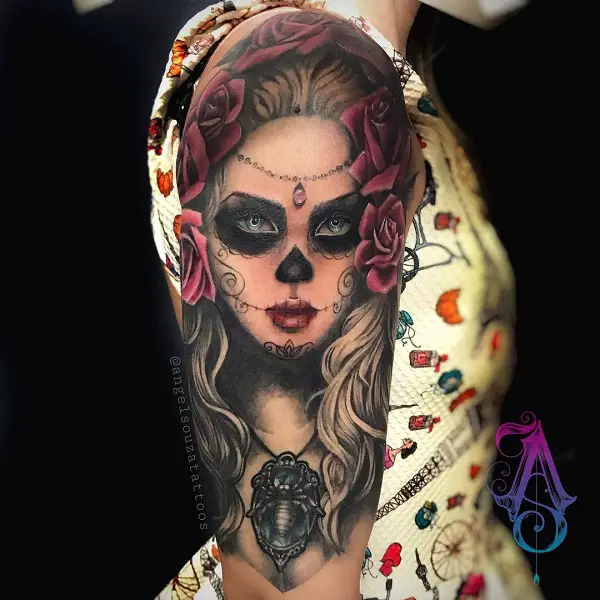 Want a classy tattoo with intricate details? This is a perfect Catrina tattoo with blonde hair, roses adorning the hairstyle, jewellery on the forehead and neck and blue eyes.
18. Catrina with a Rubik's Cube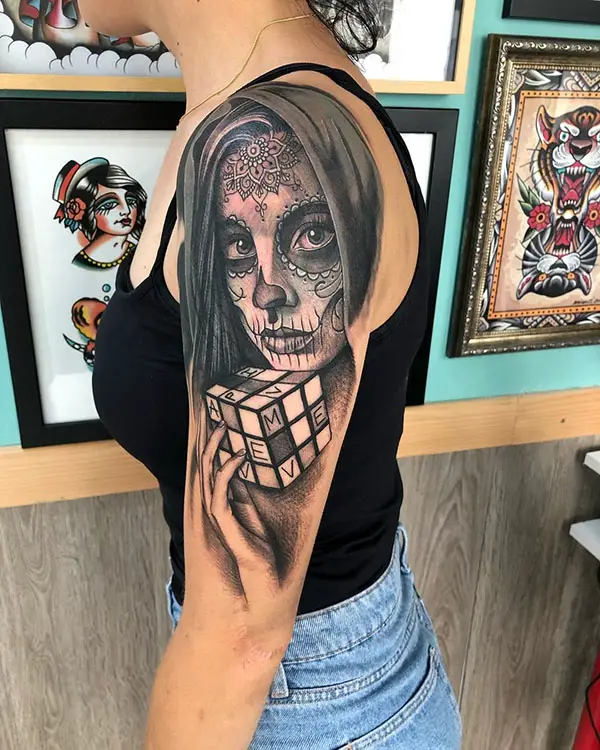 Love solving Rubik's cubes? Get this simple Catrina tattoo in black and white with designs on the forehead and holding a Rubik's cube, to portray intelligence.
19. Catrina with Orange Eyeballs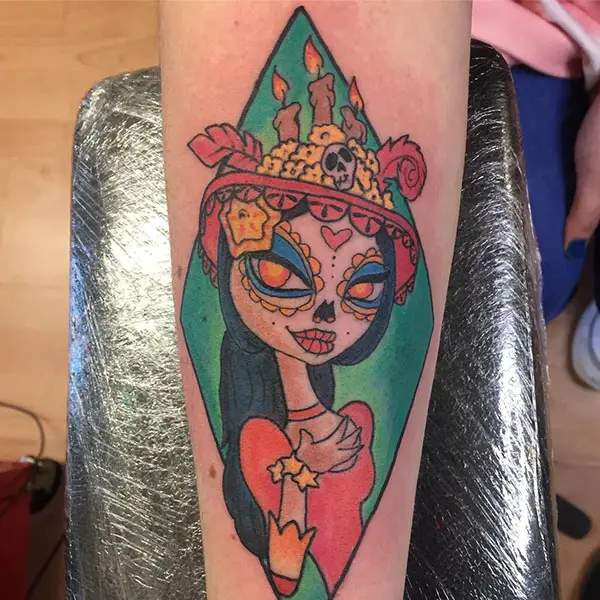 This is a cute Catrina wearing a red dress and putting on her jewellery on her hand and head to create an adorable look. There is a tiny heart symbol on the forehead, showing love and compassion for others in the mind, in every situation.
20. Scarry Catrina Tattoo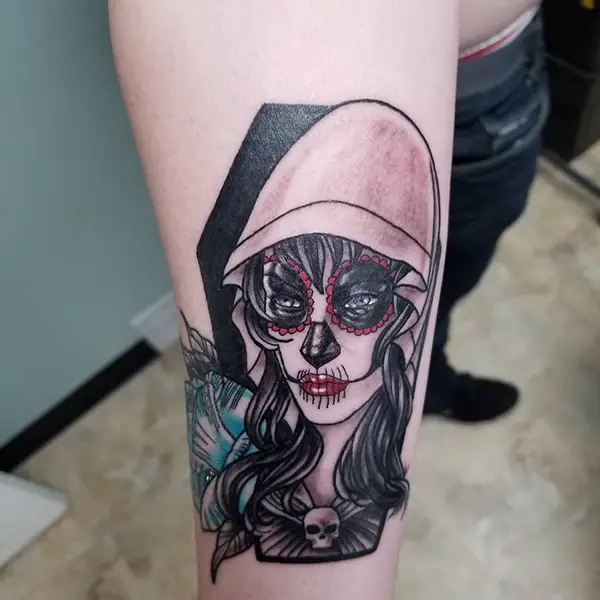 Love scary tattoos? Get this black and white Catrina with a hood and wear a necklace with a skull. The red lips and the red designs around the eyes, impart a bold look to the tattoo.
21. Beautiful Catrina with Flowers Tattoo Designs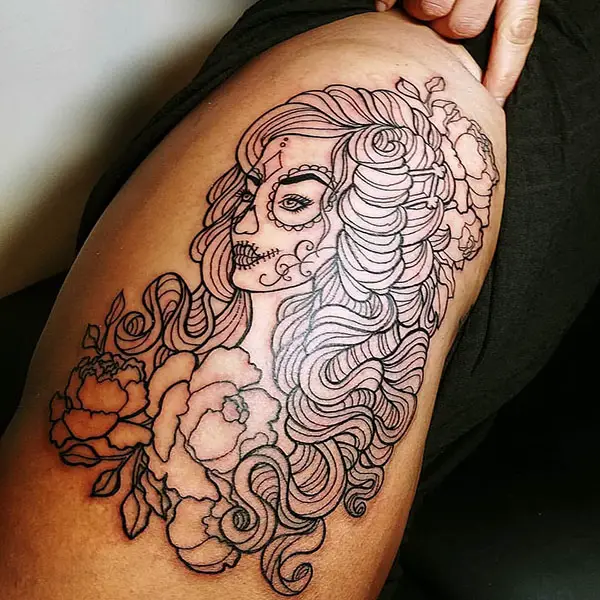 22. Beautiful La Catrina Tattoo with Rose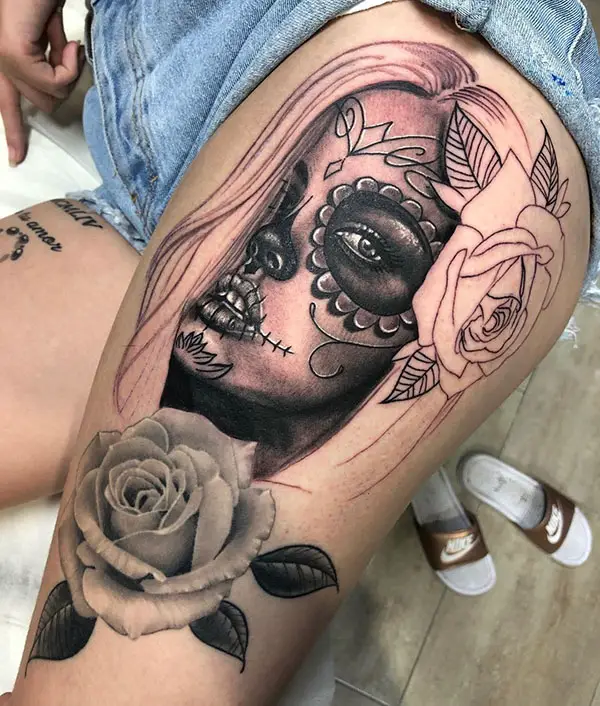 23. Cartoonistic La Catrina Tattoo Design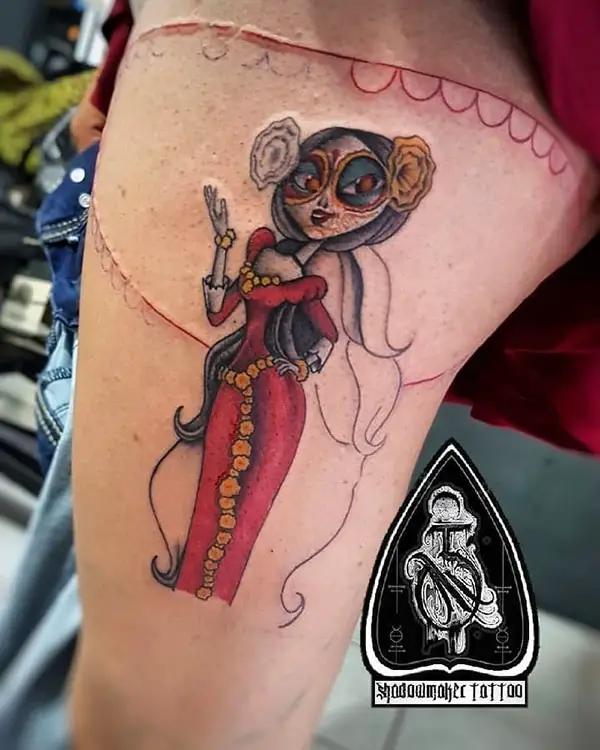 24. Catrina Tattoo Design with Flower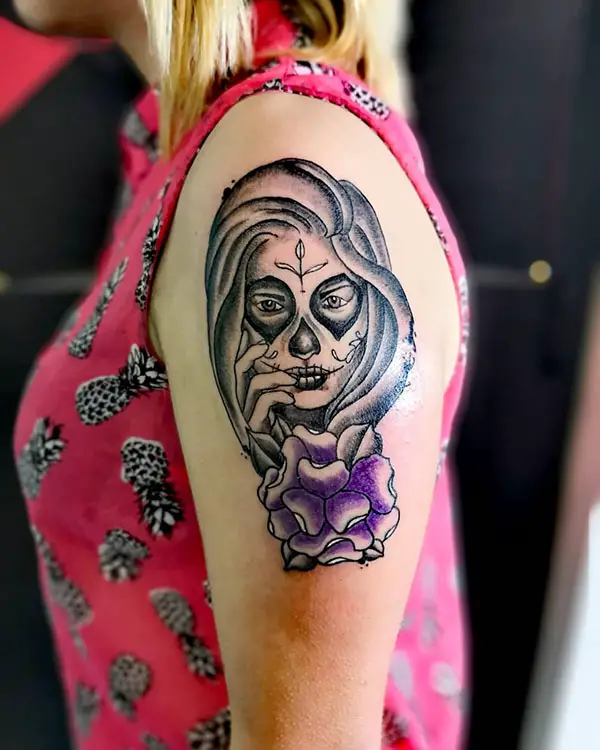 25. Catrina Tattoo Design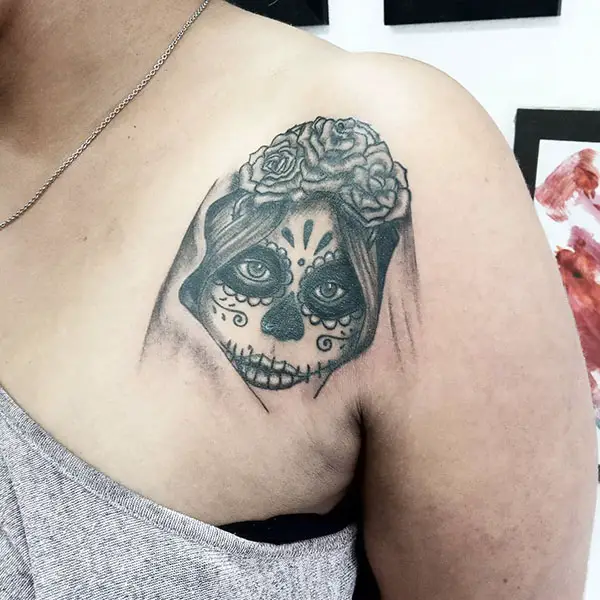 26. Catrina Tattoo Side View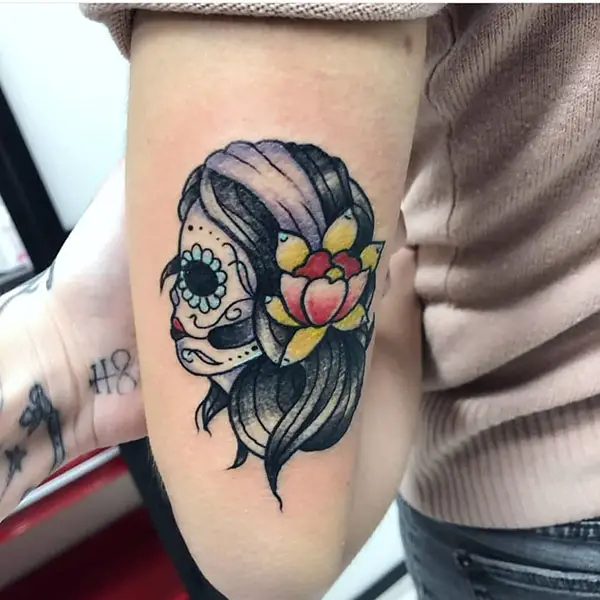 27. Catrina Tattoo with Hat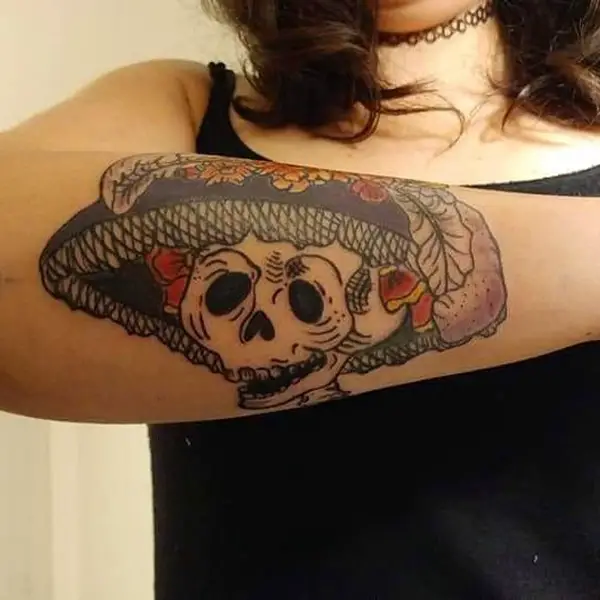 28. Catrina Tattoo with Red Rose Design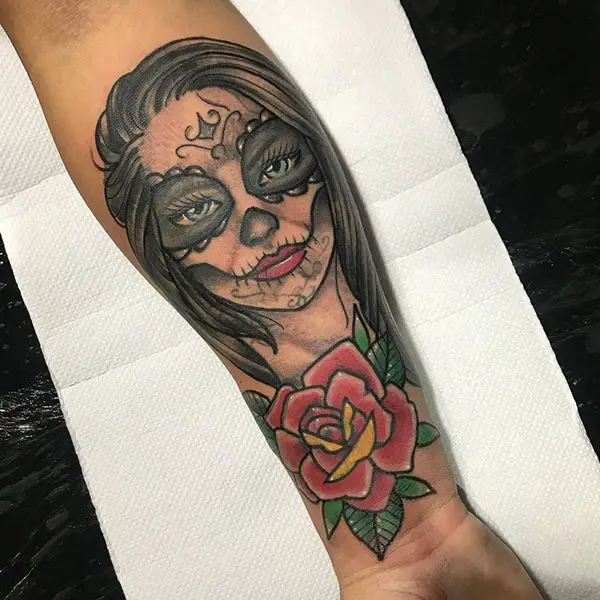 29. Catrina Tattoo with Rose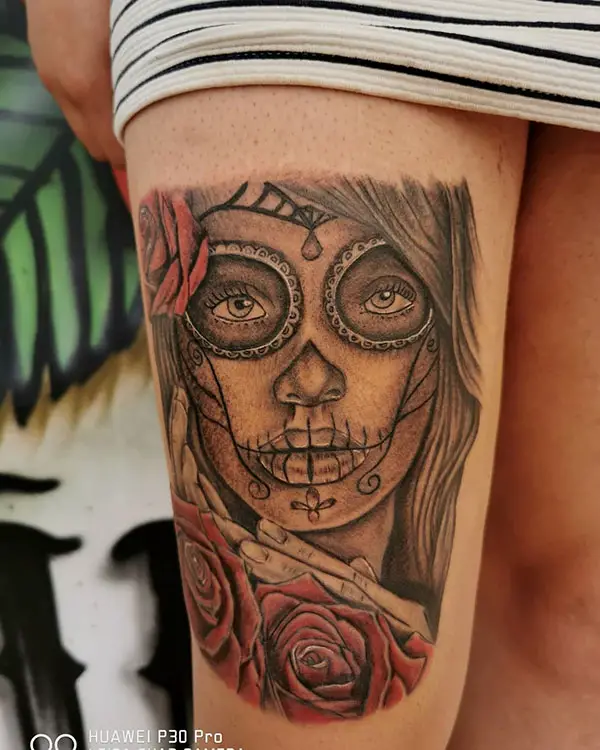 30. Catrina Tattoo with Some Realistic Details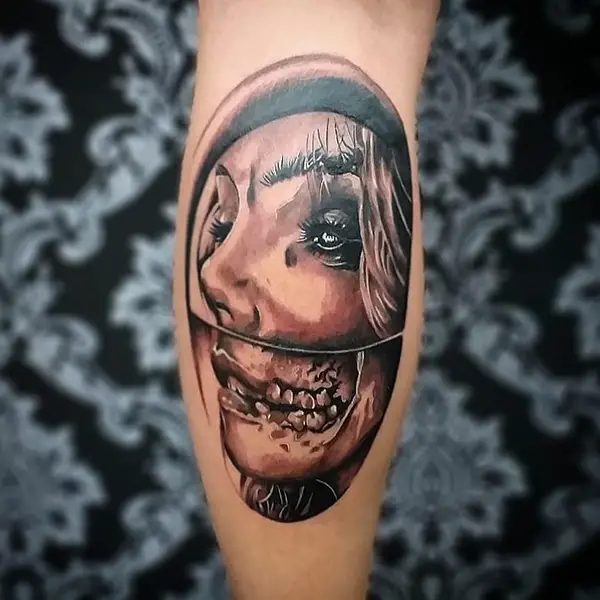 31. Colorful Catrina Tattoo with Skulls and Roses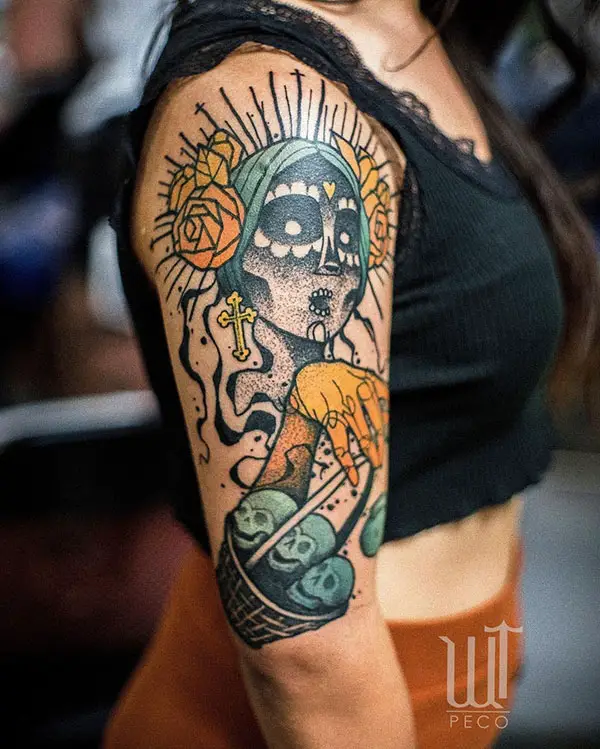 32. La Catrina Tattoo Design with Colorful Roses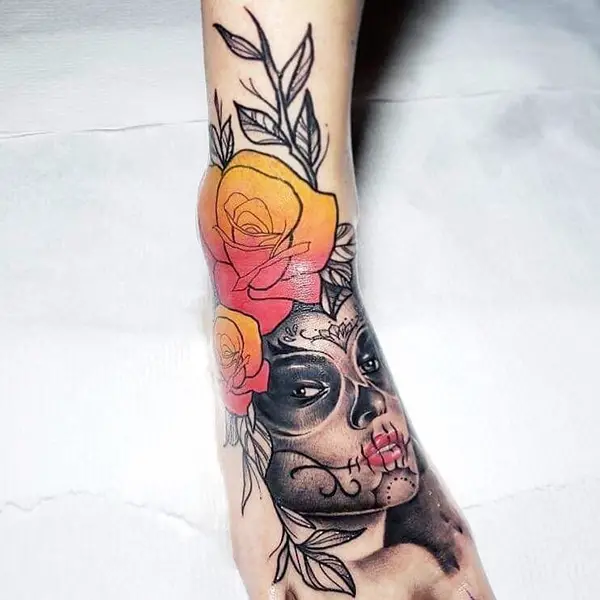 33. La Catrina Tattoo with Rose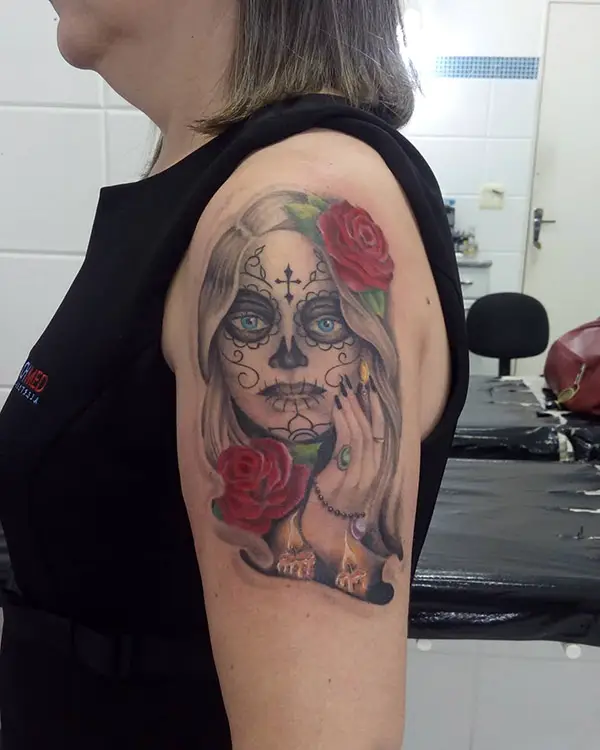 34. La Catrina with Red Rose Tattoo Design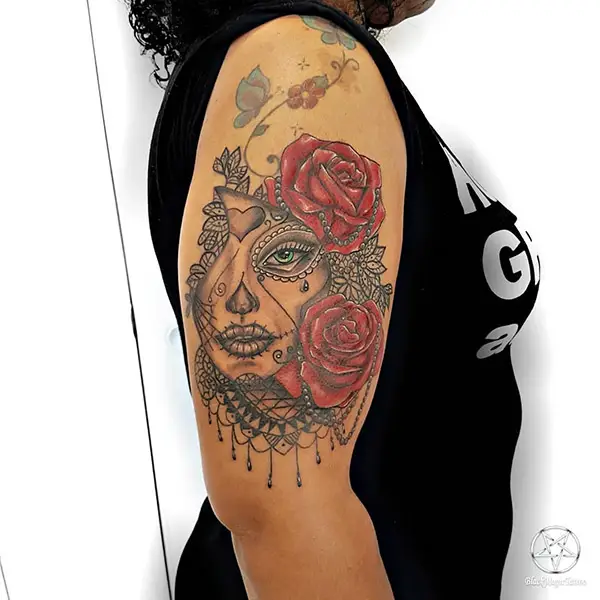 35. Red Roses Catrina Tattoo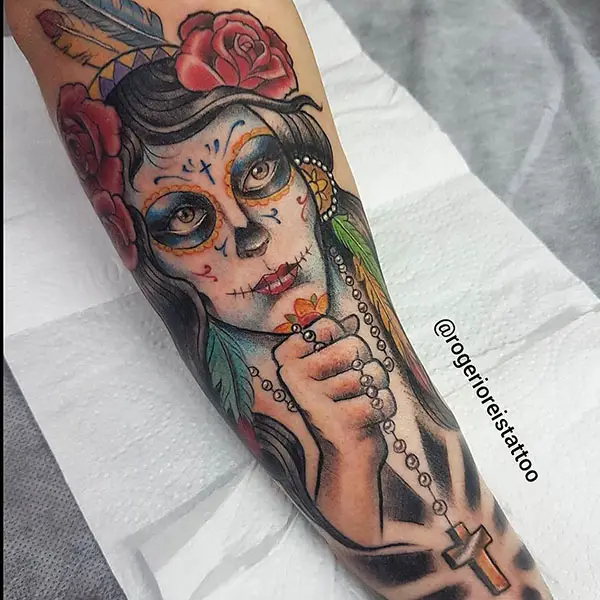 You Might Also Like: