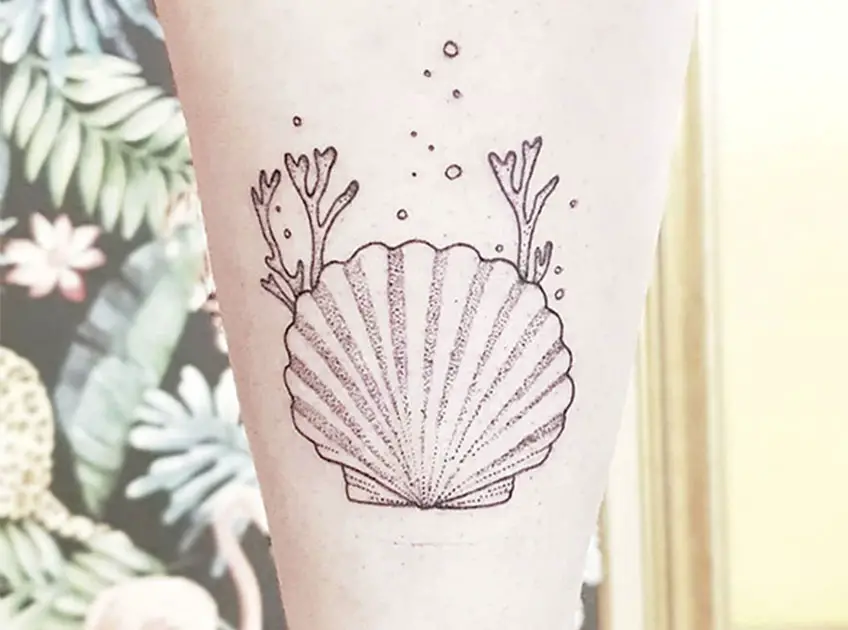 Oceans are vast and hence symbolize infinite underlying love for someone in life. It is also a great tattoo choice for someone who loves water bodies and is fascinated by the life beneath it. Let us see some interesting ocean tattoo ideas.
1. Stormy Ocean Tattoo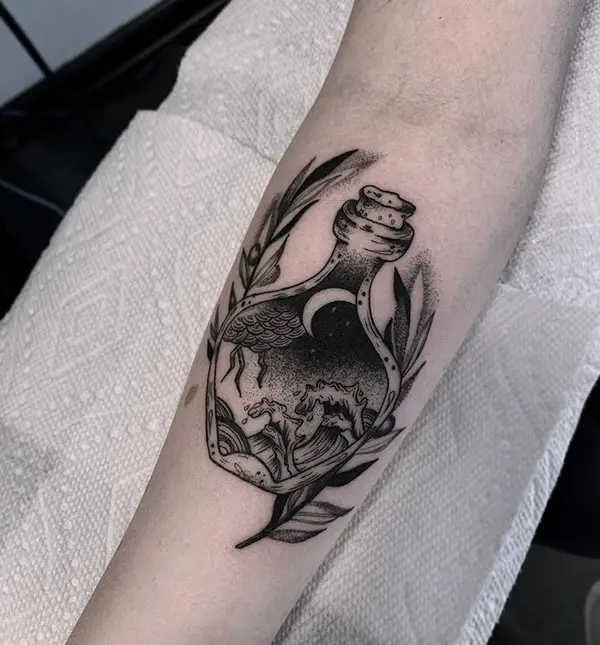 This is a beautiful ocean tattoo with a moon in the sky, portrayed inside a closed glass bottle. The twigs beside it add to its beauty. This is a suitable tattoo to portray your love for the oceans and nature.
[ Recommended: Anchor Tattoo Designs and Meanings ]
2. Oyster Shell with Water Bubbles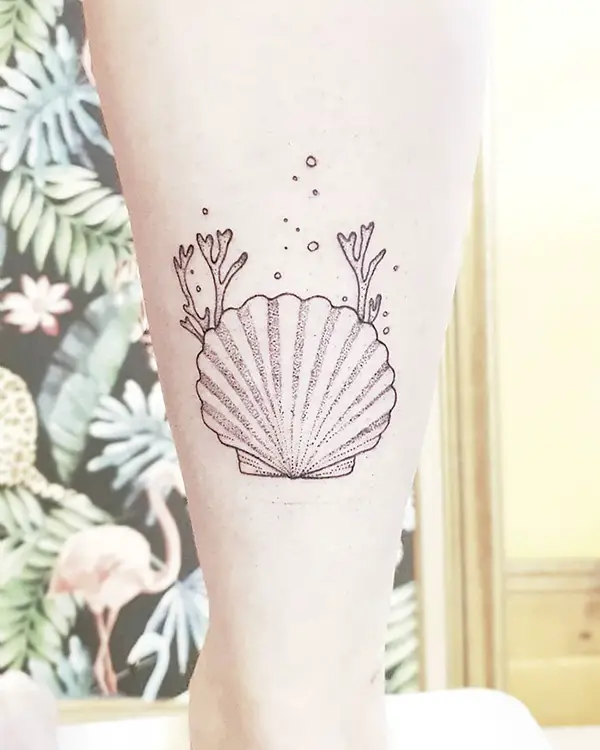 The oyster shell represents a beautiful exterior that protects an amazing pearl within. It symbolizes strength and resilience in critical situations without succumbing to external threats.
[ Recommended: Inspirational Quote Tattoo Designs ]
3. Vagrant Undersea Life Tattoo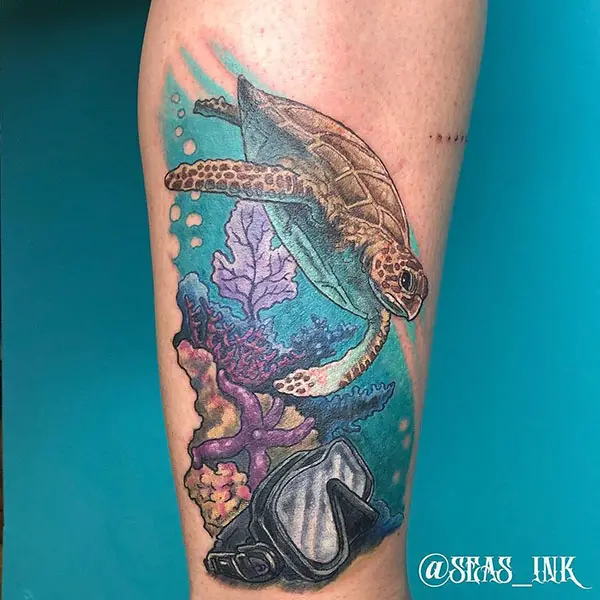 When you love the oceans and fascinated by the creatures living inside it, this is a perfect tattoo for you. The blue color of the water, with the star fish, turtle and purple vegetation is for someone who wants a tattoo full of vibrant colors.
4. Sea Mermaid Tattoo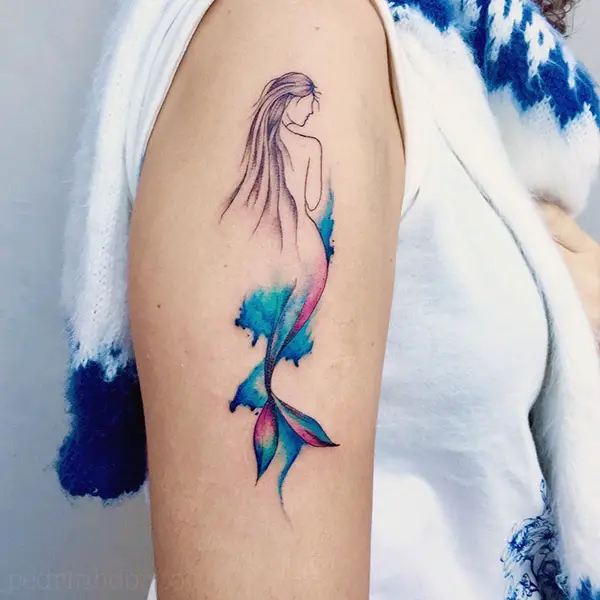 This is a beautiful sea mermaid with blue tails and long hair. Mermaids symbolize nature, creation, intuition, birth and rebirth. It is a perfect tattoo for you if you want to show highlight your feministic nature.
5. Waves and Fish Within Triangles Tattoo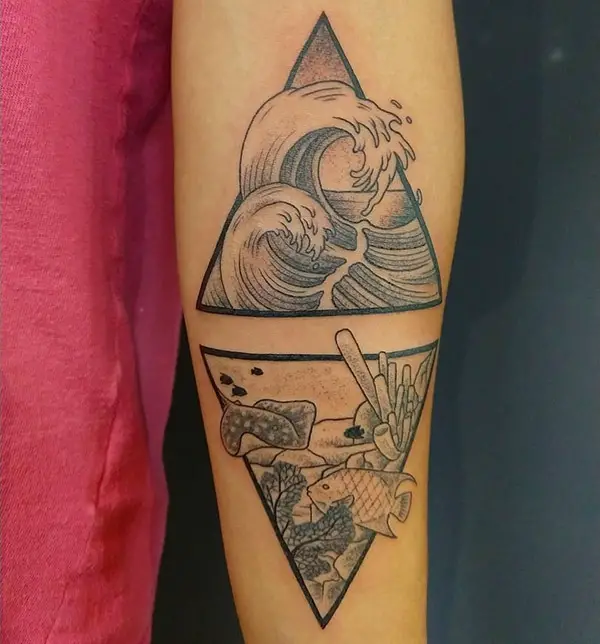 Love geometrical shapes and water bodies? Get the waves inked inside a triangle and the fish and sea vegetation in another inverted triangle within it, to show your love for oceans and its creatures.
6. Shark in The Sea Tattoo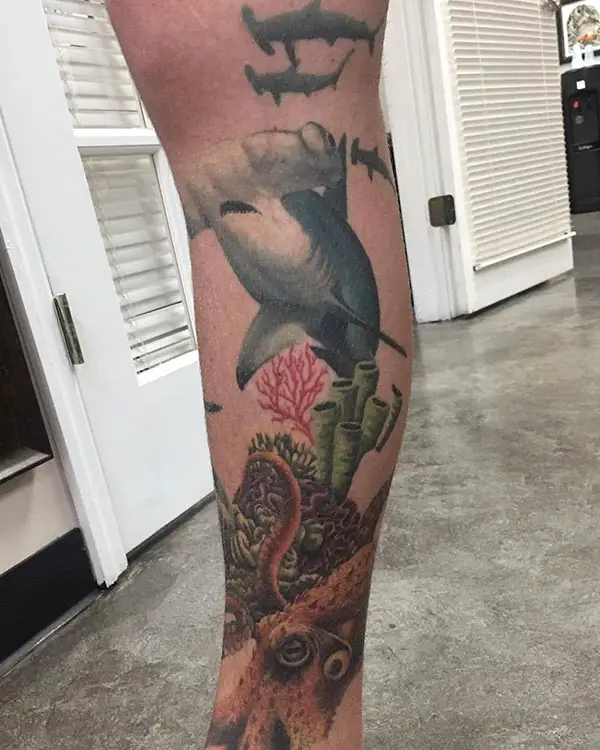 This is an amazing mighty shark tattoo that is seen swimming towards the ocean top. There are other sharks moving around. The sea vegetation is shown in green, brown and red colors, which makes the whole tattoo more appealing.
7. Octopus Island Tattoo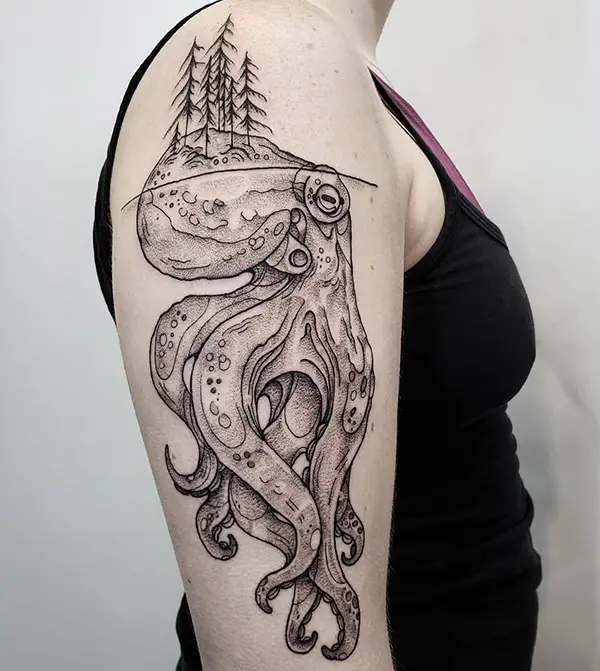 Want some tattoo that is interesting and unusual? Get this giant octopus inked along with an island at the top, with some trees on the mountains, to make it look like an octopus island.
8. Under Sea Life Inside a Diamond Shape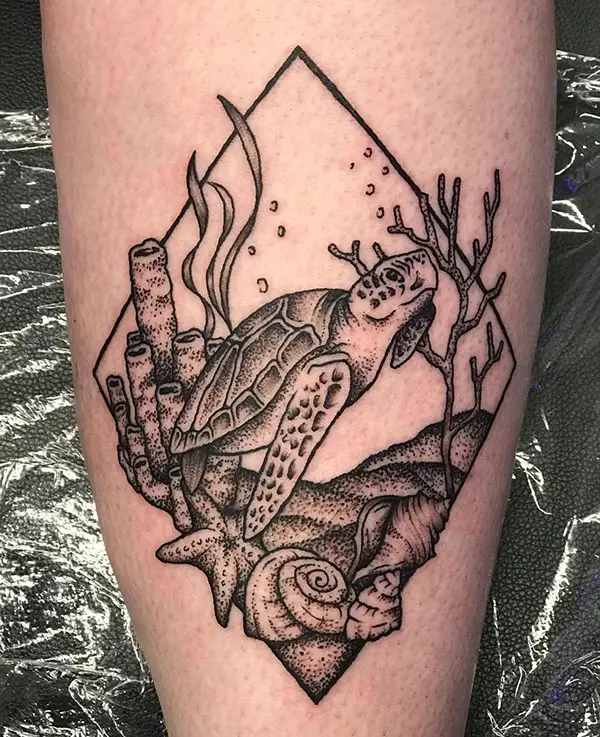 When the under sea life fascinates you, get the turtle, she asehlls, start fish, tiny mountains, plants in the diamond shape to show the vast range of life in the might water body!
9. Colorful Undersea Life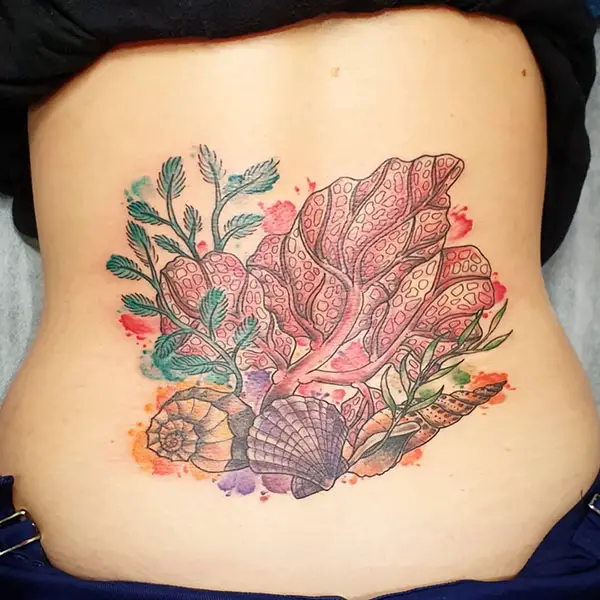 Love tattoos filled with colors? Try this undersea life tattoo with oyster shells, sea shells, green and red plants to add to create an interesting look.
10. Scuba Man Tattoo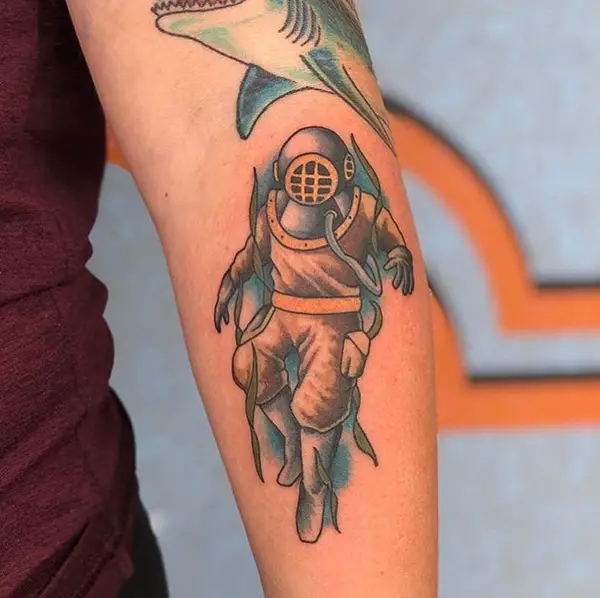 This is a perfect tattoo for someone who loves under-sea adventures, especially scuba diving. The shark beside the man shows how the person does scuba diving against the odds, confidently.
11. Cute Green Turtle among The Sea Waves Tattoo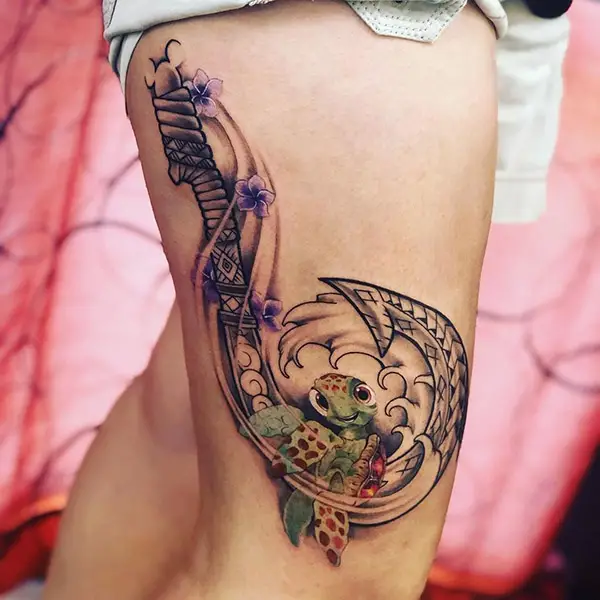 Love turtles? Get this cute green turtle inked on your arms, surrounded by the sea waves. The purple flowers near a pole beside the sea waves, makes the tattoo more fashionable.
12. Black and White Turtle Tattoo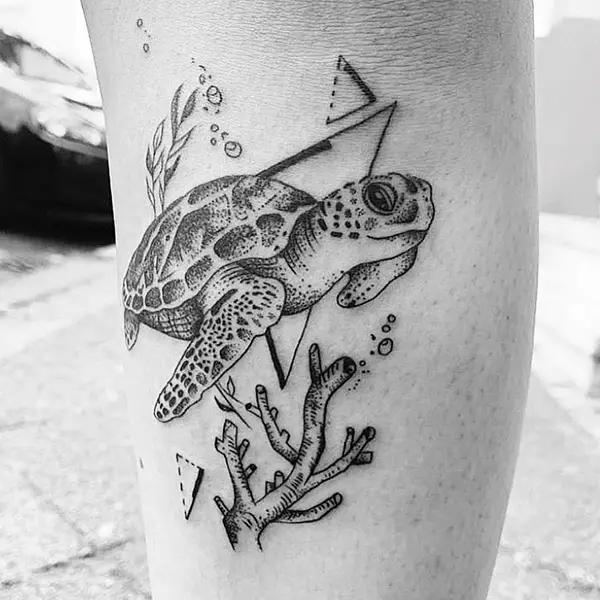 This black turtle tattoo with the plant stems is the simplest undersea life you can get inked on your arms. It symbolizes perseverance, strength, patience, longevity and your love for the oceans.
13. A Giant Jelly Fish Tattoo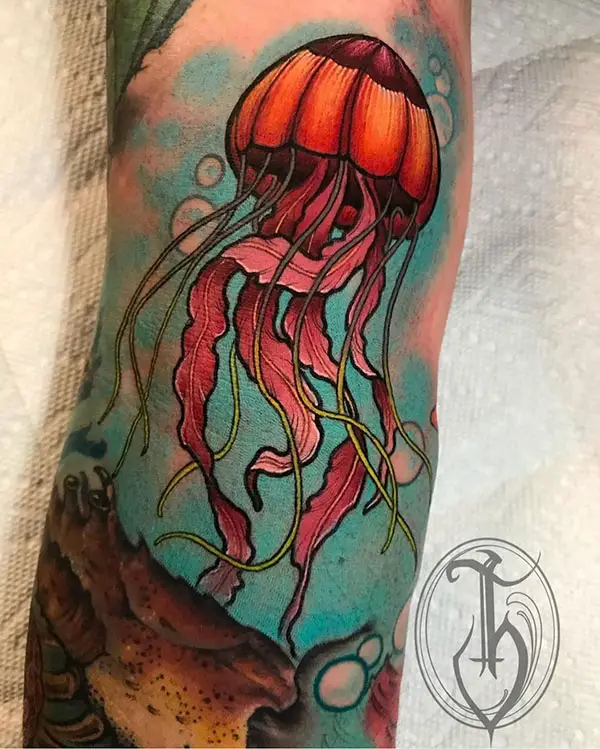 When you like extensive colored tattoos, this is a good choice to consider. The red giant jelly fish symbolizes that things that are calm and beautiful can be dangerous too. By nature the jelly fish appears serene but its tentacles can result in deadly stings.
14. Golden Fish Tattoo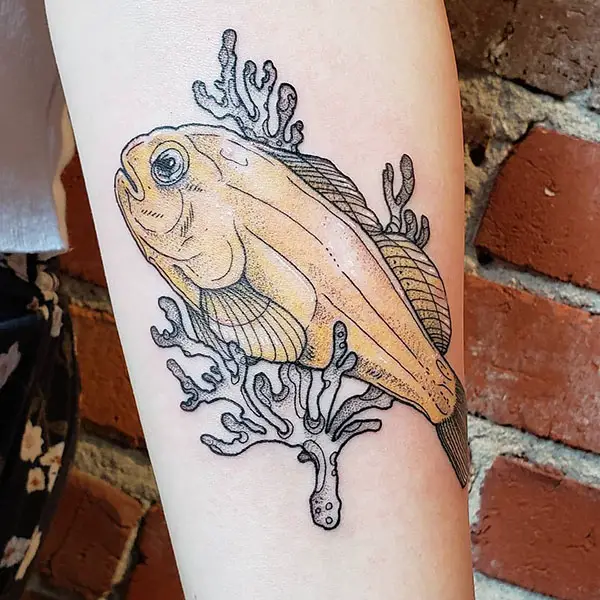 The golden fish tattoo symbolizes wealth and fortune. It is believed that the goldfish brings harmony to family and can even symbolize your love for these tiny creatures, if you have one as pet.
15. Oyster and Sea Horse Tattoo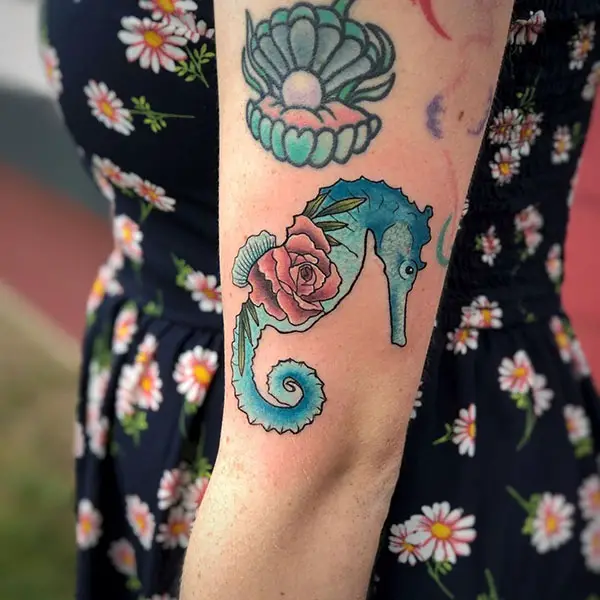 Oysters are symbolized as Aphrodite, who is the Goddess of fertility, love, and pleasure. Similarly, sea horse symbolizes qualities like friendship, and shows the fragility of sea life. These sea creature tattoos show your love for the ocean and the life in it.
16. Giant Shark in Water Tattoo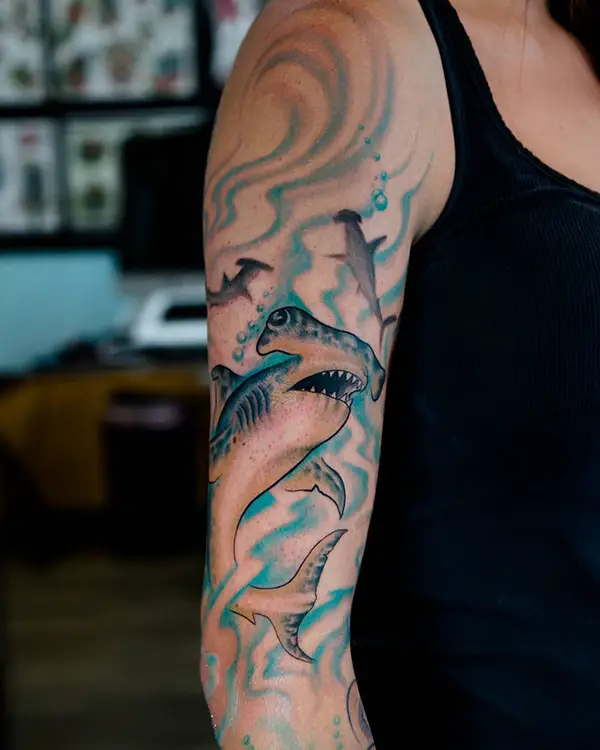 Shark tattoos symbolize guidance, courage and protection against the enemies. It shows the dangerous in deep water.
17. Black and White Fish Tattoo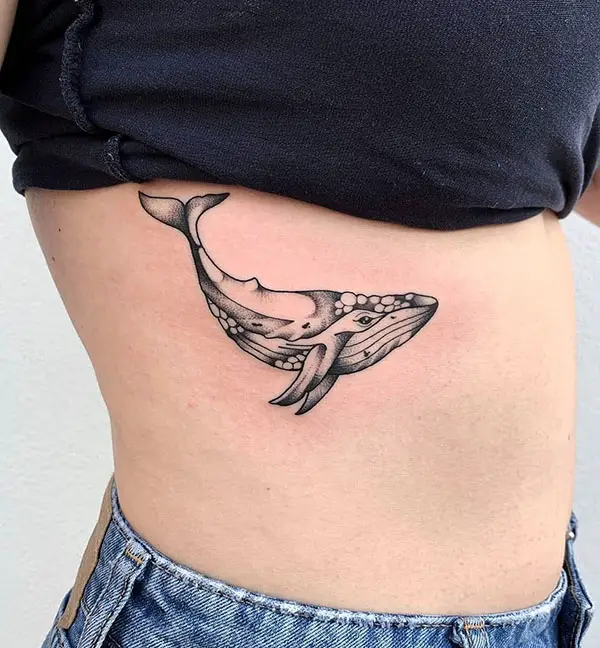 Fishes represent wisdom, power, patience, prosperity, persistence and luck. If you value these qualities and looking for a minimal tattoo, this is a perfect option to consider.
18. Sea Seal Tattoo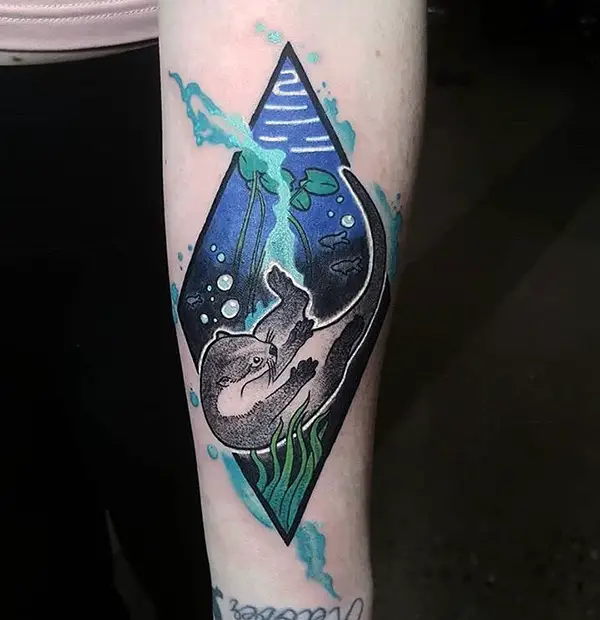 Sea seals tattoos are used for expressing the essence of finding happiness in every day life. If you have a lot of energy, enthusiasm, and love adventures, this is the perfect tattoo as it portrays the same qualities. The blue ocean in the tattoo with the green vegetation, makes it more colorful and appealing.
19. Octopus in The Sea Tattoo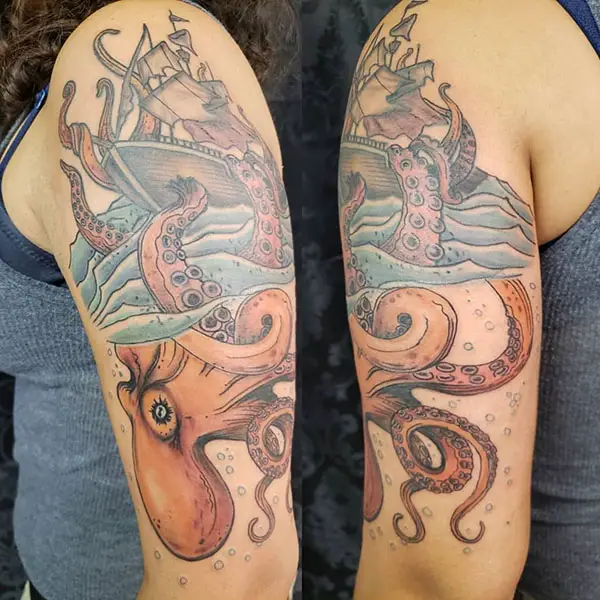 When you and your partner love extensive tattoos, get this octopus tattoos in parts in your hands to complete the design. The ship in the ocean with the octopus below shows your love for adventures.
20. Giant Octopus Tattoo Design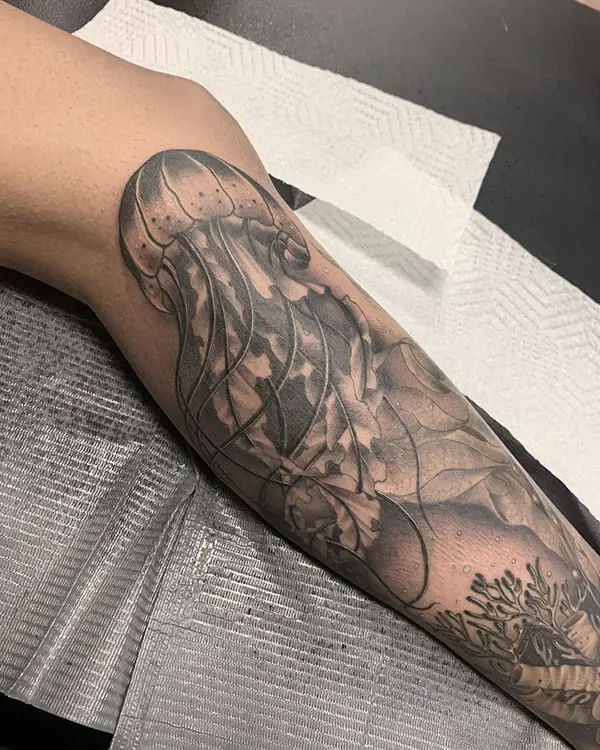 21. Sea Whale Tattoo Design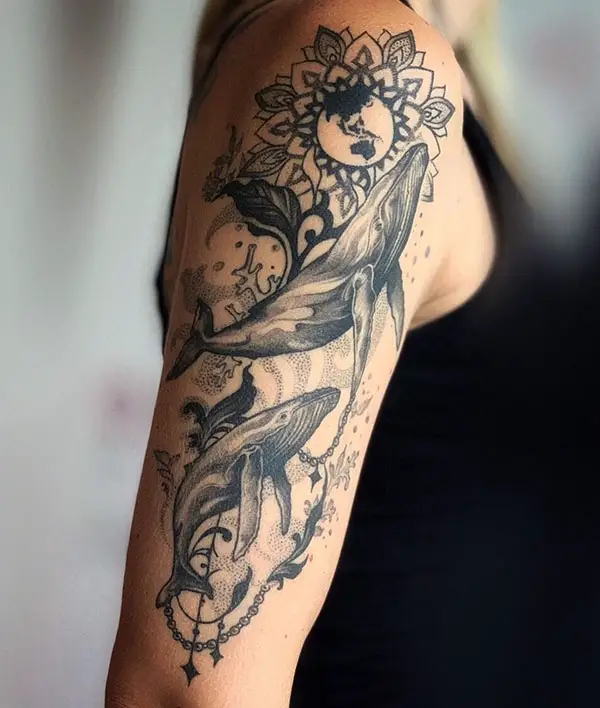 22. Anchor Under the Sea Tattoo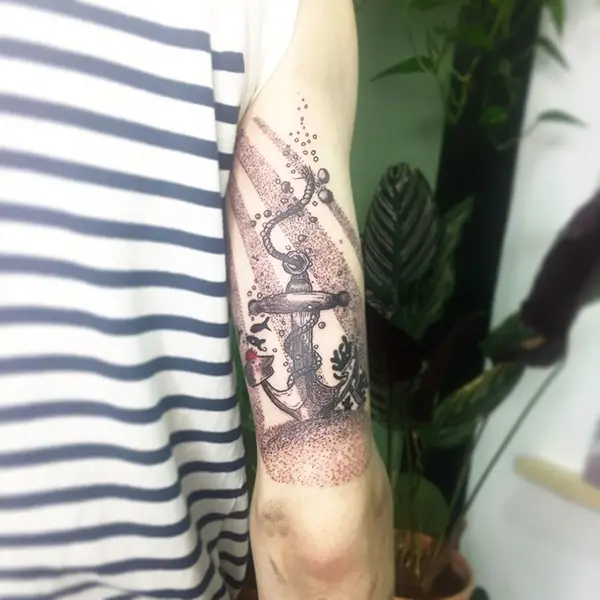 23. Shark, Fish and Turtle Tattoo on Thigh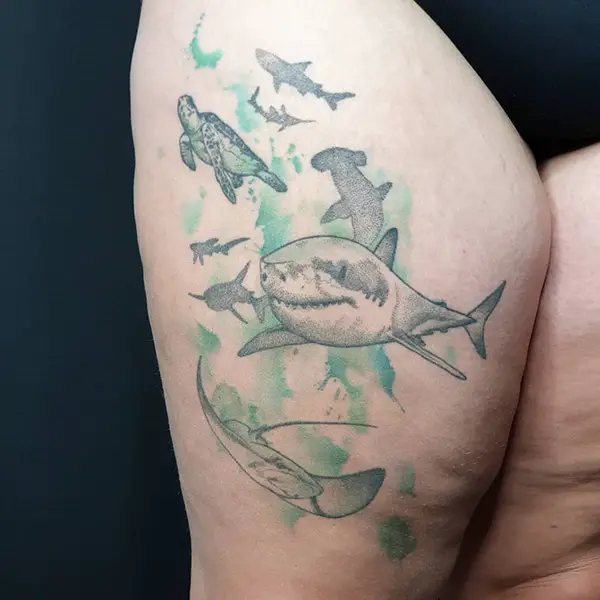 24. Fish in Flowers Tattoo on Thigh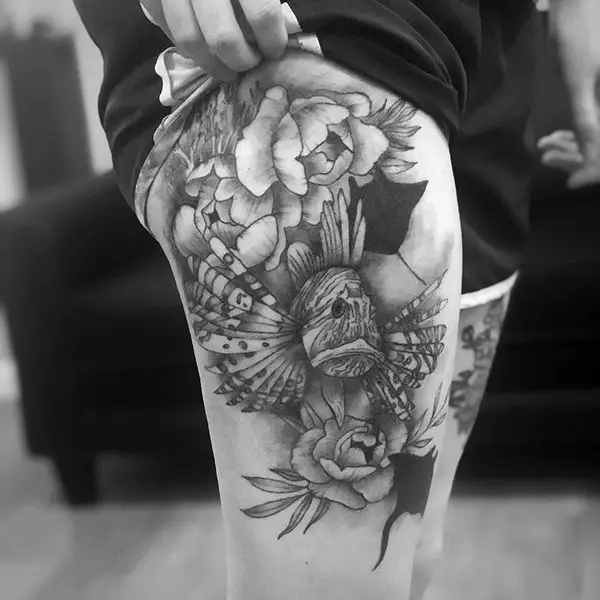 25. Seashell and Flowers Tattoo Design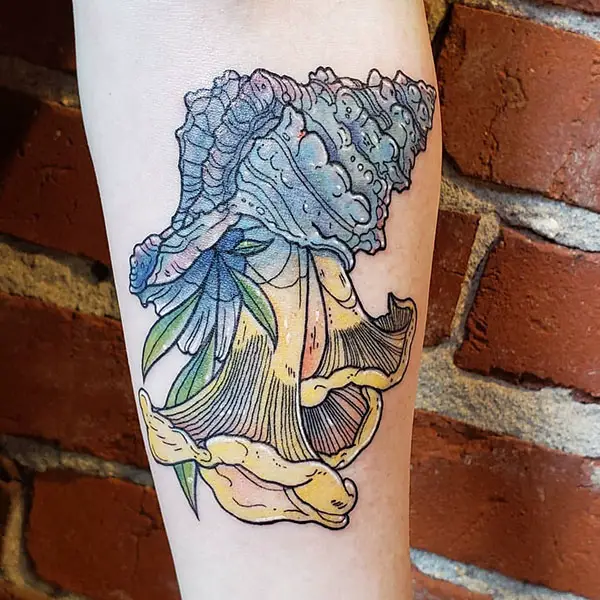 26. Giant Sea Whale Tattoo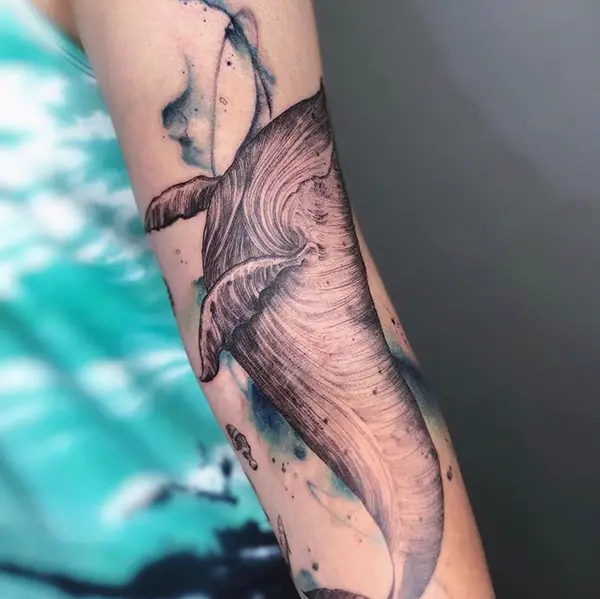 27. Sea Whale in Waves Tattoo Design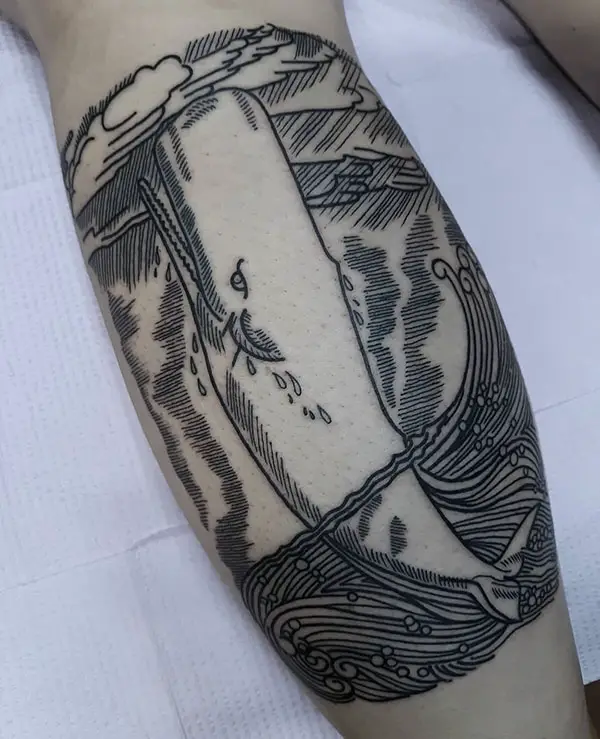 Recommended Topics: