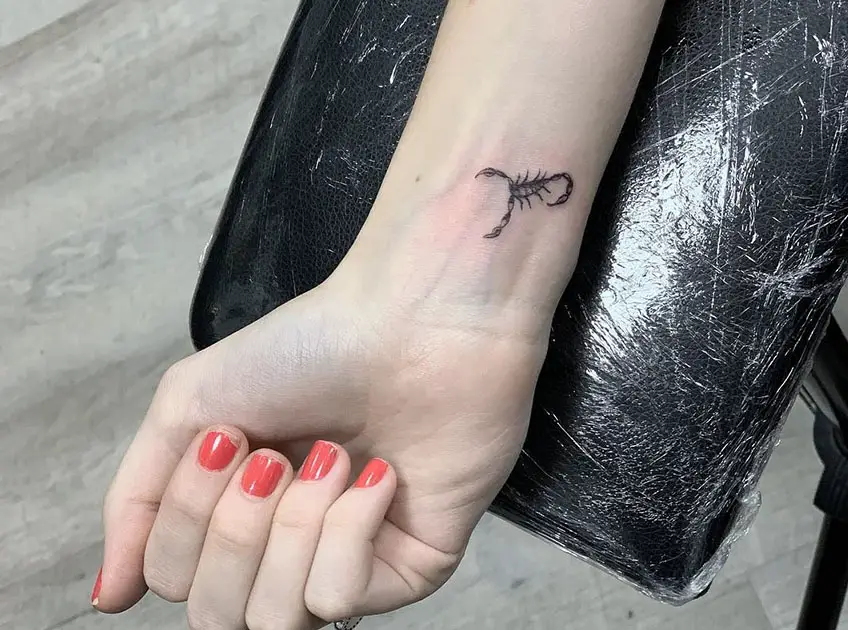 People who are fiery, sexual and animal lovers will love the scorpion tattoo. It is often inked to indicate bold and loud personalities to others. Let us see some of its variations.
1. Scorpion Tattoo with Your year of Birth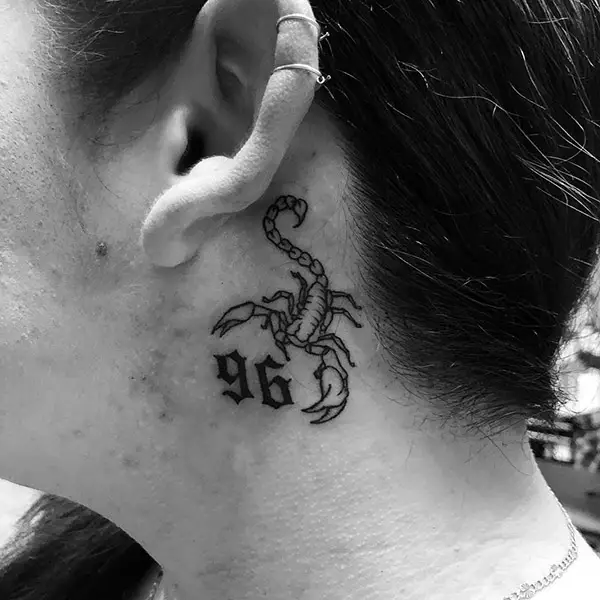 This is a tiny scorpion tattoo behind the ears with your birth year mentioned. It is suitable for anyone with bold choices, who want to flaunt the tattoo to others. A person's emotional and dominant nature is portrayed by it.
[ Recommended: Unique Animal Tattoo Designs To Inspire You ]
2. Tattoo with an Eye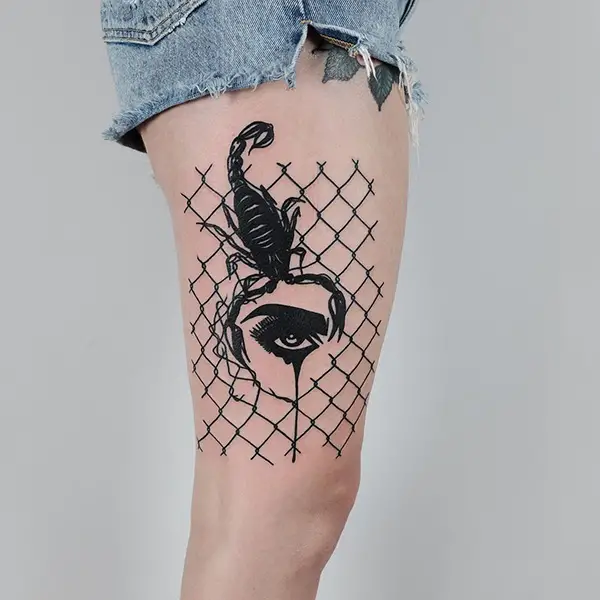 This tattoo implies " an eye for an eye" symbolizing that you don't forget or forgive people easily who wrong others. It can be best done on the arms.
[ Recommended: Best Elephant Tattoo Design Ideas ]
3. Black Scorpion with a Red Outline Touch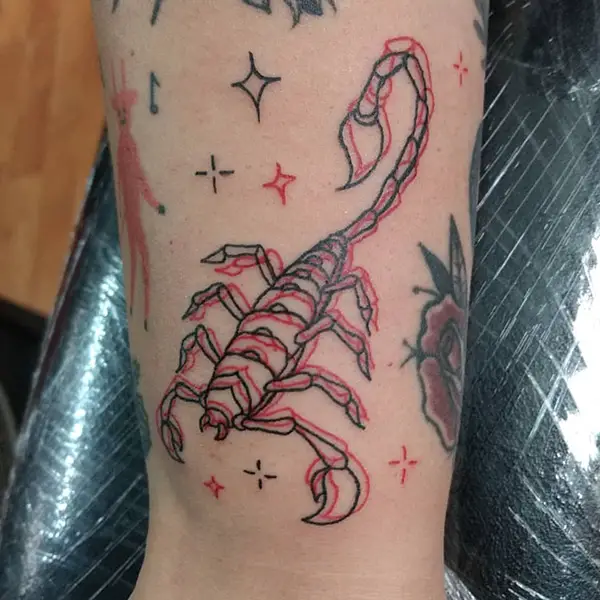 When you dislike the regular black color of a scorpion, add an interesting touch to it by double bordering it with a red color and also a rose beside it. The tiny stars around it, make it appear more glamorous.
4. Scorpion Holding a Heart Tattoo
Scorpion is a representation of death, pain and toughness. Holding a heart implies keeping up your strength, and a heart full of love in tough situations.
5. Tiny Scorpion Tattoo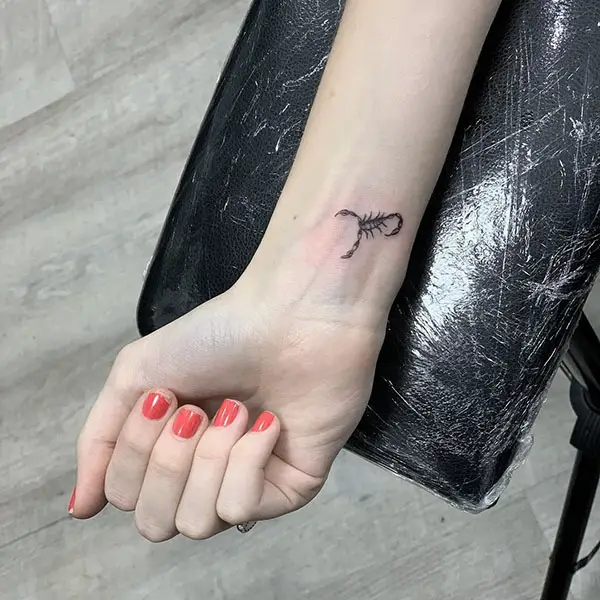 Looking for minimal tattoos and inspired by the symbolic meaning of a scorpion? This is the best tiny scorpion tattoo you can get inked on your wrist for a trendy look.
6. Minimal Black Scorpion Tattoo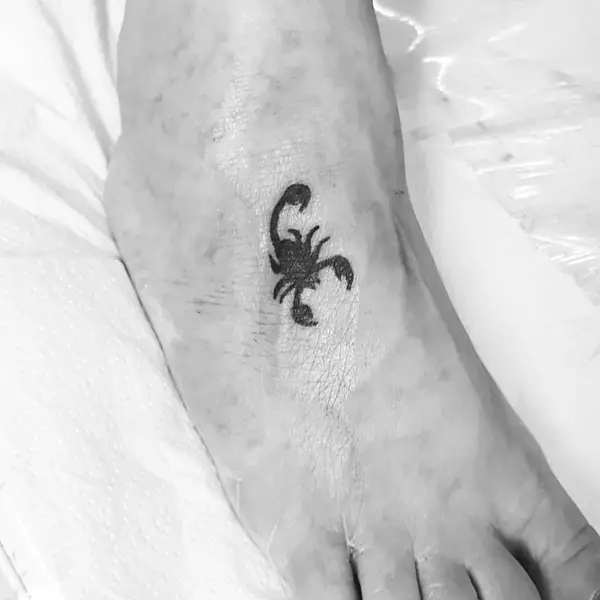 This minimal scorpion tattoo can be inked on the arms and indicates the ability to control and protect oneself. It also portrays loyalty and powerful sexuality.
7. Scorpion and Snake Tattoo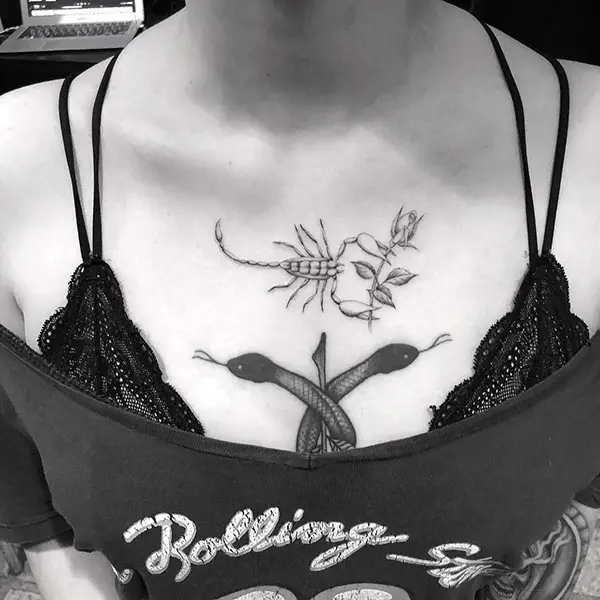 Snakes have the characteristics of shedding the skin which symbolizes healing and renewal. Along with this, the scorpion holding a rose flower stalk shows symbolizes the sentimental and feminine nature of a passionate person.
8. Detailed and Bold Scorpion Tattoo for Back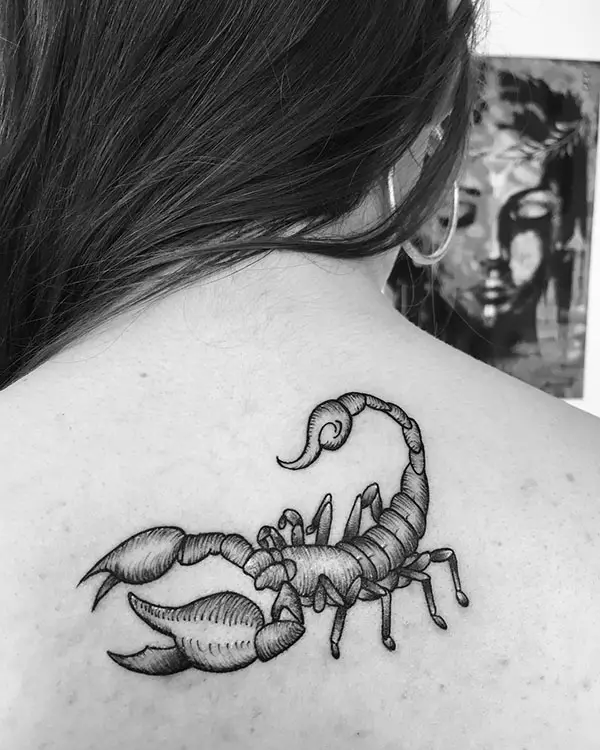 Want to flaunt your tattoo only with certain hairstyles? Get this detailed and bold scorpion tattoo at the back to express your passionate and extravagant side.
9. Scorpion Holding a Red Rose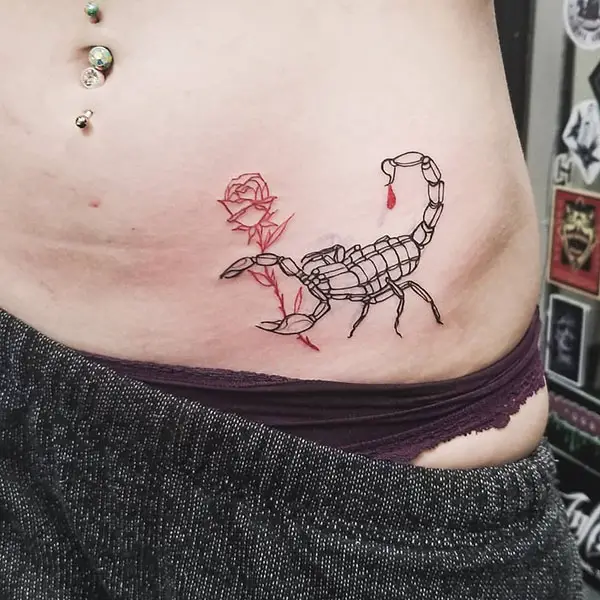 Pairing a scorpion with a red rose shows your sensitive side and is best suited for people who are passionate lovers. It shows your feeling for your beloved partner.
10. Scorpion with a Pink Flower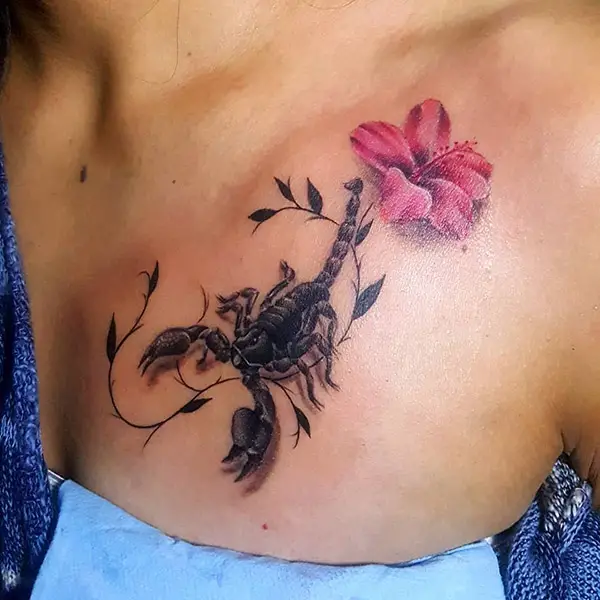 The intricate scorpion tattoo indicates the strength, and self-protection but the flower beside it indicates a feminine and emotional side of your personality. The combination can be inked below the collar bone for a fashionable look.
11. Flowers Arranged in The Shape of a Scorpion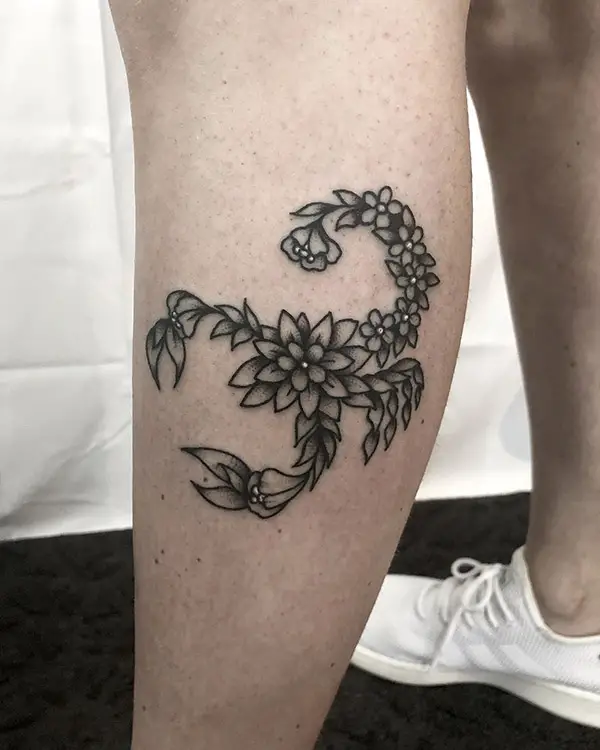 Flowers are a sign of contentment and love but when they are arranged in the shape of a scorpion, it shows strength and the ability to protect oneself. This tattoo is a great way of expressing your softer as well as your stronger side.
12. Scorpion with a Yellow Flower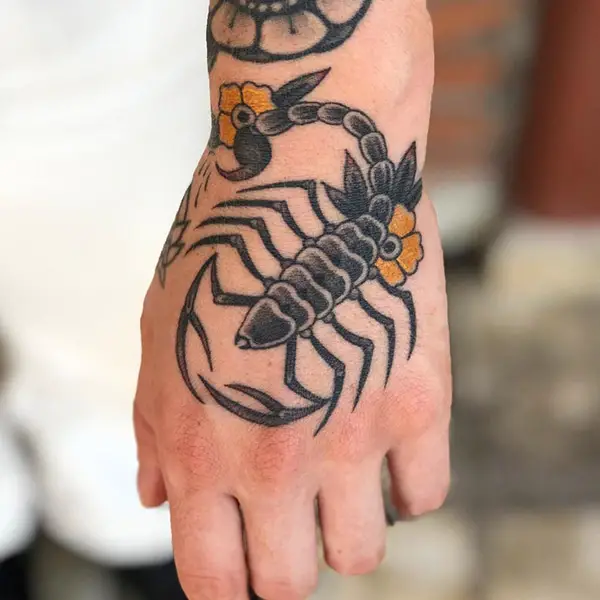 The tiny yellow flower in this tattoo adds a classy touch to the monotonous black scorpion tattoo. You can get it inked on your hands to show your strong personality, capable of protecting yourself and keeping enemies at bay.
13. Scorpion Among Flowers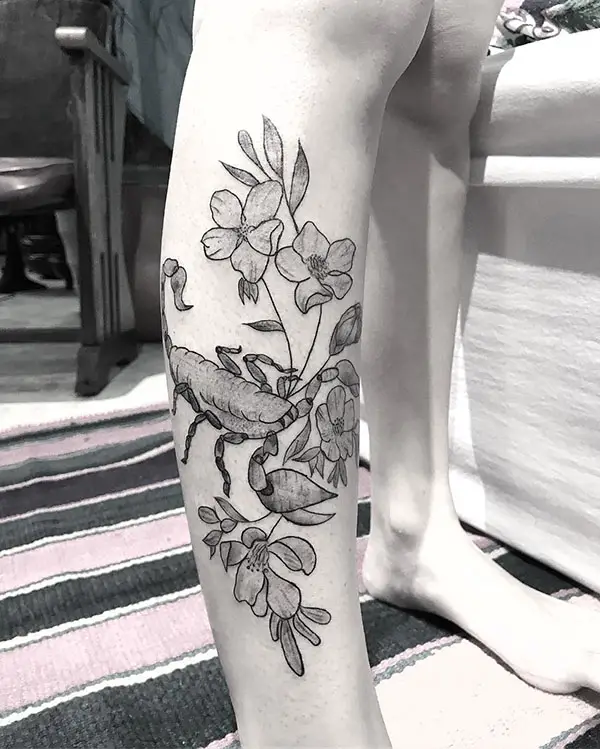 This black and white scorpion tattoo with leaves and flowers show feminine nature. When you want an extensive tattoo with other natural elements besides scorpion, this is a good choice to consider.
14. Blue Scorpion Tattoo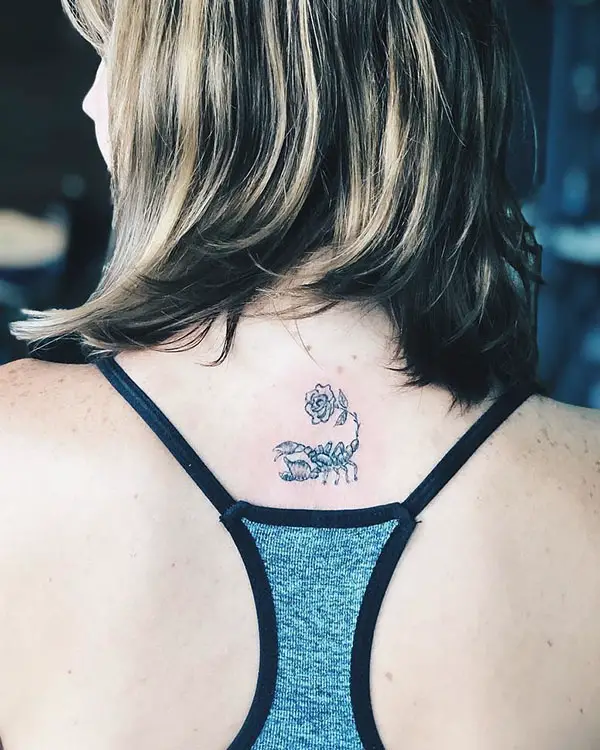 The blue scorpion tattoo at the back, makes you look cool while wearing backless or low back outfits. It has a rose on its sting which symbolizes love, a deep and genuine connection with your partner.
15. Scorpions Below Collar Bones Tattoo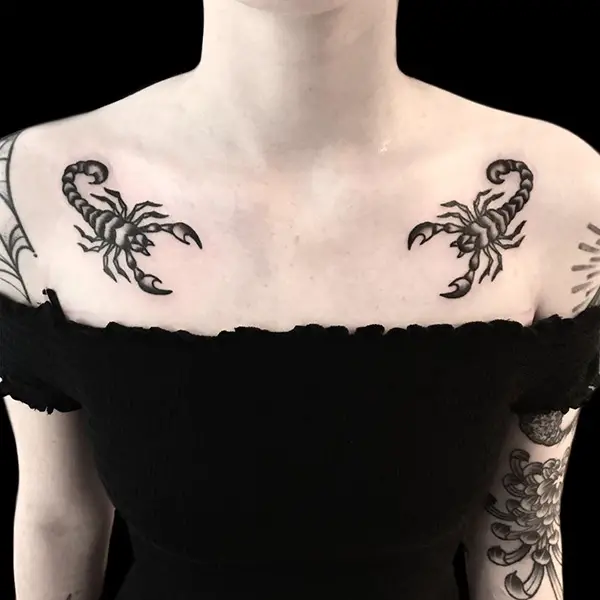 Do you often wear off-shoulder outfits and want to create a trendy look? Then these scorpions below the collar bones on both sides are a great tattoo idea to show your courageous personality and potential of protecting oneself.
16. Scorpion Tattoo on Hands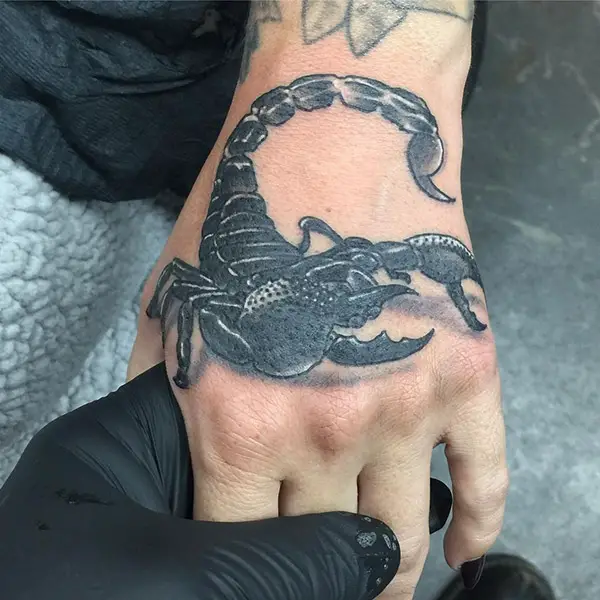 This is a bold scorpion tattoo that symbolizes determination and embraces the fire within you. It is a perfect way of showing your powerful personality.
17. Scorpion with Color Splashes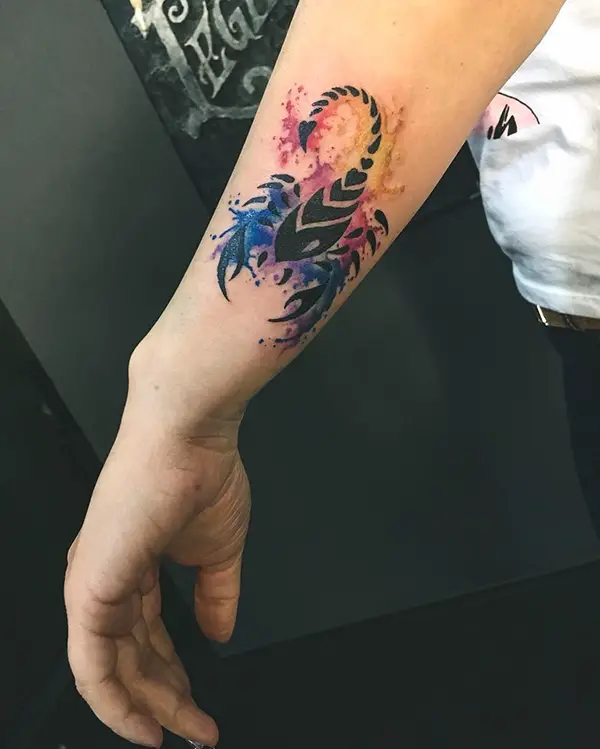 This tattoo is a perfect way of showing your dynamic personality. It portrays your power and dominance.
18. Scorpion with a Blue Rose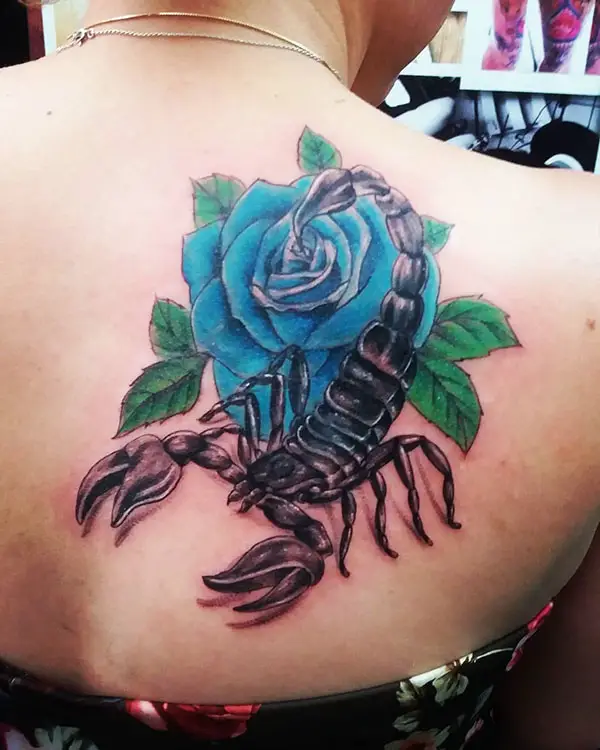 Want to add vibrant color to your black and white scorpion tattoo? This blue rose and the dark green leaves are a perfect addition to it, which symbolizes mystery and your desire to attain the impossible.
19. Scorpion Hiding Behind a Plant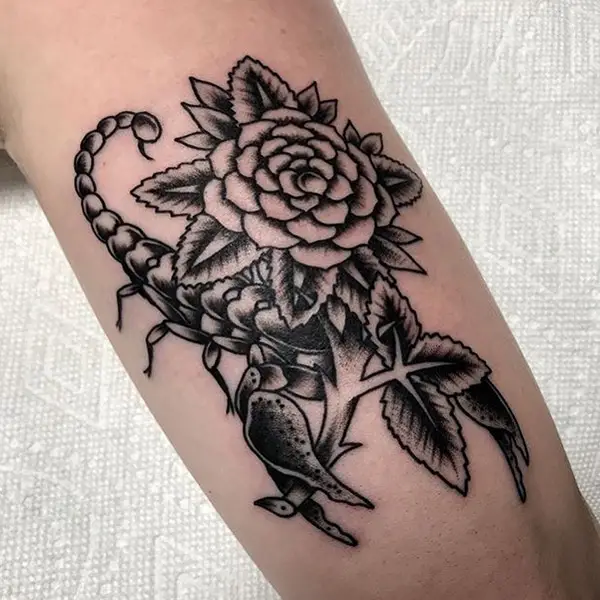 The plant with flowers looks simple and beautiful but the scorpion hidden behind it indicates the power to protect oneself. It symbolizes that looks can be deceptive and no matter how beautiful something looks from the outside, we need to be careful while dealing with it, as its furious personality may come up.
20. Scorpion Tattoo with The Date of Birth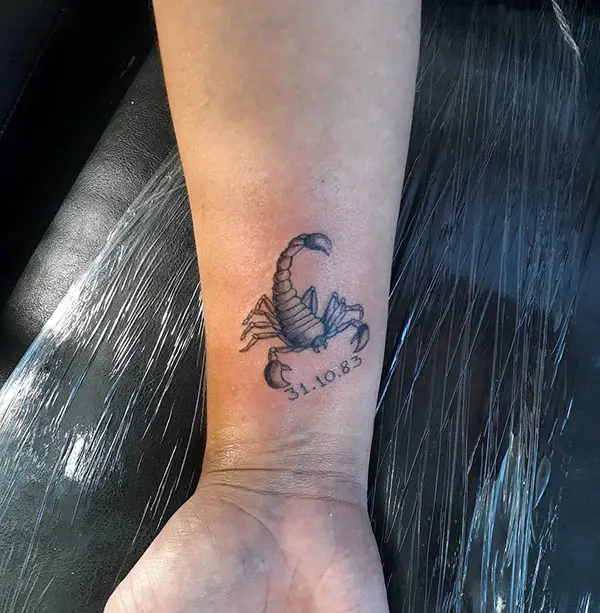 This is a perfect tattoo for someone with a Scorpio moon sign or sun sign. You can even get your or your beloved one's date of birth inked near it, symbolizing your protective nature.
21. A Line Scorpion Tattoo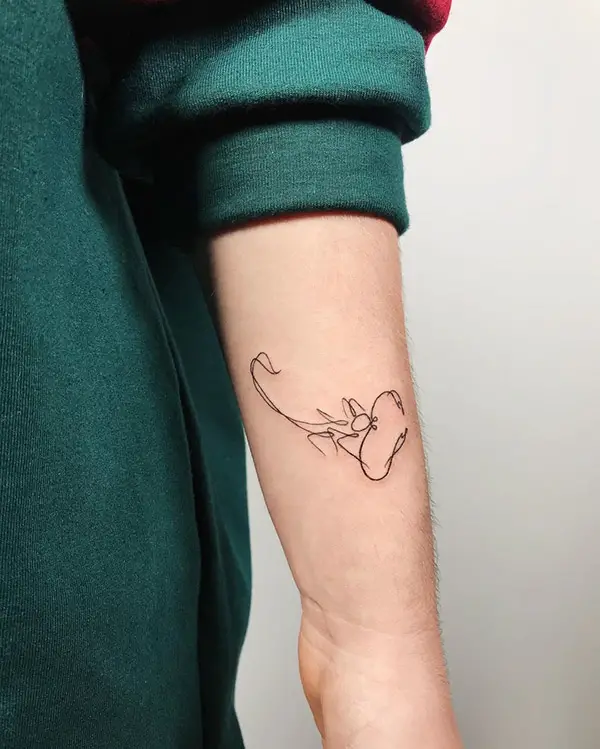 22. Black Ink Scorpion Tattoo on Hand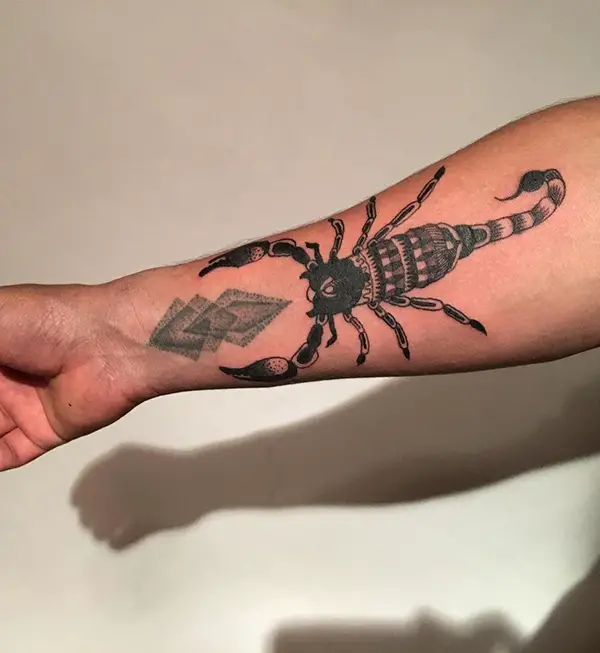 23. Scorpion Tattoo Design with Flowers on Thigh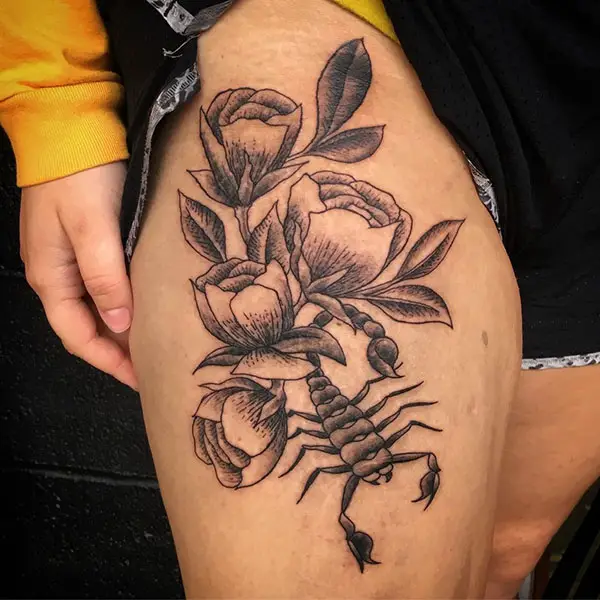 24. Scorpion Tattoo Design with Sparkles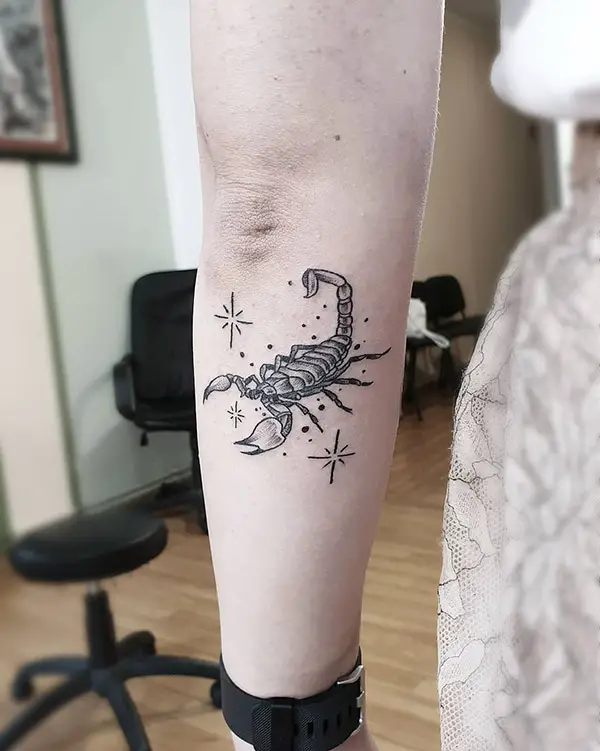 25. Scorpion Tattoo Design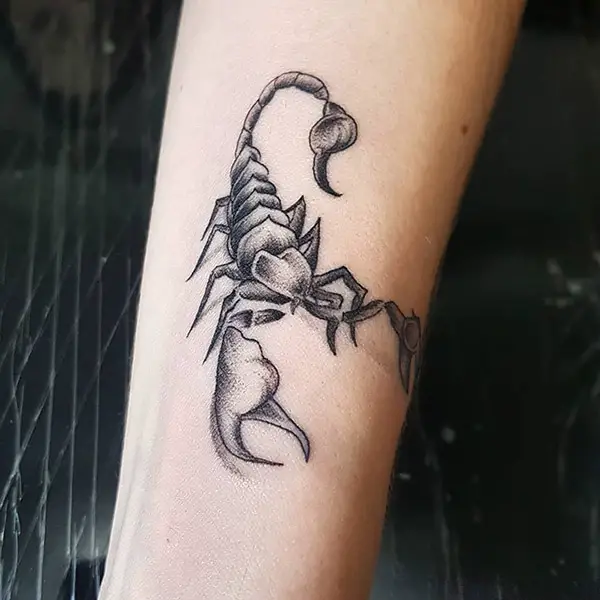 26. Scorpion Tattoo on Leg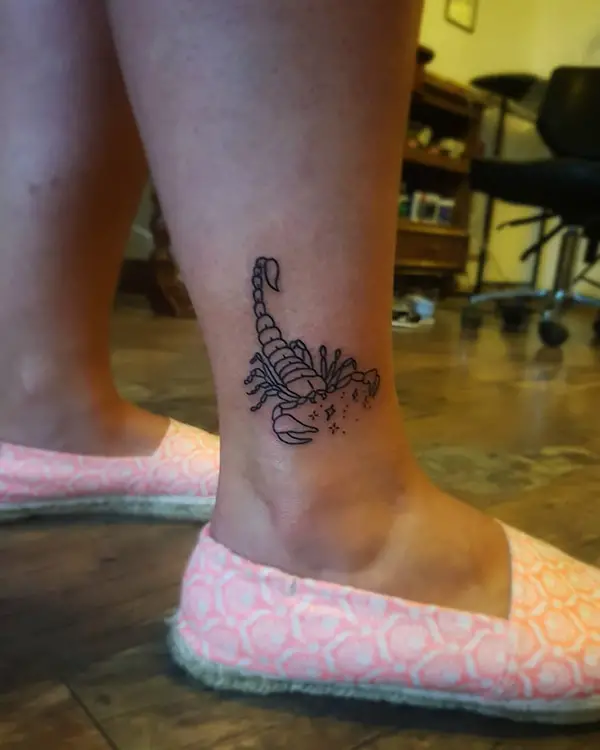 27. Scorpion Tattoo on Waist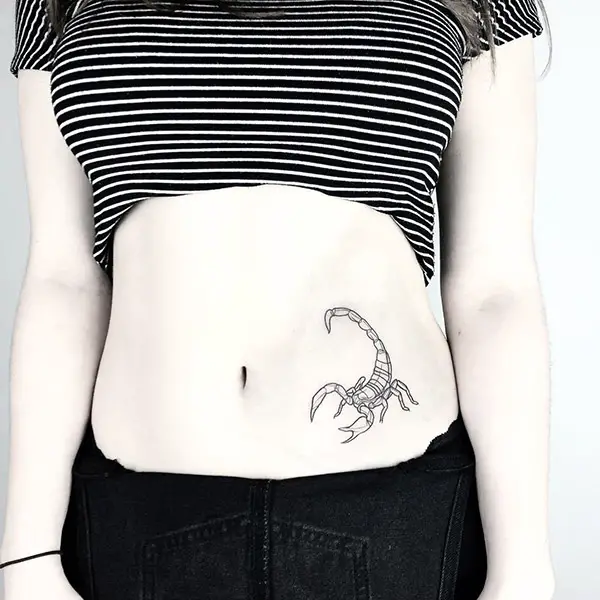 28. Scorpion Tattoo with Watercolor Splashes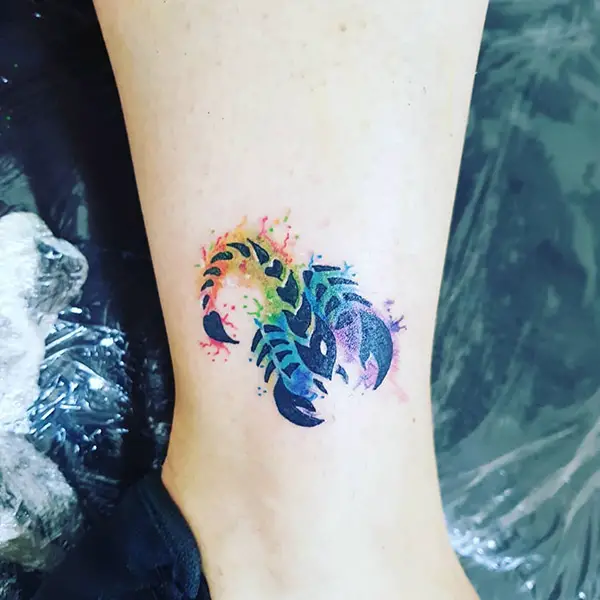 29. Simple Scorpio Tattoo on Hand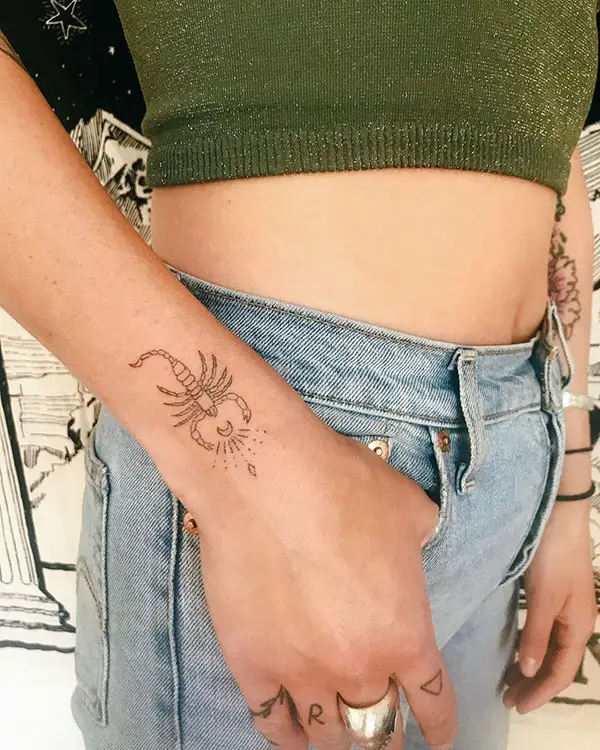 30. Simple Scorpion Tattoo Design on Leg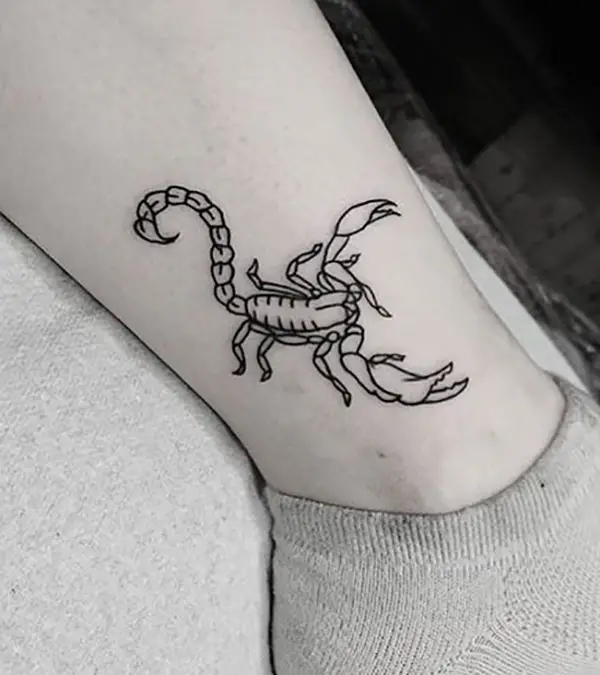 31. Simple Scorpion Tattoo on Wrist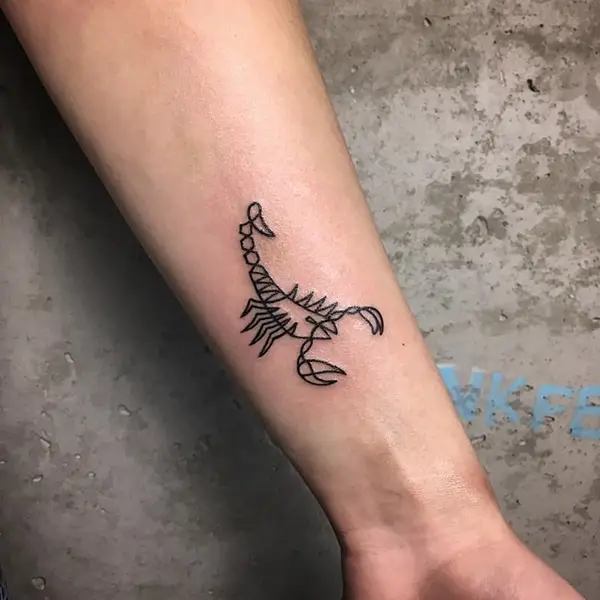 32. Two Different Style Scorpion Tattoo Design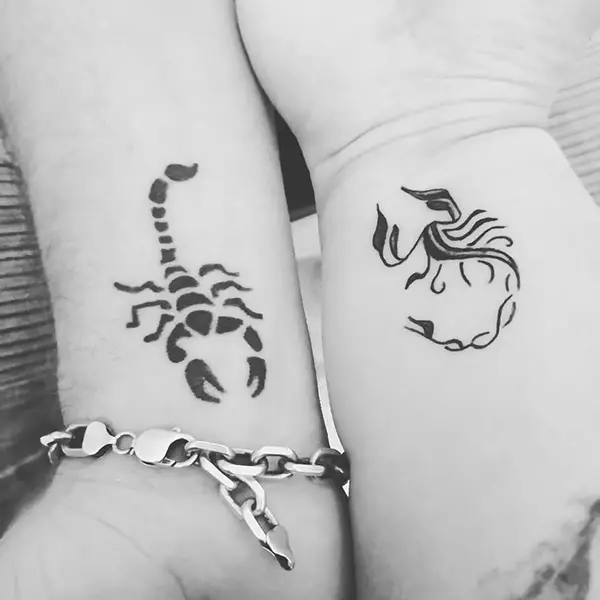 33. Scorpio Holding Rose Tattoo on Back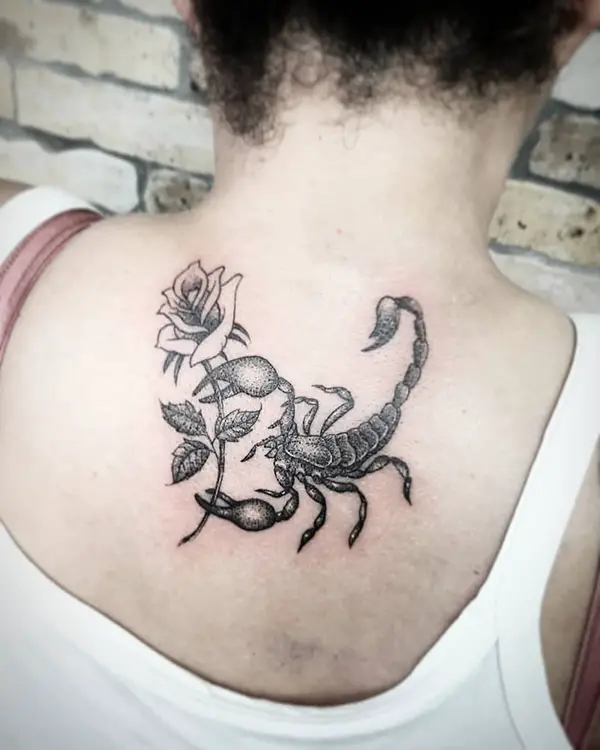 34. Scorpion and Crab Tattoo on Leg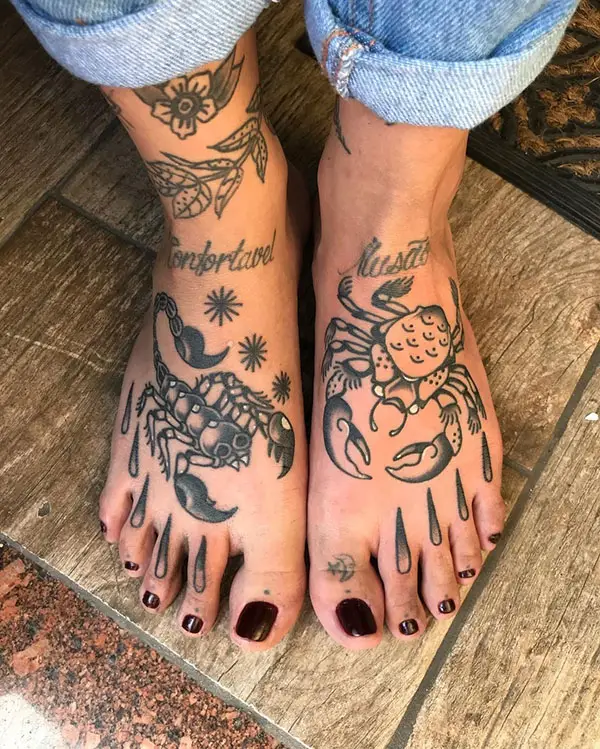 35. Scorpion Tattoo Design on Hand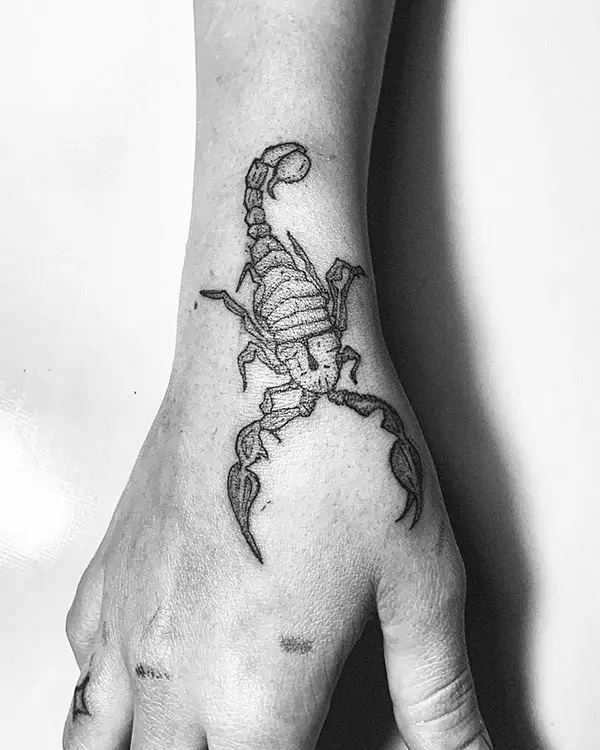 You Might Also Like: