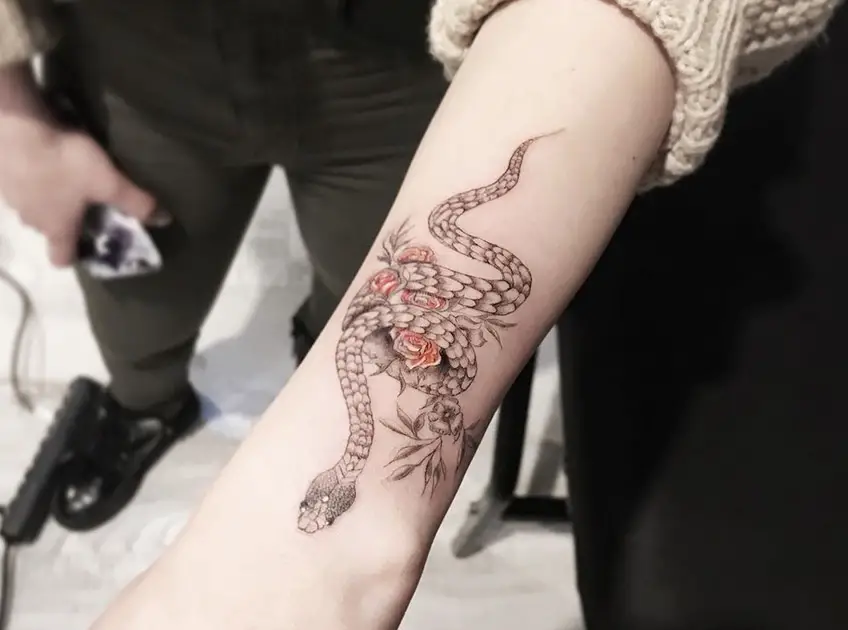 Snakes symbolize rebirth and power and have different meanings in different cultures. In Buddhism, a divine serpentine protects Buddha while meditating and in Greek mythology, the creature is associated with God Asclepius. Similarly, in West Africa, they symbolize wisdom and the guardian of sacred temples. Snakes shed their skin and then get new skin eventually which shows transformation with time.
1. Snake Wrapping Around a Branch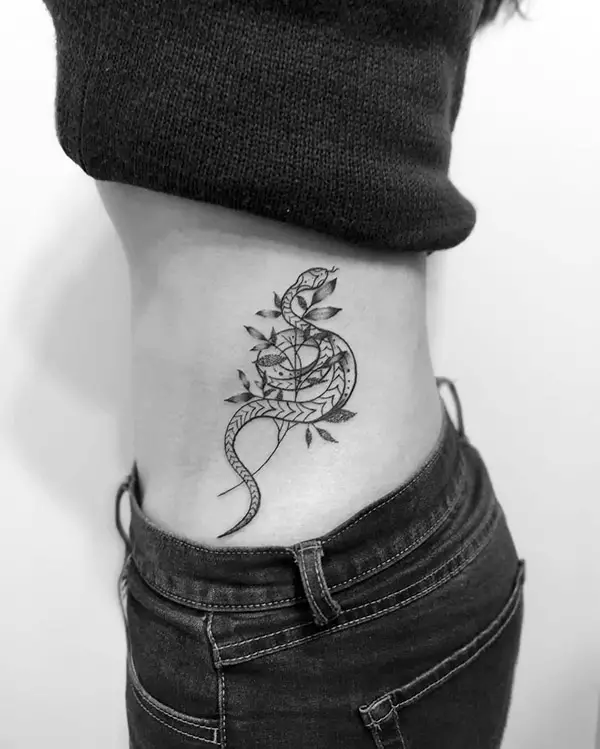 This tattoo shows the flexibility of the snake to wrap around a branch. This is a good choice of tattoo when you have similar qualities of getting accustomed to any situation easily with the least effort.
[ Recommended: Amazing Scorpio Tattoo Designs ]
2. Snake Among Flowers Tattoo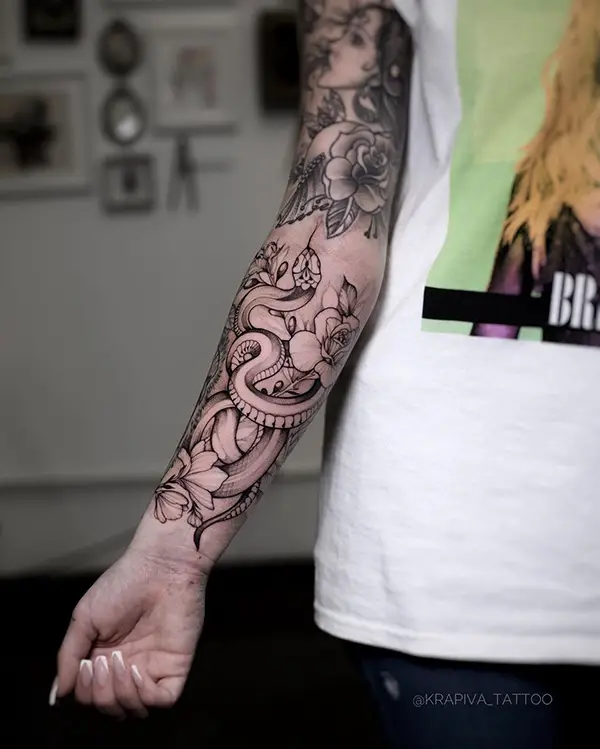 Snakes with other serene natural imagery such as flowers can come to symbolize the gentler and more positive meanings of the snake symbol such as transformation, fertility, rebirth, change, and grace.
[ Recommended: Amazing Dragon Tattoo Designs ]
3. Snake Tattoo with a Rose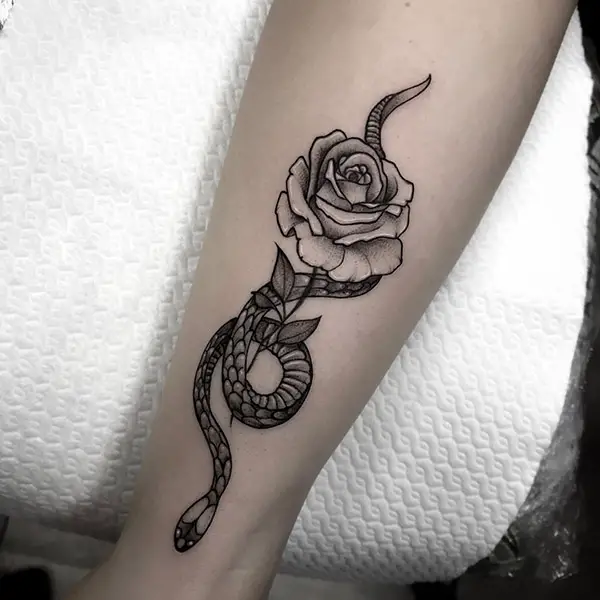 A snake wrapped around a rose symbolizes temptation and blind passion which often leads to corruption. The tattoo reminds you to stay away from such temptations.
[ Recommended: Beautiful Dog Tattoo Ideas ]
4. Snake Wrapped Around a Sword Tattoo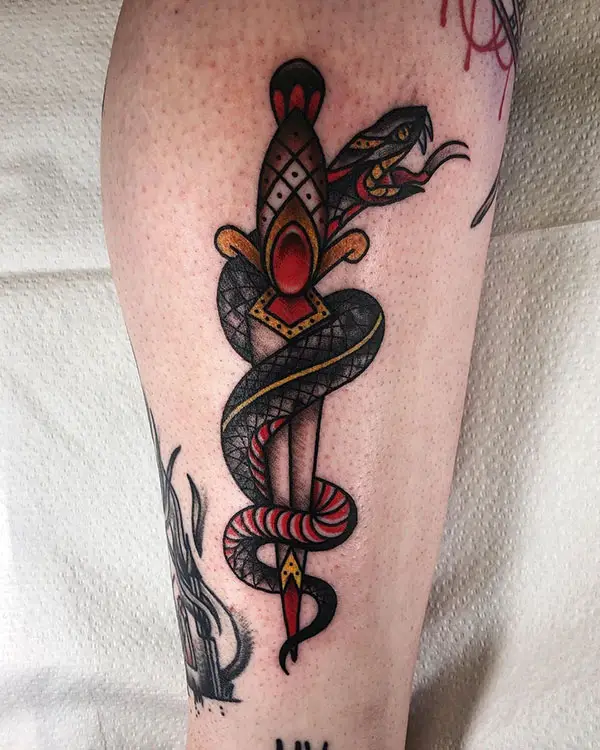 This tattoo symbolizes life, wisdom, and fertility along with courage, strength, protection, and fearlessness. When you need a bold tattoo with deep meaning for your arms, this is a good choice.
5. Mushroom and Snake Tattoo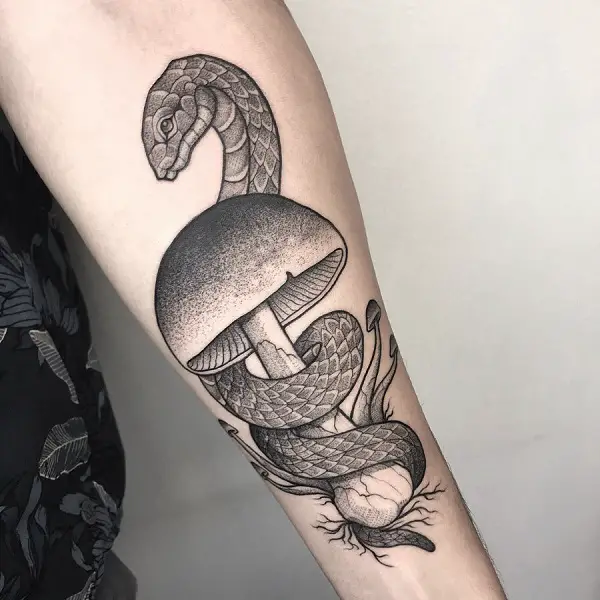 There is no such giant mushroom that a snake can wrap up around it but it's an artists' imagination and the meaning associated with the elements that make it interesting. Mushrooms represent people in your life who are powerful. Snakes represent rebirth and change, so the tattoo reminds you to embrace changes to improve in life.
6. Furious Snake Tattoo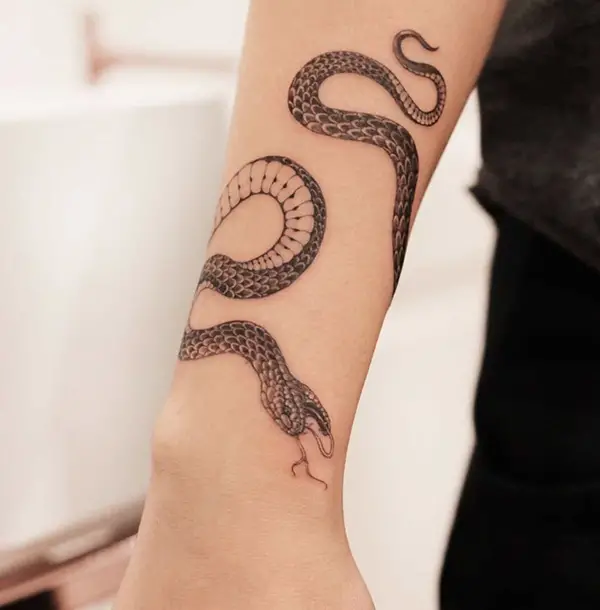 This is a furious snake tattoo with its wide-open mouth and tongue outside. It is a suitable tattoo choice when you want to show people that you can be angry in certain situations too and hence they should be cautious.
7. Rattle Snake Tattoo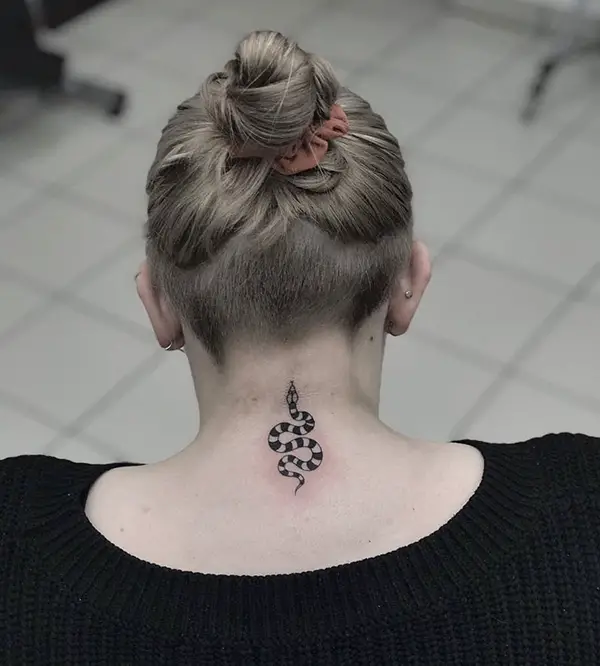 The rattlesnake symbolizes potency and fertility. It can strike at a lightning speed. Getting this tattoo inked on your skin implies your potential to do something quickly.
8. Cartoon Snake Tattoo with a Quote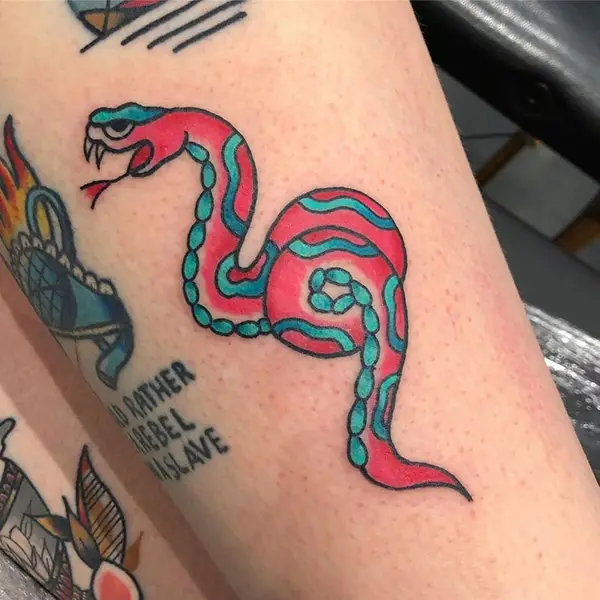 Snake is considered to be a dangerous creature but symbolizes change and rebirth. Getting a motivational quote beside it would remind you to stick to the principle throughout your life.
9. Snake Moving Among Flowers Tattoo Meaning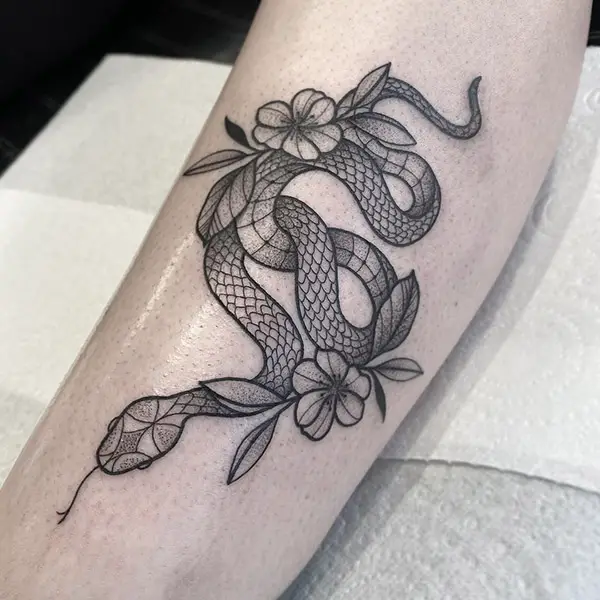 Flowers are always pretty but snakes live in the forest and can even move through them because of which we should be cautious while plucking them. In relation to life, it indicates that not everything which looks appeasing is safe, so we need to deal with them cautiously, especially while dealing for the first time.
10. Blue Snake and Red Rose Tattoo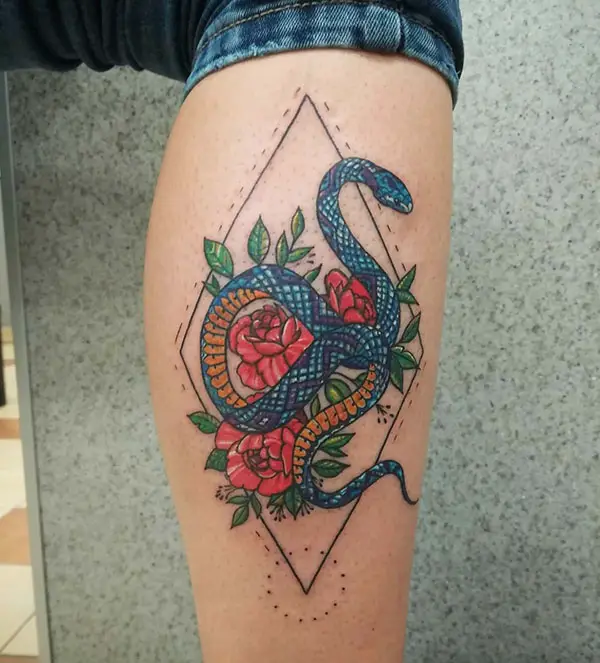 This is a colorful combination that looks amazing on arms, especially when you are in favor of getting a complex tattoo inked.
11. Snake and Orange Rose Tattoo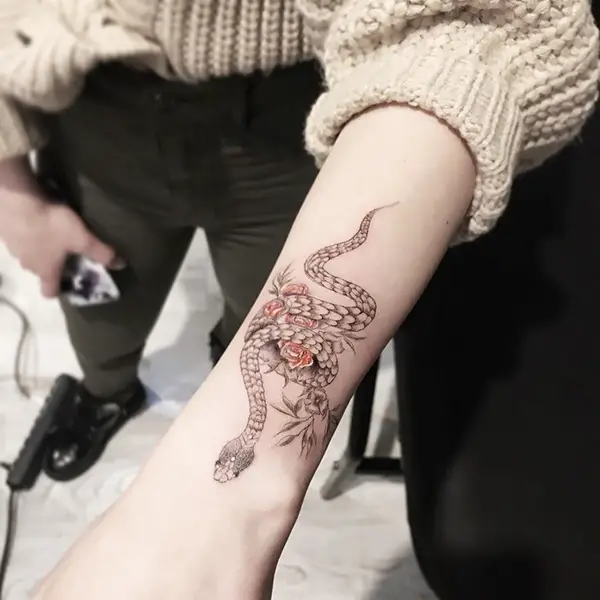 An orange rose symbolizes enthusiasm and the snake around it is a sign of rebirth, change as well as danger. Together it implies that one should embrace new things in life with enthusiasm but at the same time, need to carefully handle the negative situations.
12. Red and Black Snake Tattoo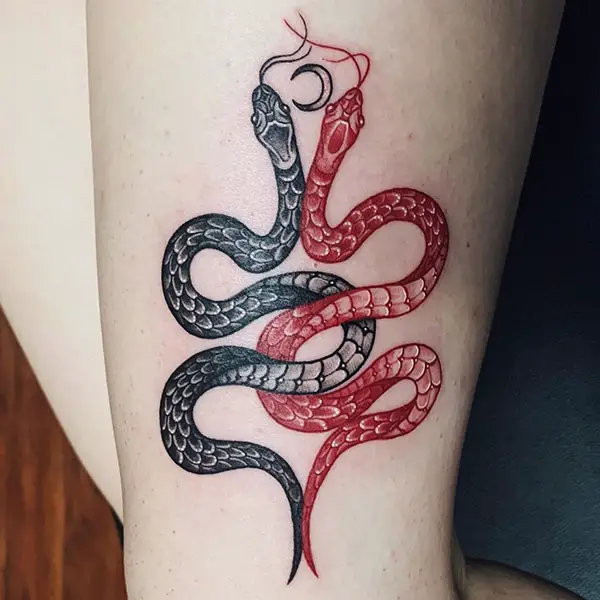 The black snake symbolizes wisdom and dignity whereas red symbolizes strength and protection. The tattoo reminds you to maintain these characteristics in life to efficiently handle any situation.
13. Two-Headed Snake Tattoo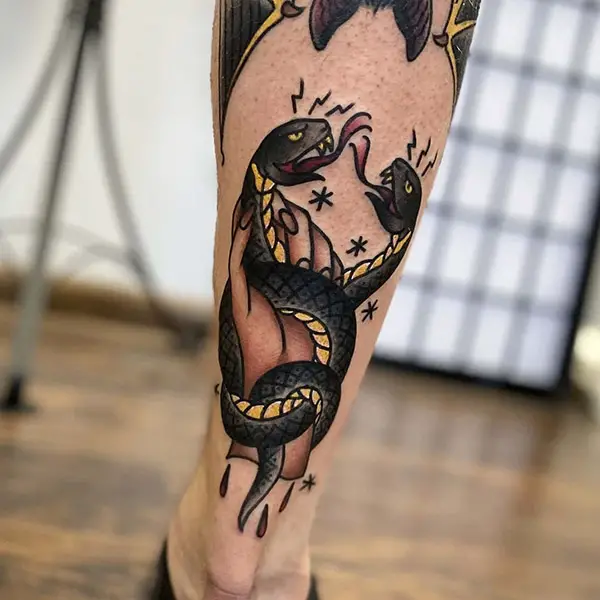 This tattoo symbolizes energy, wisdom, and power. The hand holding them and keeping their heads at a distance implies that no matter how crucial a situation is, like handling snakes, humans have the potential to handle it efficiently.
14. Snake Around a Human Hand Tattoo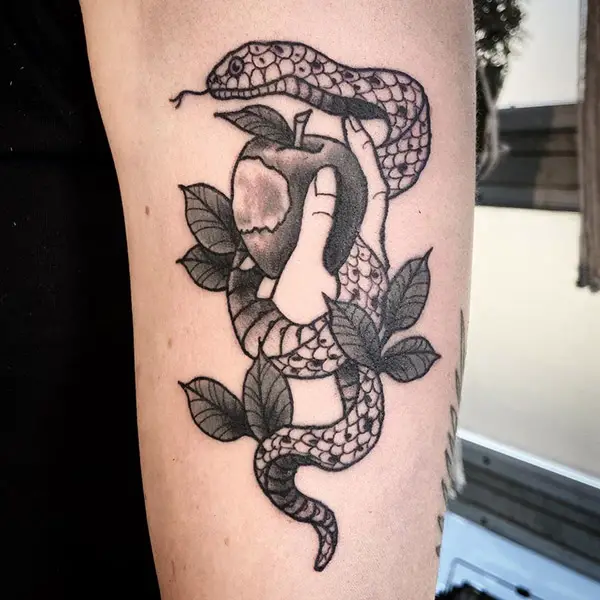 The tattoo shows a human hand holding an apple from a tree. Around it is a snake which denotes that every positive thing in life can have something dangerous hidden in it. So, one needs to overserve well and take the next steps to avoid harming himself.
15. Generic Snake Tattoo in Blue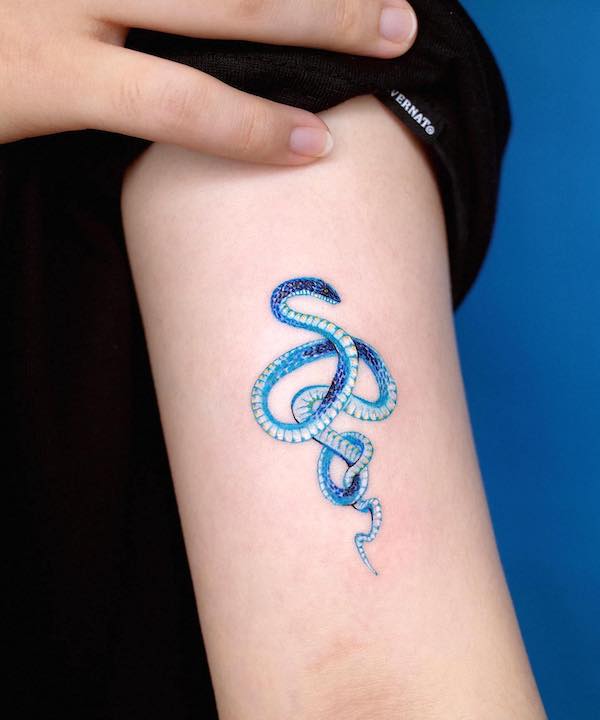 When you want to add a contemporary edge to a snake tattoo, the blue color is something that would definitely work. It can be inked on the arms, symbolizing change and rebirth.
16. Snake with Flower Patterns Tattoo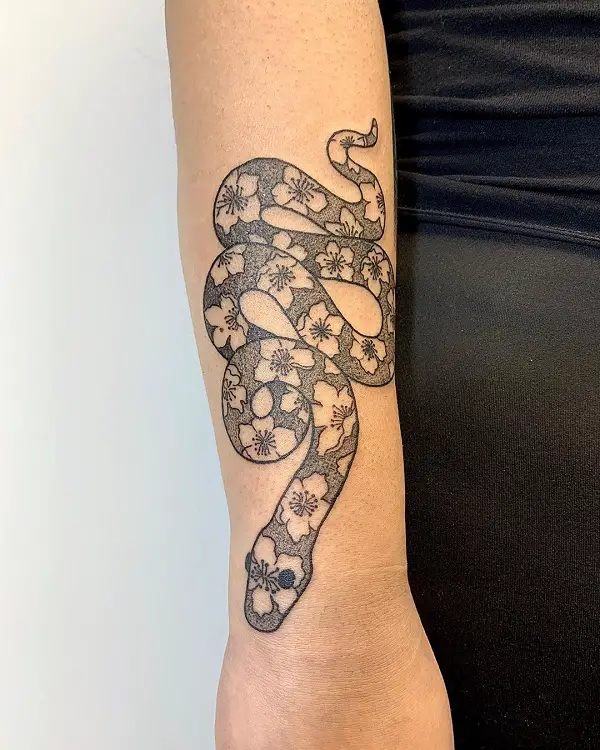 When you want to get a rattlesnake tattoo inked on your skin but don't like the monotonous body patterns, get these flowers inked on its body to create an interesting look. Also, it results in a gentler and positive meaning related to transformation.
17. Ferocious Snake Among Colorful Flowers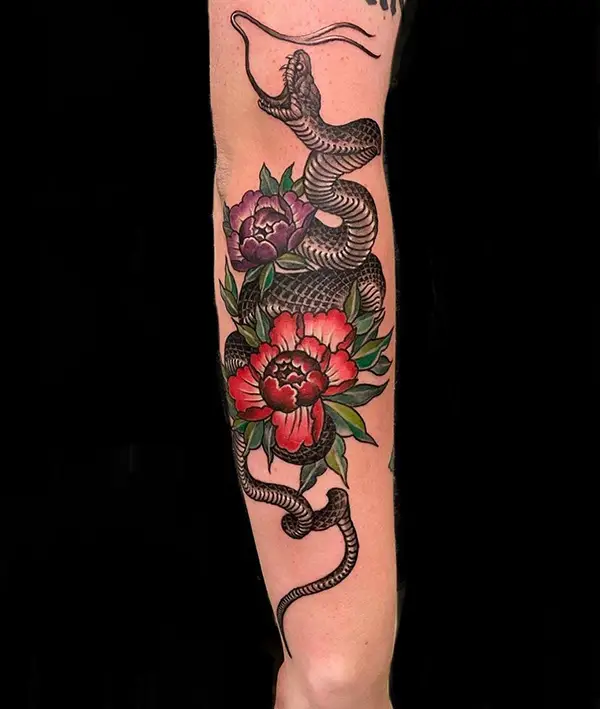 Flowers denote beauty, love, and femininity. But with a snake among the beautiful flowers, it symbolizes that not everything in life which looks adorable is safe. There may be some hidden danger associated with attractive things, hence we need to be careful.
18. Snake Around Eggs Tattoo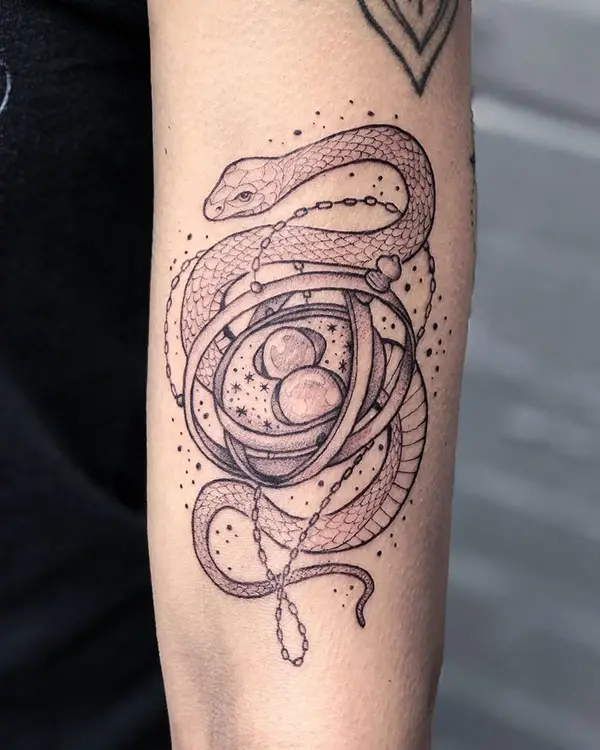 This tattoo shows a snake's failure to engulf the eggs as they are protected by powerful rings and chains. It symbolizes that, in life, if we stick to our values and belief in God, no matter how near a danger approaches us, we would still remain safe.
19. Snake Among Plants Tattoo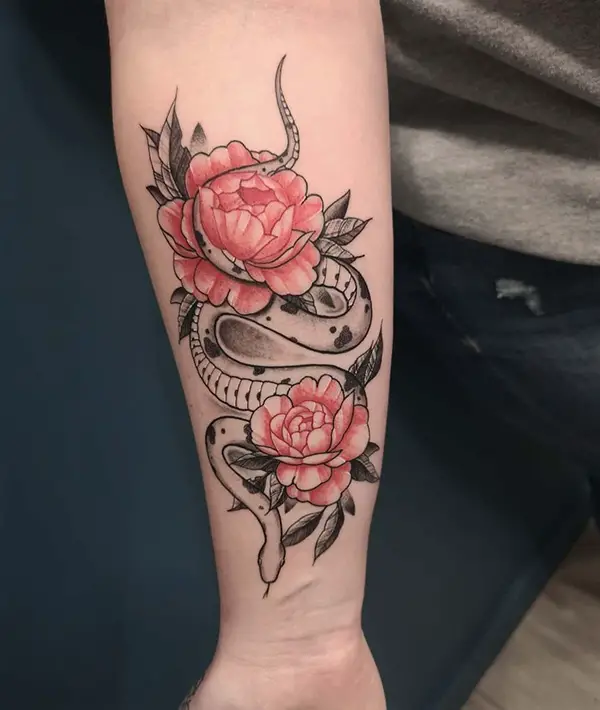 This tattoo shows a natural setting with rose plants and a snake surreptitiously sliding under them. It symbolizes the elements of nature which are quite opposite but have a common factor of self-defense, like the roses have thorns and the snake has its poison. This implies that nature has endowed everyone with the power to secure themselves from adverse situations.
20. Snake and Rose Tattoo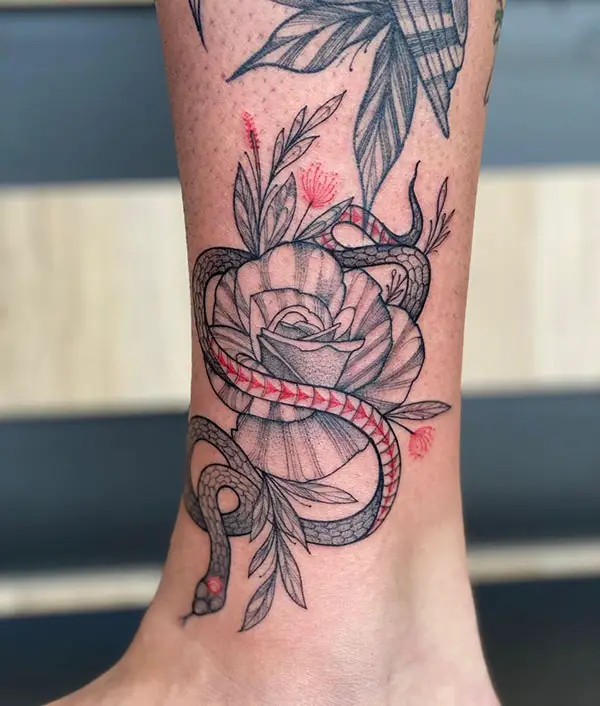 When you don't like too much color in your tattoo but want it to be meaningful, this is a great option to consider. There is a slight red color showing the lower part of the snake and the tiny red florets and the rest are in black. Snake and roses together symbolize temptation, which always leads to a loss in the end, so it reminds you to avoid harmful temptations in life.
21. Beautiful Flowers and Snake Tattoo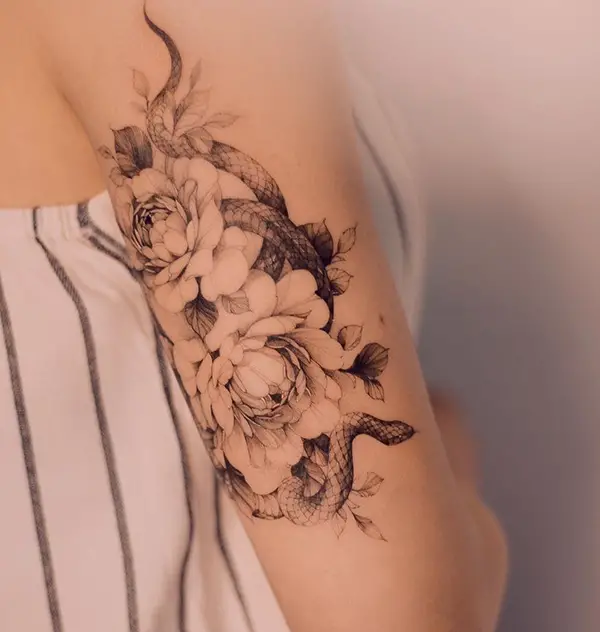 22. Black Ink Snake Tattoo Design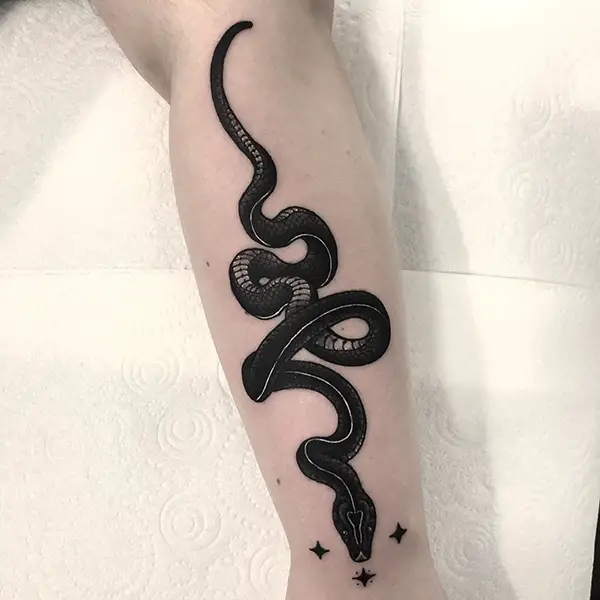 23. Blue Snake Tattoo Design with Leaves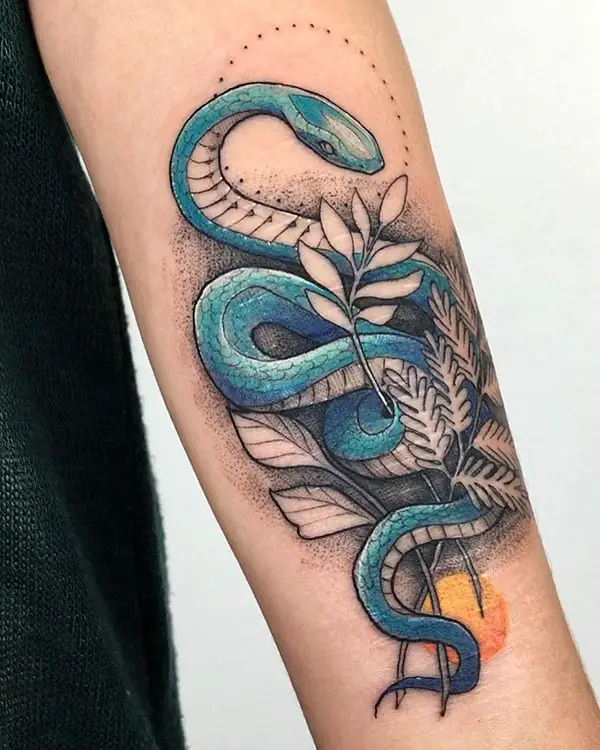 24. Simple Snake Tattoo on Hand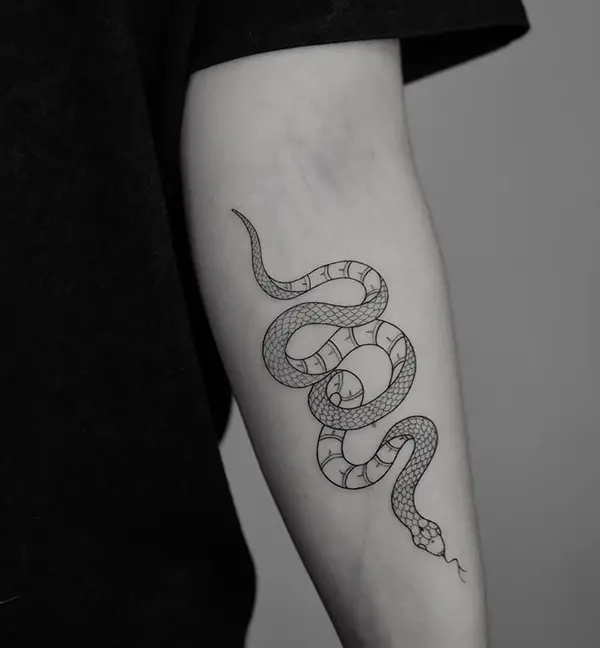 25. Simple Snake Tattoo on Leg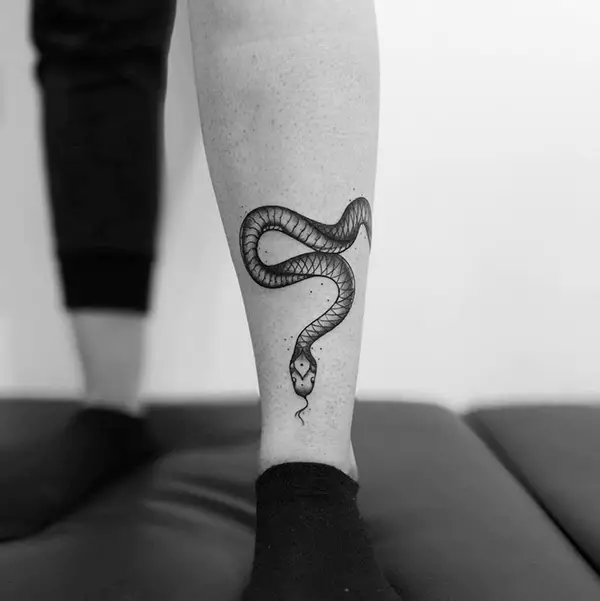 26. Simple Snake Tattoo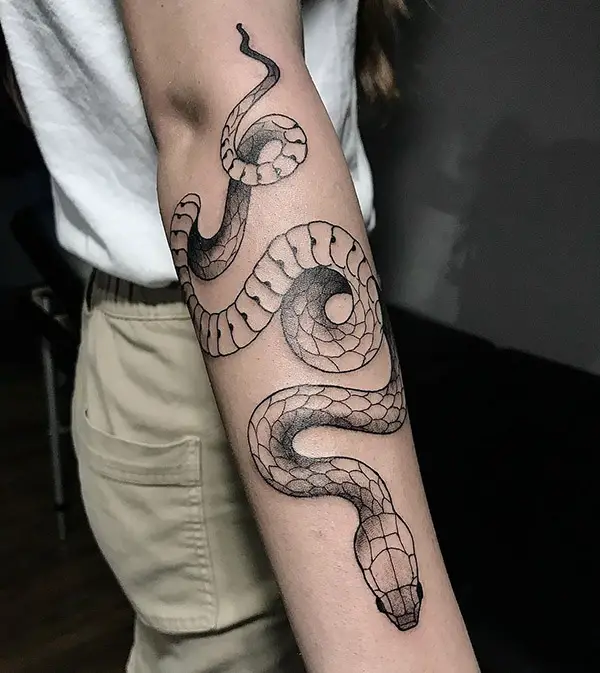 27. Snake Around Flower Tattoo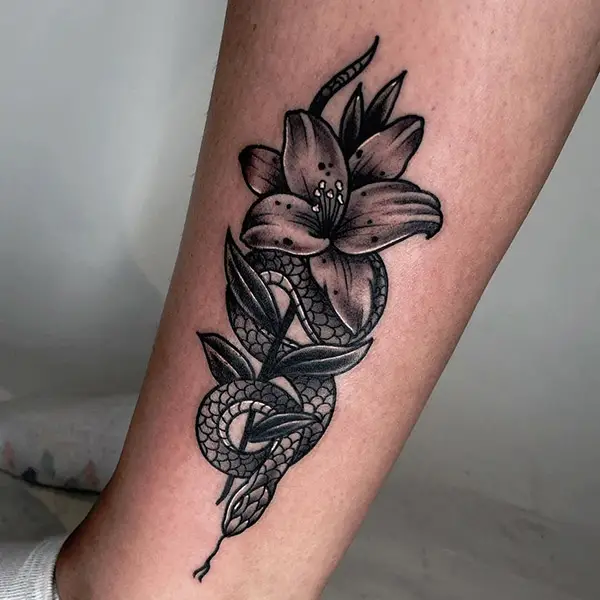 28. Snake Tattoo Design on Leg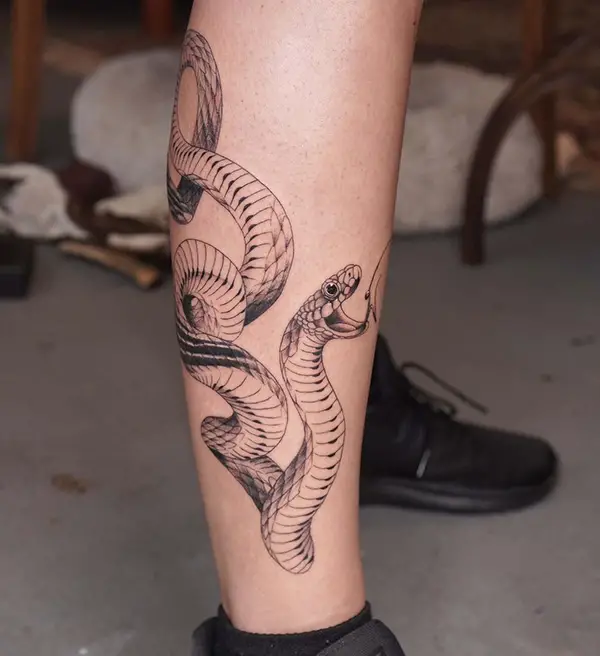 29. Snake Tattoo Design with Flowers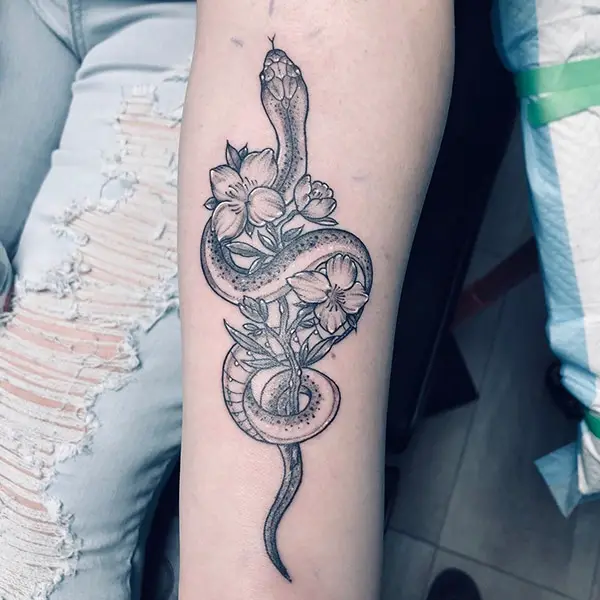 30. Snake Tattoo Design with Leaves and Flowers on Back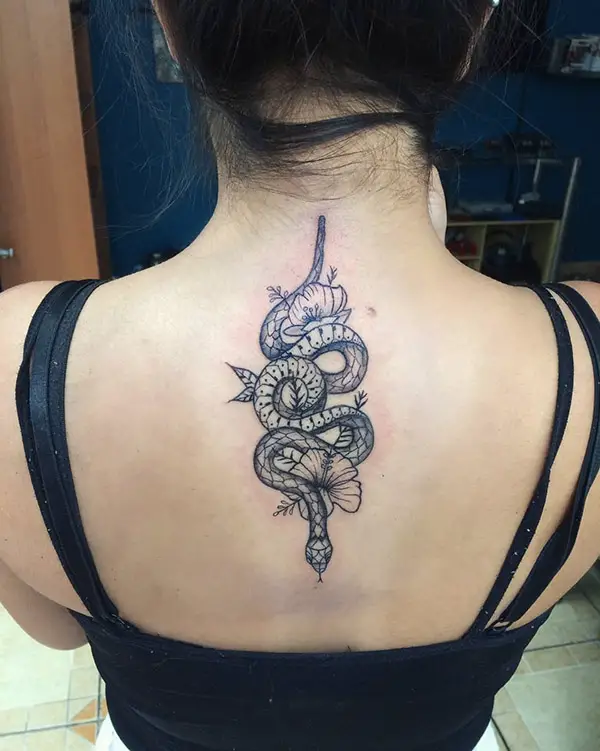 31. Snake Tattoo with Rose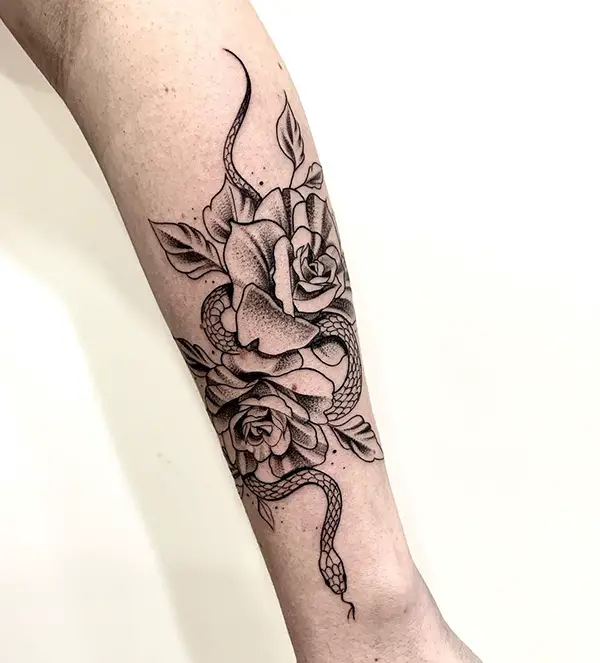 32. Snake Tattoo with Leaves on Neck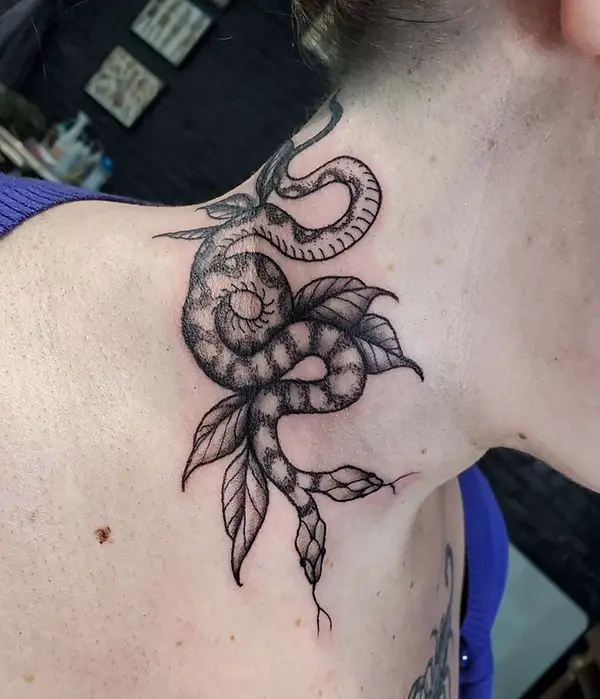 33. Snake Tattoo with Skull and Leaves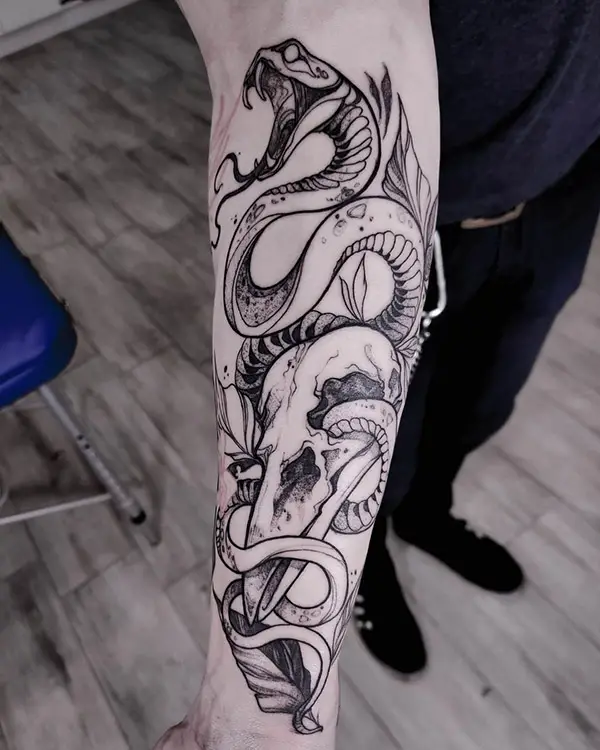 34. Snake with Flowers Tattoo
Recommended Topics: