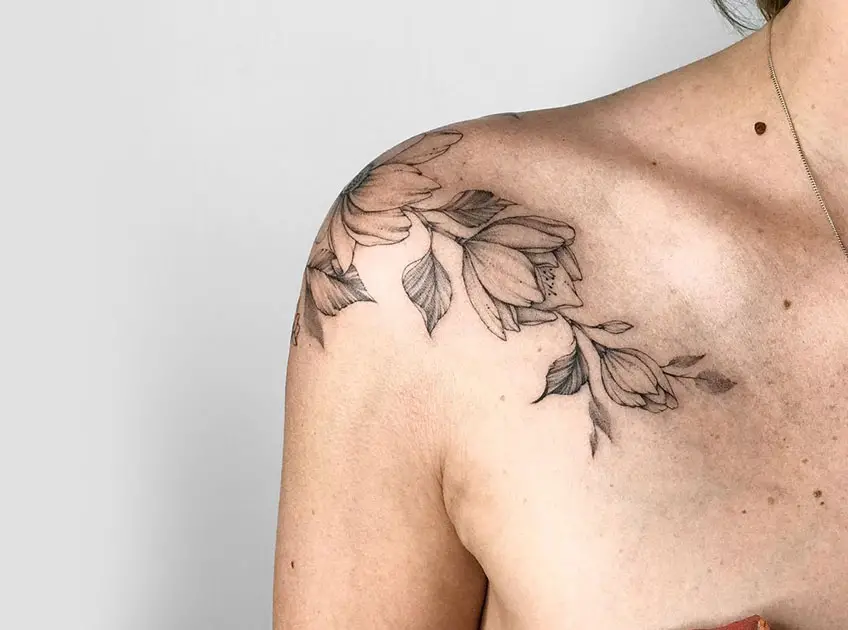 Flowers are beautiful parts of nature that not just make everything beautiful but also cheer up everyone who look at it. It adds a feministic touch and symbolizes beauty and love.
Best Flower Shoulder Tattoo Ideas
1. Peaches and Flower Tattoo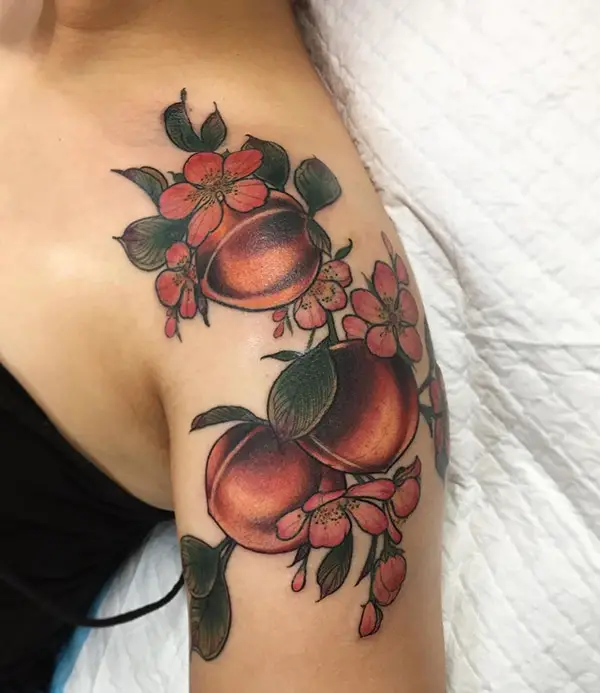 A peach tattoo symbolizes immortality. And the pink flowers in it, imply purity and devotion. This is a great tattoo for you when you love the fruit or are just impressed by its color!
[ Recommended: Beautiful Flower Tattoo Ideas on Arms ]
2. Tiny Florets Tattoo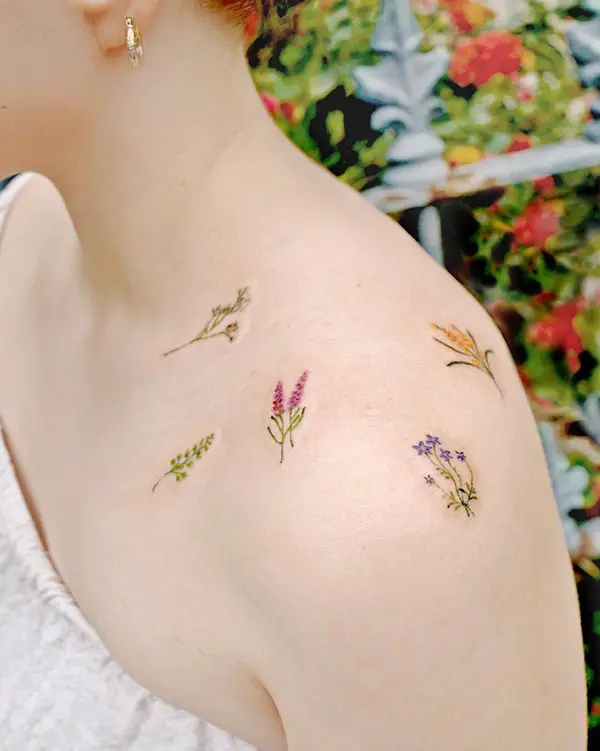 The tattoo shows flowers of pink, lavender, yellow and green color along with leaves. When you love these natural elements and want to add some colors to get an adorable look on your shoulders, this is a great choice.
[ Recommended: Beautiful Dandelion Tattoo Designs ]
3. Extended Floral Tattoo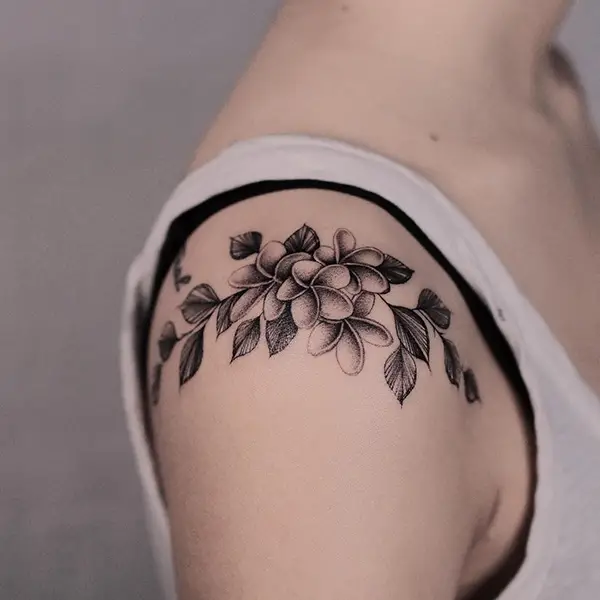 When you love getting a large design inked on your shoulder to show it off while wearing off-shoulder dresses, this is a good choice. The detailed design in black shows your love for the color adds to the elegant look of fair-toned individuals.
[ Recommended: Sunflower Tattoo Designs & Meanings ]
4. Slender Lavender Tattoo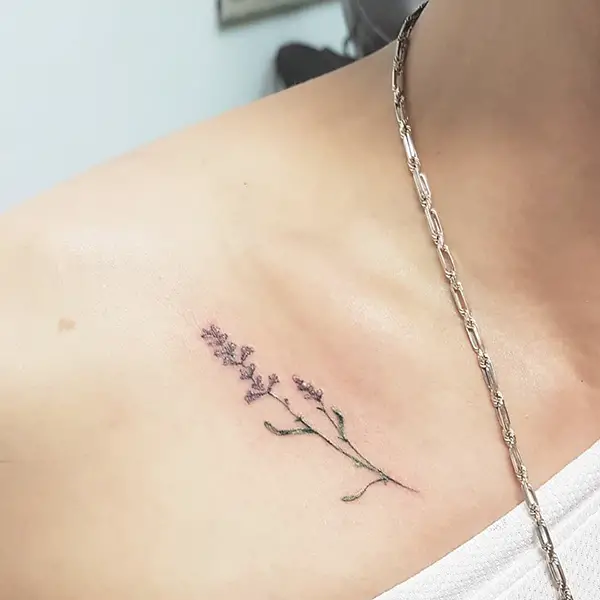 Want a sleek yet elegant tattoo for shoulders? This lavender flower with a gentle purple shade gives a feministic vibe and symbolizes elegance, luxury, and royalty.
5. Vibrant Floral Tattoo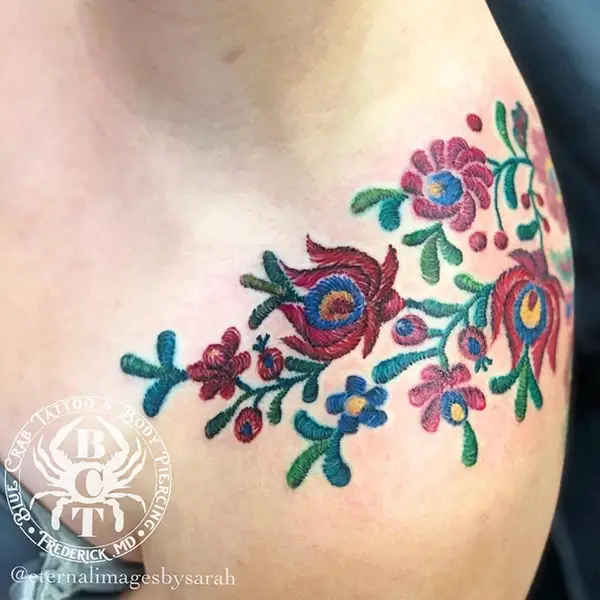 When you don't like putting on jewelry for different occasions but want an ornate look, this is the tattoo for you to try. The rich colors and pattern adores your shoulders and result in an ornate look with various outfits even when you don't wear any neck accessories.
6. Minimal Floral Tattoos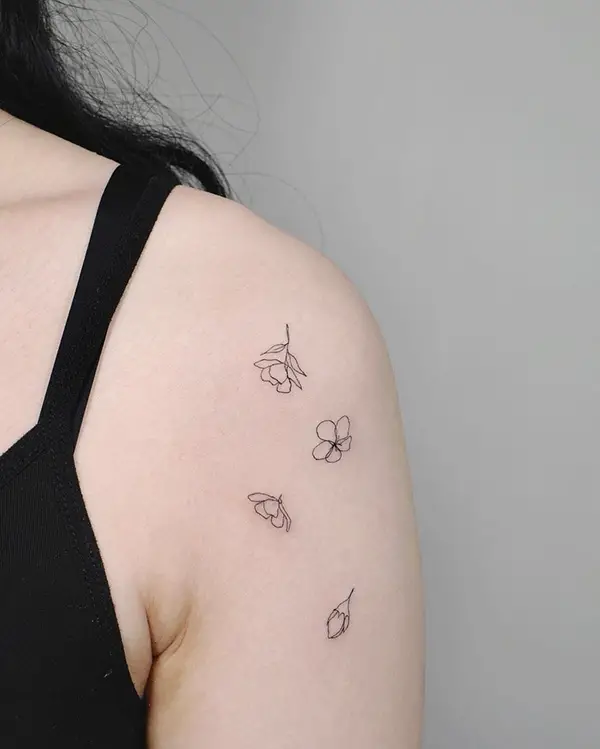 Love flowers but don't want to get complex ones inked on the skin? These are tiny flower tattoos that show your love for these elements of nature and create a simple yet cute look.
7. Flowers with Butterflies Tattoo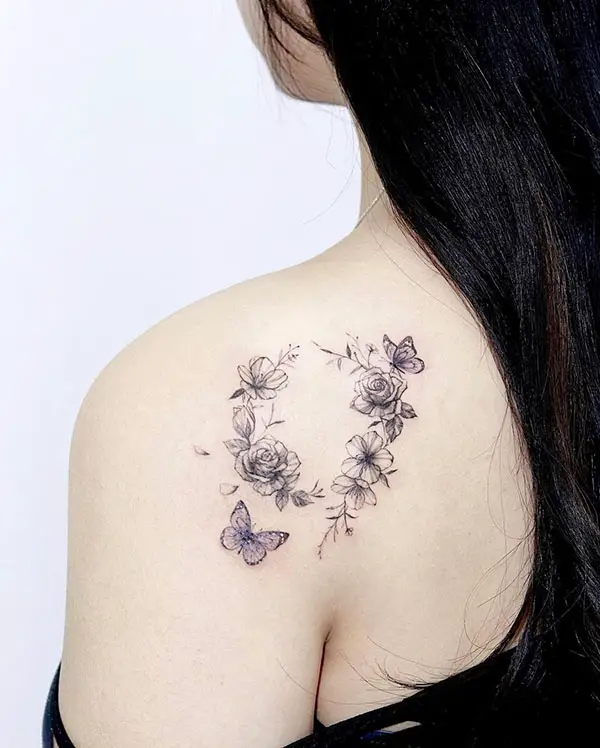 The tattoo doesn't have any color but yet conveys deep meaning. butterflies symbolize transformation in life and the flowers indicate a cheerful setting. This signifies beautiful changes that occur in life when we welcome the transformation with a positive mind.
8. Black Rose Tattoo on Shoulder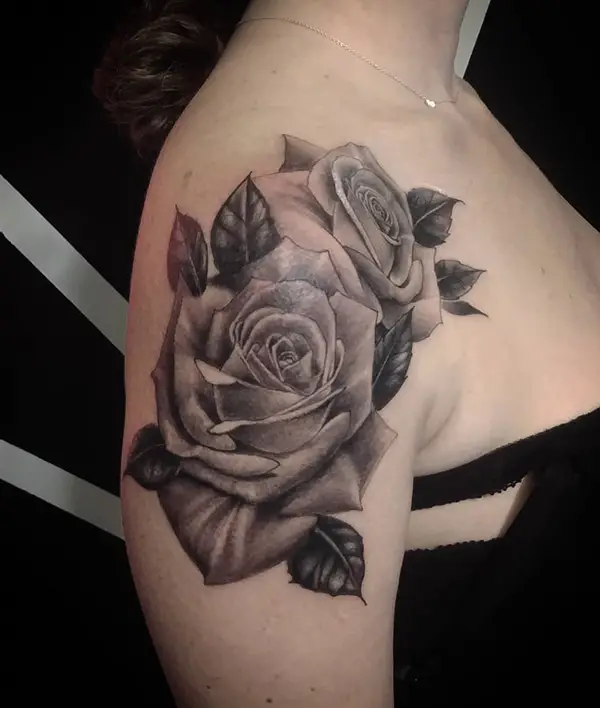 The tattoo shows your deep love for someone and their loss at the same time. Those who love the black color may also get it inked just to show that it is their favorite.
9. Sunflower Tattoo on Shoulder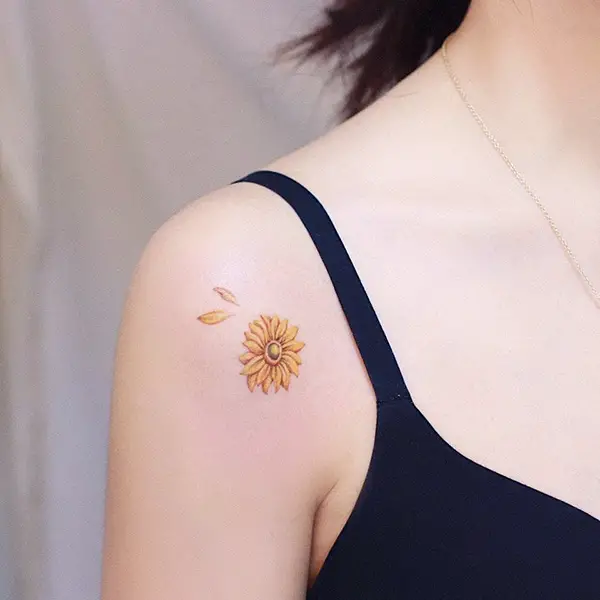 The sunflower tattoo symbolizes a long and happy life with good luck. You can get it inked on your arms or shoulders as a lucky charm to protect you.
10. Extensive Floral Tattoo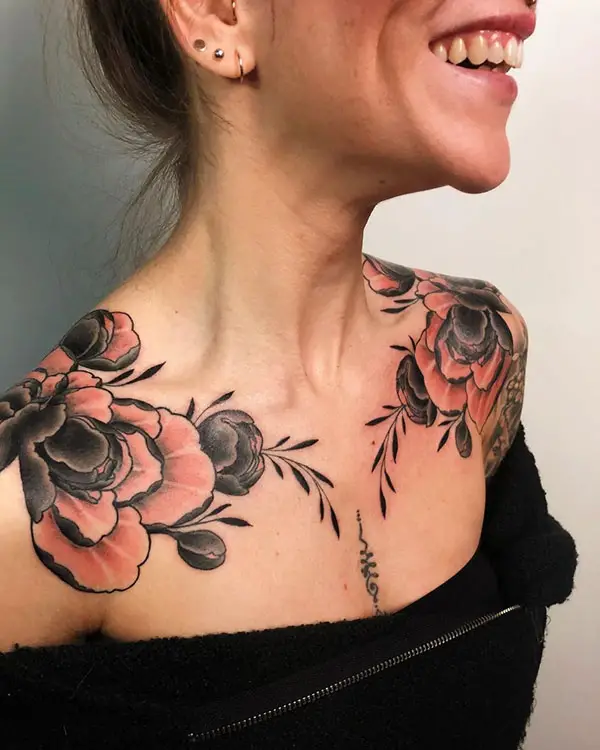 Want to get a large tattoo inked that would extensively cover both shoulders? Then this floral tattoo with black and peach color is a perfect one to add to your glamorous look for any off-shoulder dresses. It eliminates the need of wearing any jewelry to an occasion.
11. Blooming Tulips Tattoo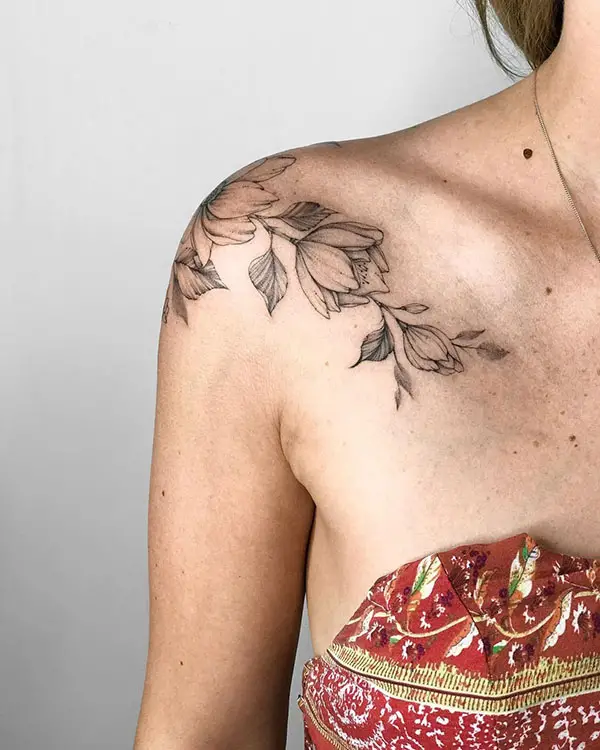 Love tulips but don't want to get them inked in color? These tulip flowers and leaves tattoos in black result in a classy look when inked on shoulders. It symbolizes development in life as the tulips are seen in the budding state to fully grown ones.
12. Delicate Yellow Flowers with Name Tattoo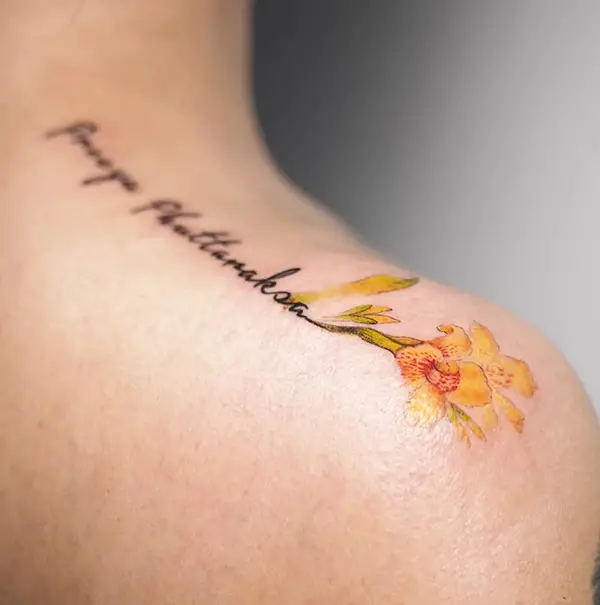 Yellow flowers symbolize friendship and happy new beginnings. If you have a new relationship, you can get the name of your partner inked beside it, to show how much you value the association.
13. Simple Pink Flower Tattoo with Green Leaves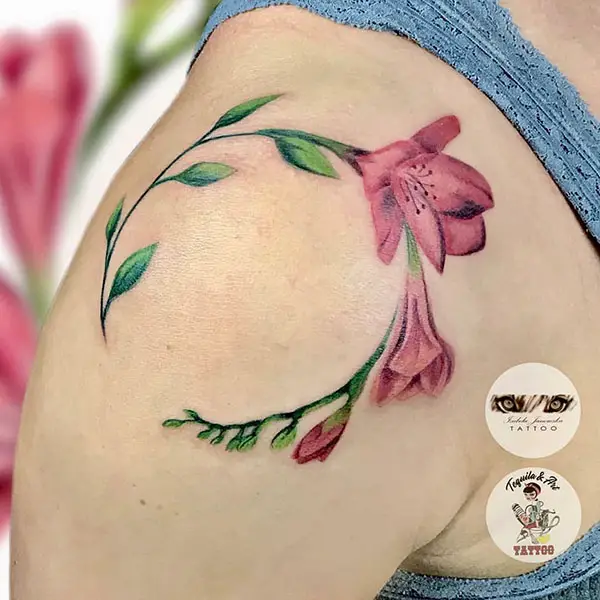 The pink flower symbolizes love, and admiration and adds a feministic touch to the person's look. Along with this, the green leaves form a good contrast and create an adorable look.
14. Flowers Tattoo with Splashes of Pink and Blue Color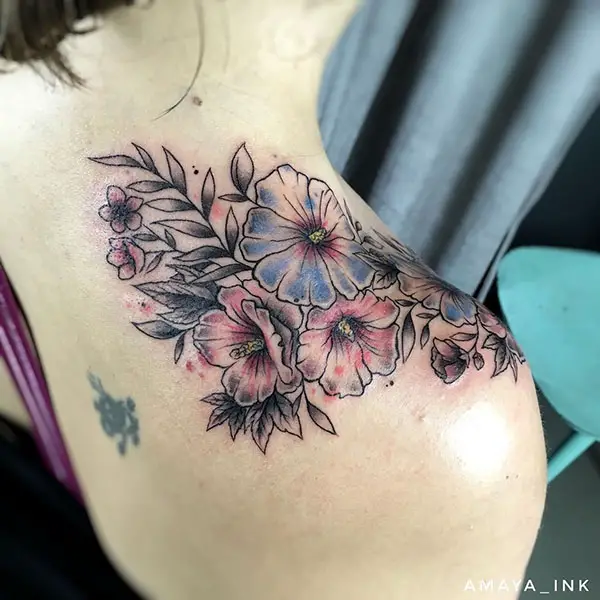 The blue color in the flowers symbolizes gratitude and everlasting love while the pink ones indicate love and admiration. The extensive tattoo can be a way of covering any undesirable mark on the shoulders and making it appear visually appealing.
15. Blooming Rose Tattoo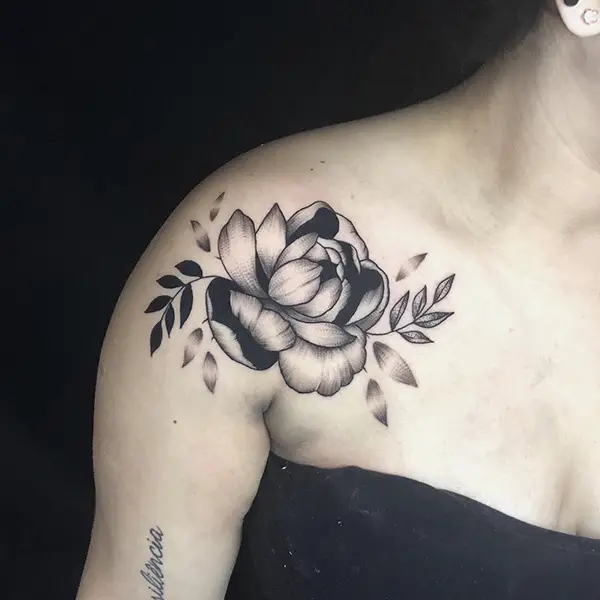 This blooming rose tattoo symbolizes progress in life with time This symbolizes embracing changes to grow and achieve new milestones by passionately pursuing your dreams.
16. Pink Flower Tattoo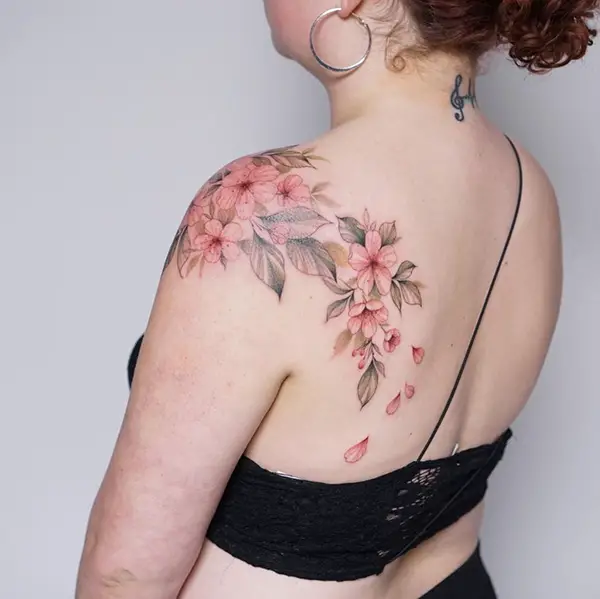 The pink flowers symbolize spiritual enlightenment, purity, and devotion. It shows that peace in life is more important for you than anything else. The subtle color of the green leaves, makes your shoulders look fashionable.
17. Colorful Flowers and Butterflies Tattoo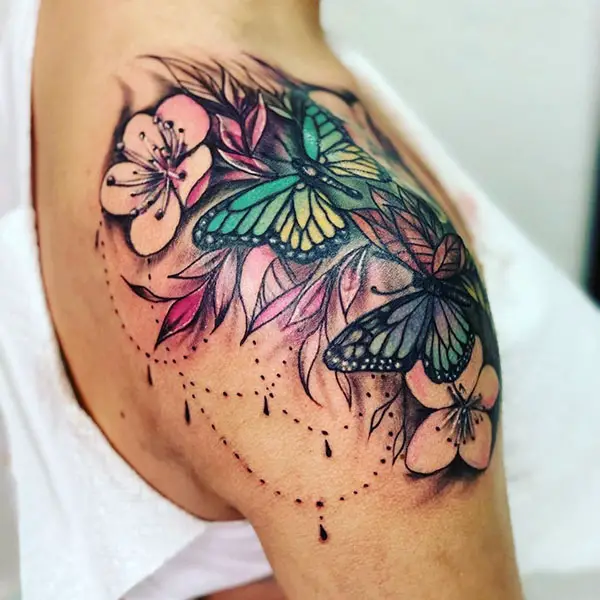 When you want to add a rich and vibrant look to your shoulders with a detailed tattoo, this is a great choice. It has pink flowers and blue butterflies which create a contract, resulting in an eye-catching look. It creates a cheerful vibe, symbolizing you embrace changes easily for progressing in life.
18. Pink Rose Tattoo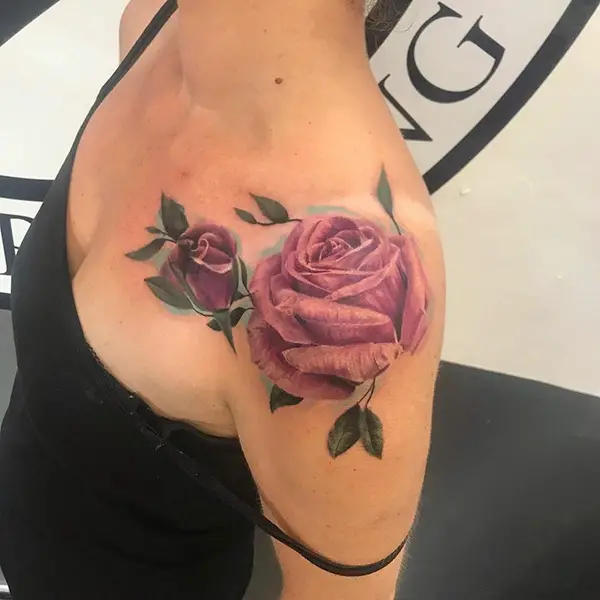 Pink roses represent the innocence or remembrance of your beloved one. It has thorns and leaves attached to it, which implies that appearances can be deceptive, and hence we should trust others carefully.
19. Subtle-Colored Flowers Tattoo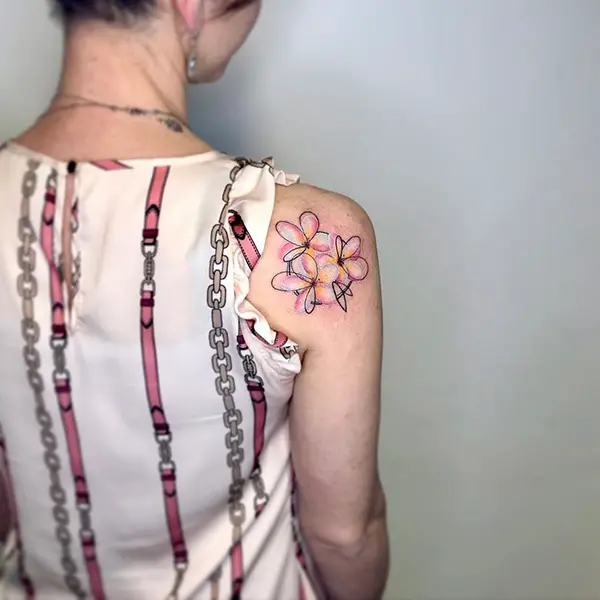 Need something colorful, yet elegant enough to enhance the appearance of your shoulders? This is the perfect depiction of flower outlines with subtle colors that would look great with any outfit.
20. Hummingbird Near Flowers Tattoo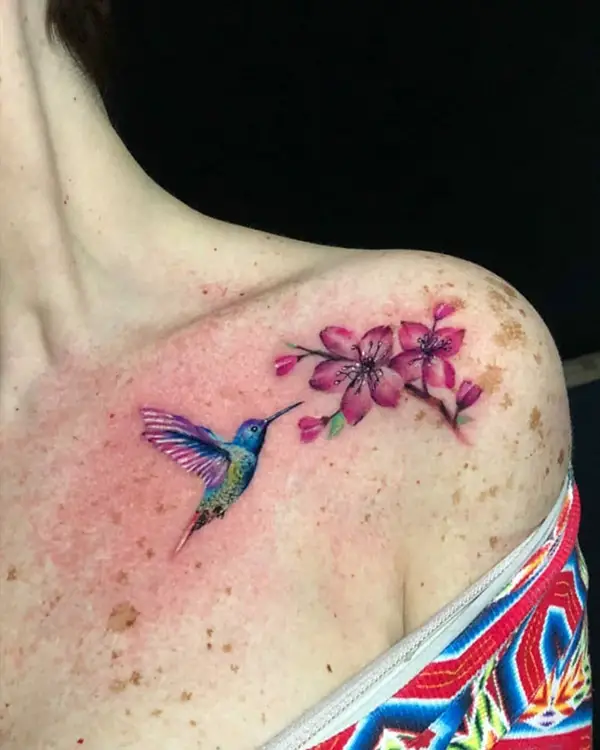 A hummingbird is a sign of resilience and kindness. It also symbolizes the hardworking nature of an individual just like the bird has to hover over numerous flowers to collect nectar.
21. Beautiful Flower and Leaves Tattoo on Shoulder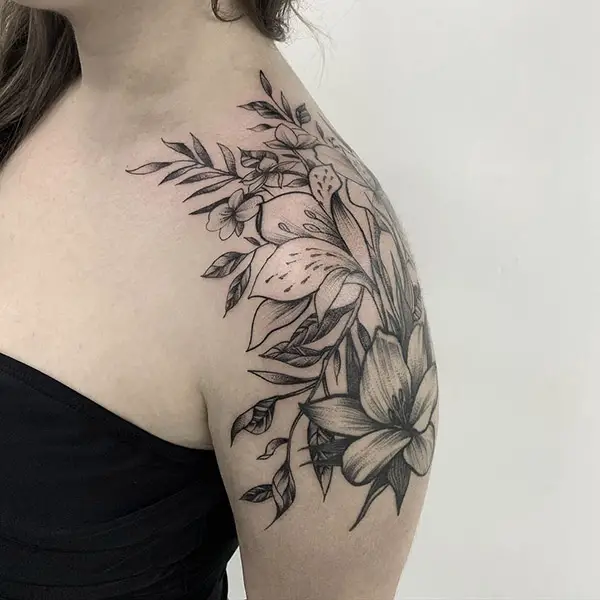 22. Beautiful Flower Design on Shoulder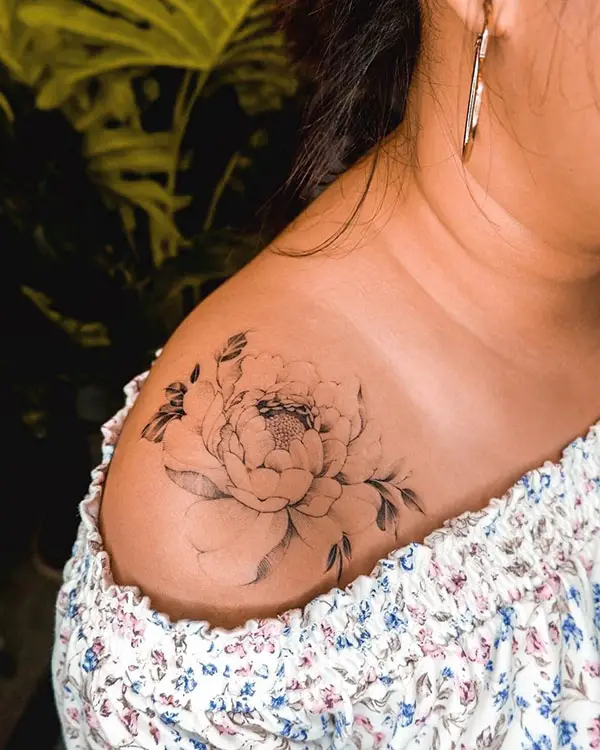 23. Beautiful Flower Tattoo on Shoulder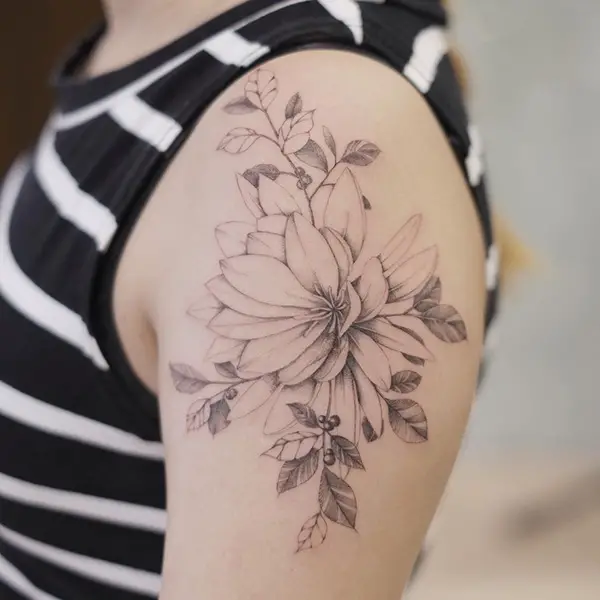 24. Blooming Flower Tattoo on Shoulder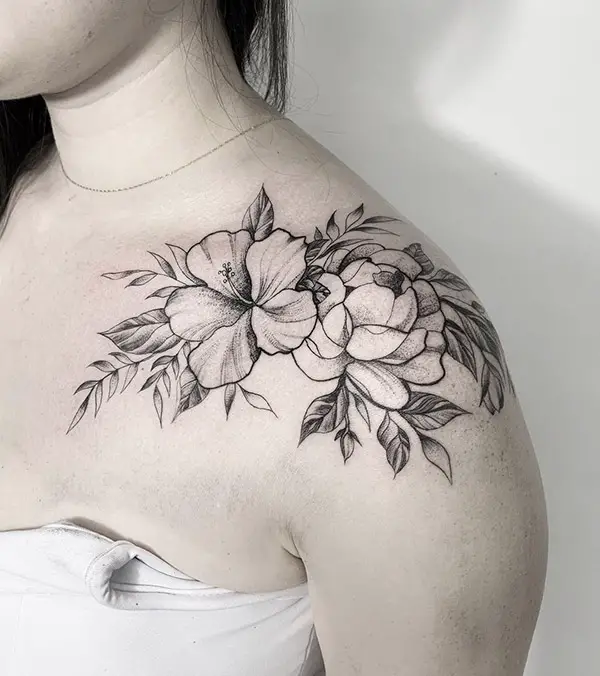 25. Flower in Triangle Tattoo Design
26. Flower Tattoo Design on Shoulder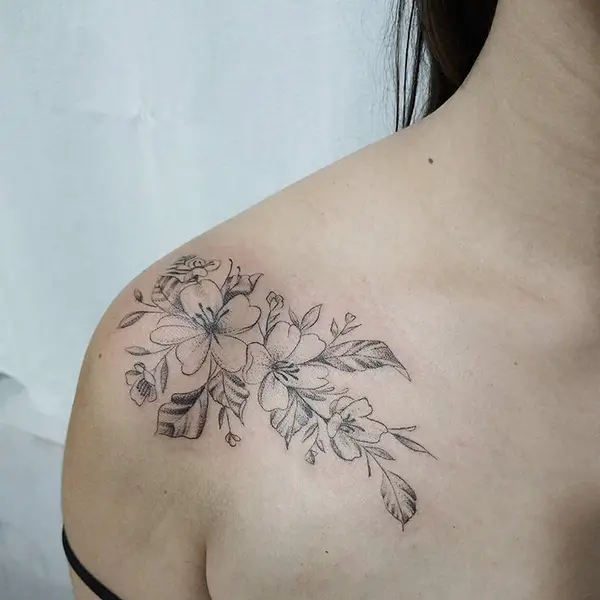 27. Flower Tattoo With Shading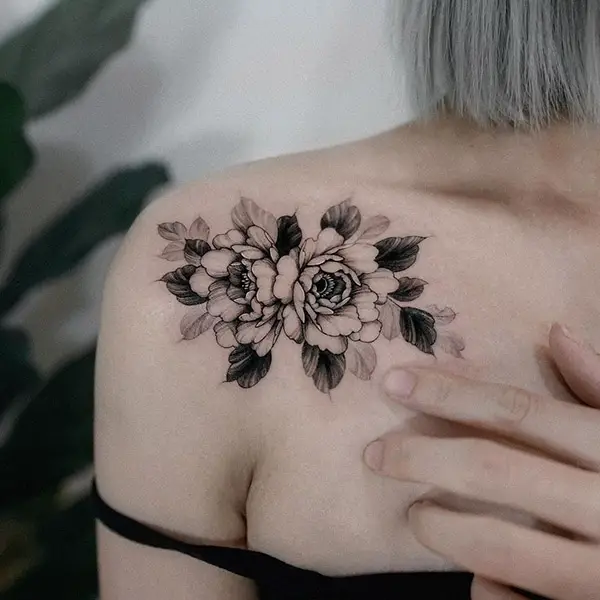 28. Orchids Flower Tattoo Design on Shoulder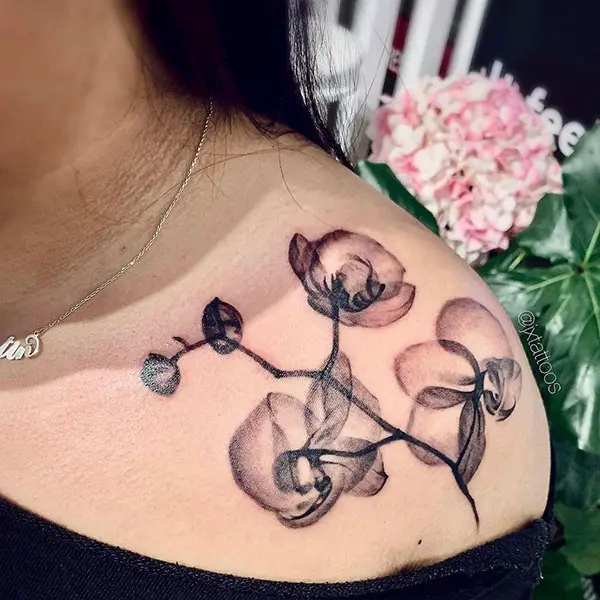 29. Pink Flower Tattoo Design on Shoulder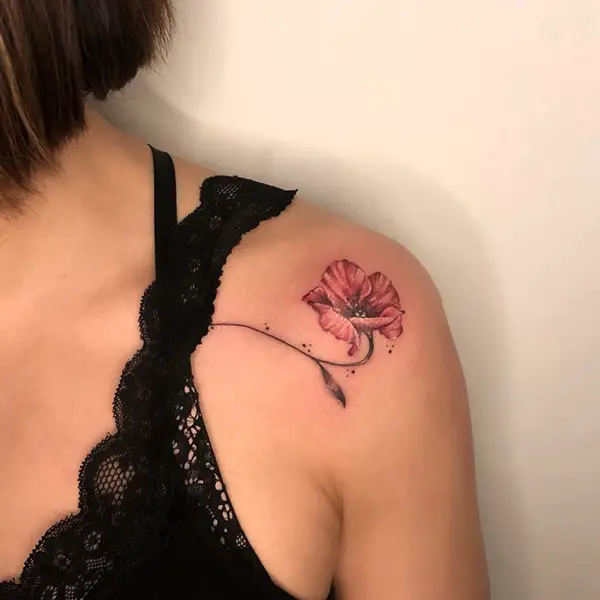 30. Rose and Flower Tattoo Design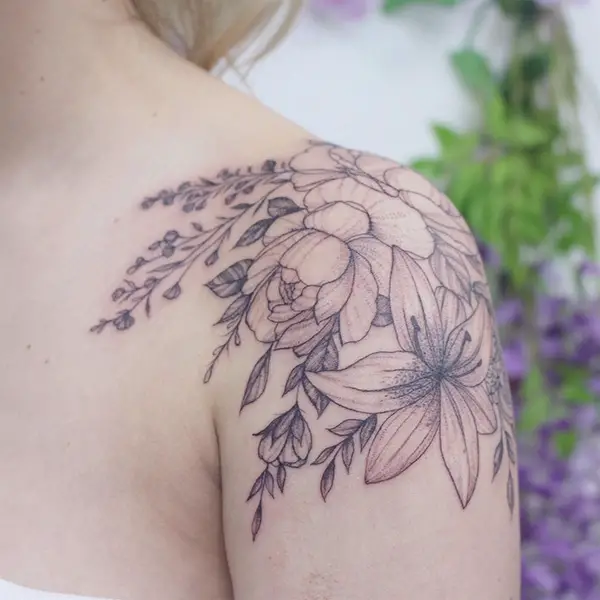 31. Rose Tattoo Design on Shoulder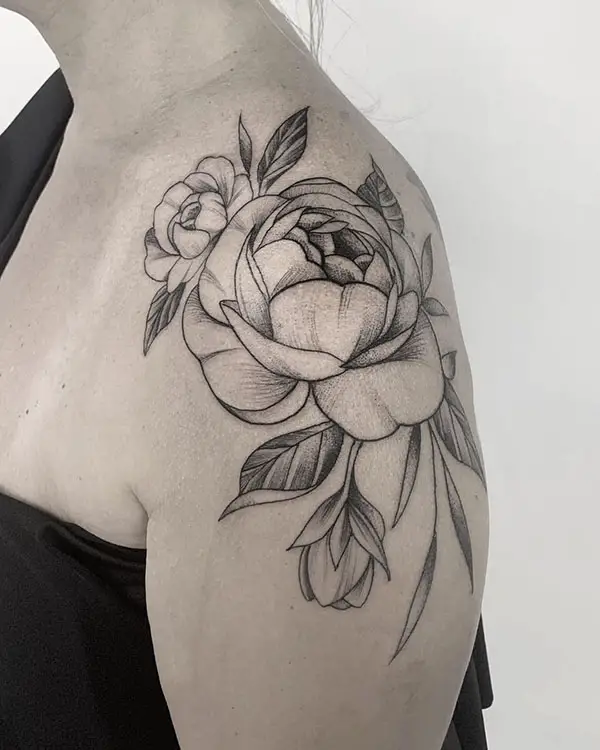 32. Small Flower with Leaves Tattoo Design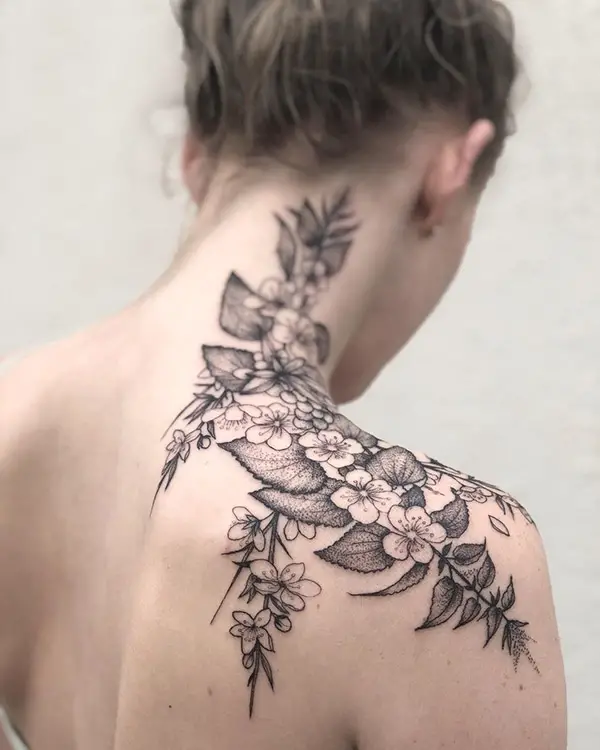 33. Snowdrop Flower Tattoo Design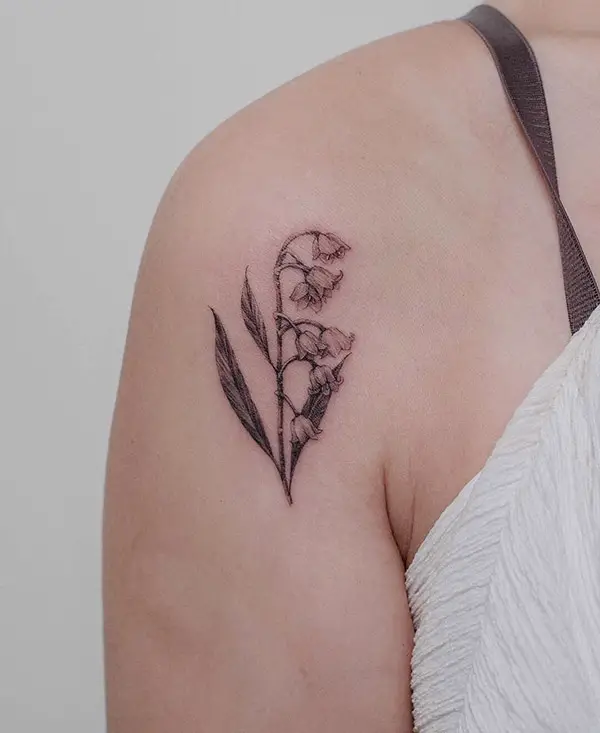 Recommended Topics: