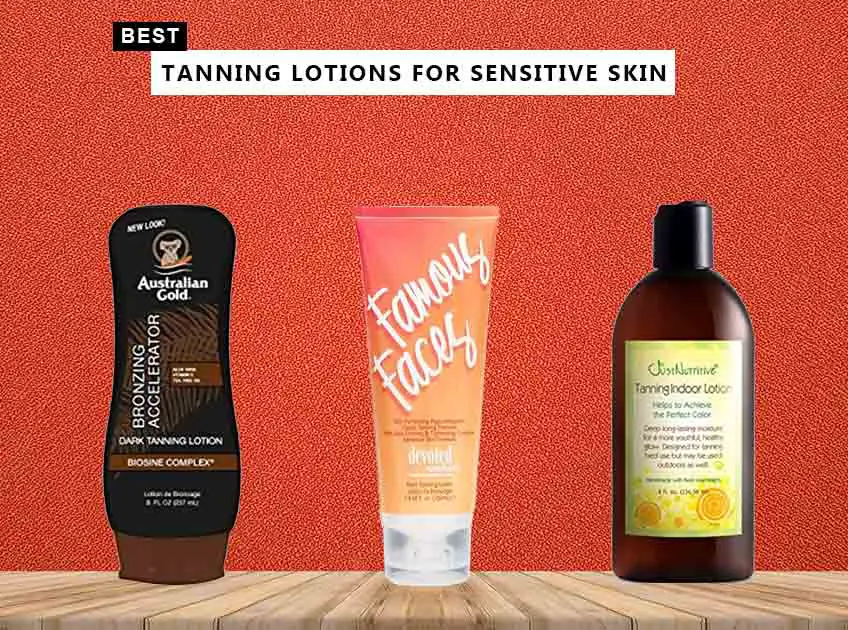 People with sensitive skin should be very choosy about their skincare products. Since sensitive skin is prone to irritation, inflammation, breakouts, and acne, it is essential to use only those products, especially for sensitive skin.
Picking the right tanning lotion is itself a tricky task, and when it comes to picking a tanning lotion for sensitive skin, things get overwhelming.
Everyone deserves a gorgeous sun-kissed look without worrying about the product reacting to the skin. Luckily, some brands offer tanning lotions for sensitive skin. These tanning lotions consist of ingredients that are gentle on the skin and provide nourishment too.
A good tanning lotion for sensitive skin will be one that doesn't contain any harsh chemicals. There should be only natural ingredients, preferably organic ones that are safe for sensitive skin. At the same time, they should protect the skin from harmful UV rays.
Tanning Lotions
Besides, here are a few features that you should ponder upon while buying tanning lotion for sensitive skin-
It Should Have Nourishing Ingredients- UV rays and self-tanners harm the skin. Tanning makes skin dry and prone to other skin damage. If your tanning lotion has ingredients like Vitamin E and shea butter, it's a keeper.
It Should Have Natural Ingredients-Look for ingredients like aloe vera, shea butter, fruit extracts, argan oil, coconut oil- basically everything that suits your skin and replenishes the damage done to it by UV rays or DHA, the active ingredient of self-tanners.
It Should Give The Desired Tint/color- Check if the tanning lotion consists of bronzer that provides a slight tint to the skin. It gives the sun-kissed glow instantly. Even though how dark your tan develops will depend upon how long you sit under the sun, most tanning lotions have a bronzer included in the formula.
It Should Give Spf Protection- When you want to tan, too much SPF is not desired. However, the tanning lotion should still protect the skin from harmful UV rays by having less SPF, around 10-15.
Is It For Outdoor Or Indoor Tanning- You need to decide whether you will bask under the sun or lie in the tanning bed to develop a tan? It is because, in both these cases, the ingredients of tanning lotion differ, and you can't use outdoor tanning lotions for indoor tanning and vice-versa.
Now that you know what particulars need heed check out some of the best tanning lotions we recommend for sensitive skin.
5 Best Tanning Lotions For Sensitive Skin
1. Hawaiian Tropic SPF 4 Sunscreen
It is an SPF 4 sunscreen tanning lotion suitable for sensitive skin. With island-inspired botanicals, it has become the best tanning lotion for sensitive skin. Light on the skin, this product helps to develop a gorgeous tan.
Absorbs quickly into the skin, giving deep nourishment
Extra nourishment helps to develop a good tan
Infused with cocoa butter and shea butter
Keeps skin soft and luminous
Consists of skin-loving ingredients like mango, papaya, guava, and passion fruit.
The formula is lightweight and dermatologist tested
Stays gentle and smooth on the skin
2. Just Nutritive Indoor Tanning Lotion
Infused with skin-loving ingredients, the tanning lotion from Just Nutritive is something you can't miss. It is suitable for indoor tanning, especially when heading to a tanning bed session.
Provides the best nourishment possible to the skin, which is best for developing a good tan
Absorbs quickly, which helps you develop a deep tan in a shorter time.
Contains exotic oils, shea butter, and other skin-friendly ingredients to keep skin soft and supple.
It is completely free from chemical fragrances, artificial colors, and parabens.
Also, contain aloe vera and coffee extracts to boost skin health.
3. Devoted Creations Famous Faces Tanning Lotion
Hypoallergenic, anti-aging, and skin-firming, this tanning lotion works best for sensitive skin. It works best for face tanning and ensures giving a gorgeous sun-kissed look.
It is a hypoallergenic lotion formulated specifically for use on the face.
It protects the sensitive skin of the face while developing a stunning tan.
There are anti-aging and skin-firming benefits too.
Blended with multiple advanced tanning technologies to help achieve a bronzed tan.
Gentle, non-irritating, and works well with sensitive skin types.
4. Australian Gold Dark Tanning Accelerator Lotion
Infused with natural ingredients, this instant bronzer from Australian Gold is everything a person with sensitive skin needs. It helps you achieve a darker, deeper tan without fearing how the skin will react to the chemicals of tanner.
Consists of an instant bronzer that intensifies your glow
Gives an instant tan while you wait for the real one to develop
Suitable for both indoor and outdoor tanning
Contain natural ingredients like Kakadu plum extract, tea tree oil, and vitamin C
Nourishes the skin and fight-off free radicals
Biosine complex helps tan last for longer
Consists of a delectable Cocoa Dreams fragrance with notes of orange, vanilla, and coconut!
5. Ed Hardy Coconut Kisses Golden Tanning Lotion
The skin hydrating formula of Ed Hardy Coconut Kisses Golden Tanning Solution helps develop an ultra-dark tan.
Features skin hydrating formula that suits dry and sensitive skin
Infused with ingredients like coconut milk, coconut oil, and cocoa butter
Suitable for skin with tattoos
Stimulates and increases melanin formulation
Helps tan stays longer
It has a Coconut Paradise fragrance, with delightful scents of vanilla.
You Might Also Like: