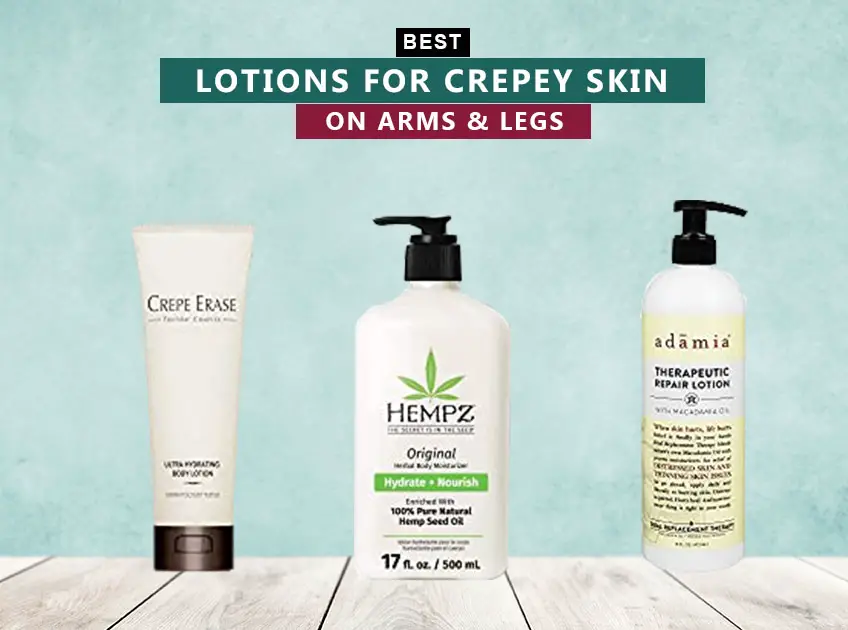 As the skin ages, collagen production reduces, creating fine lines, wrinkles, and sagging skin. Due to lack of elasticity, the skin loses its firmness, and as your cross certain age, the skin starts looking like a crepe.
All this leads to crepey skin, wherein the skin loses all its tightness. Even though aging is irreversible and making the skin youthful like it was in the 20s is not possible, a few skincare products can help manage the symptoms of crepey skin to some extent.
If you have crepey skin on your arms and legs, it's high time you should shift from normal moisturizers and lotions to those made specifically for such skin. Check out the products we have listed that provide intense hydration to the skin and protect it from photoaging and other harmful effects of the sun while stimulating collagen production to maintain the skin's elasticity
7 Best Lotions For Crepey Skin On Arms And Legs
1. All-In-One Solution For Dryness: Hempz Original Herbal Body Moisturizer
Enriched with omega-6 and omega-3 fatty acids to manage crepey skin
Contains shea butter to provide excellent hydration to the skin and protect it from sun damage
Delivers Vitamins A, C, and E to the skin, acts as a shield, and protects the skin from damage-causing oxidants
Suitable for drying winter season and for flaky skin issues
It treats atopic dermatitis and prevents skin damage
The refreshing fragrance makes it even more appealing
What We Don't Like: It may trigger an allergic reaction to sensitive skin.
[ Read: 7 Best Sunscreens For Sensitive Skin ]
2. Clinically Proven Formula: Adamia Therapeutic Repair Lotion
Infused with macadamia nut oil and omega-7 fatty acid
It reduces the appearance of crepey skin, fine lines, and wrinkles, giving smooth and soft textured skin
The non-greasy formula makes it suitable for oily skin
Free of paraben and other added artificial fragrances
It is clinically proven, and dermatologist approved
Also, it is hypoallergenic and suitable for sensitive skin
What We Don't Like: It is pricey.
3. Repairs and Replenishes: Alpha Skin Care Renewal Body Lotion
It has anti-aging benefits that are noticeable after only a few uses
The infusion of 12% glycolic AHA helps boost collagen and reduce fine lines and wrinkles on arms and legs
It also helps maintain the pH level of the skin
Infused with vitamins and nutrients that encourage healthy and radiant-looking skin from within
Thick consistency that spreads and absorbs easily by the skin
What We Don't Like: Due to its thick consistency, it may feel slightly sticky.
[ Read: How to Get Rid of Wrinkles Naturally at Home ]
4. Effective and Affordable: gold bond ultimate strength & resilience skin therapy lotion
It consists of a rich blend of seven plumping moisturizers
Also contains three vitamins along with vital proteins and lipids
All the ingredients help replenish the moisture in the skin, making it soft and supple
It offers long-lasting, approximately 24-hour moisturization
It is dermatologist-tested, hypoallergenic, and non-comedogenic
The skin-loving ingredients help restore skin elasticity and treat irritation, inflammation, and dehydration.
What We Don't Like: It is not suitable for oily skin.
5. Skin Firming Formula: Advanced Clinicals Retinol Advanced Firming Cream And Collagen Skin Rescue Lotion
It helps firm and tighten skin with its collagen-rich formula.
Addresses multiple issues and combats stretch marks, loose skin, cellulite, spider veins scars, and crepey skin.
The combination of botanical extracts, NIA-114 technology, and Gravity-CF lifting complex makes it one of the best lotions for crepey skin on arms and legs.
It is a multi-purpose cream with anti-aging benefits.
What We Don't Like: It may feel slightly heavy on the skin.
[ Read: Arvesa Collagen Anti Aging Cream Review ]
6. Ultra Hydrating: Crepe Erase Ultra Hydrating Body Lotion
It is infused with skin-nourishing ingredients like beeswax, shea butter, coconut oil, olive oil, and cassava
Offers intense hydration and treats dry skin effectively
The presence of Vitamin E repairs damaged skin and reduces wrinkles and photodamage
It features a quick-absorbing formula that does not leave your skin feeling greasy
What We Don't Like: The fragrance is very strong. Also, it is pricey.
7. Lightweight and Effective: Reshape+ Crepey Skin Wrinkle Smoothing Cream
It addresses multiple concerns like crepey skin, chicken skin, dry skin, wrinkles, and sagging skin.
Its exclusive Aquasphere technology helps boost collagen and elastin and makes the skin firm and tight.
Also consists of hyaluronic acid, aloe vera, and shea butter that deeply hydrate the skin and smooth wrinkles and fine lines.
The presence of borage seed oil helps soothe inflamed skin.
It is lightweight and suits all skin types.
What We Don't Like: It is sticky.
[ Read: How to Use Shea Butter for Acne ]
Conclusion
So, these are the best lotions for crepey skin on arms and legs, offering amazing results. Get any of them and manage your sagging and wrinkled skin effectively.
You Might Also Like: