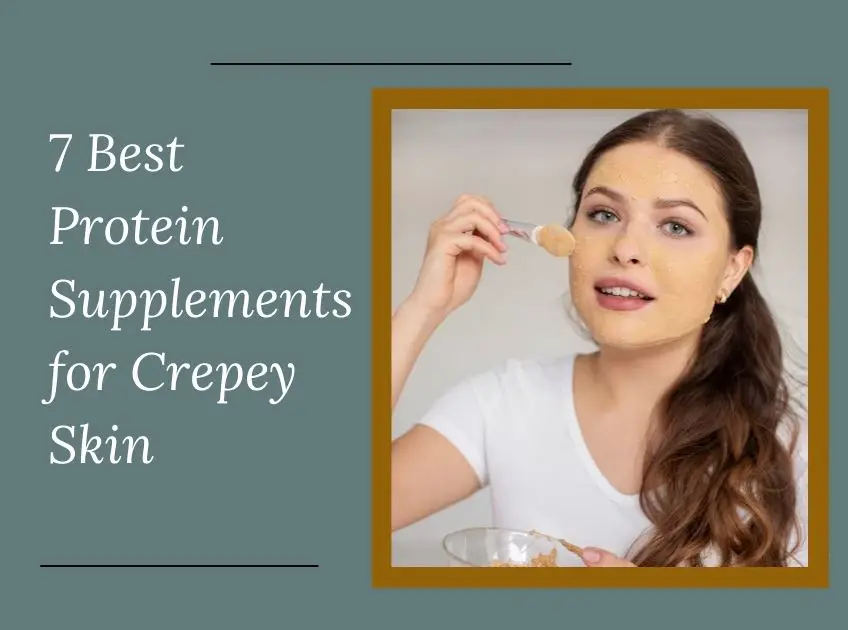 Crepey skin is a condition wherein the skin becomes too thin and wrinkled that it appears like crepe paper. It may also feel loose and sag. Generally, crepey skin tends to impact larger areas of the skin and is easily noticeable. You can find crepey skin under the eyes and upper inner arms.
Different reasons may contribute to crepey skin, such as excessive sun exposure, aging, lack of moisture, excessive weight loss, and a combination of all these factors. Since UV rays break down collagen and elastin, the tight skin turns wrinkled.
Even though you can take care of your skin externally, protein intake can help boost collagen production and provide relief from crepey and wrinkled skin. Therefore, we have curated a list of the 7 best proteins for crepey skin that you can start taking and see the difference in your skin.
7 Best Protein Supplements for Crepey Skin
1. Organic and Vegan: Ora Organic Vegan Collagen-Boosting Powder for Women and Men
It is an organic and vegan collagen-boosting powder
It contains a powerful blend of aloe vera, protein, silica, and vitamins C and E
Boost your body's production of collagen to combat crepey skin
Provides the body with the right amino acids, vitamins, and nutrients
Helps produce strong, healthy collagen and supports hydrated, glowing skin
Highly effective and useful
What We Don't Like: It doesn't give instant results.
[ Read: How to Get Rid of Wrinkles Naturally at Home ]
2. Plant Based: Igennus Healthcare Nutrition Pure & Essential Vegan Collagen Peptide Protein Powder
It contains a powerful blend of peptides
Enriched with the three main collagen amino acids hydroxyproline, proline, and glycine
Mirrors the nutritional profile of collagen
Supplies the building blocks for collagen formation
Correct collagen amino acids at ideal ratios, sufficient protein, and co-factor vitamin C
Natural plant-based protein powders from brown rice, pea, pumpkin seed & sunflower seed
No sugar, artificial colors, flavors, or sweeteners
What We Don't Like:It may not taste very good.
3. Unflavoured: Vital Proteins Collagen Peptides Powder with Hyaluronic Acid and Vitamin C
Sourced from grass-fed, pasture-raised bovine
Digested and absorbed by the body quickly for maximum benefits
Infused with Collagen Peptides plus Hyaluronic Acid and Vitamin C
It helps improve the health of your hair, skin, nails, joints, bones, ligaments, and tendons
Easily digested and dissolves in cold or hot liquids
It helps improve the skin condition and combat crepey skin
No added sugars or sweeteners
It is flavorless and odorless
What We Don't Like: It is unflavoured, which is not preferred by many.
4. Supplement for Hair Skin & Nails: Collagen Boosting Gummies
Contains nutrients to promote collagen production
Infused with L-lysine, Amla fruit, Vitamin A, and Vitamin C
Utilize collagen sourced from animals
Formulated to provide nutrients your body needs to promote its own collagen production
Provides structure to bones and is a major component of the skin
To improve skin elasticity and thickness and promote hair growth.
Free of artificial colors, dyes, preservatives
Contains a powerful blend of Organic Erythritol, Xylitol, Pectin, Citric Acid, Natural Watermelon Flavor, Sodium Citrate, Black Carrot, Organic Stevia Leaf Extract, Organic Sunflower Oil
What We Don't Like: Flavour is not good.
[ Read: 7 Best Creams For Crepey Skin ]
5. One-Stop-Shop For Collagen: Vital Vitamins Multi Collagen Complex
Contains a blend of hydrolyzed collagen peptides from beef (bovine), marine, chicken bone broth, and eggshell membrane sources
Include all five types of collagen hydrolysate associated with an improvement in skin, hair, nails, bones, tendons, joints, and gut health
Stimulates the body to renew tissues and maintain a radiant skin complexion and curb crepey skin
Easy to swallow and small enough to hold in your pocket, handbag, or car
Helps support your health, strength, and beauty
What We Don't Like: It is not plant-based collagen.
6. Skin Replenishing: Your Super Plant Collagen Powder
Protect your natural collagen, replenish your skin, and improve skin elasticity and texture
Contains organic ingredients- Tocos, Pea Protein, Tremella, Lucuma, Vanilla, Aloe Vera
Supports your skin health and hydration
Combines six organic superfoods to help replenish your skin
Made with six nutrient-rich hydrating superfoods
It does not contain anything artificial
It offers a neutral flavor with a hint of vanilla taste
What We Don't Like: It takes time to show results and combat crepey skin.
[ Read: 7 Best Powders For Skin Folds ]
7. Keto Friendly: Sports Research Collagen Powder Supplement
It provides the proteins & amino acids necessary to support healthy skin, bones, and nails
It contains a single ingredient- collagen peptides sourced from cattle
Infused with 18 amino acids, including glycine, proline, and hydroxyproline
It tastes great and dissolves completely in coffee, tea, smoothies, soups
What We Don't Like: It is not plant-based.
Conclusion
Crepey skin is not an uncommon problem. Since collagen can boost the skin structure and make it tight and firm, these best proteins for crepey skin can help. Start using them and see the transformation.
You Might Also Like: