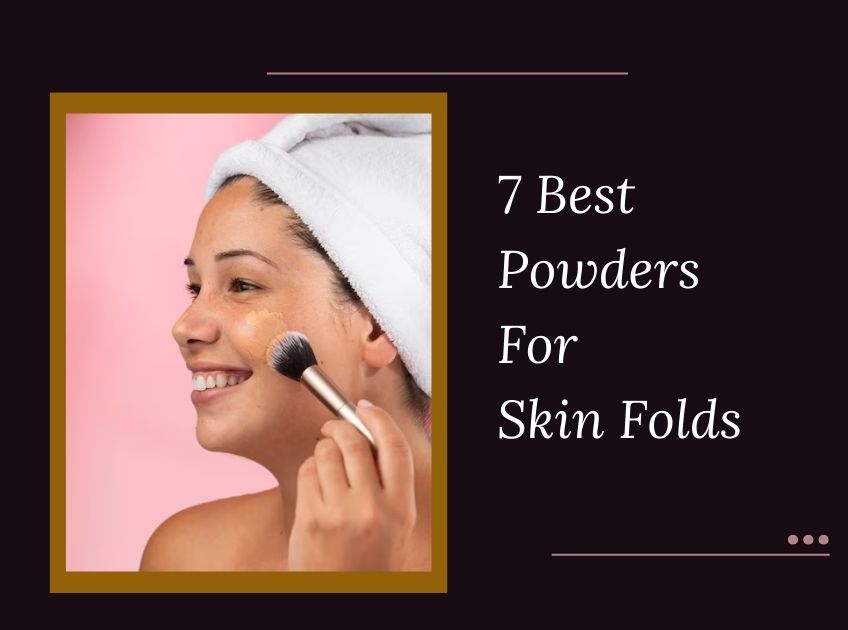 Skin folds usually occur due to excess skin tissues. If they are deeper, they could cause a problem. One of the major issues with skin folds is they trap moisture and sweat, inviting fungal infections easily. While skin fold can happen to anyone with excess skin tissues, it is usually found in babies and obese people.
In severe cases, the trapped moisture due to sweating causes skin surfaces to stick together in the skin folds. The moisture increases friction, which leads to skin damage and inflammation. It is when powders come to the rescue.
Skin Folds
If you are struggling with such a condition, check out the 7 best powders for skin folds that we have listed. All these powders are highly effective in controlling moisture and absorbing sweat to prevent fungal infections.
These powders are medicated and infused with skin-friendly ingredients that work to prevent fungal growth. Check them out!
7 Best Powders For Skin Folds
1. Treats Common Fungal Infections: Medline Remedy Phytoplex Antifungal Powder
It uses miconazole nitrate 2%
Disrupts the organism's membrane structure
It helps relieve itching, burning, and irritation
Inhibit fungal growth
It is talc-free, flows freely, and stays in place for extended periods
It is hypoallergenic, non-sensitizing and non-irritating
Dermatologist tested and approved
Recommended for skin folds and feet
Free of paraben, phthalate, and sulfate
What We Don't Like: The effect doesn't last for longer.
2. Best for Daily Use: Lotrimin Athlete's Foot Daily Prevention Medicated Foot Powder Bottle
It is clinically proven to prevent most athlete's foot fungus and skin folds
Curbs fungus that causes tinea pedis
It keeps feet dry and prevents moisture in the skin folds
Destroys odor and makes the skin calm and soothe
Safe for adults and kids
The active ingredient is Tolnaftate
What We Don't Like: you need to reapply it for long-lasting effects.
3. Talc-Free: Comfort Zone Miconazorb Antifungal Powder
It combats topical fungal and is highly effective in controlling skin fold concerns
It helps relieve itching, burning, scaling, and chafing
It is a talc-free medicated powder
The active ingredient is Miconazole Nitrate 2%
Stops the spread of fungus on the skin folds
Keeps sweat and moisture under control
Talc-free formula, safe for kids
It suits all skin types
What We Don't Like: It may not work on sensitive skin, so a patch test is recommended.
[ Read: 7 Best Setting Powders For Mature Skin ]
4. Super Absorbent Formula: Zeasorb Special pack of Super Absorbent Powder
It absorbs three times more moisture than plain talcum powder
Highly effective in absorbing excess perspiration and keeping skin fresh
Prevent the growth of bacteria and fungi
Soothes athlete's foot, chafing, heat rash, and diaper rash
It can be used whenever the removal of excess moisture is desired
What We Don't Like: It may cause skin irritation to certain skin types.
5. Prevent Moisture: Hongo Killer Antifungal Powder
It helps eliminate excess moisture from skin folds
Controls foot odor and absorb sweat
Prevent the growth of fungi
Ideal to use at night to moisturize the affected areas
Eliminates fungus and keeps skin clear
What We Don't Like: The results are not long-lasting.
6. Fungal Treatment: Coloplast Sween Micro-Guard Antifungal Powder
The active ingredient is 2% miconazole nitrate
Treats superficial fungal infections
Prevents further growth of fungus
Absorbs sweat and moisture developing in the skin folds
What We Don't Like: Unpleasing smell.
7. Prevents Chafing: Lady Anti Monkey Butt | Women's Body Powder with Calamine
It is a high-performance body powder
Absorbs sweat and minimizes frictional skin discomfort
Reduces skin chafing that may occur due to skin folds
It is therapeutic, and the results are long-lasting
Infused with calamine and cornstarch
It is talc-free, featuring a satin-smooth formula
Provides a cooling effect and instant relief from irritation
What We Don't Like: It contains artificial fragrance; therefore not suitable for sensitive skin.
Conclusion
Now that you know some of the most effective powders for skin folds, it's high time to shift from normal talc to these powders to prevent skin concerns and fungal infections. Get the powder that meets your needs and enjoy a healthy life.
You Might Also Like: