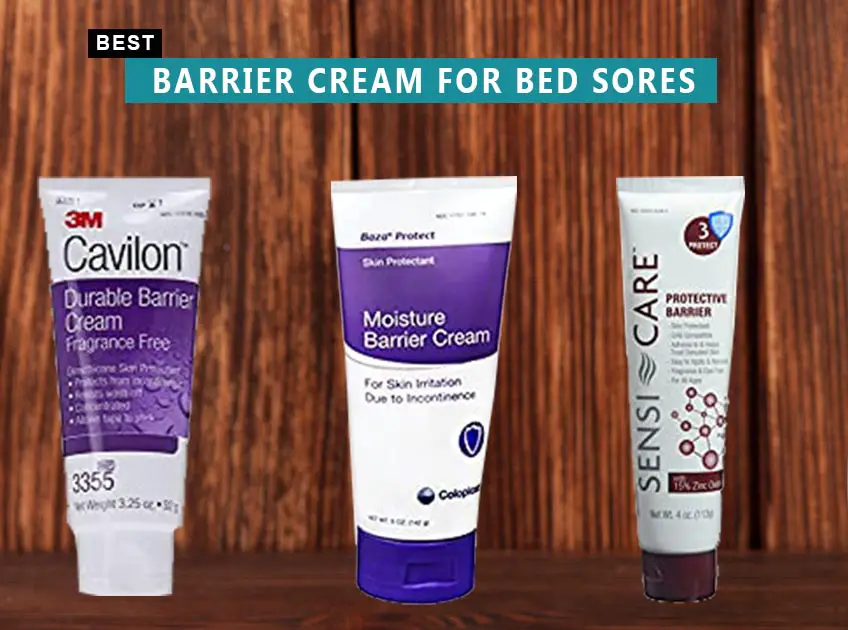 People dealing with bed sores or any other skin incontinence know the importance of a quality barrier cream. Generally, moisture barriers are gel, paste, cream, or ointment made to protect the skin from excessive moisture due to incontinence, perspiration, or wound drainage.
In general, the formulation of barrier creams is based on the manufacturer's formulation, but some essential ingredients that they must have include dimethicone, petrolatum, and zinc oxide. All these work as skin protectants and provide gentle care to the skin.
Barrier Cream
While buying the best barrier cream for bed sores, make sure it offers the following:
Skin Moisturization Derma Repair
Forms a protective barrier against contaminants and potential irritants
If you need help choosing the right barrier cream, we have listed the top 7 barrier creams for bed sores. Check them out!
7 Best Barrier Cream for Bed Sores
1. UNsecnted Barrier Cream: 3M Cavilon Durable Skin Barrier Cream
Formulated with 3M polymers for patients at risk from incontinence dermatitis
Concentrated and unscented require a less frequent application and resist washing off
The hypoallergenic formula provides better protection for the patient's skin
Effective barrier cream and is often used to deal with incontinence, skin problems, and wound dressings
What We Don't Like:The cream is not long-lasting, and you must reapply it often.
[ Read: How to Treat Wounds With Hydrogen Peroxide? ]
2. Perfect Skin Protectant: Coloplast Baza Barrier Cream
It helps treat and prevent minor skin irritation due to diaper rash and seals out wetness
Zinc oxide and dimethicone-based moisture barrier containing petrolatum, vitamins A, D, and E
Offers effective relief from redness and inflammation
Help with overdrying and discomfort
What We Don't Like: According to a reviewer, this cream is a bit messy, but since the results are outstanding, it could be neglected.
[ Read: How to Use Apple Cider Vinegar for Skin Rash? ]
3. Say Goodbye to Skin Irritation: DermaSeptin Soothing Skin Protectant Ointment
It provides a barrier to prevent irritation from moisture and promotes healing.
Active ingredients are zinc oxide and menthol
Used for skin irritations from incontinence episodes, feeding tube leaks, wound exudates, and perspiration
Keeps the perineal skin fresh and healthy
What We Don't Like: The consistency of the cream is heavy. Even though it's a good trait, being too thick is not what everyone prefers.
[ Read: 7 Best Products For Lupus Skin ]
4. Complete Care for Dry Skin: Medline Store Medline Remedy Nutrashield
An effective, long-lasting moisture barrier against incontinence-associated dermatitis
Treats dryness, abrasion, or denuded perineal and peristoma skin
Protects the skin with a productive and advanced silicone system
It prevents the skin moisture from evaporating and offers protection against transepidermal water loss
What We Don't Like:It works well only on dry skin. If your skin is oily or sensitive, perform a patch test.
[ Read: Home Remedies for Dry Skin on Face ]
5. Pleasing Formula: ConvaTec Store Aloe Vesta Perineal/Skin Cleanser
Designed for incontinence cleansing
Deodorizes with a fresh lemon fragrance.
Dispensed as a liquid spray, it is more convenient than soap and water cleansing from a basin
It does not contain latex or any other harmful ingredient
What We Don't Like: It feels slightly sticky at first, but you do not feel anything after it dries down.
[ Read: 7 Best Cleansers For Mature Skin ]
6. Perfect Solution for Dry Skin: AMERIGEL Barrier Lotion
Advanced dimethicone technology replenishes lost moisture, softens damaged skin, and provides ultimate skin protection.
It helps prevent and temporarily protect chafed, chapped, or cracked skin; reduces friction; and protects against exposure to excess moisture.
It also helps prevent and protect against the drying effects of wind and cold weather.
Suitable for all skin types
What We Don't Like: The smell may feel overpowering.
[ Read: 5 Quick Home Remedies For Dry Skin On Hands ]
7. Manage Skin Issues With Bed Sores: ConvaTec Store Sensi-Care Protective Barrier Cream
It helps treat denuded skin by adhering to it
It consists of petrolatum to act as a barrier to irritants and zinc oxide to protect and help relieve chapped or cracked skin.
It is CHG-compatible.
What We Don't Like: Thick consistency and overpowering smell.
[ Read: 7 Best Cream For Dry Cracked Foreskin ]
Conclusion
These are the most promising barrier creams for bed sores, ensuring your skin stays protected from harmful contaminants. At the same time, these creams are enough to provide intense hydration and moisturization to your problematic skin.
So, if you are suffering from bed sores troubling your skin, choose according to your skin type and manage bed sores effectively. Apart from treating skin issues, these creams will also help to keep skin soft and supple.
You Might Also Like: