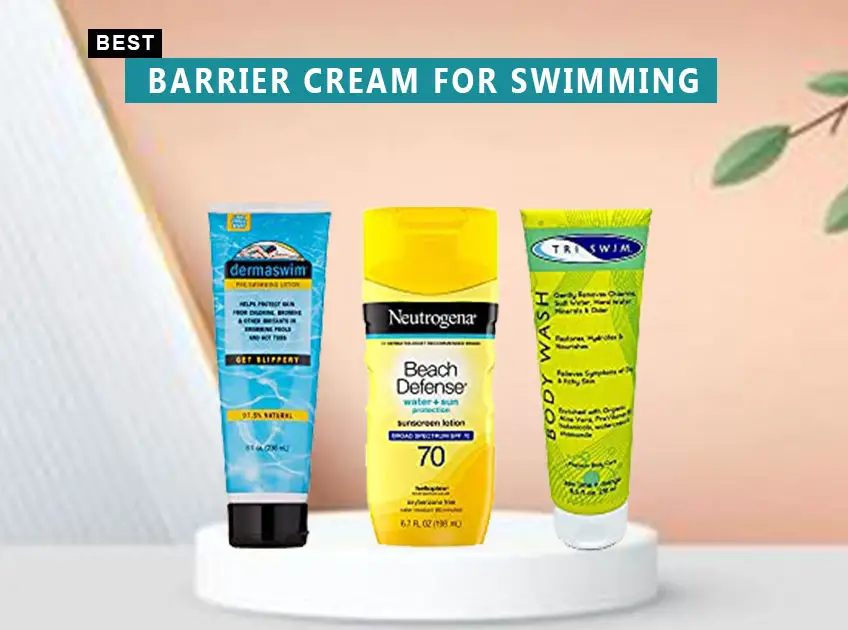 Avid swimmers always look forward to the best barrier cream for swimming, as it can help protect their skin in multiple ways. Since pool water consists of chlorine and bromine as it helps to kill the germs, they are not good for the skin.
Soft and supple skin may turn dry and itchy when stay dipped in pool water. At the same time, pool water may affect the pH level of our skin too. Likewise, seawater contains salt and other impurities that can harm the skin.
Barrier Cream
It is when a barrier cream comes in handy. Since multiple options are available in the market, we have narrowed the search by listing the top 7 best barrier creams for swimming.
So, whether you are going for a pool party, heading towards a beach, or want to spend some time soaking in the pool, get the best barrier cream and protect your skin from damage.
Check them out!
7 Best Barrier Cream For Swimming
1. Say Goodbye to Drying and Itch: Exershield Pre-Swim Lotion
What We Don't Like: It might not suit all skin types; therefore patch test is recommended.
Protects skin against the negative effects of chemicals
Infused with natural ingredients like organic aloe leaf juice, shea butter, jojoba seed oil, and primrose oil
The formula is also rated reef-safe
No synthetic colors or added fragrance
[ Read: Home Remedies for Dry Skin on Face ]
2. Complete Protection from Chlorine: Diva stuff Pre-Swim Aqua Therapy
It uses vitamin C to neutralize the harmful effects of chlorine on the skin
Infused with cocoa butter, shea nut butter, babassu oil, and castor oil to moisturize the skin
Contains beeswax creates a barrier between the skin and the water
It has a lime and coconut fragrance that fights odor caused by chlorine
What We Don't Like: A patch test is recommended, especially for people with sensitive skin.
[ Read: How to Use Cocoa Butter for Stretch Marks? ]
3. Fragrance free Barrier Cream: La Roche-Posay Cicaplast Balm B5
It works as a rich cream but leaves a non-greasy finish
Fragrance-free, non-sticky, and suitable for all types of skin
Formulated with shea butter, vitamin B5, glycerin, and other skin-loving ingredients
What We Don't Like:This stuff is thick and may leave your skin greasy.
[ Read: The 5 Best Vitamins for Healthy Skin ]
4. Moisturizing Lotion for Skin: TRISWIM Chlorine Removal Body Wash
It keeps you smelling refreshing
Enriched with aloe vera, vitamin E, and pro-vitamin B5 for healthy moisturization
It helps relieve sunburn and protects against the adverse effects of exposure to chlorine
Gluten-free, cruelty-free, and paraben-free formulation
What We Don't Like: It might feel too heavy on oily skin due to its thick consistency.
[ Read: 7 Best Body Washes for Black Skin ]
5. Most Natural Cream Before Swimming: DermaSwim 8 Ounce Tube Pre-Swimming Lotion
Protects the skin from excessive drying up and irritation from the chlorine and bromine in the water
Water-based lotion, made up of 97.55% natural ingredients
Infused with coconut oil, beeswax, olive oil, and green tea leaf extract
Forms a protective layer on the skin
What We Don't Like: It may not suit all skin types due to its unique formulation; therefore, a patch test is recommended.
[ Read: How To Twist Your Hair With Beeswax ]
6. Barrier Cream with SPF: Neutrogena Beach Defense Water Resistant Sunscreen Lotion
Beach-strength protection from the sun with its SPF 70 fighting harmful UVA and UVB rays
Fast-absorbing, lightweight, and oil-free formulation
Water-resistant for up to 80 minutes
PABA-free, making it safe for all types of skin
What We Don't Like: It may not suit people sensitive to allergies.
7. Antioxidant Enriched Barrier Cream: Replenix Antioxidant Hydrating Sunscreen SPF 50
Heavy-duty facial sunscreen and moisturizer
It contains hyaluronic acid and squalene that ensure a healthy dose of hydration
Enriched with green tea polyphenols, caffeine USP, silymarin, bisabolol, action, vitamin E
Fast-absorbing and sheer in application
What We Don't Like: Since it is fragrance-free, the body may smell typical chlorine.
[ Read: CeraVe AM Facial Moisturizing Lotion SPF 30 Review ]
Conclusion
If you love swimming or recently admitted your child to swimming class, it's high time you buy the best barrier cream. Even though swimming is good for health, pool water is not.
The right barrier cream will protect the skin from the harmful effects of chlorine and bromine. At the same time, it will also provide high-spectrum sun protection. So, choose the best cream for your skin and enjoy your time splashing some water in the pool or by the beach.
You Might Also Like: