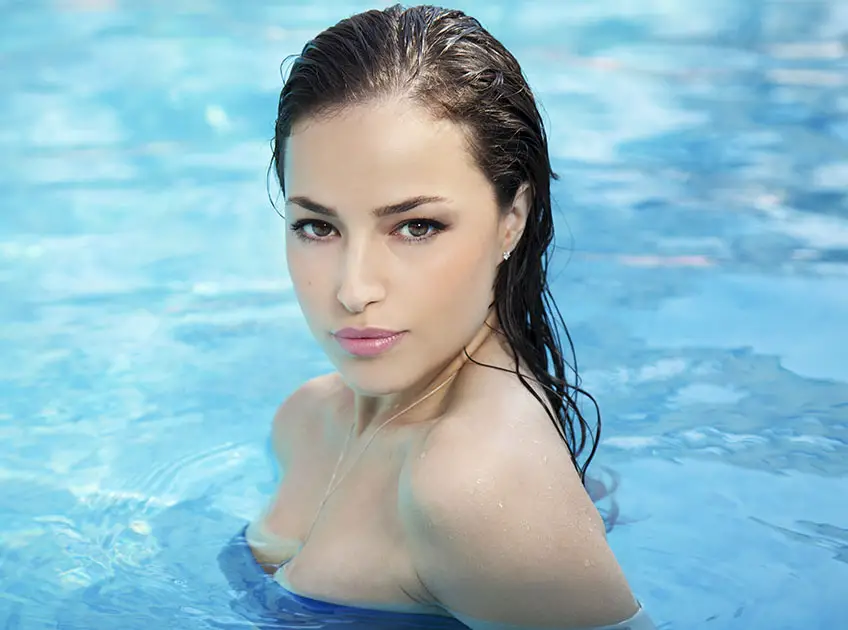 Swimming is an interesting exercise that assists to get refreshed and relaxing the body. Nonetheless, if you swim often, chlorinated water can damage your hair and cause breakage and split ends. As long as you remember the damage that chlorinated water does to your beautiful hair, the feeling of slipping into the water will be quiet. The daily pool can cause hair loss due to the harsh chlorine found in swimming pools.
Hair-Related Problems Due to Swimming Pool
Chlorine in a swimming pool is essential for killing bacteria, but if you are a frequent swimmer in the pool, it can cause serious damage to your healthy hair. Chlorine removes the natural oils that your body produces to safeguard your hair. Chlorine can irritate your scalp, and skin as well as your hair. It removes the natural moisture from your hair, Changes hair color, and makes it Weak, Cracking, and splitting.
Ordinary swimmers often do not face the problems of chlorinated water – for example, bathing in the pool once a year during the holidays does not make a big difference in the health of your hair. But, it is also okay to swim once a month. If you are a regular swimmer, you have to know how to safeguard hair from chlorine damage.
Ways to Protect The Hair From Chlorinated Swimming Water
1. Take a Shower Before and End of The Swimming
Lap swimming etiquette is the stated and unstated rule of the pool. It helps to protect everyone's health and safety. Mostly, pool staff guides you to take a shower prior to going into the pool. This is an important step in removing dirt as well as oils and also helps prevent chlorine-related damage to your hair.
If you soak your hair in purified tap water before going to the pool, your hair strands will sip that water and reduce the chlorine-absorbed amount. After swimming, you can use some clarifying shampoo to clean your hair deeply.
[ Read: How to Protect Your Hair From Hard Water? ]
2. Apply a Natural oil to Your Hair
If you are a regular swimmer, start to use natural oil for your hair. Natural oils like jojoba oil, coconut oil, and olive oil protect the scalp layer and hair strands from chlorine and other chemicals. Natural oil is a basic hair protector from chlorinated water. The oil deeply penetrates the hair shaft, restricts water from entering the cuticle, and reduces hydraulic fatigue. It provides hydration and nourishment to the hair after swimming.
3. Apply a Leave-In Conditioner to Your Hair
A Leave-in conditioner is a moisturizer that safeguards the hair from the effects of chlorinated water. It provides nourishment to your hair and creates a protective layer against harmful chemicals and chlorine in the pool. It neutralizes the negative charge of hair strands by adding a positive charge and reflects the natural lipid content of the hair, seals the surface, and reduces breakage and frizz.
[ Recommended: How to Do Deep Condition Your Hair at Home ]
4. Use Hair Spray
If you are doing outdoor swimming, use a sunscreen hair spray. A hairspray containing herbal ingredients nourishes and safeguards the hair from UVB and UVA sun damage. It also safeguards hair color from fading and prevents chlorine from penetrating into your strands.
5. Use a Swim Cap
If you are a professional swimmer, you may already be wearing a swimming cap on your head. A swimming cap is the best way to protect your hair from chlorinated water damage. It covers the entire scalp and restricts the connection of water. For the finest protection, wear on your hair properly so that it is all inside. Having two spare swimming caps in your swimming bag is not a bad idea.
6. Wash Your Hair Properly
Wash your hair quickly after swimming, if you do will helps to remove the build-up of harmful chemicals and chlorine. In case you like to swim outdoor, an instant shower clears salt water and all remnants from the scalp.
[ Recommended: How To Keep Your Hair Healthy and Strong ]
7. Use Shampoo for Your Hair
Chlorine deposition creates vast effects on your hair texture and color. Saltwater also bleaches hair, leaving it frizzy and keeping the dryness. The effective way to wash the chlorine deposits is to use a chlorine-resistant shampoo. It removes excess chlorine deposits from the scalp and hair.
[ Read: What Does Chlorine Do To Your Hair? ]
8. Wash Your Hair With Conditioner
Hair conditioner provides the support to nourish and moistures hair as well as fight against dryness. A leave-in conditioner is also the best remedy to get extra hair shine and nourishment
9. Use a Soft Cloth to Dry Your Hair
After swimming, if you dry the hair with a thick towel, it means you are pulling your hair out with that towel. Chlorinated water may have settled in your hair, and you should not be wiped it off with a thick towel. Instead, use a soft cloth to gently wipe off the water without wiping aggressively.
10. Brush Your Hair Gently
The wide-toothed comb helps to reduce your hair fall and clear up hair without pain. It helps to loosen your hair and controls breakage.
On the whole, it is to say that there is no high cost to maintaining your hair as you have passed through the ways to safeguard your hair while swimming every day. Think of the guidelines which are mentioned above and enjoy your swimming.
Recommended Topics: