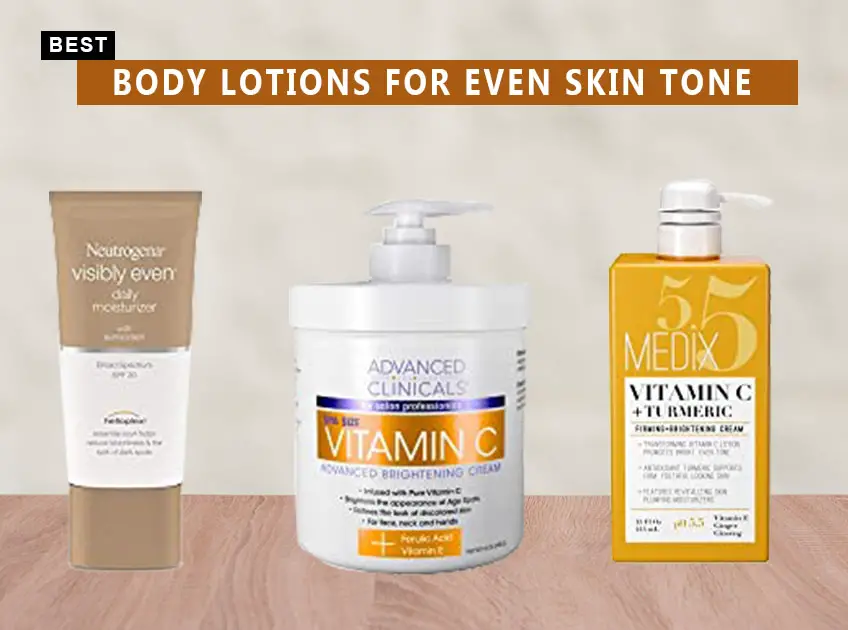 While we may think that body lotions are meant to keep the skin moisturized, they are more than that. Besides keeping the skin hydrated and nourished, the right body lotion will also help to even the skin tone, brighten the dull skin and reduce pigmentation.
No matter how much inner beauty matters, what gives the first impression is the skin. An even, light, and bright skin with no marks and spots grabs the attention instantly. Therefore, using skincare products to help attain such skin is a wise decision.
Body Lotions
Apart from using all types of makeup products on your face, applying the right body lotion to make your skin healthier will make all the difference.
Now that you know body lotions can help manage multiple skin issues and are good for uneven skin tone, check out the top 7 best body lotions for even skin tone. We have listed the best products to make your hunt easy.
7 Best Body Lotion for Even Skin Tone
1. Best for aging skin: Advanced Clinicals Vitamin C Face & Body Cream
It contains vitamin C as its key ingredient to hinder melanin production, giving an even and buttery smooth complexion
It also consists of ferulic acid and vitamin E that help with hyperpigmentation and increase hydration levels
Anti-aging, so it will also fight premature aging
You can use this product as a daily facial moisturizer as well as a body lotion
What We Don't Like: It is recommended to perform a patch test as some reviewers say it causes itching.
[ Read: 5 Easy Homemade Moisturizers for All Skin Types ]
2. Best for Dry Skin: Medix 5.5 Vitamin C Face & Body Dry Skin Rescue Cream
Infused with skin-brightening ingredients such as vitamin C, vitamin E, turmeric, and ginseng
Protect skin from UV-induced cell damage
Works as a skin whitener due to the presence of turmeric and thus manages dark spots, age spots, acne scarring, and other forms of pigmentation
Revives dull-looking skin with moisturizing ingredients such as aloe vera, shea butter, sunflower
What We Don't Like: Many reviewers say this product doesn't give instant results. So you have to be really patient.
[ Read: Essential Oils Vitamin C Facial Cleansing Wipes Review ]
3. Best for Normal Skin: Ambi Fade Cream
Designed for dark spots and uneven complexion
Loaded with the goodness of hydroquinone which is one of the best skin-bleaching ingredients
Treat dark spots, melasma, freckles, etc
It contains AHA and vitamin E that remove dead skin cells, reduce wrinkles and fine lines, and enhance skin clarity.
What We Don't Like: The consistency of this lotion is very thin.
4. Get the Radiant Glow: Palmer's Skin Success Anti-Dark Spot Fade Cream for Dry Skin
Enriched with cocoa butter and vitamin E, perfect for getting even skin at an affordable price
Reduces the appearance of dark spots and leaves your skin with a radiant glow
Treats acne scars, sunspots, freckles, and patches of darker skin
It improves cell regeneration and helps you achieve younger-looking skin
What We Don't Like: It takes a little time to give results, so be patient and consistent. Also, you need to apply it regularly for faster results.
[ Read: 7 Best Cocoa Butter Lotions For Black Skin ]
5. Affordable Body Lotion To Get Even Skin Tone: Neutrogena Visibly Even Daily Facial Moisturizer
Made with essential soy extract that helps brighten the complexion and treats skin discoloration
Loaded with SPF 30 to defend skin against sunburn and UV damage
The anti-aging formula helps with signs of aging, such as fine lines, wrinkles, and age spots
Contains hydroquinone to fade hyperpigmentation
What We Don't Like: Hydroquinone is an active ingredient in this product, but this component may cause skin irritation to some; therefore, perform a patch test.
6. Best for Keratosis Pilaris (KP) Prone Skin: Paula's Choice Skin Revealing Body Lotion
10% Glycolic Acid, an ultra-effective alpha hydroxy acid (AHA), gently exfoliates rough, dry skin to reveal smoother, younger-looking, hydrated & supple skin
It is formulated with a pH of 3.5 – 3.9.
Nourishing, creamy formula significantly improves the appearance of hard clogged pores & leaves skin all over your body beautifully soft & moisturized.
Visibly improves uneven skin tone and softens the appearance of hard, clogged, red bumps on the arms and legs.
What We Don't Like: It is advised to perform a patch test to ensure it stays gentle on the skin.
7. Complete Skincare Solution: Nivea Whitening Even Tone UV Protect Lotion
Infused with skin-loving ingredients such as camu camu and acerola cherry fruit extracts
It also contains niacin in great quantity, thus fixing sun damage and skin discoloration
Good at fighting dark spots and hyperpigmentation
Gives evenly toned skin within two weeks
What We Don't Like: It may only suit some skin types.
[ Read: Hide Dark Spots On Your Face Without Makeup ]
Conclusion
Gone are the days when body lotions intent only to moisturize the skin. Today, they offer multiple benefits, like helping with hyperpigmentation and uneven skin tone, so why settle for less?
You Might Also Like: