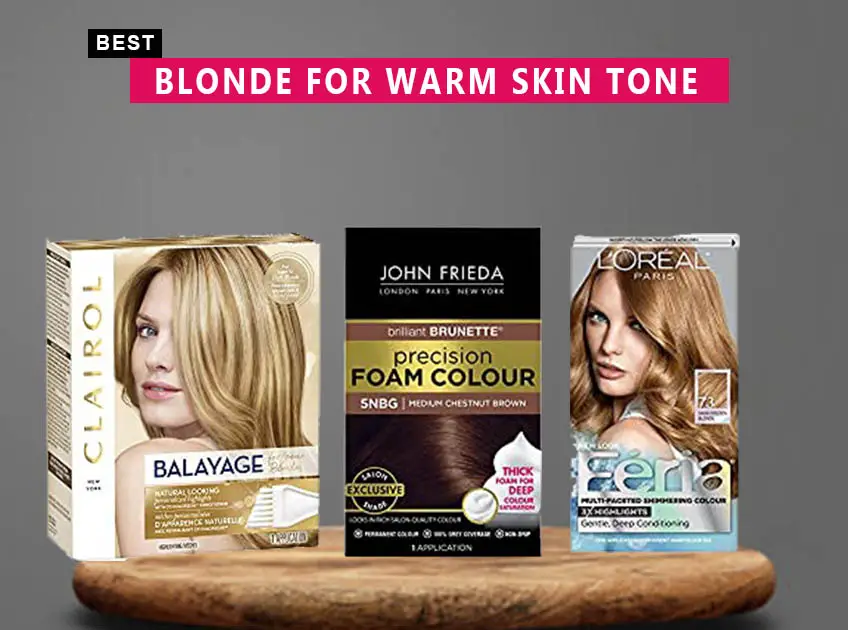 Skin undertones play a significant role in determining how a product will look on you. The product is not limited to lipsticks or foundations but hair color too.
If you are a person with a warm skin tone and want a blonde look, you should know that all blonde will not go well with your skin tone. The right selection of blonde will give your complexion a natural glow and complements it.
Blonde for Warm Skin Tone
If it still confuses you, don't worry, as we have listed the 7 Best Blonde for Warm Skin Tone. It will help you understand how a color will help heighten your complexion for good. These colors are bound to make your warm-toned skin look radiant, as it should every day.
Check them out and find your favorite one.
7 Best Blonde For Warm Skin Tone
1. Strawberry Blonde- dpHUE Gloss+ – Strawberry, 6.5 oz – Color-Boosting Semi-Permanent Hair Dye & Deep Conditioner
Strawberry's gold and copper tones give natural redheads more vibrance
Ammonia-free, semi-permanent hair color wraps around your hair rather than penetrating your cuticles
Gives you semi-permanent hair color but also deep conditions to make your hair soft, shiny, and manageable
No Parabens, Sulfates, Phthalates, Gluten
What We Don't Like: If you are trying hair color for the first time, it will be better to get it from a salon instead of DIY.
[ Read: How to Do Deep Condition Your Hair at Home ]
2. Golden Blonde- L'Oreal Paris Superior Preference Fade-Defying + Shine Permanent Hair Color
Gorgeous, fade-defying hair color with dimension
Paired with Care Supreme Conditioner with Shine Serum to help maintain color vibrancy and provide silk and shine
Comes in multiple formulations and styles to deliver long-lasting color
Formulated with golden camelina oil, antioxidant vitamin E, and a UV filter for silky hair
What We Don't Like: It gives an amazing color payoff, but the results are not permanent. The color may fade away soon.
[ Read: How to Protect Hair from Sun Damage ]
3. Chestnut Brown- John Frieda Precision Foam Color Color-Nourishing Permanent Hair Color Kit
Shining medium brown color with a soft finish that nourishes and enhances chestnut brown tones for deep color saturation
The long-lasting formula gives you confidence in your shiny, chestnut-brown shades and prevents fading
The thick foam goes on white to prevent residue and dripping while maximizing penetration
Enhances color for long-lasting lushness while moisturizing and conditioning for rich, shining brunette hair
What We Don't Like: Great color payoff and easy to use, but the results are temporary.
[ Read: 5 Easy Homemade Hair Rinse Recipes for Silky and Shiny Hair ]
4. Dark Golden Blonde- L'Oreal Paris Feria Multi-Faceted Shimmering Permanent Hair Color
Transforms hair from blah to brilliant
Seals and smooths for lasting bold color that will turn heads
Inspired by cutting-edge fashion & the latest trends
Comes in multiple formulations and styles to deliver long-lasting color, from fade-defying Superior Preference
What We Don't Like: If your hair is dry and already damaged, do not use it as it may enhance the hair damage.
[ Read: Home Remedies for Damaged Hair ]
5. Natural Blonde- Garnier Hair Color Nutrisse Nourishing Creme, 90 Light Natural Blonde (Macadamia) Permanent Hair Dye
Formulated with color boost technology and a blend of triple fruit oils: avocado, olive, and shea, to deliver permanent hair color, even to dark hair.
Infused with grape seed and avocado oil, comes in a complete hair dye kit and nourishes while it colors with a rich, nondrip creme formula.
Easy to apply and can be used as permanent hair dye, temporary hair color, root touch-up, or to enhance your natural hair color,
Blended naturally inspired and derived ingredients into breakthrough formulas
What We Don't Like: Even though it is suitable for complete hair color, the best result comes with highlights.
[ Read: How Long Does Permanent Hair Dye Last? ]
6. Champagne Blonde- L'Oreal Paris Excellence Creme Permanent Triple Care Hair Color
Offers 100 percent gray coverage for all hair types
The exclusive nondrip creme formula for gorgeous hair color from root to tip
Comes with an after-color shampoo with Glycerin to cleanse the scalp and hair of excess residue and smooth hair to reveal a radiant color.
Protects hair before, during, and after coloring for up to 8 weeks with a combination of ceramide, pro-keratine, and Glycerin for rich color and revitalized hair
What We Don't Like: It is not a blonde color but looks great on warm skin tones.
[ Read: Is Necessary To Wash Your Hair After Coloring ]
7. Balayage Blonde Highlights- Clairol Nice'n Easy Balayage Permanent Hair Dye, Blondes Hair Color
Perfect highlights are only one application away right from your home.
Make your hair as bold or subtle as you want, and get a flawless look every time.
Everything to protect your hair and scalp is included in the kit.
It wasn't too brassy and gave a nice glossy finish.
What We Don't Like: You need to leave on the color for longer to get the desired shade.
[ Read: Hair Color For Sensitive Scalp ]
Conclusion
Since our hair color tremendously impacts our complexion, choosing the right blonde shade for a warm skin tone is essential. You don't want to look like a clown with awkward hair color, right?
So, if you have a warm skin tone and are looking for the perfect blonde hair, choose any of the listed products. No matter what you select, we recommend performing a patch test before using any hair dyes to ensure they suit your skin tone and type.
You Might Also Like: